Microsoft Edge 109 last version to support Windows 7 and 8.1
Microsoft released a new development build of its Microsoft Edge web browser this week that makes a number of changes to the browser. Included in the changelog is the information that Microsoft Edge 110 (Stable) won't run anymore on devices running Windows 7, Windows 8 or Windows 8.1 "Starting with Chromium 110, Windows 7, 8 and 8.1 will no longer be supported", Microsoft says in the release notes. Microsoft follows Google's end of support timeline for the operating systems. Windows 7 and 8.1 w


Google releases Chrome 108 update without revealing anything about it
Chrome users may have noticed that Google released a new update for the browser on December 7, 2022. The update to Chrome 108 installs fast and the browser looks just like before the update installation on the restart. A check of the Chrome Releases blog provides virtually no information on the update. Google informs users that the Chrome Stable and Chrome Extended Stable channel were updated. The update versions are displayed, but no information is provided on why the update was released. Chr


Telegram now lets users sign up without a phone number, but only if you pay using cryptocurrency
Telegram messenger finally lets you sign up for an account without a phone number. But you're probably not going to like the alternative. Sign up for Telegram without a SIM Card Normally, when a user wants to sign up for a Telegram account, they need to provide their phone number to the service. This is used to verify the user and also helps in discovery, as in, whoever has your number can find you on the instant messaging platform. There are 2 issues with this method that prevents some users f


Microsoft's New OneNote for Windows Looks Great
Microsoft has made some significant improvements to the new OneNote app that provides you with a better-looking and more engaging experience when it comes to taking notes. One of the significant changes is that there are different ways to organize your notes and new ways to record them. Microsoft also improved the syncing and backup process so you can always keep your notes safe, even if something happens to your computer or device. New Look The new OneNote has a new look. The ribbon interface i


How To Revert Your Windows 10 Account To A Local One (After The Windows Store Hijacks It)?
Most people use their Microsoft account as their Windows 10 account. Most of them weren't aware they were doing it, and others did it by choice. If you don't want to use your Microsoft account for your Windows account, this is the article for you. How To Avoid Using Your Microsoft Account for Windows? There are many benefits of using your Microsoft account as your Windows account. For starters, your files are synchronized along with your browser history. However, many prefer keeping their Window


Microsoft is working on a Screen Recorder for Windows 11's Snipping Tool
Users of Windows' screen capturing tool Snipping Tool may soon be able to record video using the built-in application. Right now, users may use the Snipping Tool to create screenshots on their devices. The Snipping Tool is a basic screenshot taking tool for Windows, but that is not necessarily a bad thing. It supports several screen capturing modes, including freeform, window and fullscreen, and can be launched with keyboard shortcuts. While it pales against advanced screen capturing tools such


Apple to bring end-to-end encryption for iCloud Backups with Advanced Data Protection
Apple has announced its plans to support end-to-end encryption for iCloud Backups. A couple of new security features are coming to users next year. Apple adds end-to-end encryption for iCloud Backups You're probably thinking, "Wait! They didn't have encryption for iCloud backups before this?" That's a perfectly logical reaction, and the answer is yes, and no. Apple does encrypt iCloud backups, but these are not completely end-to-end encrypted (only some data are). What does that mean? It means


Vivaldi 5.6 launches with Mastodon integration
Vivaldi 5.6 Stable was released today. The new version of the Vivaldi web browser integrates Mastodon and stacked tab pinning, and includes a redesigned Settings page and security updates as well. Vivaldi 5.6 is available already. Existing users may select Vivaldi Menu > Help > Check for Updates to run a manual check for browser updates. Any update found during the scan is downloaded and installed automatically. New users may point their browsers to the Vivaldi homepage to download the latest b


The Microsoft Edge browser is putting billions of tabs to sleep
Microsoft Edge has come a long way since the software giant decided to launch it as a Chromium-based browser and in November 2022 made up roughly 4.5% of the web browser market. One of the innovations the browser has seen is sleeping tabs, which are designed to save RAM and free up your computer's resources by putting inactive browser tabs to sleep. Microsoft has now released details of just how many tabs the browser has been putting to sleep. Let's take a look. According to a new blog post...


DuckDuckGo's browser for Mac adds support for Bitwarden Password Manager for autofill
When DuckDuckGo for Mac entered public beta in October, the search giant said it would soon add support for Bitwarden. The password manager has now been integrated with the browser. DuckDuckGo for Mac adds support for Bitwarden Password Manager Bitwarden for DuckDuckGo is not available as a browser extension, but rather a built-in option. It's not surprising considering that the developers had mentioned that they were working on bringing native alternatives to popular extensions. So, you will n


Microsoft and Adobe announce new Adobe Acrobat integration in Microsoft Teams
Microsoft and Adobe have improved the integration of Adobe Acrobat in Microsoft Teams. The new functionality provides a seamless experience for users who work with PDF document. image source: Microsoft The integration extends the basic PDF capabilities of the integrated Microsoft Teams PDF viewer. It enables users to view PDF documents using Adobe Acrobat in Microsoft Teams. Additional functionality, besides viewing, is available for Adobe Acrobat Standard and Pro, and for Adobe Acrobat Free use


Bitwarden's passwordless authentication method lets you log into your web vault using the mobile app
Bitwarden has introduced a passwordless authentication method. It lets you approve the login request from the mobile app, let's find out more about it. Bitwarden's passwordless authentication system I should mention this right away, the passwordless authentication does not replace your master password. It's just a shortcut to allow you to sign in to your account in desktop browsers. If you already use Bitwarden's desktop app, you may be aware that it lets you unlock the vault using Windows Hell


Add ChatGPT answers to Google Search
ChatGPT is a new product by OpenAI that is been optimized for dialogs. You communicate with the artificial intelligence, for instance, by asking a question, and get an answer. You can check out Patrick's primer on ChatGPT for a detailed overview. Several browser extensions have been created in the past days that integrate the functionality on Google Search. The main idea behind these is to add an independent response to a user's query on Google Search. Depending on the query in question, it may


Ghacks Deals: The Complete Big Data & Power BI Bundle
The Complete Big Data & Power BI Bundle includes 5 different eLearning courses that teach Power BI, Power Pivot, Power Query and other Advanced Excel and Access skills. The following courses are included in the bundle: Power BI Power Pivot, Power Query & DAX in Excel Advanced Excel 2019 Access 2019: Beginners Access 2019: Advanced The entire bundle is available for $39.99. You can find out details on each of the courses on the Ghacks deals website. Click here to open the Complete Big Data & P


How To Create a Microsoft Account?
How to create a Microsoft account? How to sign into your Microsoft account with your email address and password? If you are new to the world of Microsoft services, it can be overwhelming to know. In this post, we will walk you through how to create a Microsoft account step by step and provide some tips related to your Microsoft account. Why Create a Microsoft Account? A Microsoft account provides you with a central place to manage your personal information and all your other online accounts. You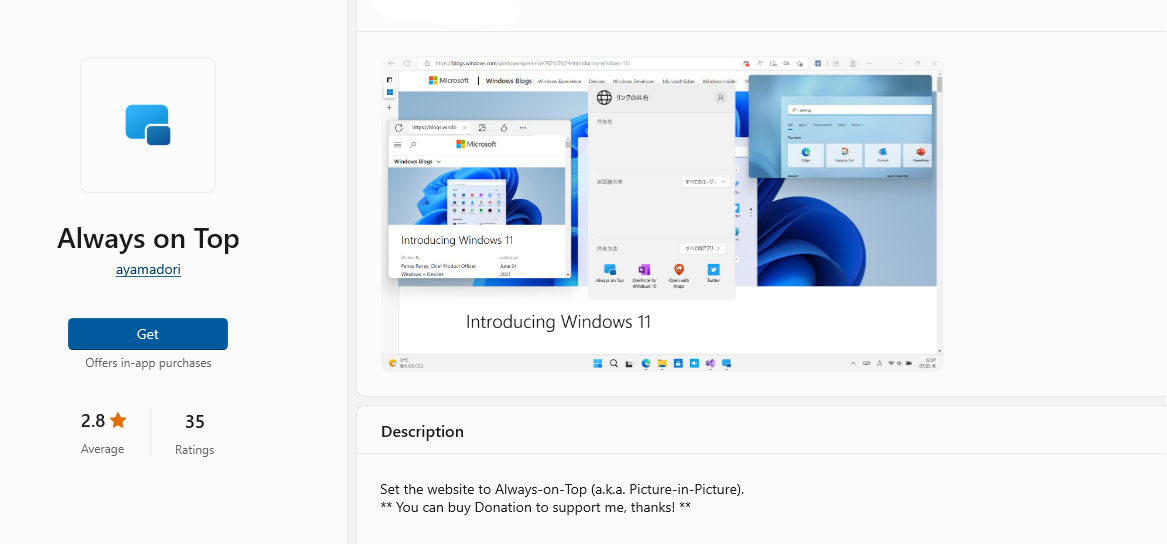 All of Microsoft's PowerToys for Windows 10 and 11, Explained
Microsoft's PowerToys come installed with Windows and aim to help users get the most out of their operating system. There are many in the lineup, so we decided to take a closer look at them. This article gives an overview of Microsoft's PowerToys for Windows 10 and 11. Always on Top With this PowerToy, you can place any window on top. All you need to do is hold down the Windows button and press CTRL+T. Your current window will stay above all other windows until you press the same buttons to undo


Microsoft SwiftKey Keyboard for iOS gets its first update in over a year
Microsoft has released a new update for its SwiftKey keyboard for iOS. This is the first update that the app has received in well over a year. SwiftKey for iOS updated to version 2.9.4 There was some drama surrounding the popular keyboard app in October, when Microsoft announced that it would end support for SwiftKey on iOS. True to its word, the Redmond company pulled the plug on it by delisting it from the App Store, and thus prevented it from being downloaded on new devices or fresh installa


Microsoft confirms Windows database connection issues
Microsoft confirmed that client and server versions of its Windows operating system are affected by a database connection issue. The issue affects Windows devices that have the latest updates, released on the November 2022 patch day, installed, according to Microsoft's description The issue affects applications that use ODBC connections using the ODBC SQL Server Driver sqlsrv32.dll to access databases. ODBC stands for Open Database Connectivity. Users may receive error messages such as "The EMS


Microsoft extends support for Manifest V2 extensions to at least January 2024
Microsoft announced this week that its Microsoft Edge web browser will support Manifest V2 browser extensions at least until January 2024 using Enterprise policies. Manifest V3 for browser extensions is hotly discussed among browser makers, extension developers, organizations and home users. For those unaware, the Manifest defines capabilities that browser extensions may use. Criticism surrounded the introduction of a new API for network request modifications for the most part. Google, the dom...


Chrome notification suggests Windows 10 or 11 on Windows 7 and 8.1 devices
Google Chrome users who use the web browser on Windows 7 Service Pack 1, Windows 8.1 or Windows Server 2012 R2 devices get a notification at the top of the browser screen that informs them about the upcoming support end of Chrome on the operating system. "To get future Google Chrome updates, you'll need Windows 10 or later. This computer is using Windows 7", it reads on a Windows 7 device. Other Chromium-based browsers may show the notification as well. Brave, for instance, displays the notifica


How to recover your forgotten Microsoft account password
I know what it's like to forget my password. Even though I have all my credentials saved in note files, I sometimes can't remember where I saved them. Yes, browsers have password managers, but there are times when you need to get into Skype or another account on your phone, which means it won't automatically enter your details. If you're like me and you want to recover your forgotten Microsoft account password, there's an easy way to do it. Just follow the steps below. Step 1: Head to...


ChatGPT: What is all the fuss about?
A lot of people have been taking to the internet to discuss their experiences with OpenAI's latest innovative product, ChatGPT ever since it launched on Wednesday November 30. What is striking about these people, is not just how many of them there are, but who they are. We have heard from many different types of respected experts including physicists, programmers and developers, start-up founders, AI researchers, and more. Many have been blown away by their experiences with the new AI chatbot;...


What Is Xbox Live Gold, and Is It Worth It?
Xbox Live Gold has been around for many years, but we've slowly seen new subscription services with the new generation of gaming and cross-play with PC. With many gamers now moving over to the Microsoft console, many are wondering what this membership option is, and if it's worth it. In this quick guide, I'll explain what Xbox Live Gold is, compare it to other subscription services for console and PC, and help you decide if it's worth it and which one you should get. What is Xbox Live Go...


Google adds support for end-to-end encryption for group chats in Messages
Google has announced that it is rolling out end-to-encryption for group chats in its Messages app. The feature will be available for users who have enabled Rich Text Communication Services (RCS). Google Messages rolls out end-to-end encryption for group chats RCS has been around since 2007, though it really only kicked off a few years ago when mobile carriers started supporting it. Unlike SMS (and MMS) which are sent through your mobile carrier's network and bill you for it, RCS also works over


Windows 10 KB5020683 update displays Windows 11 upgrade prompt
Microsoft released the out-of-band update KB5020683 for Windows 10 version 2004 and later that introduces an prompt during the out-of-box (OOBE) experience to update to Windows 11. The update applies to the following Windows 10 versions: 2004, 20H2, 21H1, 21H2 and 22H2. The update is installed automatically on devices during the Out of Box Experience. During the process, Windows downloads critical driver updates and zero-day patches automatically, if a network connection is available. Windows 1