Spontaneous cell fusions amplify genetic diversity within tumors
Scientists generally believe that cancers lack a powerful and important diversification mechanism available to pathogenic microbes - the ability to exchange and recombine genetic material between different cells. However, researchers now demonstrate that this belief is wrong and that cancer cells are capable of exchanging and recombining their genetic material with each other through a mechanism mediated by cell fusions.


Solar system formation in two steps
Researchers have discovered that a two-step formation process of the early Solar System can explain the chronology and split in volatile and isotope content of the inner and outer Solar System.


European eels - one gene pool fits all
European eels spawn in the subtropical Sargasso Sea but spend most of their adult life in a range of fresh- and brackish waters, across Europe and Northern Africa. Using whole-genome analysis, a team of scientists provides conclusive evidence that all European eels belong to a single panmictic population irrespective of where they spend their adult life, an extraordinary finding for a species living under such variable environmental conditions.


Scientists solve a 100-year-old mystery about cancer
A long-standing mystery is why fast-growing cells, like cancer cells and immune cells, rely on a seemingly inefficient form of metabolizing glucose to power their activities. In a new study, scientists now offer a compelling solution.


Combining best of both worlds for cancer modeling
Treatment options for many types of cancers remain limited, due partly to the in vitro tools used to model cancers and that results from animal studies do not always translate well to human disease. These shortcomings point to a clear need for a better, patient-specific model. Researchers suggest bioengineered microscale organotypic models can address this need.


Developmental origins of eczema and psoriasis discovered
Scientists have created a highly detailed map of skin, which reveals that cellular processes from development are re-activated in cells from patients with eczema and psoriasis inflammatory skin diseases. The study offers potential new drug targets for treating these painful skin diseases and provides a new understanding of inflammatory disease. The research could also provide a template for regenerating healthy skin in the laboratory.


On the trail of active ingredients from marine yeasts
Numerous natural products are awaiting discovery in all kinds of natural habitats. Especially microorganisms such as bacteria or fungi are able to produce diverse natural products with high biomedical application potential in particular as antibiotics and anticancer agents. Researchers have isolated red yeast of the species Rhodotorula mucilaginosa from a deep-sea sediment sample and analyzed for its genome and chemical constituents. The scientists succeeded in demonstrating its anticancer and a


Record-breaking laser link could help us test whether Einstein was right
Scientists have set a world record for the most stable transmission of a laser signal through the atmosphere. The team combined 'phase stabilization' technology with advanced self-guiding optical terminals to 'effectively eliminate atmospheric turbulence,' an advance which could help test Einstein's theory of general relativity.


Beetles reveal how to hide the body
A corpse is a home to the burying beetle, and researchers are learning how this specialist critter keeps its home free of unwanted visitors.


Lasers create miniature robots from bubbles
Robots are widely used to build cars, paint airplanes and sew clothing in factories, but the assembly of microscopic components, such as those for biomedical applications, has not yet been automated. Lasers could be the solution. Now, researchers have used lasers to create miniature robots from bubbles that lift, drop and manipulate small pieces into interconnected structures.


Reviving exhausted immune cells to fight cancer
Eliminating a single gene can turn exhausted cancer-fighting immune cells known as CD8+ T cells back into refreshed soldiers that can continue to battle malignant tumors, a new study suggests. The findings could offer a new way to harness the body's immune system to attack cancers.


Merging technologies with color to avoid design failures
Various software packages can be used to evaluate products and predict failure; however, these packages are extremely computationally intensive and take a significant amount of time to produce a solution. Quicker solutions mean less accurate results.


A new study of 1040 online participants from five western countries explores people's response to the stresses of the escalating pandemic, finding more than 13 percent of the sample had post-traumatic stress disorder (PTSD) related symptoms consistent with levels necessary to qualify for a clinical diagnosis.


Drug-delivery microcapsules tagged with zirconium-89 can be tracked by PET imaging
Polymer and radionuclide chemists report major advance in microcapsule drug delivery systems. Their microcapsules -- labeled with radioactive zirconium-89 -- are the first example of hollow polymer capsules capable of long-term, multiday positron emission tomography imaging in vivo. In previous work, the researchers showed that the hollow capsules could be filled with a potent dose of the cancer drug doxorubicin, which could then be released by therapeutic ultrasound that ruptures the microcapsu


Mathematical framework enables accurate characterization of shapes
In nature, many things have evolved that differ in size, color and, above all, in shape. While the color or size of an object can be easily described, the description of a shape is more complicated. Researchers have now outlined a new and improved way to describe shapes based on a network representation that can also be used to reassemble and compare shapes.


When a story is breaking, AI can help consumers identify fake news
Warnings about misinformation are now regularly posted on Twitter, Facebook, and other social media platforms, but not all of these cautions are created equal. New research from Rensselaer Polytechnic Institute shows that artificial intelligence can help form accurate news assessments -- but only when a news story is first emerging.


Innovations through hair-thin optical fibers
Scientists have built hair-thin optical fiber filters in a very simple way. They are not only extremely compact and stable, but also color-tunable. This means they can be used in quantum technology and as sensors for temperature or for detecting atmospheric gases.


This Great Lakes fish may have evolved to see like its ocean ancestors did
In the dark waters of Lake Superior, a fish species adapted to regain a genetic trait that may have helped its ancient ancestors see in the ocean, a study finds. 'Evolution is often thought of as a one-way process, at least over deep time, but in this example, over 175 million years, we have this reversal back to a much earlier ancestral state,' one of the researchers says.


Estrogen receptors in mom's placenta critical during viral infection
A team of researchers has found a mechanism that protects a fetus from harm when the mother's innate immune system responds to a viral infection. Inflammation that would harm the fetus is dampened by a cell-surface estrogen receptor called GPER1 that is especially abundant in the placenta and fetal tissues.


Atomic resolution video of salt crystals forming in real time
Two novel techniques, atomic-resolution real-time video and conical carbon nanotube confinement, allow researchers to view never-before-seen details about crystal formation. The observations confirm theoretical predictions about how salt crystals form and could inform general theories about the way in which crystal formation produces different ordered structures from an otherwise disordered chemical mixture.


Electrical trigger sites in neurons surprisingly change with experience; they are either becoming smaller with increasing number of experiences and, vice versa, they grow larger when less input arrives in the brain.


Message in a bottle: Info-rich bubbles respond to antibiotics
Researchers describe the effects of antibiotics on membrane vesicles, demonstrating that such drugs actively modify the properties of vesicle transport. Under the influence of antibiotics, MVs were produced and released by bacteria in greater abundance and traveled faster and further from their origin. The work sheds new light on these important information-carrying entities, implicated in many cellular communication processes, including antibiotic resistance.


Tiny high-tech probes reveal how information flows across the brain
A new study collected and analyzed the largest single dataset of neurons' electrical activity to glean principles of how we perceive the visual world around us. The study captures the hundreds of split-second electrical signals that fire when an animal is interpreting what it sees.


Mitochondrial mutation increases the risk of diabetes in Japanese men
A new study of Type 2 diabetes (T2D) in Japanese populations has uncovered a previously uncharacterized genetic variant that puts male carriers at greater risk for the disease, as well as the mechanism by which it does so. The impact of the variant was most pronounced in sedentary men; those with the variant had a 65% greater rate of T2D than sedentary men without it.


New, simplified genetic test effectively screens for hereditary cancers
Researchers have developed a new integrated genetic/epigenetic DNA-sequencing protocol known as MultiMMR that can identify the presence and cause of mismatch repair (MMR) deficiency in a single test from a small sample of DNA in colon, endometrial, and other cancers. This alternative to complex, multi-step testing workflows can also determine causes of MMR deficiency often missed by current clinical tests.


Researchers prove fish-friendly detection method more sensitive than electrofishing
Delivering a minor electric shock into a stream to reveal any fish lurking nearby may be the gold standard for detecting fish populations, but it's not much fun for the trout. Scientists have found that sampling stream water for evidence of the presence of various species using environmental DNA, known as eDNA, can be more accurate than electrofishing, without disrupting the fish.


Chemists harness synergy effect of gallium
Chemists have demonstrated the value of 'teamwork' by successfully harnessing the interaction between two gallium atoms in a novel compound to split the particularly strong bond between fluorine and carbon. The gallium compound is also cheaper and more environmentally friendly than conventional alternatives.


How to get more electric cars on the road
Researchers reveal the kinds of infrastructure improvements that would make the biggest difference in increasing the number of electric cars on the road, a key step toward reducing greenhouse gas emissions from transportation.


Crystal structures in super slow motion
Laser beams are used to change the properties of materials in an extremely precise way. However, the underlying processes generally take place at such unimaginably fast speeds and at such a small scale that they have so far eluded direct observation. Researchers have now managed to film, for the first time, the laser transformation of a crystal structure with nanometer resolution and in slow motion in an electron microscope.


As part of a clinical study, researchers are conducting a thorough and highly precise investigation into the molecular and functional properties of tumors. Their goal is to help physicians to better determine which treatment will best match every patient's cancer and thus be most effective.


Treating moms with postpartum depression helps their babies' brains
For the study 40 infants of women diagnosed with postpartum depression were matched with 40 infants of non-depressed mothers on infant age, gender and socioeconomic status. The mothers with postpartum depression received nine weeks of group CBT. The infants were all tested before the treatment and nine weeks later, including a questionnaire on the infant behaviour completed by the mother and her partner.


Vegan diet significantly remodels metabolism in young children
Researchers report a comprehensive pilot study on the metabolic effects of full vegan diet on young children. The study found vegan children to have remarkably altered metabolism and lower vitamin A and D status compared to children with no special diet.


Bringing atoms to a standstill: Miniaturizing laser cooling
Scientists have miniaturized the optical components required to cool atoms down to a few thousandths of a degree above absolute zero, the first step in employing them on microchips to drive a new generation of super-accurate atomic clocks, enable navigation without GPS, and simulate quantum systems.


Degradable, bio-based polymers offer options for chemical recycling, and they can be a tool to store and release useful molecules. Scientists have developed a class of sugar-based polymers that are degradable through acid hydrolysis. The researchers also integrated 'cargo' molecules in the polymer, which are designed to split off after polymer degradation.


CRISPR technology to cure sickle cell disease
A new article reports two patients appear to have been cured of beta thalassemia and sickle cell disease after their own genes were edited with CRISPR-Cas9 technology. The two researchers who invented this technology received the Nobel Prize in Chemistry in 2020.


The physics behind tumor growth
Researchers have developed a predictive theory for tumor growth that approaches the subject from a new point of view. Rather than focusing on the biological mechanisms of cellular growth, the researchers instead use thermodynamics and the physical space the tumor is expanding into to predict its evolution from a single cell to a complex cancerous mass.


What happens to your body during tailgating
Researchers simulated a tailgating situation with a small group of overweight but healthy men and examined the impact of the eating and drinking on their livers using blood tests and a liver scan.


Why older adults must go to the front of the vaccine line
A new global, mathematical modeling study shows that in most cases prioritizing older adults for COVID-19 vaccines saves the most lives. It also found that, in some cases, more lives could be saved and infections prevented if those who've already tested positive step to the back of the line.


Researchers ID potential target for anti-viral drugs to battle COVID
Researchers have published the first structural biology analysis of a section of the COVID-19 viral RNA called the stem-loop II motif. This is a non-coding section of the RNA, which means that it is not translated into a protein, but it is likely key to the virus's replication.


COVID-19 is dangerous for middle-aged adults, not just the elderly
COVID-19 has been spreading rapidly over the past several months, and the U.S. death toll has now reached 400,000. As evident from the age distribution of those fatalities, COVID-19 is dangerous not only for the elderly but for middle-aged adults, according to a new study.


Methane emissions from abandoned oil and gas wells underestimated
A recent study finds that annual methane emissions from abandoned oil and gas (AOG) wells in Canada and the US have been greatly underestimated - by as much as 150% in Canada, and by 20% in the US. Indeed, the research suggests that methane gas emissions from AOG wells are currently the 10th and 11th largest sources of anthropogenic methane emission in the US and Canada, respectively.


COVID-19 infection in immunodeficient patient cured by infusing convalescent plasma, doctors report
Under FDA emergency-use authorization, doctors successfully resolved COVID-19 in a seriously ill, immunodeficient woman using a very high-neutralizing antibody-titer convalescent plasma from a recovered COVID-19 patient. However, further study suggested that use of convalescent plasma may not be warranted in many cases, for two reasons: 1) titer levels are too low in many convalescent plasmas, and 2) there are high endogenous neutralizing antibody titers already present in COVID-19 patients prio


Discovery of new praying mantis species from the time of the dinosaurs
A research team has identified a new species of praying mantis thanks to imprints of its fossilized wings. It lived in Labrador, in the Canadian Subarctic around 100 million years ago, during the time of the dinosaurs, in the Late Cretaceous period. The researchers believe that the fossils of the new genus and species, Labradormantis guilbaulti, helps to establish evolutionary relationships between previously known species and advances the scientific understanding of the evolution of the most 'p


Much of Earth's nitrogen was locally sourced
Scientists show evidence that nitrogen acquired during Earth's formation came from both the inner and outer regions of the protoplanetary disk. The study has implications for signs of potential habitability of exoplanets.


As oceans warm, large fish struggle
Warming ocean waters could reduce the ability of fish, especially large ones, to extract the oxygen they need from their environment. Animals require oxygen to generate energy for movement, growth and reproduction. Researchers describe their newly developed model to determine how water temperature, oxygen availability, body size and activity affect metabolic demand for oxygen in fish.


Saturn's tilt caused by its moons
Scientists have just shown that the influence of Saturn's satellites can explain the tilt of the rotation axis of the gas giant. Their work also predicts that the tilt will increase even further over the next few billion years.


Why Did Early Humans Leave Africa?
Homo sapiens have always been on the move. But the traditional out-of-Africa story explains that H. sapiens evolved in Africa and then migrated in a wave to colonize the rest of the world. What sparked this exodus?


The Best Cookware, According to Science
Should you opt for ceramic, cast iron, nonstick, or something else? Here's a guide to choosing pots and pans that will get the job done — and clear up concerns you might have about what they're made of.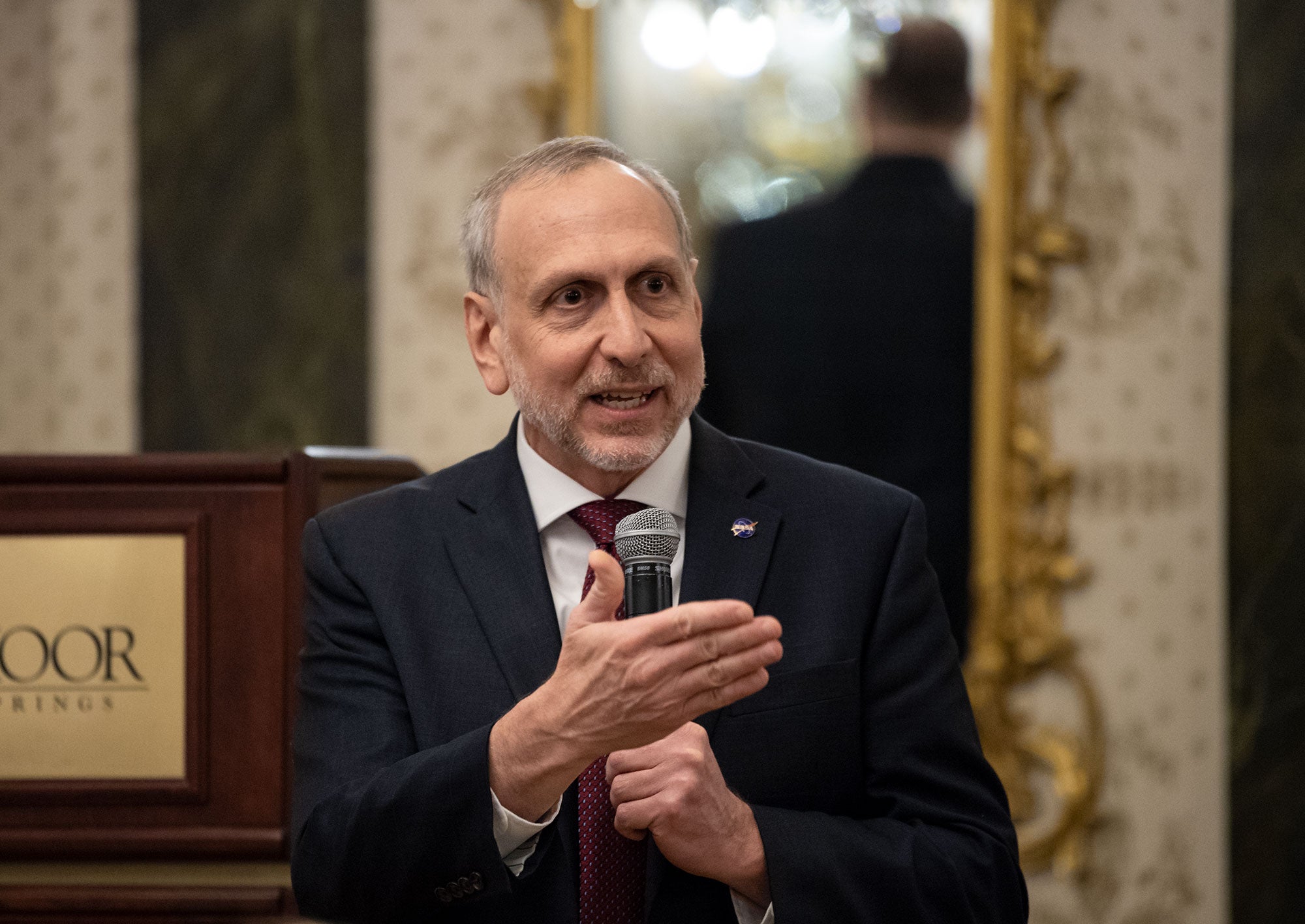 Biden Administration Appoints Acting NASA Chief
Associate administrator Steve Jurczyk, who has worked at the space agency since 1988, will serve as its interim leader during the presidential transition -- Read more on ScientificAmerican.com