Scientists trace the path of radioactive cesium in the ecosystem of Fukushima
In 2011, the nuclear accident at Fukushima, Japan, resulted in the deposit of radioactive cesium (radiocesium) into habitats in the vicinity. A decade after the accident, researchers have collated the complicated dynamics of radiocesium within forest-stream ecosystems. Understanding radiocesium flow in the environment could help mitigate contamination and inform future containment strategies.


New sensor grids record human brain signals in record-breaking resolution
A new array of brain sensors can record electrical signals directly from the surface of the human brain in record-breaking detail. The new brain sensors feature densely packed grids of either 1,024 or 2,048 embedded electrocorticography (ECoG) sensors. If approved for clinical use, these sensors would offer surgeons brain-signal information directly from the surface of the brain's cortex in 100 times higher resolution than what is available today. The technology could provide better guidance for


Review reports improved transparency in antidepressant drug trials
New research suggests manufacturers of newly developed antidepressant drugs have become more forthcoming about clinical trials that don't pan out. While the new findings are encouraging, they still hint at a fundamental shortcoming in medicine: A reliance of studies selectively reported in scientific literature, as opposed to the unvarnished results of clinical trials reported to the Food and Drug Administration.


A new approach to a $1 million mathematical enigma
Numbers like pi, e and phi often turn up in unexpected places in science and mathematics. Pascal's triangle and the Fibonacci sequence also seem inexplicably widespread in nature. Then there's the Riemann zeta function, a deceptively straightforward function that has perplexed mathematicians since the 19th century. The most famous quandary, the Riemann hypothesis, is perhaps the greatest unsolved question in mathematics, with the Clay Mathematics Institute offering a $1 million prize for a corre


TV watching linked with potentially fatal blood clots
Take breaks when binge-watching TV to avoid blood clots, say scientists. The warning comes as a study reports that watching TV for four hours a day or more is associated with a 35% higher risk of blood clots compared with fewer than 2.5 hours.


Hubble finds a black hole igniting star formation in a dwarf galaxy
Often portrayed as destructive monsters that hold light captive, black holes take on a less villainous role in the latest research from NASA's Hubble Space Telescope. A black hole at the heart of the dwarf galaxy Henize 2-10 is creating stars rather than gobbling them up. The black hole is apparently contributing to the firestorm of new star formation taking place in the galaxy. The dwarf galaxy lies 30 million light-years away, in the southern constellation Pyxis.


Quantum computing in silicon hits 99% accuracy
Researchers have proven that near error-free quantum computing is possible, paving the way to build silicon-based quantum devices compatible with current semiconductor manufacturing technology.


Kombucha water filters can resist clogging better than commercial options
Commercially available ultrafiltration membranes that purify water are expensive and get clogged easily by particles and microorganisms. Recently, living filtration membranes were reported as an alternative sieving material. Grown from kombucha cultures, the filters are dense, stacked sheets of bacterial cellulose. Now, researchers show that these living membranes are more resistant to clogging and biofouling, making them more efficient and less expensive to use than conventional ones.


New simulations can improve avalanche forecasting
Computer simulations of snow cover can accurately forecast avalanche hazard, according to a new international study. Currently, avalanche forecasts in Canada are made by experienced professionals who rely on data from local weather stations and on-the-ground observations from ski and backcountry ski operators, avalanche control workers for transportation and industry, and volunteers who manually test the snowpack.


First clinical-grade transplant of gene-edited pig kidneys into brain-dead human
Researchers have announced the first peer-reviewed research outlining the successful transplant of genetically modified, clinical-grade pig kidneys into a brain-dead human individual, replacing the recipient's native kidneys. These positive results demonstrate how xenotransplantation could address the worldwide organ shortage crisis.


Uncovering the underlying patterns in contemporary evolution
Wild populations must continuously adapt to environmental changes or risk extinction. For more than fifty years, scientists have described instances of 'rapid evolution' in specific populations as their traits (phenotypes) change in response to varying stressors. For example, Spanish clover has developed a tolerance for copper from the mine tailings in which it grows, and the horn size of Alberta bighorn sheep has decreased due to trophy hunting. But until now it hasn't been possible to reach an


'Decoy' protein works against multiple SARS-CoV-2 variants, researchers report
A drug treatment that acts as a decoy against SARS-CoV-2 was highly effective at preventing death and lung damage in humanized animal models of severe COVID-19 disease. The study suggests that the drug has the potential to treat COVID-19 patients, including those who are infected with aggressive SARS-CoV-2 variants.


Black eyed peas could help eliminate need for fertilizer
Black eyed peas' ability to attract beneficial bacteria isn't diminished by modern farming practices, new research shows. Planting it in rotation with other crops could help growers avoid the need for costly, environmentally damaging fertilizers.


Bubbles of methane rising from seafloor in Puget Sound
The release of methane, a powerful greenhouse gas responsible for almost a quarter of global warming, is being studied around the world, from Arctic wetlands to livestock feedlots. A team has discovered a source much closer to home: 349 plumes of methane gas bubbling up from the seafloor in Puget Sound, which holds more water than any other U.S. estuary.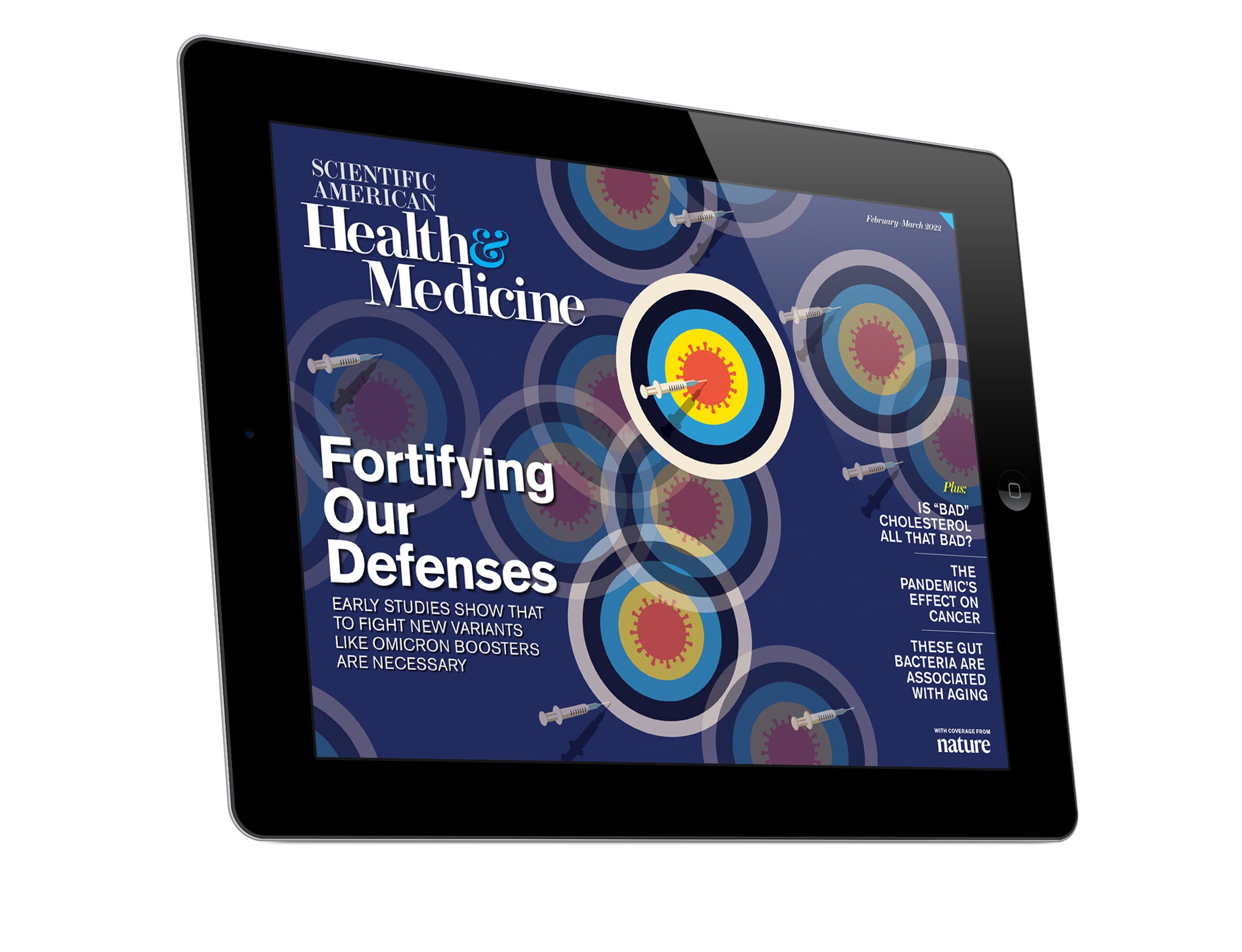 Early studies show that to fight new variants like Omicron boosters are necessary -- Read more on ScientificAmerican.com


Camels' noses inspire a new humidity sensor
Researchers describe a humidity sensor inspired by the structure and properties of camels' noses. In experiments, they found this device could reliably detect variations in humidity in settings that included industrial exhaust and the air surrounding human skin.


High protein diet may harm polar bears
A high protein diet appears linked to kidney disease and shortened lifespans for captive polar bears, a relationship similarly suspected in humans. A careful look at what zoos have fed polar bears revealed they mostly offered a diet intended for big cats, containing about 2-3 parts protein to 1-part fat, a reversal from what was observed in the wild.


How to Recover From a Sleepless Night
When you're struggling after a night of tossing and turning, the urge to chug coffee and nap is real. But experts advise that there are better ways to get yourself back on track.


Tracking the lifespan and myriad functions of mRNA
New studies shed light on how mRNAs are born and how they regulate production of proteins inside of our cells once they reach maturity. The findings have implications not only for achieving effective doses for new vaccines, but for helping determine the biological roots of many cancers and diseases.


The role of ribosomes in age-related diseases
Research finds that the cellular assembly line that produces proteins can stall with age, triggering a snowball effect that increases the output of misfolded proteins. In humans, clumps of misfolded proteins contribute to age-linked Alzheimer's and Parkinson's diseases.


Solving a crystal's structure when you've only got powder
Crystals reveal the hidden geometry of molecules to the naked eye. Scientists use crystals to figure out the atomic structure of new materials, but many materials can't be grown large enough. Now, a team of researchers report a new technique that can lead to the discovery of the crystalline structure of any substance.


Scientists achieve key elements for fault-tolerant quantum computation in silicon spin qubits
Researchers have achieved a key milestone toward the development of a fault-tolerant quantum computer. They were able to demonstrate a two-qubit gate fidelity of 99.5 percent -- higher than the 99 percent considered to be the threshold for building fault-tolerant computers -- using electron spin qubits in silicon, which are promising for large-scale quantum computers as the nanofabrication technology for building them already exists.


3D robotic spine 'twin' and sensor offer new way to preview surgical interventions
Researchers created a novel 3D printed robotic replica of a human spine modified to include an artificial disc implant with a soft magnetic sensor array to enable surgeons to preview the effects of surgical interventions prior to the operation. The patient-specific model was based on a CT scan of the human spine. Results showed that the soft magnetic sensor array system had the high capability to classify five different postures of the spine with 100 percent accuracy, which can be a predictor of


Unexpected energy storage capability where water meets metal surfaces
Researchers have used current and voltage measurements on individual nanoparticles to determine that the capacitively stored charge at platinum interfaces can be significantly higher than previously assumed. They attribute this to a special arrangement and bonding of water molecules.


Heart function recovered quickly in children with COVID-19-related MIS-C condition
Heart recovery began within the first week of diagnosis among children who developed COVID-19-related multisystem inflammatory syndrome (MIS-C), according to a new study. Children treated for MIS-C had normal heart function within three months after their first symptoms. The findings suggest children diagnosed with MIS-C may safely and gradually return to competitive sports after three months.


Cerebrospinal fluid offers clues to post-COVID 'brain fog'
Some patients who develop new cognitive symptoms after a mild bout of COVID have abnormalities in their cerebrospinal fluid similar to those found in people with other infectious diseases. The finding may provide insights into how SARS-CoV-2 impacts the brain.


Internal ocean in small Saturn moon uncovered
A scientist recently set out to prove that the tiny, innermost moon of Saturn was a frozen inert satellite and instead discovered compelling evidence that Mimas has a liquid internal ocean. In the waning days of NASA's Cassini mission, the spacecraft identified a curious libration, or oscillation, in the moon's rotation, which often points to a geologically active body able to support an internal ocean.


Antifreeze cream prevents frostbite injuries to skin, study suggests
Skiers, hikers, soldiers and others exposed to extreme cold temperatures can experience frostbite -- a painful injury that occurs when ice crystals form in the skin. Many extremely cold areas are also remote, and delays in frostbite treatment can result in severe wounds, scarring and even limb amputation. Now, researchers have developed a cream that prevents frostbite injuries in mice when applied to the skin 15 minutes before severe cold exposure.


New tool assesses evolutionary risks of antibiotics
Countering a rising antibiotic resistance crisis, doctors now prescribe combinations of antibiotics. Yet many risks are involved with such multi-drug combinations. Scientists have developed a way to help doctors evaluate outcomes for different drug pairs and boost the odds of successful treatment.


The circadian clock in heart failure
Disrupting circadian rhythms, which change naturally on a 24-hour cycle, has been implicated in heart disease, but it is unclear how it leads to the condition. A research team investigated the function of a certain protein on heart disease development in animal models and human patients.


Smart windows can significantly reduce indoor pathogens
Daylight passing through smart windows results in almost complete disinfection of surfaces within 24 hours while still blocking harmful ultraviolet (UV) light, according to new research. For this research, she tested four strains of hazardous bacteria -- methicillin-resistance Staphylococcus aureus, Klebsiella pneumoniae, E. coli and Pseudomonas aeruginosa -- using a mini-living lab set-up. The lab had smart windows, which tint dynamically based on outdoor conditions, and traditional windows wit


Few countries offer a good place to die, researchers say
COVID-19 has shown us images of patients dying in isolation, apart from loved ones during their final moments. But even before the pandemic, harrowing deaths were all too common in most parts of the world, a new survey of end-of-life care shows. The study ranked 81 countries on how well their health systems provide for the physical and mental wellbeing of patients at the end of life. Only six countries earned an A grade.


'Rivers' in the sky likely to drench East Asia under climate change
Extreme rainfall events associated with atmospheric rivers, narrow bands transporting large amounts of moisture in the atmosphere, are becoming more frequent and severe in mountainous parts of East Asia as the climate changes. According to global and regional climate models comparing historical trends with a future scenario of 4 degrees of warming of global-mean surface air, these events are likely to become more frequent and intense in the future, especially in the Japanese Alps region.


Fish study shows role of estrogens in sense of smell
Steroid estrogens play an important role as embryos develop a sense of smell, new research shows. The study, which examined zebrafish embryos, discovered a type of astrocyte glial cell that is new to science, and have been named estrogen responsive olfactory bulb (EROB) cells.


Epidemiologists develop advanced state-of-the-art tool for measuring the pace of aging
Researchers developed a new blood test to measure the pace of biological aging. Based on an analysis of chemical tags on the DNA contained in white blood cells, called DNA methylation marks, the new test is named DunedinPACE (Pace of Aging Computed from the Epigenome). DunedinPACE is a new addition to a fast-growing list of DNA methylation tests designed to measure aging and contributes value-added over and above the current state of the art.


Our 10 Best Companies Online


There are 40 billion billions of black holes in the universe
How many black holes are out there in the Universe? A new study has investigated the demographics of stellar mass black holes, which are black holes with masses between a few to some hundred solar masses, that originated at the end of the life of massive stars. According to the new piece of research, a remarkable amount around 1% of the overall ordinary matter of the Universe is locked up in stellar mass black holes. Astonishingly, the researchers have found that the number of black holes within