"The Hour of Power," Roman Edition...
For a quarter-century, that verse of the Psalmist was Dr Robert Schuller's sign-on from this crystal sanctuary as he began his Sunday broadcasts across the globe... and now, it's fitting to return to it on this day, as one of American Christianity's most prominent and cherished venues begins its second incarnation as a Catholic church and the seat of this 1...


Mark insists that Christ is the Son of God...
In my commentary on St. Matthew's gospel, I emphasize Mathew's central theme of establishing, point by point, that Jesus Christ is the Messiah expected by the Jewish nation. In sharp contrast, St. Mark insists from the very first that Jesus is the Son of God. Thus Mark largely bypasses traditional Jewish expectations, moving directly to the one point that matters to the whole world...


Planned Parenthood president Leana Wen resigns amid internal dispute over mission...
Citing disagreements with board leaders over whether Planned Parenthood should focus on health care or abortion advocacy, the organization's president is stepping down. Dr. Leana Wen took the reins at Planned Parenthood eight months ago. On Tuesday, she announced that she was resigning. Wen's statements about her departure suggested internal turbulence within the organization...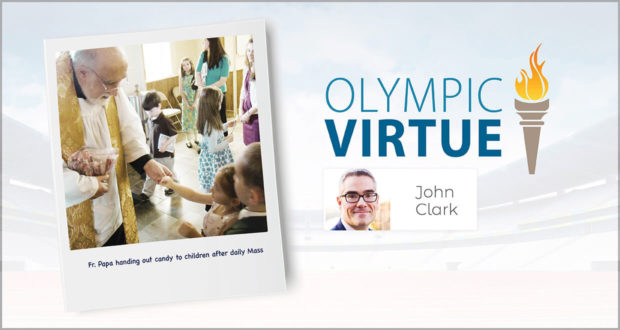 How to take your virtues to new, life-changing heights...
Last year in this space, I wrote a column about Father Frank Papa, a good friend who passed from this life far too soon. If Father Papa had lived to be 100, it still would have been too soon for those who knew and loved him. There was just so much more wisdom he could impart—so much more wisdom that I needed to hear. A few weeks ago...


I really like this new translation of Mark's Gospel...
Michael Pakaluk's skillful translation makes the text new and vibrant for me. It is like listening as Mark (who records Peter's preaching) speaks directly to me. Engendering such a feeling is important because the Gospels are not meant to be like "spectator sports." We are not just watching the lives of others unfold; this is our life...


For Eritrea's Christians, government is not the solution but the problem...
As the world struggles to catch up with what victims and experts have known for a long time - to wit, that anti-Christian persecution is one of the world's most pernicious human rights scourges in the early 21st century - one point steadily becoming more clear is that it's a complicated problem with no single diagnosis and, for sure...


When men first landed on the Moon, I was at Fenway Park watching a Red Sox game.....
Sunday, July 20, 1969. Millions of Americans were in front of their television sets, watching coverage of the historic Apollo 11 mission. But it was a lovely afternoon in Boston, the Red Sox were hosting the Baltimore Orioles, and cheap seats were available in the distant right-field grandstand for impecunious college students. To be honest...


225 years ago today, the Carmelites of Compiègne went to the guillotine...
When Bastille Day comes around each summer on July 14, I just can't bring myself to pop the cork on a bottle of Champagne-style California sparkling wine (the kind I can afford). The Fête Nationale commemorates the storming of the Bastille prison in 1789 and its one year anniversary, Fête de la Federation, when a new government...


What Neil Armstrong and I did on July 20, 1969...
Which has fared better in the past five decades: The Church or the scientific world? I have been thinking a lot about this because I was baptized on July 20, 1969 — the day Apollo 11 landed on the moon. That Sunday, 50 years ago, Neil Armstrong took his first steps on Tranquility Base, while I took my first breaths as a Christian in Tucson...


Dedication day arrives in Diocese of Orange for long-awaited Christ Cathedral...
Forty-three years ago, when Rome spun off Orange County from the mothership of Los Angeles as its own local church, the one-county see numbered some 350,000 members. Now become the nation's sixth-largest civic seat, its Catholic population has boomed to almost five times that. Yet even as it erupted into one of the Stateside church's densest and most diverse outposts - bigger than Atlanta...


Netflix removes suicide scene from '13 Reasons Why' after dramatic spike in teen suicides...
Netflix removed the graphic suicide scene from "13 Reasons Why," a move that follows an April study showing a spike in teen suicides after the show was released. Netflix announced in a statement Tuesday they will remove a graphic suicide scene in which actress Katherine Langford's character, a teenager named Hannah, kills herself by slitting her wrist in a bathtub...


Pro-life women deliver semitrailer full of supplies, $72,000 to the border...
The heat index in McAllen, Texas was 125 degrees on Saturday, but that did not stop members of the pro-life movement from delivering a semi-truck full of supplies and thousands of dollars in aid to respite centers at the border of the United States and Mexico. The #BottlestotheBorder campaign, launched by New Wave Feminists in partnership with And Then There Were None (ATTWN)...


Cardinal Mueller criticizes 'false teaching' on revelation in Amazon synod working doc...
That the working document for October's Synod of Bishops calls the Amazon region a source of revelation is a "false teaching," Cardinal Gerhard Mueller said Tuesday. If in the Instrumentum laboris of the Amazon synod, "a certain territory is being declared to be a 'particular source of God's Revelation,' then one has to state that this is a false teaching...


Apollo 11's 'intrepid adventure': Catholic reflections on the momentous moonshot...
On July 20, 1969, an estimated 650 million people watched as astronaut Neil Armstrong set foot on the moon, just days after Apollo 11 launched on July 16. The grainy, black-and-white images are an indelible part of U.S. history — as is the monumental feat achieved 50 years ago by the crew of Armstrong, Edwin "Buzz" Aldrin and Michael Collins — and by the highly skilled NASA team of men and women and its various contractors who made this feat seem effortless...


What Our Lady asks, she obtains...
When historian Henry Adams and his fellow Americans—including Augustus St. Gaudens, Dorothy Chanler, Willa Cather, and Edith Wharton—traveled from the New World to our old home in Europe, they found the Mother of the Word Incarnate waiting for them. As their lives demonstrate, the Virgin has influenced the art and culture of America—though the nation has never quite come home to her...


NASA's legendary Gene Kranz describes his instrumental role in the Apollo 11 mission...
Where were you when men first landed on the moon? If you're old enough to have heard Neil Armstrong announce, "The Eagle has landed," you probably remember. Gene Kranz certainly remembers. He was at his console at NASA's Mission Control Center in Houston — Buzz Aldrin's voice in his ear and fuel levels on his mind as Armstrong piloted the Eagle closer and closer to the lunar surface...


Our Lady of Carmel, St. Simon Stock, and the Brown Scapular...
July 16 is the feast day of Our Lady of Carmel, a very important feast day in the life of any Carmelite and really anyone that wears and has a devotion to the Brown Scapular. The story of the Brown Scapular and Our Lady of Carmel begins with a Carmelite saint known as St. Simon Stock. In the mid 13th century, Simon Stock, entered the Carmelite Order in Kent...


It's time to decide — A reflection on a question from Elijah...
In our times, the true faith has been undermined in the hearts of many by plausible liars, cultural war, and political correctness. Those who strive to hold to the true faith are called hateful, bigoted, and intolerant. A legal framework is growing that seeks to compel compliance to the moral revolution and abandonment of the biblical worldview...


Dominicans elect 88th Master General of the Order...
On July 13, 2019, the Order of Preachers welcomed the 87th successor of St. Dominic de Guzman, in the person of Fr. Gerard Francisco Parco Timoner III, O.P., a son of the Dominican Province of the Philippines and first Asian Master of the Order. The ceremonies took place in line with the Elective General Chapter currently being held in Bien Hoa in Vietnam...


When theology must fall silent: A reflection on a teaching from St. Bonaventure...
Saints sometimes say daring things. Today, on the feast of St. Bonaventure I'd like to reflect on a saying by him. First, though, let's consider a certain idiom he used, drawn from biblical times. In Scripture there is an "absolute" way of speaking that many of us moderns misconstrue. For example, Jesus says, For I desire mercy not sacrifice...


Colombian bishop uses holy water and a fire truck to 'drive out the Devil'...
A Colombian bishop's determination to exorcise a violent, crime-ridden city in his diocese by pouring holy water from the air, was executed instead by a fire engine. As reported by La República, Bishop Ruben Darío Jaramillo Montoya said, "We want to surround Buenaventura and pour holy water so that God's blessings come and free us from all the evil that is in our lives...


Apollo 11 as told by the astronauts' heart rates...
Two men were about to land on the moon, and Mission Control in Houston was thrumming with tension. In the science operations room, Gerald Schaber, a geologist, needed something to do while he waited for the lunar module to touch down. Schaber had come from northern Arizona, where engineers had warped the desert with dynamite to make a cratered landscape where the astronauts could train...


What can Pope Francis learn from Eastern Churches?
The meeting of Pope Francis and the Synod and metropolitan bishops of the Ukrainian Greek Catholic Church has been labeled as "a new methodology" in the final release by the Holy See Press Office. Speaking with ACI Stampa, Major Archbishop Sviatoslav Shevchuk, head of the UGCC, underscored that this new methodology consisted in the meeting with all the representatives of the Church together...


Here are the two key chapters of the draft on the Vatican curia reform...
Last July 8 Pope Francis previewed another fragment of what will be the future Vatican curia, once its new configuration definitively goes into effect. He appointed six nuns, all superiors general of their respective orders, among the members of the congregation for religious, breaking with the practice that did not allow women to be part of the curial congregations...


National Geographic photo essay: Counting down to Apollo 11...
On July 20, 1969, the world held its breath as astronauts Neil Armstrong and Edwin "Buzz" Aldrin made the first steps on the moon. To celebrate the 50th anniversary of this landmark moment, we've curated a daily calendar of archival photographs that offer a rare and intimate glimpse at the mission and the global excitement it stirred...


Here's how you can help sanctify your day with the Angelus...
Psalm 55 speaks of crying out to God at morning, noon, and night and Catholics traditionally mark these three key periods of the day by praying the Angelus at six, noon, and six. Sanctifying the key periods of the day began in the early Church by reciting the Our Father three times a day (see the Catechism 2767), which expanded with the praying of the psalms seven times a day and once in the night in what became the Divine Office (see Psalm 119)...


Vatican's 'empty tomb' a challenge to credibility when it matters...
Christianity, of course, is founded on the discovery of an empty tomb. Perhaps it's only fitting, therefore, that Christ's vicar on earth now has his own "empty tomb" ferment on his hands. This one, however, almost certainly isn't a prelude to resurrection, but rather to yet another of what the Italians call a giallo...


Why did my child leave the Catholic faith?
The idea that someone would propose to walk away from a relationship with Christ may not sound unreasonable if the premise behind the proposition is an honest one. Hypothetically speaking, the credence to this proposition rests if the reason to walk way is genuine. The problem with this hypothetical proposition is what constitutes a genuine reason to leave or worst outright reject Jesus Christ and everything He represents...


Pope's Sunday Angelus: Judge your own heart first – not that of those in need...
Helping a person in need requires compassion toward their situation, Pope Francis said Sunday, encouraging Catholics to think first about their own hardness of heart, not the sins of others. "If you go down the street and see a homeless man lying there and you pass by without looking at him, or you think: 'Eh, the effect of wine...


Why 'The Lord's Day' should be separate from 'the weekend'...
In 1998, St. John Paul II wrote an entire apostolic letter on "The Lord's Day," in which he expounded on the Catholic observance of the Sabbath and what that looks like in the modern world. It is a remarkable letter that reflects on the recent cultural shift away from a more deliberate observance of Sunday as a special day of prayer and rest...


Love lightens every load — 15th Sunday of the Year...
One could easily reduce this Sunday's Gospel to trite moral advice such as this: Help people in trouble; be kind to strangers. While these are certainly good thoughts, I would argue that it is about far deeper things than human kindness or ethics. This is a Gospel about the transformative power of God's love and our need to receive it...


How often will bystanders help strangers in need? It's more than you think.....
It's one of the most enduring urban myths of all: If you get in trouble, don't count on anyone nearby to help. Research dating back to the late 1960s documents how the great majority of people who witness crimes or violent behavior refuse to intervene. Psychologists dubbed this non-response as the "bystander effect"—a phenomenon which has been replicated in scores of subsequent psychological studies...


15th Ordinary Sunday: Too far right or too far left, we wind up in the ditch in the dark...
This week, the 15th Ordinary Sunday in the Novus Ordo calendar, we have a good example of the dramatic difference between the old, Obsolete ICEL version we suffered with for decades, and the Latin with the Current ICEL version. The Collect or Opening Prayer for this 15th Sunday of Ordinary Time in the Ordinary Form of the Roman Rite is also used in the Extraordinary Form on the 3rd Sunday after Easter...


A feast day for discerners: Sts. Clelia Barbieri and Henry II...
When I hear people say things like "God told me this" or "I think the Spirit is saying that," I just shake my head. The Lord doesn't work with me that way. In fact, more often than not, my prayers are generally met with yawning silence - or at least what I interpret as yawning silence. In my head, I know he hears me...


Are Muslims and Jews our brothers and sisters? It's complicated.....
Can we as Catholics call Muslims our brothers and sisters? How about Jews? Other non-Christians? In what sense? This question, which came up recently in comments on my most recent homily, was raised a couple of years ago when a USCCB news release highlighted a joint statement of three bishops (the chairmen of the USCCB committees on interreligious affairs...


Ven. Fulton Sheen explains what Fatima's prophecies mean...
In her July 13, 1917, apparition at Fatima, Our Blessed Mother first gave hope by telling the seers, Continue to say the Rosary every day in honor of Our Lady of the Rosary, to obtain the peace of the world and the end of the war, because only she can obtain it. Today this surely can also mean the war within our society, our hearts...


Vatican will open two ossuaries next week in continued cemetery investigation...
The Vatican has found two ossuaries believed to maybe belong to the German noblewomen whose tombs were found empty earlier this week. According to Vatican spokesman Alessandro Gisotti, the ossuaries will be opened for testing July 20, in order to determine if they belong to Princess Sophie von Hohenlohe and Duchess Charlotte Frederica...


Bastille Day and other convenient myths...
Centenarians are not as rare as they used to be and one can profit from their memories. In California I spoke with a woman who had traveled there from Missouri in a covered wagon. I visited another woman in a retirement home who was the first to hear her English professor at Wellesley College, Katherine Lee Bates, read a poem she had written on her summer vacation in Colorado: "America the Beautiful...


The snakes that ate Florida...
In the Everglades, everything still looks the same. The waving saw grass, the cypress and pine trees draped with air plants, the high, white clouds parked like dirigibles above their shadows—if you've been to the Everglades before, and you go back, you'll still find these. But now there is also a weird quiet. In the campsites of Everglades National Park...


Fr. Jerzy Popieluzsko's long road...
Hello from Krakow. I spent my last morning in Warsaw visiting the grave of the Blessed Jerzy Popieluszko, and the small museum next to it celebrating his life and death. The museum is connected to the Warsaw parish, St. Stanislaus Kostka, where Father Jerzy was serving at the time of his 1984 murder by the Communist secret police...


Man with Down syndrome wins prestigious 'Entrepreneur of the Year' award...
John Cronin, founder of "John's Crazy Socks," has won the Ernst and Young Entrepreneur of the Year Award for the New York region. Cronin is the first person with Down syndrome to ever win the award, considered one of the most prestigious business awards in the New York area. Cronin, along with his father Mark, won in the "Mission Driven" category...


Former Vatican spokesman Greg Burke announces his next move...
He unveiled his plans Thursday on Twitter, saying he'll be moving to Barcelona to become director of communications at IESE Business School. He'll also be working for the Arise Foundation, fighting human trafficking. The Foundation confirmed Burke's appointment on its website. Burke, you'll recall, was director of the Holy See Press Office...


Sts. Louis and Zélie — St. Thérèse's "incomparable parents"...
This Friday, July 12, is the feast of Saints Louis and Marie-Azelie Martin, canonized together by Pope Francis in 2015. July 12 was chosen as their feast because it was on this day in 1858 that they were married at Notre Dame Basilica in Alençon, France, and committed themselves together to living to the full the Sacrament of Matrimony and its twofold call not just to human...


Not laughing at 'choice'...
It turned out to be open mic comedy night. I'd met a priest I know at a new microbrewery in his parish, and after an enjoyable time and enough beers he went home, while I finished my last one. The comics started after my friend (who had come dressed as a priest) had left, which was probably good for priest and comedians. I'm sitting well off to the left...


Is it God's will that I'm married?
Maybe it's just the websites I frequent, but it seems as though there is a widespread temptation lately among Catholics—priests and laity alike—to wonder if they have chosen the right vocation. It's hard to dismiss the idea that the devil is behind this, because there are few things more insidious than the temptation to think we are stuck in the wrong vocation...


Why was King David's census sinful? And why was all Israel punished for something David did? ...
In the Office of Readings this week we read about a census conducted by King David that caused great harm. Joab, David's general, strongly cautioned him not to take the census, but David insisted. When the census had been completed, the prophet Gad informed David that God was angry and intended to punish him and all Israel. God offered David his choice of punishments: a three-year famine...


UK Parliament votes to legalize same-sex marriage, abortion in Northern Ireland...
The British parliament voted Tuesday to legalize same-sex marriage and abortion in Northern Ireland - a vote that will take effect only if the region's own legislature is not functional by Oct. 21. British MPs voted 383-73 July 9 to add same-sex marriage as an amendment to the Northern Ireland (Executive Formation) Bill, which is designed to keep the region running in the absence of a functioning government...


Could today's Vatican tomb exams finally end Rome's favorite mystery?
July in Rome tends to be a slow time, and, given the heat wave that's gripped Europe for the last few weeks, this has been an especially languid period. Today, however, Romans will perk up all across town, because this is the day two Vatican tombs will be opened in search of the remains of Emanuela Orlandi. Orlandi was the 15-year-old daughter of a clerk in the Prefecture of the Papal Household...


A boom in at-home abortions is coming...
After Marie decided to take medication to end her pregnancy, it took several days for the pills to work. When the uterine contractions started, Marie recalled, she experienced "a lot of bleeding, a lot of pain, a lot of cramps. Just like a bad cycle." She used a sock filled with rice, heated in the microwave, as a heating pad to relieve the cramps...


Rediscovering the "plot" of Sacred Scripture is essential to evangelization...
One of the most significant losses in the modern era is that the biblical narrative is no longer in the hearts and minds of most people. Scripture is the history of the human family, told in story form by God Himself. He tells us how and why we were made and why, as well as what happened to make things the way they are today. Why do we experience infinite longing though we live in a finite world...


Herman Wouk was a gifted, purposeful storyteller...
Ten years ago, a friend and colleague suggested that I write "The Great Vatican Novel." I quickly declined, not just because the truth about life behind the Leonine Wall is often stranger than fiction (and more so since the suggestion was made), but because the idea of writing a novel terrifies me. Writing large books — no problem...


Say Mass for Vincent Lambert, Paris archbishop tells priests...
The Archbishop of Paris, Michael Aupetit, has asked priests of his archdiocese to offer Mass for the intention of Vincent Lambert, the 42 year-old quadriplegic man nearing death in a French hospital after doctors withdrew food and water on Sunday. "Dear brothers," the archbishop wrote July 9, "it is now the time for contemplation...


The inside story of Ven. Fulton Sheen's first miracle...
"Fulton Sheen, Fulton Sheen," prayed Bonnie Engstrom. She had just given birth, and her baby boy was dead, his umbilical cord tied tightly around his neck. He did not breathe; his heart did not beat. His leg was necrotic from a misfired epinephrine shot intended to revive him. Sixty-one minutes after delivery, his heart still did not beat...


If there is to be an Anti-Christ, might he be preceded by an Anti-Mary of sorts?
Several people recommended that I read this book. I'm reading it and it is bothering me a great deal even as it informs and confirms. Here is something, the opening words of the introduction. This should get you oriented right way: Women have been a mystery since Adam encountered Eve. But sometime over the last fifty years, a dark change has taken place in the lives of women and the men who love them...


The heroic recusants and martyrs who resisted England's Tudor terror...
One of the biggest mistakes that a student of history can make is to confuse the so-called English "Reformation" with its namesake on the continent. Whereas the Protestant Reformation in Europe was animated by the genuine theological differences that separated those who followed Luther or Calvin from those who accepted the apostolic and ecclesial authority of Catholicism...


The cotton candy Jesus and the cold cruel Jesus are both fictions...
One of the advantages of being a Catholic is that, if you go to Mass regularly, you will hear so much of Sacred Scripture being read. This is also one of the disadvantages. It is not a disadvantage because you hear Sacred Scripture, but because you hear it in small chunks. What is lacking in the experience of most Catholics is an overall view of the whole of Sacred Scripture from Genesis to Revelation...


The problems produced by the polygamy of the Patriarchs...
In the Book of Genesis, God's plan for marriage is set forth poetically but clearly: one man and one woman in a stable, lasting, fruitful relationship of mutual support. God said, It is not good for the man to be alone. I will make a suitable helpmate for him. Note that the word used is "helpmate," not "helpmates." After teaching the man that animals are not suitable companions...


Vatican waives diplomatic immunity for France envoy accused of sexual assault...
The Vatican has waived immunity for its envoy to France, who is under investigation for sexual assault, according to the Bishops' Conference of France. Archbishop Luigi Ventura, 74, is alleged to have inappropriately touched a junior male official working at the Paris city hall, deputy mayor Patrick Klugman told CNN earlier this year...


Keep moving after you've checked the boxes...
As Catholic parents, we often get caught up in the checklist. Baptism, check! First Reconciliation, check! Confirmation, check! First Communion, check! We're very busy and involved in the Church and in the formation of our children until they receive their first four sacraments and then... all goes quiet. Weekdays pass by without attending "church class...


A priest explains celibacy and the love it proclaims...
Since the days of Christ's public ministry, when Our Lord conspicuously chose not to marry, the world has looked askance at priestly celibacy. Today, popular tropes routinely cast aspersion on this longstanding discipline of the Western Church, blaming it for everything from the recent clerical abuse scandal to regional scarcities of priestly vocations...


Building a culture of religious freedom...
Back in April, Gerard Baker, the Wall Street Journal's editor at large, wrote a column called "Persecuted Christians And Their Quiescent Leaders" that I hope all of you will read. In it, Baker hammers home two facts. Christians of every tradition—Protestant, Catholic, and Orthodox—are now the most widely and brutally persecuted religious community in the world...


Reclaiming the forgotten wisdom of a bygone era...
These last few years, my wife and I have been restoring an old Victorian house that once was a rectory on our island in Nova Scotia, where we live in the summer. I can draw an analogy to between what we have done so far and what should be done in the Church. We might call it de-novation: the removal of worthless or banal or ugly stuff...


California bill threatening seal of Confession pulled by sponsor...
A measure that required California priests to break the seal of the confessional was pulled by its sponsor, Sen. Jerry Hill, D-San Mateo, July 8, offering a reprieve for state Catholics who strongly opposed the measure. "The action follows the delivery of tens of thousands of letters, emails and phone calls from Catholics and others concerned with the free expression of religion...


Tonight's a great night to see Saturn's rings...
Tonight, Saturn will be in opposition, meaning it will be at its closest proximity to Earth. The ringed planet should be visible without a telescope, although astronomers recommend you use one for the best views—and especially to see the planet's rings.


Pope Francis' missing "gift" to the Ukrainians...
The July 4 visit to the Vatican by Vladimir Putin, who is certainly not a friendly face for Ukrainians, cast a shadow over the meeting in Rome, over the next two days, of the synod of the Greek Catholic Church of Ukraine, with its major archbishop Sviatoslav Shevchuk (see photo). On July 5 Pope Francis delivered a speech to them that was very evasive on the tough questions...


The secret to a successful day, according to Ven. Fulton Sheen...
Archbishop Fulton Sheen was well-known during his life for his practical spiritual advice, giving the ordinary lay person tools for spiritual success. One of the main pieces of advice that he stressed in his various writings and autobiography was a daily practice that gave him the energy he needed to have a successful day. When he was ordained a priest he resolved to spend an hour of prayer each day before the Blessed Sacrament...


The Subtle Lie: Women must be powerful, but not fruitful...
A couple of years ago, I read about three women at an online magazine. These women were all very successful, secular career women, but each expressed a deep discontentment with her life. One said she wanted to just go bake bread, another said she wanted to plant a garden, and the third said she wanted to leave everything behind and just go raise a mess of children...


A battle you can't afford to win: The story of Jacob's conversion...
One of God's stranger affections is the special love He had for Jacob of the Old Testament. We are reading through this story in daily Mass this week. According to some, the name Jacob means "grabber" or "usurper." Even while still in his mother Rebekah's womb, Jacob wrestled with his twin brother, Esau. Although Esau was born first...


Won't you be my neighbor? The 15th Week of Ordinary Time.....
Fred Rogers was a highly theological educated man, an ordained Presbyterian minister who also gave generous grants to St. Vincent's Catholic College and Seminary in Latrobe, Pennsylvania. I think he was well aware of the theological significance of the concept of "neighbor," which we will explore through the Readings for this Sunday...


For first time, Pope names seven women as full members of congregation for religious...
Pope Francis named six superiors of women's religious orders, a consecrated laywoman and the superior of the De La Salle Christian Brothers to be full members of the Congregation for Institutes of Consecrated Life and Societies of Apostolic Life. Previously, the members had all been men: cardinals, a few bishops and several priests who were superiors of large religious orders of men...


For first time, Pope names seven women as full members of Vatican's congregation for religious...
Pope Francis named six superiors of women's religious orders, a consecrated laywoman and the superior of the De La Salle Christian Brothers to be full members of the Congregation for Institutes of Consecrated Life and Societies of Apostolic Life. Previously, the members had all been men: cardinals, a few bishops and several priests who were superiors of large religious orders of men...


Thousands turn out at Rally for Life march in Dublin...
The organizers of the Rally for Life march in Dublin estimate that around 10,000 people took part in the event. Pro-life campaigners marched from the Garden of Remembrance in Parnell Square to the Customs House, where a rally was held this afternoon. Many of those who took part in the rally are calling for another referendum on abortion...


Crystal Cathedral captures the American Catholic story in miniature...
Bishop Kevin Vann of Orange, California, likes to tell the story of once visiting Orange County while he was still serving in Fort Worth, Texas, with no idea of what the future might hold. Bishop Todd Brown of Orange, who at the time was about to hit the usual retirement age of 75, gave him a tour of the Crystal Cathedral, the once-glimmering home of the Rev...


Everything we know so far about Jeffrey Epstein's arrest for sex crimes...
On Saturday, billionaire financier and convicted sex offender Jeffrey Epstein was arrested for the alleged sex trafficking of dozens of minors in New York and Florida between 2002 and 2005. In a criminal indictment unsealed Monday, federal prosecutors claimed that Epstein lured underage girls, some as young as 14, to his luxurious homes in Manhattan and Palm Beach under the guise of paying them cash for massages...


Pope Francis prays for migrants killed in airstrike in Libya...
Pope Francis prayed Sunday for the victims of the airstrike that hit a migrant detention center in Libya, and called upon the international community to condemn the violence. "I invite you to pray for the poor defenseless people killed or wounded by the airstrike," Pope Francis said in his Angelus address July 7.


How to save money and skip lines at the airport...
More Americans are obtaining passports and going abroad than ever before—and thousands of different travel apps, websites, and services have proliferated to help them on their journeys. Many promise to make the experience of flying cheaper, easier, and less stressful. Want dinner delivered directly to your gate? There's now an app for that...


Practical principles for proclaiming the Kingdom...
In the Gospel this Sunday, Jesus gives a number of practical principles for those who would proclaim the Kingdom. Let's look at each of them in turn. First, the Lord describes here a very serious situation. There is an abundant harvest, but there are few willing to work at it. Consider the harvest in our own day. Look at the whole human race and think about how many don't yet know the Lord...


These two Catholic saints make cameos in 'Spider-Man: Far From Home'...
Marvel's latest Spider-Man movie (subtitled "Far From Home") is an enjoyable edition to the already vast "MCU." It is entertaining, funny and has some great teachable moments. Surprisingly, it even had some "saintly" cameos. For starters, Peter Parker heads out on a high-school trip to Venice, Italy. Not surprisingly...


The miracle on Dan bus #4...
It was a very hot day in July 1951. I was in Tel Aviv and too hot to walk. I boarded Dan bus #4 on the corner of Ben Yehuda and Gordon streets. The bus was very crowded and there was no available seat. I had to stand next to a Yemenite woman holding a live chicken under her apron.


Orwell's Nineteen Eighty-Four and abortion newspeak...
Seventy years ago in June 1949 George Orwell's dystopian novel Nineteen Eighty-Four was published. On June 7, 2019, the day prior to Nineteen Eighty-Four's 70th anniversary, The Guardian, the United Kingdom's leading socialist newspaper, announced: "Why the Guardian is changing the language it uses to describe abortion bans...


Because of so much darkness, there has never been a better time to be a young priest...
At Complete Christianity (a member of the new FOEDUS - League of Catholic Bloggers) Shane Schaetzel, a lay convert to the Church, wrote a post that I wish that I had written. Let me just say- as a forward to what I'll post below - that this is a really tough time to be a priest. But, as I always say, of all the universes God could have created He created this one...


How this priest saved a soul by dialing a wrong number...
God works in mysterious ways! Fr. Goyo Hidalgo, a priest in the Archdiocese of Los Angeles, shared a story on Twitter that will make you second-guess your belief in coincidences. The parish priest explained that he accidentally dialed the wrong number when calling a parishioner. However, the call resulted in God's providence...


Frankincense could be snuffed out in 50 years, scientists warn...
In parts of Africa and India, wild Boswellia sacra trees produce frankincense, an ancient, aromatic resin extracted from the sap of their trunks. Known for its biblical significance—frankincense was one of the three gifts of the Magi (along with myrrh and gold)—the fragrant material is used in perfumes and incense for cooking and religious ceremonies...


Faithful Catholics: Don't accept confusion about sexual morality...
"Pride Month" has come to an end. And for the first two days of July, the first readings at Mass told the story of Sodom and Gomorrah. I'd call that a coincidence—if I believed in coincidences. Just after the middle of the month, Joseph Sciambra posted a very provocative comment on his Facebook page. Sciambra knows whereof he speaks; having once been caught up in the homosexual underworld...


Could Pope Francis deliver yet another 'July surprise?'...
Once upon a time, Rome in July was a tranquil place for those whose professional activities unfold in and around the vacation. Popes suspended their audiences and left town, seeking to escape the brutal summer heat, so Vatican personnel and Vatican-watchers alike could while away leisurely days catching up on reading, taking long lunches and equally long naps...


Basilica of the Nativity is no longer "endangered," UNESCO declares...
The Church of the Nativity, in Bethlehem (Palestine), is no longer in danger and so was removed from UNESCO's list of endangered heritage sites, following a decision taken in Baku (Azerbaijan), where the 43rd session of the World Heritage Committee is currently underway. The restoration work by the Italian Piacenti S.p.a. company began in September 2013 and is still in progress...