Paul T. Goldman Trailer: Borat Sequel Director's Bizarre New Meta Project Is Over 10 Years In The Making
Director Jason Woliner took over the "Borat" franchise from Larry Charles with the raucously hilarious follow-up "Borat Subsequent Moviefilm," making headlines around the world and sending shockwaves across the web. Since then, it sounds like he's been busy putting the finishing touches on a Peacock original series that follows in the same footsteps of the documentary style comedy that has made millions cringe and crack up at the same time.  Peacock has just debuted the first trailer for a ne...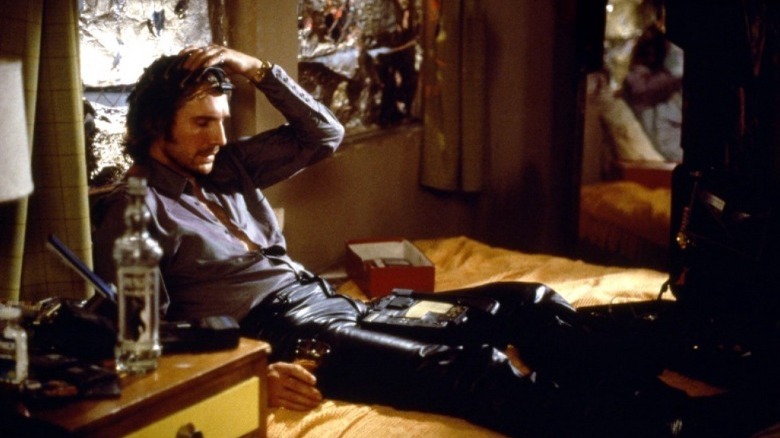 The Opening Of Kathryn Bigelow's Strange Days Took Six Months To Set Up, With The Help Of James Cameron
When director Kathryn Bigelow's "Strange Days" hit theaters in 1995, the film was marketed as a cyberpunk tech-noir thriller set in the year 1999, right at the cusp of the millennium. Although "Strange Days" delivered significantly more than it promised, the film was a box-office dud and received incredibly mixed reviews from critics — a combination that nearly derailed Bigelow's career. Apart from directing, Bigelow honed in on the gritty socio political themes that run through the film, in...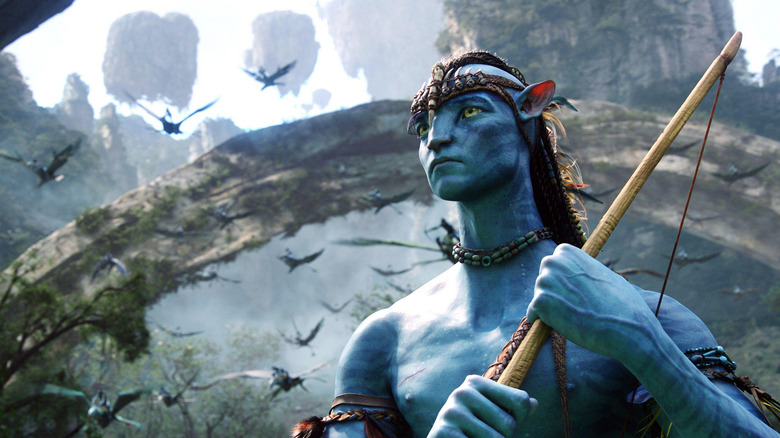 Here's Where You Can Watch Avatar On Broadcast TV Ahead Of The Way Of Water
With "Avatar: The Way of Water" primed to be the biggest movie of the holiday season, it's natural that folks will want to reacquaint themselves with the sci-fi epic that started it all. The theatrical re-release of James Cameron's 4K remaster a few months back not only proved that there is still an audience for this movie, but it also bumped it up a notch in the record books. For about a decade, the 2009 sci-fi adventure held the mantel of the highest grossing movie of all time, until "Avenge...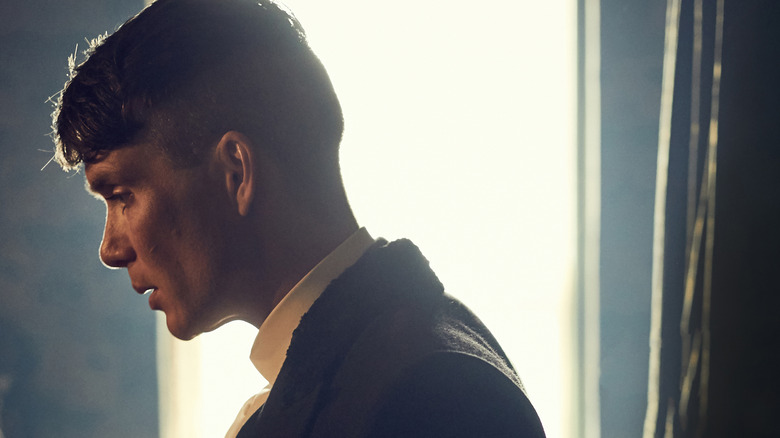 Peaky Blinders' Sam Claflin Sees A Lot In Common Between Tommy Shelby And Oswald Mosley
Up until its recently-completed final season, each and every installment of "Peaky Blinders" has featured a big name actor in the role of the main antagonist. While Finn Cole's Michael Gray took the centerstage in season 6, throwing the Shelby family into turmoil as he finally came to blows with his estranged cousin Tommy (Cillian Murphy) in an epic power struggle, prior seasons carefully built up each standalone threat as a new headache for Tommy and his gang of Peaky Blinders to deal with. Fr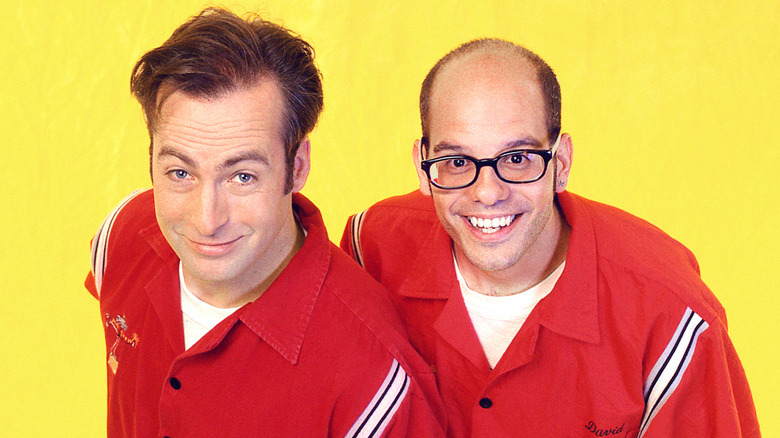 The Moment Bob Odenkirk Knew Mr. Show Was Over
There are multiple points in Bob Odenkirk's career that can teach us all a thing or two about perseverance. At one point, the "Better Call Saul" star was on the shortlist of names to play Michael Scott on "The Office." In fact, he came so close to taking the lead role that towards the end of casting it was down to Odenkirk and Steve Carell, before NBC ultimately decided to go with the latter. It must have been disheartening for Odenkirk, who up until that point had carved out an impressive care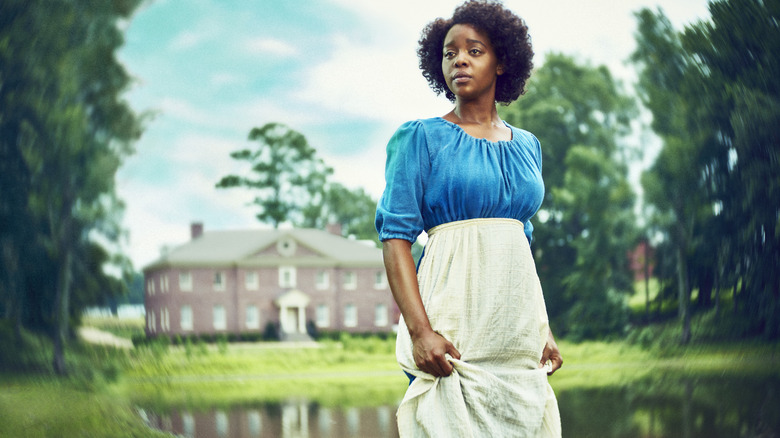 Kindred Review: Mallori Johnson Shines In An Imperfect Adaptation Of Octavia Butler's Seismic Sci-Fi Novel
The story that drives "Kindred" is deceptively simple: Dana James (Mallori Johnson) is a modern-day Black woman who is violently yanked back in time to a pre-Civil War plantation. It doesn't take a genius to map out what comes next. Modern-day sensibilities will clash with antebellum-era subjugation, and though audiences will cringe away from the brutality, unwavering resilience will carry our protagonist through. Haven't we seen this narrative in all the agonizing iterations that came before?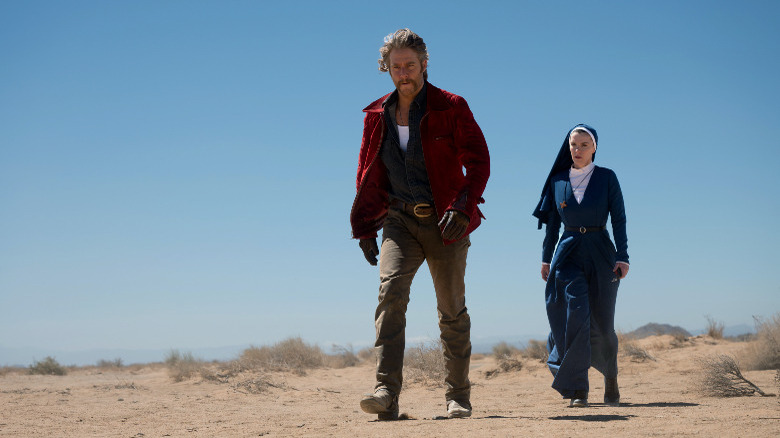 Mrs. Davis: Release Date, Cast, And More For Damon Lindelof's New Series Starring Betty Gilpin
(Welcome to ...And More, our no-frills, zero B.S. guide to when and where you can watch upcoming movies and shows, and everything else you could possibly stand to know.) To call Damon Lindelof ambitious feels a bit like saying James Cameron has a soft spot for the ocean. Shows like "Lost," "The Leftovers," and "Watchmen" have seen the writer and producer wrestling with all manner of daunting topics, from America's legacy of white supremacy to the very meaning of existence and the effects of col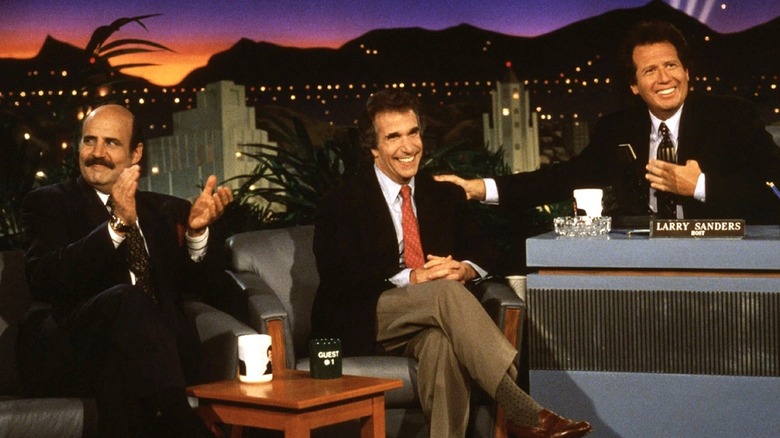 A Psychic On The Larry Sanders Show Set Told Judd Apatow He Was Going To Direct
It's pretty common knowledge among film and comedy fans that Judd Apatow got his start as a stand-up comic alongside his good friend -- and one-time roommate -- Adam Sandler. In fact, Apatow has recently gotten back to the stand-up grind, with ... mixed results. But these days, he's mostly known for his writing, directing ,and producing, to the point where his style of comedy essentially became its own genre for about a decade.  Still, Apatow has been behind the camera for some of this century...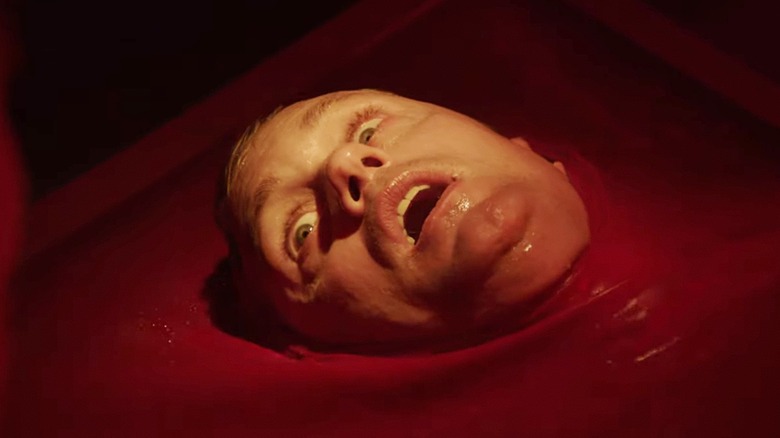 Infinity Pool Trailer: Brandon Cronenberg Is Back With A New Nightmare
2022 has truly been the year of rich people having a bad time on an island. From "Glass Onion" to "The Menu" to "Triangle of Sadness," the lesson that the wealthy should take away from this year is to stick to the mainland for their luxury getaways. (Alternatively, they could give away all their money and live a life of humble asceticism.) But in case they need a reminder of the dangers of island living, Brandon Cronenberg is offering up his own contribution to the genre in dark sci-fi thriller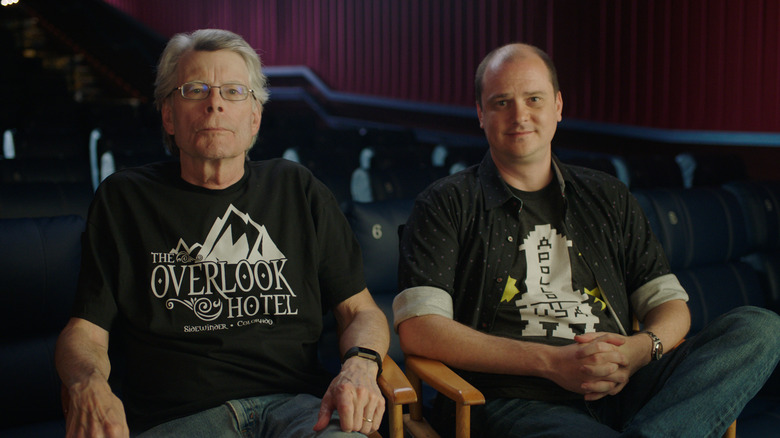 Mike Flanagan, Answering Fans' Prayers, Will Adapt Stephen King's The Dark Tower
What was once every Stephen King fan's loss could suddenly turn into their ultimate dream come true. At this point, nobody needs much of a refresher on the disaster that was the 2017 "The Dark Tower" adaptation, which somehow took all the weirdest, most ambitious, and downright epic elements of the prolific author's magnum opus -- consisting of seven total novels (and short stories) -- and distilled it all into, well, one of the most disappointing blockbuster efforts in recent memory. But as a...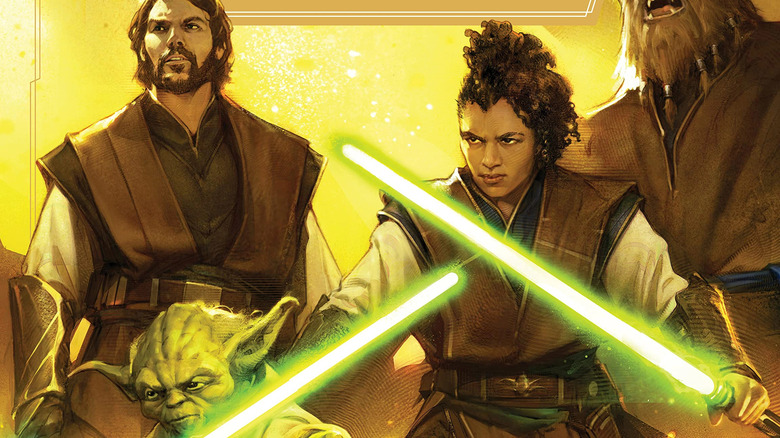 The Art Of Star Wars: The High Republic Author Kristin Baver On Organization And Execution [Exclusive Interview]
Kristin Baver is a very public face at Lucasfilm these days. Beginning as a writer for StarWars.com, she's worked her way up to the face of the "Star Wars" news show and has written several books about the franchise. Her first was the in-universe biography of the Skywalker family, "Star Wars: Skywalker — A Family at War." Her most recent foray into the world of "Star Wars" was overseeing the writing of "Star Wars: The Art of the High Republic," a tome that chronicles the unusual work of art o...


Street Fighter 6 Release Date Reportedly Leaked Through PlayStation Store
Capcom has repeatedly noted that Street Fighter 6 was coming out in 2023, but was bullish on exactly when. However, it seems as though Sony has prematurely put up a listing noting that Street Fighter 6 is releasing on June 2, 2023. As noted by Wario64 on Twitter, a ResetEra user posted a screenshot from […] The post Street Fighter 6 Release Date Reportedly Leaked Through PlayStation Store appeared first on ComingSoon.net - Movie Trailers, TV & Streaming News, and More.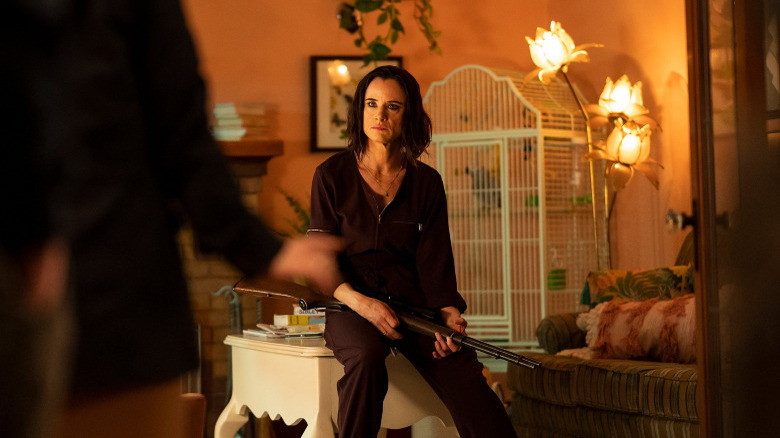 Yellowjackets Season 2: Release Date, Cast, And More For The Return Of Showtime's Series
(Welcome to ...And More, our no-frills, zero B.S. guide to when and where you can watch upcoming movies and shows, and everything else you could possibly stand to know.) Showtime's "Yellowjackets" was one of the most fascinating new shows to debut in 2021. The series centers on the members of a Seattle high school girls' soccer team (the titular Yellowjackets) whose plane crashes in the Canadian wild on their way to a national tournament in 1996. 25 years later, only a few of the players are st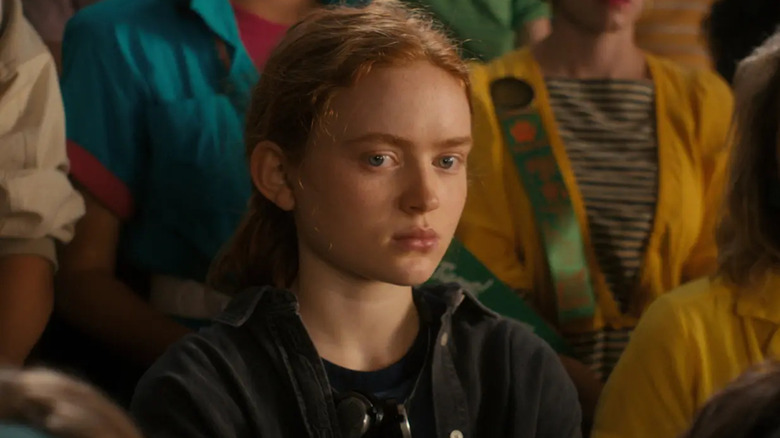 Brendan Fraser Was Floored By The Rage Sadie Sink Brought To The Whale
One of the most beloved actors around these days is Brendan Fraser, who is the source of a ridiculous amount of compassion and humble energy and has inspired the rarest of rare things: positivity on the internet. People love Fraser, they're cheering him on and celebrating his successes, which all comes to a head with his certainly award-worthy performance in Darren Aronofsky's "The Whale." Fraser plays Charlie, a 600-lb. man whose mortality is staring him dead in the face who takes it upon h...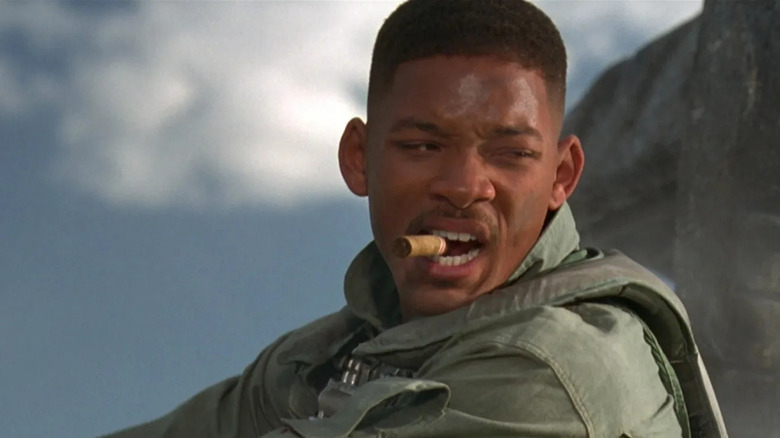 Roland Emmerich Knew Independence Day Had To Beat Mars Attacks! To Theaters
Roland Emmerich's made a lot of disaster movies over the years, but "Independence Day" is still the best, probably because it had clear villains. Both "The Day After Tomorrow" and "2012" had their disasters be the fault of Mother Nature. That made for some great action sequences, but it also led to endings that just sort of fizzled out. In both the latter movies, the Earth's climate permanently changes and large swaths of humanity die, which makes their last-minute swerves towards happy, hopef...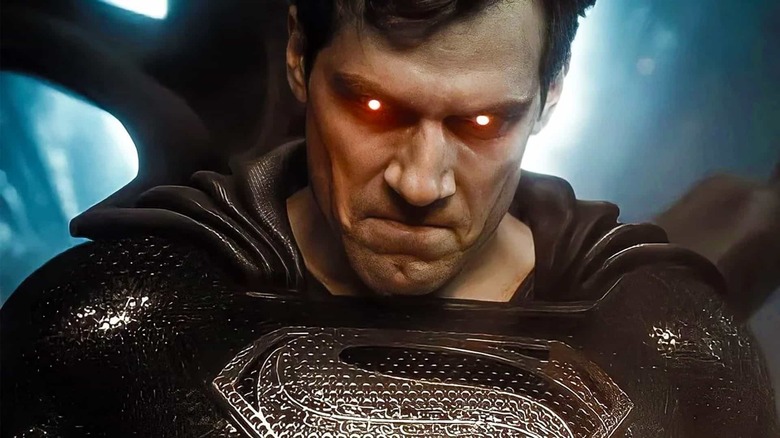 Henry Cavill's Return As Superman Just Got More Complicated
Thanks to the post-credits scene of "Black Adam," fans of Henry Cavill's version of Superman began to rejoice as it seemed like the actor would be returning to the character. The excitement started to ramp up as the man behind this Man of Steel recently left Netflix's adaptation of "The Witcher," which was a part that Cavill notably loved. With both of those things happening so close together, it was hard for Big Blue's adoring public not to assume that the hero would likely come face to face w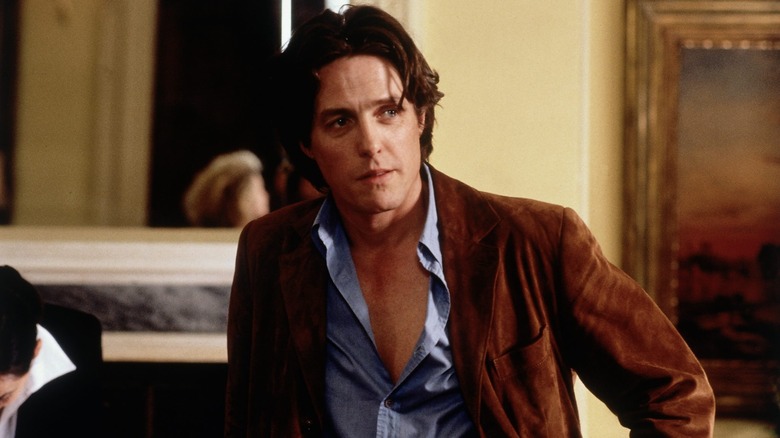 All It Took Was Richard Curtis To Get Hugh Grant On Board With Bridget Jones's Diary
If you're a fan of '90s rom-coms, then you probably love the unforgettable films written by Richard Curtis starring the irresistibly charming Hugh Grant. My personal favorite among them is "Bridget Jones's Diary," a modern adaptation of "Pride and Prejudice" that centers around the indulgent and imperfect Bridget Jones caught in a classic love triangle. Believe it or not, Grant almost turned the film down. Luckily, he was convinced to join the cast when Richard Curtis stepped in to give the scr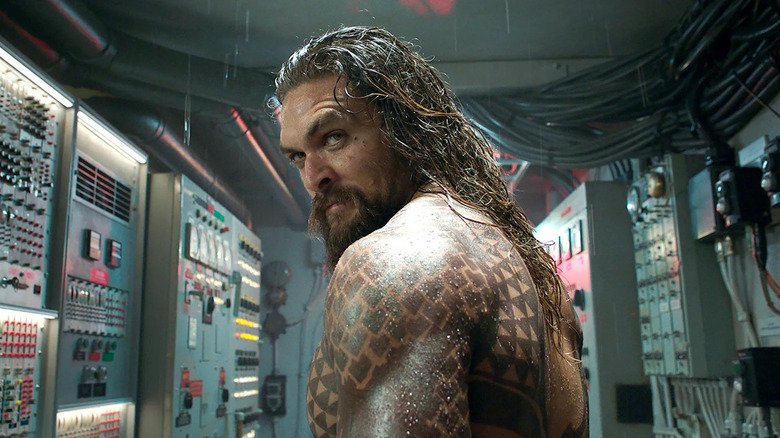 Jason Momoa Could Be Lobo And Other Big Changes Coming To The New DC Universe
The hierarchy of power is indeed changing in the DC Universe, but it's not "Black Adam" in control. With James Gunn and Peter Safran at the helm, it looks like the duo is gearing up for some drastic changes.  Borys Kit of The Hollywood Reporter has a big, big story that should be taken as a snapshot of this particular moment in time as Gunn and Safran prepare to share their vision for the reboot of the DCEU with new Warners head honcho, David Zaslav.  Right up front, just because this is the ...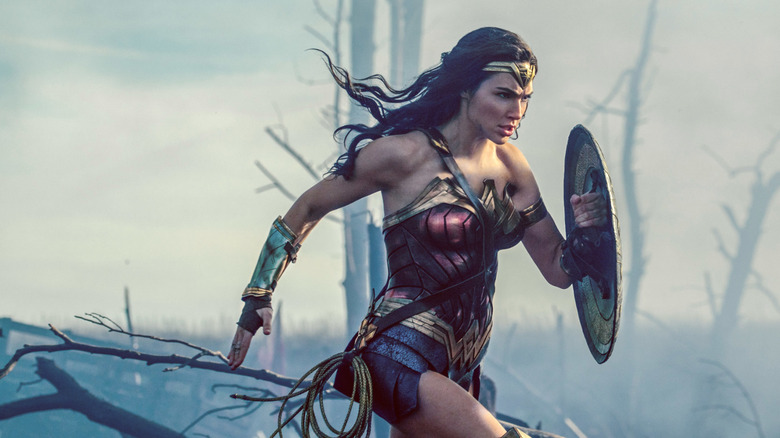 Wonder Woman 3 Will Not Be Moving Forward
If you think you have gotten used to the potential slate over at the newly-established DC Studios, think again. In a shocking bit of breaking news, The Hollywood Reporter has revealed that the previously-confirmed "Wonder Woman 3" will no longer be moving forward. According to insiders familiar with the situation, director Patty Jenkins had recently submitted her treatment for the film to DC Studios, but it was seemingly rejected due to it not aligning with the visions of newly appointed co-he...


Dead Island 2 Showcase Unveils Zombie Abilities, Pre-Order Bonuses
After years of hibernation, Dambuster Studios has been showing off Dead Island 2 more and more in the ramp up to its release on April 28, 2023. The zombie-killing RPG just recently had its own showcase, which revealed more gameplay as well as its suite of pre-order bonuses. The gameplay trailer was the beefiest part […] The post Dead Island 2 Showcase Unveils Zombie Abilities, Pre-Order Bonuses appeared first on ComingSoon.net - Movie Trailers, TV & Streaming News, and More.


The Pilots Who Consulted On Top Gun Thought Maverick Was A 'Hot Shot' Who 'Wouldn't Last'
Tony Scott's "Top Gun" took over the world in 1986, successfully launching Tom Cruise as one of our greatest movie superstars and for better or for worse, showed Hollywood a viable, profitable way to collaborate with the U.S. Military in studio filmmaking. Despite the large time gap between the original film and its sequel, "Top Gun: Maverick," the franchise has maintained its cultural relevance and has become one of 2022's greatest success stories. It's not just any blockbuster, it's an encaps


Wonder Woman 3 Canceled as Gunn & Safran Plan DCU Future
Patty Jenkins' Wonder Woman 3 is no longer moving forward at Warner Bros. As reported by THR, DC Universe heads James Gunn and Peter Safran have decided that the film did not fit their current vision. It's stated that the duo told Jenkins, who had recently submitted her script that was co-written with DC mainstay […] The post Wonder Woman 3 Canceled as Gunn & Safran Plan DCU Future appeared first on ComingSoon.net - Movie Trailers, TV & Streaming News, and More.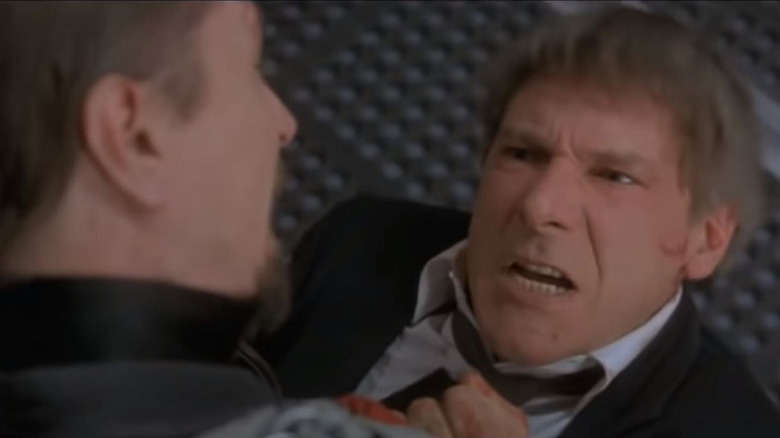 Harrison Ford Didn't Want Gary Oldman Pulling Punches During Air Force One
It's sometime in the late '90s, and this writer's family has just gotten their first DVD player. A new era in home entertainment has dawned, and to sell these newfangled upgrades to the VCR, our local big box store offered a promo: buy this DVD gizmo, and pick any two DVDs from this small assortment for free. After intense deliberations and a wild card vote to buy a new game for our Nintendo 64 system instead, the family landed on its choices: Jan de Bont's whirlwind disaster movie "Twister" an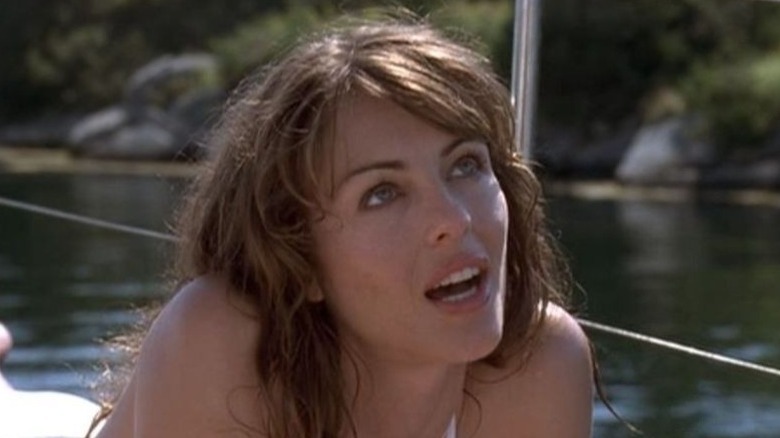 Every Kathryn Bigelow Film Ranked Worst To Best
Writer, director, and producer Kathryn Bigelow may be best known for her Oscar-winning action drama "The Hurt Locker," but her career is longer and more varied than many fans realize. Over the last 40 years, Bigelow has only released 10 feature films, but she has also worked in television and made a number of short films, resulting in a diverse and fascinating filmography. Despite early success with the surfer thriller "Point Break," Bigelow has maintained an independent filmmakers' sensibility


Iconic Roles: The Best Brendan Fraser Drama Movies
Iconic Roles is a look at some of the best performances in film and television by actors and actresses. Thanks to his charming smile and light-blue eyes, Brendan Fraser conquered the hearts of thousands of fans and quickly rose to popularity in the nineties. For most of his career, Fraser took part in comedies, but he […] The post Iconic Roles: The Best Brendan Fraser Drama Movies appeared first on ComingSoon.net - Movie Trailers, TV & Streaming News, and More.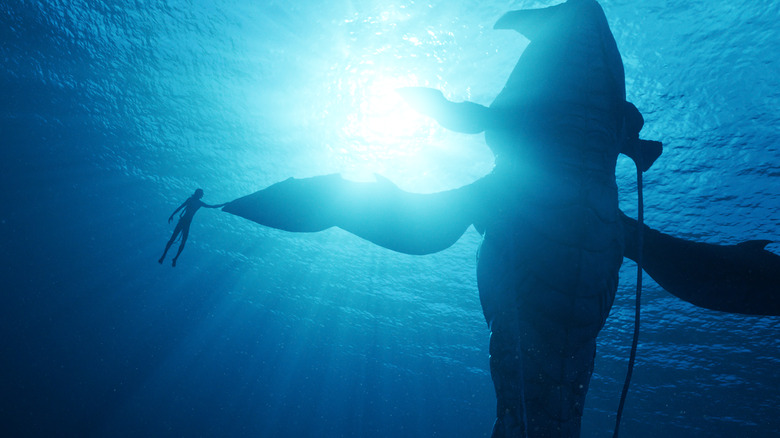 James Cameron Received A Two-Word Note From An Executive For His Avatar 4 Script
Going off the glowing critical reactions from its first few screenings of "Avatar: The Way of Water," it's safe to assume that James Cameron has once again done the impossible. For over 13 years, he toiled away in his own little underwater world, while we made jokes about whether the sequels would ever make it to the screen. You would think that the filmmaker behind "Aliens," "Terminator 2: Judgment Day," and "Titanic," three of the most revered blockbusters ever made, would have earned the ben


Report: Black Adam 2, Hawkman Spin-off in the Works
UPDATE: A new report states that Wonder Woman 3 has been canceled and that a Black Adam sequel is now "unlikely" as the DCU plans change under Safran and Gunn. The recently released Black Adam may not have been a huge success at the box office, but a recent report from Deadline suggests the film […] The post Report: Black Adam 2, Hawkman Spin-off in the Works appeared first on ComingSoon.net - Movie Trailers, TV & Streaming News, and More.


Elden Ring's Colosseum Mode Update Is Now Live
Elden Ring has seen a few updates here and there since its launch in February, but it has just gotten its biggest one yet. FromSoftware has released a new 1.08 update that adds new PvP Colosseums, as well as a few more hairstyles. These arenas are located in Limgrave, Caelid, and Leyndell and each has […] The post Elden Ring's Colosseum Mode Update Is Now Live appeared first on ComingSoon.net - Movie Trailers, TV & Streaming News, and More.


Ballerina: Catalina Sandino Moreno Joins John Wick Spin-off
Lionsgate announced on Wednesday that Academy Award nominee Catalina Sandino Moreno has joined the cast of the upcoming John Wick spin-off film Ballerina. Moreno will join a cast that already includes Anjelica Huston, Ian McShane, and Lance Reddick, along with star Ana de Armas, who is set to lead the spin-off. While not too much […] The post Ballerina: Catalina Sandino Moreno Joins John Wick Spin-off appeared first on ComingSoon.net - Movie Trailers, TV & Streaming News, and More.


Shotgun Wedding Trailer Teases an Action-Packed Wedding Event
A brand new Shotgun Wedding trailer for Amazon Studios' upcoming action romantic comedy has been revealed, featuring Jennifer Lopez and Josh Duhamel portraying a couple whose wedding gets crashed by pirates. The film will be available for streaming on January 27, 2023. The video offers lots of new action-packed footage showing Lopez and Duhamel's characters […] The post Shotgun Wedding Trailer Teases an Action-Packed Wedding Event appeared first on ComingSoon.net - Movie Traile


Exclusive Wicked City Clip Shows Vanessa Bell Calloway's Power
ComingSoon is debuting an exclusive clip from Wicked City, the upcoming supernatural Allblk series. The series premiere is set for tomorrow, December 8. "The 6-episode supernatural drama series follows four young, chic, modern-day witches — Jordan, Mona, Angela, and Sherise belong to Charmed City, a coven lead by Tabitha," reads the series' synopsis. "The witches […] The post Exclusive Wicked City Clip Shows Vanessa Bell Calloway's Power appeared first o


Perry Mason Season 2 Teaser Trailer Previews Matthew Rhys' Next Case
HBO has dropped the first teaser trailer for the upcoming second season of HBO's acclaimed drama Perry Mason. The series is slated to make its return on March 6, 2023, more than two years after it wrapped up its eight-episode first season. The Perry Mason Season 2 teaser trailer highlights the next case for Matthew […] The post Perry Mason Season 2 Teaser Trailer Previews Matthew Rhys' Next Case appeared first on ComingSoon.net - Movie Trailers, TV & Streaming News, and More.


Yellowjackets Season 2 Teaser Trailer Unveils Showtime Return Date
Showtime has released the first teaser trailer for the highly-anticipated second season of Yellowjackets, which finally unveiled its return date. New episodes of the Emmy-nominated coming-of-age horror drama will be debuting next year, starting on March 24, 2023. In the 15-second Yellowjackets Season 2 teaser trailer, we get to see a glimpse of a cryptic […] The post Yellowjackets Season 2 Teaser Trailer Unveils Showtime Return Date appeared first on ComingSoon.net - Movie Trailers, TV & S


Violent Night Review: David Harbour Shines as Badass Santa
Santa Claus is coming to town, and the night won't be silent this time. Violent Night is an action-comedy set on the magical night of Christmas Eve. On a night when treetops glisten and children listen, a group of mercenaries led by Mr. Scrooge (John Leguizamo) takes a family hostage to steal $300 million from their safe. […] The post Violent Night Review: David Harbour Shines as Badass Santa appeared first on ComingSoon.net - Movie Trailers, TV & Streaming News, and More.


The Rings of Power Season 2 Adds 8 Cast Members
Amazon has announced eight new recurring cast members for its upcoming second season of The Lord of the Rings: The Rings of Power. The second season of the hit series is still shrouded in mystery, but fans will see a handful of new faces join the series when it does premiere. The casting announcement includes […] The post The Rings of Power Season 2 Adds 8 Cast Members appeared first on ComingSoon.net - Movie Trailers, TV & Streaming News, and More.


Star Wars: The Bad Batch Season 2 Trailer Teases Disney+ Return
Lucasfilm has dropped the official trailer for the upcoming second season of Disney+'s animated sci-fi action show Star Wars: The Bad Batch. The series, which will consist of 16 episodes, is scheduled to make its return on January 4, 2023 with the first two episodes. The Bad Batch Season 2 trailer features the titular team […] The post Star Wars: The Bad Batch Season 2 Trailer Teases Disney+ Return appeared first on ComingSoon.net - Movie Trailers, TV & Streaming News, and More.


GigaBash's Godzilla & Friends DLC Is Now Live With Free New Modes
As was previously teased, Godzilla is finally playable in GigaBash, Passion Republic Games' kaiju brawler, alongside Gigan, Mechagodzilla, and Destoroyah. The four fighters came with a hefty update that added a new mode as well as cross-platform play.  The Godzilla 4 Kaiju Pack is $9.99 and includes the four aforementioned characters. They all have unique […] The post GigaBash's Godzilla & Friends DLC Is Now Live With Free New Modes appeared first on ComingSoon.net - Movie Tr...


M3GAN Trailer Previews Killer Doll's Rampage
A brand new trailer for Universal Pictures' upcoming film M3GAN is out, giving fans a closer look at the horror movie about an advanced lifelike doll gone rogue. Unlike the original trailer, this look at M3GAN leans much more into the absurdity that fans quickly latched onto when the movie was first announced. More comedic […] The post M3GAN Trailer Previews Killer Doll's Rampage appeared first on ComingSoon.net - Movie Trailers, TV & Streaming News, and More.


The Callisto Protocol Review: Little More Than Empty, Dead Space
Dead Space left off on a sour note, one with a pungent aftertaste that has lingered for almost a full decade. The Callisto Protocol seemed designed to finally override that nasty aroma with its own approach to the genre, as it was unambiguously inspired by that series and from some of the same creatives. Instead […] The post The Callisto Protocol Review: Little More Than Empty, Dead Space appeared first on ComingSoon.net - Movie Trailers, TV & Streaming News, and More.


Ghostbusters: Afterlife Sequel Finds Its Director, Main Cast Set to Return
According to Deadline, Ghostbusters: Afterlife writer Gil Kenan has officially been tapped to direct Sony Pictures' forthcoming horror comedy sequel. Kenan is no stranger to the horror genre, as he previously directed Monster House, Poltergeist, and Scream. He is also currently writing the untitled project with previous director Jason Reitman, who was initially attached to […] The post Ghostbusters: Afterlife Sequel Finds Its Director, Main Cast Set to Return appeared first on Coming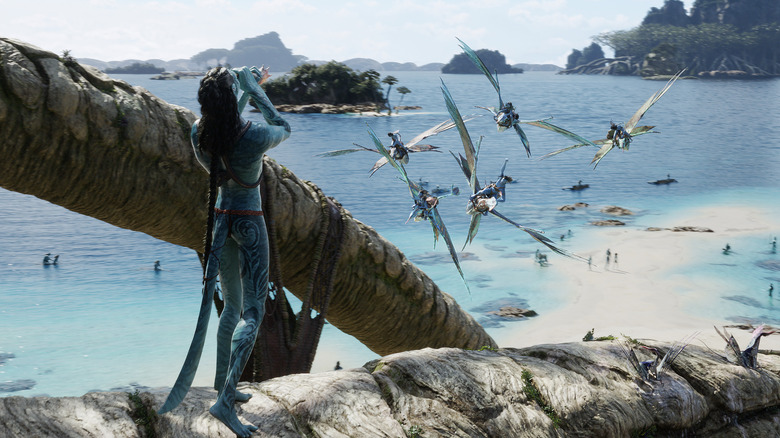 What A Good Sequel Needs To Do, According To Avatar: The Way Of Water Director James Cameron
James Cameron hasn't directed a movie since 2009, and the fact that he's returning with "Avatar: The Way of Water," a sequel to the highest-grossing movie of all time, raises the expectations for his new film even higher. Despite the first "Avatar" film's financial success, the cultural relevance and staying power in the hearts and minds of viewers has waned. And it should be safe to assume that for "The Way of Water" to find similar success to its predecessor, it needs to do more than just ...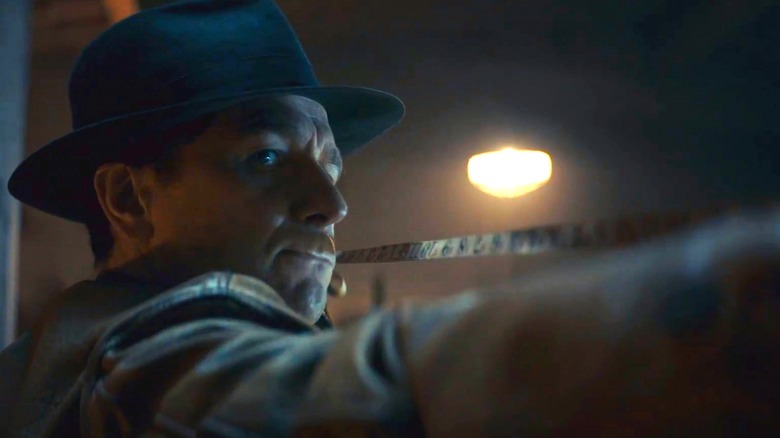 Perry Mason Season 2 Trailer: Matthew Rhys' Angsty, Brooding Lawyer Is Back For Another Angsty, Brooding Case
When you watch enough movies and shows, you start to pick up on certain little recurring trends. Chief among them has to be the instinct to create new adaptations of classic, pulpy characters ... but with a dark, brooding, and adult-only sheen layered on top. After all, how else would you know to put the "prestige" in prestige television? Well, as eye-rolling and cliched as this tendency may be, I'm here to admit that I'm a complete and total hypocrite, because I happily ate that up and asked ...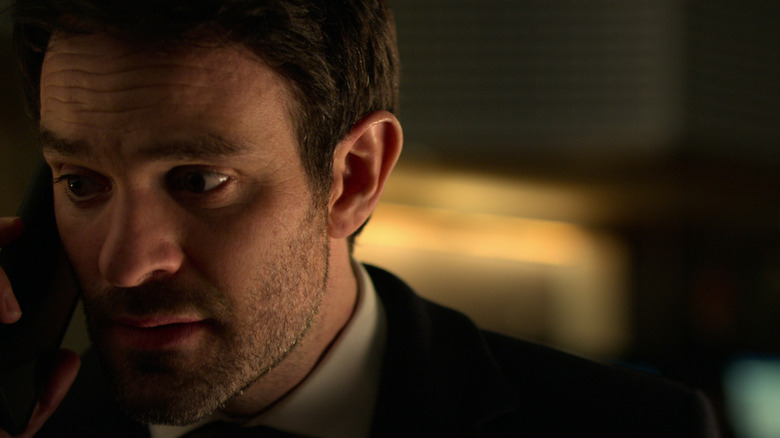 Treason Trailer: Charlie Cox Trades In His Devil Ears For MI6 Spy Games
Charlie Cox (of "Daredevil" fame) is suiting up for his grand return for Netflix, but sadly, there are no devil ears involved this time around. He won't be prowling the streets of Hell's Kitchen or defending New Yorkers with his background in law. But don't start moping quite yet — just because Netflix is no longer the home of his breakout role, doesn't mean they've forgotten Cox's virtues as an action star. The actor is set to don a suit and tie as an agent for MI6 in the espionage thriller ...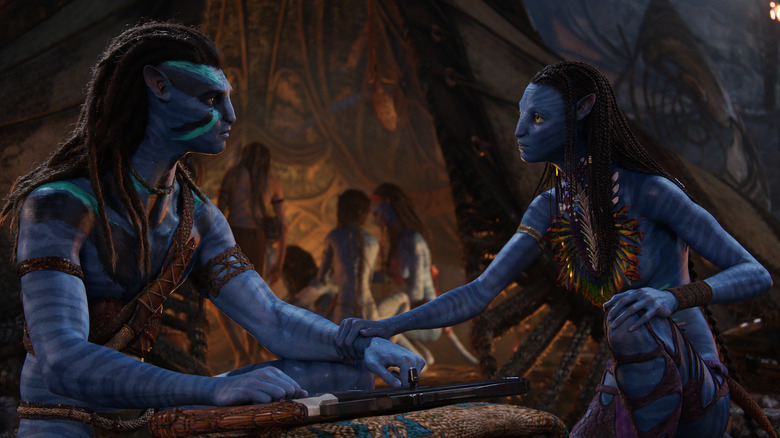 James Cameron Wrote Avatar 1.5 To Help Sam Worthington And Zoe Saldańa Prepare For The Way Of Water
As we head into "Avatar" season, it's worth noting just how successful James Cameron's sci-fi epic was at the time of its release. It's the kind of mad scientist spectacle that feels uniquely special when compared against the current blockbuster landscape. Although folks like to make the same jokes about the film resembling "Dances with Wolves" or "FernGully," the truth of the matter is that "Avatar" is a wholly original idea that went on to secure the coveted spot of the highest grossing movie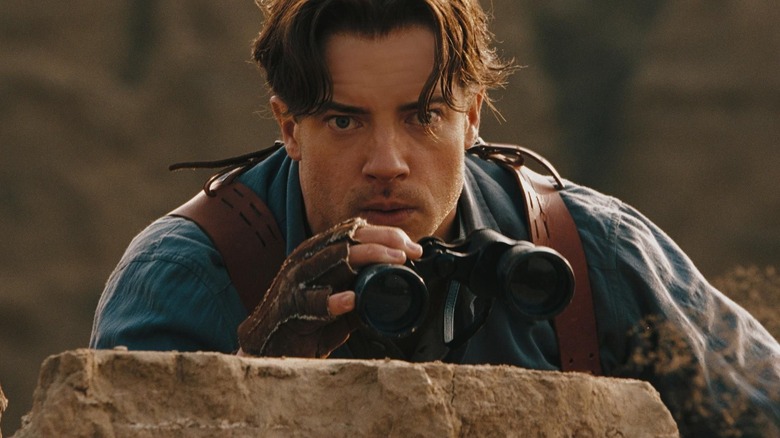 Darren Aronofsky Had 'No Idea' About The 'Deep Love' Fans Have For Brendan Fraser Before Casting Him In The Whale [Exclusive]
Brendan Fraser is back in a big way thanks to Darren Aronofsky's latest feature "The Whale," in which the beloved actor makes an undeniably inspired turn in as the film's 600-pound leading man. We've missed him for many years now, since he completely disappeared from Hollywood in 2014. In an exclusive interview with /Film's own Ryan Scott, Aronofsky revealed that he wasn't actually aware of Fraser's vast fanbase before casting him in the role of Charlie in his adaptation of the Samuel D. Hunter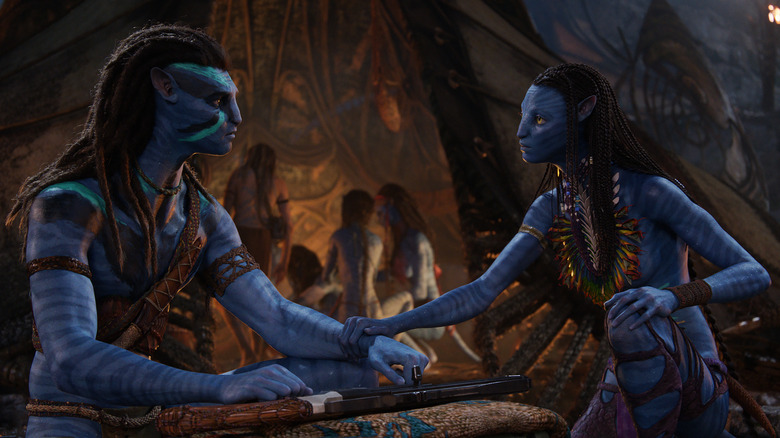 Why It Was Terrifying For Zoe Saldaña To Return To Neytiri In Avatar: The Way Of Water
This month, audiences are making their return to the world of Pandora with the long-awaited sequel to James Cameron's ambitious, cutting-edge blockbuster, "Avatar: The Way of Water." For all of us at home, it has been a long 13 years since the original took over the world — long enough that some of us can't even seem to remember the first film's significant cultural impact. But, for Zoe Saldaña, who is returning to reprise her role as the Na'vi princess Neytiri in the "Avatar" sequel, shooti...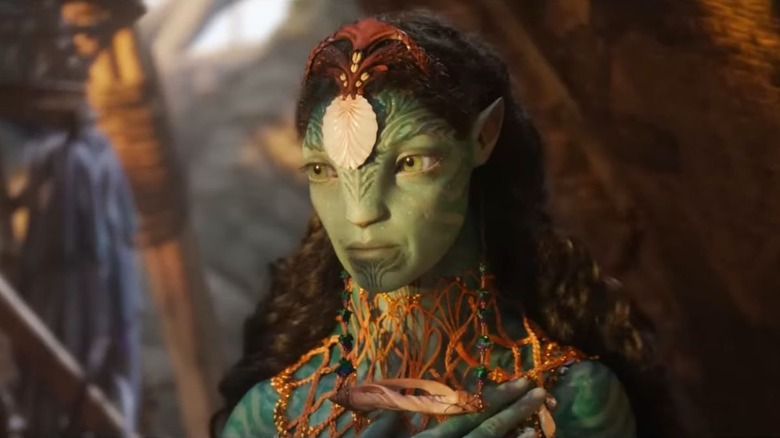 What It Was Like For Kate Winslet To Reunite With James Cameron For Avatar: The Way Of Water
Kate Winslet became a star right before our eyes when she sailed the open seas, wrapped in the arms of Leonardo DiCaprio in James Cameron's monster hit "Titanic" back in December of 1997. Winslet reportedly beat out Winona Ryder, Gwyneth Paltrow, and Claire Danes (who had just co-starred with DiCaprio in "Romeo + Juliet") to earn the now iconic role of Rose. Now, Winslet and Cameron have reunited in another ocean-themed epic, "Avatar: The Way of Water," which is finally coming to theaters on De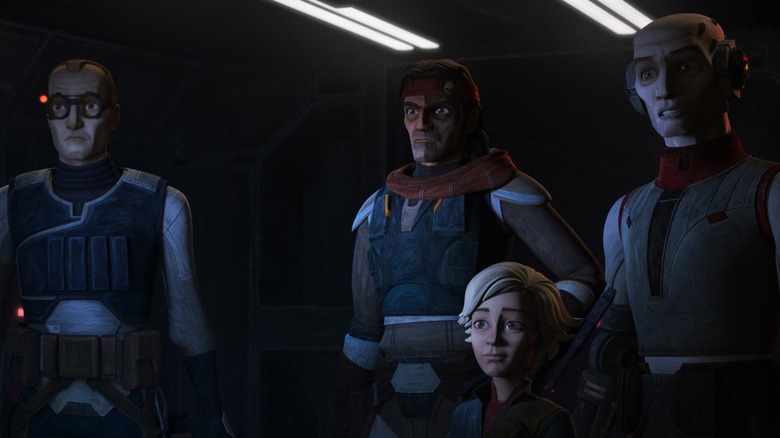 Star Wars: The Bad Batch Season 2 Trailer: The Incredible Animated Series Is Almost Back
"Star Wars" is seldom as good and innovative as it is in animation. Sure, "Andor" is absolutely fantastic, but the animated projects in the franchise have time and time again challenged not only what a "Star Wars" story could be, but how it can look. There was Genndy Tartakovsky's 2D-animated "Star Wars: Clone Wars," which gave us the best action scenes in the entire franchise, and the final season of the 3D "The Clone Wars," which was not only visually stunning, but improved the prequels in vi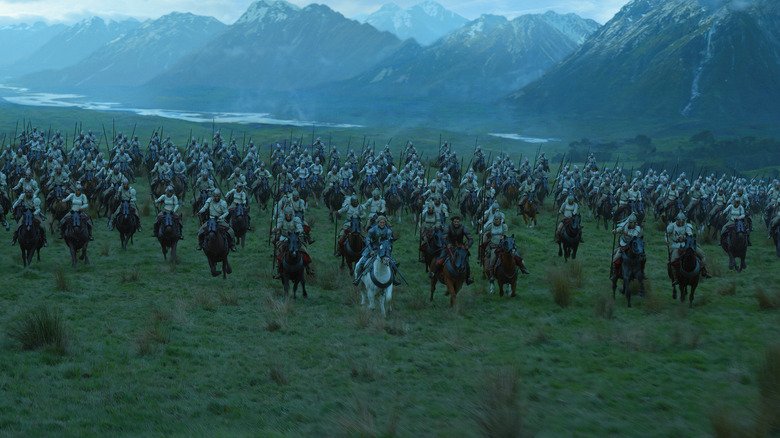 The Lord Of The Rings: The Rings Of Power Season 2 Expands The Cast With Eight More Actors
Do you know what's the only quest tougher than Frodo traveling all that way to cast the One Ring into the fires of Mount Doom? Attempting to one-up the wildly successful first season of "The Lord of the Rings: The Rings of Power." After introducing us to a brand-new batch of characters and getting all the necessary table-setting out of the way, season 2 appears set to pick up where the finale left off and run with it. The first step to realizing that ambition, of course, means adding even more


Miracle Workers Season 4 Trailer: Daniel Radcliffe Gets Married in the Apocalypse
TBS has released the official trailer for Miracle Workers: End Times, the upcoming fourth season of the anthology comedy starring Daniel Radcliffe. The series is scheduled to make its return on January 16, 2023. The Miracle Workers Season 4 trailer continues to tease the next installment's Mad Max theme, as Daniel Radcliffe and the gang […] The post Miracle Workers Season 4 Trailer: Daniel Radcliffe Gets Married in the Apocalypse appeared first on ComingSoon.net - Movie Trailers, TV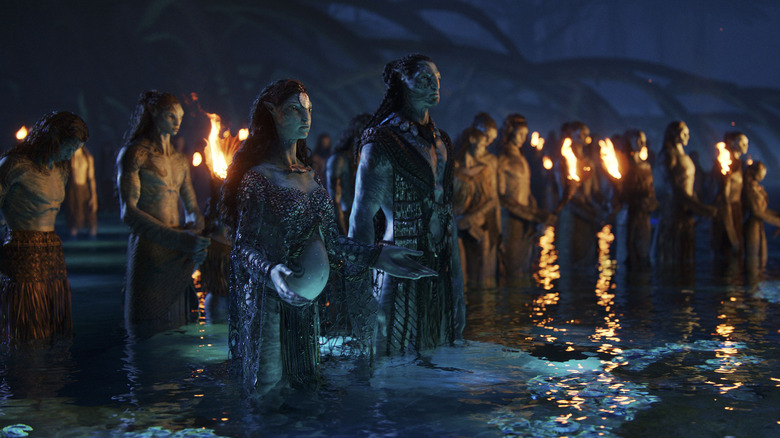 What Made James Cameron Want To Return For An Avatar Sequel
Once "Avatar: The Way of Water" finally makes its way (of water) to theaters in just a few short weeks, director James Cameron will have spent a minimum of nearly two whole decades planning and developing the first two movies in this epic saga -- and counting. With another couple of sequels already far along in various stages of production and tentative plans for the series to stretch to six or even seven total movies, it's clear that the visionary talent has no intention of stopping anytime s...


Exclusive Shawn Andrews Music Video Clip Previews 'Ride Like Thunder'
ComingSoon is debuting a clip from Shawn Andrews' upcoming music video for the song "Ride Like Thunder." The song is now available to listen to on Spotify. You may recognize Andrews from his role as Pickford in Dazed and Confused or as Frank in Big Heart City. "Ride Like Thunder," Andrews' upcoming single, was mastered by Howie […] The post Exclusive Shawn Andrews Music Video Clip Previews 'Ride Like Thunder' appeared first on Comin


The Pale Blue Eye Trailer Teases Netflix Murder Mystery Starring Christian Bale
Netflix has unveiled the full trailer for The Pale Blue Eye, the upcoming gothic mystery period drama starring Christian Bale as a veteran detective. The video teases Detective Augustus Landor's most challenging murder case yet involving the suspicious deaths of a number of young cadets at the U.S. Military Academy. The Pale Blue Eye trailer suggests that […] The post The Pale Blue Eye Trailer Teases Netflix Murder Mystery Starring Christian Bale appeared first on ComingSoo


Treason Trailer: Charlie Cox Leads Spy Thriller Series for Netflix
More than four years since Daredevil ended its three-season run, Charlie Cox is finally making his Netflix comeback by leading the streamer's upcoming spy thriller series, Treason. The official Treason trailer for the limited drama has been revealed, featuring our first footage of Charlie Cox's character Adam Lawrence. In the video, an inexperienced MI6 agent […] The post Treason Trailer: Charlie Cox Leads Spy Thriller Series for Netflix appeared first on ComingSoon.net - Movie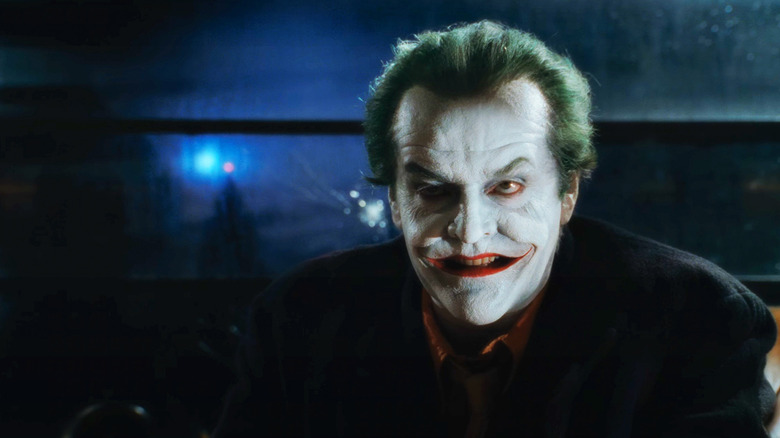 Jack Nicholson Had A Hand In Danny Devito Becoming The Penguin In Batman Returns
If there's anything "Batman Returns" is lacking, it ain't villains. Michelle Pfieffer's Catwoman and Christopher Walken's Max Shreck would have been enough of a challenge for the Dark Knight by themselves. But director Tim Burton wanted to make his second go-round with Batman one to remember, adding Danny DeVito as the Penguin to complete the movie's antagonist triumvirate. DeVito took the role seriously, staying in character as the bile-spewing mutant version of the famous Batman villain throu


Steven Spielberg Forgot He Cut David Harbour From War Of The Worlds
David Harbour might not have been a well-known actor in 2005, but his career had been arcing upward since 1999 thanks to several critically acclaimed performances on- and off-Broadway. At 6'3", he had a sturdy, formidable presence. He could use that imposing frame to his advantage or play against it to sympathetic or pathetic effect. When you're this good in New York City, you're guaranteed at least one "Law & Order" role; Harbour booked three. When he made himself available for movies, he nail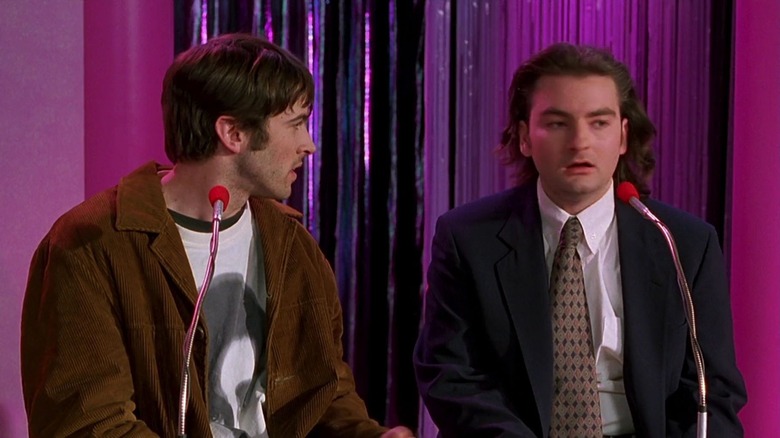 Clerks Star Jeff Anderson Has An Idea For Randal To Make The Perfect Cameo In Mallrats 2 [Exclusive]
Brian O'Halloran and Jeff Anderson have been in plenty of films over the years, but most people know them best as Dante Hicks and Randal Graves in Kevin Smith's View Askewniverse films, in particular, his "Clerks" trilogy. Smith skyrocketed to superstardom after his 1994 breakout hit, "Clerks," which perfectly encapsulated the budding Gen X slacker culture of the 1990s. Dante is dragged into covering a shift at the Quick Stop mini-mart on his day off, putting up with the hijinks of customers, f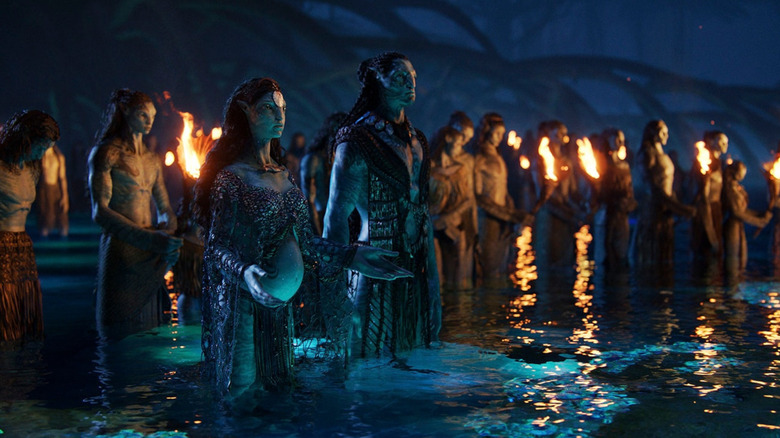 Avatar: The Way Of Water Early Buzz: James Cameron Does It Again In Visually Stunning And Emotional Return To Pandora
It's been 13 years, but the second installment of the "little" franchise that could, "Avatar," is finally coming to the big screen. "Avatar: The Way of Water" already looked like a stunning adventure, and its extensive filming process looked like an absolute blast. People online can argue about whether or not the first film has any cultural relevancy all they want, but one thing is clear — good ol' James Cameron and the awe-inspiring world of Pandora are here to stay, whether the public wants...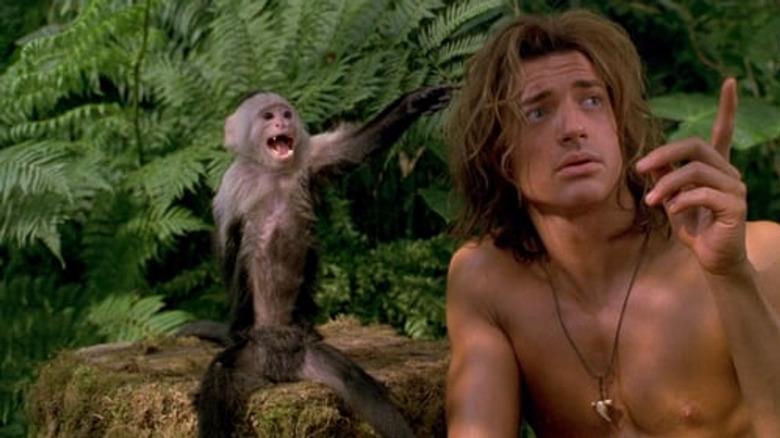 Brendan Fraser's Transformation For George Of The Jungle Messed With His Brain
In a pairing that delighted '90s kids the world over, Adam Sandler and Brendan Fraser recently sat down for an interview as part of Variety's "Actors on Actors" series, serving as both an "Airheads" reunion for the pair and a conversation between two of the biggest and most bankable stars at the end of the 20th century. Fraser had his breakthrough role in the (underrated, if you ask me) comedy "Encino Man," which showed his ability to play a charming, hilarious, and hunky character that has had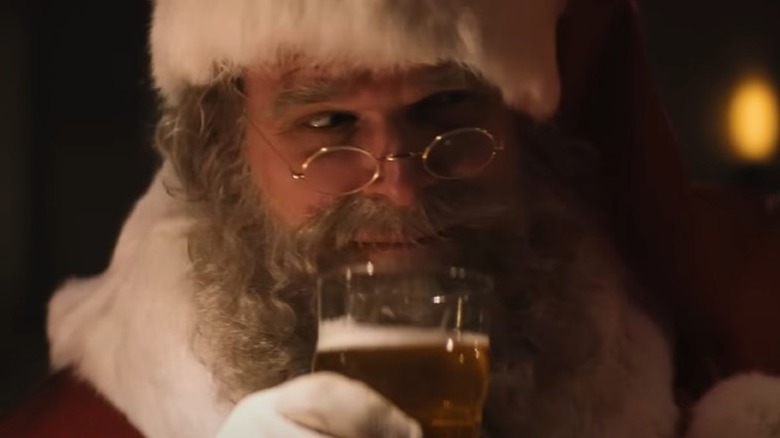 The 10 Most Hilarious Moments In Violent Night
By this point, it's clear that "Violent Night" is bound to become a Christmas classic. The action-comedy, directed by Tommy Wirkola, fuses the perverse humor of "Bad Santa" with the gory bits from "Silent Night, Deadly Night Part 2" and the charm and wonder of films like "The Santa Clause." It's the perfect recipe for a holiday treat. With a script written by Pat Casey and Josh Miller, "Violent Night" tells the story of the super-rich Lightstone Family, whose Christmas Eve gathering is crashed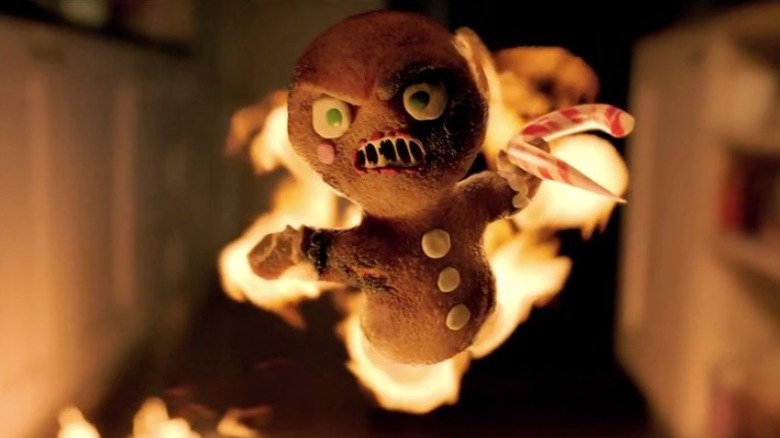 Krampus Features A Brilliant Voice Cameo You May Have Missed
Out of all the holiday-themed horror movies that have piled up under the proverbial tree over the decades, there's a strong case to be made that Michael Dougherty's "Krampus" stands as the truest to the Christmas spirit. Released in 2015, the film has dug a cozy little niche for itself as an annual tradition for those looking for something a bit more twisted in their yuletide cheer.  Although the title monster does rear his horned head, Krampus — like Santa Claus — depends on his helpers t...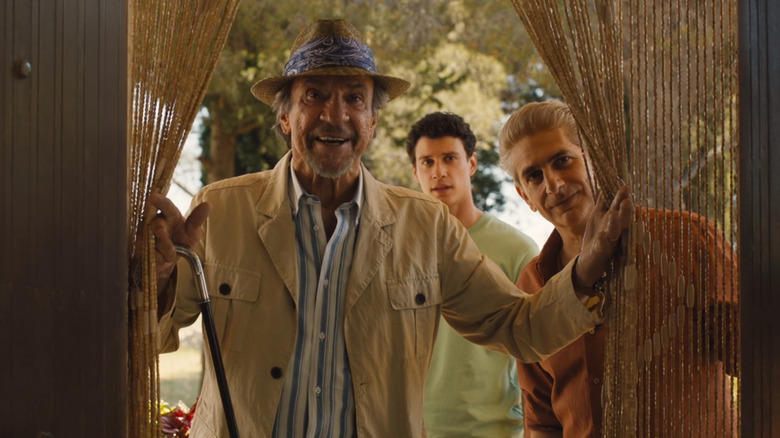 The White Lotus Season 2 Is Fantasy Fulfillment Gone Terribly Wrong
This post contains spoilers for season 2, episode 6 of The White Lotus. Contrary to all the glitz and glamour on display when a new set of guests arrive at the titular resort, "The White Lotus" is not about the perks of wealth or the joy of vacationing at a gorgeous, sunkissed locale. It's also not about murder or money or even doing cocaine at epic palazzo parties (though Jennifer Coolidge in episode 6 might just convince you otherwise). Beneath the surface, Mike White's sardonic drama is far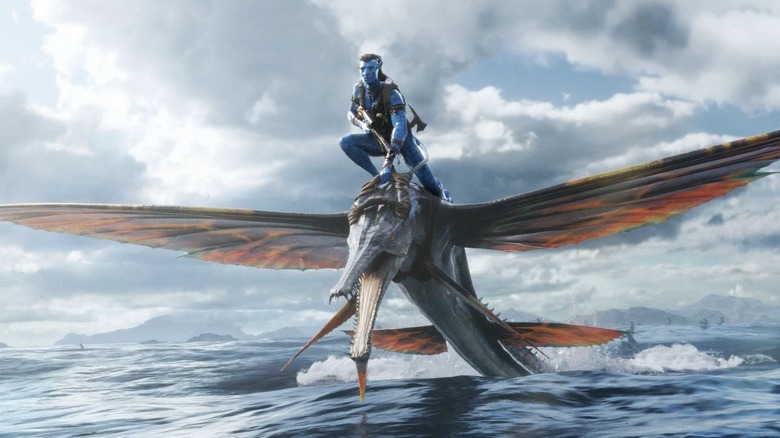 James Cameron Carried A Core Theme Of The Abyss Over To Avatar: The Way Of Water
At a time when Hollywood was churning out wildly violent action films that championed vigilante justice and good ol' fashioned American jingoism, James Cameron set himself apart by crafting wildly violent action films that criticized the country's militaristic status quo. "The Terminator" is the first chapter of a planetary tragedy brought on by nuclear war; "Aliens" is a Marine misadventure rescued by one woman's maternal fury; and "Terminator 2: Judgment Day" is a prayer for a future where th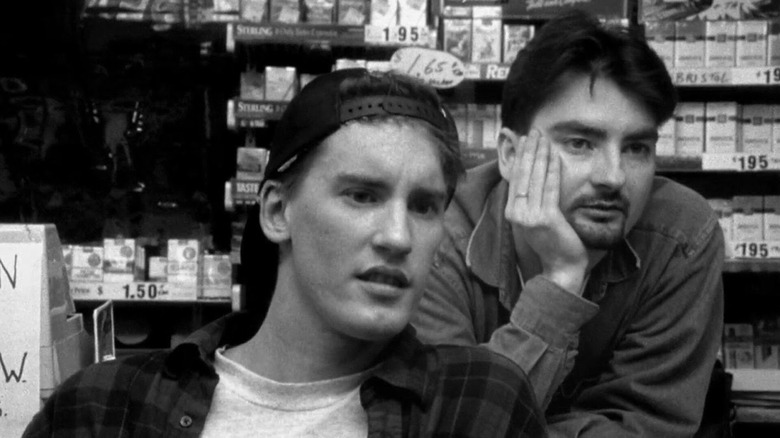 Clerks III Has A Deep Cut Visual Gag Inspired By An Original Clerks Misstep [Exclusive]
Kevin Smith's new film "Clerks III" might be considered a backdoor remake of his 1994 original. When the character of Randal (Jeff Anderson) suffers and barely survives a heart attack at age 50, he is moved to make a feature film of his own, rather than just spend his days chinwagging about them. Given that Randal has limited resources, he elects to make a movie about his own life as it appeared 28 years before, set at the same convenience store where he currently works. As it so happens, Randa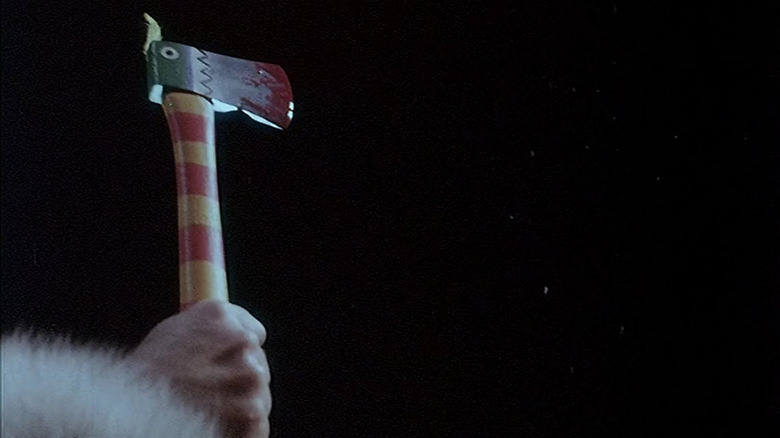 Christmas Evil Is The Deranged Christmas Horror Movie For All The Holiday Sickos Out There
Listening to the lyrics of "Santa Claus Is Coming To Town," it's easy to read a menacing tone from its warnings. Saint Nick sees you when you're sleeping. He even knows your sins. So you better watch out ... or else. The idea of a less jolly Santa is a wellspring of humor and broken spines in Tommy Wirkola's "Violent Night," which sees David Harbour's Santa Claus doling out "season's beatings" in defense of a child on his coveted "good" list. As "Violent Night" steers its sleigh into theaters t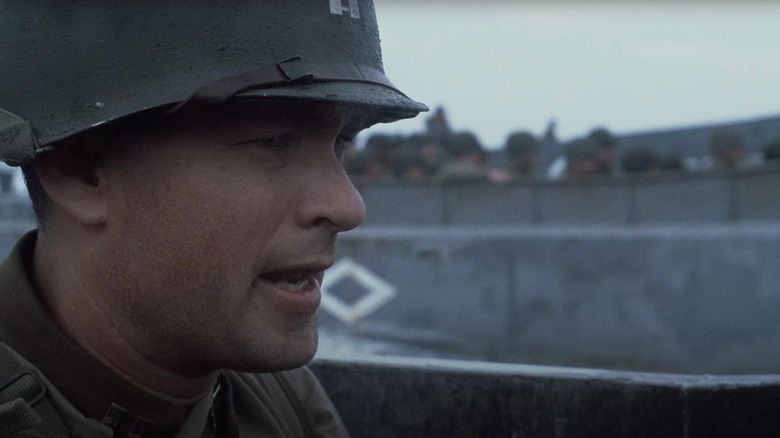 The Most Brutal Moments In Saving Private Ryan
As far as war films go, you can't do much better than Steven Spielberg's "Saving Private Ryan." The World War II epic blasted into theaters in July of 1998 and quickly found favor in the eyes of critics and moviegoers, who shelled out over $485 million in ticket sales. Starring Tom Hanks, Edward Burns, Matt Damon, and Tom Sizemore, "Saving Private Ryan" went on to win a handful of Academy Awards, including best director for Spielberg, but ultimately lost best picture to "Shakespeare in Love"...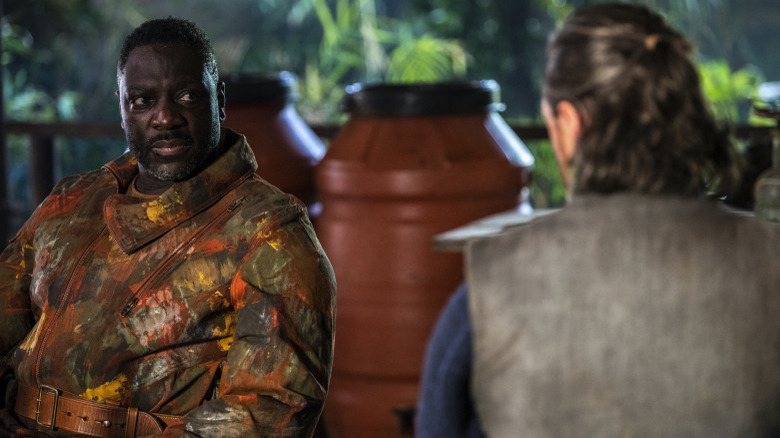 How An Abandoned Episode Of His Dark Materials Influenced The Show's Third Season [Exclusive]
Much like Philip Pullman's original novel trilogy, "His Dark Materials" started off playing things close to the vest, so far as it concerns Lord Asriel (James McAvoy) and his endgame. Come season 3, however, the show is done hiding Asriel's true mission and its actual plot behind vaguely religious metaphors. Lyra's bad dad is on a mission to literally slay God in a retelling of John Milton's "Paradise Lost" that features angels, weapons capable of cutting the very fabric of reality, and, most i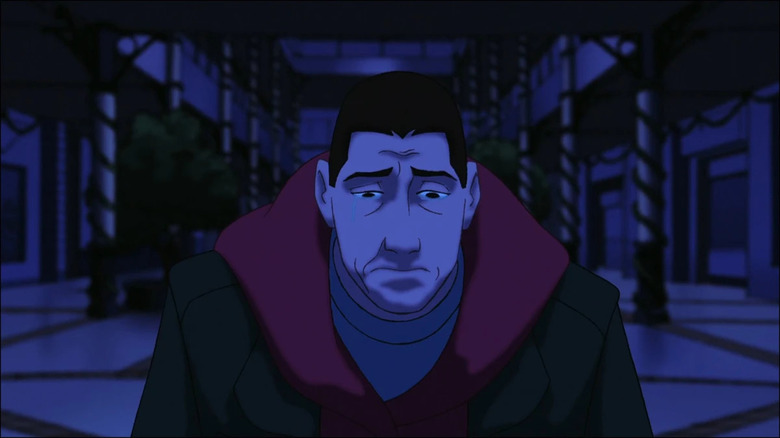 The Best Part Of Adam Sandler's Eight Crazy Nights Is Its Ridiculously Impressive Animation
(Welcome to Animation Celebration, a recurring feature where we explore the limitless possibilities of animation as a medium. In this edition: "Eight Crazy Nights.") A box-office bomb and absolutely eviscerated by critics upon release, Adam Sandler's "Eight Crazy Nights" is an oft-maligned Hanukkah film filled with questionable attempts at humor, but with ridiculously impressive animation that showcases some of the best in 2D animation. Sandler stars as Davey Stone, a 33-year-old drunk who gets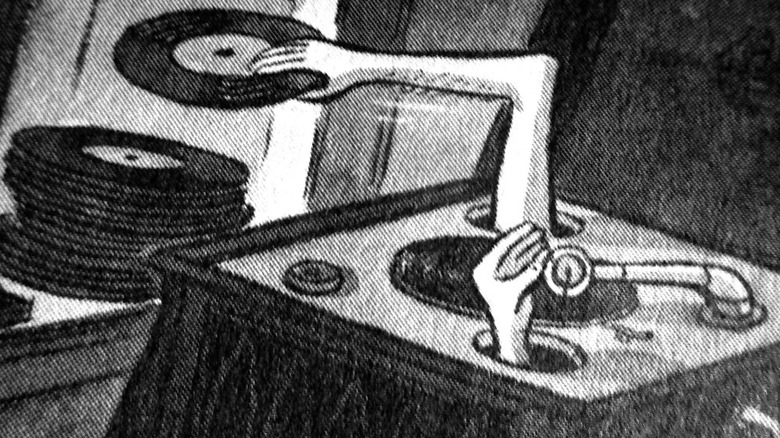 How Wednesday's Thing Became So Beloved Without Saying A Word
It's been said that big things come in small packages, and few characters in pop culture embody (or should we say "disembody") the sentiment quite like Thing of "The Addams Family." Known as the severed hand servant and longtime companion of the family Addams, Thing has remained a vital member of the world of entertainment inspired by Charles Addams' original cartoons and has evolved into one of the most beloved characters in the family. Thing exists in an interesting space in the Addams family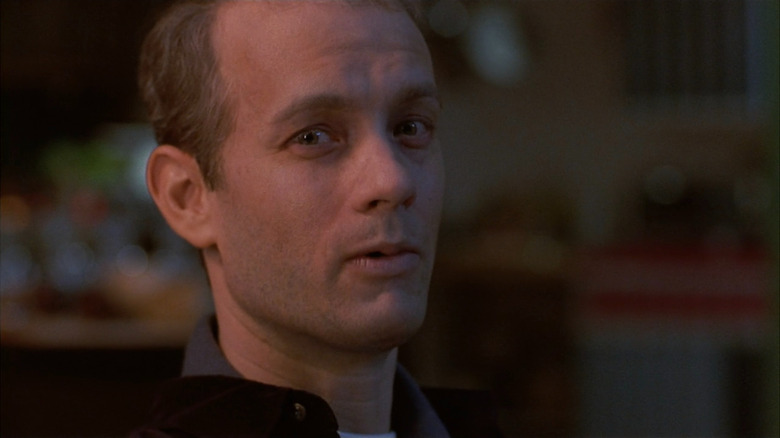 Is The 1994 Best Actor Race The Most Competitive Oscars Category Of All Time? An Investigation
(Welcome to Did They Get It Right?, a series where we take a look at an Oscars category from yesteryear and examine whether the Academy's winner stands the test of time.) Few times in the history of the Academy Awards is there a category where you can't quibble with the slate of nominees. There's always at least one nominee that makes you groan or scratch your head. The times where you could be perfectly happy with any winner are few and far between. The Best Picture nominees at the 1976 ceremo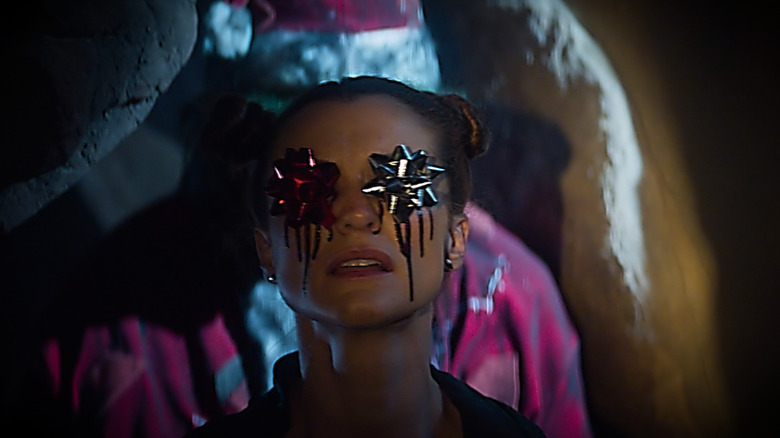 The Mean One Review: A Killer Seuss Satire That Can't Justify Its Own Existence
This might be an unpopular opinion, but I am in complete support of children's entertainment icons being repurposed into horrific killers. While it might be a bit cheap, I'm of the belief that these stories serve to de-establish the creative control that soul-sucking companies have on these characters. While not necessarily an act of artistic rebellion, parodies that twist the meanings of stories popularized by the likes of Disney or Warner Bros. should be welcomed with a lot more intrigue than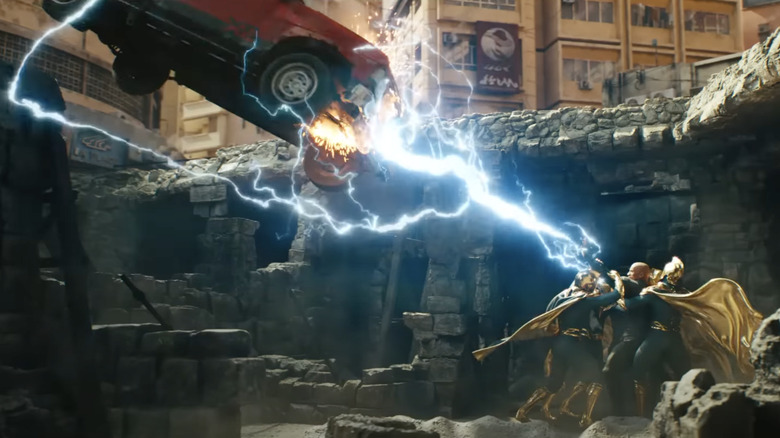 Black Adam Fails To Change The Hierarchy Of Profits In The DCU, May Lose $100 Million
Another day, another "Black Adam" story. Improbable as it might seem, the Dwayne Johnson-led DC superhero film might wind up losing money, despite being #1 at the box office three weeks in a row. By now, you've likely heard ad nauseam all about how "Black Adam" was supposed to change "the hierarchy of power" in the DC Universe. The movie opened in U.S. theaters back on October 21, 2022, and over the last seven weeks, it has continued its global rollout, opening in countries like China in N...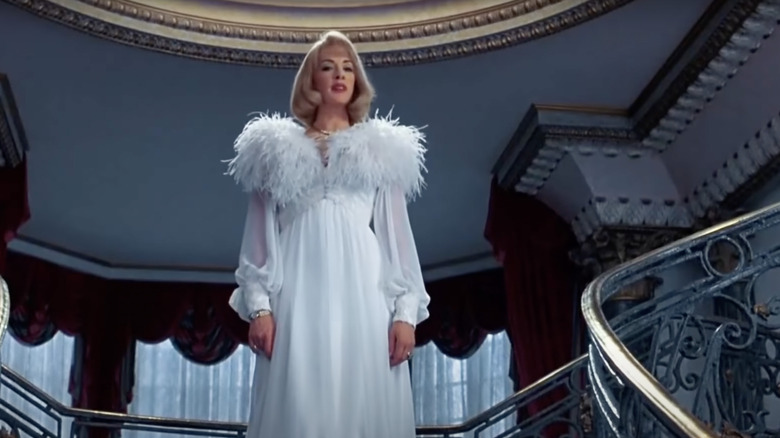 Barry Sonnenfeld Turned Down Forrest Gump To Direct The Addams Family Sequel
Upon reflection, there couldn't be two '90s Hollywood studio films that are more opposite than Barry Sonnenfeld's "Addams Family Values" and Robert Zemeckis' "Forrest Gump." Both released in the mid-1990s (although the novel "Forrest Gump" was released a decade before making it to the big screen), the two films might represent the ends of an anarchist spectrum. On the one hand, the Addams family is a creepy bunch of murderers who live in a strange haunted mansion, and who take delight in the mi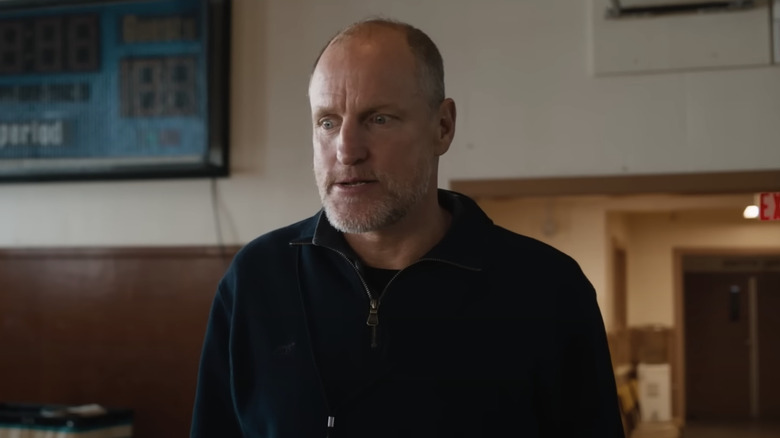 Champions Trailer: Woody Harrelson Coaches A Team Of Basketball Players With Intellectual Disabilities
Director Bobby Farrelly is re-teaming with his old "Kingpin" star, Woody Harrelson, for "Champions," a new comedy about a guy who becomes the court-ordered coach for a team of basketball players with intellectual disabilities. In addition to "Kingpin," Farrelly, as one-half of the Farrelly brothers, co-wrote and/or co-directed such films as "Dumb and Dumber," "There's Something About Mary," "Me, Myself & Irene," and "Shallow Hal." Since the sequel "Dumb and Dumber To" in 2014, he and h...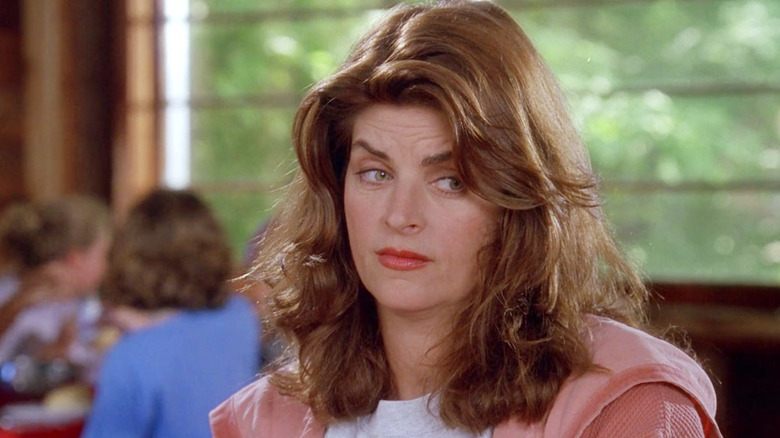 Kirstie Alley, Star Of Cheers, Drop Dead Gorgeous, And More Has Died At 71
Today is a very complicated day for a generation of comedy fans. Kirstie Alley, of "Cheers," the "Look Who's Talking" trilogy, and "Veronica's Closet" fame, has died of cancer at the age of 71. With a career spanning over four decades, Alley was a seminal comedic figure and trailblazer for women in comedy. She was given a star on the Hollywood Walk of Fame in 1995 for her contributions to film and television, and her willingness to discuss the systemic mistreatment of fat actresses made her an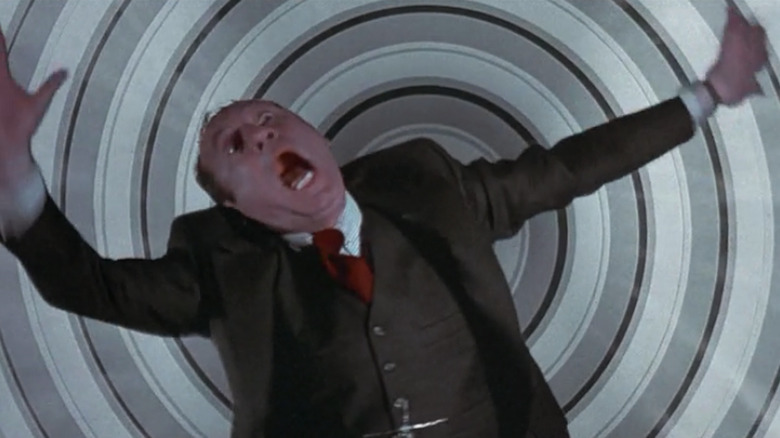 One Key To Mel Brooks' Comedy Was Knowing Exactly When To Break The Fourth Wall
As a member of the legendary writing staff of NBC's "Your Show of Shows" in the 1950s, Mel Brooks played a key role in pushing the formal boundaries of television comedy, so it stands to reason that he would be equally adventurous behind the lens of a film camera. Taking his cues from such pioneering entertainments as Orson Welles' "Citizen Kane" and H.C. Potter's "Hellzapoppin'," Brooks played broadly to viewers, occasionally breaking the fourth wall to get them involved in the front. He does...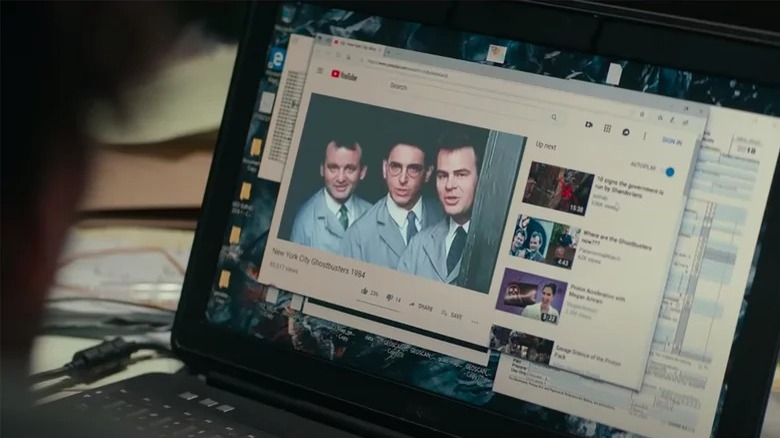 Ghostbusters: Afterlife Sequel To Be Directed By Gil Kenan
After reviving the franchise his father Ivan Reitman began in the 1980s, Jason Reitman is set to hand off the reigns to the next "Ghostbusters" sequel according to Deadline. The filmmaker will reportedly take on a writer-producer role in the follow-up to last year's "Ghostbusters: Afterlife," while Gil Kenan is headed for the director's seat in addition to co-penning the script with Reitman. The core cast of "Ghostbusters: Afterlife," which included Paul Rudd and Carrie Coon, is also set to ret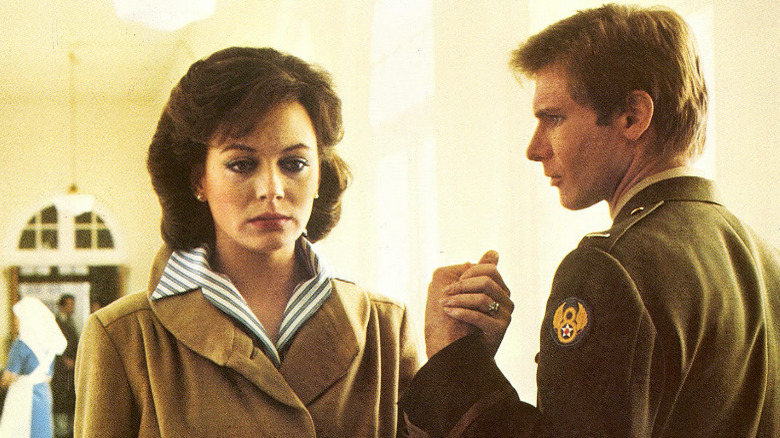 The Chance To Finally Play A Romantic Lead Lured Harrison Ford Into A Box Office Bomb
Legendary Hollywood men typically stick to specific archetypes when playing the romantic lead in their films. Where Humphrey Bogart was often coarse and cynical with a heart of gold, Cary Grant tended to be debonair and sharp-witted with a mischievous streak. At the peak of his movie stardom, Harrison Ford had a touch of both those gents. He was a cocky scoundrel who bore his skepticism like a shield yet would allow himself to be unguarded and even sweet in the right company. Ford was also just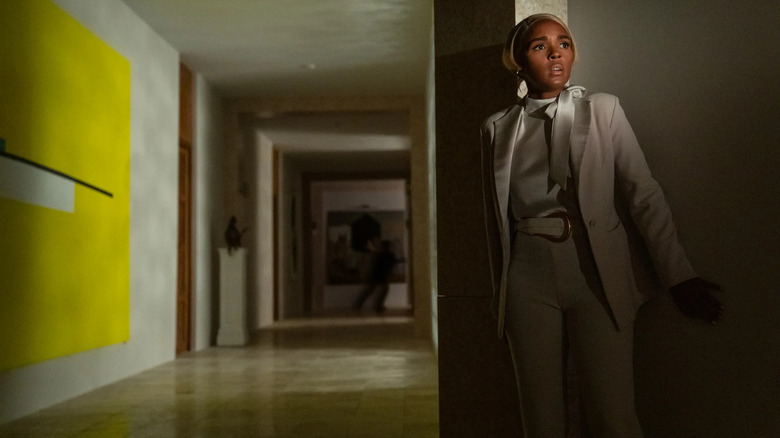 Moments In Glass Onion: A Knives Out Mystery That Make No Sense
The following post contains spoilers for "Glass Onion: A Knives Out Mystery." With "Glass Onion: A Knives Out Mystery," writer-director Rian Johnson has crafted a glaring look at the trickle-down effect of stupidity. Here, common sense is a currency in flux. It holds little value for wunderkind tech billionaire Miles Braun (Edward Norton), so it's not utilized on his island — not by Braun, and not by his guests (save for Daniel Craig's Benoit Blanc, of course).  Accordingly, Johnson's film i...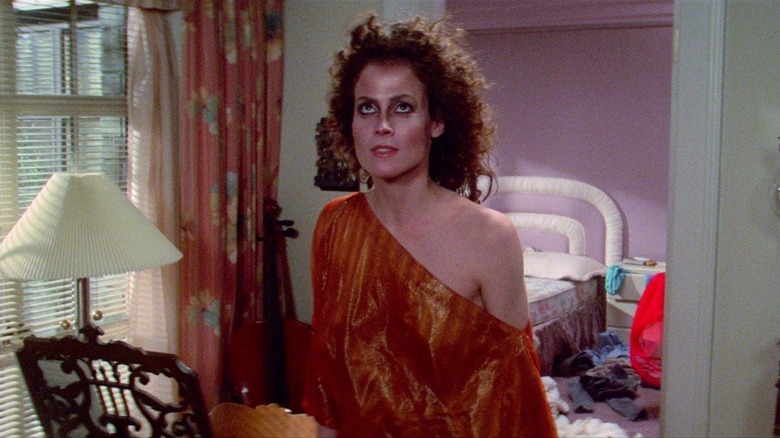 Surprisingly, Sigourney Weaver Hasn't Acted In Front Of A Green Screen Since Ghostbusters
We're a few weeks away from the return of the box office king, James Cameron. His newest film, "Avatar: The Way of Water," is our first return to the world of "Avatar" since the 2009 original. But what's a director without his muse? Working once again with Cameron is the incomparable Sigourney Weaver, this time playing the role of Jake Sully's (Sam Worthington) and Neytiri's (Zoe Saldana) adopted 14-year-old Na'vi daughter, Kira, who may or may not be the reincarnation of Weaver's initial "Avat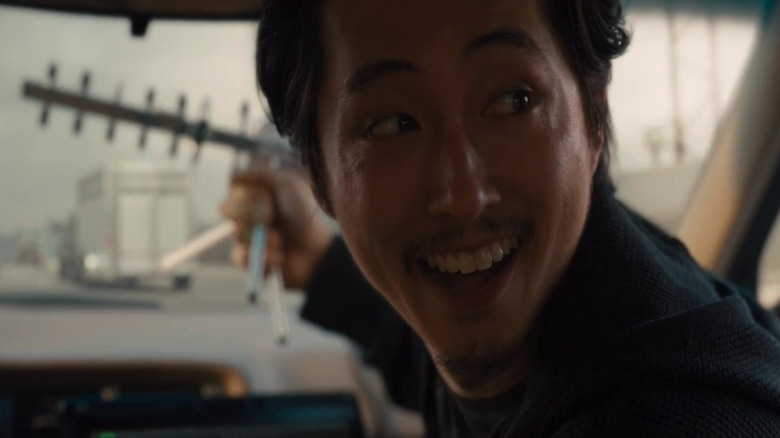 Bong Joon-Ho's Mickey 17 Gets Release Date And A Quick Teaser Featuring Robert Pattinson
Cue up your "Return of the King" title card memes, because Bong Joon-ho will be returning to our screens in 2024. Out of nowhere, Warner Bros. released the first look at the sci-fi drama "Mickey 17" to their social media channels, and admittedly, there's not a lot of footage to parse through and analyze. However, what we do see is a shirtless Robert Pattinson lying on some kind of futuristic medical table, as well as a tag that Warner Bros. will release the film on March 29, 2024. According to...


A New ComingSoon Is Coming Soon
I wanted to let all of our readers know that […] The post A New ComingSoon Is Coming Soon appeared first on ComingSoon.net.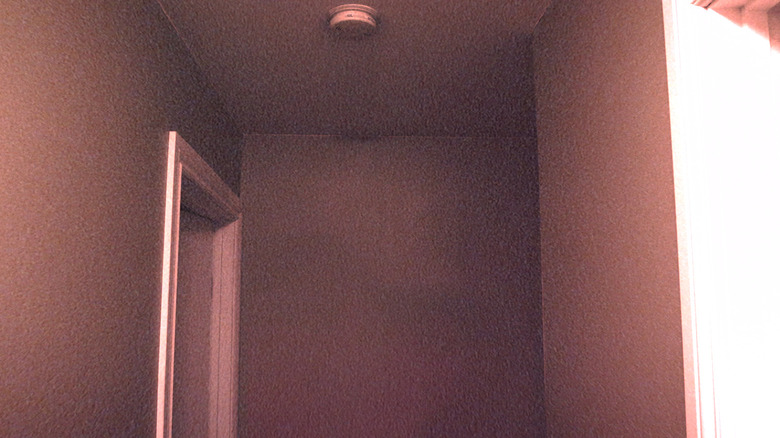 Indie Horror Skinamarink Is Getting A Theatrical And Streaming Release – Here's Why That Matters
If you've been keeping up with Film Twitter drama or HorrorTok trends of late, this news is for you, and it's some of the best we've gotten in the horror genre for some time. Microbudget horror sensation "Skinamarink" will receive a theatrical run through IFC Midnight beginning on January 13, 2023. It has also been acquired by horror streaming service Shudder and will debut on the platform later next year, with a date to be announced. "I'm thrilled that after months of keeping it secret, I can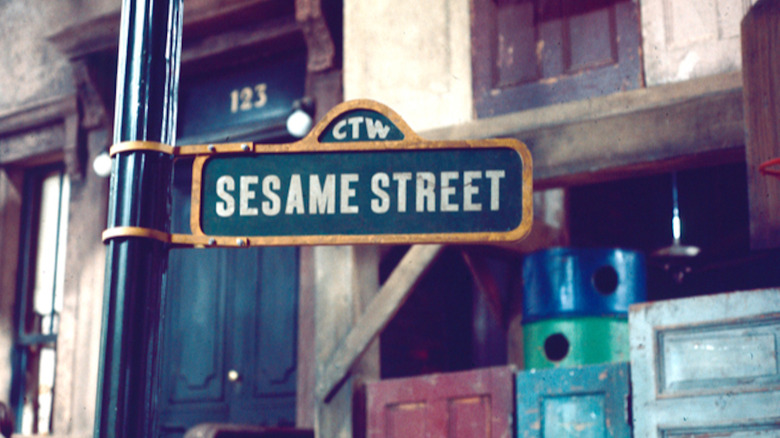 Why Sesame Street's Bob McGrath Mattered To Generations Of Kids – And Especially Musicians
A bright, benevolent light went out on December 4, 2022, when Bob McGrath passed away at the age of 90. For 47 years, he maintained a residence as Bob Johnson on "Sesame Street," where, at an amazing 130-episode-per-season clip (until 1998), he taught children the joy of music. Whenever Bob dropped by Gordon and Susan Robinson's apartment, or popped his head into Mr. Hooper's shop, you knew a sing-a-long was imminent. He had a load of songs in his arsenal, and not a bum one in the bunch. But as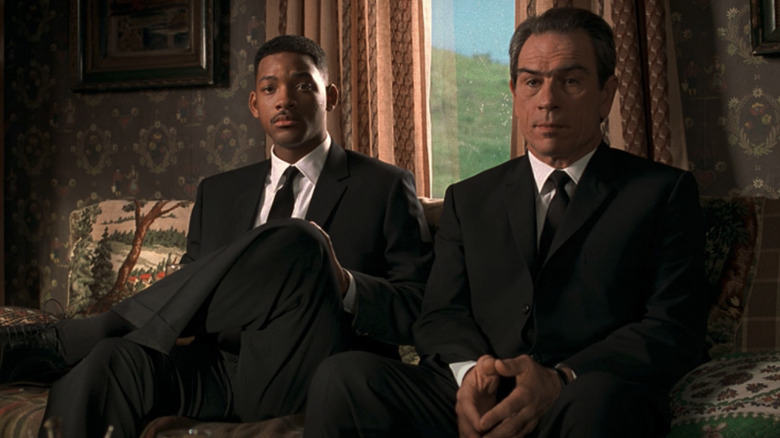 Tommy Lee Jones Wanted Men In Black's Script To Pick One: Comedy Or Science Fiction
For decades, the mythology of the Men in Black has hovered over the UFO community. Legend says that investigating paranormal phenomena, spotting unidentified craft, or encountering alien beings often leads to a scary visit from pale men in black suits who threaten the witness to keep quiet about what they've seen. Many supposed eyewitnesses claim that these men are government agents or shape-shifting aliens tasked with keeping the existence of the paranormal a secret from humanity, while skepti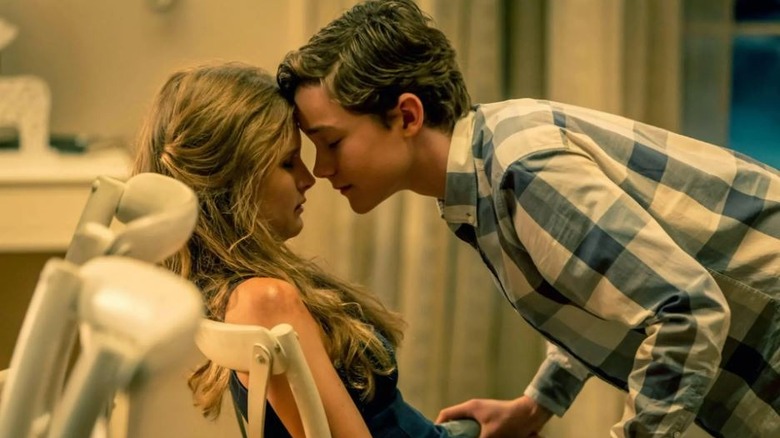 2016's Holiday Horror Film Better Watch Out Almost Ended Very Differently
With the arrival of December comes embracing the Christmas horror subgenre. When it's good, it's good. When it's bad, you still can't turn away. There's just something about the holidays going absolutely wrong that serves as both nightmare fuel and brilliant catharsis depending on the execution. It's why holiday horror film classics like "Black Christmas" and "Gremlins" still reign supreme on many of the Best Christmas horror lists to this day. In the case of Chris Peckover's "Better Watch Ou...