Fall Nesting: Our Cozy Coffee Routine + Live Video
Now that we have our new home, I'm so looking forward to getting into my fall nesting rhythms! We are sad to be saying good-bye to our old home, but couldn't be more thrilled to have found such a cozy place for this next chapter of life. We'll be moving our furniture and belongings in [...]


Decorating Our New Front Porch and Entry for Fall
This post is created in partnership with Walmart Hi friends! First of all, I wanted to thank you again for all your sweet messages lately. It means so much to us that you're excited for our family and this move. So many of you have been here for years, or even from the beginning of [...]


We're Moving: Part 3 (First Peek At Our New Home!)
This home is finally ours! What a journey it's been! I'm actually in shock that we are here and this is our home, but it really feels meant to be. I'll give you a first peek at it today, but rest assured there's more to come. There is so much I want to say, so [...]


New Minted Art in Kylee's Entry (+ a 20% off code!)
Happy Monday! Kylee here today to continue with my entry updates and I wanted to share this new art I got from Minted! Adding a little color through art was high on our priority list for making this space warm and welcoming. This isn't my first Minted art, I've used them in my past home [...]


A Cozy Throw Blanket for Fall (+ Giveaway)
It wouldn't be fall without a cozy throw blanket! I'm sooo in love with these gorgeous handcrafted Scrunchy Throws made by my talented and sweet friend, artisan Rebekah Polder The Handcrafted Home. They are literally the softest coziest most beautiful throws I've ever laid my hands (and eyes) on. Perfect for snuggling all fall and [...]


Transitioning Our Entry Porch for Fall {Painted Concrete!}
Welcome, friends! Can you believe it's time for all things cozy? Fall is a lovely season to enjoy our homes, so I'm thrilled to join in a tour with a wonderful group of bloggers to get inspired for the season! You'll find links to each blogger at the end of the post. Today I'm sharing [...]


Taking the Stress Out of Refinancing a Home
This post is created in partnership with Refily, a new home refinance lender comparison tool with the goal to take the stress out of home refinance Taking care of our home is not only an important investment in our family's health and well-being on so many levels (which we talk about here all of the [...]


If you missed part one of the post on our decision to move, you can catch up HERE! We are SO excited! It's been an incredibly busy few weeks as we've been getting our house up for sale, but we are just so thrilled to begin this adventure by moving to a new home. I [...]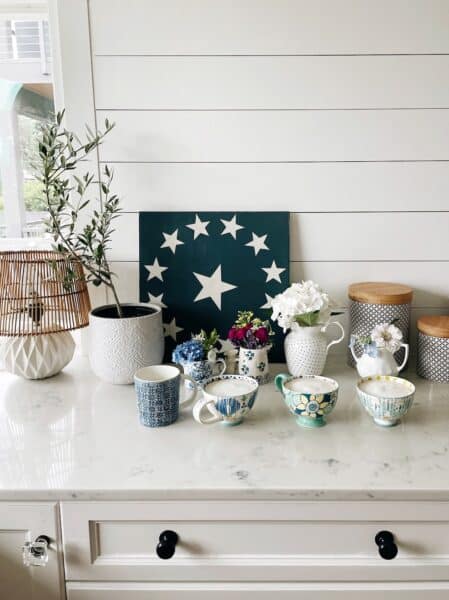 Join us for our new life adventure and a new cozy home by the sea!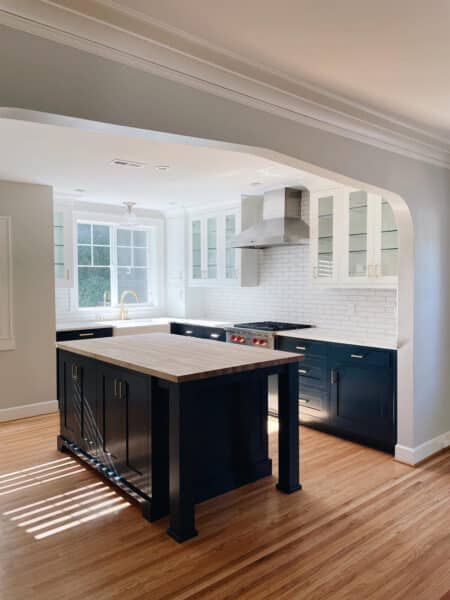 Hello! It's Kylee here to show you some more of our new home! Just a few weeks ago we moved into our new Cape Cod style home (or just a cape depending on where you live!). To be honest I still can't believe it's really ours! While we owned our townhouse for years, this still [...]


Okay, show of hands…who is ready for fall nesting? Who wants summer to stick around longer? :) I have mixed feelings. I've been really enjoying summer. But then again, you know how much I love fall! It's been pretty hot (and smoky!) here in Seattle the past couple of days so I wouldn't complain about [...]


My Favorite Blue and White Dishes
A few years ago I got these beautiful blue and white dishes and I absolutely love them. They are timeless, so versatile for any season and can easily mix and match with other dishes!


Beautiful & Affordable Amazon Lighting
Lighting is one of the best ways to add personality and character to your home. It's one of the first improvements I've always made when moving into a new home. Switching out builder basics or dated fixtures makes a world of difference in the feel of a home. See my favorite stylish and affordable lighting from Amazon in this post!


5 Take Away Tips from A Charming Cape Cod Home
New England Home I love most styles of homes but my heart is drawn to the architecture in a Cape Cod style home. It's fun to analyze photos of rooms, by paying special attention to design elements I love. It helps me to think more creatively about my own home. As I study a photo, I [...]


Styling Glass Kitchen Cabinets (Kylee's House Update)
Brass Faucet Source // Farmhouse Sink // Similar Glass Light Hello! Kylee here! We are one week into the new house and starting to feel more and more settled every day! First thing on the priority list for me, was getting the kitchen in order. We spend a lot of time in the kitchen and [...]


Hi friends, Kylee here with a house update! You may have already seen my little video tour if you follow along on Instagram but I wanted to share that we officially moved in to our new house in Portland!  After a year of searching in a difficult market, we had decided that we were likely [...]


A Big Dream Coming True for Us (+ Get the First Peek at Kylee's New House)
Hey friend, are you one of my newsletter subscribers? You will want to be subscribed to stay in the loop on some really fun news and to be the first to see Kylee's adorable new house! Click HERE to subscribe. We're just about to become empty nesters (for real this time) after over 30 years [...]


Six Favorite Tips for Decorating a Summer Bedroom
One of the most enjoyable things for me in decorating is to focus on enjoying the season we're in! Why keep your spaces the same all the time when you can feel inspired with a few simple changes? Last week I brought in some fun elements to our bedroom to give it the feeling of a tropical retreat! Come see!


Garden Inspiration: Arbors, Trellises & Gates
I've always been fascinated by gardens…particularly garden entrances! I love how arbors or gates can add such an inviting and intriguing touch to an outdoor space. They always beckon me to walk through them…which is a bit of a problem if I see one in someone else's yard that I'm not invited to (ha!)…I'm always [...]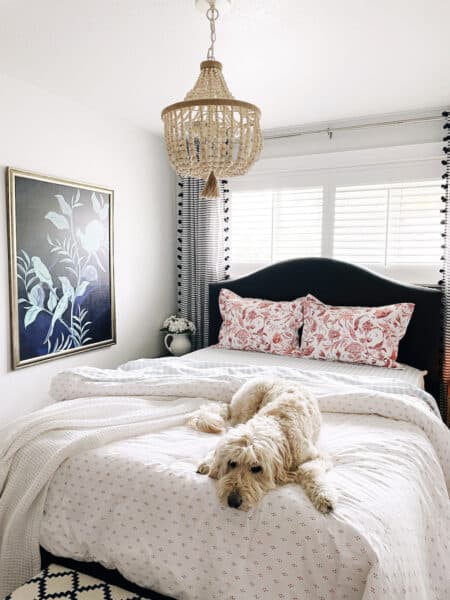 It feels like summer is flying by here. I'm trying to slow things down as best I can and just enjoy every moment of this season. We have some cute new summery bedding for our guest room, so I've been having fun using the space for guests again! We had a couple of family get [...]


My Top 10 Must-Have Toxin-Free Products From Young Living
I've been a fan of Young Living's toxin-free products for seven or eight years now! We use MANY of them DAILY. They really have transformed our health and home. Today I want to share some of my favorite household and personal care products, as they really are incredible! But first, it's official! Creating a toxin [...]


Tiny Bouquets in Small Repurposed Vases
I accidentally cut a small small hydrangea from our bush the other day. I was so sad, it wasn't intentional! But I brought the little flowers inside and put it in a small pitcher. Suddenly, I was happy! It looked so sweet! In design we often hear the advice to only cut longer stems and [...]


Exciting News! Get 24% off at Young Living without a starter kit!
Big news! Creating a toxin-free home is going to be a whole lot easier and more affordable. Today we have something exciting to share with you. Young Living is unveiling an incredible new shopping platform with so many wonderful new and convenient features for their millions of customers, including the option to get what you [...]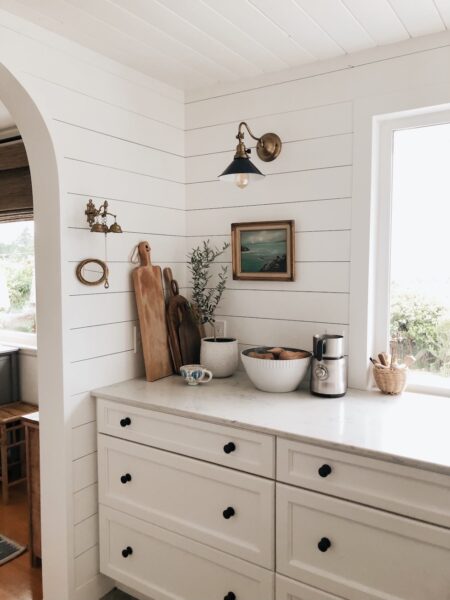 How We Make Our Coffee in a Stovetop Espresso Maker
Every morning, we make what is known as "Italian coffee" using a stovetop espresso maker (also referred to as a Moka Pot). This is a new version of the pot we use and recommend. We use several different brands of coffee, but one of our favorites is this one from Kicking Horse.You want to use [...]


Coastal Decorating Inspiration: Serena & Lily
Serena & Lily is one place that never fails to bring me decorating inspiration. They have a Summer Tent Sale going on right now with pieces available and ready to ship. I thought I'd share some of my favorites with you here today!


Summer Diffuser Blends for Your Home
Our emotions are impacted by so many things, including our senses! The sense of smell is very powerful. My own well-being is one reason I love to use essentials oils in our home. I quit using toxic candles, room sprays and other scented products years ago and I can't say enough about what a powerful [...]


Removable Wallpaper Ideas and Designs
Choosing a Good Removable Wallpaper Whether you are on a budget or renting and can't paint, removable wallpaper can be the answer.  The idea is to provide affordable and temporary ways to design and decorate your urban home.  This removable wallpaper can be used for many types of projects.  The designs are modern and contemporary and there is a style that can fit any type of aesthetic from masculine or feminine to youthful or elegant. The lightly sticky adhesive allows for fast drying a...


How to Be Patient with Home Projects
It's hard to be patient with the pace of home projects, let alone be realistic with our own expectations. The internet plays games with our minds. Everything moves so fast! Like the pace of highlight reels for home makeovers, everyone else's projects seem to get completed in the time it takes me to even decide [...]


Happy July, friends! Thank you so much for all of your kind words in my post about our new door color. We love it, it's making us happy every day! With all of the flowers blooming in our yard this time of year, I'm enjoying the weekly ritual of keeping the lantern filled with a [...]


Iced Maple Oat Milk Shaken Espresso Recipe (Starbucks Copycat)
Have you tried the Starbucks iced brown sugar oat milk latte? It's so yummy! We made our own similar version at home and it's delicious, I wanted to share the recipe with you today! It's super simple with just a few ingredients. Pin this post to save the recipe for later! Recipe for an individual [...]


How to Set a Cheerful Summer Table
This post is in partnership with Walmart. Summer officially arrived and along with it, fresh decorating opportunities and resuming outdoor gatherings. Even after all the time we spent here in 2020, our backyard is still our favorite destination! Making our backyard feel like a retreat from the world over the past few years has become [...]


A Guide To Furnishing And Decorating A Guest Bedroom
Great Ideas For Your Guest Bedroom Now that the world is slowly but surely returning to normal, having guests stay over can once again be an enjoyable experience, allowing you to catch up with long-distance friends and family. There's something really enjoyable and special about welcoming guests into your home again and making them feel comfortable. Over lockdown, you might have renovated and decorating the key rooms in your home, like many of us, but your guest bedroom might have become negle...


Brick Ranch to Cottage: Blue Dutch Door Before & After
We bought our orange brick 1950s ranch style house in Seattle six years ago. I know when I first showed the "before photos" of this home, many people may have had trouble trying to picture where we were headed with the style! I understand. It certainly didn't look like my "cottage by the sea" dreams. [...]


Things to Know When Remodeling a Bathroom
Remodel Your Bathroom The Right Way Bathroom design and layout are major influencers on your home's resale value. Even if you aren't planning on selling your home soon, a great bathroom remodel can add a personal touch to your home. Functionality needs to be at the core of every bathroom remodel. While you might want to add as many bells and whistles as possible, the value they add to the bathroom should be a key consideration. You ought to choose materials and updates that are both energy e...


5 Stylish Modern Graphic Print Ideas for the House
Modern Graphic Print Ideas Even if you're seeking a chic and sophisticated style for your home, apartment or even dorm room, prints can help make a fashionable and interesting splash. From eclectic flavors to cultural charm, it's okay to add a bit of pizazz to your modern abode. Let's take a look at some real-life explains and get inspired on how to incorporate some stylish, modern graphic print ideas into your home's decor! In a Hurry? A Quick View of "THE" M


Modern Writing Desks: 5 Popular Styles
Popular Desk Styles For Your Next Home Working Project It will fit nicely in your home office or fill that hole in your master bedroom. A writing desk is perfect for the at-home entrepreneur, one with a creative spirit or just a place to writing your checks, pay your monthly bills and keep your to-do lists. They're stylish, they're functional and they're becoming more and more popular throughout the modern world of design and decor.  Take a look at our top 5 picks for modern w...


Favorite Amazon Home Decor + Household Gadgets
In addition to supporting our local favorites, I'm a big fan of online shopping for our home and business, it saves time and money and keeps me organized! Here are some of the best deals today on home decor and household items!


Hiiii! Melissa's daughter Kylee here :) It's been awhile since I've written a blog post! I know my mom has shared here that I am moving so I thought I would come share some of the story and journey so far. If you follow me or my mom on Instagram, you may have seen that [...]


UNIQUE BENEFITS OF PURCHASING USED OFFICE FURNITURE
Big Savings In Used Office Furniture Hey there? Are you thinking of making more profits from your business? Definitely yes. Well, one way of making more profit is by increasing the levels of savings you get. But how will you do that? Well, buying used office furniture is a significant step to increasing savings. However, starting a new business or expanding the existing business is often expensive. That is why you need to consider buying the office furniture used to lower the costs. Here are the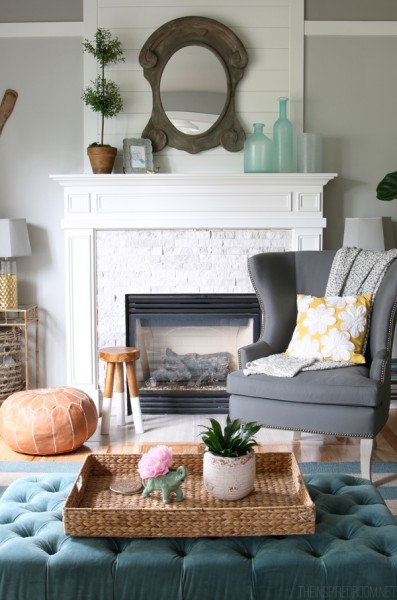 Sharing big news for our family and an upcoming move!


Summer Quilt + Pattern Mixing Tips
I gave our tiny guest room a quick summer refresh last week. It's nice to be back to having guests in the house, although most of our guests are family! :) I have an ever growing collection of quilts that are so fun to use on beds! A mix of patterns can make a small [...]


10 Gorgeous Curtains To Give Your Windows A Treat In 2021
Curtains To Decorate Your Home There are only so many ways to skin a cat, so to speak — where did that expression come from, anyway? — and only so many ways to dress a window.  That being said, today's roundup of gorgeous window treatments offers a few variations on the theme, updating classic roman shades and blinds and finding a magic balance of frilly and chic in several sets of sleek, ethereal curtains.  When a quick update is needed and a ground-up renovation just isn...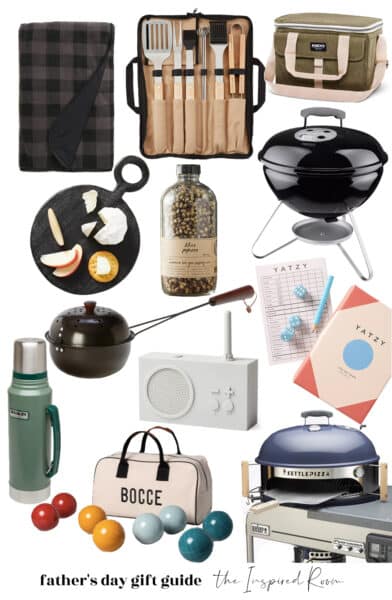 Hi friends! With Father's Day right around the corner I wanted to share some great gift ideas for the guys in your life. Enjoy our gift guides below! Sources for the above (click each title for details): Waterproof Outdoor Picnic Blanket Picnic Mini Cheese Board Wood Handled BBQ Tools Set with Bag Radio + Bluetooth [...]


Home Renovations: What Homeowners Fear the Most About Hiring Contractors
What You Should Consider When Hiring Contractors One of the biggest fears for owning a home is the money. There's the mortgage payment, maintenance costs, and even furnishing your new home. The fear can be even greater if you're working with a contractor to design and build a custom home. Building trust with the client (the homeowner), keeping an open line of communication, and being licensed and insured are some simple ways contractors can ease the fears of homeowners at any stage of homeow...


Space Saving Corner Desks For 2021
Space Saving Corner Desk Ideas Do you have a nook to fill or a need for a bit of work space at home? With a corner desk design, you'll be able to spruce up any dull crannies, utilize the excess space and create a more functional home working environment. Whether you need some time to do business in the relaxation of your own place or your just need a space to pay your bills and keep your to-do lists, we've created a quick list of 12 space saving corner desk designs using small corner


A New Paint Color for Our Dutch Door (+ Summer Doormats)
To kick off the summer season which is quickly approaching, we are giving our front door and porch a little refresh! I think it's a great time of year to work on some "curb appeal" so we will be all set for fall decorating and the holidays. You may have seen our new door color [...]


Effective Ways to Increase Your Solar Panel's Efficacy and Output In 2021
How To Increase Your Solar Panel's Efficacy and Output Solar energy is one of the best sustainable sources of energy available that converts light to electricity. It is the safest source of energy with zero emissions that can power buildings and allow people to go on with their daily tasks while keeping their carbon footprint as low as possible. Not only is solar power great for the environment, but it can also help lower our greenhouse gases emission rate. Solar panels have many photovolt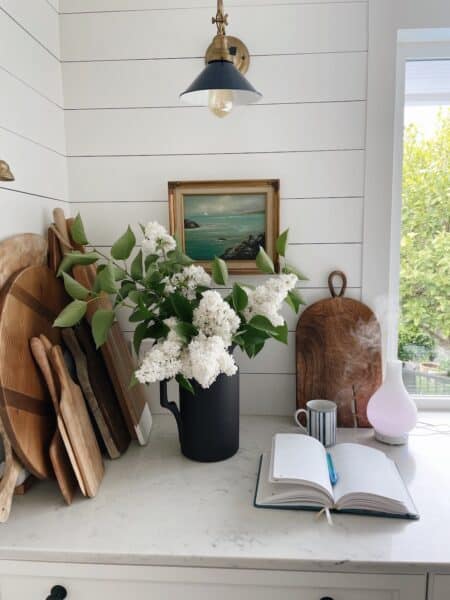 Rug Source // How to Hang plates on the Wall We had one home years ago that had lilacs in the yard, but they rarely bloomed. When we moved into this house in the fall six years ago, I didn't know at the time what an incredible array of flowers would arrive thee next spring! [...]


Flags in Decor + Memorial Day Weekend
I've been saving images of flags in beautiful settings for awhile now, they are so inspiring to me! I thought you might enjoy seeing them as much as I do. Hope you have a wonderful weekend celebrating the freedom we have and in remembrance and gratitude for those who gave their lives for it.


5 Checkered and Plaid Furniture Ideas for the Home
Modern Furniture Ideas For You New Home Decor Project Printed and patterned furniture may be fun and playful, but sometimes it can transform your home into a time-warped mess. Instead, find pieces that are bold and stylish without all the antiquity. Believe it or not, checkered and plaid furniture ideas can spruce up, jazz up and modernize even the most dull and drab of corners.  If you look many interior design pictures you will notice a combination of single color pieces combined with pattern...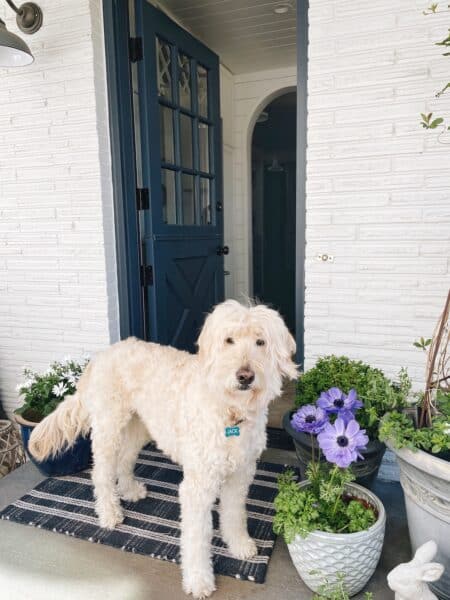 Hi friends! I wanted to let you know about some Memorial Day weekend sales happening now, as well as collages of some of my favorite finds on sale! Enjoy! Ps…I'll be back this weekend with a special holiday post! World Market has up to 25% off select outdoor items this weekend (+Members save an extra [...]


5 Interesting and Geometric Side Tables For 2021
Geometric Side tables For Your Next Home Design Every accent you choose to compliment your home with should be special. Whether it's a color, a piece of wall art or a simple side table, every home accessory should make a statement and make sense! And today, we've chosen to gather 5 interesting, stylish and super modern geometric side tables. Not only do these have a contemporary, modern flavor but they would certainly help to turn a nook or cranny into something a bit more special. L


A House That Feels Like Home + New Indoor Outdoor Rug
It's definitely feeling like spring around our house, but even more so, it feels like HOME! We've lived in this house for *almost* six years now, can you believe it? I've never lived anywhere longer than six years, so it's a really good feeling to be so settled and have had so many seasons in [...]


Life Lately: Scenes From Around Our House
It's been awhile since I've done a Life Lately post, so I thought I'd catch up before this season gets away from us. Time sure flies, doesn't it? We had such a wonderful Mother's Day weekend, my parents were able to come stay at our home for the first time in over a year! We've [...]


The Best Secrets for How to Mix Patterns in Your Home
Do you ever wonder how to mix and match patterns in your home? I know it can be tricky to figure out what "goes" with what! In today's post I'll share some of my secrets for pattern mixing and feature some of my favorite mix-and-match-able pillows from Serena & Lily to make it easier to [...]


Are You Planning To Buy a Goods or Food Lift?
Planning To Buy a Goods or Food Lift? Consider These 6 Points First Selecting the lift of the product may be a challenge since there are so many choices in terms of forms, shapes, and capacity. Let us make things simpler for you by asking yourself six simple questions. 1. What Are The Activities You Want Your Lift To Accomplish? This might sound like an odd place to start, but the goal is to make life simpler for yourself, your employees safer, and your customers happier with your level of servi


Patterned Curtains in My Home + Similar Sources
A fresh and often unexpected way to add color and pattern to a room is with curtain panels. You can easily change patterned curtains out for the season or move them from room to room to give a space a new look. Even though it may feel like a risk to go with a bolder [...]


Sleep Tight: 10 Creative Bedroom Furniture & Accent Ideas
Creative Bedroom Furniture Ideas Chances are, each of our bedrooms is one of four things: too cluttered, too sparse, too bland or trying way too hard.  Whether we need to reel in the personality or dial it up a notch, today's roundup of bedroom furniture and accent ideas has something to help us pull it all together. From two drastically different kinds of aviary accents to the full-scale, ground-up renovation required to pull off the dramatic circular bed nook halfway through the series,...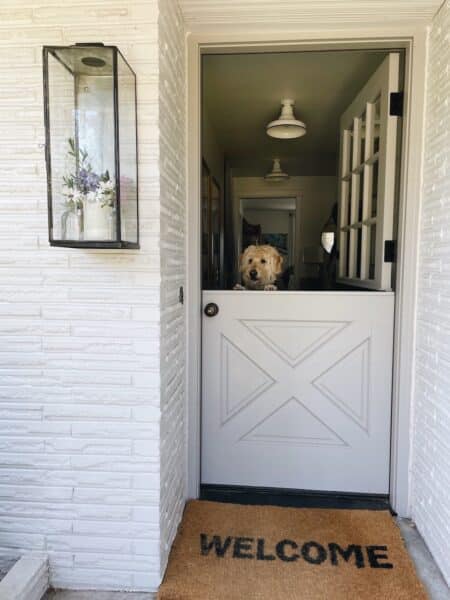 Decorate a Seasonal Display Lantern (+ Permission for Imperfection)
My husband and I were walking up to the porch the other day and he said, "you forgot to decorate your lantern for spring!". I was surprised he even noticed, but he was right! It had slipped my mind in all the other things I've been doing around the house. All it had in it [...]


8 Most Popular and Innovative Outdoor Kitchen Renovation Ideas
Popular and Innovative Outdoor Kitchen Renovations You must have already scrolled through the Instagram feed to get inspiration for an ideal outdoor kitchen design if you are thinking of incorporating one in the apartment or villa. But, if you don't have adequate knowledge about space utilisation, in the backyard, then we would highly recommend getting in touch with an interior designer. Nowadays, professional interior designers can help renovate the outdoor kitchen in the best possible way. B...


5 Formal Living Room and Piano Ideas For 2021
Piano Designs and Ideas For 2021 Do you host a lot of dinner parties and neighborhood get-together's in your house? Are you a fan of clean, slick and contemporary style? With a bit of formal design and a beautiful piano, you can create an amazing room fit for entertaining, wowing and enjoying. Let's take at look at five formal living room and piano ideas, fit for a queen, a king and their charming families.  The piano has hundreds of years of history being an entertaining centerpiec...


Homeowner's Insurance and Furniture
What's Covered and What Isn't Things can happen at home. Whether it's weather or water damage and everything in between, you want to make sure you can be able to repair and replace everything. Even your furniture might risk getting damaged in more ways than one. You could have a furniture set that you have had for a while, only to be damaged in a fire. Or it can be damaged by accident after some roughhousing. Either way, it's important to know whether or not it's protected from damage ...


Designer Decorating Secret: Realistic Faux Plants
A room always seems to feel more fresh and alive to me when there's a plant in the room. Better yet, when there are several plants! I bet if you study photos of rooms you like, you'll notice how many of them have at least one plant. Using faux plants in a room or a [...]


Modern Dining Room Tables For Your Home In 2021
Modern Dining Room Tables Give the dining room in your home a facelift with a brand new table to hold as your central point and foundation of style. This space is where you'll host family dinners, holiday gathering and maybe even celebrate a birthday or two, so it's important that you create a welcoming ethos but one that also goes along with the stylish nature of your home. We've compiled a list of modern dining room tables including 13 cool ideas and photos to help inspire yo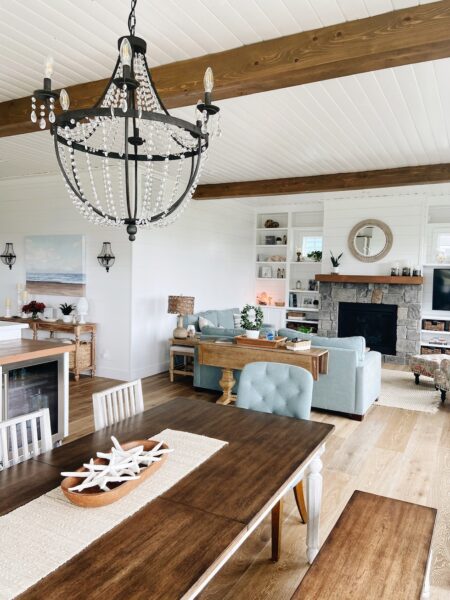 Come Take a Video Tour of a Dream Beach House!
Last summer we stayed in the most amazing dream beach house in the town of Seabrook on the Washington Coast! I shared a two part tour of the home on the blog (click HERE for part one and HERE for part two). I also posted a video tour on my Instagram, but today I wanted [...]


10 Ways to Decorate a Home with Maps
Decorate a Home with Maps Decorating with maps is a fun way to show off your adventurous spirit and wanderlust.  There are so many amazing things you can do with a map to really add interest to a room and make guests ask, "Just where in the world have you traveled?" The obvious place to hang it would be the wall, but there are so many other ways you can display your map decor.  You can decorate with modern maps or go for an old world design with antiquated maps.  Either way, you are sur...


Wood Pedestals, Trays, & Footed Stands in My Kitchen
Simple details in a space can add function as well as warmth and character. One of my favorite ways to do that in my white kitchen is by bringing in more contrast with cozy textures with wood pedestals, trays and footed stands. It's such a simple thing to do, but it sure makes a difference! [...]


Hi friends! With Mother's Day right around the corner I wanted to share some sweet and thoughtful gift ideas for that special mom in your life. Enjoy our gift guides!


Out to See: Tulip Festival Roozengaarde (Washington State)
I may be a day late in saying happy Earth Day, but my girls Kylee and Courtney and I were traipsing through a glorious local tulip farm oohing and ahhhhing over each unique petal in the beautiful fields of color! I love living in the NW, the incredible natural beauty is breathtaking. We literally took 1,000 photos/videos at [...]


3 Types Of Accessories That Would Improve Your Living Room
Accessories That Look Good In Your Living Room In most houses, there is a special place where interpersonal relations are shared and welcome by friends and family. A place for rest, relaxation, and fun that is known to most as the living room. So why not add some flair to the living room space where people spend most of their time, either alone or with family, friends, and pets? If you are forced to stay inside your home for months on end because of a pandemic, zombie apocalypse, or just because


Have You Considered Rekeying Your Home Security Locks
Why You Should Consider Rekeying Your Locks Whether you're a professional locksmith, a hobbyist, or just a person interested in DIY, security can't be overrated. Moving into a new home or opening new business premises can be a good time to think about rekeying your locks. After all, you don't know who could still have keys to the property. If you've recently been burgled, or if there's been several property break-ins in your area, Re-keying your locks can give an extra element of safet...


10 Wonderful Ottoman Ideas for a Living Room
Great Ottoman Ideas For Your Home If you are looking at ottoman ideas for a living room then this article may be just right for your needs.  Our editors have scoured the internet and come up with ten wonderful examples that can make your home beautiful.  I like how flexible this furniture can be. It can serve as seating that can be moved around a home easily to accommodate guests or also serve as a foot rest after a long day of work.  It's for that reason that you should think about your li...


Edible Flower Teacup Garden in the Kitchen
Have you ever grown edible flowers? I think a kitchen garden or windowsill garden is so charming. A few weeks ago I was at a local garden store and saw these sweet little violas. I planted a bunch of them in pots but had a few leftover and decided to put a few in my colorful coffee mugs!


Fun Ways to Use Edible Flowers
Edible flowers are such a fun and pretty addition to a treat for Mother's Day, a baby shower, engagement party, birthdays, a wedding, spring garden party, or just because! Here are lots of fun ideas and recipes!


I've shared a few music playlists on The Inspired Room over the years like my Happy Homebody Playlist, my Uplift Playlist and more (see all of my playlists here), and today I wanted to share a new Happy Spring Playlist for you! I hope it inspires a positive atmosphere for you in your homes and [...]


One of the things we loved most about this house when we first looked at it was that it had a basement! I wasn't really looking for one (not all homes here have them), but with a small home having a nice basement is definitely a plus. Although in many houses we looked at they [...]


Life Lately: Dogs, and More Dogs, and More Moving!
Wait. Did I say something about becoming an empty nester a year and a half ago? I did? Haha, well, surprise! All the fur kids and human kids have moved back home here at some point in the last year! I was kind of wondering what it would feel like to be an empty nester [...]


Painting vs Staining Your Fence or Deck – the Benefits & Differences
Painting vs Staining Your Fence or Deck Both paint and stain have unique benefits. Stain is much cheaper and easier to apply, but paint lasts longer. Read this article to find out the differences and benefits. Wooden decks are a great way to enhance the beauty of your house and make it feel much livelier. Decks can also increase the overall value of your house. Also, fences are useful for privacy or protecting a backyard pool. But over time, fences and decks slowly lose their color and glamour t


Best ways to ship your furniture overseas
Shipping Your Furniture Overseas For most of us, moving abroad means starting a new life. However, moving doesn't imply that you need to start from scratch for your possessions. There are often things that you can't leave behind when you're moving. Children and pets are first on everyone's lists, and furniture is usually a close second. When you're transporting your furniture long-distance, you want it handled with care. Chances are, you'll also be shipping di


Courtney's Apartment Update + Tour (500 Square Feet!)
Hey guys! Courtney (Melissa's daughter) here today. I'm here today to give you a tour of my new 500 square foot apartment! If you're new here, in January I moved up to Bellingham, a beautiful and charming city by the water. Recently I showed you my empty apartment tour with mood boards for my design [...]


5 Pet-Friendly Home Improvement Tips This 2021
Pet Friendly Home Improvement Tips For remodeling your home with your canine companion in mind, it can become too easy to lose yourself in a catalog of fashionable dog beds and bowls. However, ensuring that your interiors and landscaping are pet-friendly involves more than aesthetics. If you're moving home and looking to adopt a dog this year, these pet-friendly home improvement ideas can make the process efficient and enjoyable. Pet-Friendly Kitchen Ideas If you feed your pet in your kitchen,...


15 Cool Solar Powered Home Gadgets And Home Accessories For 2021
Solar Power Products For Your Home in 2021 Solar power is generally used to provide electricity for homes and buildings. You may not know that the energy harvested must first be converted into electrical energy so it can produce functional electricity. The conversion is made possible through photovoltaic or PV, which uses semiconductors to convert sunlight radiation into an electric current where a solar panel absorbs light from the sun's rays in order to generate direct current, DC as wel


Outdoor Lounge Chair Furniture and Decor Inspiration
I've been getting excited about my yard and gardening and spending time outside this spring and summer! Last week on the blog I shared this Ultimate Outdoor Rug Roundup (click here). I was asked recently for the source of my outdoor lounge chairs and since they're no longer available, I went on the hunt for [...]


18 of the Coolest and Innovative Modern Bathtubs in 2021
18 Mega Cool Bathtubs Nothing is more relaxing than a long languorous bath to soak away your troubles with a chilled glass of white wine. The art of bathing is taken quite seriously by the design continuum and in recent years we have seen an explosion of luxurious and thoughtfully designed bathtubs. A greater awareness of wellness and the positive effect that stress re leaving can offer has spurned on many products for our homes once reserved for only the well equipped spas and vacation spots. F