Senate Committee Examining MLB's Antitrust Exemption
This week, the U.S. Senate Judiciary Committee reached out to the non-profit group Advocates For Minor Leaguers for further information on Major League Baseball's antitrust exemption. Evan Drellich of the Athletic and Jeff Passan of ESPN (Twitter thread) were among those to cover the development in detail. The focus of the current inquiry is on how…


Rays Announce Several Roster Moves
The Rays have selected the contract of right-hander Javy Guerra and recalled righty Phoenix Sanders from Triple-A Durham, per a team announcement. They'll take the roster spots of left-hander Brooks Raley and righty Ryan Thompson, who have been placed on the restricted list in advance of the Rays' road series in Toronto. Tampa Bay also…


A couple of recent DFA resolutions to start the morning here at MLBTR… Utilityman Willians Astudillo went unclaimed on waivers and has been assigned outright to Triple-A Jacksonville by the Marlins, per the team's transactions log at MLB.com. The 30-year-old Astudillo appeared in 17 games with the Fish, posting a .270/.289/.351 batting line in 38…


Athletics To Select Vimael Machin
The A's are set to select the contract of infielder Vimael Machin from Triple-A Las Vegas, reports Martin Gallegos of MLB.com (Twitter link). He and right-hander Adrian Martinez are both on their way up from Triple-A Las Vegas. Martinez, already on the 40-man roster, is expected to start today's game for Oakland. The A's will need…


Latest On Marlins' Deadline Plans
The Marlins, owners of a 34-40 record, have plenty of baseball to play before committing as a buyer or seller at the August 2nd Trade Deadline. Given that record however, Barry Jackson and Craig Mish of the Miami Herald spoke with Miami GM Kim Ng about the club's upcoming plans given their likely status as…


Guardians Outright Tanner Tully
The Guardians have outrighted left-hander Tanner Tully to Triple-A Columbus, tweets GuardsInsider. He'd been designated for assignment on Monday, just two days after being selected onto the roster. Tully, 27, also saw brief major league action in April. That promotion came as a designated COVID-19 substitute, while he was added as a more traditional call-up over…


The Cubs have officially released infielder Jonathan Villar, per MLB.com's transaction tracker. This move comes in the wake of the team designating Villar for assignment last Friday. The 31-year-old infielder is now a free agent eligible to sign with any team for the league minimum, with the remainder of this offseason's $6MM deal stuck on the…


Juan Lagares Elects Free Agency
Outfielder Juan Lagares has elected free agency after clearing waivers and being designated for assignment by the Angels last week, per the organization. With more than five years of service time under his belt the 33-year-old Lagares had the right to reject his outright assignment to the minors and head to the free agent market…


Phillies To Select Darick Hall
The Phillies are planning to select the contract of first baseman Darick Hall from Triple-A Lehigh Valley, reports Jim Salisbury of NBC Sports Philadelphia. They'll need to open a spot on the 40-man roster, although that can be achieved easily by moving Bryce Harper to the 60-day injured list. It'll be the big league debut…


Marlins Place Jazz Chisholm On Injured List
The Marlins have placed second baseman Jazz Chisholm on the 10-day injured list due to a right lower back strain. Utilityman Luke Williams was recalled from Triple-A Jacksonville to take his spot on the active roster. Chisholm has been nagged by back issues in recent days. He sat out Sunday's and Monday's contests before returning to the…


Click here to view the transcript of today's chat with MLBTR's Anthony Franco.


The Yankees have selected the contract of right-hander Ryan Weber, per a team announcement. He'll return to their big league roster for a second stint this season. Weber will take the roster spot of lefty JP Sears, who was optioned back to Triple-A Scranton/Wilkes-Barre following last night's game. Weber, 31, appeared with the Yankees once…


Follow NBA Free Agency At HoopsRumors
NBA free agency kicks off tomorrow at 5pm CT, and our sister site Hoops Rumors (@HoopsRumors on Twitter) has all the latest news, rumors and transactions for each of the league's 30 teams. The Knicks are considered the strong frontrunners to land Mavericks guard Jalen Brunson, reportedly being willing to offer a four-year deal in…


Austin Meadows Placed On Injured List With Achilles Strains
Austin Meadows' injury-plagued first season in Detroit continues, as the Tigers announced this evening that he's been placed on the 10-day injured list with Achilles strains in both legs. The outfielder had been on the COVID-19 list for the past 11 days; he'd been set to go on a minor league rehab assignment but the Achilles…


Blue Jays Showing Interest In Andrew Benintendi
MLB's August 2nd Trade Deadline is more than a month away, but the Blue Jays are already showing early interest in Royals outfielder Andrew Benintendi according to Jon Morosi of MLB Network. Morosi further speculates that Kansas City's bullpen arms may be of some interest to Toronto, whose crop of relievers currently sport the game's 24th…


Marlins, VP Gary Denbo Part Ways
The Marlins and vice president of player development and scouting Gary Denbo are parting ways, reports Craig Mish of SportsGrid (Twitter link). The 61-year-old had served as a high-ranking member of the Miami front office for the past five seasons. Denbo came over the Yankees in October 2017, part of a broader organizational overhaul. He…


The Padres, The Luxury Tax And The Trade Deadline
The 45-31 Padres possess baseball's fifth-best winning percentage (.592) and fifth-best run differential (+63). They've achieved this success despite receiving middle-of-the-pack production from first base and designated hitter in addition to well below-average offensive production from center field and right field. The Friars have also played the entire season thus far without star shortstop Fernando…


The Mariners announced they've selected outfielder Marcus Wilson onto the big league roster. He'll replace Taylor Trammell, who lands on the 10-day injured list with a right hamstring strain. Seattle also optioned corner infielder Kevin Padlo to Triple-A Tacoma and recalled utilityman Sam Haggerty to add some defensive flexibility to the bench. In order to create a 40-man roster…


The Mets announced they've selected outfielder Ender Inciarte onto the major league roster before this evening's matchup with the Astros. Fellow outfielder Nick Plummer has been optioned to Triple-A Syracuse to clear an active roster spot, while the club designated left-hander Locke St. John for assignment to free space on the 40-man roster. Inciarte earns his way to the…


Yankees Designate Manny Banuelos For Assignment
The Yankees announced Tuesday that they've designated left-hander Manny Banuelos for assignment and recalled fellow lefty JP Sears from Triple-A Scranton/Wilkes-Barre. Now 31 years old, Banuelos inked a minor league deal with the Yankees back in March and finally made it to the Majors for the team for whom he was considered a top prospect…


The Red Sox announced they've selected reliever Silvino Bracho onto the major league roster. Righty Connor Seabold was optioned to Triple-A Worcester in a corresponding move. Boston had a vacancy on the 40-man roster after placing Jarren Duran and Tanner Houck on the restricted list yesterday. Bracho is headed to the big leagues for the first time in two…


Thomas Pannone Signs With KBO's Kia Tigers
Lefty Thomas Pannone, who was granted his released by the Red Sox last night, has signed on with the Kia Tigers of the Korea Baseball Organization for the remainder of the season, the Tigers announced (via Jee-ho Yoo of the Yonhap News Agency). Pannone will earn $300K for the remainder of the season. Pannone, a…


The Dodgers are planning to select Jake Lamb onto the major league roster, manager Dave Roberts announced (via Fabian Ardaya of the Athletic). The veteran infielder would've soon been able to opt out of his minor league contract had he not been added to the 40-man roster. Utilityman Zach McKinstry is headed to the 10-day injured list…


Freddie Freeman Reportedly Changing Agencies
In the wake of a still-stunning departure from the Braves in free agency, former NL MVP Freddie Freeman has dismissed his longtime agents at Excel Sports Management, reports ESPN's Buster Olney. Freeman is currently listed as self-represented within MLB's central database, and, according to the New York Post's Jon Heyman (Twitter link), the MLBPA sent…


Diamondbacks Place Zach Davies On 15-Day Injured List
The Diamondbacks have placed starting pitcher Zach Davies on the 15-day injured list, retroactive to June 26, due to right shoulder inflammation. Reliever Sean Poppen was recalled from Triple-A Reno to take his place on the active roster. A timetable for Davies' return isn't clear, although the injury could have an impact on the summer trade market.…


Braves Place Kenley Jansen On Injured List Due To Irregular Heartbeat
The Braves announced Tuesday that closer Kenley Jansen has been placed on the 15-day injured list due to an irregular heartbeat. The move is retroactive to June 27. Right-hander Jesus Cruz has been recalled from Triple-A Gwinnett to take his spot on the active roster. It's a worrisome ailment for Jansen, though this is far from…


8:16pm: As expected, Moran has decided to accept the outright assignment, the club announced (via Charlie Goldsmith of the Cincinnati Enquirer). 5:58pm: The Reds announced that corner infielder Colin Moran has cleared waivers and been assigned outright to Triple-A Louisville. He has the right to refuse a minor league assignment as a player with between four and…


Injury Notes: Eflin, Brantley, Woodruff, Polanco
The Phillies placed starter Zach Eflin on the 15-day injured list, retroactive to June 26, with a bruised right knee. Outfielder Oscar Mercado, claimed off waivers from the Guardians yesterday, has been added to the active roster in a corresponding move. Eflin told reporters he's hopeful he could return after a minimal IL stay, which would only cost…


Guardians Acquire Sandy Leon, Designate Ian Gibaut For Assignment
The Guardians announced this morning that they've acquired veteran catcher Sandy Leon from the Reds in exchange for cash. He's being added directly to the Major League roster, and right-hander Ian Gibaut has been designated for assignment in order to open a spot on the 40-man roster. Leon's acquisition comes in conjunction with catcher Austin…


Red Sox Release Thomas Pannone, Roberto Ramos
The Red Sox have released left-hander Thomas Pannone and first baseman Roberto Ramos from their minor league contracts, as reflected on each player's respective transactions tracker at MLB.com. It seems both players could explore opportunities in South Korea. Pannone told Joe McDonald of the Worcester Telegram & Gazette (Twitter link) he was soon to sign with a…


Archie Bradley Shut Down For At Least Four Weeks With Elbow Fracture
Angels reliever Archie Bradley was placed on the 15-day injured list with a fracture in his throwing elbow this evening. Trainer Mike Frostad tells reporters (including Sam Blum of the Athletic and Sarah Valenzuela of the Los Angeles Times) that he'll be shut down from throwing entirely for at least four weeks. Frostad estimated it'll be multiple…


Click here to join Tuesday's chat with MLBTR's Steve Adams.


The Red Sox announced they've selected infielder Yolmer Sanchez onto the major league roster. They've also recalled righty Connor Seabold from Triple-A Worcester. In corresponding moves, righty Tanner Houck and outfielder Jarren Duran are going on the restricted list. That's typical procedure for players who haven't been vaccinated against COVID-19 on teams heading for a series in Toronto, as…


Blue Jays Select Shaun Anderson
The Blue Jays announced they've selected righty Shaun Anderson onto the MLB roster, with reliever Jeremy Beasley optioned to Triple-A Buffalo. A 40-man roster spot was created by transferring Hyun Jin Ryu from the 15-day to the 60-day injured list. Toronto grabbed Anderson off waivers from the Padres last November. They passed him through waivers a couple weeks…


The Mariners selected catcher Andrew Knapp onto the big league roster before tonight's matchup with the Orioles. Fellow backstop Luis Torrens is headed to the 10-day injured list with left shoulder inflammation. Seattle already had a vacancy on the 40-man roster. Knapp signed a minor league contract with the M's last month. He's played at Triple-A Tacoma…


Royals Trade Carlos Santana To Mariners, Promote Vinnie Pasquantino
The Mariners have acquired first baseman/designated hitter Carlos Santana and cash from the Royals in exchange for right-handers Wyatt Mills and William Fleming, per a team announcement. The trade paves the road for the Royals to take an overdue look at top prospect Vinnie Pasquantino, whose contract has been formally selected from Triple-A Omaha, according…


Trevor Larnach To Undergo Core Surgery, Expected To Miss Six Weeks
Twins outfielder Trevor Larnach will undergo a bilateral surgical repair to address a core muscle strain, president of baseball operations Derek Falvey informed reporters (including Betsy Helfand of the St. Paul Pioneer-Press). Falvey estimated it'll be six weeks before Larnach is ready to return to the major league team. It's a setback for a Minnesota club…


The Blue Jays are signing veteran right-hander Sergio Romo to a Major League contract, reports Jon Heyman of the New York Post (Twitter link). The Meister Sports client was designated for assignment and subsequently released by the Mariners last week. As such, Seattle will be on the hook for the majority of Romo's $2MM salary.…


Phillies Sign Jace Fry To Minor League Deal
The Phillies have signed left-hander Jace Fry to a minor league contract, as first indicated on the transaction log at MLB.com. The Northwest Sports Management client will head for Triple-A Lehigh Valley. Fry opened the season with the Nationals, but I'm told he recently opted out of that contract. (The opt-out date in his Nationals…


Major League Baseball Issues 12 Suspensions For Angels – Mariners Brawl
Major League Baseball has handed down 12 suspensions arising from yesterday's bench-clearing brawl between the Angels and Mariners. The league also handed out undisclosed fines. Nine of the individuals disciplined are from the Angels, while the Mariners lose a trio of players. The discipline is as follows: Angels Interim manager Phil Nevin: Ten games Third…


Bryce Harper Reportedly Likely To Require Thumb Surgery
Phillies star Bryce Harper fractured his left thumb on a hit-by-pitch Saturday night, a development that necessitated an immediate injured list stint. He's undergone further testing over the past two days to determine the next steps in his treatment, and it seems as if the reigning NL MVP is likely to go under the knife. Scott…


Major League Baseball Job Openings
From time to time, as a service to our readers, MLB Trade Rumors will post job opportunities of possible interest that are brought to our attention. MLBTR has no affiliation with the hiring entity, no role in the hiring process, and no financial interest in the posting of this opportunity. Read more Position:  Manager, On-Field…


The Tigers have re-signed righty Drew Hutchison to a new minor league contract, MLBTR has confirmed. Chris McCosky of the Detroit News tweeted yesterday that a new deal between the Tigers and the ACES client was expected to come together at some point this week. That's now three minor league deals with Detroit in the…


Cardinals Place Jack Flaherty, Harrison Bader On Injured List
The Cardinals announced this afternoon that both Jack Flaherty and Harrison Bader are headed to the injured list. Flaherty, as a pitcher, lands on the 15-day IL with what the team is calling a right shoulder strain. The position player Bader heads to the 10-day IL as he battles plantar fasciitis in his right foot. To replace…


The Phillies have claimed outfielder Oscar Mercado off waivers from the Guardians, per a team announcement. They opened a spot on the 40-man roster by recalling lefty Damon Jones from Triple-A Lehigh Valley and placing him on the Major League 60-day injured list due to a shoulder impingement. More to come.


Mets Claim Kramer Robertson, Transfer Tylor Megill To 60-Day IL
The Mets have claimed infielder Kramer Robertson off waivers from the Braves, tweets Tim Healey of Newsday. He's been optioned to Triple-A Syracuse. That's also true of reliever Colin Holderman, who was reinstated from the 15-day injured list and sent to the minors. To clear a spot on the 40-man roster for Robertson, the Mets transferred Tylor Megill…


Pirates Designate Anthony Banda For Assignment, Release Heath Hembree
The Pirates announced a series of roster moves Monday, reinstating utilityman Josh VanMeter from the injured list, recalling righty Miguel Yajure from Triple-A Indianapolis, optioning outfielder Cal Mitchell to Triple-A and designating lefty Anthony Banda for assignment. Pittsburgh also released righty Heath Hembree after he cleared waivers, per Jason Mackey of the Pittsburgh Post-Gazette (Twitter…


Rockies Notes: Bryant, Schmidt, Pitching, Bard
Kris Bryant looks to be close to returning to the Rockies lineup, as manager Bud Black told reporters (including MLB.com's Thomas Harding) that Bryant will return to the team for an evaluation on Monday.  If all goes well, Bryant could be activated from the injured list for tomorrow's game against the Dodgers. Bryant's next appearance…


AL Central Injury Notes: Moncada, Smith, Staumont, Meadows
White Sox third baseman Yoan Moncada should be activated from the 10-day injured list on Tuesday, manager Tony La Russa told MLB.com's Scott Merkin and other reporters.  Moncada's placement (due to a right hamstring strain) was retroactive to June 18, so Tuesday would represent the minimum 10 days for the infielder. Between this brief IL…


Click here to read the transcript of tonight's live baseball chat


Diamondbacks To Select Dallas Keuchel
Diamondbacks manager Torey Lovullo informed reporters, including Nick Piecoro of the Arizona Republic, that lefty Dallas Keuchel will start Sunday's game for the club. Keuchel isn't currently on Arizona's 40-man roster, meaning a corresponding move of some kind will be required. Keuchel, 34, began the season with the White Sox, in the final season of…


Dodgers Notes: Betts, Ferguson, Treinen, Kahnle, Gonzalez, Duffy
It has been a week since the Dodgers placed Mookie Betts on the 10-day injured list due to a right rib fracture, and it doesn't appear as though the five-time All-Star is much closer to a return.  Manager Dave Roberts told reporters (including Bill Plunkett of the Orange County Register and Jack Harris of the…


Rangers Announce Series Of Roster Moves
The Rangers announced a pile of roster moves today, in addition to a couple of moves that were announced after yesterday's game. Last night, left-hander Taylor Hearn and infielder Ezequiel Duran were optioned to Triple-A Round Rock. Today, a third opening was created when right-hander Matt Bush was placed on the 15-day injured list, retroactive…


Astros Reinstate Jeremy Pena, Option Chas McCormick
The Astros announced to reporters, including Chandler Rome of the Houston Chronicle, that shortstop Jeremy Pena has been reinstated from the injured list. Outfielder Chas McCormick was optioned to Triple-A in a corresponding move. Pena landed on the IL due to some thumb discomfort but has returned fairly quickly, as no serious structural damage was…


Ronald Acuna Jr. Suffers Foot Injury, Could Be Headed To 10-Day IL
Ronald Acuna Jr. fouled a ball off his left foot during Saturday's game, and the injury eventually forced the Braves star to leave the lineup.  While x-rays were negative, Acuna told reporters (including ESPN's Marly Rivera) today that a trip to the 10-day injured list is a possibility "because I can't put any weight on…


Giants Place Brandon Crawford On 10-Day Injured List
The Giants placed shortstop Brandon Crawford on the 10-day injured list (retroactive to June 25) due to left knee inflammation.  The recently acquired Yermin Mercedes has been called up from Triple-A and will take Crawford's spot on the active roster. Crawford hurt his knee Tuesday while awkwardly sliding into home plate, and the injury forced…


Cardinals Notes: DeJong, Matz, Molina
After years of declining offense, the Cardinals optioned Paul DeJong to the minors in early May. Since that time, he's showed some improved results, relatively speaking. Through 37 games with the Triple-A Memphis Redbirds, he's hitting .230/.276/.500. The resulting 95 wRC+ is still below league average, but is miles ahead of the 25 wRC+ he…


Mets Notes: McCann, Scherzer, Holderman, deGrom
James McCann was activated from the 10-day injured list prior to today's 5-3 win over the Marlins, and the catcher went 1-for-4 with a single and a run scored in his first game since May 10.  McCann had to undergo surgery to fix a broken left hamate bone, costing him a little beyond the initial…


Twins Pitching Coach Wes Johnson Hired As LSU Pitching Coach
7:17PM: Maki will be promoted and become the Twins' new pitching coach, Gleeman and Hayes report (via Twitter).  Also from Hayes, talks between the Twins and Johnson were more about "what might make [the] job more appealing" to Johnson, and he didn't ask the club for more money.  LSU, meanwhile, was "very aggressive" in recruiting…


Diamondbacks Designate Ryan Weiss For Assignment
The Diamondbacks announced a few roster moves prior to today's game. As was previously reported, lefty Dallas Keuchel was selected to the roster to start today's game. To create room on the active roster, right-hander Sean Poppen was optioned following yesterday's game. To create space on the 40-man roster, righty Ryan Weiss was designated for…


Marlins Select Erik Gonzalez, Designate Willians Astudillo
The Marlins announced to reporters, including Jordan McPherson of the Miami Herald, that they have selected the contract of infielder Erik Gonzalez. To make room for him on the active roster, infielder Willians Astudillo has been designated for assignment. Astudillo, 30, spent the first four years of his career with Minnesota, becoming a fan favorite…


Brewers Place Hunter Renfroe On IL With Calf Strain
The Brewers announced that outfielder Hunter Renfroe has been placed on the 10-day injured list, retroactive to June 23, with a left calf strain. Infielder/outfielder Pablo Reyes was recalled to take his place on the active roster. Losing Renfroe's bat is a notable blow to the Brewers' lineup, as he's been arguably the club's best…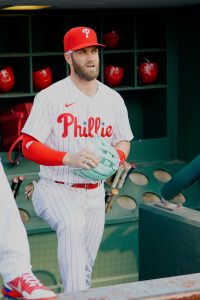 Bryce Harper Fractures Left Thumb
Bryce Harper's season may be in jeopardy, after the reigning NL MVP suffered a fractured thumb in Saturday's game against the Padres.  Facing Blake Snell in the fourth inning, Harper had to duck to avoid a 97mph fastball that sailed up and in, but the pitch still hit Harper in his left hand, leaving the…


Rangers Outright Spencer Patton To Triple-A
The Rangers announced that right-hander Spencer Patton has been outrighted off the 40-man roster and assigned to Triple-A Round Rock.  Patton was designated for assignment earlier this week. Now in his fifth MLB campaign, Patton has a 3.86 ERA and 52.6% grounder rate over seven innings this season, all in April.  He then missed just…


Wander Franco Likely To Return From 10-Day IL On Sunday
The Rays are hopeful of activating shortstop Wander Franco from the 10-day injured list on Sunday, manager Kevin Cash told reporters (including The Tampa Bay Times' Marc Topkin).  Franco hasn't played since May 30 due to a right quad strain, though he did rejoin the Rays today after finishing a five-game minor league rehab assignment. …


The Guardians announced that they have selected the contract of left-hander Tanner Tully. To create space on the active roster, right-hander Yohan Ramirez was optioned to Columbus. The 40-man roster already had a vacancy, thanks to Oscar Mercado being designated for assignment earlier this week. This will be Tully's second stint with the Guardians, though…


Mariners To Place Ty France On IL With Flexor Strain
Mariners' first baseman Ty France tells Daniel Kramer of MLB.com that he has a Grade 2 flexor strain in his left arm and will be placed on the 10-day injured list. France was playing first base on Thursday when Sheldon Neuse hit a ground ball that resulted in a close play at the bag. As…


Central Notes: Happ, Merrifield, Cabrera
With the Cubs currently sitting on a record of 27-44, speculation has naturally started building about players nearing free agency that could be moved at the August 2 trade deadline. One such player who will be coveted by rival teams is Ian Happ, though Happ doesn't seem to be bothered by being the subject of…


Brewers Place Miguel Sanchez On IL With UCL Discomfort
6:47PM: In positive news, "nothing major" was revealed by Sanchez's MRI, Brewers manager Craig Counsell told reporters (including MLB.com's Adam McCalvy).  For now, the plan is to re-evaluate Sanchez after a rest period. 2:50PM: The Brewers announced a batch of roster moves today, with four-right handed pitchers involved. Trevor Gott and Jandel Gustave were each…


Phillies Notes: Bullpen, Dominguez, Harper, O'Hoppe
After a rough start to their season, the Phillies have bounced back recently and now sit just 2 1/2 games outside the playoffs in the National League. As the August 2 trade deadline approaches, the club will be looking to bolster its relief corps, according to Jon Heyman of the New York Post. That's not…


Reds Claim Michael Papierski Off Waivers From Giants
The Reds announced that they have claimed catcher Michael Papierski off waivers from the Giants and optioned him to Triple-A Louisville. The Reds recently placed Jeff Hoffman on the COVID-related IL, opening up a spot on the 40-man roster for this claim. Papierski began this season in the Astros organization but went to the Giants…


Royals Exploring Andrew Benintendi Trades
With the Royals struggling, Andrew Benintendi has been seen as a logical trade candidate as the deadline approaches.  To this end, "the Royals are actively seeking a buyer for" the outfielder, The Boston Globe's Peter Abraham writes. There isn't any indication that a deal could be close, and it would be a little surprising to…


Twins Place Trevor Larnach On IL With Core Muscle Strain
The Twins announced that outfielder Trevor Larnach has been placed on the injured list with a core muscle strain. Fellow outfielder Mark Contreras has been recalled to take his place on the active roster. This is yet another challenge for a Twins team that has seen its outfield and DH mix deal with a number…


The Phillies announced to reporters, including Matt Gelb of The Athletic, that they are placing right-hander Connor Brogdon on the COVID-related injured list. Taking his place on the roster will be fellow righty Mark Appel. Whenever Appel gets into a game, it will be his MLB debut, thus concluding one of the more unique journeys…


Daniel Hudson Suffers Season-Ending ACL Injury
The Dodgers' bullpen was dealt a massive blow Friday, as setup man Daniel Hudson was diagnosed with what is very likely a season-ending injury to the anterior cruciate ligament in his left knee, manager Dave Roberts announced to reporters after tonight's game (Twitter link via Juan Toribio of MLB.com). Hudson will undergo an additional wave…


Texas Notes: No-Hitter, Pena, McCullers, Duran, Hearn, Garver
Cristian Javier, Hector Neris, and Ryan Pressly combined for the 14th no-hitter in Astros history, as Houston earned a 3-0 win over the Yankees today in the Bronx.  Javier handled much of the work over seven innings, with Neris and Pressly each contributing an inning of hitless pitching to stifle the lineup of the league-leading…


Yankees Interested In Luis Castillo
We've already heard about a few teams with interest in the Reds' starting pitching, and it isn't surprising that the Yankees are also on that list.  According to The Athletic's Peter Gammons, the Yankees have "talked" with Cincinnati about right-hander Luis Castillo, and Reds scouts have been watching pitching prospect Will Warren (currently throwing for…


Dodgers Place Andrew Heaney On Injured List
4:30pm: Manager Dave Roberts tells reporters that Heaney has a strain in his shoulder as well (Twitter link via Jack Harris of the L.A. Times). The team is still hopeful that Heaney will only need to miss a couple of starts, but he'll be shut down entirely for the next few days to give his…


Big Hype Prospects: Cruz, Abrams, Volpe, Veen, Wiemer
This week, we investigate a mix of prospects at a wide range of levels. Five Big Hype Prospects Oneil Cruz, 23, SS, Pirates (MLB) (AAA numbers) 247 PA, 9 HR, 11 SB, .232/.336/.422 When Tim Dierkes suggested I run this column, Cruz was his first example of the type of player he wanted to see…


Conner Menez To Sign With NPB's Nippon-Ham Fighters
Left-hander Conner Menez is in agreement with the Nippon-Ham Fighters of Japan's Nippon Professional Baseball, the club informed reporters (Japanese-language link from Yahoo! Japan). Menez announced the agreement on Instagram this afternoon. While Menez had been playing with the Cubs' top affiliate in Iowa, he's been granted his release to pursue the overseas opportunity. Salary terms have…


Pirates Designate Jerad Eickhoff For Assignment
The Pirates announced they've selected reliever Austin Brice onto the MLB roster. Righty Jerad Eickhoff has been designated for assignment to open active and 40-man roster space. Eickhoff, 31, appeared in just one game for the Pirates and was torched for 10 runs in 4 1/3 innings against the Cubs this week. Remarkably, that's the second consecutive…


Yankees, Aaron Judge Avoid Arbitration
11:54am: Judge and the Yankees have agreed to a $19MM guarantee, reports Mark Feinsand of MLB.com (Twitter links). That's the exact midpoint between the filing figures, although the deal contains additional possible incentives. Judge would make an additional $250K each were he to win the AL MVP and World Series MVP awards this season. 11:35am: The Yankees…


Giants Sign Matt Hall To Minor League Deal
The Giants signed left-hander Matt Hall to a minor league contract last week, according to his transactions log at MLB.com. He's been assigned to Triple-A Sacramento, where he made his organizational debut on Tuesday. Hall is looking to pitch his way back to the majors for the first time in two years. A former sixth-round pick…


Manuel Margot Diagnosed With "Significant" Strain Of Patellar Tendon
Rays manager Kevin Cash announced Friday that outfielder Manuel Margot has been diagnosed with a "significant patellar tendon strain" but will not require surgery (Twitter link via Marc Topkin of the Tampa Bay Times). It's relatively good news, particularly as Cash confirmed prior reports that the team initially feared Margot had suffered a torn ACL.…


Salvador Perez To Undergo Thumb Surgery
The Royals announced today that franchise catcher Salvador Perez will undergo surgery to repair a ligament tear in his left thumb. He's headed to the 10-day injured list, retroactive to June 21, but the club noted he's expected back at some point this season. Outfielder Edward Olivares has been reinstated from the IL to take his spot…


Nate Pearson Diagnosed With Lat Strain
Blue Jays righty Nate Pearson, who's been on a minor league rehab assignment after a lengthy bout with mononucleosis, exited his most recent rehab appearance due to an injury and has now been diagnosed with a lat strain, tweets Sportsnet's Arash Madani. The Jays don't have a timeline yet for when Pearson might be able…


Cubs Designate Jonathan Villar For Assignment
The Cubs announced Friday that they've designated infielder Jonathan Villar for assignment in order to clear a spot on the active and 40-man roster for fellow infielder David Bote, who has been reinstated from the 60-day injured list. Villar, 31, signed a one-year, $6MM contract with the Cubs this winter on the heels of a…


Astros Activate Jake Meyers From 60-Day IL, Designate Dillon Thomas
The Astros announced they've designated outfielder Dillon Thomas for assignment in order to clear a 40-man roster spot for Jake Meyers, who is back from the 60-day injured list. Houston optioned Jose Siri to Triple-A Sugar Land to clear active roster space for Meyers. Thomas, 29, went 0-for-2 with a walk and was a hit-by-pitch in four plate…


Angels Designate Juan Lagares For Assignment
Angels outfielder Juan Lagares has been designated for assignment, per an announcement from the team. His spot on the active and 40-man rosters will go to fellow outfielder Monte Harrison, whose contract has been selected from Triple-A Salt Lake. Selected to the big league roster late last month for his second stint with the Halos,…


Roenis Elias Accepts Outright Assignment With Mariners
Mariners reliever Roenis Elias has cleared waivers and been sent outright to Triple-A Tacoma, tweets Ryan Divish of the Seattle Times. The left-hander had the right to elect free agency but he'll forego that opportunity and report to the Rainiers in hopes of pitching his way back onto the M's roster. Elias has spent the majority…


A.J. Hinch Under Contract With Tigers Through 2025
Just before the 2020 season concluded, the Tigers finalized agreement with A.J. Hinch to take over as manager. At the time, the club announced the hiring only as a "multi-year" deal, and it'd remained unclear for how long he was under contract until this week. Ken Rosenthal of the Athletic reports that Hinch signed a five-year…


Astros Place Josh James On 60-Day Injured List
The Astros have reinstated first baseman/corner outfielder Taylor Jones from the 60-day injured list and optioned him to Triple-A Sugar Land, per Mark Berman of Fox 26 (via Twitter). To make room on the 40-man roster, the club recalled reliever Josh James and placed him on the major league 60-day injured list. Jones has yet to play in…


Roster Moves: Brewers, Red Sox, Twins
The Brewers have acquired Triple-A infielder Patrick Dorrian from the Orioles in exchange for cash considerations, per MLB.com's Adam McCalvy (via Twitter). Dorrian, 25, hit .161/.256/.269 over 169 plate appearances with Triple-A Norfolk this season. As recently as last year, however, Dorrian posted a solid .246/.362/.475 in 473 plate appearances in Double-A. The Brewers will…


The Phillies have released left-hander Kyle Dohy from his minor league contract, per Matt Gelb of The Athletic. He will head back to the open market and look for opportunities elsewhere. A 16th round pick of the Phils in 2017, the southpaw fared well enough in the lower minors to earn some attention from prospect…


Luis Castillo Drawing Early Trade Interest
The Reds have a pair of the top trade candidates on this summer's market, with starting pitchers Luis Castillo and Tyler Mahle each midway through their penultimate seasons of club control. Rotation-needy teams will be in discussion with Cincinnati general manager Nick Krall and his staff over the next six weeks, and a few have already expressed…


Check Out Hoops Rumors For NBA Draft Coverage
Draft day is here for the NBA, and Hoops Rumors has all the latest news and rumors! Last season saw several teams jockeying for position to land coveted draft picks, and the expectation is that there will be plenty of trades tonight. We've already seen three significant deals leading up to the draft, but that…


Rays Acquire David McKay From Yankees For Cash Considerations
The Rays have acquired right-handed pitcher David McKay from the Yankees in exchange for cash considerations, per the Yankees. McKay will be added to the Rays' 40-man roster and sent to Triple-A, per Marc Topkin of the Tampa Bay Times (via Twitter). Manuel Margot is going on the 60-day injured list, opening a slot for…


Cole Hamels Targeting 2023 Comeback
Cole Hamels has made just one major league appearance since the end of the 2019 season, but the four-time All-Star continues to look for a return to the mound. Jon Heyman of the New York Post reports that the free agent southpaw is currently "feeling good" and targeting next spring for another comeback attempt. The…


Ethan Roberts To Undergo Tommy John Surgery
The Cubs announced to reporters, including Maddie Lee of the Chicago Sun-Times, that Ethan Roberts will undergo Tommy John surgery. Roberts was already on the 60-day injured list due to shoulder inflammation, meaning no roster moves will be necessary. This is yet another unfortunate setback for Roberts here in 2022, on the heels of a…