AL Notes: White Sox, Angels, Ward, Tigers, Greiner
The White Sox probably won't make any more additions before Opening Day, general manager Rick Hahn told Daryl Van Schouwen of the Chicago Sun-Times. While Hahn cautioned the front office would never foreclose the possibility of another pickup, it seems they're content with the group of players already in the organization. "We still have conversations…


The Astros' agreement with Jake Odorizzi on a three-year contract yesterday removed the top remaining free agent from the market. Even into the second week of spring training games, though, there are a few potentially valuable players available to teams. Rick Porcello: MLBTR's #46 free agent entering the offseason, Porcello made 12 starts for the Mets in…


NL Injury Notes: Soroka, Mikolas, Kelly, Martinez
Mike Soroka threw two innings in "simulated game conditions" this morning, reports David O'Brien of the Athletic. That marks a key milestone in the 23-year-old's recovery from the ruptured Achilles that ended his 2020 season last August. It remains unclear precisely when Soroka will be ready to pitch this year, although O'Brien notes there has been…


Nationals Release Jeremy Jeffress
The Nationals have released right-hander Jeremy Jeffress, Jesse Dougherty of the Washington Post reports.  The move was made due to "personnel reasons," GM Mike Rizzo said in a statement. Jeffress only signed his minor league contract with the Nats back on February 22, and would have earned at least $1.25MM in guaranteed salary had he…


The latest on coronavirus-related situations around baseball… Latest Updates Right-hander Pedro Strop is being held out of the Cubs' training camp due to COVID protocol violations, MLB.com's Jordan Bastian reports (Twitter link).  In regards to the earlier item about Franmil Reyes, Gordon Wittenmyer of NBC Sports Chicago reports that a now-deleted social media post revealed…


Astros' Forrest Whitley Suffering From Right UCL Sprain
Astros pitching prospect Forrest Whitley has been advised to undergo Tommy John surgery, according to Mark Berman of KRIV Fox 26 (Twitter link).  Whitley has been battling arm soreness that has now been diagnosed as a right UCL sprain, the team told Chandler Rome of the Houston Chronicle (Twitter link) and other reporters.  No decision…


The latest on how the coronavirus is affecting Major League Baseball: Max Fried has been cleared to return to spring training, per MLB.com's Mark Bowman. Fried had to go through additional protocols after being in close contact to a potential COVID-19 exposure. Having received the necessary number of negative tests, Fried can return to camp…


Quick Hits: Cishek, Souza, Herrera
As spring training games continue and we inch closer to the 2021 season, let's check in on a couple of notes from around the game… Veterans Steve Cishek and Steven Souza Jr. are working to make the Astros' roster out of camp, but their chances took a hit yesterday with the signing of Jake Odorizzi,…


AL West Notes: Seager, Bregman, Lowrie, Murphy
Since it seems unlikely that the Mariners will exercise their $15MM club option on Kyle Seager for the 2022 season, the third baseman could very well be entering his 11th and final season in a Seattle uniform.  Seager told Ryan Divish of the Seattle Times that he is focused on baseball rather than any contractual…


Offseason In Review: Pittsburgh Pirates
The Pirates ramped up their rebuilding efforts by trading away several key players without adding much in the way of Major League reinforcements. Major League Signings Tyler Anderson, LHP: One year, $2.5MM Total spend: $2.5MM Trades and Claims Traded 1B Josh Bell to the Nationals in exchange for RHPs Wil Crowe and Eddy Yean Traded…


Pirates Acquire Duane Underwood, Designate Carson Fulmer
The Pirates announced the acquisition of reliever Duane Underwood Jr. from the Cubs. First base prospect Shendrik Apostel will go to Chicago in return. To create 40-man roster space, Pittsburgh designated right-hander Carson Fulmer for assignment. Underwood, 26, has thrown 36.1 innings out of the Chicago bullpen over the past three seasons. His 5.20 ERA isn't particularly impressive,…


Padres Claim Jordan Humphreys From Giants
The Padres claimed Jordan Humphreys off waivers from the Giants and will add him to the 40-man roster, per the team. To make room on the 40-man, Jose Castillo was placed on the 60-day injured list. Castillo will soon undergo Tommy John surgery. Humphreys was an 18th round draft choice of the Mets in the…


Nationals Sign Justin Miller To Minors Deal
The Nationals recently signed right-handed reliever Justin Miller to a minor league contract, as originally reported by the Talk Nats blog (Twitter link).  As per Jesse Dougherty of the Washington Post, Miller's deal does not include an invitation to Washington's big league spring camp. There's familiarity between Washington and Miller, who pitched for the team…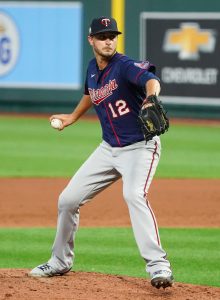 The Astros have agreed to a contract with righty Jake Odorizzi, ESPN's Jeff Passan reports (Twitter link).  The deal is a two-year pact with a player option for the 2023 season.  Odorizzi is represented by Excel Sports Management. Reports surfaced yesterday about Houston's interest in Odorizzi, which seemed natural considering that Framber Valdez is in…


Click here to read the transcript of this morning's live baseball chat


Pitching Notes: Payamps, Mata, Osuna
The Red Sox and Blue Jays continue their divisional tug-of-war over right-hander Joel Payamps. The Blue Jays claimed Payamps from Boston today, per Chris Cotillo of MassLive.com (via Twitter). Payamps began the winter as a member of the Diamondbacks, with whom he made four appearances totaling seven innings over the past two seasons. The Red…


Jarred Kelenic To Miss Time After Suffering Knee Strain
1:44PM: Kelenic suffered a Grade 2 strain, Divish reports, which usually carries a recovery period of three-to-six weeks. 1:21PM: Mariners prospect Jarred Kelenic will be out of action after an MRI revealed a strain in his left adductor muscle, the team announced.  Kelenic suffered the injury during Friday's game against the White Sox. No mention…


Framber Valdez has not yet given up on pitching in 2021. He is considering avoiding surgery and rehabbing his broken ring finger with an eye on returning later this season, per Jon Heyman of MLB Network (via Twitter). Earlier reports suggested Valdez might miss the entire season after being recommended for surgery. Clearly, a final…


MLBTR Poll: Who Will Win The NL Central?
The National League Central looks as if it will be the most wide-open division in Major League Baseball when the regular season opens in a few weeks. Minus the Pirates, who figure to contend for the worst record in the league this year, it appears anyone could take the Central. The Cubs, Cardinals, Reds and…


MLBTR Poll: Should The Twins Extend Byron Buxton?
The Twins have high expectations for their offense in 2021. It's a talented group with veterans Nelson Cruz and Josh Donaldson playing alongside young players on the rise like Alex Kirilloff, Ryan Jeffers, and Luis Arraez. In the middle both metaphorically and positionally, however, centerfielder Byron Buxton undergirds the Twins' machine in both halves of…


Injury Notes: Longoria, Urias, Whitley
Evan Longoria made his spring training debut today at designated hitter, but it might be some time until he's regularly taking grounders at third. He's working his way back from plantar fasciitis, per MLB.com's Maria I. Guardado (via Twitter). This is an injury that has plagued Longoria in the past, and it does have a…


Giants, José Álvarez Nearing Deal
MARCH 6: The Giants announced the signing of Álvarez to a one-year, $1.15MM contract with a $1.5MM club option for 2022, per MLB.com's Maria I. Guardado (via Twitter). The option comes with a $100K buyout, adds John Shea of the San Francisco Chronicle (via Twitter). That bonus will count towards the luxury tax, though the…


7:35pm: Bour will not be in MLB camp, Alex Pavlovic of NBC Sports Bay Area tweets. He'll report to minor league camp April 1. 5:03pm: The Giants have agreed to a contract with Justin Bour, the first baseman himself posted in his Instagram profile. It's a minor-league contract, reports Andrew Baggarly of the Athletic (Twitter link).…


Adam Haseley Out Four Weeks Due To Groin Strain
Phillies outfielder Adam Haseley suffered a moderate groin strain and will miss the next four weeks, manager Joe Girardi told reporters (including Matt Gelb of the Athletic). Haseley had been in competition for the season-opening center field job. With Haseley now likely to open the season on the injured list, it seems Philadelphia will pick from…


The Angels announced that they have outrighted reliever Gerardo Reyes, bringing their 40-man roster to 39. The right-handed Reyes has been dealing with a UCL sprain in his pitching elbow this spring, though there's no word on the severity of the injury. He's still considering next steps at this point, Fabian Ardaya of The Athletic…


Quick Hits: Godley, Phillies, Mondesi, Angels
Free-agent right-hander Zack Godley threw for roughly a dozen clubs last week, Steve Adams of MLBTR reports. Godley battled a flexor issue last year, but he's now healthy. While Godley was an effective starter with the Diamondbacks from 2017-18, his numbers fell off severely over the past two seasons with the D-backs, Blue Jays and…


Major League Baseball Suspends Sam Dyson For 2021 Season
Major League Baseball announced this afternoon that free agent reliever Sam Dyson has accepted a suspension covering the entire 2021 season under the league's domestic violence policy. The soon-to-be 33-year-old Dyson hasn't pitched since 2019, which he divided between San Francisco and Minnesota. Dyson underwent shoulder surgery that September, and two months later, the league began…


Market For Maikel Franco "Heating Up"
There hasn't been much buzz centering on third baseman Maikel Franco since the Royals non-tendered him at the beginning of December, but his market is now "heating up," according to Jon Heyman of MLB Network. It's unclear which teams are interested in Franco. MLBTR's Matt Swartz projected in October that Franco would land anywhere from…


Astros Looking At Jake Odorizzi
The Astros are among the teams "looking at" free agent right-hander Jake Odorizzi, reports Jon Heyman of MLB Network (Twitter link). Houston recently lost Framber Valdez to a broken finger. There's been no definitive word on how long Valdez will be out, but Heyman reported yesterday the initial evaluation suggested he'll require surgery, which could prove to…


Injury Notes: Cain, Realmuto, Astros, Lowrie, Severino
Lorenzo Cain recently strained his calf in batting practice and is expected to miss one or two weeks, reports Robert Murray of FanSided. The injury is believed to be "very minor," but the Brewers will be cautious in bringing the veteran center fielder back to action. Yesterday's agreement with Jackie Bradley Jr. gives the Brewers cover…


COVID Notes: Astros, Red Sox, Cordero
Latest notes Major League Baseball released its latest set of COVID-19 testing results this afternoon. Out of 13,718 monitoring tests conducted this week, five (all belonging to players) returned a positive result, marking a 0.04% positivity rate. None of the week's 81 intake tests came back positive. Earlier today Health and safety protocols will keep…


The latest on how the coronavirus is affecting Major League Baseball: Braves left-hander Max Fried will not make his previously scheduled start Friday because he may have been exposed to COVID-19, Gabe Burns of the Atlanta Journal-Constitution tweets. Fried has not tested positive, but manager Brian Snitker said (via David O'Brien of The Athletic) that…


Diamondbacks Sign Anthony Swarzak
The Diamondbacks have signed veteran right-hander Anthony Swarzak and added him to Major League camp as a non-roster invitee, per a club announcement. The Jet Sports client worked out for clubs back in January after he didn't pitch with an organization during the 2020 season. (He was with the Phillies on a non-roster deal but…


Click here to read a transcript of Thursday's live chat with Connor Byrne of MLBTR.


The Red Sox have agreed to a minor league deal with free-agent infielder/outfielder Danny Santana, reports Julian McWilliams of the Boston Globe. The Mato Sports Management client will head to Major League camp as a non-roster invitee. MLB Network's Jon Heyman had previously suggested Boston was "in the mix" for Santana. Santana, 30, has been…


Jose Castillo To Undergo Tommy John Surgery
Padres left-handed reliever Jose Castillo will undergo Tommy John surgery, Kevin Acee of the San Diego Union-Tribune reports. This isn't surprising news, as Castillo exited a sim game Tuesday with forearm tightness. The 2021 campaign will go down as another injury-ruined season for Castillo, who threw only two-thirds of an inning in 2019 while dealing…


MLBTR Poll: Grading The JBJ Signing
One of the final high-ranked free agents came off the board Thursday when longtime Red Sox center fielder Jackie Bradley Jr. inked a two-year, $24MM contract with the Brewers. Bradley will make $13MM this year, and then he'll have to decide whether to exercise an $11MM player option for 2022 next winter. Few would have…


No Planned Future Discussion On Expanded Playoffs, Universal DH In 2021
There has been no recent movement in talks between MLB and the MLB Players Association regarding the potential implementation of an expanded postseason or the universal designated hitter for the 2021 season, reports Evan Drellich of the Athletic. There are no current plans to revisit those talks, per Drellich, who characterizes playoff expansion and the…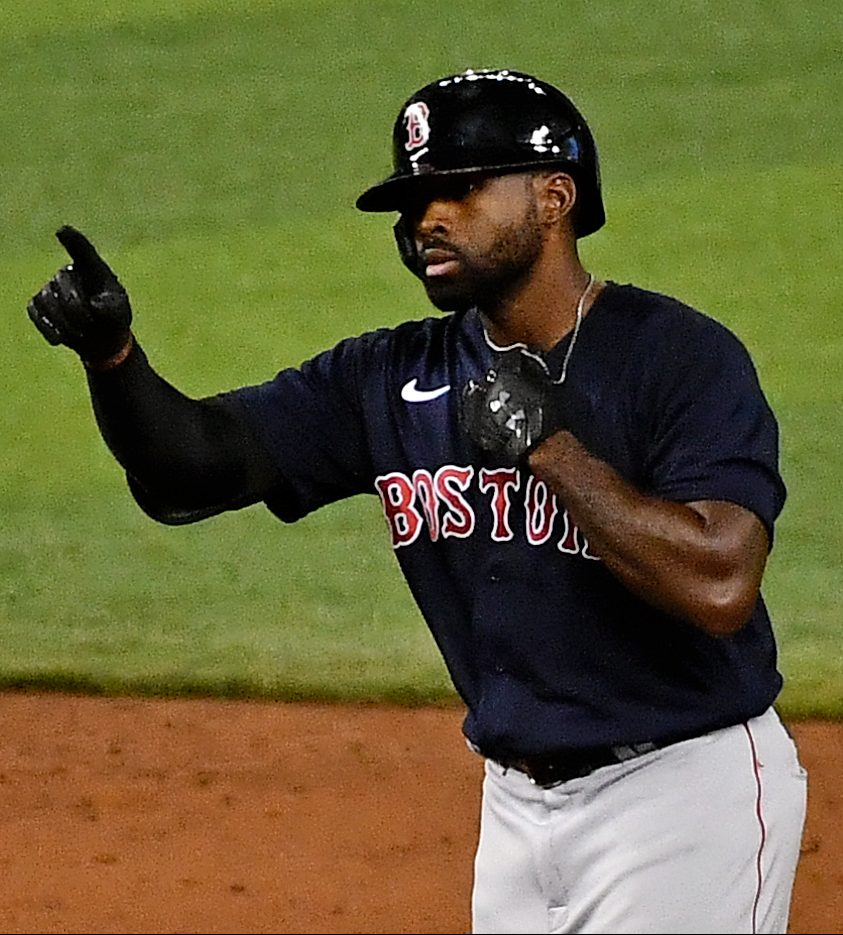 Brewers To Sign Jackie Bradley Jr.
1:05pm: Bradley's 2021 salary is $13MM, tweets Ken Rosenthal of The Athletic. He'll earn $11MM in 2022 if he declines to opt out. 10:45am: Some of Bradley's salary is deferred, tweets Joel Sherman of the New York Post. As to the defensive alignment with Bradley in the fold, Brewers manager Craig Counsell spoke to reporters today…


Twins' Falvey On Odorizzi: "We Wish Him Well"
With Jackie Bradley Jr. now headed to the Brewers, right-hander Jake Odorizzi is the clear top free agent left on the board. Oftentimes, when a player's market drags to this extent, there's continued speculation about a return to his prior team. There's been some of that with regard to Odorizzi and the Twins, but president…


Diamondbacks To Sign Heath Fillmyer
The Diamondbacks are signing Heath Fillmyer to a minor league contract, reports Jeff Passan of ESPN (Twitter link). The right-hander spent last season at the Royals' alternate training site. Selected by the Athletics in the fifth round of the 2014 draft, Fillmyer was traded to Kansas City in January 2018 as part of the deal that…


Injury Notes: K. Calhoun, Lugo, Wick, Pearson
The latest injury updates from around the majors… Diamondbacks outfielder Kole Calhoun underwent surgery on a torn right meniscus Wednesday, but he expects to recover on the shorter end of the four- to six-week timetable, Steve Gilbert of MLB.com relays. Either way, it doesn't appear the Diamondbacks will go too long in the regular season…


Aaron Boone Taking Medical Leave To Receive Pacemaker
8:18 pm: The Yankees released a statement (on Twitter) with an update on Boone's status: "As previously planned, Manager Aaron Boone will spend the night at St. Joseph's Hospital to rest and recover. He is currently in good spirits." 3:08pm: Bench coach Carlos Mendoza will take over for Boone during his absence, Joel Sherman of the…


Health Notes: Leake, Sox, Rox, Angels
Right-hander Mike Leake does not plan to sign before the season opens, Jon Heyman of MLB Network tweets. Leake, then a Diamondback, sat out last season because of COVID-19 concerns, and Heyman writes he could return to action this year "if things are more back to "normal."' The 33-year-old innings eater has rejected "multiple offers"…


Marlins, Gio Gonzalez Agree To Minor League Deal
8:00am: Gonzalez will earn $1MM if he makes the big league club, Chelsea Janes of the Washington Post reports (via Twitter). 7:25am: The Marlins have agreed  to a minor league pact with veteran left-hander Gio Gonzalez, reports Craig Mish of the Miami Herald (via Twitter). The CAA client will head to Major League camp as…


The latest regarding the coronavirus: Diamondbacks outfielder Tim Locastro tested positive for COVID-19, manager Torey Lovullo told reporters (including Nick Piecoro of the Arizona Republic). Fortunately, Locastro is asymptomatic (per Piecoro), but he'll still be out of action for at least the next ten days. The speedster rather quietly hit at a .290/.395/.460 clip with a pair…


MLBTR Poll: Expectations For 2021 Mets
Although the Mets missed the playoffs for the fourth straight year in 2020, they look as if they'll head into the upcoming regular season as a popular pick to contend. New owner Steve Cohen's arrival early in the winter brought a great deal of optimism for Mets fans, who suffered for years under the yoke…


Minor MLB Transactions: 3/3/21
Today's minor transactions: The Cubs outrighted hurler Robert Stock to Triple-A after he cleared waivers, Bruce Levine of 670 The Score tweets. The team previously designated the right-handed Stock for assignment on Feb. 28, which came two-plus months after it claimed him from the Red Sox via waivers at the beginning of December. The hard-throwing…


Framber Valdez Diagnosed With Fractured Finger
12:10pm: Valdez has been diagnosed with a fractured left ring finger, general manager James Click announced to reporters (Twitter link via FOX 26's Mark Berman). There's no timetable for his return yet, as he's slated for additional tests and imaging. 11:58am: Astros lefty Framber Valdez is dealing with a finger injury, MLB Network's Jon Heyman…


Jon Lester Will Undergo Surgery To Remove Thyroid Gland
Nationals left-hander Jon Lester will undergo surgery to have his thyroid gland removed on Friday, manager Dave Martinez announced today (link via Jesse Dougherty of the Washington Post). Assuming all goes well, the surgery is only expected to keep him out of action for roughly a week's time, the manager added. The 37-year-old Lester has…


Danny Santana Expected To Sign Soon
Veteran infielder/outfielder Danny Santana has been working out for teams over the past week and is expected to sign a deal in the coming days, reports MLB Network's Jon Heyman (via Twitter). Santana had originally planned to host an open showcase for interested clubs on Thursday, per Heyman, but he's had enough interest after displaying…


Padres left-handed reliever Jose Castillo departed his sim game after six pitches Tuesday because of forearm tightness, AJ Cassavell of MLB.com reports. This is the latest setback for Castillo, who missed all of last season because of a teres major strain and threw just two-thirds of an inning in 2019 while dealing with a flexor…


Cubs, Eric Sogard Agree To Minor League Deal
The Cubs have agreed to a minor league contract with veteran infielder Eric Sogard, reports ESPN's Jesse Rogers (Twitter link). The Octagon client figures to join their Major League camp as a non-roster invitee. The 34-year-old Sogard has spent three of the past four years with the division-rival Brewers and been quite productive in two…


Giants, Jose Alvarez Nearing Deal
Free-agent reliever Jose Alvarez is nearing a deal with the Giants, Jon Heyman of MLB Network tweets. It's unclear whether it will be a major league contract. The left-handed Alvarez, who will turn 32 in May, debuted with the Tigers in 2013 and has since pitched for the Angels and Phillies. Alvarez struggled to keep…


Click here to read a transcript of Tuesday's chat with MLBTR's Steve Adams.


Kole Calhoun To Undergo Knee Surgery
5:20pm: Calhoun has a torn meniscus, Steve Gilbert of MLB.com tweets. 5:07pm: Diamondbacks outfielder Kole Calhoun will undergo right knee surgery Wednesday, manager Torey Lovullo told Nick Piecoro of the Arizona Republic and other reporters. Lovullo was unable to offer any details on the procedure. While it's unknown how much time he will miss, it…


The Royals have reached an agreement with free-agent outfielder Jarrod Dyson, Robert Murray of FanSided reports. It's a $1.5MM pact for the ACES client, per Jon Heyman of MLB Network. The deal is pending a physical. Dyson is going back to his first organization, which used a 50th-round pick on him in 2006. He managed…


Cubs Designate Duane Underwood Jr. For Assignment
The Cubs announced Tuesday that they've designated right-hander Duane Underwood Jr. for assignment in order to open a spot on the 40-man roster for Ryan Tepera, whose previously reported one-year deal is now official. Underwood, 26, was a second-round pick back in 2012 and has spent parts of the past three seasons in the Majors…


Several Players Awaiting Clarity On Minor League Option Status
In the minutes after we posted our annual list of out-of-options players earlier today, several readers pointed out players they believed to have been omitted. In following up with various team and agency sources around the league, it became clear that there's some uncertainty as to how the 2020 season will impact some players' number…


Free-agent outfielder Yoenis Cespedes held a showcase in Florida that 11 teams attended on Tuesday, according to Ken Davidoff of the New York Post. The Yankees, White Sox, Brewers, Blue Jays, Tigers (one of Cespedes' ex-teams), Padres, Rays, Reds, Marlins, Cubs and Braves were all on hand to watch Cespedes, per Davidoff. As Davidoff notes,…


Quick Hits: Springer, Conforto, Straw, Greinke
The Mets were a popular pick for outfielder George Springer before he signed a six-year, $150MM contract with the Blue Jays in January. Team president Sandy Alderson "suggested" on Monday that the Mets were willing to sign Springer for five years, not six, per Anthony DiComo of MLB.com. Alderson added that New York likely wouldn't…


Start Of Triple-A Season Delayed
It was reported back in January that the Single-A and Double-A seasons would not start on time. The same goes for the minors' highest level, as the 2021 Triple-A campaign will be delayed "by at least a month," Jeff Passan of ESPN.com writes. It had been scheduled to begin April 6. There was no minors…


The following 40-man roster players have less than five years service time and are out of minor league options. That means they must clear waivers before being sent to the minors. I've included players on multiyear deals. This list was compiled through MLBTR's helpful and much-appreciated sources. This year, option status for several players remains…


Additional Details On Allegations Against Mickey Callaway Emerge
As Major League Baseball's investigation into harassment allegations against Angels pitching coach Mickey Callaway continues, new and even more troubling details about his behavior have surfaced in an additional report from Brittany Ghiroli, Katie Strang and Ken Rosenthal of The Athletic. Not only have additional women come forward to reveal that Callaway made unwanted advances…


While the 2021 season is slated to begin just a month from now, free-agent righty Jake Odorizzi is "thought" to be willing to wait further into Spring Training for the right offer rather than drop his asking price now, tweets MLB Network's Jon Heyman. Odorizzi has reportedly been seeking a three-year deal that will pay…


East Notes: Mets, Orioles, Nationals
Mets President Sandy Alderson said that he expects extension talks with Francisco Lindor and Michael Conforto to begin soon, per Bob Nightengale of USA Today (via Twitter). Both players are scheduled for free agency after the 2021 season. Lindor, for his part, has made clear that he will not negotiate an extension beyond opening day,…


Checking In On Last Season's Worst Bullpens
A bad bullpen can play a major role in destroying a team's playoff hopes, as we saw with last year's Phillies. They finished a game behind the National League's lowest-seeded playoff team, in part because their relief pitchers could not perform. Here's how the Phillies and the game's other four worst bullpens from 2020 (based…


NL Notes: Willis, Syndergaard, Myers
The Dodgers have hired Dontrelle Willis as a special assistant in the player development department.  Willis made the announcement himself via Twitter, joking "Special assistant sounds dope even tho i don't know what it means."  A veteran of nine MLB seasons, the D-Train is best remembered for his time with the Marlins from 2003-07, a…


MLBTR Poll: How Good Are The Padres?
The Padres and their fans endured a long period of suffering, but the club finally returned to relevance in 2020. With 37 wins in 60 games, the Padres posted the sport's third-best record, broke a 13-year playoff drought and advanced to the NLDS, where they lost to the division-rival Dodgers. While the Dodgers, who went…


Lucas Giolito On Potential Extension
After a difficult start to his career, White Sox right-hander Lucas Giolito established himself as a bona fide top-of-the-rotation starter over the previous two seasons. The 26-year-old now looks like a long-term cornerstone for the franchise, though it doesn't appear either side has aggressively pursued a contract extension. "There haven't really been discussions about an…


NL Central Notes: Lauer, Cubs, Hoyer, Pirates
The shoulder impingement that slowed Eric Lauer last March was more serious than reported at the time, as the Brewers southpaw tells MLB.com's Adam McCalvy and other reporters that there was actually a tear to the shoulder capsule of his throwing arm, as later tests revealed.  The shutdown allowed time for Lauer to recover physically,…


Phillies Likely Done Spending For Now
The Phillies payroll is roughly where it was last year – at least as long as they entertain rostering Brandon Kintzler and Tony Watson on opening day. A lot remains to be seen, but it's certainly a possibility that the pair of veteran relievers makes the team. In that case, they would both make $3MM,…


Royals, Hunter Dozier Agree To Four-Year Extension
TODAY: The Royals have officially announced Dozier's extension.  The Athletic's Alec Lewis (Twitter links) has the financial breakdown — Dozier will get a $1MM signing bonus, $2.25MM this season, $4.5MM in 2022, $7.25MM in 2023, $9MM in 2024, and there is a $1MM buyout on the $10MM club option for 2025.  There are multiple escalators…


Minor MLB Transactions: 3/1/21
Catching up on the latest minor league moves… The Red Sox outrighted Marcus Walden to Triple-A after the right-hander cleared waivers, and Walden is remaining in Boston's big league spring camp.  Walden was designated for assignment last week to create a roster spot for the newly-acquired Marwin Gonzalez.  A veteran of three MLB seasons and…


Red Sox Notes: Bogaerts, Latest Investment News, Closer Competition
Xander Bogaerts will take a couple games off to rest a sore shoulder, per Chris Cotillo of MassLive.com (via Twitter). The Red Sox do not believe he should have any problem being ready for opening day. Bogaerts might be the most important position player on the roster, as Boston doesn't have a ready-made everyday replacement…


Blue Jays Acquire Travis Bergen From Diamondbacks
The Blue Jays are acquiring left-handed reliever Travis Bergen from the Diamondbacks in exchange for cash considerations, per various reporters (including Scott Mitchell of TSN). Right-hander Patrick Murphy is going on the 60-day injured list to clear 40-man roster space. Arizona had designated Bergen for assignment earlier this week. The teams have since announced the move. It's…


NL Central Notes: Contreras, Mikolas, Brewers
Willson Contreras "wasn't bothered at all" by trade speculation during the offseason, and if anything, the catcher was flattered by other teams' interest.  "The rumors didn't bother me," Contreras told The Athletic's Patrick Mooney and other reporters.  "It's the other way — those rumors make me proud because of where I come from, everything that…


Health Notes: Pham, File, Rodriguez, Reyes
Padres outfielder Tommy Pham estimates he's at 80% strength after he was stabbed in the lower back last October, he told reporters (including Dennis Lin of the Athletic and Bob Nightengale of USA Today). The 32-year-old opened up about the incident, telling reporters he initially believed he would never play again. Scarier still, Pham says doctors later told him…


Quick Hits: Pujols, Blue Jays, Kennedy, Santana
There was a brief flurry of speculation about Albert Pujols' future earlier this week when Deirdre Pujols, the Angels veteran's wife, created an Instagram post that seemed to hint that the future Hall-of-Famer would call it a career after the 2021 season.  Deirdre clarified her online statement soon after posting, and her husband also addressed…


COVID Notes: Abreu, Montas, Happ, Cordero
The latest notes from MLB regarding COVID-19: Reigning AL MVP Jose Abreu returned to team workouts yesterday (per Scott Merkin of MLB.com). The White Sox first baseman had been sidelined after testing positive for the coronavirus, which Abreu believes he contracted back in January. Abreu says he'll need a few extra days to get his timing back after…


Braves Report Major Revenue Drop, Operating Losses In 2020
Since the Braves are owned by the publicly-traded Liberty Media corporation, they are the only team in baseball required to disclose their finances, providing some insight into how the COVID-19 pandemic impacted business.  Liberty Media revealed the particulars on Friday (Tim Tucker of the Atlanta Journal-Constitution has the details), with the Braves accounting for an…


Royals, Hunter Dozier In "Serious" Extension Negotiations
The Royals and third baseman Hunter Dozier "are in serious talks" about a multi-year contract extension, according to FanSided's Robert Murray (Twitter link).  Specific terms aren't known, though Dozier has two years of arbitration eligibility remaining before reaching free agent status following the 2023 season.  Dozier is already set to earn $2.72MM in 2021 after…


Tigers Sign Drew Hutchison To Minors Deal
The Tigers announced the signing of right-hander Drew Hutchison to a minor-league contract.  MLive.com's Evan Woodbery (Twitter link) first reported the news yesterday.  Hutchison will not report to Major League Spring Training, but he'll give the Tigers an experienced arm to stash in Triple-A Toledo. Hutchison spent the 2020 season in independent ball, after pitching for…


Minor MLB Transactions: 2/28/21
The latest minor transactions around the game: The Blue Jays activated infielder Breyvic Valera from the restricted list, Ben Nicholson-Smith of Sportsnet was among those to note. Valera has been out of action since last July, when he reportedly had difficulty leaving his home country of Venezuela. The 29-year-old is now back in camp, where he'll compete…


Royals, Hunter Dozier Agree To Four-Year Extension
9:51 am: Dozier and the Royals are in agreement on a four-year, $25MM guarantee with a $10MM option for 2025, per Jeff Passan of ESPN (Twitter link). If Dozier reaches all available escalators and bonuses, it could max out at $49MM, Passan reports. 9:35 am: While the deal isn't yet complete, there's "optimism" it'll get over…


Cubs Designate Robert Stock For Assignment
The Cubs are designating right-hander Robert Stock for assignment, per Jordan Bastian of MLB.com (Twitter link). The move clears 40-man roster space for left-hander Kyle Ryan, who was activated from the COVID-19 list, per Russell Dorsey of the Chicago Sun-Times. Chicago claimed Stock off waivers from the Red Sox last December. A former Cardinals' second-round pick as…


Click here to read the transcript of the Saturday evening baseball chat


Minor MLB Transactions: 2/27/21
The latest minor moves from around the sport… The Athletics will bring right-hander Paul Blackburn back into their big league Spring Training camp after Blackburn cleared waivers.  (Shayna Rubin of the San Jose Mercury News was among those to report the news.)  Blackburn was designated for assignment earlier this week.  The grounder specialist has a…


Quick Hits: Yankees, Cardinals, Diamondbacks
Teams in need of a left-handed hitting outfielder might want to check in with the Yankees about the availability of Mike Tauchman. Though the Yankees have four years of control remaining, there may simply not be room for him on the opening day roster, writes the Athletic's Ken Rosenthal. It's not just the addition of…


Red Sox Acquire Zach Bryant From Cubs
The Red Sox have acquired right-hander Zach Bryant from the Cubs to finish the Josh Osich trade, per Julian McWilliams of the Boston Globe (via Twitter). The Red Sox sent Osich to the Cubs at the August 31st trade deadline last year for a player to be named later. Bryant now heads to Boston to…


Injury Notes: Naughton, Schmidt, Thorpe
Angels prospect Packy Naughton has been diagnosed with a Grade 1 UCL sprain in his elbow, per Fabian Ardaya of the Athletic (via Twitter). Naughton is ranked 19th among prospects in the Angels' system per Baseball America and 12th per MLB.com. Naughton joined the Angels at last year's trade deadline from the Cincinnati Reds as…


MLBTR Poll: Forecasting The Yankees Rotation
Jameson Taillon is aiming for 120 to 150 innings in his comeback from Tommy John surgery, writes Ken Davidoff of the New York Post. Taillon has just 37 1/3 innings to his name over the past two seasons, and since this will be his second time coming back from TJ, there's reason to temper expectations…


Outfielder Notes: Kirilloff, Kiermaier, Robles
Twins top outfield prospect Alex Kirilloff has a definite chance to make the opening day roster, per the Athletic's Dan Hayes. Not unrelated, the Twins should face a fair amount of outside pressure to get Kirilloff on the roster from day one. Especially in the aftermath of Mariners' CEO Kevin Mather openly copping to service…


MLBTR Poll: Shortstop Extension Candidates
Spring training is often when contract extensions come together, and shortstop is one of the positions that's certainly worth watching in that regard during the next several weeks. The Mets' Francisco Lindor, the Dodgers' Corey Seager, the Rockies' Trevor Story, the Astros' Carlos Correa and the Cubs' Javier Baez are on track to lead a…


The Astros have claimed infielder Robel Garcia off waivers, the Angels announced (Twitter link).  The Halos designated Garcia for assignment earlier this week.  Justin Verlander was placed on the Astros' 60-day injured list to create roster space for Garcia, Chandler Rome of the Houston Chronicle tweets. Garcia is no stranger to the waiver wire at…


COVID Notes: Carlos Carrasco, Kevin Plawecki
A few notes from around the game regarding COVID-19… Some good news on the COVID-19 front. Because of his medical history, Carlos Carrasco has received the COVID-19 vaccine, per Anthony DiComo of MLB.com (via Twitter). Carrasco's recent history with leukemia put him at obvious risk, but he can continue his ramp up to opening day…


Chicago Notes: Baez, Pederson, Kopech
Here's the latest on Chicago's two major league teams: Shortstop Javier Baez once again made it clear Friday that he wants to remain with the Cubs, not depart in free agency next offseason, Patrick Mooney of The Athletic tweets. "Obviously, I want to stay here. I don't want to play for another team," Baez said,…


Health Notes: Yordan, E-Rod, Bailey, Nottingham, Parra
After he missed all but two games last season, the Astros are set to welcome back slugger Yordan Alvarez this year. It appears the 2019 AL Rookie of the Year will be limited solely to designated hitter, though, as manager Dusty Baker said Friday (via Brian McTaggart of MLB.com) that it's "very unlikely" he'll play…


Minor MLB Transactions: 2/26/21
The latest minor transactions from around baseball… The White Sox have signed outfielder Mikie Mahtook to a minor league contract, Daryl Van Schouwen of the Chicago Sun-Times tweets. Mahtook did not receive an invitation to major league spring training. The 31-year-old was most recently with the Phillies organization, but he did not appear in the…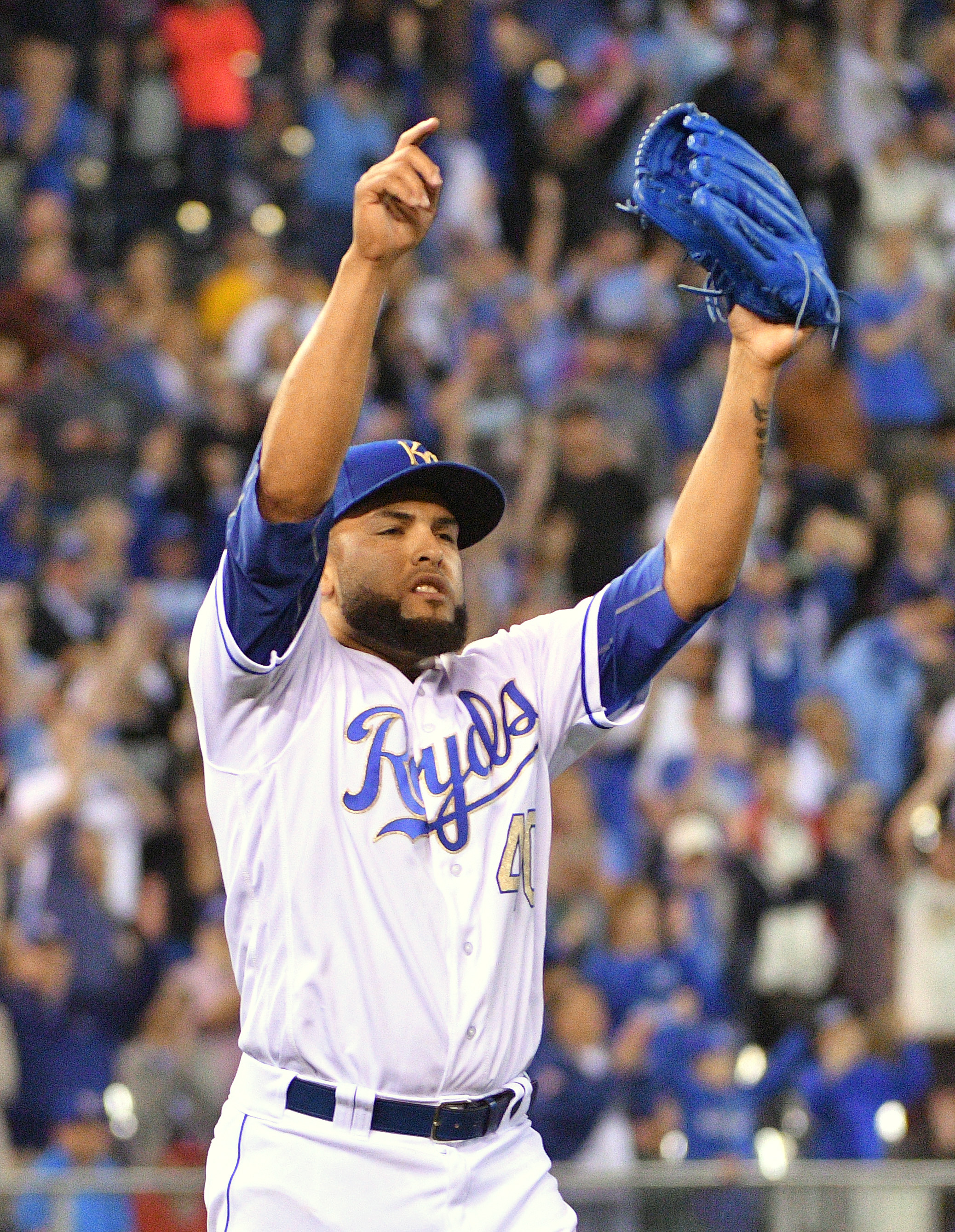 Kelvin Herrera Announces Retirement
Two-time All-Star and 2015 World Series champion Kelvin Herrera announced today, via Twitter, that he is retiring after spending parts of 10 seasons in the Major Leagues. "I want to thank everyone who has been a part of my career, starting with the Kansas City Royals organization who believed in this kid from Tenares, Dominican…