Minor MLB Transactions: 7/17/19
The latest minor moves from around baseball… Left-hander Robbie Ross recently joined the Sugar Land Skeeters of the independent Atlantic League. The 30-year-old has already thrown 7 1/3 innings with the club, striking out 13 but allowing eight earned runs on 10 hits and six walks. Ross spent last season in the minors with the…


AL Notes: Astros, Tribe, Kluber, Mondesi, M. Chapman, Twins
The Astros had interest in trading for catcher Martin Maldonado before the Cubs acquired him from the Royals on Monday, Ken Rosenthal of The Athletic reports (subscription link). Maldonado was a pre-deadline pickup for Houston last July, when it acquired him from the division-rival Angels, but the Astros' attempt to re-sign him during the offeason…


The Reds have acquired right-handed reliever Justin Grimm from the Dodgers, according to Doug Gray of RedsMinorLeagues.com. The Dodgers received cash considerations in return, per Andersen Pickard of MLB Daily Dish. Grimm never pitched in the majors for the Dodgers, who signed him to a minor league contract in late March. To this point, the…


Jeff Bridich: Rockies Playing "Really Bad Baseball"
This has been an up-and-down season for the Rockies, who began 3-12, climbed all the way to 40-34 and have since nosedived to 46-50. The multiple rotten stretches the Rockies have stumbled through this year may prevent them from earning a third straight playoff berth, but for now, they're a still-manageable 3 1/2 games out…


Diamondbacks Reportedly Shopping Adam Jones
Diamondbacks general manager Mike Hazen has said he's unsure whether to buy, sell or do both at the upcoming trade deadline, but the team is "shopping" at least a few players, Bob Nightengale of USA Today wrote earlier this week. The list includes outfielder Adam Jones and the previously rumored duo of outfielder David Peralta…


Diamondbacks Could Activate Wilmer Flores On Thursday
Diamondbacks infielder Wilmer Flores has been out for almost two months because of a fractured right, but he's on the cusp of a return. The club could activate Flores from the 10-day injured list as early as Thursday, Nick Piecoro of the Arizona Republic reports. The 27-year-old Flores landed the second-largest guarantee ($4.25MM) the Diamondbacks…


The Twins have added outfielder Alejandro De Aza to their top affiliate, per an announcement from Triple-A Rochester communications director Nate Rowan (via Twitter). De Aza agreed to terms on a minors deal with the Minnesota organization, which in turn purchased his contract from the indy ball New Britain Bees. Now 35 years of age,…


Mitch Haniger Set To Resume Baseball Activities
The Mariners have re-started the baseball activities of injured outfielder Mitch Haniger, manager Scott Servais told reporters including MLB.com's Greg Johns (Twitter link). Doctors gave him the go-ahead to start some light catch and hitting. Haniger halted an earlier attempt at ramping up when he experienced pain. His is a particularly unpleasant injury, so it's…


White Sox Place Eloy Jimenez On IL, Select Ryan Goins
The White Sox announced today that they have placed outfielder Eloy Jimenez on the 10-day injured list. The club identified his injury as a "right ulnar nerve contusion." To fill the open active roster spot, the South Siders have selected the contract of infielder Ryan Goins. A 40-man slot had already been created when righty…


Poll: Aroldis Chapman's Opt-Out Clause
Ken Rosenthal of The Athletic reported Wednesday morning that Yankees closer Aroldis Chapman will become one of the most notable names on the free-agent market in the offseason. Chapman still has two years and $30MM left on the five-year, $86MM contract he signed entering 2016, but a source told Rosenthal the left-hander is "one million…


Giants Reportedly Still Plan To Sell Despite Recent Hot Streak
The Giants have won eight of their past 10 games and are suddenly within three games of an NL Wild Card spot, but ESPN's Jeff Passan writes in his latest 10 Degrees column that the team still plans to operate as a seller. The only real uncertainty surrounding team legend Madison Bumgarner, per the report, is…


Pirates Halt Gregory Polanco's Rehab Assignment
The Pirates have shut down Gregory Polanco's rehab assignment due to continued shoulder discomfort, director of sports medicine Todd Tomczyk told reporters Wednesday (Twitter links via Jason Mackey of the Pittsburgh Post-Gazette). It doesn't sound as if the club is concerned about any potential structural damage in Polanco's surgically repaired shoulder, as Tomczyk called the…


Hector Neris, Noe Ramirez Receive 3-Game Suspensions
5:03pm: Angels righty Noe Ramirez has also been suspended for a trio of contests after also being deemed to have thrown at the head of a hitter. In his case, he went after Jake Marisnick in apparent retribution for the outfielder's own recent actions, which resulted in an injury to Halos catcher Jonathan Lucroy and…


Outrighted: Mac Williamson, Jarrett Parker
We'll use this post to cover the day's minor moves, both involving a pair of former Giants outfielders … The Mariners announced today that they've outrighted Mac Williamson after he cleared waivers. Williamson was designated for assignment following a dreadful run in Seattle — which, in turn, came on the heels of an even worse stint…


Cubs Rumors: Trade Deadline, Maldonado, Caratini, Hamels
The Cubs, buoyed by a weekend sweep of the Pirates and a dramatic walk-off victory Tuesday, are likely to approach the trade deadline as a buyer. However, president of baseball operations Theo Epstein tells Patrick Mooney of The Athletic (subscription required) that "it would take a special deal to sacrifice the very top of the…


Pirates Reportedly Making Jordan Lyles Available In Trade Talks
The Pirates are "believed" to be making right-hander Jordan Lyles available to rival organizations in trade talks, according to Jon Heyman of MLB Network (via Twitter). The report also cites corner outfielders Corey Dickerson and Melky Cabrera as potential trade pieces, but suggests that there is not yet reason to believe the organization intends to…


Phillies Reportedly Extended Klentak, MacPhail Prior To Season
The Phillies never announced contractual lengths for president Andy MacPhail or general manager Matt Klentak upon hiring the pair to spearhead the organization's baseball operations department, and Matt Gelb of The Athletic reports (subscription required) that the team was similarly quiet about a pair of previously unannounced extensions for that duo. According to Gelb, MacPhail signed…


The Blue Jays have acquired right-hander Wilmer Font from the Mets in exchange for cash, per announcements from both organizations. New York designated Font for assignment last Friday. The Mets acquired Font, 29, from the Rays in exchange for 19-year-old righty Neraldo Catalina early in the season to add some depth to a beleaguered pitching staff.…


Trade Candidates: Top 5 Relievers By K/BB Ratio
On Tuesday, with help from the top 60 trade candidates list MLBTR's Jeff Todd and Steve Adams put together last week, we took a look at the movable starters who have outpaced the rest of the pack in K/BB ratio this season. We'll do the same here with qualified relievers in advance of the July…


Aroldis Chapman Refutes Report That He Expects To Opt Out After Season
2:34pm: Chapman made clear to reporters today that he has yet to make any such decision, as MLB.com's Bryan Hoch was among those to report on Twitter. He says he has not even yet discussed the matter and calls it "completely false" to suggest he has decided to opt out. 2:23pm: A confidant of Yankees lefty…


Injury Notes: Mondesi, Hembree, A's, Webb
Royals shortstop Adalberto Mondesi is headed for an MRI on his left shoulder after sustaining an injury on a diving attempt at a foul pop in yesterday's game, writes Jeffrey Flanagan of MLB.com. Mondesi told teammate Hunter Dozier that he thinks he dislocated his shoulder upon impact, and the video of the injury makes it…


White Sox Likely To Place Eloy Jimenez On Injured List
White Sox left fielder Eloy Jimenez departed the team's loss to the Royals on Tuesday with right elbow soreness after a collision with center fielder Charlie Tilson. While the severity of the injury isn't yet known, Jimenez is "likely" headed to the IL, manager Rick Renteria told Daryl Van Schouwen of the Chicago Sun-Times and…


Cardinals Place Matt Carpenter On Injured List
The Cardinals placed third baseman Matt Carpenter on the injured list with a right foot contusion on Tuesday, Anne Rogers of MLB.com was among those to report. It's unclear how much time Carpenter will sit out, but for now, infielder Edmundo Sosa is up from Triple-A Memphis to take his roster spot. Carpenter's injury continues…


Dodgers Interested In Jake Diekman
The Dodgers are among the teams "known to be interested" in Royals left-handed reliever Jake Diekman, Jeffrey Flanagan of MLB.com writes. They join the Nationals in that regard. As a 32-year-old who could reach free agency after the season, the rebuilding Royals are likely to part with Diekman before the July 31 trade deadline. The…


Mariners Receiving Trade Interest In Santana, Elias
The Mariners, as one would expect with GM Jerry Dipoto at the helm, continue to be active in trade discussions and are receiving the most interest in outfielder Domingo Santana and lefty Roenis Elias, per Ken Rosenthal of The Athletic (subscription required). Interest in Santana is strong enough that Seattle "will at least consider trading…


Adalberto Mondesi Diagnosed With Shoulder Subluxation
The Royals announced today that budding star shortstop Adalberto Mondesi has been placed on the 10-day injured list with a left shoulder subluxation. It's not surprising to hear of the IL placement, but the diagnosis represents a potentially worrying turn to the situation. The club has not yet given indication as to the course of…


Latest On Johnny Cueto, Evan Longoria
Giants right-hander Johnny Cueto is less than a year removed from undergoing a Tommy John procedure Aug. 2, 2018, but he's already nearing a rehab assignment, Henry Schulman of the San Francisco Chronicle relays. Cueto will begin pitching in rehab games in the Arizona rookie league at the start of August, manager Bruce Bochy announced…


Seunghwan Oh To Undergo Season-Ending Elbow Surgery
Rockies right-handed reliever Seunghwan Oh is set to undergo season-ending surgery on his elbow to remove loose particles, Kyle Newman of the Denver Post reports. It's the second bit of unwelcome health news of the night for the Rockies, who previously lost infielder Brendan Rodgers to season-ending shoulder surgery. This news wraps up a miserable…


Rangers Considered Optioning Nomar Mazara, Ronald Guzman
The Rangers welcomed back All-Star slugger Hunter Pence from the injured list Tuesday. Pence's return forced the Rangers to option someone else from their 25-man roster to Triple-A Round Rock. They chose outfielder Willie Calhoun, which left him "speechless." Demoting Calhoun was not a slam-dunk decision on Texas' part, though. The club also considered optioning…


Latest On Trevor Bauer, Corey Kluber
Trevor Bauer's name has continued to be kicked around the rumor mill even as the Indians have narrowed the gap with the division-leading Twins. Zack Meisel of The Athletic chatted with Cleveland GM Mike Chernoff this week (subscription required) about the possibility of a Bauer trade and the delicate balance of trying to win in…


David Stearns Discusses Brewers' Deadline Approach
Milwaukee laid waste to Atlanta in a 13-1 rout Tuesday, but the Brewers entered the game amid a terrible stretch that could help prevent them from earning their second straight playoff berth. The reigning NL Central champion Brewers have led the division for a large portion of the year, but they've won just 11 of…


The Yankees announced today that they have acquired speedy outfielder Terrance Gore from the Royals. The deal sends cash considerations back to Kansas City. Gore will not land on the New York 40-man, per the announcement. It seems that the deal was struck after he cleared waivers. Gore was designated for assignment recently. The 28-year-old…


The Reds announced that they've selected the contract of catcher Juan Graterol from Triple-A Louisville and placed closer Raisel Iglesias on the paternity list in a corresponding move to open a spot on the active roster. Cincinnati's 40-man roster is now full. Graterol, 30, was an October waiver claim by the Reds and was later…


The availability of Rangers lefty Mike Minor remains a key topic in the development of the 2019 summer trade market. The 31-year-old southpaw is among several quality veteran hurlers who could — but may not necessarily — end up on the move in the next two weeks. Texas GM Jon Daniels has suggested that the…


Blue Jays Designate Edwin Jackson For Assignment
The Blue Jays have recalled righty Jacob Waguespack from Triple-A Buffalo and designated veteran righty Edwin Jackson to clear a spot on the roster, per a team announcement. Jackson, 35, is baseball's consummate journeyman, having appeared with an MLB-record 14 teams since debuting as a 19-year-old with the Dodgers back in 2003. His stop in…


The Red Sox announced Tuesday that they've optioned struggling right-handed reliever Ryan Brasier to Triple-A Pawtucket. Southpaw Darwinzon Hernandez is up from Pawtucket in his place. Brasier's demotion is the latest in a series of suboptimal outcomes for a Boston relief corps that the front office neglected to address in the offseason. Brasier and fellow…


Poll: The Reds' Deadline Approach
Take one look at the Reds' record – 43-48 – and it's difficult to envision them as a team in position to buy prior to the July 31 trade deadline. On the other hand, the Reds certainly aren't out of the playoff race, trailing the NL Central-leading Cubs by 5 1/2 games and sitting 3…


Mariners Designate Mac Williamson For Assignment
The Mariners announced Tuesday that outfielder Mac Williamson has been designated for assignment. His roster spot will go to utilityman Kristopher Negron, whose contract has been selected from Triple-A Tacoma. Seattle also recalled right-hander Erik Swanson from Tacoma to fill a vacant spot on its active roster. Williamson, 28, was once viewed as a potential…


Health Notes: McCann, Castillo, Polanco, Severino
Veteran Braves backstop Brian McCann hasn't yet decided on his future but feels great in the present, he tells David O'Brien of The Athletic (subscription link) as part of a lengthy and entertaining chat. The 35-year-old backstop would say only that "we'll see what happens" when pressed on his intentions for playing beyond the current campaign. It…


The Rising Athletics And The Starting Pitching Market
One month ago today, the Athletics sat a dozen games off the pace in the AL West with a dead-even 36-36 record. The Oakland org was still a Wild Card contender but seemed all but buried in the division. That was a mild disappointment for a 2018 playoff team but hardly all that surprising given…


Brendan Rodgers Undergoes Shoulder Surgery
Top Rockies prospect Brendan Rodgers underwent surgery to repair a labrum tear in his right shoulder today, Thomas Harding of MLB.com tweets. The procedure will end the 22-year-old's season. Rodgers, the No. 3 overall pick by the Rockies in 2015, made his MLB debut this season and hit .224/.272/.250 in a small sample of 81…


Rangers Activate Hunter Pence, Option Willie Calhoun, Select Taylor Guerrieri
The Rangers announced this afternoon that they've activated Hunter Pence from the injured list and optioned outfielder Willie Calhoun to Triple-A Nashville to open a spot on the roster. Texas has also selected the contract of right-hander Taylor Guerrieri and placed left-hander Jesse Biddle on the injured list due to shoulder fatigue. As Evan Grant…


Twins Owner Pohlad On Trade Deadline Approach
Twins owner Jim Pohlad discussed his team's surprisingly strong performance and trade deadline approach in a brief but interesting chat with Sid Hartman of the Minneapolis Star-Tribune. Though he's obviously not heavily involved in day-to-day baseball operations, Pohlad ultimately holds the purse strings for the organization. So, will financial considerations limit the Minnesota organization from considering…


Jace Peterson Opts Out Of Orioles Contract
Infielder/outfielder Jace Peterson has been granted his release from the Orioles' Triple-A affiliate, per an announcement from the team. David Hall of the Virginian Pilot tweets that Peterson had an opt-out provision in his contract that he triggered yesterday. Peterson, 29, spent the vast majority of the 2018 season in Baltimore but turned in a…


2019-20 MLB Free Agent Power Rankings
We last checked in on the 2019-20 free agent class at the end of April.  No extensions have been signed since then, but otherwise there's plenty of movement in the rankings.  As always, these players are ranked by my estimate of their 2019-20 open market earning power. To view the entire list of 2019-20 MLB free…


Click here to read a transcript of this week's chat with MLBTR's Steve Adams.


Jay Bruce Exits With Oblique Strain
Phillies slugger Jay Bruce exited Tuesday evening's contest with a strained right oblique muscle, the Phillies announced. There's no word on a a trip to the injured list, but the Phillies will likely have additional info after the game. The majority of oblique strains send players to the injured list, and it's not uncommon for…


MLBTR Poll: What Should The Braves Do With Ender Inciarte?
The Braves are clicking on just about every cylinder at the moment, allowing the team to maintain a healthy advantage in the division even as the Nats have mounted a charge. While the Atlanta organization is no doubt preparing to make some pitching additions in the coming weeks, the position player mix seems mostly to…


Trade Candidates: Top 5 Starters By K/BB Ratio
If you're a pitcher, there aren't many more important skills than racking up strikeouts and limiting walks. The on-the-block starters who have been adept in both categories in 2019 figure to be among the players who garner the most interest from other teams leading up to the July 31 trade deadline. With help from the…


Report: No Untouchables In Yankees' Farm System
The first-place Yankees are aiming for a championship this year, and it seems they're prepared to pay steep prospect prices at the July 31 trade deadline in order to increase their chances. The team has no "untouchable" players in its farm system, Ken Davidoff of the New York Post reports. No Yankees prospect has generated…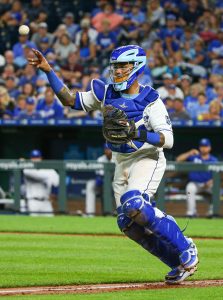 Cubs Acquire Martin Maldonado For Mike Montgomery
The Cubs have acquired catcher Martin Maldonado from the Royals, Ken Rosenthal of The Athletic tweets. Left-hander Mike Montgomery's going to Kansas City in the swap, Mark Feinsand of MLB.com reports. The teams have confirmed the trade. With Willson Contreras and Victor Caratini having combined to offer excellent behind-the-plate production in 2019, the Cubs don't…


Reds GM Nick Krall On Deadline Approach, Yasiel Puig
Reds GM Nick Krall chatted with Jon Heyman and Josh Lewin on the Big Time Baseball Podcast (audio link), providing some information on the team's approach to the swiftly approaching trade deadline. He largely echoed the recent comments of his boss, president of baseball operations Dick Williams, but put a slightly different spin on things.…


Pitcher Notes: Fried, Eovaldi, A. Wood, Brewers, Rangers
Braves southpaw Max Fried exited his start Monday with a blister on his left index finger, David O'Brien of The Athletic writes (subscription link). The Braves will re-evaluate Fried on Tuesday, per O'Brien, who points out blister issues have "plagued" the 25-year-old in the past. Blisters can be serious enough to lead to injury list…


Royals "Close" To Trading Martin Maldonado
The Royals pulled catcher Martin Maldonado from their game Monday, likely because a deal is on the way. They've been "working on a trade" involving Maldonado with an unknown team, Ken Rosenthal of The Athletic reports. A trade is indeed "close," Mark Feinsand of MLB.com adds on Twitter. A former Brewer, Angel and Astro, Maldonado…


Mariners Release Jon Niese, Tyler Cloyd
The Mariners have released left-hander Jon Niese and righty Tyler Cloyd, Triple-A Tacoma broadcaster Mike Curto reports. Both pitchers had been on the Rainiers' roster. Niese's release is the latest unwelcome development in what has largely been a solid professional career. The 32-year-old lasted just under three months with the Mariners, who inked him to…


Cardinals Reportedly Open To Trading Young Outfielders, Carlos Martinez
The Cardinals are giving rival organizations the sense that they'll consider trading a young outfielder or even talented righty Carlos Martinez this summer, according to Ken Rosenthal of The Athletic. In particular, Rosenthal's source cites Tyler O'Neill and Lane Thomas as potential outfield trade pieces for the Cards. The note comes in the course of a…


Giants Place Evan Longoria On 10-Day IL
Giants third baseman Evan Longoria has been forced to the 10-day injured list with plantar fasciitis, manager Bruce Bochy told reporters including Kerry Crowley of the Bay Area News Group (Twitter link). His timeline to return is not yet known. It's unfortunate to see Longoria go down at this particular time. He has been on a…


Rays Have Asked About Zack Wheeler
Mets right-hander and prime trade candidate Zack Wheeler went on the injured list Monday with shoulder fatigue – an issue that may damage or destroy his value. However, if Wheeler makes it back in the next couple weeks, the Rays could be among the teams competing for him around the July 31 trade deadline. They've…


Tigers Select Trevor Rosenthal
The Tigers announced that they've selected the contract of right-hander Trevor Rosenthal from Triple-A Toledo. The former Cardinals closer signed a minor league pact with Detroit after being released by the Nationals in late June. Detroit's 40-man roster is now full. Rosenthal, 29, slogged through a catastrophic few months in the Nationals organization prior to…


Trade Candidates: Top 5 Hitters By xwOBA
Plenty of major league hitters are trade candidates leading up to the July 31 deadline, but which ones truly stand out as players who could help a team's offense down the stretch? Let's take a look at the cream of the crop (minimum 100 plate appearances), with help from the enormous trade candidates list MLBTR's…


Minor MLB Transactions: 7/15/19
We'll kick off the week with a handful of minor moves from around the league… The Mets have released right-handed reliever Arquimedes Caminero from their Triple-A affiliate, as first noted on the International League transactions log. The flamethrowing 32-year-old generated solid results with the Pirates in 2015-16 before signing on to pitch with Japan's Yomiuri…


Angels Acquire Anthony Bemboom
The Angels announced that they've acquired catcher Anthony Bemboom from the Rays for cash considerations. This is the second transaction of the day involving Bemboom, whom the Rays designated for assignment in the afternoon. The 29-year-old had been on the 60-day injured list for two-plus months before then because of a knee issue, but his…


Mets To Place Zack Wheeler On Injured List
The Mets will place right-hander and top trade candidate Zack Wheeler on the injured list today due to shoulder fatigue, reports Newsday's Tim Healey (Twitter link). Lefty Steven Matz will start in place of Wheeler tomorrow. It's still not known precisely how Wheeler's trade status and value will be impacted. Even if the move is backdated…


Latest On Cubs' Trade Deadline Focus
The Cubs' signing of Craig Kimbrel last month may have crossed one item off their trade deadline to-do list, but the NL Central division leaders aren't necessarily sitting back. Manager Joe Maddon spoke openly over the weekend about the manner in which the team is missing the "consistent" and "professional" at-bats brought to the table…


Royals Likely To Move Hamilton, Gore
So much focus this time of the year is placed on the biggest names on the trade market. And while it's understandable that everyone wants to know where Madison Bumgarner, Marcus Stroman and other players of that ilk will land, it's also true that smaller-scale deals can often have considerable postseason ramifications. To that end,…


Rays righty Tyler Glasnow will not be allowed to throw for at least two weeks after his latest MRI, manager Kevin Cash told reporters including MLB.com's Juan Toribio (Twitter link). The skipper says he doesn't know whether the young righty will have time to ramp back up in order to return this season. That's not terribly…


Brewers, Giants Have Discussed Will Smith Trade
The Brewers and Giants have been in talks about a potential trade that would send lefty Will Smith from San Francisco back to Milwaukee, reports Robert Murray of The Athletic (subscription required). The Giants are particularly interested in second base prospect Mauricio Dubon, per Murray, though he specifies that no deal is close between the…


Astros, Phillies Have Shown "Recent Interest" In Robbie Ray
Diamondbacks starter Robbie Ray is one of the top rotation targets on this summer's trade market. The Arizona organization will have to decide whether the time is right to cash in on the southpaw, who's earning $6.05MM in 2019 and can be controlled via arbitration for one more season beyond the present. The Astros and…


Red Sox Designate Eduardo Nunez For Assignment
The Red Sox announced Monday that they've designated infielder Eduardo Nunez for assignment and optioned right-hander Hector Velazquez to Triple-A Pawtucket. In a pair of corresponding moves, right-hander Ryan Weber and first baseman/outfielder Sam Travis were called up from Triple-A. Now 32 years of age, Nunez proved to be an excellent pickup for Boston when…


Rays Designate Anthony Bemboom For Assignment
The Rays have reinstated catcher Anthony Bemboom from the 60-day injured list and designated him for assignment, per Marc Topkin of the Tampa Bay Times (Twitter link). Bemboom, 29, made his MLB debut earlier this season after grinding through seven years in the minors. Unfortunately, in the same game that saw Bemboom collect his first…


Chris Taylor Diagnosed With Fractured Forearm
Dodgers utilityman Chris Taylor has been diagnosed with a fractured forearm, per a club announcement (via Jorge Castillo of the Los Angeles Times, on Twitter). He'll be replaced on the active roster by Matt Beaty. It isn't known at present what kind of an absence the club can anticipate from Taylor, a shape-shifting defender and…


Injury Notes: Ozuna, Gyorko, Winker, Longoria
The latest on some injury situations from around baseball… Marcell Ozuna isn't sure when he'll be able to return to the Cardinals lineup, MLB.com's Anne Rogers writes, as the outfielder is still battling swelling in his right hand.  As a result, Ozuna "hasn't been able to test his grip strength much."  Ozuna suffered a fractured…


Cardinals Move Michael Wacha Back To Bullpen
The Cardinals have removed Michael Wacha from their rotation for the second time this season, Wacha told Rick Hummel of the St. Louis Post-Dispatch and other reporters.  Daniel Ponce de Leon will now take Wacha's spot in the rotation and start on Wednesday against the Pirates. Wacha had been originally slated to start on Tuesday,…


The Dodgers have designated lefty Zac Rosscup for assignment, per a club announcement. Taking his active roster spot is fellow reliever Casey Sadler. The swap clears a 40-man opening for the Los Angeles org. Rosscup, 31, has traveled far and wide over the past several seasons. This year alone, he has appeared in the majors with three…


Mychal Givens Drawing Trade Interest
The Orioles made their first of what will likely be several trades over the weekend when they dealt Andrew Cashner to the Red Sox, and Roch Kubatko of MASNsports.com reports that closer Mychal Givens is drawing interest and is "definitely" available — a departure from recent seasons under previous front office management. The Phillies and…


Mariners Activate Sam Tuivailala From 60-Day Injured List
The Mariners announced Monday that they've reinstated right-hander Sam Tuivailala from the 60-day injured list, thus filling one of the two vacancies on their 40-man roster. Tuivailala will join the MLB bullpen as righties Parker Markel and David McKay are optioned to Triple-A Tacoma, per the club. An additional move to fill the 25th spot…


AL West Notes: Astros, Bailey, Santana, Rangers
Pitching is on the Astros' mind as the AL West leaders approach the trade deadline, and both starters or relievers could be on the menu, GM Jeff Luhnow told The Athletic's Jake Kaplan (subscription required).  "It all depends on whether or not we're able to acquire a starter and what that means for the rest…


Cubs' Mike Montgomery Reportedly "Involved" In Trade Discussions
The Cubs are seeking a left-handed reliever in advance of the July 31 deadline, but one of their own southpaws – Mike Montgomery – "has been involved in trade talks," Jesse Rogers of ESPNChicago.com writes. However, it's unclear whether there's a deal featuring Montgomery on the horizon. Now 30, Montgomery joined the Cubs in July…


Red Sox Activate Andrew Cashner, Place Steven Wright On IL
The Red Sox have placed right-hander Steven Wright on the 10-day injured list to make room for newly-acquired pitcher Andrew Cashner on the active roster, reports Ian Browne of MLB.com. Cashner is in line to make his first start for Boston on Tuesday. Wright suffered a contusion on his right foot after being hit by…


Indians Notes: Bauer, Otero, Salazar
Here's the latest from Progressive Field… While an extra year of control is generally considered as a boon to a player's trade value, this may not necessarily be the case for Trevor Bauer, as Ken Rosenthal explains in his latest video report for FOX Sports.  Bauer has one year of arbitration eligibility remaining in 2020,…


Rays Intend To Buy At The Deadline
With just over two weeks until the trade deadline, the Rays are scouring the market for upgrades, per Marc Topkin of the Tampa Bay Times. "What we think of this group and the way they've played so far it certainly motivates us to want to help them out however we can," front office head Chaim…


Aroldis Chapman On Upcoming Opt-Out Decision
Yankees closer Aroldis Chapman is one of several prominent major leaguers who will have a chance to opt out of his contract after the season. Unlike a lot of his peers, there's seemingly a realistic shot Chapman will vacate the remainder of his deal. The Cuban fireballer briefly discussed his future with Ken Davidoff of…


Astros' Brad Peacock Has Setback In Injury Rehab
Brad Peacock and the Astros were hoping that the right-hander was ready to return to the starting rotation tomorrow, though Peacock will now instead visit with team doctors after feeling soreness in his throwing shoulder, manager A.J. Hinch told reporters (including The Athletic's Jake Kaplan).  Peacock reported the setback a day after a bullpen session…


Jonathan Lucroy To Undergo Surgery, Expected To Miss Three Weeks
Angels catcher Jonathan Lucroy will undergo a brief procedure on Tuesday to mend his nasal fracture, according to J.P. Hoornstra of the Southern California News Group. Rhett Bollinger of MLB.com adds on Twitter that manager Brad Ausmus expects his catcher to miss about three weeks due to the operation. Lucroy bore the brunt of a…


Click here to enter the Sunday evening baseball chat, moderated by Mark Polishuk of the MLB Trade Rumors writing staff


Athletics Acquire Homer Bailey
The Oakland Athletics have closed on a deal to acquire Kansas City's Homer Bailey, according to ESPN's Jeff Passan. Ken Rosenthal of The Athletic first reported (via Twitter) that a trade was imminent. The Royals will receive minor-league infielder Kevin Merrell in return, according to an official Athletics release. Bailey, 33, will go down as…


Mariners Outright Andrew Moore
Mariners right-hander Andrew Moore has passed through waivers and has been outrighted to Triple-A Tacoma, according to Ryan Divish of the Seattle Times. The move leaves the Mariners with 38 players on the 40-man roster. Moore has made only one start for Seattle this year, lasting 4 2/3 innings and conceding four runs. He was…


Phillies Place Tommy Hunter On IL, Recall Edubray Ramos
The Phillies announced today that right-handed reliever Tommy Hunter has been placed on the 10-day injured list with a right forearm strain. Fellow right-hander Edubray Ramos has been recalled from Triple-A Lehigh Valley to take Hunter's 25-man roster spot. Forearm strains are always ominous for pitchers, but it seems especially alarming in Hunter's case. The…


Luis Severino, Dellin Betances Cleared To Begin Throwing Programs
Injuries have prevented star Yankees right-handers Luis Severino and Dellin Betances from pitching in 2019, but that could change in the coming weeks. Severino and Betances have been medically cleared to begin throwing programs Monday, per reports from Kristie Ackert of the New York Daily News and James Wagner of the New York Times. The…


Minor MLB Transactions: 7/14/19
The latest minor moves from around baseball… Former major league first baseman/outfielder Mike Carp is attempting a comeback with the New Britain Bees of the independent Atlantic League, Jon Heyman of MLB Network reports. This is the first mention of Carp on MLBTR's pages since the Orioles released him in April 2016. The 33-year-old hasn't…


Marlins' Bullpen Reportedly Earning Attention Of Scouts
According to a report from MLB.com's Joe Frisaro, several scouts were in attendance for Saturday night's game between the Marlins and Mets, presumably with an interest in observing several Miami relievers. Though Frisaro did underscore that the participation of New York starter Noah Syndergaard in tonight's affair likely had much to do with the heavy…


AL Injury Notes: Tigers, Maybin, Lucroy
The Tigers had a bit of a good news/bad news day in regards to some currently injured players. Gargantuan catcher Grayson Greiner has reportedly suffered a setback in his recovery process, per Chris McCosky of the Detroit News. Sidelined with a lower back injury since June 13th, Greiner experienced a "flare up" in that region…


Following this afternoon's game, the Blue Jays have optioned 1B/DH Rowdy Tellez to Triple-A Buffalo, per Gregor Chisholm of the Toronto Star. The move leaves the team without its everyday designated hitter. A corresponding roster move has yet to be announced, though Shi Davidi of Sportsnet suggests that outfielder Billy McKinney could be activated from the…


East Notes: Thor, Lowe, Bundy, Richard
The Mets' struggles have mounted to the point that their general manager acknowledges having "low expectations" for the season's second half. Despite the organization's dumpster fire start, their young flamethrower has no hope of going elsewhere. "I love being a Met," Noah Syndergaard told reporters, including Tim Healey of Newsday. "If something were to ever…


Dave Dombrowski On Nathan Eovaldi, Bullpen, Deadline
The Red Sox addressed their rotation Saturday with the addition of veteran right-hander Andrew Cashner, whom they acquired from the AL East rival Orioles. There had been a need for another starter in Boston, which has lacked a true complement to Chris Sale, David Price, Eduardo Rodriguez and Rick Porcello for most of the season.…


Mike Trout Leaves Game Due To Calf Tightness
6:52PM: Trout's injury isn't considered to be serious, manager Brad Ausmus told J.P. Hoornstra of the Southern California News Group (Twitter link).  Still, Trout will undergo an MRI on Monday to determine the extent of his calf problem. 5:31PM: Mike Trout left today's game after two innings due to what the Angels described as right…


Padres Reportedly Not "Committed" To Adding Starter
Running contrary to recent reports linking the Padres to starters Matt Boyd and Noah Syndergaard, MLB.com's A.J. Cassavell today indicated that the team "seems unlikely" to "push" for either pitcher. While Padres general manager A.J. Preller is willing to add a controllable starter, he's not "committed" to doing so, Cassavell writes. It was just this…


Leonys Martin Signs With Chiba Lotte Marines
Outfielder Leonys Martin has signed a one-year deal with Japan's Chiba Lotte Marines, according to the Associated Press. Martin became a free agent June 29, a week after the Indians designated him for assignment. Trekking to Asia continues a frenetic 12 months for the 31-year-old Martin. The Indians acquired Martin from Detroit at last July's…