Chris Paul came close to returning to New Orleans?
New Orleans' prodigal son very nearly made his way home this offseason. Brian Windhorst of ESPN said this week on "The Hoop Collective" podcast that the New Orleans Pelicans offered Paul a three-year, $100 million deal. Windhorst adds that the 11-time All-Star appeared to have entertained the offer for some time. But the Suns ended up giving Paul a $120 million contract with a partially-guaranteed fourth year, which he accepted. Paul, now 36, was drafted by New Orleans in 2005


Sixers positioning themselves for run at Damian Lillard with latest hire?
The Philadelphia 76ers' latest coaching hire may hardly be a coincidence. Yaron Weitzman of FOX Sports reported on Wednesday that the Sixers have hired Phil Beckner as a coaching consultant. Beckner is the longtime trainer of Portland Trail Blazers star Damian Lillard. He is also a former assistant coach for Weber State University, where Lillard attended college. We know the Sixers are aggressively pursuing upgrades and are more than willing to part ways with All-Star Ben Simmons. As for


Bradley Beal sends NBA fans into frenzy with cryptic tweet
Bradley Beal has never indicated publicly that he wants to leave the Washington Wizards, but the trade buzz surrounding him has reached the point where one little tweet can send NBA fans into a frenzy. Beal sent a cryptic tweet on Wednesday that only featured the "pondering" emoji. Naturally, his followers assumed it was some sort of hidden message about the three-time All-Star's future. — Bradley Beal (@RealDealBeal23) August 4, 2021 We have literally no idea why Be


Celtics positioning themselves to acquire star player next offseason?
The Boston Celtics have had an incredibly busy offseason, but they have not been aggressive in trying to improve their roster. You could make the argument that they have gotten worse, though that is apparently by design. Following an incredibly disappointing season, the Celtics decided to give up on Kemba Walker by trading him to the Oklahoma City Thunder. They also let Evan Fournier walk in free agency. In terms of adding, Boston acquired Al Horford in the Walker deal. None of their moves asid


Joe Burrow struggling badly at Bengals training camp
Joe Burrow said recently that he is close to 100 percent recovered from the torn ACL he suffered last season, but the former No. 1 overall pick has a lot of rust to shake off before Week 1. The early reports from Cincinnati Bengals training camp have not been good for those on the offensive side of the ball. Jay Morrison and Paul Dehner Jr. of The Athletic shared some of their observations on Tuesday, and they said Burrow and the offense are committing multiple turnovers almost every practice s


Katarina Johnson-Thompson refuses help after injury to cross finish line
Great Britain's Katarina Johnson-Thompson saw her Olympic medal hopes come to a disappointing end when she suffered an injury in the heptathlon 200 meter heat on Wednesday. She was not going to let that stop her from crossing the finish line, however. Johnson-Thompson was in fifth position overall heading into the race, but she fell to the track in pain during the first 100 meters. Medical staff immediately rushed over to her with a wheelchair and supplies. Johnson-Thompson stayed down fo


Kemba Walker to sign with Knicks after Thunder buyout
The New York Knicks have been looking to add a star player to their backcourt, and Kemba Walker certainly fits the bill. Walker, who was traded from the Celtics to the Thunder in a blockbuster deal earlier this offseason, has agreed to a buyout with Oklahoma City. He will now sign with the Knicks, according to ESPN's Adrian Wojnarowski. Walker had two years and $74 million left on the deal he signed with Boston prior to the 2019-20 season. Walker is from The Bronx, so playing for the Knic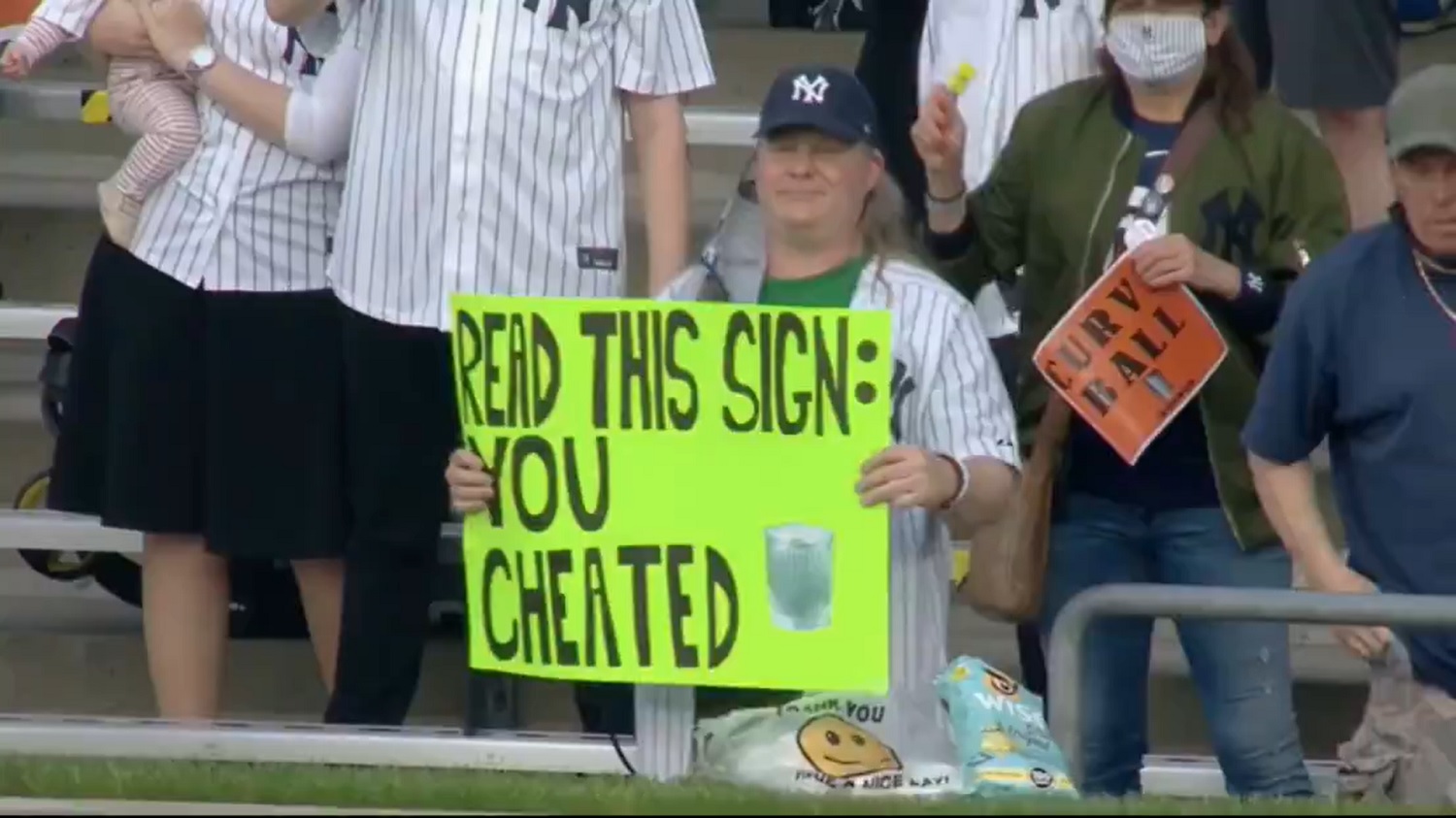 Dodgers fan handed out anti-Astros chant cards before game
Los Angeles Dodgers fans have waited a long time to let the Houston Astros know how they truly feel about them, and they finally had an opportunity to do so on Tuesday night. Some of them may have been even more prepared than we anticipated. One Dodgers fan handed out flyers to people as they entered the stadium instructing them on how to taunt the Astros. The chant card mentioned how the Astros defeated the Los Angeles Dodgers in the 2017 World Series. That was the year Houston was found to ha


American wrestler Tamyrah Mensah-Stock goes viral for patriotic interview
Tamyra Mensah-Stock on Tuesday night became the first black woman to win an Olympic gold medal in wrestling, and she was incredibly proud to do so while representing the United States. Mensah-Stock defeated Nigeria's Blessing Oborududu by a score of 4-1 in the women's 68kg final to win the gold medal. She had an American flag draped around her neck during an interview with NBC after the match and spoke enthusiastically about how much she loves the United States. America's Tamyra Mens...


Lance McCullers did not appreciate Yordan Alvarez pimping his home run
Lance McCullers did not appreciate the way teammate Yordan Alvarez pimped a home run on Tuesday night. Alvarez broke open a 1-0 game with a huge 2-run home run for his Houston Astros against the Los Angeles Dodgers in the top of the eighth inning. The clean-up hitter admired his work after the home run, which prompted even a teammate to yell at him. A replay aired by Spectrum SportsNet LA showed McCullers yelling at Alvarez to "f—ing go!" as Alvarez admired his home run. McCul


Simone Biles blames sexism for making her mental issues worse
Simone Biles' Tokyo Olympics did not go at all as expected. Biles entered the 2020 Summer Olympics as the favorite to win gold medals in multiple gymnastics events, just as she had done at the 2016 Olympics in Rio. Instead, she ended up with two medals, and withdrawing from four competitions, citing mental health issues. Biles did not have an easy time, but was proud of herself for rallying to win a bronze medal on the balance beam. After winning the bronze medal at the conclusion of he


Dennis Schroder still holding out for big payday?
Cap space is quickly drying up around the NBA, but Dennis Schroder may still be holding firm to his valuation of himself. Marc Berman of the New York Post reported on Tuesday that Schroder, who has interest from the New York Knicks, began the process seeking a deal from them starting at $25 million. Schroder seems all but certain to be leaving the Los Angeles Lakers, who have already filled out their roster with a cluster of free agent signings. For reference in the point guard market, Lonzo B


Dwight Howard roasts Ben Simmons' shot on way out of Philadelphia
The Dwight Howard era in Philadelphia is officially over, and now he is free to speak his mind on one particular topic. The former Defensive Player of the Year bid farewell to the Sixers in an Instagram post on Tuesday after agreeing to a deal to return to the Los Angeles Lakers. Howard ended his post with a funny shot at Ben Simmons. "And Ben. Bend ya kneeeesss," Howard wrote after saying his thank-yous. View this post on Instagram A post share


Massage therapist Nia Reese Lewis-Smith details disturbing allegations about Deshaun Watson
Deshaun Watson has been participating in training camp with the Houston Texans as he faces sexual assault allegations from 22 women. Now, one of the women who says she was sexually assaulted by Watson has shared some disturbing details about what she alleges took place between her and the NFL quarterback. Nia Reese Lewis-Smith was a guest with YouTube personality Tasha K last week. Lewis-Smith told Tasha K about her how things with Watson went. She says that Watson reached out to her via a priv


Simone Biles, Taylor Swift trade love on Twitter ahead of balance beam final
Simone Biles and Taylor Swift traded some love on Twitter ahead of the balance beam final on Tuesday in Tokyo. Biles' 2020 Summer Olympics have gone anything but expected this year. Viewed as a favorite to dominate the gymnastics field in Tokyo, Biles instead dealt with some mental issues called the "twisties" that prevented her from competing in several events. Biles withdrew from the team competition and the finals of all the individual events, except for the balance beam. T


Video: Athing Mu's family goes nuts watching her win gold medal
Athing Mu captured gold in the women's 800m race at the 2020 Tokyo Olympics on Tuesday, and her family loved it. COVID-19 has restricted fan attendance at the Summer Olympics this year. So NBC has been compensating by placing cameras at the homes of family and friends of competitors. That's how we've seen some fun video reactions, such as this one. Here is a look at the reaction from Mu's family and friends as Mu progressed towards a first-place finish at the Olympic Sta


Noah Lyles creates photo finish after easing up in 200m semifinal
Noah Lyles created some unnecessary drama in his men's 200m semifinal at the 2020 Tokyo Olympics on Tuesday. Lyles was in front during the race but eased up as he approached the finish line. Slowing down gave other sprinters the opportunity to catch him, and they did. As a result, Lyles ended up with the same time as Canada's Aaron Brown and Liberia's Joseph Fahnbulleh at 19.99. Noah Lyles advances to the final! #TokyoOlympics x @TeamUSA : NBC: NBC Sp


Rafael Nadal thinks Novak Djokovic's Olympics outburst was 'strange'
Novak Djokovic is not proud of his outbursts at the Olympics that also left one of his colleagues perplexed. Djokovic lost his bronze medal match to Pablo Carreno Busta in three sets in the men's singles event at the 2020 Summer Olympics in Tokyo. Then he withdrew from the mixed doubles event too. Upset over failing to take advantage of a break point in the third set, Djokovic smashed his racket. "I don't like doing these things, I'm sorry for sending this kind of message, but we'Ä...


Philip Rivers not ruling out NFL return at age 39
Philip Rivers announced his retirement from the NFL in January, but the longtime quarterback is not ruling out a return to pro football. Rivers spoke with the Los Angeles Times' Sam Farmer for a story published on Tuesday. Rivers is in his first year as the head football coach at St. Michael Catholic High School in Alabama. But Farmer asked Rivers if he is ready and interested to play again. Rivers said that he is not quite in the right shape yet, but he will "stay ready" for


Anthony Rizzo responds to Jed Hoyer blaming Cubs players for breakup
The Chicago Cubs team that helped the franchise break its long-standing curse finally was broken up at this year's MLB trade deadline. And team executive Jed Hoyer did not just break up the team; he burned it all down. Anthony Rizzo, Kris Bryant, Javy Baez, Joc Pederson, Craig Kimbrel, Ryan Tepera, Trevor Williams and Andrew Chafin were all sent packing. Hoyer said on ESPN 1000's "Kap & J Hood" show Monday that the Cubs tried hard to retain many of the team's top ...


Jeff Gladney issues response after being released by Vikings
Jeff Gladney issued a response on Tuesday after being released by the Minnesota Vikings following an indictment. The Vikings said they were releasing Gladney immediately upon reading his indictment. Gladney was charged with domestic violence. The indictment alleges Gladney "intentionally, knowingly, and recklessly" causing bodily injury to the alleged victim during an April 2 incident. Gladney's agent issued a statement in which he said the cornerback should still be considered in...


Eli Manning sends great tweet about Giants practice brawl
A brawl erupted at the New York Giants' training camp practice on Tuesday, and Eli Manning thinks he knows what may have started it. Manning, who has become very active on social media since he retired from playing, said players were probably fighting over his awesome bobblehead that the Giants are giving away. Now we know why the fight broke out at practice today!! The players are trying to get there hands on this bobblehead. — Eli Manning (@EliManning) Aug


Maryland governor pressures Lamar Jackson to get vaccinated
The NFL has several protocols in place that aim to incentivize players to get the COVID-19 vaccine, and Lamar Jackson is now facing pressure from an influential politician as well. Jackson is not expected to return to practice with the Baltimore Ravens until at least Friday after he recently tested positive for COVID-19. Maryland Governor Larry Hogan was asked on Tuesday about Jackson's positive test, and he urged the former MVP to get vaccinated. "Lamar's gotta get (vaccinate


DeMar DeRozan signs three-year deal with Bulls
The Chicago Bulls have been big spenders early in free agency, and they landed another top player on Tuesday when they acquired DeMar DeRozan. DeRozan has agreed to a three-year contract worth around $85 million with the Bulls. As Shams Charania of The Athletic reported, the deal is actually a sign-and-trade with the Spurs in which San Antonio will get Thad Young, a future first-round pick and two future second-round picks. The Bulls also signed Lonzo Ball to a four-year, $85 million deal on Tu


Report: DeMar DeRozan to meet with Clippers
DeMar DeRozan grew up in the Los Angeles area, and it has been widely reported that the free agent would like to play there. While the Lakers may no longer be an option, the Clippers remain interested in the four-time All-Star. DeRozan was scheduled to meet with the Clippers on Tuesday, Chris Haynes of Yahoo Sports reports. The 31-year-old old is also being pursued by the Chicago Bulls and likely some other teams. As Haynes notes, the Clippers can currently only offer DeRozan the mid-level exce


Carmelo Anthony agrees to deal with Lakers
LeBron James and Carmelo Anthony have been talking about the possibility of playing together for years, and that is finally going to become a reality. Anthony announced on social media Tuesday that he has signed with the Los Angeles Lakers. pic.twitter.com/vqto96ktrM — Carmelo Anthony (@carmeloanthony) August 3, 2021 Anthony's agent told ESPN's Adrian Wojnarowski that the contract is a one-year deal. The Lakers have been viewed as the favorite to sign Anthony, so the news i


Florida State president addresses rumors of interest in joining SEC
A major conference shakeup is coming in college athletics, but there is apparently no truth to any talk of Florida State being a part of it. Texas and Oklahoma have begun the process of leaving the Big 12 for the SEC. On Monday, a report claimed Florida State and Clemson have also reached out to the SEC about the possibility of joining the conference. Florida State president John Thrasher emphatically shot down those rumors in a statement on Tuesday. "I want to be clear that persistent report...


Old Joel Embiid tweet goes viral after Andre Drummond signs with 76ers
Andre Drummond is set to play for his fourth team in three seasons, as the two-time All-Star has agreed to a deal with the Philadelphia 76ers. That means he will now be teammates with someone who once called him a "bum." Drummond will sign a one-year contract with the Sixers, ESPN's Adrian Wojnarowski reports. After the news surfaced, fans immediately recalled the time that Joel Embiid talked trash about Drummond on Twitter back in 2018. I own a lot of real estate in @andredr


Big 12, Pac-12 commissioners to meet and discuss potential partnership
The Big 12 is facing an uncertain future now that Texas and Oklahoma are set to leave for the SEC, and there has been talk of a potential merger with the Pac-12 to soften the blow. That idea is one that is apparently receiving real consideration. Max Olson of The Athletic reports that Big 12 commissioner Bob Bowlsby and Pac-12 commissioner George Kliavkoff were scheduled to meet on Tuesday to discuss the future of their conferences. Bowlsby said Monday that there are "options for us to pa


Daniel Jones explains why he got involved in massive Giants practice brawl
New York Giants head coach Joe Judge was livid after a brawl broke out during his team's training camp practice on Tuesday. What was particularly concerning was that Daniel Jones was involved in it, but the quarterback did not express any regret afterward. Numerous Giants beat reporters described a massive fight among players, and Jones ended up at the bottom of a pile. SNY's Ralph Vacchiano said the mayhem started after running back Corey Clement took a big hit at the end of a run.


Texas' Longhorn Network expected to be sunset as part of SEC deal
The Big 12 will suffer a major casualty when Texas and Oklahoma leave for the SEC, and they will also be losing a television network in the process. The Longhorn Network was launched in 2011 to focus on, naturally, Texas athletics. Texas president Jay Hartzell essentially admitted on Monday that there will be no use for the network after the school moves from the Big 12 to the SEC. Texas president Jay Hartzell on LHN's future: "The expectation is we'll wind it down, but we haven't


Panthers waive player who delivered head shot to teammate in practice
Carolina Panthers defensive back J.T. Ibe was kicked out of practice on Tuesday after he lowered his shoulder into a teammate's head, and he is now no longer with the team. As ESPN's Adam Schefter notes, the Panthers waived Ibe immediately after Tuesday's practice. Ibe's player page on Carolina's official team website has also been deactivated already. Ibe lowered his shoulder into Kirkwood's head and neck area after a pass bounced off Kirkwood's hands. Kirkwoo...


Chinese Olympians investigated over Mao pins following gold medals
The International Olympic Committee is investigating yet another potential violation of the rule against making political statements during competition and medal ceremonies. The latest probe was sparked by Chinese athletes Bao Shanju and Zhong Tianshi. After they won the women's sprint in track cycling on Monday, Shanju and Tianshi wore badges paying tribute to late Chinese communist leader Mao Zedong. The badges may have been a violation of the long-standing Olympic rule that prohibits p


Panthers' Keith Kirkwood leaves practice on stretcher after head shot from teammate
The Carolina Panthers paused practice for several minutes at training camp on Tuesday following a frightening injury to wide receiver Keith Kirkwood, and it looks like it was an injury that could have been prevented. Kirkwood was stretchered off the field and left in an ambulance after taking a hit to the head from teammate J.T. Ibe. Panthers reporter Joe Person says Ibe was kicked out of practice. If you look closely at the video below, you can see Ibe lower his shoulder into Kirkwood's


Simone Biles explains why bronze medal meant more than all her golds
Simone Biles made her highly anticipated return to competition at the Tokyo Olympics on Tuesday, and she captured yet another piece of hardware. While it was not a gold medal, Biles said it was the most rewarding medal she has ever won. Biles came in third and won the bronze medal in the individual balance beam final. She scored a 14.00, finishing behind Chinese gymnasts Guan Chenchen and Tang Xijing. In an interview with TODAY after the competition, Biles said the bronze medal meant more to he


Video: Rai Benjamin apologizes to family after winning silver medal
Rai Benjamin took home the silver medal in what many are calling one of the greatest Olympic races of all time on Tuesday, but the American hurdler seemed devastated by the result. Benjamin finished second in the men's 400 meter hurdle with a time of 46.17 seconds. That bested the old world record of 46.78 seconds, which was set by Kevin Young at the 1992 Olympics. Unfortunately for Benjamin, Norway's Karsten Warholm was even faster. Warholm, who won the gold, shattered the world re


Cuban wrestler Mijain Lopez joins elite company with incredible feat
Cuban wrestler Mijain Lopez joined some incredibly exclusive company with an impressive feat. Lopez on Monday won the gold medal in the Greco-Roman 130 kg wrestling event at the 2020 Summer Olympics in Tokyo. The 38-year-old Cuban giant defeated Iakobi Kajaia 5-0 in the final of the event to win the gold. What is remarkable is the gold medal marked the fourth straight Olympics in which Lopez has won the same event. He also won gold in 2008, 2012 and 2016. The 2008 and 2012 medals were when 125


Jamaican sprinter Christopher Taylor taken off in wheelchair after race
Jamaican sprinter Christopher Taylor faced a medical situation after qualifying for the finals of the men's 400 m race at the 2020 Summer Olympics in Tokyo. Taylor finished second in the second semifinal of the 400 m sprint with a time of 44.92. He was one of eight runners to qualify for the final, but he had to be taken away in a wheelchair afterwards. Christopher Taylor of Jamaica is wheeled off the track after his run in the Men's 400m semi final at the Athletics events of the Tok


Michael Jordan shares one regret about 'The Last Dance'
Michael Jordan has made an admission about the one thing he would change from the popular "The Last Dance" documentary. "The Last Dance" was a 10-part documentary series about the 1990s Chicago Bulls. The series provided background to viewers on what led up to the 1997-1998 season, which was the last season before the Bulls broke apart their sixth championship team of the '90s. The series did huge TV ratings, was highly popular, and helped reintroduce Michael Jorda


Lakers fans bid Alex Caruso farewell after $37 million deal with Bulls
Alex Caruso is getting paid elsewhere, and Los Angeles Lakers fans have nothing but love for him. Caruso agreed to a 4-year $37 million deal with the Chicago Bulls in free agency. The Lakers and the team's fans knew there was a possibility Caruso would leave in free agency, and that time has come. Even though Caruso is headed to the Bulls, Lakers fans were supportive of the 27-year-old guard. Many Lakers Twitter accounts shared love for Caruso and wished him well. Thank you for everythin


Dwight Howard and Trevor Ariza agree to sign with Lakers
The Los Angeles Lakers are bringing in a pair of veterans to fortify their bench and add some key experience. Howard's agent confirmed Monday that the veteran center will join the Lakers for a third stint. Terms of the deal were not disclosed. Ariza's agents confirmed that his pact with the Lakers is a one-year contract. It would have been hard to believe with how Howard's first stint ended that he'd ever return to Los Angeles once, much less twice. It speaks to the valu


Bobby Portis turns down more money to re-sign with Bucks
Bobby Portis looked like he might be heading elsewhere after winning the NBA championship last month. But the allure of running it back was too much. Portis is returning to the Milwaukee Bucks on two-year deal worth $9 million. He has a player option for the second season. According to Shams Charania, Portis turned down more money to remain with Milwaukee. After NBA championship, Portis' loyalty was with Milwaukee and he cherished the organization's culture and winning environment. The MIL...


Chris Paul returns to Suns on 4-year deal for up to $120 million
Chris Paul is proving that his decision to opt out of his $44.2 million option for next season was a good one. Paul is returning to the Phoenix Suns on a four-year deal worth up to $120 million. Phoenix Suns All-Star guard Chris Paul has agreed to stay on a new four-year deal that could be worth as much as $120 million, his agents Steve Heumann and Ty Sullivan of @CAA_Basketball tell ESPN. — Adrian Wojnarowski (@wojespn) August 2, 2021 When Paul opted out of his contract, our analysis


LSU QB Myles Brennan out indefinitely due to arm surgery
LSU's quarterback competition just got a lot less competitive. LSU announced on Monday that Myles Brennan is out indefinitely due to arm surgery. The 6-foot-4 quarterback suffered a broken humerus bone in his left arm and is undergoing surgery. "Myles Brennan suffered a severe injury that will require surgery," head coach Ed Orgeron said. "His timeline is yet to be determined. Myles has done everything we have asked of him this summer and was in the fight to be the starting quarter...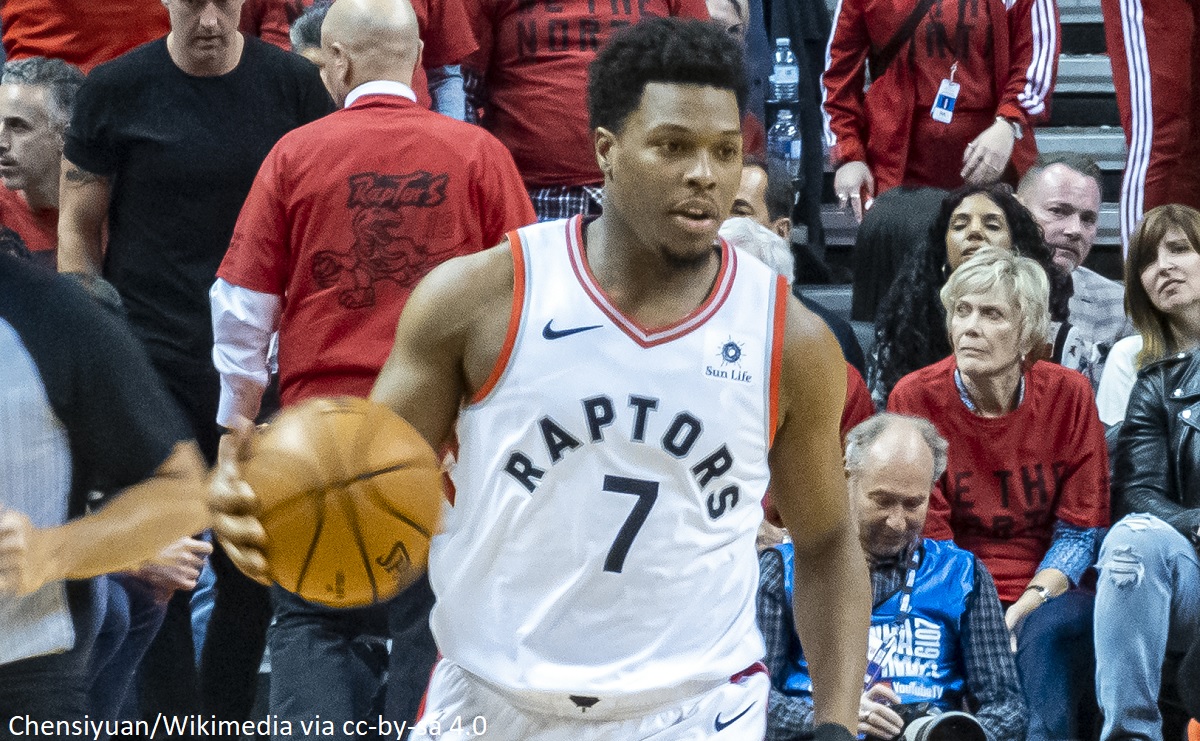 Kyle Lowry announces he will sign with Heat
The Miami Heat have the point guard they covet. Kyle Lowry announced less than an hour into free agency on Monday that he would join the Heat, joining forces with Jimmy Butler. pic.twitter.com/FmlOdd4cYu — Kyle Lowry (@Klow7) August 2, 2021 Vincent Goodwill of Yahoo Sports had been first to report that Lowry would sign a three-year deal and would join via a sign-and-trade with the Toronto Raptors. Lowry leaves behind the Raptors as one of the franchise's greatest-ever players. Th


Jarrett Allen gets $100 million contract from Cavaliers
Remember when a professional athlete signing a $100 million deal was a huge milestone? Those days are long over, and Jarrett Allen's contract is proof of that. Allen is remaining with the Cleveland Cavaliers on a five-year, $100 million deal, we learned on Monday. Allen is a good, young player who was drafted No. 22 overall by the Brooklyn Nets in 2017. He emerged for them in the playoffs and became a double-double center two seasons ago. He was good enough that the Cavaliers wanted him i


Lonzo Ball agrees to four-year, $85 million contract with Bulls
The Chicago Bulls are getting their playmaking point guard in the form of Lonzo Ball. Ball's agent, Rich Paul, told Shams Charania of The Athletic that Ball has agreed to a four-year, $85 million contract with the Chicago Bulls. Ball is a restricted free agent, so the New Orleans Pelicans have the right to match the offer. However, they are instead closing in on a sign-and-trade that will bring back Tomas Satoransky and Garrett Temple. The Chicago Bulls are sending Tomas Satoransky, Garr


Report: 76ers' asking price for Ben Simmons is 'sky-high'
The Philadelphia 76ers have expressed a willingness to trade Ben Simmons this summer, but it has been widely reported that they will only deal him if they are blown away by an offer. That remains the case even with the NBA Draft having come and gone. David Aldridge of The Athletic reported on Monday that the 76ers' asking price for Simmons "remains sky-high" ahead of free agency. They are reportedly seeking at least four future first-round picks (via direct trade and/or pick s


Baylor AD hilariously shades Texas over move to SEC
Baylor athletic director Mack Rhoades is trying to put a brave face on as the Big 12 ponders its future. He did so by taking a pretty funny shot at Texas. Rhoades commented on Texas' impending move to the SEC on Monday. He acknowledged the national narrative was that it was the Longhorns' arrogance that drove them to make the conference switch, but disputed it. In his mind, this just shows that Texas needs a bit more confidence in itself. Baylor AD Mack Rhoades: "Many of my colleag


Bru McCoy suspended by USC following domestic violence arrest
Bru McCoy was once a highly rated prospect, but the USC wide receiver has hit another roadblock in his quest to become a household name. Keely Eure of USCFootball.com reported on Monday that McCoy has been suspended from the USC football team following an arrest roughly a week ago. A Los Angeles Police Department spokesperson told the publication that McCoy was arrested on July 24 and charged with intimate partner violence with injury. He was released on $50,000 bond and is scheduled to appear


Rudy Gay leaning towards signing with Lakers?
Marc Gasol already made his way to the Los Angeles Lakers, and now one of his former Memphis Grizzlies teammates could be following suit. Tony Jones of The Athletic reported on Monday that veteran forward Rudy Gay is thought to be leaning towards signing with the Lakers in free agency. Gay, who turns 35 later this month, averaged 11.4 points and 4.8 rebounds per game in a bench role for the San Antonio Spurs last season. He is still looking for his first NBA championship after 15 seasons in the


Kyle Shanahan has funny take on Trey Lance leading 49ers in playbook studying
Trey Lance has supposedly spent more time studying the San Francisco 49ers' playbook this offseason than any other player on the roster, but head coach Kyle Shanahan seems skeptical of the metric that was used to determine that. Peter King wrote about Lance and San Francisco's quarterback situation in his weekly column for NBC Sports on Monday. He said the Niners gave every player an iPad with the team's playbook loaded on it, and the team has an internal server that allows th


Nick Saban's huge new Alabama contract will set a record
Alabama announced the terms of Nick Saban's new contract at the school, and the numbers are unsurprisingly eye-watering. While Saban's base salary remains the same, the Alabama coach's talent fee got a big hike in his new extension, which runs through the 2028 season. In 2023-24, Saban will become the first college head coach to make eight figures annually when his salary jumps to $10.3 million. The final six years of the deal are all over $10 million, topping out at $11.5 mil


Report: SEC could expand to nine-game schedule with Texas and Oklahoma
The SEC's eight-game conference schedule could become a thing of the past within the next few seasons. According to Andy Staples of The Athletic, the SEC is keeping all options on the table for scheduling once Texas and Oklahoma join the conference. One option being considered is a move to a nine-game schedule. How it would work remains a question, as it could involve pods of four teams or permanent opponents. The move is mostly financial, with a wrinkle. SEC fans have grown tired of the


Duncan Robinson likely to stay with Heat?
The best shooter in this year's free agent class may be staying put. Tim Reynolds of the Associated Press reported this week that Miami Heat swingman Duncan Robinson has told associates that his preference is to remain with the Heat. Robinson is a restricted free agent, meaning that the Heat can match any offer for him. John Hollinger of The Athletic also reports that Robinson's next contract is expected to have an $18 million average annual value, a price point where Miami will lik


Video: Aaron Rodgers rolls through downtown Green Bay on golf cart
Aaron Rodgers has returned to Green Bay after working out a new deal with the Green Bay Packers, and you would swear he never left with the way he was spotted riding around town on Monday. Marques Eversoll of 107.5 The Fan in Green Bay shared a video of Rodgers honking at someone in his personalized golf cart at a traffic stop. The reigning MVP was dressed like he had just come from practice. He was also bumping some music. Check it out: The MVP casually rolling through town in his golf cart.


Report: Kawhi Leonard declined Russell Westbrook's offer to team up in LA
Kawhi Leonard and Russell Westbrook now play for the two rival LA teams, but they apparently could have just as easily ended up on the same side. ESPN's Ramona Shelburne reported this week that Westbrook made a call to Leonard during the summer of 2019 about teaming up in Los Angeles. Westbrook had a desire to return home to Los Angeles that year after the recent births of his twin girls. Leonard, however, declined Westbrook's offer and instead called Westbrook's then-Oklahoma


Report: Celtics interested in bringing back Isaiah Thomas
It wasn't long ago that Isaiah Thomas was one of the biggest stars on the Boston sports scene. Much has changed since then, but the Celtics might be interested in turning back the clock. According to Marc Stein of the New York Times, the Celtics have interest in bringing Thomas back as a free agent. Celtics president Brad Stevens is said to be "one of Thomas' biggest fans." Thomas averaged 28.9 points per game for the Celtics in 2016-17, battling through a hip injury and


Nick Foles has specific preference for new team if traded by Bears
Nick Foles is currently the third-string quarterback for the Chicago Bears. That isn't a role that sits well with the former Super Bowl MVP, but that doesn't mean he wants to be traded to any old team. Foles said familiarity with the offense is paramount in any trade, and he does not want to go somewhere that he isn't familiar with the coaches, personnel, or scheme. "I don't want to go to someone that I don't know," Foles said, via Josh Alper of ProFoot


Clemson, Florida State also looking to join SEC?
Texas and Oklahoma have begun the process of leaving the Big 12 to join the SEC, and two more of the nation's top athletic programs may be feeling left out. Marc Ryan of WYRD radio in South Carolina says he has been told by a "reliable source" that both Clemson and Florida State have reached out to the SEC about potentially joining the conference. The SEC may not want the two schools, however. Per a reliable source, Clemson+Florida State have reached out to the SEC about join


Report: DeMar DeRozan, Knicks have mutual interest
The New York Knicks are expected to once again pursue just about every top free agent and star player available via trade this summer, and DeMar DeRozan is not surprisingly on their list. DeRozan and the Knicks have mutual interest in a potential deal, according to SNY's Ian Begley. DeRozan has been mentioned as a potential fit for the Knicks for quite some time now. New York is looking to improve its backcourt following a successful season in which they went 41-31 and secured the No. 4 s


Mike Vrabel pokes fun at Colts over Carson Wentz's recovery timeline
The Indianapolis Colts announced on Monday that Carson Wentz will undergo foot surgery, and Mike Vrabel thinks their timeline for how long the quarterback could be out is quite humorous. Colts head coach Frank Reich told reporters that Wentz will miss 5-12 weeks. That means Wentz could either be ready for the start of the regular season or miss as many as seven games. When Vrabel was asked about Wentz's injury, he immediately chuckled over the recovery timeline. #Titans HC Mike Vrabel la


Top QB prospect Quinn Ewers skipping senior year to enroll at Ohio State
Ohio State landed the top quarterback recruit in the Class of 2022 when Quinn Ewers flipped from Texas to sign with the Buckeyes last October. As it turns out, they will not have to wait any longer to get him on campus. Ewers announced in a lengthy statement on Monday that he will forego his senior season at Southlake Carroll High School in Texas to enroll at Ohio State. The 18-year-old said he made the decision because Texas is one of the states that does not allow high school athletes to prof


Caeleb Dressel shares what he plans to do after Olympics
Caeleb Dressel has been one of the stars of the Summer Olympics this year, and it's hard to imagine him doing anything other than swimming when he leaves Tokyo. Believe it or not, the 24-year-old does plan to take some time off. In an interview with Mike Tirico of NBC Sports on Sunday, Dressel said he and his wife, Meghan Haila Dressel, are finally planning to go on their honeymoon after the Olympics. The two got married in February, but Dressel has obviously been busy training for the pa


Carson Wentz to undergo foot surgery, miss up to 12 weeks
Carson Wentz suffered a foot injury in practice last week, and the Indianapolis Colts quarterback is now in danger of missing the start of the regular season. Colts head coach Frank Reich announced on Monday that Wentz will undergo surgery. There were reports over the weekend that Wentz was going to try to rest and rehab the injury, but ultimately he was advised that surgery is the best option. Reich said Wentz will miss somewhere between five and 12 weeks, which means there is a lot of uncerta


Peyton Manning has hilarious admission about infamous red mark on forehead
Peyton Manning was the source of many, many internet jokes during his Hall of Fame career because of a distinguished red mark he seemed to always have on his forehead anytime he removed his helmet. We now have a better idea of who was to blame for that. Manning was a guest on the "Pardon My Take" podcast this week, and hosts Big Cat and PFT asked all the hard-hitting questions per usual. When the topic of Manning's forehead arose, he joked that he has "such a big forehea


Megan Rapinoe says USWNT has not had fun at Tokyo Olympics
The United States Women's National Team will not be leaving the Tokyo Olympics with a gold medal, and Megan Rapinoe indicated after Monday's loss that a lack of enjoyment has been one of the biggest issues for the team. The U.S. lost 1-0 to Canada on Monday in the women's soccer semifinal. The loss marked the first time in history that the USWNT has lost two matches in a single Olympics, as they also fell 3-0 to Sweden in the group stage. After the match, Rapinoe called losing


Simone Biles to compete in balance beam final
Simone Biles has withdrawn from several events over the past week to address some mental struggles she has been having, but she is not done competing at the Tokyo Olympics. USA Gymnastics has announced that Biles will compete in the balance beam final on Tuesday along with Suni Lee. Biles withdrew from the team all-around last Tuesday. She later revealed that she was "shaking" and could not focus leading up to the event. She then sat out the individual all-around and withdrew from t


Kawhi Leonard will listen to other NBA teams in free agency
Kawhi Leonard has chosen to once again become a free agent, as he officially declined his $36 million player option on Sunday. He is widely expected to sign a new deal with the Los Angeles Clippers, but it sounds like other teams will be free to make their pitches to the two-time NBA Finals MVP. Chris Haynes of Yahoo Sports said on NBA TV Sunday night that Leonard will not make a decision quickly. He is expected to take his time and listen to offers from teams other than the Clippers. "It look


Video: High jumpers go nuts celebrating their shared gold medals
There were two gold medals awarded in the men's high jump at the Tokyo Olympics on Sunday, and the two athletes who shared them could not have been more thrilled. In fact, they voluntarily chose that outcome. Gianmarco Tamberi of Italy and Mutaz Essa Barshim of Qatar were both perfect in clearing bars in the high jump final until the height was moved to the Olympic record of 2.39 meters. Neither could clear that height, with each missing three times. They then met with a track official wh


IOC looking into Raven Saunders' gesture on podium
U.S. women's shot-putter Raven Saunders made a gesture with her arms during the photo op at her medal ceremony on Sunday night, and the International Olympic Committee is looking into whether she violated the Olympic rules related to demonstration. After she was presented with the silver medal in the women's shot put, Saunders stepped off the podium and formed an "X" with her arms above her head. She later told reporters the gesture represented "the intersection of


This video of Rowdy Gaines calling the 4×100 m relay is awesome
Rowdy Gaines is a fan-favorite during the Olympics thanks to his great color commentary in swimming. The NBC announcer is so passionate about swimming that his enthusiasm and energy comes through the TV and gets viewers hyped up. So what does Gaines look like when he is calling these swimming meets? Now we know. NBC shared this great video clip that shows Gaines' reaction as the US was competing in the men's 4×100 m medley relay. This was awesome. Introducing the latest #Toky


Look: Wrestler Mijain Lopez had moving gesture after beating rival
/center> Wrestler Mijain Lopez had a moving gesture for his rival Riza Kayaalp after winning a match between them at the 2020 Summer Olympics in Tokyo on Sunday. Lopez, a three-time gold medal winner in the Olympics for the highest weight division in Greco-Roman wrestling, was facing Kayaalp in the semifinals of the Greco-Roman wrestling 130kg weight class. They engaged in a tough match that Lopez won 2-0 to advance to the final. After the match, Lopez kissed Kayaalp on the top of his head. Lo


Look: Caeleb Dressel goes viral for crazy vertical jump
Caeleb Dressel has already impressed the world with his swimming performance at the 2020 Summer Olympics in Tokyo. But the 24-year-old is also impressing folks outside the swimming world thanks to his crazy vertical jump. A video of Dressel leaping by the swimming pool went viral. It shows just how high the swimmer can jump. CAELEB'S GOT MAD HOPS! A 43-inch vertical! #TokyoOlympics x @TeamUSA : NBC: NBC Sports App pic.twitter.com/WILS0OarAw — #TokyoOlympics (


MyKayla Skinner says she was going to leave Tokyo Olympics
MyKayla Skinner won a silver medal at the 2020 Summer Olympics on Tokyo on Sunday, and the medal came as a big shock — especially to her. Skinner was an extra member of the US women's gymnastics team and not expected to represent the US in any events due to Olympic limitations. Simone Biles finished first in the vault in qualifying, with fellow Americans Jade Carey in second and Skinner in fourth. Skinner was limited by the two competitors per country rule and not expecting to compe


Melvin Gordon has interesting take on Broncos' running back battle
For the second consecutive year, Melvin Gordon is facing a position battle in Denver Broncos camp. It sounds like the veteran running back learned something important from last year. Gordon admitted that battling fan favorite Phillip Lindsay for the backfield job in 2020 got in his head too much, and that it bothered him more than it should have that he wasn't the favorite for the role. "I got too caught up in that last year with Phil, and it's not about that," Gordon sa


Alex Rodriguez, Melanie Collins continue relationship on Ibiza vacation
Alex Rodriguez and Melanie Collins may be "just friends" for now, but a relationship between them sure seems to be budding. The NFL on CBS reporter was photographed hanging out with A-Rod for the former baseball player's birthday in St. Tropez during the week. Page Six reported that they were told the pair are just friends for now. But the way they have kept going suggests there may be something more to it. Several days after A-Rod's birthday, he and Collins were photogr


Steve Cohen sends questionable tweet about Kumar Rocker decision
New York Mets owner Steve Cohen responded to criticism after the team did not sign top draft pick Kumar Rocker, but may not have helped himself in doing so. The Mets failed to sign Rocker, the No. 10 overall pick in the MLB Draft, ahead of Sunday's 5 p.m. ET deadline to do so. The deal reportedly fell apart because the Mets had concerns about Rocker's pitching elbow. Rocker's agent has publicly disputed those concerns. Amid criticism of the Mets' handling of the situatio


Rory McIlroy admits he was wrong about golf in Olympics
Rory McIlroy has done a 180 regarding his stance on the Olympics. McIlroy did not play at the 2016 Summer Olympics in Rio. He did not seem very enthusiastic about competing at the Summer Games in Tokyo either. McIlroy said prior to the Olympics that he was not a very patriotic guy but was participating just to represent the sport of golf. Now, after competing and contending for a medal, McIlroy's stance has changed, and he feels the beauty of the Olympics. "I made some comments before ...


Bulls and Derrick Rose have mutual interest in reunion?
Derrick Rose is a Chicago native and won an MVP with the Bulls before multiple knee injuries derailed his career. It had appeared that his story with Chicago ended there, but there might be another chapter. Jake Fischer of Bleacher Report said on "The Alex Kennedy Podcast" that the Bulls want to bring in multiple point guards this offseason to take some playmaking pressure off Zach LaVine. Fischer added that one of the players they're looking at is Rose, who is set to become a


Chris Paul expected to return to Suns on new 3-year deal?
Chris Paul has opted out of his current contract and hefty player option for next season. But that does not necessarily mean he will be leaving the Phoenix Suns. The 36-year-old point guard declined his $44.2 million option. Bleacher Report's Jake Fischer reported on Saturday that CP3 is destined to return to Phoenix. His deal will likely be for three years and at least $90 million. It is difficult to envision Paul earning more per year than the $44.2 million he was set to make next seaso


Report: Kawhi Leonard expected to remain with Clippers after opting out
Kawhi Leonard has opted out of his contract with the Los Angeles Clippers as expected. However, it does not sound like he is seriously considering going anywhere else. Leonard informed the Clippers that he is declining his $36 million player option for 2021-22. According to ESPN's Adrian Wojnarowski, the expectation is still that Leonard will negotiate a new deal with the Clippers instead of looking elsewhere. Kawhi Leonard has declined his $36M player option for next season and becomes


Chris Paul to become free agent after turning down $44 million option
Chris Paul had a massive player option on his contract for the 2021-22 season, but the star point guard is opting for free agency. Paul has declined the $44.2 million player option on his contract as expected, according to Shams Charania of The Athletic. The 11-time All-Star will now become a free agent. Paul is 36, which is why some people thought he would be better off exercising the option. However, he had an excellent season with the Phoenix Suns and proved he is still capable of playing at


Kris Bryant becomes third ex-Cub in three days to homer in debut for new team
The Chicago Cubs traded three of their longest-tenured offensive players at the trade deadline, and all three of them are settling in very quickly to their new homes. The Cubs traded Anthony Rizzo to the New York Yankees on Thursday, and followed that up by shipping Javier Baez to the Mets on Friday. Rizzo made his Yankees debut on Friday and homered, and Baez did the same in his first game for the Mets on Saturday. On Sunday, it was Kris Bryant's turn. Bryant was traded to the San Franci


Report: Sixers shopping Tobias Harris in trade talks
The Philadelphia 76ers have been a part of trade rumors for much of the offseason, but most of that has been because of Ben Simmons. Now, there's a different player coming up in rumors. According to Mitch Lawrence of SiriusXM NBA Radio, the 76ers have also been shopping forward Tobias Harris. Harris was reportedly offered to the Houston Rockets, who were not interested. Besides trying to trade Ben Simmons, the Sixers are shopping Tobias Harris. The Rockets are one of the teams that turne


Scott Boras issues statement after Mets pass on signing Kumar Rocker
The New York Mets on Sunday failed to come to a contract agreement with first-round draft pick Kumar Rocker before the deadline, and agent Scott Boras insists the team made a mistake. Rocker, who starred at Vanderbilt, was taken with the 10th overall pick by the Mets earlier this month. Contract negotiations between the two sides fell apart following Rocker's physical exam, when doctors expressed concerns with Rocker's pitching elbow. Boras has said there is nothing medically wrong


Kris Bryant praises Cubs exec Jed Hoyer for handling of trades
The Chicago Cubs held a fire sale ahead of Friday's MLB trade deadline, dealing away several key players who helped the team win a World Series five years ago. While Jed Hoyer says he had the team's best interests in mind, Kris Bryant praised the Cubs executive for trying to make life better for those he traded away. Bryant spoke with the media on Sunday before his first game as a member of the San Francisco Giants. He praised Hoyer for having his and his former teammates' bes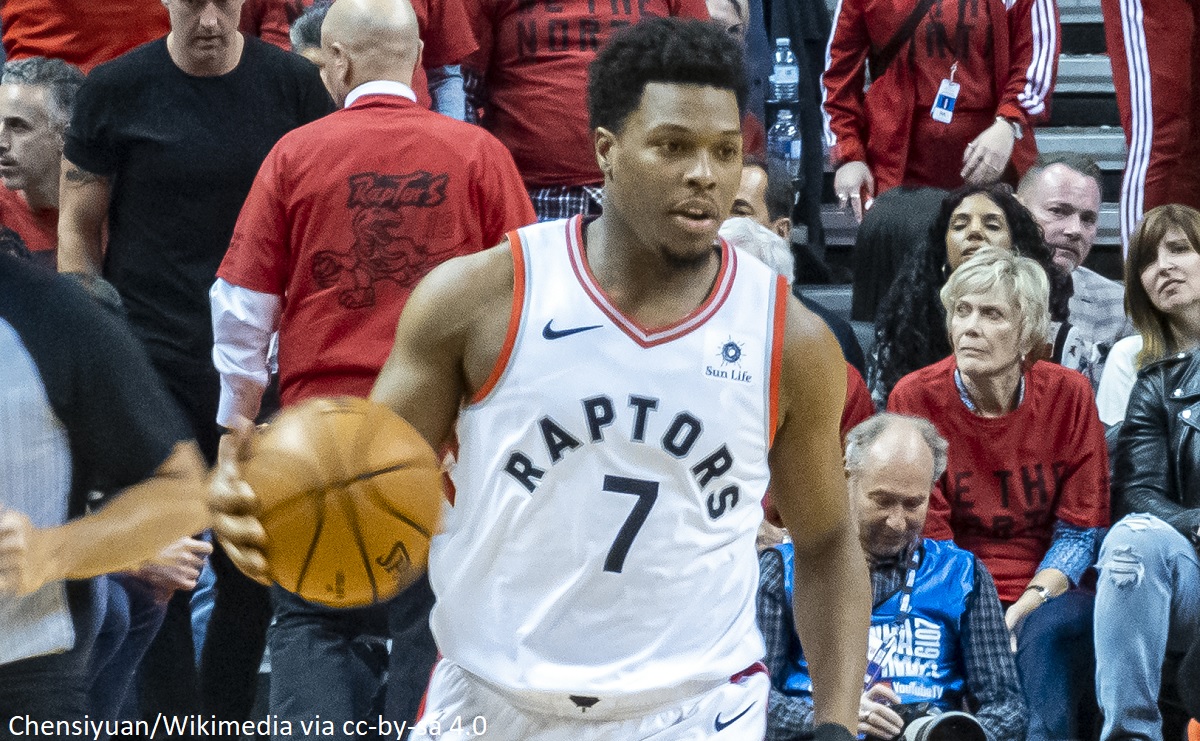 Heat reportedly trying to reunite Kyle Lowry, DeMar DeRozan in Miami
A storybook ending may be awaiting Kyle Lowry and DeMar DeRozan on the white sand beaches of Miami. South Florida outlet Five Reasons Sports reported on Sunday that the Heat are trying to figure out a way to reunite Lowry and DeRozan in Miami. The report does also say though that there are many complications to getting such a scenario done. Lowry and DeRozan, who were teammates for six seasons in Toronto, are both unrestricted free agents. But the Heat are now likely set to approach free agency


Andre Iguodala reportedly could return to Warriors
Veteran forward Andre Iguodala could return to familiar surroundings after the Miami Heat declined his option for 2021-22. Iguodala will become a free agent after Miami declined his $15 million option, as expected. According to Tim Reynolds of the Associated Press, that could pave the way for Iguodala to return to the Golden State Warriors. Andre Iguodala is expected to speak with the Golden State Warriors during free agency, per source. — Tim Reynolds (@ByTimReynolds) August 1, 2021 I


Report: Bucks interested in signing Lou Williams
As the Milwaukee Bucks look to defend their NBA title next year, an upgrade to their bench may be forthcoming. Michael Scotto of HoopsHype reported this weekend that the Bucks are expected to pursue former Sixth Man of the Year winner Lou Williams. The report also mentions the Indiana Pacers as another team with potential interest. Williams, 34, is said to be looking for a two or three-year deal. Milwaukee had a strong starting unit last season with Pat Connaughton and Bobby Portis offering som


Carson Wentz injury update: QB could be ready for Week 1
Carson Wentz left practice this week with a foot injury, but the Indianapolis Colts are hopeful that he will be healthy enough to play in Week 1. Wentz, who suffered the injury on Thursday, was evaluated by a foot specialist over the weekend. According to Ian Rapoport of NFL Media, the plan is for the veteran quarterback to rest and rehab rather than undergo a surgical procedure. If all goes well, he should be cleared for Week 1. However, Rapoport notes that Wentz may need surgery if the foot d


How serious is DeMar DeRozan about joining the Lakers?
The Los Angeles Lakers have not been ruled out as a potential DeMar DeRozan suitor, which is a surprise given their limited financial resources. There has been talk that DeRozan wants to play in L.A. so badly that he's willing to give the Lakers a significant discount, but how realistic is that? With the Lakers having acquired Russell Westbrook via trade, the only way they could sign DeRozan is if the 31-year-old is willing to accept the taxpayer mid-level exception of $5.9 million. Bleac


Knicks reportedly have interest in bringing back Carmelo Anthony
Carmelo Anthony is not the same electric scorer he used to be, but there still appears to be plenty of interest in the 37-year-old on the free agent market. The New York Knicks are among the teams that have interest in signing Anthony, ESPN's Jordan Schultz reports. Carmelo has a good relationship with Knicks president Leon Rose, who used to be an agent with CAA and represented the 10-time All-Star earlier in his career. Schultz was told by sources that the Knicks have "made it clea


Report: Mets not expected to sign top pick Kumar Rocker
The New York Mets saw tremendous potential in Kumar Rocker when they drafted him with the 10th overall pick earlier this month, but it their confident in the right-hander has quickly disappeared. ESPN's Jeff Passan reported on Sunday that the Mets are not expected to sign Rocker to a contract "barring a drastic change." The deadline for MLB teams to sign amateur draft picks is 5 p.m. Sunday evening. Rocker, who has dominated on the mound Vanderbilt, initially had a $6 million


Bulls reportedly the favorite to sign Lonzo Ball
The New Orleans Pelicans are not expected to bring back restricted free agent Lonzo Ball, and it appears a clear favorite to sign the point guard has emerged. Chris Haynes of Yahoo Sports said during NBA TV's free agency special on Saturday that the Chicago Bulls are expected to sign Ball. Haynes added that Ball will only land elsewhere if there is a major "hiccup," according to Mark Schanowski of ABC-7 in Chicago. That meshes with what Bleacher Report's Jake Fischer was


Bobby Portis willing to give Bucks a hometown discount?
Bobby Portis played a key role for the Milwaukee Bucks during their championship run this season, but many have assumed he will leave the team after he declined his player option for next season. The Bucks simply cannot pay much to retain him, but is it possible they won't have to? Portis has declined his $3.8 million player option for the 2021-22 season. The most the Bucks can offer him is the mid-level exception for $5.9 million, which means they are almost certainly going to be outbid


Bears DE Robert Quinn's sister Jasmine sets Olympic hurdling record
Chicago Bears defensive end Robert Quinn is a two-time Pro Bowler who has had a successful NFL career, but he may not even be the best athlete in his family. Many would argue that his sister, track and field star Jasmine Camacho-Quinn, holds that that honor. Camacho-Quinn set an Olympic record in the semifinals of the 100 meter hurdles in Tokyo on Sunday. She blew away the field with a time of 12.26 seconds, beating Sally Pearson's previous record of 12.35 seconds. Check out how far Camac


Sydney Pickrem had hilarious quote after winning bronze in team swimming relay
Canadian swimmer Sydney Pickrem offered a fairly unfiltered assessment of her thoughts while swimming her leg of the team 4X100m medley relay. Pickrem was part of the Canadian team that ultimately won bronze at the event on Sunday. Pickrem, who came into the event without any Olympic medals, swam the breaststroke in the relay. To say she was nervous was an understatement. Asked about handling the pressure during her breaststroke leg during a live interview on CBC in Canada, Pickrem offered an e


Caeleb Dressel joins elite company with fifth Olympic swimming gold
Caeleb Dressel made Olympic history on the final day of swimming events at the Summer Games in Tokyo. Dressel claimed his third individual gold medal and fifth overall in two separate events on Sunday. The American set a new Olympic record in the 50m freestyle final with a time of 21.07. That event earned him his third individual gold and fourth overall. That left the 4×100 medley relay, where Dressel swam the butterfly. According to USA Swimming, his 49.03 split was the fastest in America


Seby Zavala produces incredible MLB first with three-homer game
Seby Zavala went from being a little-known rookie catcher for the Chicago White Sox to the answer to an MLB trivia question in just one night. Zavala, a 27-year-old rookie for the White Sox, came into Saturday's game against the Cleveland Indians with a .125 career average and no home runs in 17 games. That changed pretty quickly against Cleveland, as Zavala out of nowhere hit three home runs — the first three of his career. It was a feat no one in the history of the American or Nat