Today is launch day for my new book A Lovely Life. To celebrate, I'm sharing my lovely life music playlist as a gift for you! As A Lovely Life book is released into the world, I am praying it will find its way to hands and homes where it can be an encouragement. Thank you [...]


My laundry closet and small space laundry cart + 4 simple daily housekeeping routines.


Simple & Lovely: Realistic Faux Peonies
Life can feel so overwhelming and complicated at times, so bringing loveliness to our home in SIMPLE ways speaks to me. I ordered these faux peonies and LOVE them! They look SO realistic (and I love that these won't wilt!).


A Lovely Life Book Tour + Giveaways!
Welcome, friends! Today's the day all of our blog book tours and lovely GIVEAWAY GIFT BUNDLES are LIVE! You'll find links to the six tour participants and giveaways in this post!


How to Live A More Lovely Life
When you read my new book, A Lovely Life, I hope you will feel inspired to walk in your home and leave the stress of the world on the other side of the door. You are worthy of a lovely life. A lovely life isn't about having it all, but rather about finding peace, joy [...]


Our New Beach House Tour with Before Photos I Haven't Shared!
I know we've lived here in our "beach house" (we call it our new beach house but we only have one house!) for quite a few months now, but I just realized I haven't given an "official beach house before photos" tour! You've seen bits and pieces of most of our house (see all new [...]


Coastal Grandmother Decorating with Amazon Finds (Mood Boards)
Recently I shared about "Coastal Grandmother Style". No beach house or grandchildren required, ha! Coastal Grandmother was recently coined on TikTok as a style that is all about romanticizing your life. It embraces the easy breezy coastal decorating vibes of homes portrayed in the Nancy Meyers' movies we all fell in love with for their sets. Today I'm sharing how to get the look with Amazon finds!


Mother's Day Gift Guide (2022)
With Mother's Day right around the corner so we wanted to share some sweet and thoughtful gift ideas for the special moms in your life. Enjoy our Mother's Day Gift Guide!


Coastal Grandmother Style + A Lovely Life Book
Are you a Coastal Grandmother? It looks like the youngin's of the world are discovering what I've always known. Creating the feeling of a home by the sea is a lovely life to aspire to. Even if an actual coastal home is only in your dreams, I've always encouraged my readers to create the life and feeling of whatever atmosphere inspires you. I've written many books about creating a home you love, whatever you call your style!


A Lovely Life Planner: Free Printable Guide to Savoring Every Season
I'm excited to share with you today a FREE downloadable seasonal planner I created as a companion to my new book, A Lovely Life! I don't know how busy you feel, but our days sure seem to fly by! Without being intentional with our time, it's easy to feel like we won't have "enough" time [...]


Spring Decor That Tells A Story
Do you love to decorate with any family treasures or memorable pieces as a part of your seasonal decor? Here are a few of my thoughts on seasonal specific decorating!


The Secret to Plants You Can't Kill
Plants are an essential element in every room (if you ask me). They always make a house feel more "homey" and alive! Here's the secret to plants you can't kill...


A Lovely Life Book: What Is It About?
Over the past few years, I've written eleven books on creating a home. Home is near and dear to my heart! It has been a joy for me to have the opportunity to design books, products and resources that will inspire an atmosphere where you can nurture yourself and those you love. Whether you are [...]


Six Months in the "New Beach House"
Story time! If you're new here or just catching up, six months ago we bought our beach house, and it's now a place we get to call home every day! Read more about the story behind it and why it means so much to us!


Simple Strawberry Crisp Recipe with Easter Pie Crust Cutouts
Hi friends, it's Courtney (Melissa's daughter) here! Something I really enjoy doing throughout the year is making different seasonal pies. It's such a nice way to start out a new season, celebrate a special occasion, or just because! The very first pie I ever made was this one for Thanksgiving with fall leaves. The whole [...]


Love the Home You Have + A Lovely Life
Today on the the seventh anniversary of the release of my very first book, Love the Home You Have, I'm so excited to be preparing for the release of my eleventh and NEWEST book, A Lovely Life, which will be out in May. My how time flies! As a blogger at The Inspired Room since [...]


Pre-Order Bonus Gifts for My New Book, A Lovely Life
I can't wait for you to get your copy of my newest book, A Lovely Life! The release date is coming up fast, but there are benefits and gifts for pre-ordering! Of course, when you pre-order A Lovely Life, you will be among the first to get your copy and you won't be charged until [...]


A Pretty Basket of Spring Branches to Decorate the Entry and My Front Door!
I had a few moments to myself the other day before we were having family in town. I had taken my winter decor down from our front door awhile ago and hadn't put anything back up. Proud to say that at least there weren't any crunchy evergreen branches or Christmas wreaths to be found (pats self on back). Come see the new spring door decor!


Before and After: New Entryway Lantern Light Fixture
One by one, changing out light fixtures is a fairly simple way to upgrade the look or to add your own personality and set a fresh style for a home! Come see the lantern light fixture we installed in our entry!


A Spring Home Decor Refresh + What I Ordered from Target (Spring 2022)
PRAISE BE! The first official day of Spring is on Sunday, so I got inspired to add a few new things to my home from Target (this isn't sponsored, by the way, I just needed a moment of affordable online shopping therapy ha!). I thought I would share what I found with you in case [...]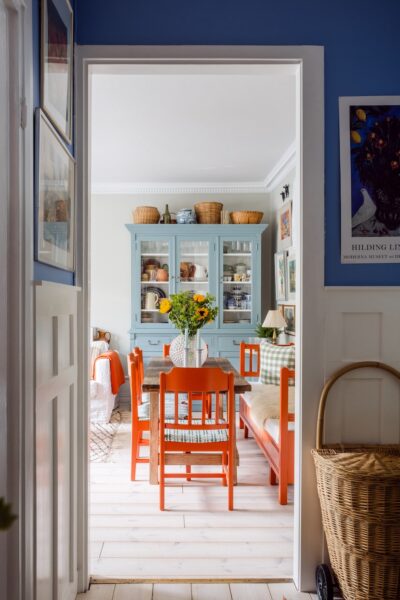 How to Decorate a Room with Color (While Keeping the Mood Simple and Calm)
Do you like decorating with color? Or do you prefer neutrals? I appreciate so many types of rooms. I sense the beauty in rooms with primarily neutrals and a serene organic look…and I also feel so happy when I see rooms with fun little pops of color…as well as rooms bursting with color all over! [...]


Realistic Faux/Artificial Tulips – Simple Spring Decorating
I am a big fan of fresh spring flowers but I also love having realistic faux options for those times when you need some cheery flowers and you don't have the real deal. I love these faux tulips I got recently! They look and even feel so realistic.


A Lovely Life: Savoring Simple Joys in Every Season
Regardless of what season we're in, my brand new hardcover book A Lovely Life is about discovering the beauty always in front of us. It's about slowing down to savor the ordinary moments, finding more joy in our home*making rituals and practicing soul*tending rhythms in every season.


Make Your Entry Lovely: Spring Doormats 2022
All month as I've walked into my home, I pause to take a quick glance at my new porch. It is fun to dream of warmer days ahead. It's been a little chilly lately, but the sun has been shining so I'm feeling like spring isn't too far away. This will be our first spring [...]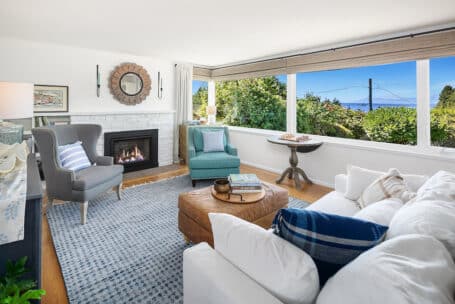 Preparing Your Home to Sell: 7 Essential Tips
Hi friends! As many of you know, we recently went through the process of selling our home. Since selling a home is a big decision and a timely topic for so many this year, I invited our family friend and realtor Kelly Aufhammer (she helped us sell our Seattle home!) to share a few essential [...]


Dining Room Mood Boards: Simple Swaps
I always love how just a small change can transform the whole look and feel of a room! We made 3 mood boards (in a similar style of our dining room) below. In each mood board, we swapped out only the dining tables and rugs! Which look is your favorite? LOOK ONE: Sources: Round Rattan [...]


Courtney's Wedding Mood Board + Planning Details + Q&A
Hi friends! It's Courtney (Melissa's daughter) here today to share a fun behind the scenes peek of my wedding planning with you, as well as our wedding mood board! If you are new here or just catching up, my fiance and I got engaged a few months ago at the end of October (you can [...]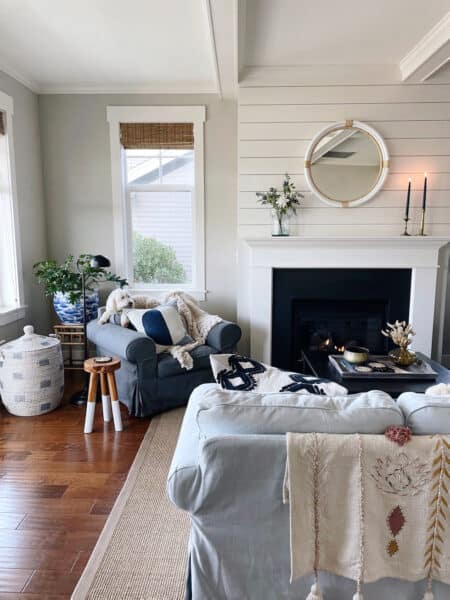 18 Rugs We Have and Love (+ Tips + Where to Buy)
Rug shopping can be stressful! There are so many places to shop as well as so many options, colors and styles to choose from. And you really don't want to make a mistake with rugs as returning them can be a bit of a challenge. I struggle with decisions, so if I have too many [...]


Make Your Bed with Patterned Sheets + Shams
I am a big fan of making my bed every day. You've heard me talk about this daily habit a lot in all of my books and many blog posts over the years. It's a habit that makes a big difference in our daily life! So on that note, I'm really enjoying my newly refreshed [...]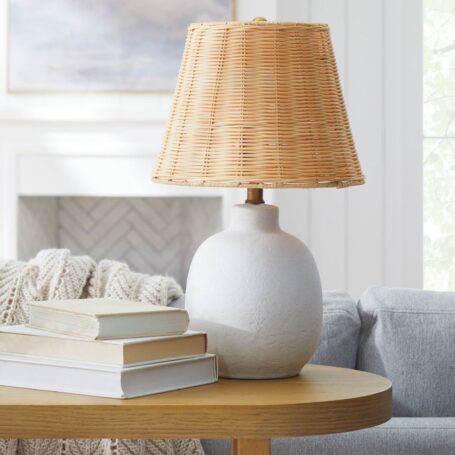 Mini Table Lamps and Accent Lighting Sources
Accent lighting is an essential element in the function and cozy mood of a home. In this post we're sharing some stylish accent/mini lamps that are easy to tuck in anywhere you need a little extra light or warmth!


Lantern Ceiling Lights (New Light for My Bedroom)
Now that the new year has arrived, I'm on a roll making design decisions so we can make our home our own! I've always loved the look of lanterns (remember the beautiful copper and iron lantern we put in our dining room at our craftsman lake house?) so it's no surprise to me that a [...]


How to Get Unstuck with Decorating
Do you ever feel stumped with the direction you want to go with a room, so you just stay stuck? I sure do! So if like me you want to make progress on a room this month, consider the suggestions in this post as inspiration and permission to make a decision!


Beautiful Kitchen Designs + Inspiration
Looking for kitchen inspiration? Enjoy these beautiful designs I'm inspired by lately, plus find lots of inspiration posts linked below! If you missed my last post I shared the 4 important steps I take when designing a room. One of the first steps was gathering inspiration! Here are several kitchens I've saved to my inspiration [...]


4 Important First Steps to Take When Designing A Room
Do you ever feel overwhelmed with where to start when designing a room? If you want to give a room a refresh, here are the first four steps I usually take to get started, to organize my thoughts, needs and style preferences so I can move forward with a plan!


Refresh Your Bedroom for Winter – A Lovely January
The change of seasons can be a wonderful reason to refresh your home. With the holidays behind us and winter months still ahead, we can use this season to create a sanctuary where we feel snug, warm and cozy all winter. We recently moved into a new home so we haven't yet set up our [...]


Introducing: The Inspired Room Style
I am a big fan of creating your own authentic style. Rather than just going with what is trendy or popular or what someone else says is in style, I have always stayed true to what I love. While I no longer do personal design consultations like I did before I started blogging, I have [...]


A Lovely Life: Making Pour Over Coffee with a Copper Kettle
I try to make everyday experiences a little more lovely when I can. Since I make coffee every day, this pretty kettle brings more joy to my morning ritual. I've shared a few different ways I make coffee, but lately I've been using a pour over method to make just a single cup! Now that [...]


Our White Christmas + Winter Wonderland
Our Christmas get-together with family didn't go as planned, but we got an unexpected gift. A white Christmas! Snow in the Pacific Northwest is rare, but it's even more unusual on Christmas day so it was a beautiful sight to behold! And unlike most NW snow, this time it didn't melt right away. In fact, [...]


Hanging White Stars / Plaid Pillows / Similar White Adirondack Chairs / Similar White Lit Birch Trees Merry week after Christmas! I LOVE this time of year, it might actually be my favorite week all year. The planning, hustle and bustle of pre-Christmas and a busy work season is over and we get to just [...]


Christmas House Tour Video 2021
Merry Christmas, friends. Welcome to a little video of our Christmas house (we will have a post of photos coming up soon too). We have only lived here for two months but we are blessed to be "home for Christmas." Although this will be the first Christmas in over thirty that we won't have a [...]


Bedroom Design Mood Boards (4 Winter Looks)
Today I'm going to share four possible mood boards for a little bedroom project I'm going to work on for the winter months, featuring some inspiration pieces I found from Walmart. It's so nice to find items that are affordable, accessible AND so stylish! Thank you Walmart for sponsoring this post. As fellow homebodies, it [...]


How to Uplift Your Spirits At Home (+ A New Project!)
There's a "down and dreary" period of time between the holidays and spring that makes it a bit harder for many people to find joy at home. Especially if you don't live in a warm winter sunshine state! But even if you DO have sun all winter, life can have its ups and downs. So [...]


Pretty Gingerbread House Inspiration (and Family Activity!)
Gingerbread House by A Homemade Living – click here for recipe and tips A few years ago we had a gingerbread house decorating competition with our whole family. It was a really fun and memorable Christmas activity. The evening was all put together, organized and planned by my daughter Courtney and her now fiance! They [...]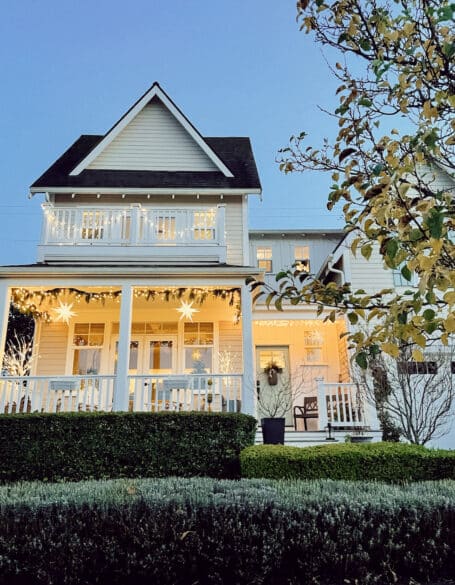 Our Covered Porch Decorated for Christmas (Simple + Magical)
Hello, friends! We may not be quite to Clark Griswold's level of festivity, but we're on our way. For the first Christmas in our home, I think it's a good start hahah! Simple but magical. We still have a lot of projects and settling in to do inside and out at our new home, but [...]


Simple Festivity: Whimsical Cedar Garland on the Staircase
We officially closed on the sale of our previous home and moved here a little over seven weeks ago. I'm so glad we are here and got somewhat settled in time for Christmas! There are still lots of things we plan to do around the house, and definitely still boxes to unpack and things to [...]


Inspired: Christmas Decorating in the Kitchen
Recently on the blog I mentioned that we are going to be remodeling our kitchen! While I haven't shared all of the details yet (I'll for sure talk all about it in the new year!) I'm still in the phase of gathering inspiration. It's an important step! While it's so helpful to think of how [...]


Thanksgiving at Kylee's House (+ Favorite Sales)
We had such a special Thanksgiving with our family! Kylee hosted us all at her new home in Portland. Everything was just lovely! It was good to all be together again. Empty nester life is wonderful but I sure miss everyone being together every day! I hope you enjoy these scenes from her beautiful home. [...]


How to Simplify Hosting (Simple Cider and Donuts Gathering)
Thank you Walmart for partnering with me to bring you this post! I can't believe Thanksgiving is just a few days away! Are you hosting any holiday gatherings this season? Oh the pressure we can place on ourselves when it comes to hosting others in our home, especially over the holidays! With social media accounts [...]


My Cozy and Festive Guest Room + Gifts (from Walmart!)
What a wild couple of years we've all had, but I think this holiday season is an opportunity to bring back some of our favorite traditions and rediscover some of the joy in hosting, gift giving and gathering those we love. Walmart is truly a one-stop place to enjoy decking the halls so you can [...]


Gift Ideas for Babies & Kids 2021
We have so much fun each year looking all over the internet for great gift ideas! We love sharing what we find here so you can stay home in your jammies, knowing you'll find something wonderful for everyone on your list. Today we wanted to share some adorable gift ideas for babies and kids! So [...]


Kylee's House Updates (Sharing Some Hand-Me-Downs!)
Kylee here with some house updates to share! As you know, my parents recently downsized and moved into their new home with my grandparents, which meant paring down for both of them on some of their furniture and decor items. I was the lucky recipient of some of their beautiful pieces (such perfect timing with [...]


Introducing My New Book: A Lovely Life
Throughout 2019 and 2020, during some rather challenging seasons, I wrote and photographed a new book, A Lovely Life. It has occurred to me that every time I write a book it's during a difficult season or following one. I suppose that makes sense, life isn't always as perfect as we might wish it was. [...]


Introducing My New Book: A Lovely Life
Throughout 2019 and 2020, during some rather challenging seasons, I wrote and photographed a new book, A Lovely Life. It has occurred to me that every time I write a book it's during a difficult season or following one. I suppose that makes sense, life isn't always as perfect as we might wish it was. [...]


Pretty Pies, Baking Tools and Cookbooks (+ Video)
With Thanksgiving coming so soon, we are thinking about our Thanksgiving menu! One thing we know for sure…this gluten-free vegan apple pie will be a part of the festivities. Courtney made us this pie for the very first time a couple years ago and it was SO good that from then on, it became a [...]


Looking for gifts for the guys in your life? We gathered up some great ideas! Turn on your JavaScript to view content Sources below: Pendleton Roll-Up Chess and Checkers Set – perfect for traveling, picnics, or outdoor gatherings! BBQ Apron with Grilling Utensil Set Always Pan – We have this pan and we LOVE it. [...]


Hello, Kylee here! After sharing my entryway post (about how to decorate when your front door opens into your living room) , many of you reached out to me saying you also have an extra small entry space! So, I did a little digging to see what kinds of solutions I could find for when [...]


Goodbye, House! You've Been Good to Us
Well, two weeks ago we officially said goodbye to our Seattle home where we lived for the past six years. This house was good to us. It was a gathering place that brought our family together. It was a shelter through difficult and good times, offering unexpected blessings along the way, even as we turned the page to the next chapter of our lives.


How to Find Your Style + Favorite Design Books (Video)
While I love finding style inspiration in the online community, one of my FAVORITE ways to expand and grow more confident in my own style is to study the images of beautiful homes in design books. Holding a book in hand, turning the pages at a leisurely pace is the best! It's a return to the past, something I learned to enjoy back in the days before we had so much (too much?) inspiration at our fingertips.


How can it be November already? Before we know it we'll be eating turkey, mashed potatoes and even trimming the tree. We are so looking forward to the holidays in our new home. I actually don't know yet if we will host any holidays this year (guess we need to figure that out soon!), but [...]


Big News: Courtney's Engaged! Telling the Story
Hi friends! It's Courtney (Melissa's daughter) here today to share some big news! I know many of you have been following along with The Inspired Room for years and have been so supportive of our family personally. Some of you have started to follow along with me on my own Instagram, too! I'm so excited [...]


A Guide to Savoring the Holidays
Can you believe the holidays are almost here? If you want to feel not only prepared but more excited to savor this season, I have something so fun to share with you today! ​Introducing The Holidays at Home Bundle! I teamed up with nine other friends to put together a bundle of holiday preparation must-haves! [...]


Do you ever find it hard to shop for anyone on your list? Every year on The Inspired Room we scour the interwebs to find the most adorable and wonderful gifts for everyone. We love to share them with you! Some are items we already bought for ourselves or people we love! With shipping delays [...]


Fall: The Most Wonderful Season to Be at Home
We've lived in quite a few houses over the years (this is our eighth home since we've been married!)! Some homes you move into and you know it will be a long journey to make it yours. That's exciting in its own way! We've had so many homes like that and it's always been so [...]


Our New Dining Room + Simple Cozy Fall Tablescape
The chill in the air and the turning of the leaves signals it's time for one of my favorite rituals of fall nesting. EATING SOUP! We eat a lot of soup from fall through winter. Do you? We are still getting all settled in our dining room but it's feeling quite cozy already. I've been [...]