Entryways are such hardworking spaces. Perhaps you haven't really thought of your entry as a room that could (or should!) be cozier. But if this is the space that will welcome your family and friends to your home, let's give it a cozy fall mood!


10 Tufted Ottomans (Instead of Coffee Tables!)
Tufted ottomans can work really well in place of a coffee table! I love ours and have used it for years, so today I'm sharing 10 tufted ottomans and answering some FAQ I get about tufted ottomans!


Favorite Home Decor Labor Day Weekend Sales 2022
Source for above – Serena & Lily Hi friends! If you're shopping for your home over Labor Day weekend, here are some of my favorite home decor sales. Have a wonderful weekend! Serena & Lily 20% off everything with code – Click HERE to shop the sale Sources: Brass Chandelier with Shades // Nautical Rope Mirror // Guest Hand Towels (lighthouse [...]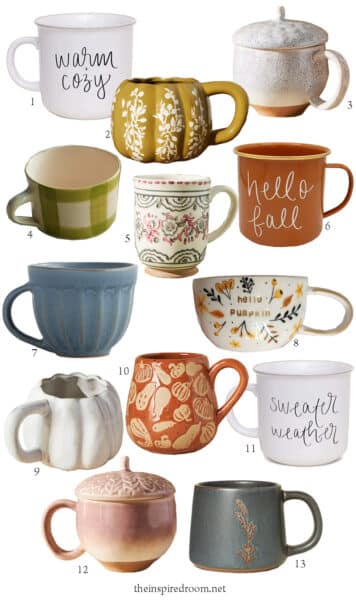 Fall Mugs to Make Your Day Cozier
I have a thing for cute mugs. Do you, too? I found several adorable mugs online that are making me excited for all the fall experiences!


How to Savor Morning Rituals to Have a Better Day
Establishing your own morning rituals will help you have a better day! Here are some of my own morning rituals and why they are so important for my sense of well-being (+ my favorite new Homebody coffee mug!).


Savoring the Last Sunsets of Summer from Our Porch!
When one season is coming to a close, I am very mindful to enjoy every last bit of it. Especially the things that won't be quite the same in the months ahead. Here's how we're savoring these last few weeks of summer at our home!


Affordable White Washable Slipcovers: Ikea Ektorp Chairs
Are you looking for affordable white washable slipcovers? This has been one of my most frequently asked questions and something I've been looking for as well. Today I'll share my new slipcovers for my Ikea Ektorp chairs, and hope my source might work for you, too. White slipcovers might not scream fall nesting to you, [...]


Reversible Blankets for Sofas, Chairs, Beds and More!
One of my favorite ways to transition a home for fall is by adding layers. I was on the hunt for stylish yet affordable lightweight reversible blankets that could be added to our sofas, chairs, beds etc. for fall layering. I found just what I was looking for! These adorable Mudcloth style blankets are absolutely perfect for tossing over furniture as an added layer of texture, pattern, and color.


Fall Decorating: 7 Simple Tips to Slowly Transition Your Home
Scroll down for mood board sources! In my last post "A Slower Rhythm Through the Seasons", I kicked off our annual fall nesting series with my thoughts on slowing down to ease into each new season. A slow evolution from season to season is good for your home, and especially beneficial for your well-being, too. [...]


A Slower Rhythm Through the Seasons
Years ago I discovered that practicing a slower rhythm through the seasons made life (and home) feel less frantic and frenzied! Long time readers of The Inspired Room know I LOVE fall (and Fall Nesting has been a BIG DEAL here on the blog for the past fifteen years!) but you also know I've always [...]


Our Railing Planter Boxes – Curb Appeal
There are so many ways you can create or continue to enhance existing curb appeal. Window and railing planter boxes are one of my favorite additions to the character of a home. Best of all, window and railing planter boxes can be used throughout the seasons! Funny thing is, though, I don't think I've never [...]


Voted Readers' Favorite Top Decorating Blog Better Homes and Gardens, Decorating Ideas, How to Organize, How to Decorate, Interior Design Blog


Five Ways to Create a Home You'll Love Living In
From the design elements to the feeling of a home to the memories you make in it, each decision as you create a home you'll love can be so much more impactful and meaningful when you are intentional. As the creator of The Inspired Room and through the many books I've written on the home, [...]


Home Decor Amazon Storefront + The Inspired Room
It has always been our goal to help our readers create a home they love. And we LOVE to help you save time and/or money whenever possible! Today we are sharing a FREE service where we can better help you to do just that. Introducing our home decor Amazon storefront, featuring our own personally curated [...]


An Intentional Home (The Secret to Success!)
Life is often messy, busy and unpredictable. Creating an intentional home will help us make the most of even those less-than-perfect seasons. Do you ever just frazzled or overwhelmed just thinking about all of the things you have to do? Perhaps the house is a mess, or every day feels chaotic and you just can't [...]


Make a House Feel Like Home: Move-In Day vs. Now
It's always fun to see how rooms evolve and change over time. Little by little, you can make a house feel like home! Kylee (my daughter) is here today to share the updates in her kitchen and dining area one year later, from move in day to now. Kylee here! The above photo is our [...]


S'mores Night: Simple Summer Gathering
Last week we had a "staycation" week with our family (celebrating Father's day and my son's birthday!). One evening we used our firepit for a fun and simple event in our own backyard. I love simple gatherings that are fun, meaningful and memorable, in fact, I wrote a book called Simple Gatherings for that reason! [...]


Amazon Best Selling Home Decor + A Mood Board
Love the convenience of shopping at Amazon? Have you ever shopped at Amazon for decor? Today I'm sharing my view on decorating, where to shop, and some of The Inspired Room followers' Amazon best selling home decor.


Summer Decorating (A New Collection with Rifle Paper Co x Loloi Rugs!)
In celebration of the first day of summer and our first summer in our new home (yay, I love summer in the NW!) we gave our little living room a refresh. We added these adorable new pillows and a beautiful new rug from the new Rifle Paper Co x Loloi collection. I am IN LOVE! [...]


My Favorite Cleaning Tools and Gadgets That Make Life Easier!
Kylee here today to share some of my favorite things: cleaning gadgets that make my life easier and chores more bearable! I'm a big believer in less is more and don't like to have "things" just for the sake of having things. So, I'm serious when I say these gadgets are actually useful and don't [...]


Yardzen Review: Designing Kylee's Backyard Virtually
Kylee here! When we bought our new home, it was after months of searching in a grueling market. While we went into it hoping to get everything we ever wanted, we experienced many rejections on the homes we offered on and quickly realized we would have to prioritize and sacrifice some things. An established yard [...]


Ballard Designs Furniture Sale
I have been thinking lately about the type of furnishings I will eventually want for our home. Inspiration hunting led me to Ballard Designs (and a great furniture sale they are having right now!). I'm so excited to share some of the beautiful pieces I found!


Faux Hydrangeas + Summer Door Basket
I am often asked about the hydrangeas in the bouquets around our home. Many readers say they hope they are faux hydrangeas so they can easily get some, too! While usually our hydrangea blooms are in fact real and from our own yard, today I can say YES, the flowers in this post are artificial! Get these beautiful blooms for vases or door arrangements and find tips for making them feel even more realistic in today's post!


Summer Mood Boards + Memorial Day Sales 2022
Today we created several summer mood boards to inspire your home, and we're sharing some Memorial Day sales on pieces we love, too. Whether you are redesigning the look of your home or just making some simple adjustments in style or seasons, mood boards can be so beneficial. You'll find the sale sources below each [...]


Creating a Garden-Inspired Mood for your Home
They say life is better in a garden. I would have to agree! And I can't imagine anything prettier for a spring and summer home than a garden-inspired mood. Have you seen the new Pottery Barn + Julia Berolzheimer Collection? Everything is so lovely! There are so many beautiful and versatile pieces that would be [...]


Today is launch day for my new book A Lovely Life. To celebrate, I'm sharing my lovely life music playlist as a gift for you! As A Lovely Life book is released into the world, I am praying it will find its way to hands and homes where it can be an encouragement. Thank you [...]


My laundry closet and small space laundry cart + 4 simple daily housekeeping routines.


Simple & Lovely: Realistic Faux Peonies
Life can feel so overwhelming and complicated at times, so bringing loveliness to our home in SIMPLE ways speaks to me. I ordered these faux peonies and LOVE them! They look SO realistic (and I love that these won't wilt!).


A Lovely Life Book Tour + Giveaways!
Welcome, friends! Today's the day all of our blog book tours and lovely GIVEAWAY GIFT BUNDLES are LIVE! You'll find links to the six tour participants and giveaways in this post!


How to Live A More Lovely Life
When you read my new book, A Lovely Life, I hope you will feel inspired to walk in your home and leave the stress of the world on the other side of the door. You are worthy of a lovely life. A lovely life isn't about having it all, but rather about finding peace, joy [...]


Our New Beach House Tour with Before Photos I Haven't Shared!
I know we've lived here in our "beach house" (we call it our new beach house but we only have one house!) for quite a few months now, but I just realized I haven't given an "official beach house before photos" tour! You've seen bits and pieces of most of our house (see all new [...]


Coastal Grandmother Decorating with Amazon Finds (Mood Boards)
Recently I shared about "Coastal Grandmother Style". No beach house or grandchildren required, ha! Coastal Grandmother was recently coined on TikTok as a style that is all about romanticizing your life. It embraces the easy breezy coastal decorating vibes of homes portrayed in the Nancy Meyers' movies we all fell in love with for their sets. Today I'm sharing how to get the look with Amazon finds!


Mother's Day Gift Guide (2022)
With Mother's Day right around the corner so we wanted to share some sweet and thoughtful gift ideas for the special moms in your life. Enjoy our Mother's Day Gift Guide!


Coastal Grandmother Style + A Lovely Life Book
Are you a Coastal Grandmother? It looks like the youngin's of the world are discovering what I've always known. Creating the feeling of a home by the sea is a lovely life to aspire to. Even if an actual coastal home is only in your dreams, I've always encouraged my readers to create the life and feeling of whatever atmosphere inspires you. I've written many books about creating a home you love, whatever you call your style!


A Lovely Life Planner: Free Printable Guide to Savoring Every Season
I'm excited to share with you today a FREE downloadable seasonal planner I created as a companion to my new book, A Lovely Life! I don't know how busy you feel, but our days sure seem to fly by! Without being intentional with our time, it's easy to feel like we won't have "enough" time [...]


Spring Decor That Tells A Story
Do you love to decorate with any family treasures or memorable pieces as a part of your seasonal decor? Here are a few of my thoughts on seasonal specific decorating!


The Secret to Plants You Can't Kill
Plants are an essential element in every room (if you ask me). They always make a house feel more "homey" and alive! Here's the secret to plants you can't kill...


A Lovely Life Book: What Is It About?
Over the past few years, I've written eleven books on creating a home. Home is near and dear to my heart! It has been a joy for me to have the opportunity to design books, products and resources that will inspire an atmosphere where you can nurture yourself and those you love. Whether you are [...]


Six Months in the "New Beach House"
Story time! If you're new here or just catching up, six months ago we bought our beach house, and it's now a place we get to call home every day! Read more about the story behind it and why it means so much to us!


Simple Strawberry Crisp Recipe with Easter Pie Crust Cutouts
Hi friends, it's Courtney (Melissa's daughter) here! Something I really enjoy doing throughout the year is making different seasonal pies. It's such a nice way to start out a new season, celebrate a special occasion, or just because! The very first pie I ever made was this one for Thanksgiving with fall leaves. The whole [...]


Love the Home You Have + A Lovely Life
Today on the the seventh anniversary of the release of my very first book, Love the Home You Have, I'm so excited to be preparing for the release of my eleventh and NEWEST book, A Lovely Life, which will be out in May. My how time flies! As a blogger at The Inspired Room since [...]


Pre-Order Bonus Gifts for My New Book, A Lovely Life
I can't wait for you to get your copy of my newest book, A Lovely Life! The release date is coming up fast, but there are benefits and gifts for pre-ordering! Of course, when you pre-order A Lovely Life, you will be among the first to get your copy and you won't be charged until [...]


A Pretty Basket of Spring Branches to Decorate the Entry and My Front Door!
I had a few moments to myself the other day before we were having family in town. I had taken my winter decor down from our front door awhile ago and hadn't put anything back up. Proud to say that at least there weren't any crunchy evergreen branches or Christmas wreaths to be found (pats self on back). Come see the new spring door decor!


Before and After: New Entryway Lantern Light Fixture
One by one, changing out light fixtures is a fairly simple way to upgrade the look or to add your own personality and set a fresh style for a home! Come see the lantern light fixture we installed in our entry!


A Spring Home Decor Refresh + What I Ordered from Target (Spring 2022)
PRAISE BE! The first official day of Spring is on Sunday, so I got inspired to add a few new things to my home from Target (this isn't sponsored, by the way, I just needed a moment of affordable online shopping therapy ha!). I thought I would share what I found with you in case [...]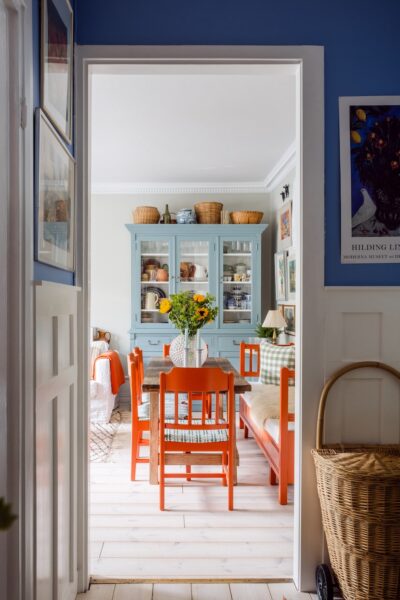 How to Decorate a Room with Color (While Keeping the Mood Simple and Calm)
Do you like decorating with color? Or do you prefer neutrals? I appreciate so many types of rooms. I sense the beauty in rooms with primarily neutrals and a serene organic look…and I also feel so happy when I see rooms with fun little pops of color…as well as rooms bursting with color all over! [...]


Realistic Faux/Artificial Tulips – Simple Spring Decorating
I am a big fan of fresh spring flowers but I also love having realistic faux options for those times when you need some cheery flowers and you don't have the real deal. I love these faux tulips I got recently! They look and even feel so realistic.


A Lovely Life: Savoring Simple Joys in Every Season
Regardless of what season we're in, my brand new hardcover book A Lovely Life is about discovering the beauty always in front of us. It's about slowing down to savor the ordinary moments, finding more joy in our home*making rituals and practicing soul*tending rhythms in every season.


Make Your Entry Lovely: Spring Doormats 2022
All month as I've walked into my home, I pause to take a quick glance at my new porch. It is fun to dream of warmer days ahead. It's been a little chilly lately, but the sun has been shining so I'm feeling like spring isn't too far away. This will be our first spring [...]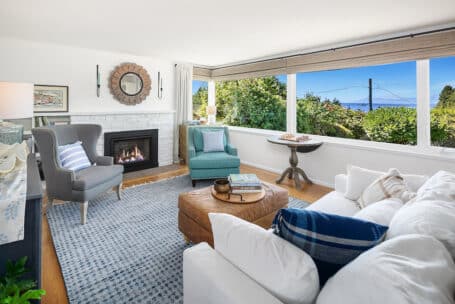 Preparing Your Home to Sell: 7 Essential Tips
Hi friends! As many of you know, we recently went through the process of selling our home. Since selling a home is a big decision and a timely topic for so many this year, I invited our family friend and realtor Kelly Aufhammer (she helped us sell our Seattle home!) to share a few essential [...]


Dining Room Mood Boards: Simple Swaps
I always love how just a small change can transform the whole look and feel of a room! We made 3 mood boards (in a similar style of our dining room) below. In each mood board, we swapped out only the dining tables and rugs! Which look is your favorite? LOOK ONE: Sources: Round Rattan [...]


Courtney's Wedding Mood Board + Planning Details + Q&A
Hi friends! It's Courtney (Melissa's daughter) here today to share a fun behind the scenes peek of my wedding planning with you, as well as our wedding mood board! If you are new here or just catching up, my fiance and I got engaged a few months ago at the end of October (you can [...]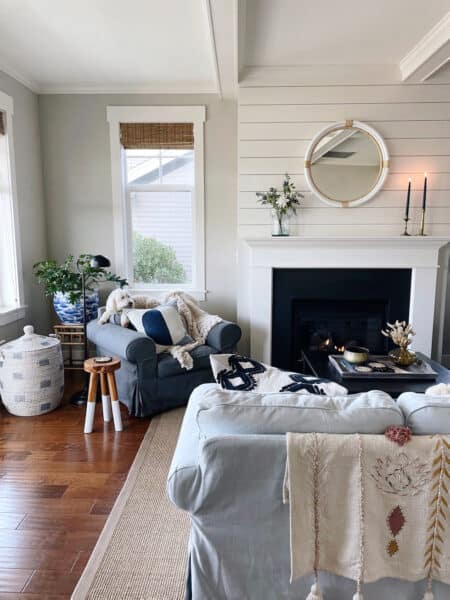 18 Rugs We Have and Love (+ Tips + Where to Buy)
Rug shopping can be stressful! There are so many places to shop as well as so many options, colors and styles to choose from. And you really don't want to make a mistake with rugs as returning them can be a bit of a challenge. I struggle with decisions, so if I have too many [...]


Make Your Bed with Patterned Sheets + Shams
I am a big fan of making my bed every day. You've heard me talk about this daily habit a lot in all of my books and many blog posts over the years. It's a habit that makes a big difference in our daily life! So on that note, I'm really enjoying my newly refreshed [...]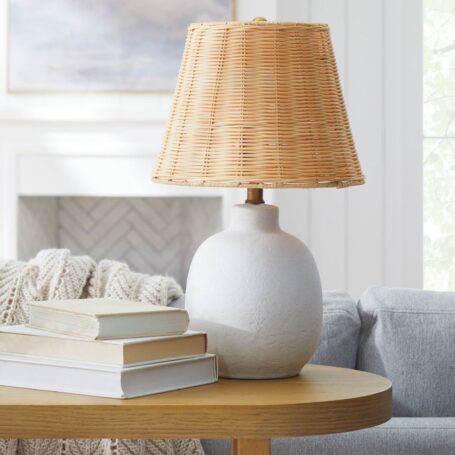 Mini Table Lamps and Accent Lighting Sources
Accent lighting is an essential element in the function and cozy mood of a home. In this post we're sharing some stylish accent/mini lamps that are easy to tuck in anywhere you need a little extra light or warmth!


Lantern Ceiling Lights (New Light for My Bedroom)
Now that the new year has arrived, I'm on a roll making design decisions so we can make our home our own! I've always loved the look of lanterns (remember the beautiful copper and iron lantern we put in our dining room at our craftsman lake house?) so it's no surprise to me that a [...]


How to Get Unstuck with Decorating
Do you ever feel stumped with the direction you want to go with a room, so you just stay stuck? I sure do! So if like me you want to make progress on a room this month, consider the suggestions in this post as inspiration and permission to make a decision!


Beautiful Kitchen Designs + Inspiration
Looking for kitchen inspiration? Enjoy these beautiful designs I'm inspired by lately, plus find lots of inspiration posts linked below! If you missed my last post I shared the 4 important steps I take when designing a room. One of the first steps was gathering inspiration! Here are several kitchens I've saved to my inspiration [...]