The Harry Potter Trio All Thought About Quitting The Franchise
In the words of Gilderoy Lockhart, "Fame is a fickle friend," a sentiment that echoed in the hearts of Daniel Radcliffe, Emma Watson, and Rupert Grint, the three young child actors who became famous overnight, thanks to their central roles in the "Harry Potter" franchise. Warner Bros. Pictures recently celebrated the 20th anniversary of the release of "Harry Potter and the Sorcerer's Stone," the first of eight blockbuster films that earned the actors their global star status. The franchise has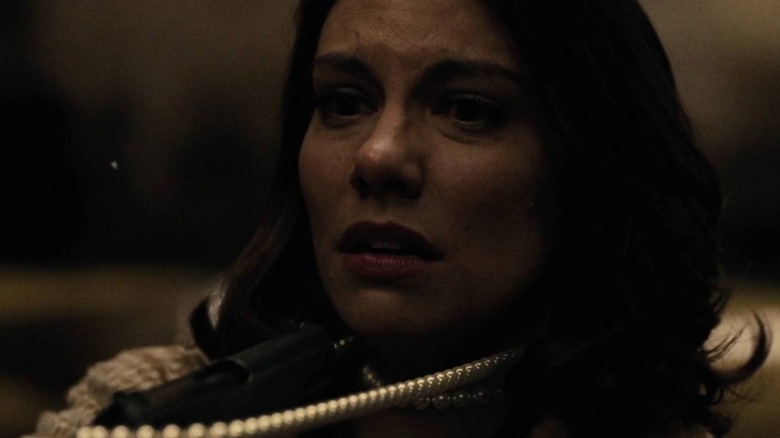 The Batman Easter Egg In Watchmen That Stayed Hidden For Years
There was a time, long before "Justice League" when Zack Snyder's big ensemble comic book movie was "Watchmen," his 2009 film based on the classic graphic novel by Alan Moore and Dave Gibbons. A gritty deconstruction of the superhero genre, "Watchmen" tears apart what it means to be an all-American superhero. And in its famous title sequence, there's a nod towards one of DC's most iconic heroes — Batman. The title sequence has become something of a specialty for Zack Snyder. "Watchmen" is o...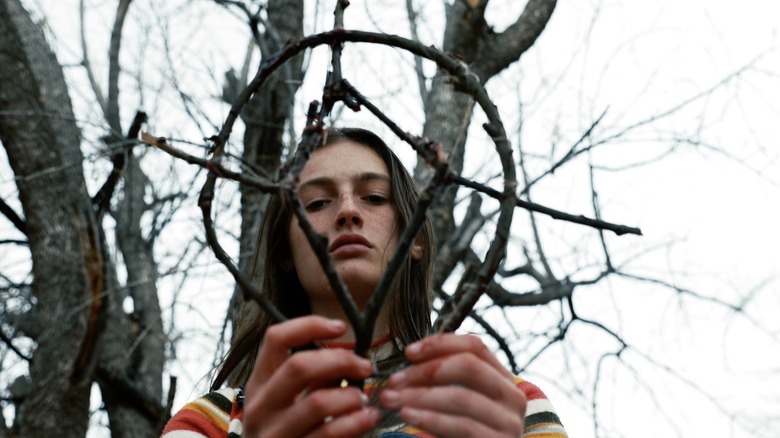 Hellbender Trailer: Growing Up Is Hell In This Shudder Original
Growing up is hell in "Hellbender," a new horror film headed to Shudder next month. The film is a family affair, literally - it comes from the upstate N.Y. filmmaker family The Adams: Toby Poser, John Adams, and Zelda Adams. "Hellbender" was written, directed, produced, scored, and edited by the Adams Family (no relation to the Addams Family), who also star alongside Lulu Adams. The story follows a teenager who has been living in isolation on a mountain for her entire life. Everything chang...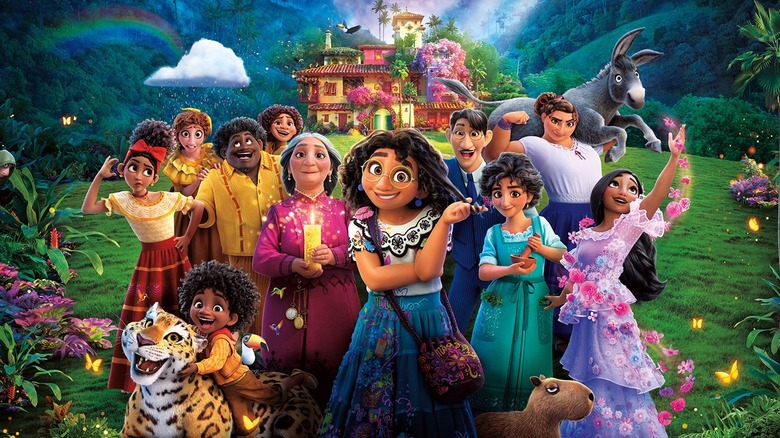 The Fight For Luisa's Muscles: How Encanto Dispels The Disney Tradition
I may be a woman in my thirties, but if you think I haven't been scouring the internet for merchandise of Luisa from "Encanto," y'all don't know me very well. From the moment she appeared in the trailer, the internet exploded, expressing their immediate obsession with the "Buff Lady." The obsession didn't stop after "Encanto" made it to theaters, and it picked up even more steam once the film was made available on Disney+. Sure, "We Don't Talk About Bruno" is the biggest Disney song in a quarte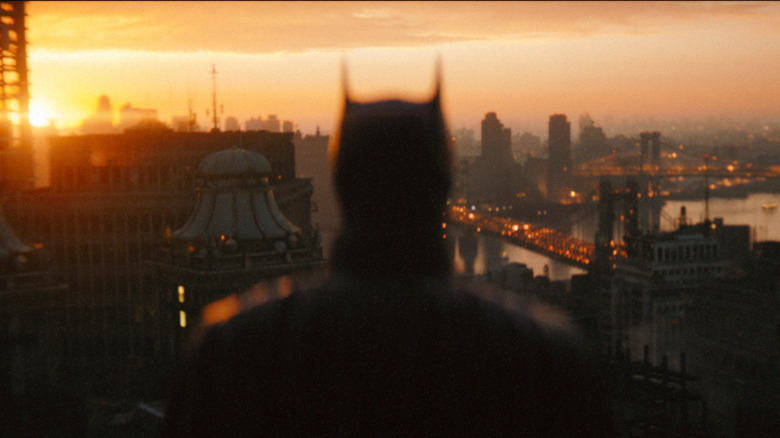 You'll Be Able To Listen To The Batman Theme Music Tonight
Some of you reading this may not know Michael Giacchino by name just yet, but you've definitely heard his music. The Oscar winner has become one of Hollywood's most in-demand composers over the last two decades thanks to his work on everything from Pixar movies (yes, he's the one who made you cry your eyes out with his "Married Life" theme from "Up") to the MCU's "Spider-Man" film trilogy, the "Jurassic World" movies, and such acclaimed non-franchise titles as "Bad Times at the El Royale" and "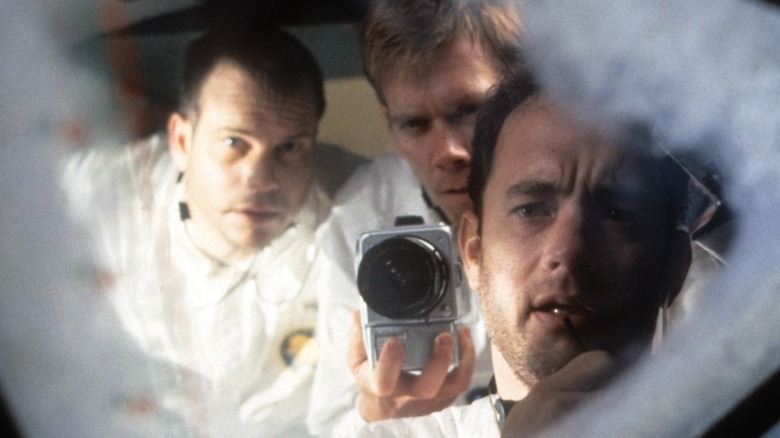 A New Film Studio Is Being Built In Actual Space
Pffft, imagine being a filmmaker trying to recreate the unforgiving conditions found in the vacuum of space through the use of models, fancy visual effects, or special aircraft simulating the effect of zero-gravity conditions. That's pretty much how it's always been done since the days of "2001: A Space Odyssey" and the original "Star Wars," all the way up to "Gravity" and "Interstellar." But here's a radical thought: why go to all that trouble when one could simply just ... go to space and ma...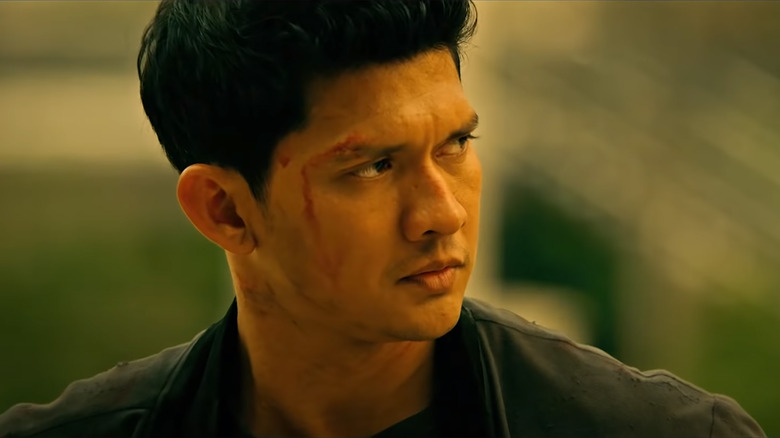 Fistful Of Vengeance Trailer: Iko Uwais, Lewis Tan & More Return For Wu Assassins Movie Sequel
The world could use a little fist-flying action right now, and thankfully Netflix is set to deliver with "Fistful of Vengeance," a new original movie will debut on the streamer just after Valentine's Day on February 17, 2022, and which promises to pack a wallop.  "Fistful of Vengeance" is a follow-up to the Netflix supernatural martial arts series "Wu Assassins," and many of the series' stars are set to return. If you like Iko Uwais' other action movies like "The Raid: Redemption" or "The N...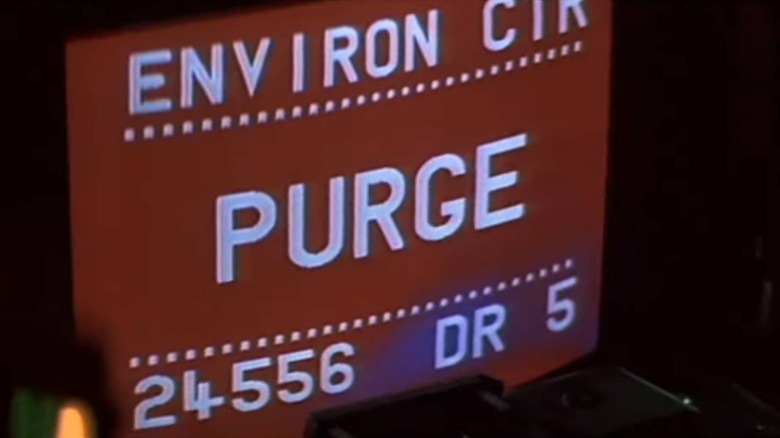 The Alien Easter Egg In Blade Runner You May Have Missed
I've seen things you people wouldn't believe. Attack ships on fire off the shoulder of Orion. I watched C-Beams glitter in the dark near the Tannhauser Gate. Then I spotted this "Blade Runner" Easter egg, which connects Ridley Scott's 1982 sci-fi classic to his earlier 1979 space survival horror, "Alien." During a time long before the Marvel Cinematic Universe, when big franchises were only dreamt of, Ridley Scott had laid the groundwork to connect his two biggest sci-fi flicks. A box office hi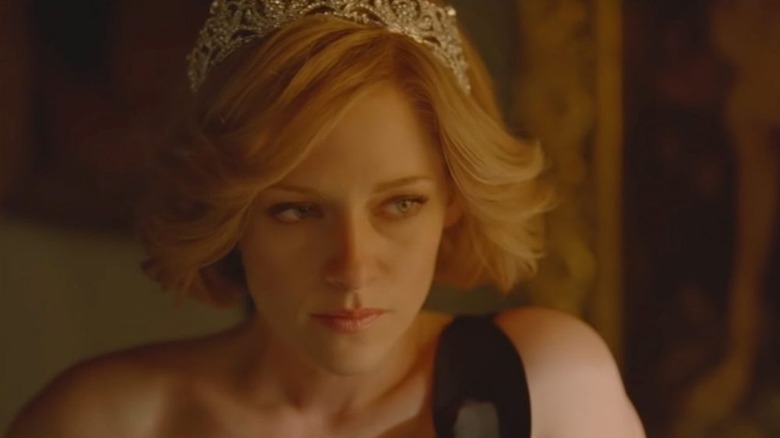 Why Won't People Let Former Disney/Teen Idols Grow Up?
(Welcome to The Soapbox, the space where we get loud, feisty, political, and opinionated about anything and everything.) It's always fascinating to me when something comes out and the reviews are immediately polarizing. As a life-long fan of both Josh Peck and Hilary Duff, I really wanted to see the new spin-off series "How I Met Your Father," in which they both star. I did my typical perusal of entertainment critic Twitter reactions to see how people were feeling, and regardless of positive or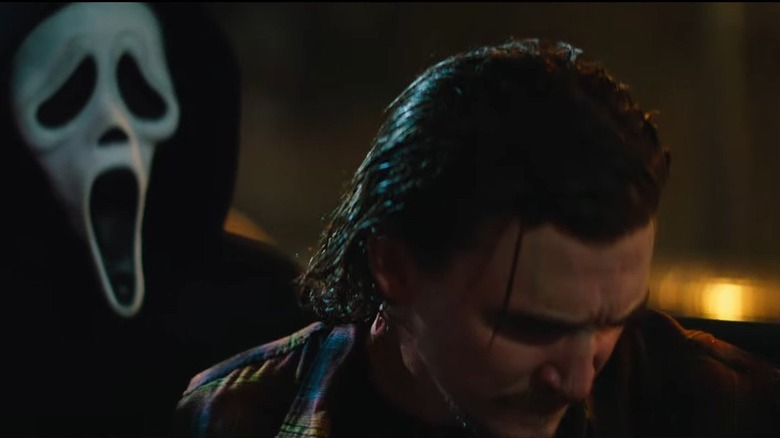 The Best Characters In Scream, Ranked
Matt Bettinelli-Olpin and Tyler Gillett's "Scream" (2022) explores many themes -- elevated horror, "requels," the entitlement that underscores modern fandoms -- and it does so through its characters. This is notable, because it wasn't a given.  The third film in Wes Craven's seminal slasher franchise all but abandoned its protagonists for rapid-fire plot points and Creed synchs. Other recent entries in blockbuster franchises that originated in the '80s and '90s rolled out old dramatis persone...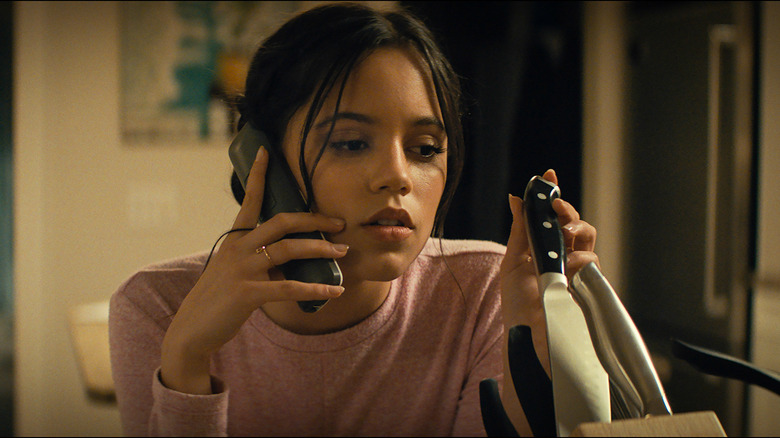 Scream Directors Reveal Details About The Spoiler-Y Cameo, You Know The One
The new "Scream" is chock-full of homages and allusions to the franchise's past, some overt and some more subtle. One of the biggest of them involves a legacy character who is no longer with us ... and if you want to know more, get your butt ready for some spoilers. Billy Loomis (once again played by Skeet Ulrich) returns to us in the new "Scream," and directors Tyler Gillett and Matt Bettinelli-Olpin opened up about the decision to include the beloved-yet-hated character in their film to Colli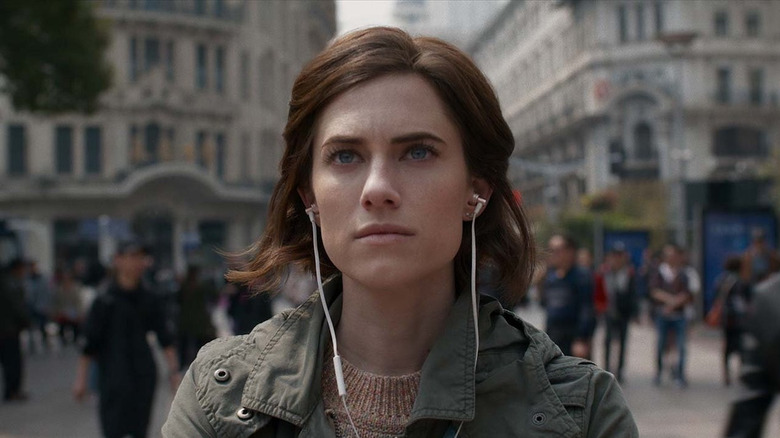 James Wan's Tech Thriller M3GAN Continues A Horror Tradition Of Knee-High Friends To The End
From the director of "Housebound" and the screenwriter of "Malignant" comes a new horror feature on the perils of artificial intelligence. Starring Allison Williams of "Get Out" and "The Perfection" and Ronny Chieng of "Shang-Chi and the Legend of the Ten Rings," "M3GAN" is helmed by Gerard Johnstone from a script by Akela Cooper (who previously penned "Hell Fest" and the "Luke Cage" series) based on a story developed with James Wan. "M3GAN" will arrive in theaters in time for Martin Luther Kin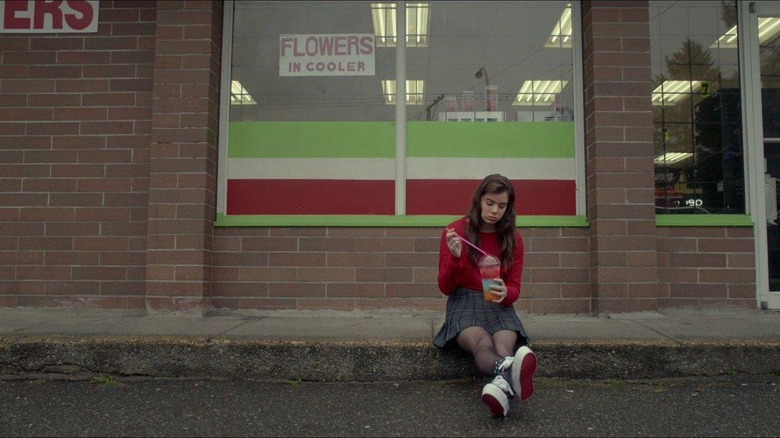 The Best Movies And TV Shows Leaving Netflix In February 2022
We're already over halfway through the first month of 2022, a truly absurd fact where time feels meaningless and I could have sworn that 2020 was, like, five years ago. For our snowbound friends, we're inching closer towards springtime with every passing day, but fortunately, you can always count on Netflix to give you plenty of options to binge-watch until your eyeballs fall out and roll away like that old Chef Boyardee commercial from 2004.  Unfortunately, as with every month, the non-origin...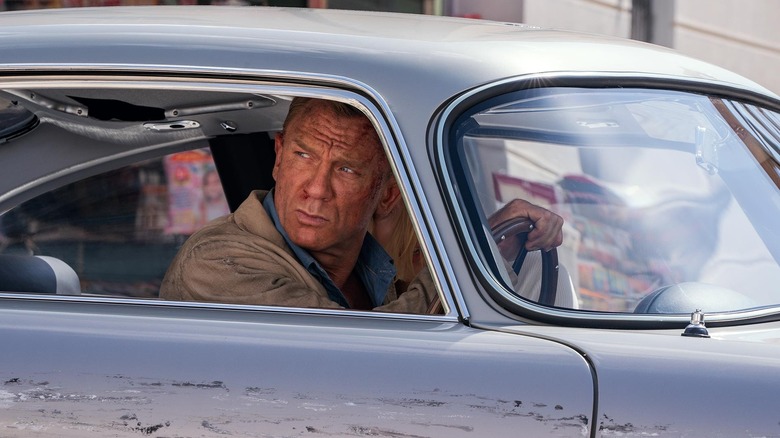 No Time To Die Getting IMAX Re-Release To Honor 60 Years Of Bond, James Bond
Heads up, James Bond fans! Did you miss "No Time to Die" in theaters last year? Did you hope to see it in IMAX but missed your chance? Fear not, as the movie is getting re-released in IMAX this week in honor of the 60th anniversary of the legendary franchise. What's more, star Daniel Craig, director Cary Joji Fukunaga, and producers Michael G. Wilson and Barbara Broccoli will participate in an exclusive Q&A ahead of select IMAX screenings on January 21. Naturally, the folks at MGM are planning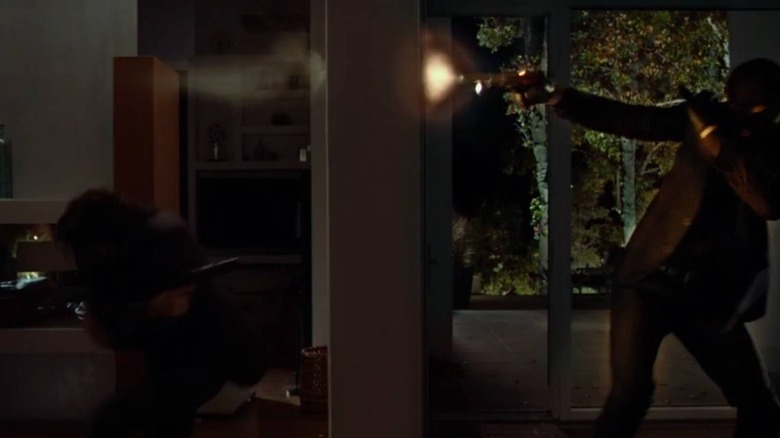 Which John Wick Movie Has The Highest Kill Count?
"Guns. Lots of guns." That's the name of the game for John Wick, hitman extraordinaire and all-around badass. Known for his love of dogs and penchant for brutal executions, John Wick has a bit of a reputation in the criminal underworld. He's Baba Yaga. He's the one you send to kill the Boogeyman. He's even killed three men in a bar with a pencil. Who does that? Whether it's with a well-aimed bullet, a samurai sword, or a zip-locked chokehold, he certainly has a way of creatively dispatching his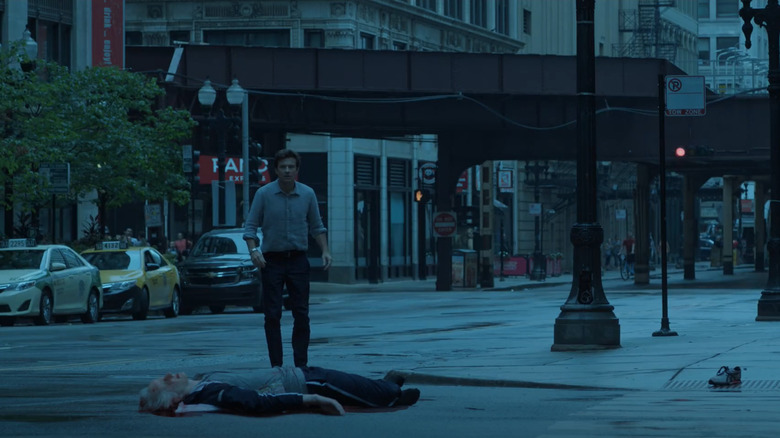 The 14 Most Disturbing Ozark Moments, Ranked
"Ozark" is one of the best Netflix original series of all time, and goes to show why the streaming platform is such a popular outlet for first-rate drama programming. Without the constraints of fitting within commercial breaks (or even waiting a week between episodes), showrunners and writers can tell one fluent story that can be digested in as many sittings as the viewer wants. In the case of "Ozark," many fans may not be able to turn this highly-watchable show off until they've completely ca...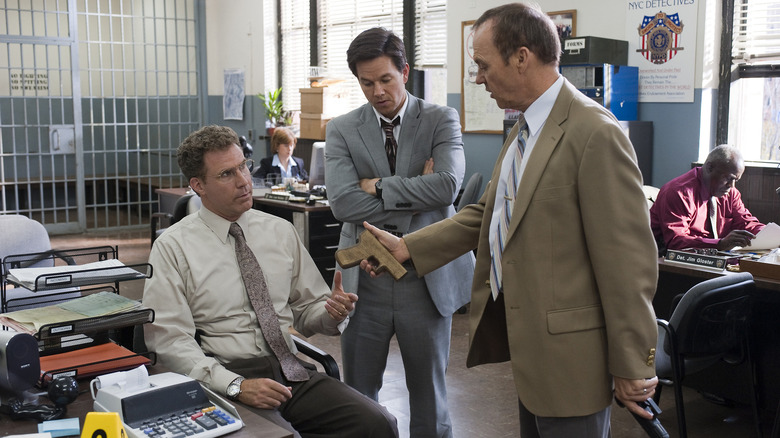 The Best Movies And TV Shows Coming To Netflix In February 2022
Had enough of the winter doldrums already? Well, I hate to be the one to break it to you, but we've still got quite a ways to go. February will soon be upon us, which means the more superstitious (and groundhog-obsessed) among us will have the answer as to whether to expect even more winter misery (or winter wonder, for those of us who actually like this season!) to come. On the bright side, at least the days are already getting longer and we're about to transition into the shortest month of th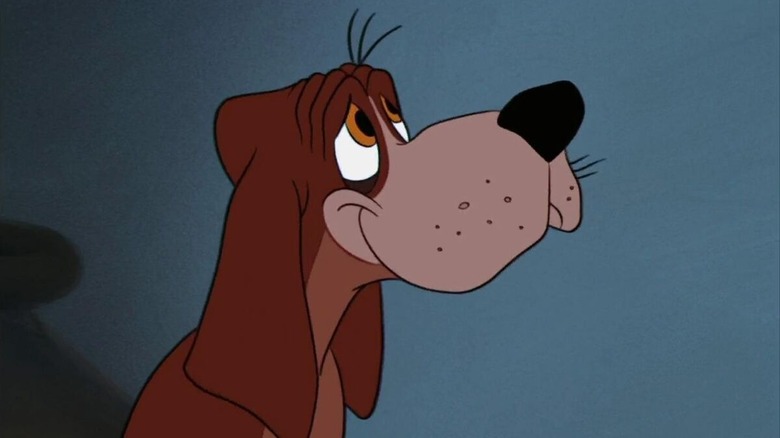 Who Is Bruno And Why Does Disney Hate Him?
Disney and Pixar have a long history of dropping easter eggs referencing other movies in their new releases, and over the years, they have crafted mini-shared universes encompassing many of their films. My personal favorite exists in "WALL-E," where our robotic trash compactor comes across the Pizza Planet delivery vehicle from "Toy Story." With a well-documented history of in-jokes and homages, fans are constantly on the lookout for connective tissue, with the latest Disney and Pixar mystery c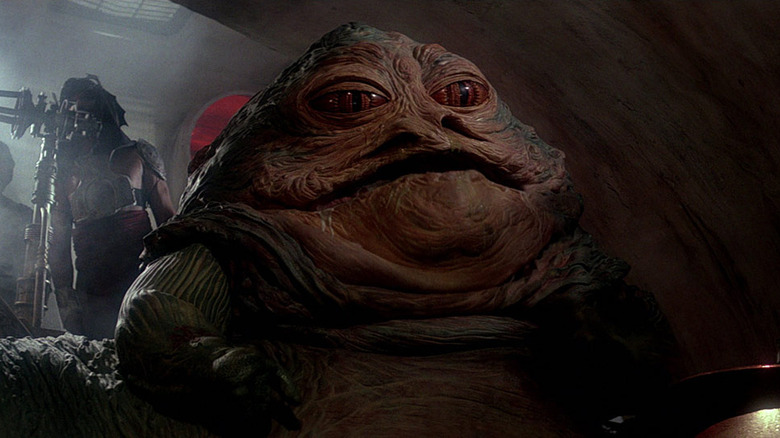 The Yuzzum Reference In The Book Of Boba Fett Explained
Chapter 4 of "The Book of Boba Fett" is here and it brings with it a number of reveals. We get more of Boba's backstory, a lot of hints about where all of this might be headed, and, as is so often the case with "Star Wars" things, plenty of in-universe references. One seemingly throwaway line, however, actually connects to a pretty unique part of the franchise's past, specifically "Return of the Jedi." But the reference in question is about something pretty specific, and it's quite tongue-in-c...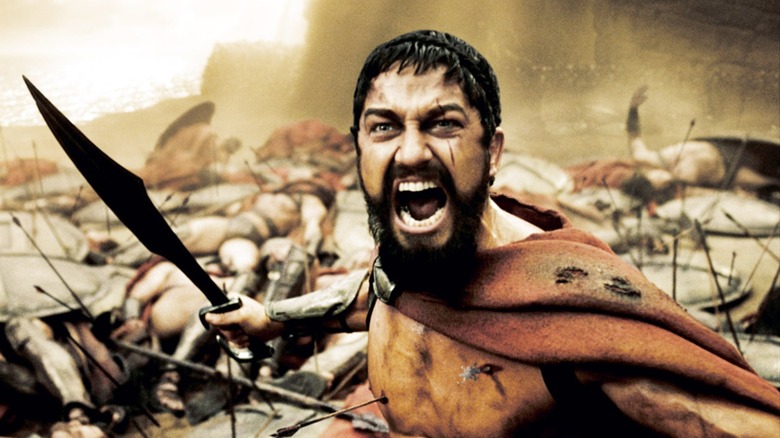 Netflix's Most Watched Films Last Week Took A Surprising Turn
I can't believe I'm saying this, but "Don't Look Up" has finally been kicked out of the top spot on the Netflix top 10. The film enjoyed a consistent reign of domination for three weeks but didn't quite make the full month due to a newfound obsession with a movie that, quite frankly, I am shocked dethroned the highly-debated satire.  This week's chart toppers are predominantly titles we've seen for a few weeks now, with only three films making a first-time appearance. Kids' fare is surprisingl...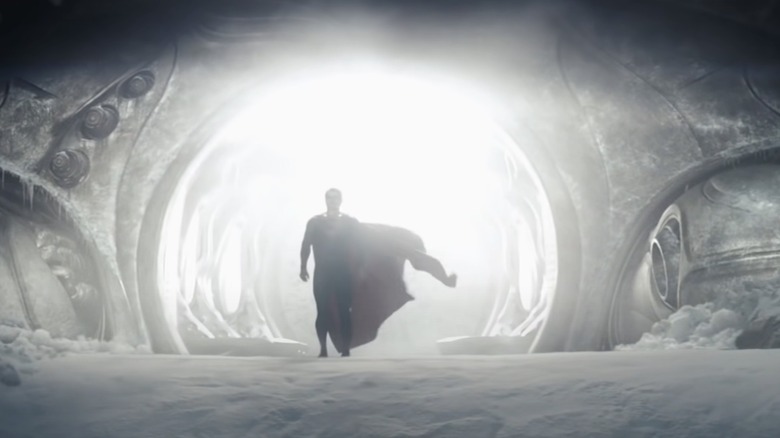 The Daily Stream: The Man Of Steel Trailer Might Be The Best Superman Movie Ever Made
(Welcome to The Daily Stream, an ongoing series in which the /Film team shares what they've been watching, why it's worth checking out, and where you can stream it.) The Trailer: "Man of Steel" Official Trailer 3 Where You Can Stream It: YouTube, and below. The Pitch: Warner Bros. teamed with Christopher Nolan to revive Batman, and then decided it was time to give Superman his day in the sun, too. Nolan remained involved, coming up with a story and serving as a producer. The film itself, thoug...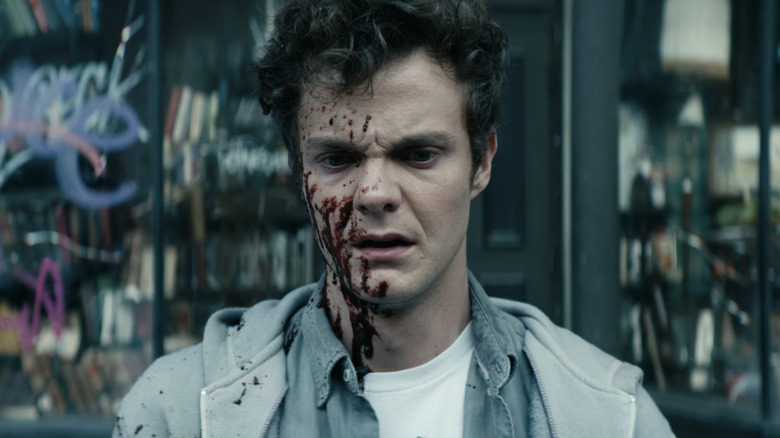 The Boys Season 3 Is The Most 'Messed Up' So Far, Jack Quaid Teases
Once upon a time, you could gather the kids, tune into the latest superhero romp, and make a cheerful family affair of it all. You can pretty much still do that ... but you best check the rating before pressing play. You never know when the supes invading your home will be a lot less kid-friendly than expected and instead err on the side of power-crazed lunatics. Capes do not a hero make, or so we've learned from the recent batch of superhero stories, many of which take a darker approach to the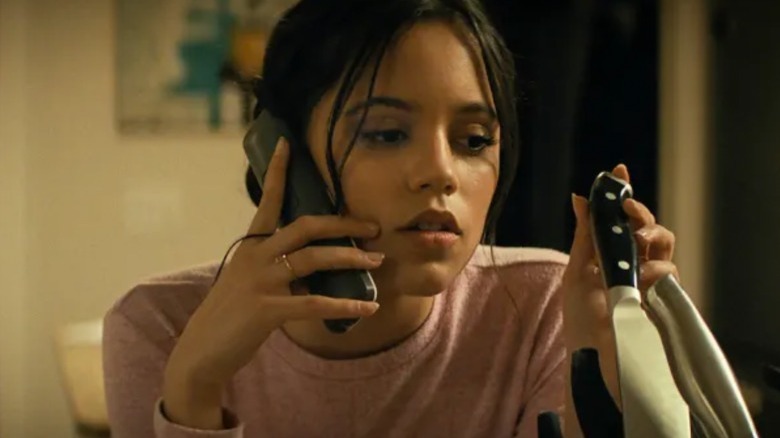 Scream Spoiler Review: A Bloody Good Legacy Sequel Takes Aim At Toxic Fandom
With Jamie Lee Curtis returning to "Halloween," "Ghostbusters: Afterlife" dusting off the Ecto-1, and the "Jurassic Park" universe ever-expanding, it was only a matter of time before "Scream" got in on the legacy sequel game. The fifth film in the franchise is the first since original director Wes Craven's death, and as such, has a lot riding on it. With 11 years of new horror to mine for meta-commentary, "Scream" 2022 has plenty of ground to cover, and does so with enthusiasm. The new sequel i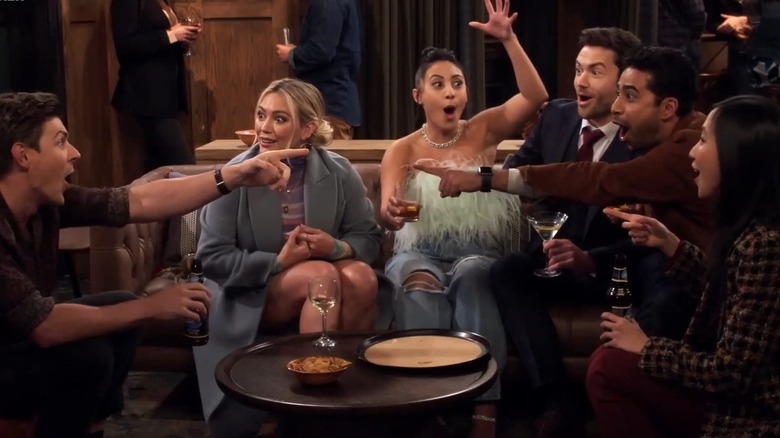 What How I Met Your Father Gets Wrong About Dating In 2022
Nearly eight years after the series finale of "How I Met Your Mother," we return to Carter Bays and Craig Thomas' New York City. Although, this time under the leadership of Isaac Aptaker and Elizabeth Berger, "How I Met Your Father" follows a different group of friends led by "Lizzie McGuire" star Hilary Duff as they navigate the treacherous waters of modern dating, love, and relationships. Like our own Valerie Ettenhofer, I enjoyed the first two episodes that premiered on Hulu this week. Initi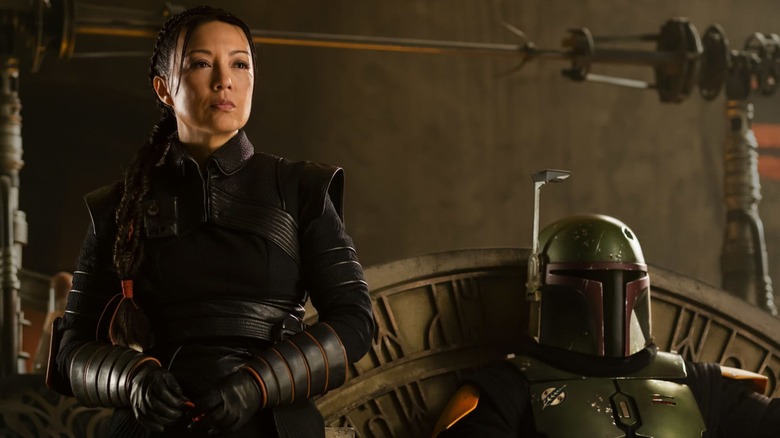 How Fennec Shand Subverts An Irritating Sci-Fi Trope In The Book Of Boba Fett
The Greek myth of Pygmalion told of a misogynist sculptor who fell in love with an ivory statue of a woman he had carved, "detesting the faults beyond measure which nature has given to women," only able to find love with a woman created artificially from his own fantastical design. As we evolved as a civilization and new technologies were developed, this fascination with artificial women pivoted toward the mechanical. The false Maria of "Metropolis," the doppelgangers of "The Stepford Wives," a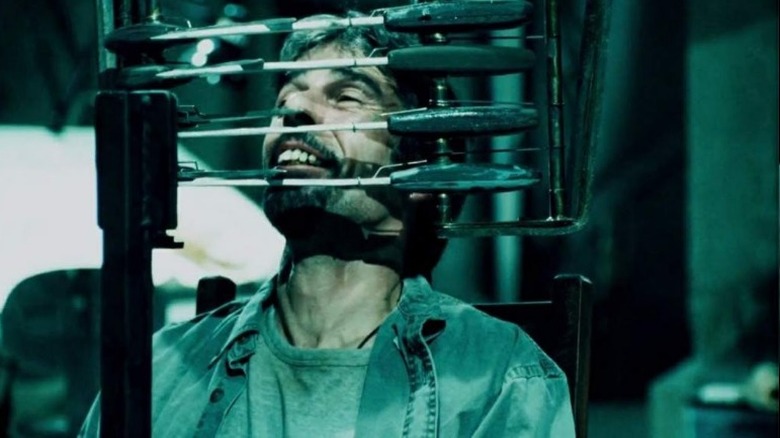 The Entire Saw Timeline Explained
When the original "Saw" hit theaters in 2004, the term "torture porn" had not yet been coined. That phrase, which references excruciating sequences of relentless brutality and gore, would not come into the larger conversation until 2006. In a New York Magazine piece titled "Now Playing at Your Local Multiplex: Torture Porn," critic David Edelstein was writing specifically about Eli Roth's 2006 splatter film "Hostel," but the torture porn label was soon reapplied to "Saw" and its sequels. Tortur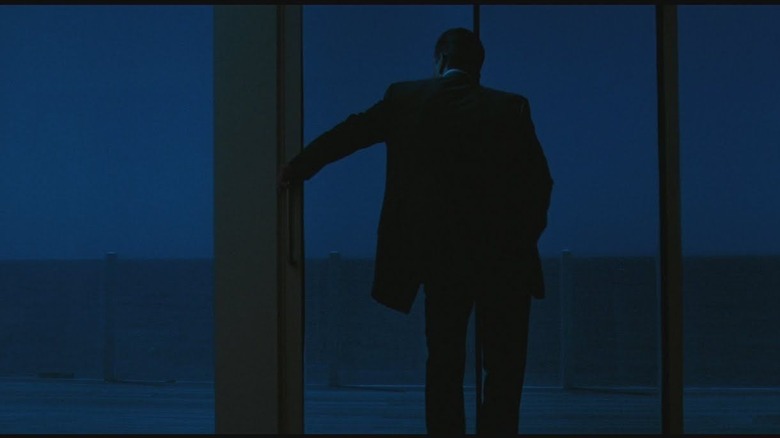 Heat Sequel Novel From Michael Mann Finally Arriving In August
Michael Mann has been teasing some sort of prequel and/or sequel to "Heat" in book form for several years now. In 2016, word of a prequel novel first surfaced. Then, talk of a potential sequel novel followed. And now, both concepts have been combined into one book - and that book finally has a release date. Titled "Heat 2," the book was penned by Mann and Meg Gardiner, and it's now scheduled to drop in August. The book will serve as both a prequel and a sequel to Mann's 1995 crime epic tha...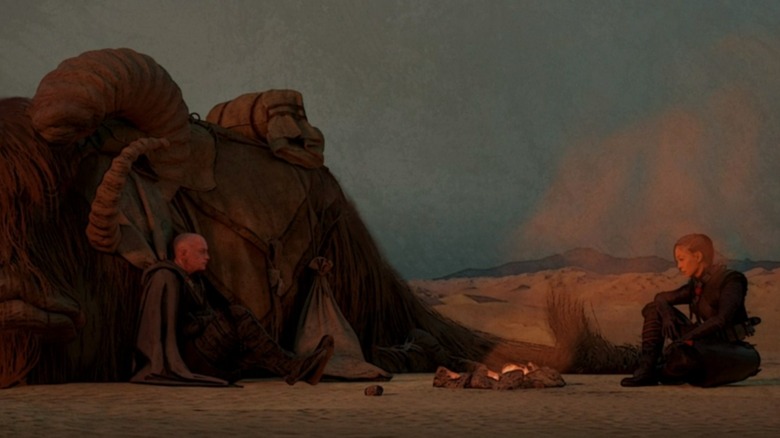 Here's All The Concept Art From The Book Of Boba Fett Episode 4
This article contains spoilers for the latest episode of "The Book of Boba Fett." Last week, we hit the official midway point for the inaugural season of "The Book of Boba Fett." Episode 4, "The Gathering Storm," lives up to its title as a table-setter that does the important work of looking ahead to the final two climactic episodes and putting the pieces into place for what's to come. But that doesn't make this episode nothing more than "filler" or wheel-spinning. Far from it, as we once again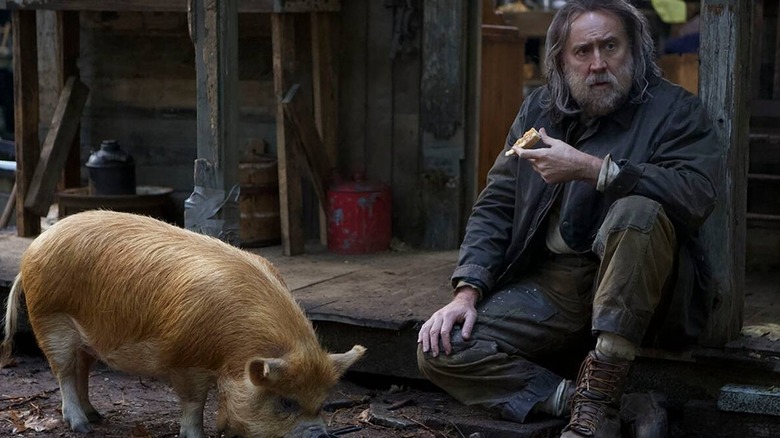 A year isn't truly over until you've turned in your top 10 list. At least, that's the rule at /Film. And now, we can close the book on 2021. Last week, the /Film editorial staff published their personal top 10 favorite movies of 2021 lists, showcasing what left them bowled over from the year in cinema. And today, after some number-crunching and basic math, those lists have been merged to create an overall top 10 list for the entire site. One list to rule them all, really. Some personal favorite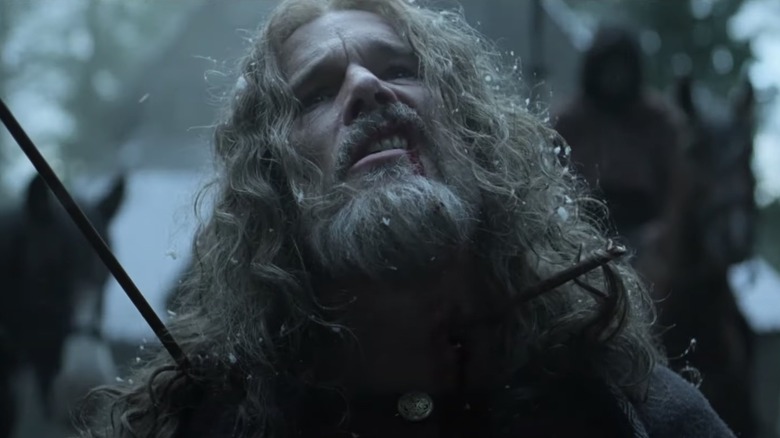 Ethan Hawke Joins Julia Roberts In Netflix's Leave The World Behind
Netflix thriller "Leave the World Behind" has gained two more stars on its roster. Ethan Hawke and Myha'la Herrold have signed on to join a cast that already includes Oscar winners Julia Roberts and Mahershala Ali, as well as Ryan Kiera Armstrong and Charlie Evans. Sam Esmail ("Mr. Robot") sits in the director's chair and pens the adapted screenplay, based on Rumaan Alam's 2020 novel (his third) of the same name. Plot details for the adaptation are under wraps for now, but the synopsis for the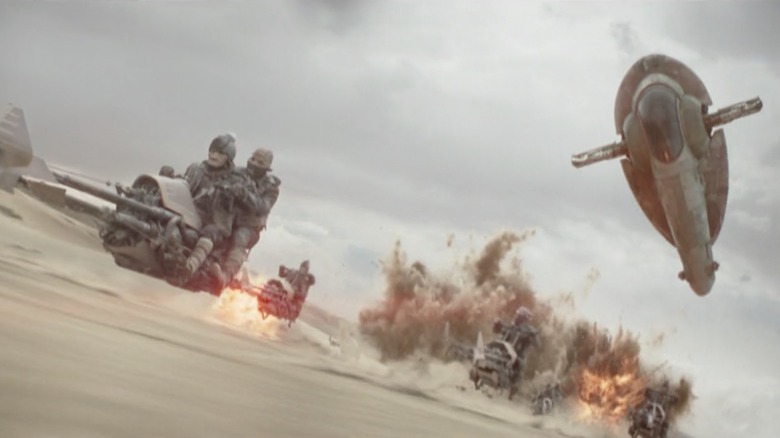 If You Loved The Action In The Book Of Boba Fett Episode 4, Thank Kevin Tancharoen
This article contains spoilers for the new episode of "The Book of Boba Fett." Say what you will about the live-action "Star Wars" movies, but they've rarely failed to deliver the goods when it comes to top-notch action scenes and spectacle. Even "The Phantom Menace," for all of its flaws, gave us the exhilarating podracing sequence and a kick-ass lightsaber duel between Darth Maul, Obi-Wan Kenobi, and Qui-Gon Jinn. That maxim held true when Boba Fett made his triumphant return in "The Mandalor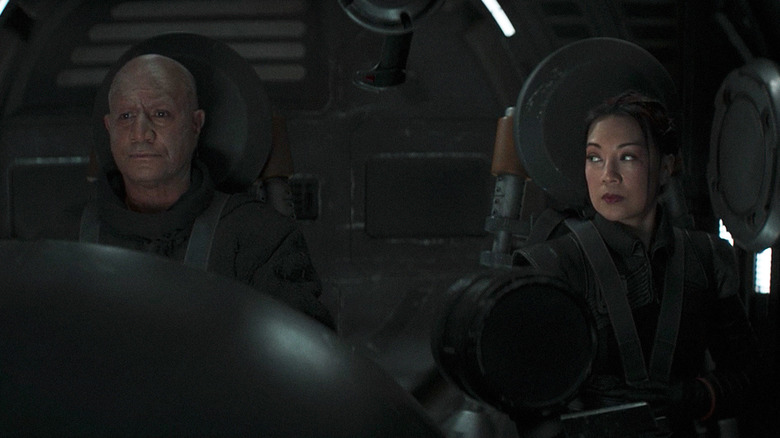 The Book Of Boba Fett Episode 4 Finally Answered One Of The Big Questions From The Mandalorian
When Fennec Shand was left for dead on Tatooine in "The Mandalorian," many fans of the elite mercenary were rightfully disappointed. Her appearance in the episode "The Gunslinger" felt like her first and last — actress Ming-Na Wen even confirmed that her role as Fennec was originally limited to one appearance. Wen recalled being "really persistent" over Fennec's possible survival. It helped that, in the final scene of "The Gunslinger," a faceless figure approaches Fennec's body, leaving the d...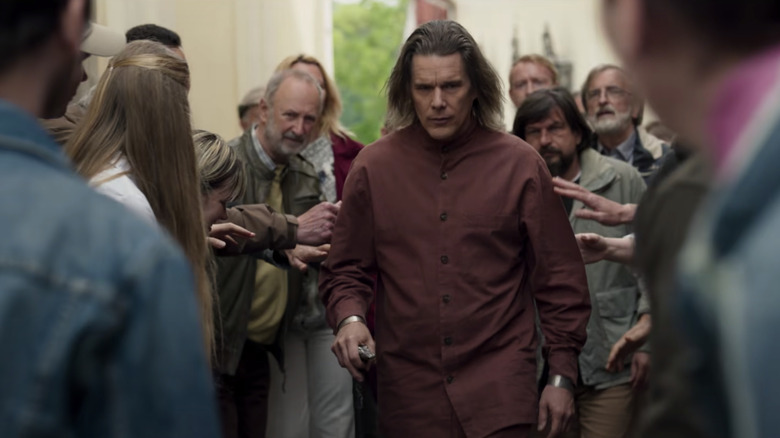 Who Is The Main Moon Knight Villain? Arthur Harrow Explained
Last night Disney+ dropped the trailer for the upcoming "Moon Knight" series starring Oscar Isaac as the eponymous vigilante hero, and people are rightfully stoked. The new show will be the first new series from Marvel Studios in 2022, and while the trailer focused heavily on Isaac as Marc Spector/Moon Knight, it finally gave us our first look at the mysterious villain played by Ethan Hawke. Not much was known about his character until now, with the exception of an interview last year on "Late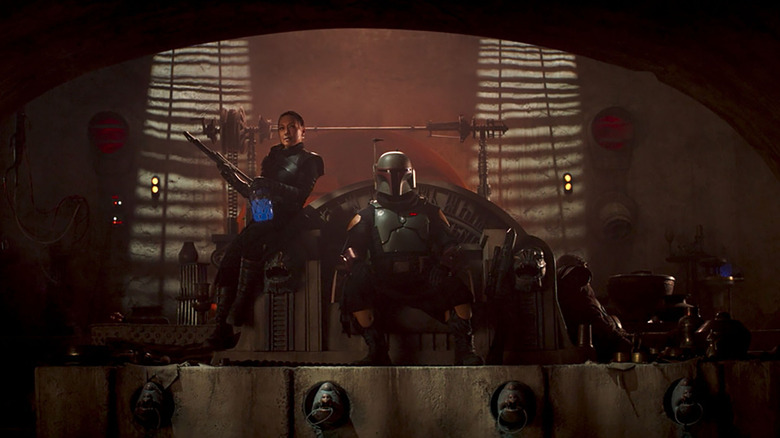 Daily Podcast: The Book Of Boba Fett Spoiler Discussion — Chapter 4 The Gathering Storm
On the January 19, 2022 episode of /Film Daily, /Film editorial director Peter Sciretta is joined by /Film editor Brad Oman and "Star Wars" expert Bryan Young to have a spoiler-filled discussion about "The Book of Boba Fett" "Chapter 4 — The Gathering Storm." Opening Banter: In The Spoiler Room: "The Book of Boba Fett" "Chapter 4 — The Gathering Storm" Feedback Brief reactions:Bryan Young's Review: The Book Of Boba Fett Delivers An Origin Story Before "The Gathering Storm" Breakdown The ...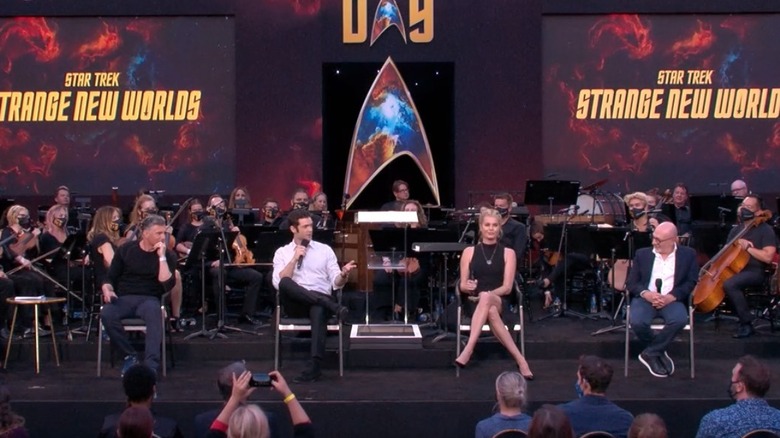 This Isn't A Holosuite Program, Star Trek: Discovery, Lower Decks, And Strange New Worlds Just Got Renewed At Paramount+
"Star Trek" fans have a whole lot to celebrate today. Paramount+ has announced a bunch of "Star Trek" renewals, and a handful of premiere dates for the U.S. on the streamer. You can just feel your hand lifting to do the Vulcan salute, can't you? First up we have "Star Trek: Discovery." The series is currently airing its fourth season, which will return to Paramount+ on February 10, 2022, and conclude on March 17, 2022. We'll be getting a 10-episode fifth season, as well. "Star Trek: Discovery"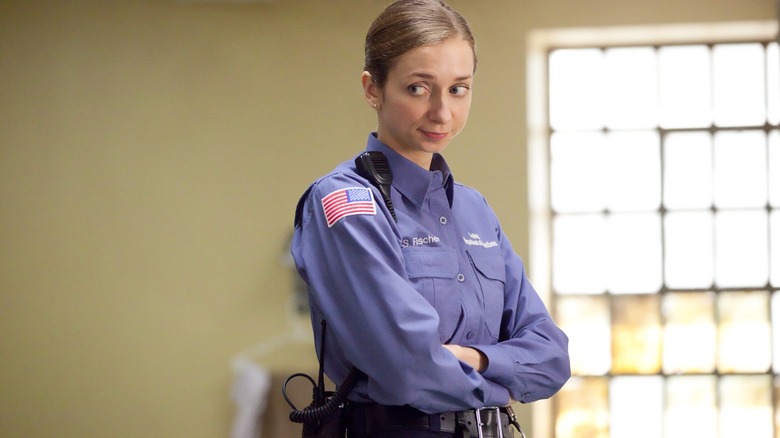 Mike Judge's Netflix Animated Series Bad Crimes Lands Two Amazing Leads
Beloved old school "Beavis and Butt-Head" creator and animator Mike Judge is returning to the craft with a new Netflix series about friendship and a whole lot of crime. Variety announced that the 10-part series will star comedic gems Lauren Lapkus ("Orange Is the New Black," "American Dad!") and Nicole Byer ("Nailed It!," "Girl Code"). Entitled "Bad Crimes," the show is described as a dark comedy procedural that follows Kara (Byer) and Jennie (Lapkus), "two FBI agents who travel across the coun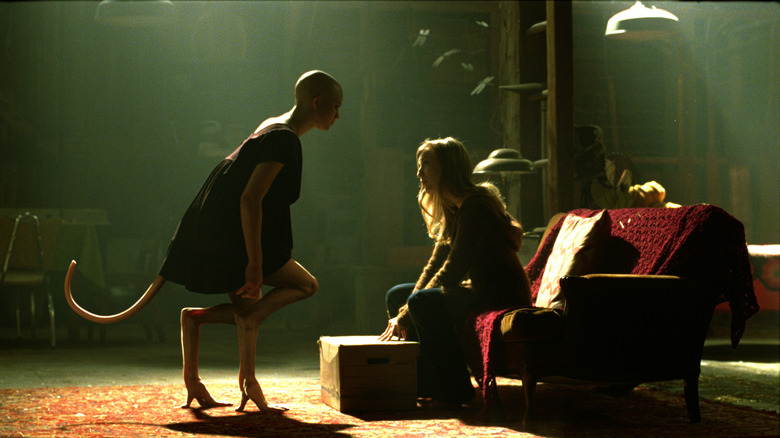 17 Horror Movies That Haven't Aged Well
Sometimes, talking about art that "hasn't aged well" is an exercise in punching down. But you'll never see us make fun the perfectly imperfect stop-motion special effects of the original "King Kong," or the arch, gothic grandeur of classic Universal monster movies. When you meet old art halfway, it's magical -- the greatest movies from different eras offer a chance to communicate with the past, an opportunity to engage in pop culture time travel.  But this list of horror films the /Film crew h...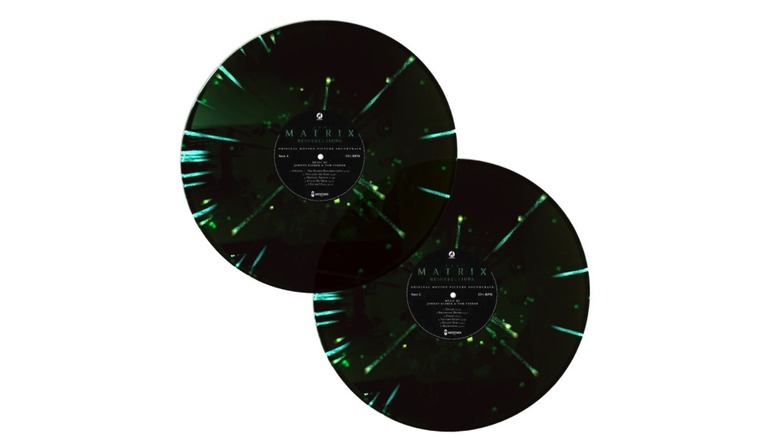 Mondo's The Matrix: Resurrections Soundtrack Will Transport You To Another World, Figuratively Speaking
Mondo and WaterTower Music have some musical news for you. If you've been waiting for the vinyl pressings of the soundtrack for "The Matrix Resurrections," you're in luck. Not only do they have Johnny Klimek and Tom Tykwer's Original Soundtrack, but they've got the remixes for you as well in a separate release. The soundtrack will be available for purchase on Mondo's shop site on Wednesday, January 19, at 12:00 P.M. CST. Here's the official info for you: That's right, TWO limited edition releas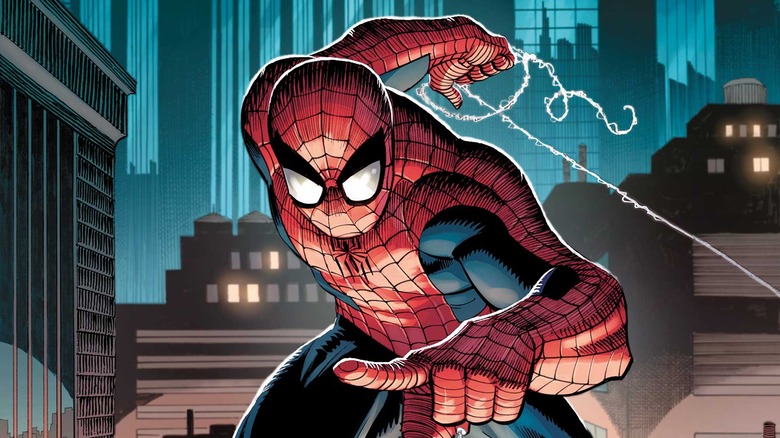 Superhero Bits: Moon Knight Cast Reacts To The Trailer, Willem Dafoe's Joker Pitch & More
(Superhero Bits is a collection of stories, updates, and videos about anything and everything inspired by the comics of Marvel, DC, and more. For comic book movies, TV shows, merchandise, events, and whatever catches our eye, this is the place to find anything that falls through the cracks.) In this edition of Superhero Bits: "Moon Knight" gets a poster and a synopsis Willen Dafoe has a pitch for playing Joker The Batman Oreos get a trailer (yes, really) The Amazing Spider-Man is starting over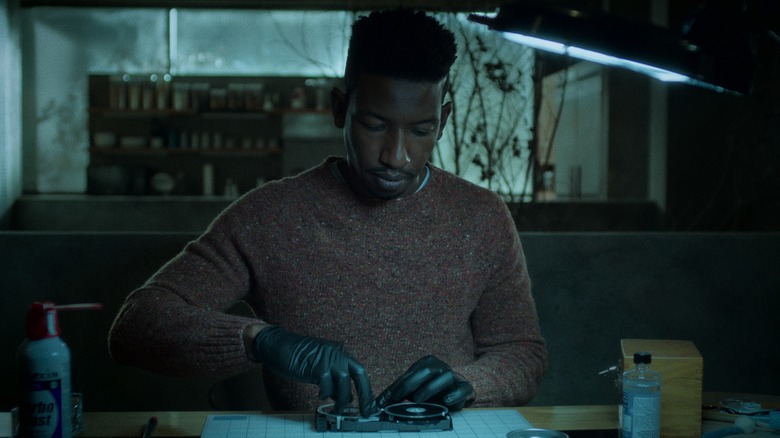 Archive 81 Season 2 Is Part Of The Plan, But It's Not Confirmed Yet
Spoilers for "Archive 81" season 1 ahead. Since its debut on January 14, Netflix's horror thriller series "Archive 81" has been the talk of social media. It's engineered to generate questions: The TV adaptation of the podcast concerns itself with a long lost occult film, a California apartment building with history and secrets, a comet, ritual sacrifice, and portals. Those who have binged the show over the holiday weekend may be champing at the bit for more, and we're here to tell you to keep t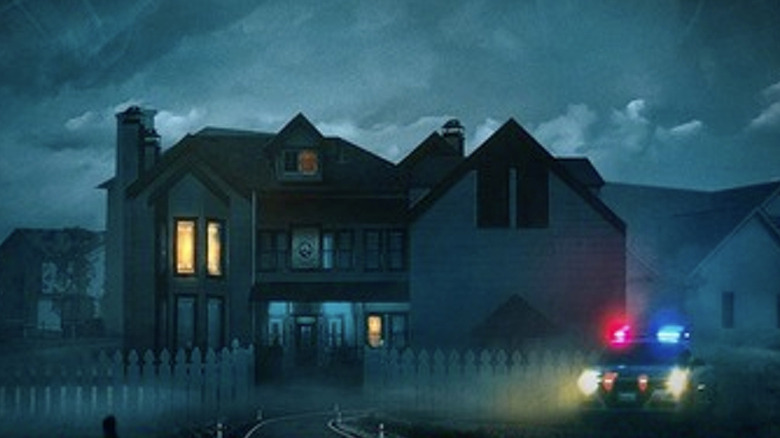 The Real-Life Serial Killings That Inspired Scream
"Scream" is one of the most beloved horror franchises of all time. But did you know there's a disturbing true story that inspired it all? To be clear: there wasn't a real murderer stalking around in a Ghost Face mask, prank calling his victims and asking them about scary movies. But there were a very real series of horrifying murders that inspired screenwriter Kevin Williamson to pen his game-changing script (originally titled "Scary Movie").  In late 1989 and later during the summer of 1990...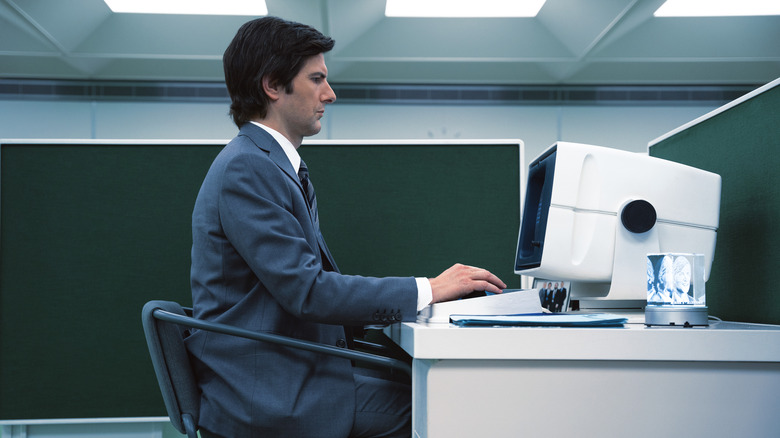 Severance Trailer: Office Culture Turns (More) Dystopian In New Apple TV+ Thriller
Once upon a time, actor Adam Scott auditioned for a role in a certain show called "The Office." He didn't get the part (which ultimately went to John Krasinski. That's right, Ben Wyatt could've been Jim!), but Scott hardly missed a beat and moved on to the very obviously "The Office"-influenced "Parks and Recreation." For those fans who have wondered just how well he would've acquitted himself in the long-running workplace comedy, well, this might be a case of being careful what you wish for. ...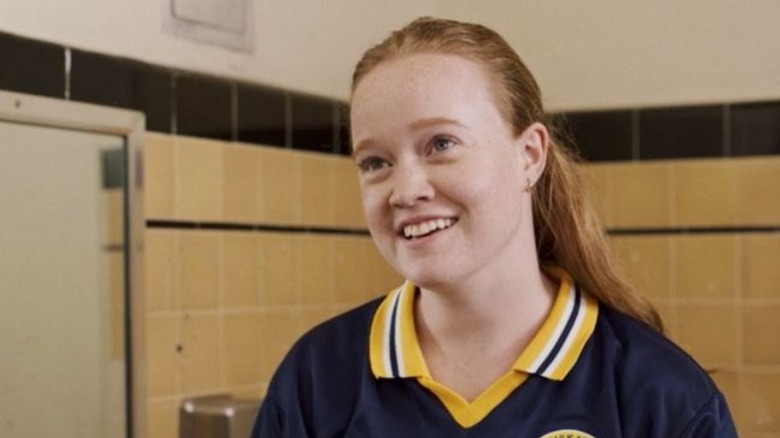 Yellowjackets Mysteries That Will Haunt Us Until Season 2 Gets Here
There's no feeling quite like getting to the mind-blowing finale of a mystery-heavy season of TV and knowing you'll be left to theorize for months on end before it returns. "Yellowjackets" is a "LOST"-level coming-of-age thriller with mysteries so hauntingly good, they may have me scrawling my theories all over the walls by the time the series returns. "Yellowjackets" benefited from enthusiastically positive word-of-mouth across its 10-episode first season. By the time Sunday's finale aired, th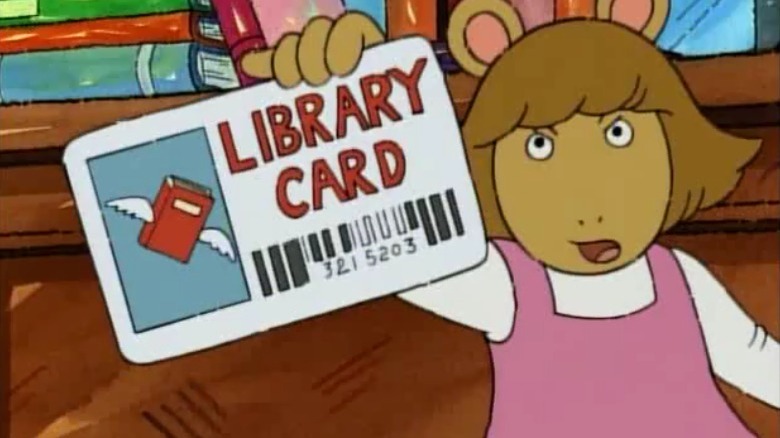 Arthur Is Wrapping Up Its 25 Year Run By Flashing Forward In The Series Finale
It's a rule as old as the format itself: you grow up, but the characters on the kids' show that raised you stay the same age. "Arthur," the long-running PBS animated series, aims to break that rule for its final goodbye. Variety reports that the series will end this February with a 25th-anniversary marathon capped off by a finale that will show Arthur and friends as grown-ups. Four new episodes will conclude the series, debuting February 21 during a 250-episode "Arthur" marathon that will also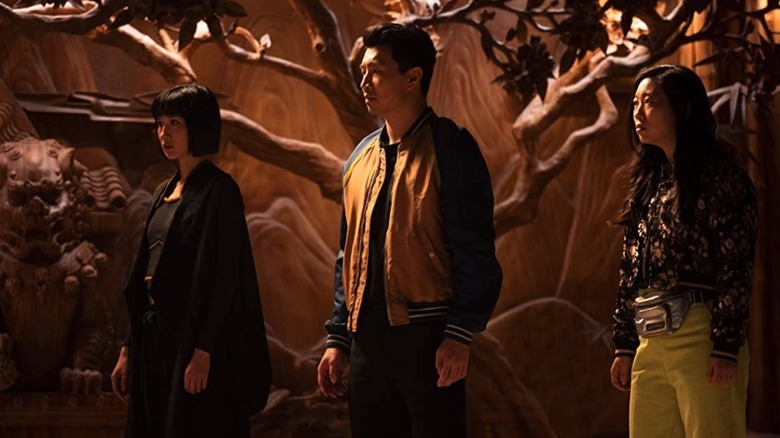 Here's What Simu Liu Wants To See In Shang-Chi 2
"Shang-Chi and the Legend of the Ten Rings" was a box office success (despite the pandemic), and a wonderful addition to the Marvel Cinematic Universe. We saw the line about the Ten Rings returning at the end of the film, and in the mid-credits scene, Captain Marvel (Brie Larson) welcomed Shang-Chi (Simu Liu) to the team. He's now a part of all the Marvel opening credits and very much here to stay!  What comes next for one of our latest superheroes? Will he join the Avengers in a big team up ...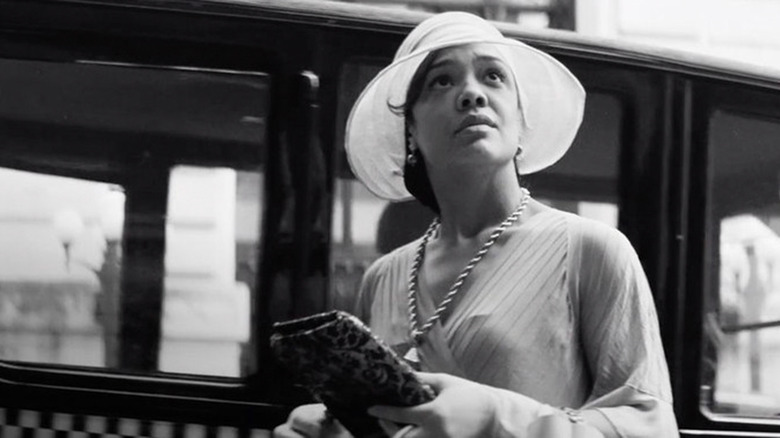 Passing Ending Explained: Things Aren't Always What They Seem
For many marginalized communities, the act of racial passing stirs up uncomfortable questions. But for Rebecca Hall, it was the answer to a lingering family mystery. Hall, who you may recognize from "Vicky Cristina Barcelona" or "Iron Man 3," is the daughter of the very-British Sir Peter Hall and the American opera singer Maria Ewing. While her father had the privilege of a well-documented family line, it was more complicated on her mother's side. The actress recalls asking her mother about her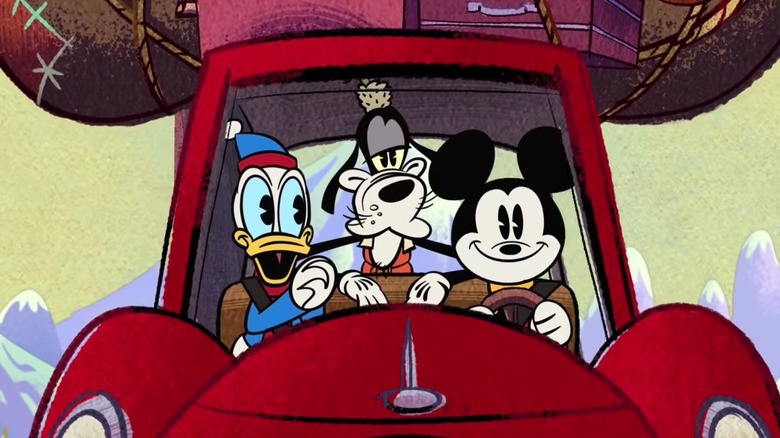 The Wonderful Winter Of Mickey Mouse Trailer Teases The Next Seasonal Animated Special
The holidays have come and gone, and now we're just dealing with bleak winter. But hey, at least you can already begin looking forward to next year -- and get a few ideas to make the time until the spring thaw pass faster -- with everyone's favorite mouse, duck and, um, to quote Rob Reiner's excellent 1986 classic film "Stand By Me," "What the hell is Goofy*?" Today, Disney+ has announced the premiere date and released the trailer for "The Wonderful Winter of Mickey Mouse," a new special that ...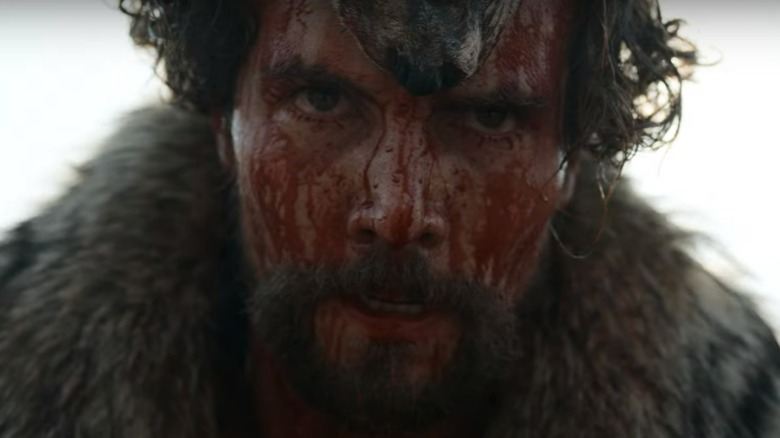 Vikings: Valhalla Trailer: Everyone's Out For Blood In The Netflix Spin-Off Series
Vikings are so in these days, people. Not only has indie film fan favorite (say that five times fast) Robert Eggers chosen this epic subject for his next film, "The Northman," Netflix is always attempting to capitalize on even the faintest whiff of a trend, which likely explains their interest in reviving the History Channel "Vikings" series with a brand-new spin-off series. Sure, you might think that Henry Cavill's "The Witcher" would be enough to satisfy the fantasy cravings of eager subscri...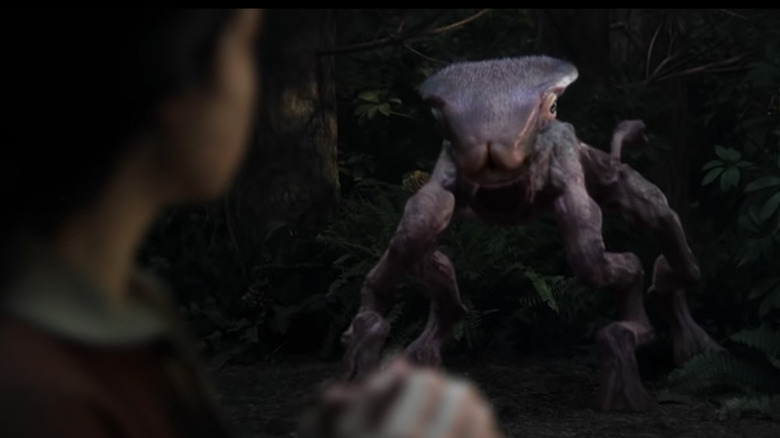 Every Episode Of The Expanse Season 6 Ranked Worst To Best
After a six-season run — three on Syfy, followed by another three on Prime Video — it was difficult to imagine "The Expanse" finding resolution in its infinite space. Based on the novel series by James S. A. Corey (a pseudonym for Daniel Abraham and Ty Franck, who also helped write and produce the show), the series' expansive universe had spun so many story threads that tying it all up seemed nearly impossible. In addition, Abraham and Franck told Polygon that the season 6 finale was more o...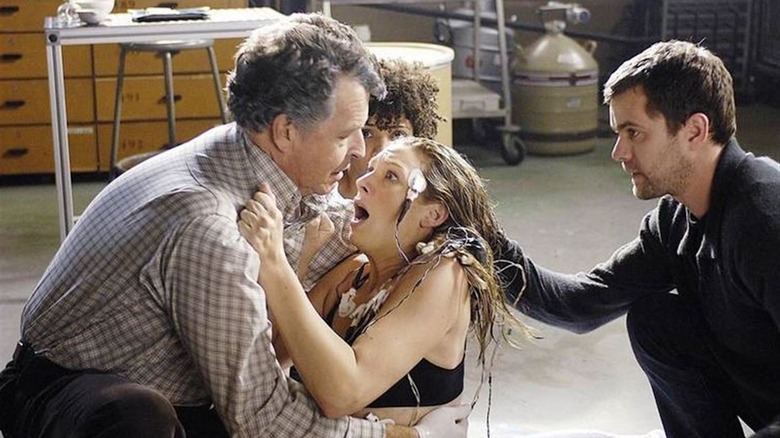 The Daily Stream: Time To Watch Fringe And Find, As You Suspected, Airtight Sci-Fi TV
(Welcome to The Daily Stream, an ongoing series in which the /Film team shares what they've been watching, why it's worth checking out, and where you can stream it.) The Series: "Fringe" Where You Can Stream It: HBO Max The Pitch: After a run-in with a strange phenomenon involving her former partner and a case of transparent skin, FBI Agent Olivia Dunham (Anna Torv) is assigned by her boss Phillip Broyles (Lance Reddick) to the bureau's special Fringe Division, which investigates unusual crimes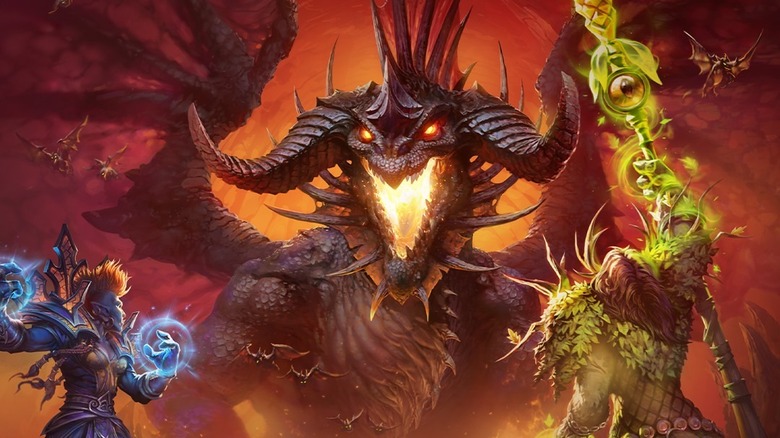 Microsoft Just Bought Activision Blizzard, The Gaming Equivalent Of Disney Buying Fox
Today brings a bombshell announcement to the media world, as Microsoft, the parent company of Xbox, has announced plans to acquire Activision Blizzard, the gaming company behind massive franchises such as "World of Warcraft" and "Call of Duty." Per Microsoft's announcement, this is set to be the largest acquisition in the company's history, valued at $68.7 billion. This makes the previous purchase they made of Bethesda ("Fallout") for $7.5 billion look like chump change. But this will repositio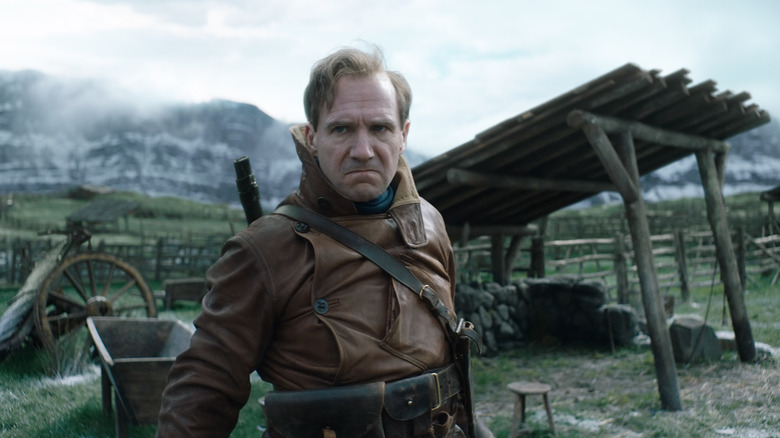 Here's When You Can Watch The King's Man At Home
"The Kingsman" franchise continued last year with the long-awaited prequel, "The King's Man," with director Matthew Vaughn returning to tell us the tale of how the secret spy organization came to be. But for those who didn't get to see it in theaters, fear not, as we now know when you will have the chance to see it from the comfort of home. Those awaiting streaming options are in luck, as Disney is planning to make the movie readily available, and won't be charging an arm and a leg for the priv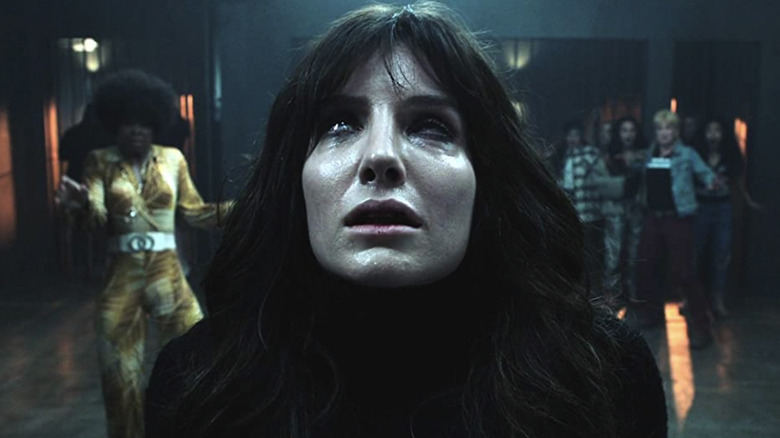 Daily Podcast: The 50 Best Movie Moments Of 2021 (Part 1)
On the January 18, 2022 episode of /Film Daily, /Film editor Ben Pearson is joined by senior news editor Jacob Hall, and editors Hoai-Tran Bui & Bradford Oman, and chief film critic Chris Evangelista for Part 1 of their discussion narrowing down the best movie moments of 2021. All the other stuff you need to know: You can find more about all the stories we mentioned on today's show at slashfilm.com, and linked inside the show notes. /Film Daily is published every weekday, bringing you the most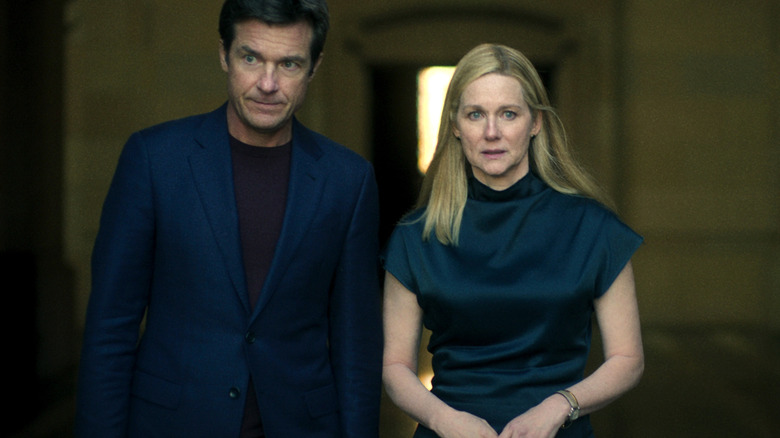 Ozark Season 4 Review: Part 1 Proves There's No Happy Ending In Sight
Ever since they "embraced" their life of crime, the Byrdes have had one foot out the door. Who can blame them? The alternative means accepting their bleak and endlessly dangerous existence. The better option, especially for Marty Byrde (Jason Bateman), is to go forth with a bearable ending in sight. When their dangerous ordeal began, Marty was working towards a tangible goal: laundering $8 million for the Navarro cartel, lest they kill his family. Against all odds, he succeeded and the goal cha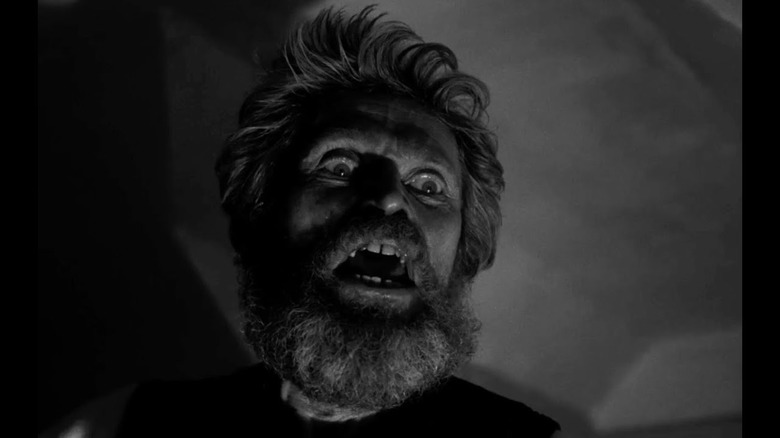 Willem Dafoe Will Be Something Of An SNL Host Himself This January
When you think of all the iconic sketch performers and actors who have graced the Studio 8H stage at 30 Rockefeller Plaza, a ton of major names come to mind: Chris Farley, Steve Martin, Eddie Murphy, Gilda Radner, Tina Fey. Undoubtedly, there is always going to be one or two big stars who have yet to do the honors of hosting "Saturday Night Live" — and sometimes they will shock you. Here's one: Willem Dafoe. But don't you worry, because the "Spider-Man: No Way Home" star is set to take up the...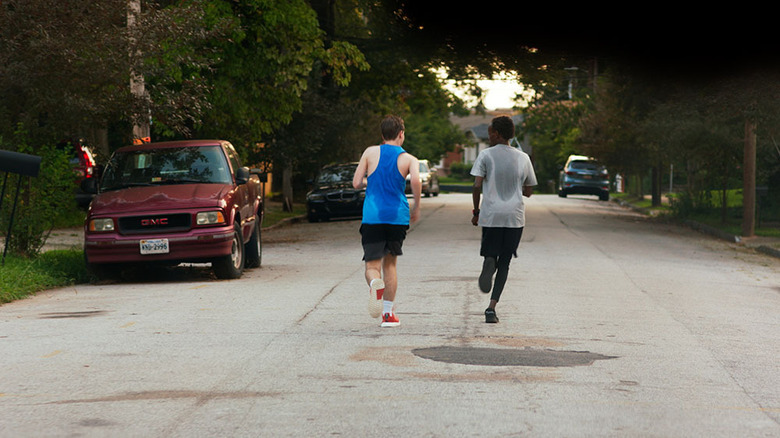 Tyson's Run: Release Date, Cast, And More
(Welcome to ...And More, our no-frills, zero B.S. guide to when and where you can watch upcoming movies and shows, and everything else you could possibly stand to know.) In an age of utter uncertainty when it comes to the future of film, you can bet that the "feel-good" movie is going to find a way to remain a staple of cinema, one way or another. Even if it has to exist explicitly in the realm of streaming, Hollywood will continue to service the need for audiences to roof for the little guy an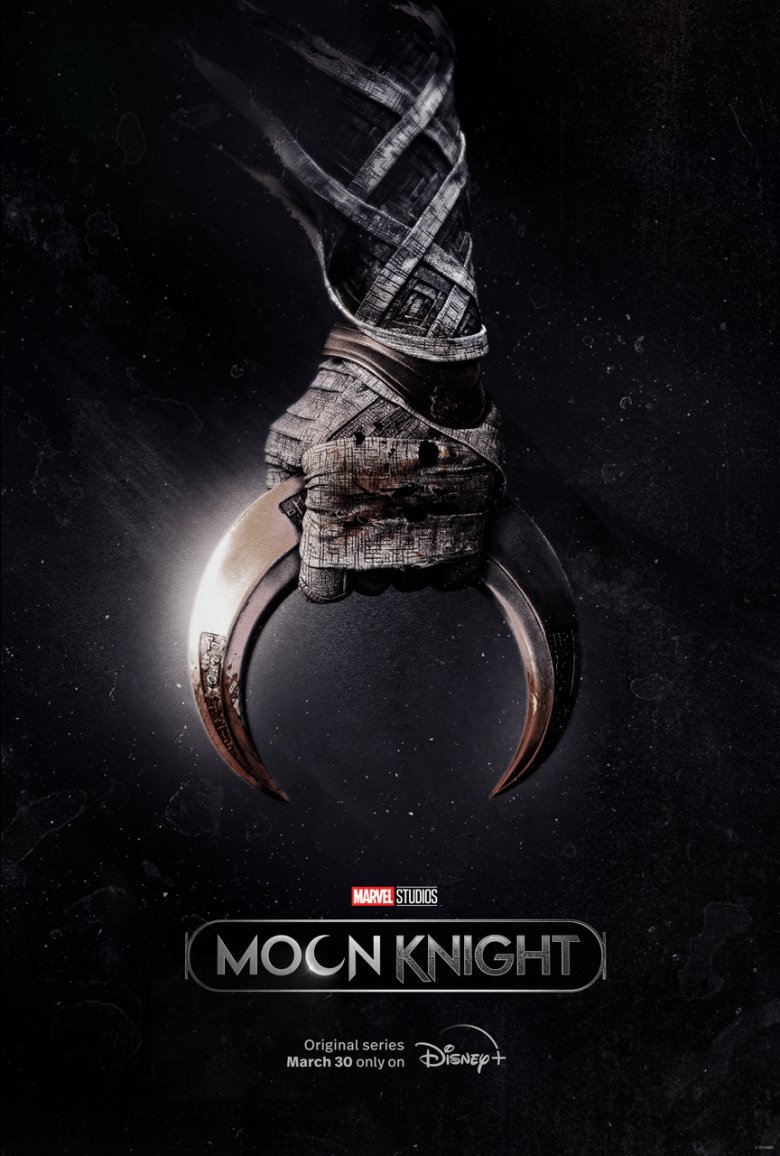 Moon Knight Trailer: Embrace The Chaos
Hold onto your britches folks, because Disney+ is about to get dark: The trailer for "Moon Knight," the latest Disney+ Marvel series, is here.  The six-episode first season will star Oscar Isaac as Marc Spector, a boxer-turned-Marine-turned-CIA agent who starts hearing voices after he almost dies and is resurrected by the moon god Khonshu. Spector also shifts personalities, either as part of his dissociative identity disorder or his connection to Khonshu, who tasks him with protecting the inn...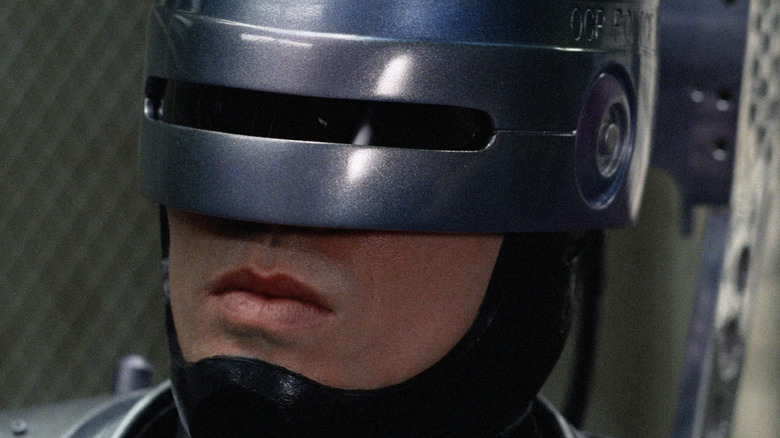 New RoboCop: The Series Box Set Will Let You Serve The Public Trust At Home
The "RoboCop" franchise has spawned more than one television series, but the Canadian cult favorite that aired in 1994 after the original film trilogy wrapped up is coming to Blu-ray and DVD in North America for the very first time in a new box set. Over 17 hours of entertainment centered on "the future of law enforcement, part man, part machine," await you in the "RoboCop: The Series" set. The official product description from Liberation Hall indicates that the set includes the feature-lengt...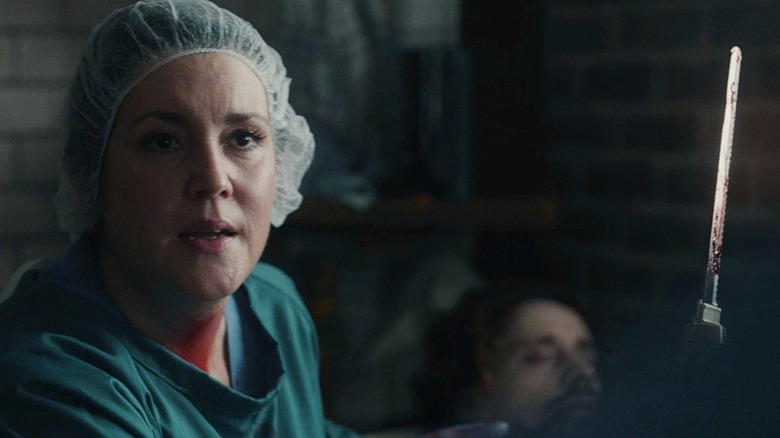 Die Young And Save Yourselves, Yellowjackets, In Sic Transit Gloria Mundi
This week we say goodbye to our favorite fine young cannibals with one hell of a "Yellowjackets" season finale. I laughed, I screamed, I covered my eyes like a small child sneaking into a horror movie, and man oh man did I openly sob.  After last week's shroom soup- and pruno-fueled "Doomcoming," everyone is waking up and coming to terms with what they were really, really close to doing. Show creators Ashley Lyle and Bart Nickerson penned our finale, and Eduardo Sanchez of "The Blair Witch Pr...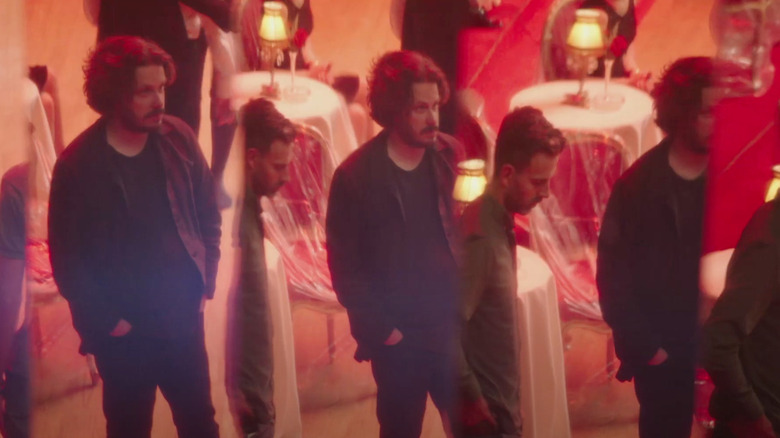 Edgar Wright Recreates Decadent London In Last Night In Soho Featurette [Exclusive]
Many were hoping to get a chance to catch "Last Night in Soho" in theaters, if only for the sake of seeing the latest stylish bit of cinematic razzle-dazzle from filmmaker Edgar Wright ("Hot Fuzz," "Scott Pilgrim vs the World," "Baby Driver"). Unfortunately, like so many other non-superhero movies from visionary directors like Guillermo del Toro ("Nightmare Alley") or Wes Anderson ("The French Dispatch"), "Last Night in Soho" fizzled at the box office despite opening in a large number of theate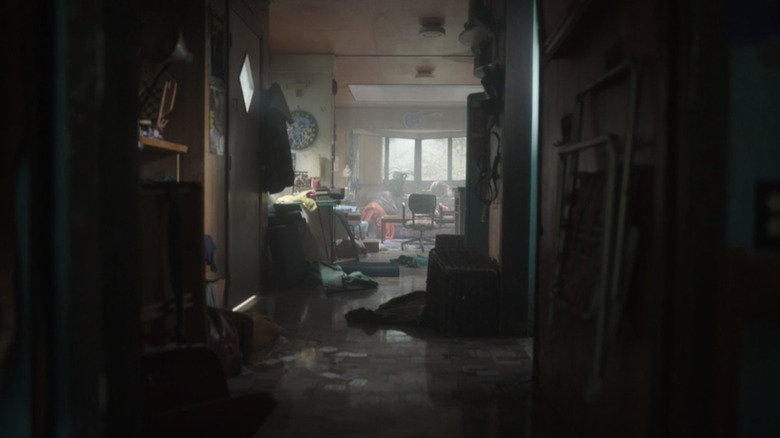 Easter Eggs You May Have Missed In Peacemaker Episode 1
(This article contains SPOILERS for "Peacemaker" episode 1. Proceed with caution.) We still have a few months to go until we thaw out for spring, but it's never too early for an Easter egg hunt. Luckily, there's a new HBO Max original series based on an obscure DC Comics character to carefully comb through, courtesy of a filmmaker known for throwing references into his work left and right. So without further ado, let's take a fairly deep dive into the Easter eggs contained in the first episode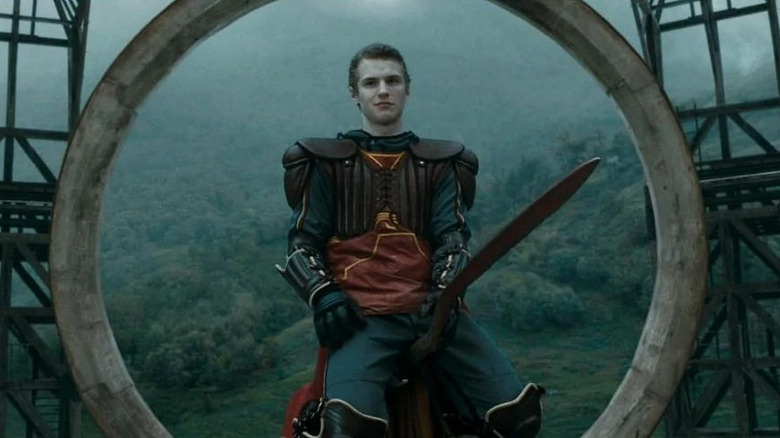 Why Does The Actor Who Plays Vigilante On Peacemaker Look Familiar?
Last week brought the first three episodes of "Peacemaker" to HBO Max. The DC Comics series is a spin-off of "The Suicide Squad," picking up where we last saw John Cena's morally questionable character. Though the "superhero" isn't dealing with anything as big as a giant starfish, there's a whole new alien threat keeping Peacemaker and his Task Force X teammates busy.  Joining the team in "Peacemaker" is Vigilante, whom showrunner James Gunn thinks might actually be a bigger sociopath than hi...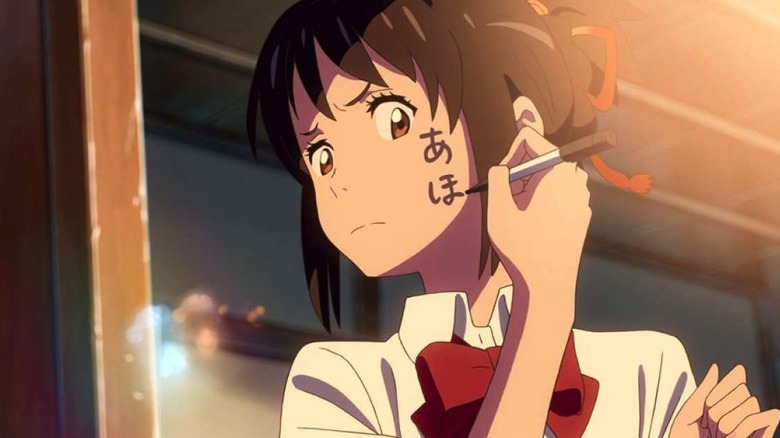 The Daily Stream: Your Name Is A Love Story For The Ages
(Welcome to The Daily Stream, an ongoing series in which the /Film team shares what they've been watching, why it's worth checking out, and where you can stream it.) The Film: "Your Name" Where You Can Stream It: Amazon Prime (both the Japanese and English dubbed versions) The Pitch: A romance from anime legend Makoto Shinkai, "Your Name" is the story of a high school girl named Mitsuha Miyamizu who lives in rural Japan. Her life isn't very interesting to her, and she dreams of being a boy in T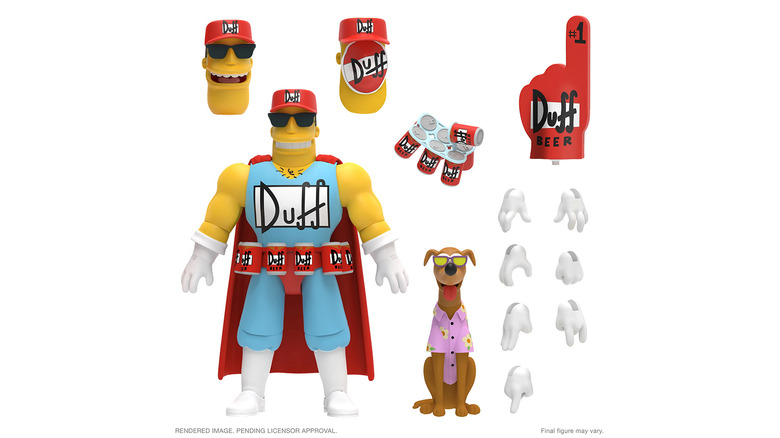 Cool Stuff: The Simpsons Super7 Action Figure Line Brings In Bartman, Duffman, Krusty And Hank Scorpio
Super7 launched an amazing new line of "The Simpsons" action figures as part of the ULTIMATES collection. The first round includes Homer Simpsons in space, "Moe" Szyslak, the robot versions of Itchy & Scratchy, and the reviled Poochie. The second wave brings us another collection of fan favorites, including Bart Simpson's superhero alter ego Bartman, the beer mascot Duffman, the depressing TV star Krusty the Clown, and Hank Scorpio, the evil genius and owner of Globex Corporation. They all co...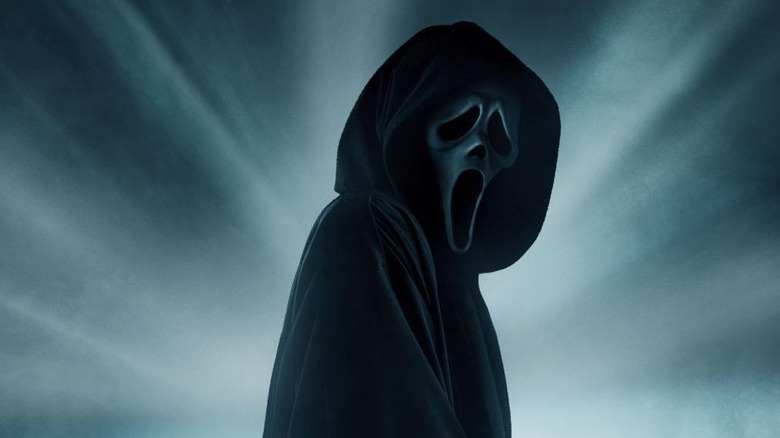 Scream Dethrones Spider-Man At The Box Office As Horror Remains Reliable
The Martin Luther King holiday weekend brought with it our first big box office debut of 2022, with the new "Scream" (technically "Scream 5") taking the top spot. This is particularly remarkable because it's the first movie to beat "Spider-Man: No Way Home" since it first hit theaters exactly a month ago, where it has been dominating the competition ever since. Meanwhile, most everything else (save for "Sing 2") continued to flounder and fight for scraps. Let's have a closer look at the numbers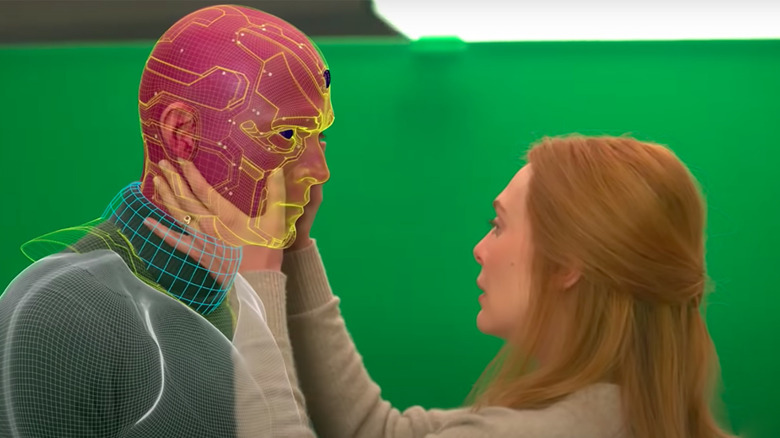 The Morning Watch: Creating The Magic Of WandaVision, Peacemaker Premiere Easter Eggs & More
(The Morning Watch is a recurring feature that highlights a handful of noteworthy videos from around the web. They could be video essays, fan-made productions, featurettes, short films, hilarious sketches, or just anything that has to do with our favorite movies and TV shows.) In this edition, take a look at the visual effects created by Industrial Light & Magic to bring one of the final sequences from Marvel's "WandaVision" series to life. Plus, take a look at all the Easter eggs and DC Com...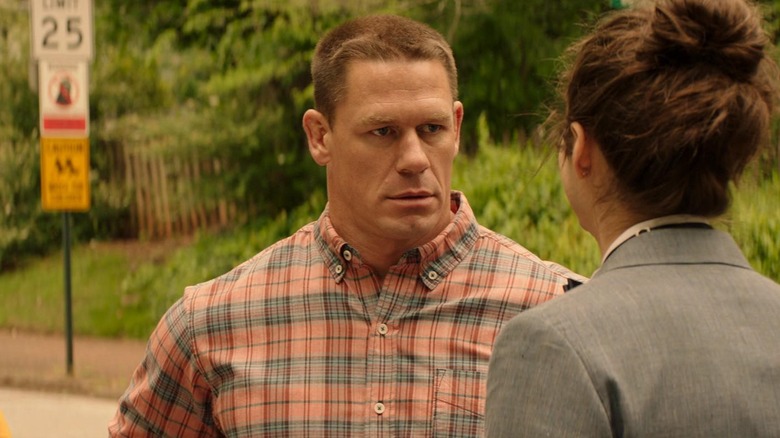 Alison Brie And John Cena Join Action Comedy Freelance From Taken Director Pierre Morel
Two absolute champions of hilarity and wrestling (PLEASE NETFLIX, GIVE US MORE "GLOW") are joining forces for a new action-comedy from the man who wrote "Taken." John Cena and Alison Brie are set to star in "Freelance," a film about an ex-special forces operator who takes a job providing security for a journalist who is set to interview a dictator.  Everything is thrown into chaos when a military coup breaks out mid-interview and the odd couple, joined by the dictator, are forced to head into ...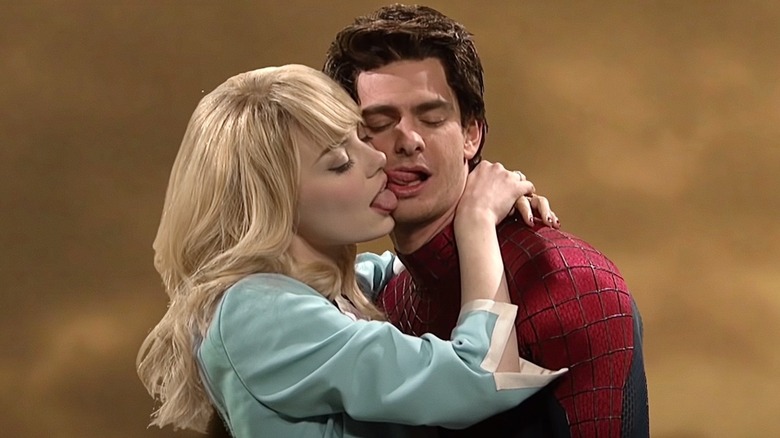 Andrew Garfield Even Lied To Emma Stone About Being In Spider-Man: No Way Home
You know, if you think about it, Andrew Garfield's arduous task in keeping his appearance in "Spider-Man: No Way Home" a complete and total secret from the general public pretty much mirrors Peter Parker's crushing burden in doing the same for his own secret identity as the wall-crawling superhero.  In yet another instance of fact following fiction, the internet at large more or less treated Garfield and Tobey Maguire's inclusion in "No Way Home" as a fait accompli, thanks to a combination of...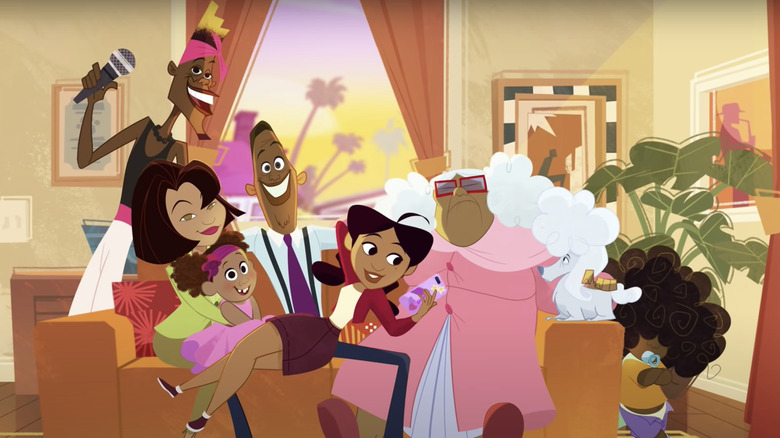 The Proud Family: Louder And Prouder Trailer: The Disney Channel Original Animated Series Gets A Streaming Revival
It's been over 20 years since "The Proud Family" kicked off its initial run as the first Disney Channel original animated series. With a theme song by Solange Knowles and Destiny's Child, the show first aired from 2001 to 2005, crossing over with "Lilo & Stitch" at one point and culminating in "The Proud Family Movie," which acted as the series finale. Now it's back in a Disney+ revival series, "The Proud Family: Louder and Prouder," which is set to begin streaming in February. The original voi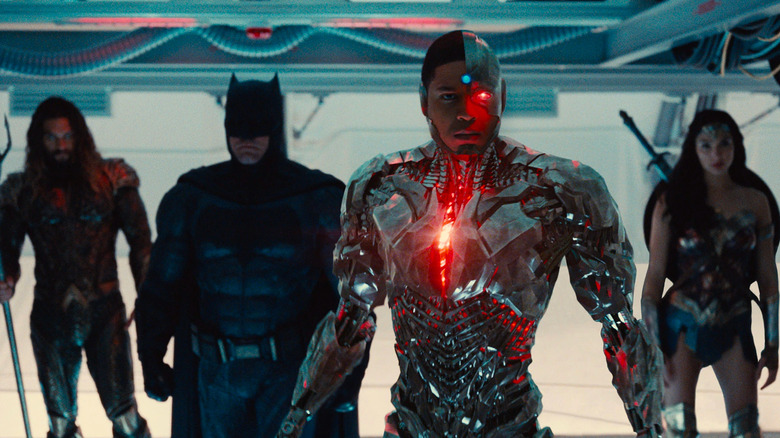 Joss Whedon Says Justice League's Cyborg Storyline 'Made No Sense,' Calls Ray Fisher 'A Bad Actor'
It's hard to believe that the Snyderverse controversy first began almost five years ago. Zack Snyder departed the set of his "Justice League" film in 2017, but it wasn't until 2020 that allegations from the cast would derail the career of Joss Whedon, who'd been tapped to reshape the film in his own image.  Whedon's fall from grace seemed intrinsically linked to comments from Ray Fisher, who was one of the first to address the director's "gross, abusive, unprofessional, and completely unaccept...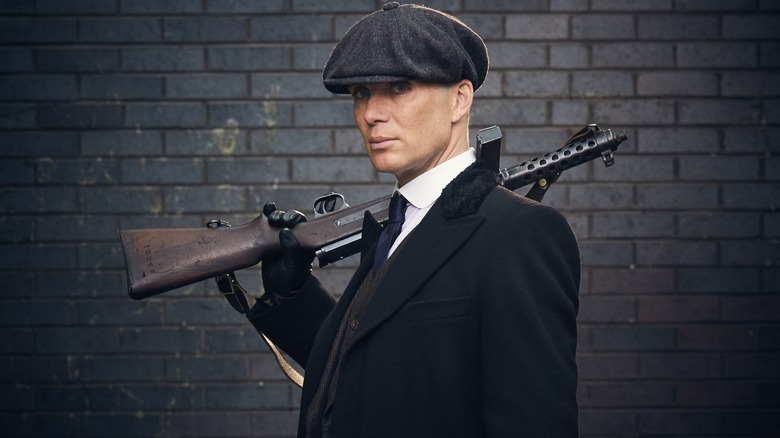 Peaky Blinders' Story Will Continue Into World War II And Beyond
If you thought you had a handle on where exactly in history that the Birmingham-set gangster series "Peaky Blinders" would finally call it quits, think again. This comes directly by order of the Peaky Blinders themselves -- or, rather, series creator Steven Knight. The "Locke" and "Spencer" writer has previously made his intentions known for the Cillian Murphy-led crime drama to come to an end upon the outset of World War II.  So far, the series has documented Tommy Shelby's (Murphy) rise to t...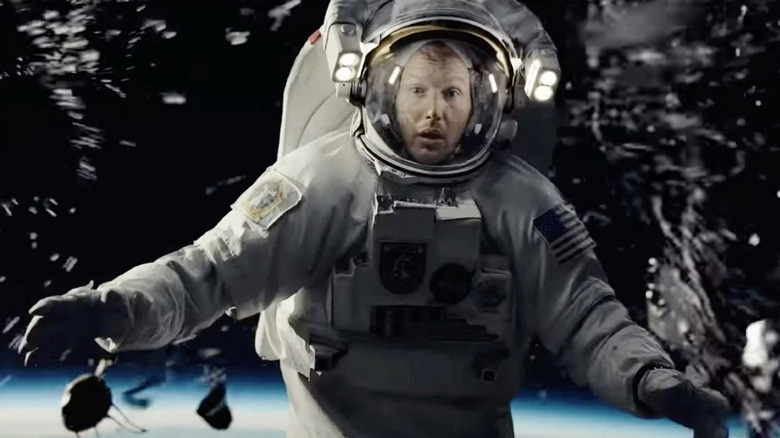 These Exclusive Moonfall Posters Make It Very Clear That The Moon Is Falling
"Moonfall"! The very title of the film makes it abundantly clear: the Moon is falling. And that's bad news for us losers here on Earth. "Moonfall" is the latest disasterpiece from Roland Emmerich, a filmmaker who really likes to blow up the world. In Emmerich's latest, the Moon is suddenly knocked off orbit and headed straight for Earth - but wait, that's not all! What if the Moon isn't just a hunk of dead rock in the sky, but something more? Cue the scary music. For more info, here's t...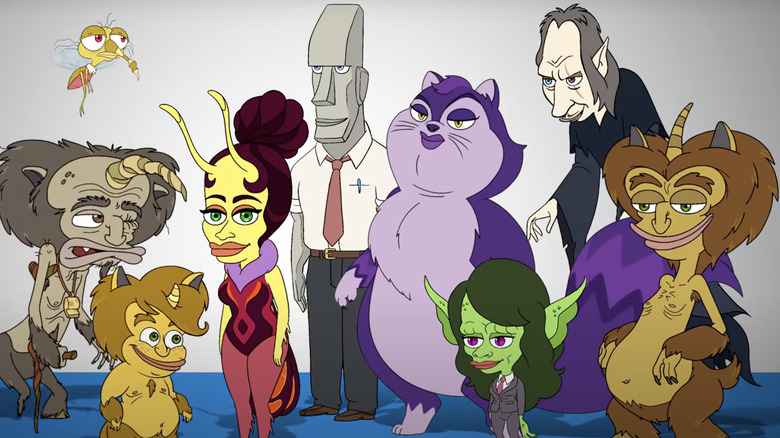 Human Resources Trailer: Hormone Monsters And Shame Wizards Assemble For The Big Mouth Spin-Off
The world of "Big Mouth" is about to get bigger. Netflix's Emmy-winning adult animated sitcom, which features the voices of Nick Kroll and John Mulaney, is going five seasons strong and already has a long-standing order for a sixth season. It's also got a spin-off, "Human Resources," on the way in March, and the first teaser has arrived. Last summer brought details on the voice cast for "Human Resources," which includes Randall Park ("WandaVision"), Keke Palmer ("Hustlers"), "Saturday Night L...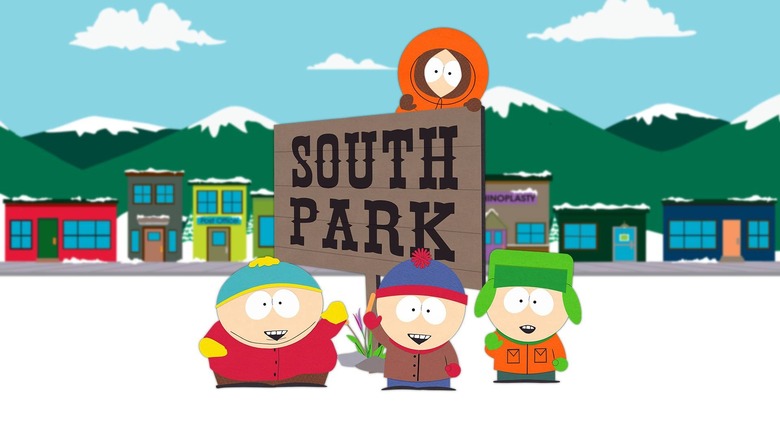 South Park Season 25 Release Date Set At Comedy Central
Another year, another season of "South Park." The Comedy Central series will celebrate its silver anniversary this August, which means that it's been going for almost a full quarter-century now. At this point, the only things guaranteed to survive the nuclear apocalypse are cockroaches and long-running animated sitcoms like "The Simpsons" and "South Park." What makes season 25 of "South Park" special is that it is a true season, as opposed to just a couple of standalone specials, which is wha...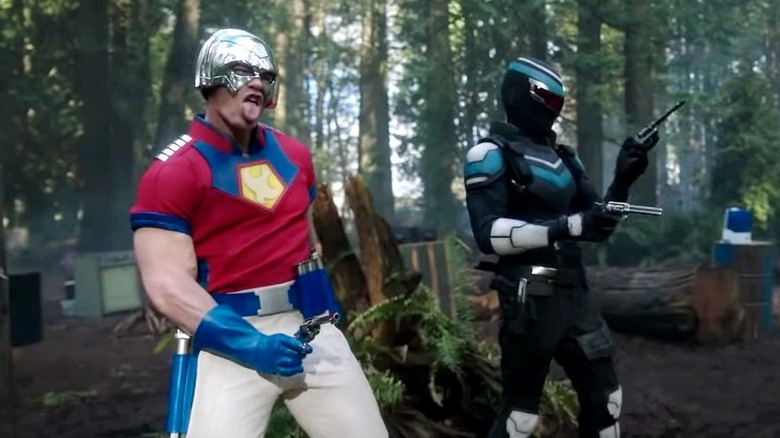 Peacemaker Star John Cena Was Rejected From Many Superhero Roles, Including Deadpool
Sometimes an actor is so perfect for the character they're portraying that we can't possibly imagine anyone else doing them justice. Ryan Reynolds was destined to become Deadpool. Nobody could have embodied the first live-action Shaggy as well as Matthew Lillard. And John Cena is absolutely perfect as Peacemaker.  However, in a recent interview with Josh Horowitz on his "Happy Sad Confused" podcast, the "Peacemaker" star revealed that he faced a lot of rejection for superhero roles before fina...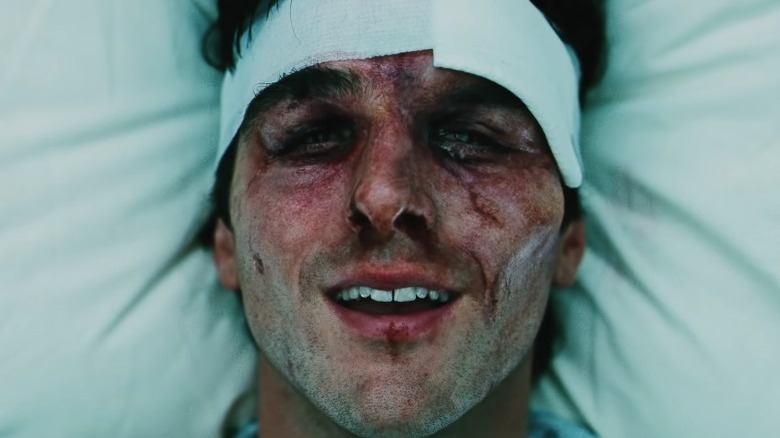 Euphoria Season 2 Yearbook: Nate The Not Great
School is back in session. At least, as much as it can be on a show like "Euphoria," one that never shows classes or homework and recently went viral for a shot of Maddy (Alexa Demie) standing in the hall with a tiny purse and no schoolbooks. Rue (Zendaya), Jules (Hunter Schafer), Nate (Jacob Elordi), Cassie (Sydney Sweeney), and the rest of their classmates aren't particularly concerned with their education this episode, as they're still coming down from last week's bloody New Year's Eve party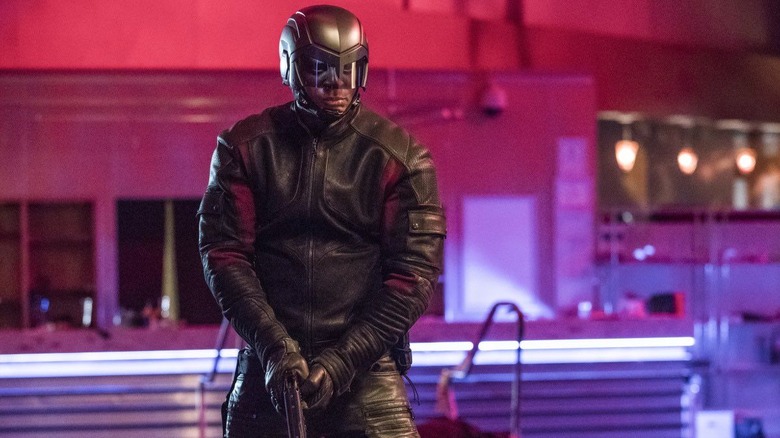 Arrowverse Star David Ramsey Will Headline New Justice U Series For The CW
Despite all the uncertainty surrounding the potential sale of The CW and the future of the Arrowverse if/when that sale takes place, the network is still continuing to develop shows in the universe created by Greg Berlanti & company that are based on characters from DC Comics.  Currently, this slate of programming includes "The Flash," "Legends of Tomorrow," "Batwoman," and "Superman & Lois." Technically, "Stargirl" and "Naomi" are included as well, though they haven't officially crossed over...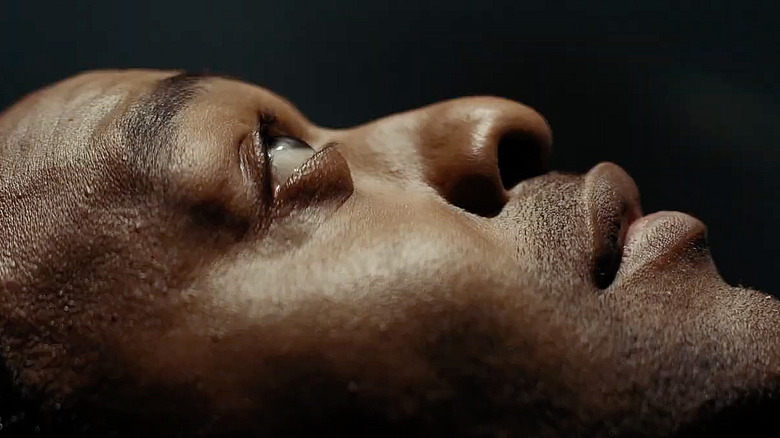 The Man Who Fell To Earth Teaser: Chiwetel Ejiofor Is Here To Change The Future
After moving from Hulu to CBS All Access (before that service was rebranded as Paramount+) and then to Showtime, the TV series version of "The Man Who Fell to Earth" is finally ready to invade homes this year. The show is loosely based on the 1963 sci-fi novel of the same name by "The Queen's Gambit" author Walter Tevis, which itself was famously turned into a film starring David Bowie in 1976. But where Bowie played Thomas Jerome Newton, a human-like alien who crash-landed on Earth in search o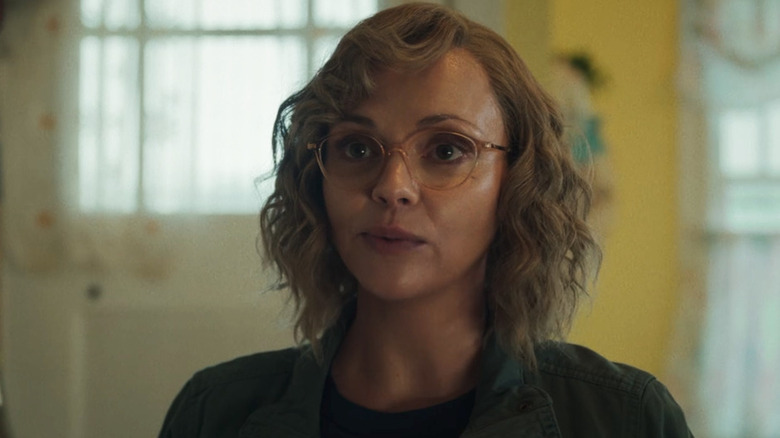 Yellowjackets Season 1 Ending Explained: Iced Out
(This article includes major spoilers from the "Yellowjackets" season 1 finale, "Sic Transit Gloria Mundi.") Well, "Yellowjackets" hive, the show's first season has come to an end, with an emotional finale that showcased its ensemble cast's talents and left us with a whole host of tantalizing cliffhangers. Its final episode confirmed a couple of fans' most popular theories while upending several more. Yes, it appears there are other survivors of the plane crash out there. No, Jackie (Ella Purne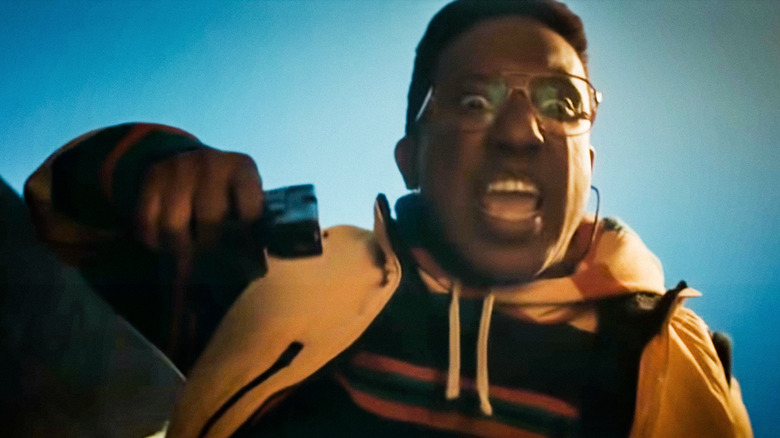 SNL Spoofs Bel-Air With A Very Serious Drama About Steve Urkel
A few years ago, many were calling for a return to the Roaring '20s. While those plans were derailed thanks to the general state of the world right now, streaming services still decided to turn back the clock. Although, they stopped at the '90s. "Full House," "Saved By The Bell," "Daria," and "Legends of the Hidden Temple" are just a few favorites that have been revived by various streamers.  Now Peacock has dropped the trailer for "Bel Air," a dramatic retelling of the iconic Will Smith sitc...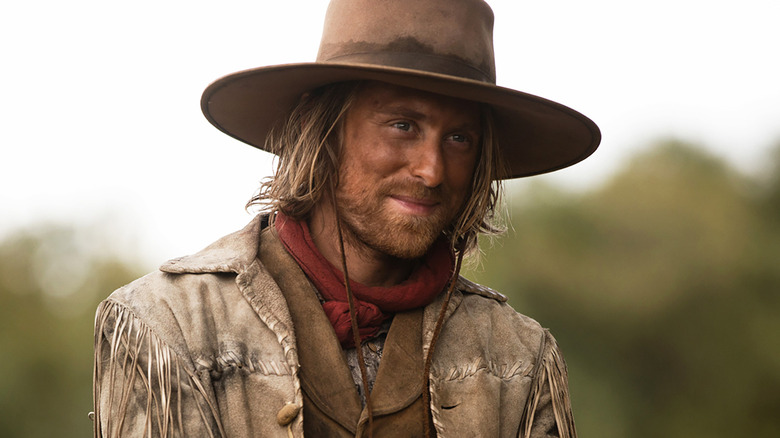 1883: Eric Nelsen On The Episode That Will Change Everything [Interview]
Episode 5 of the Paramount+ show "1883" is a gut punch. I'm not sure I'm going to recover any time soon, and if you're a fan, I bet you're with me on that. If you haven't watched the episode yet, go do it right now. There are absolutely humongous SPOILERS coming up for a major turning point in the series. I cannot be more clear. Turn back now! Do not cross that river unprepared! Go unpack your wagon and leave the heavy stuff behind.  Eric Nelsen plays Ennis, a cowboy who's been hired to help a...


Saturday Night Live Lets West Side Story Star Ariana DeBose Show Off Her Comedic Versatility
After wrapping up 2021 with an awkward episode that found the omicron variant of the coronavirus short-changing Paul Rudd's induction into the Five-Timers Club, "Saturday Night Live" returned for a proper episode to kick off 2022 the right way. "West Side Story" breakout star Ariana DeBose hosted this episode, with Bleachers making a last minute musical guest appearance after Roddy Ricch dropped out due to COVID-19 exposure. DeBose may not be a household name yet, but this episode certainly sh...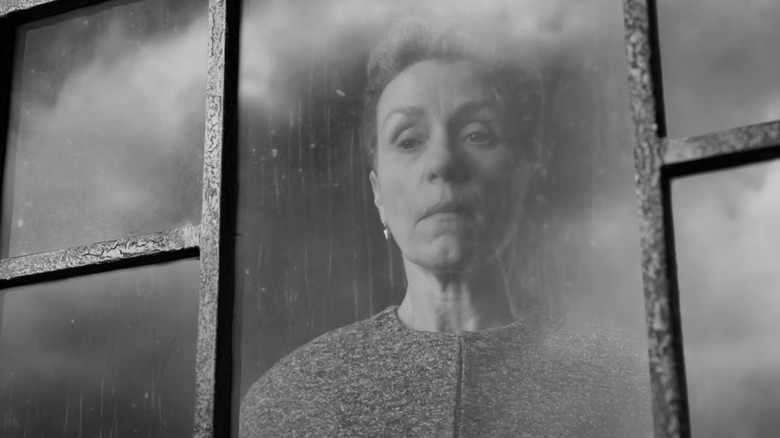 The Daily Stream: The Tragedy Of Macbeth Renews Shakespeare As An A24 Horror Film By Joel Coen
(Welcome to The Daily Stream, an ongoing series in which the /Film team shares what they've been watching, why it's worth checking out, and where you can stream it.) The Movie: "The Tragedy of Macbeth" Where You Can Stream It: Apple TV+ The Pitch: An esteemed thane and his wife commit regicide in a bid for Scotland's throne and soon enter a downward spiral of further murder and madness. In "The Tragedy of Macbeth," writer-director Joel Coen goes solo without losing a step. "The Ballad of Buste...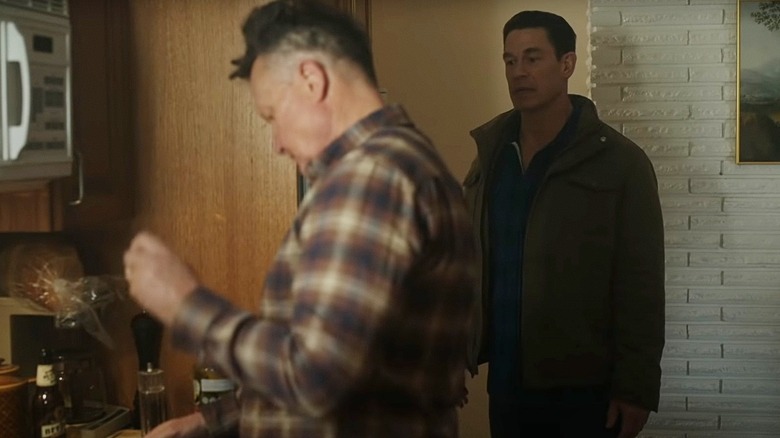 The Idea For Peacemaker's White Dragon Began On The Set Of The Suicide Squad
If you've checked out the first three episodes of the HBO Max series "Peacemaker," then you know that Peacemaker's dad Auggie (Robert Patrick) is a real jerk. His behavior makes Peacemaker (John Cena) look like a really good guy by comparison, which is part of the reason Peacemaker is so screwed up in the first place.  In a press junket attended by /Film, series creator James Gunn explained that he first started exploring the character with Cena on the set of "The Suicide Squad." Fatherhood ...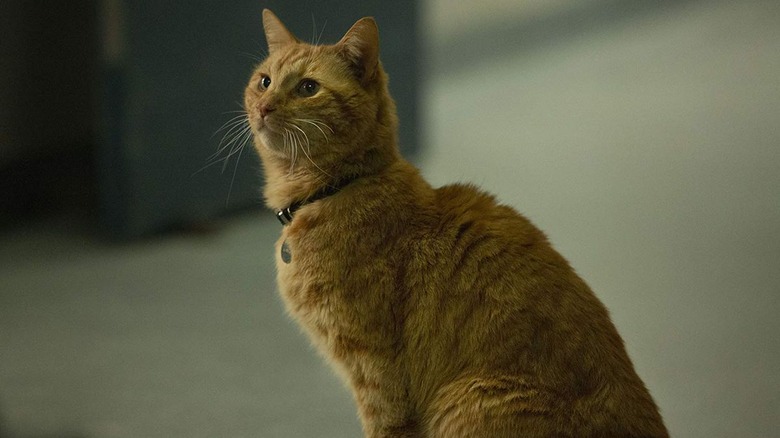 Would Die For Eagly: An Ode To Recent Superhero Pet Sidekicks
Before returning to the Marvel Cinematic Universe to regale the world with the next chapter of the Guardians of the Galaxy's story, James Gunn stuck around the DC Extended Universe after "The Suicide Squad" to give us the vulgar, violent, and venerable spinoff "Peacemaker." The HBO Max series follows former WWE Champion John Cena as he reprises his role as Christopher Smith aka Peacemaker, Task Force X's resident weapons expert, black ops extraordinaire, and top tier a-hole. Some have even used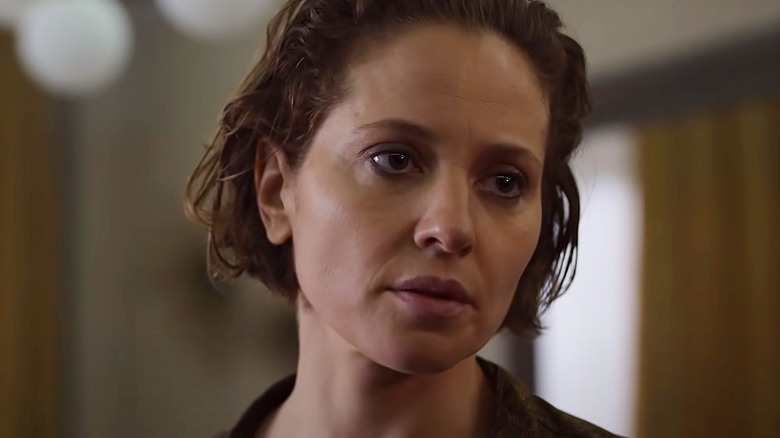 In From The Cold Trailer: A Single Mom Is A Secret Russian Spy With Superpowers
What if your mom was actually a secret Russian spy with superhuman abilities? That could certainly make mommy-daughter day at school interesting, and it's also the premise behind a new Netflix series, "In From the Cold."  The show is set to debut on January 28, 2022, which is just around the corner. To get viewers interested, Netflix has dropped a trailer that shows star Margarita Levieva kicking lots and lots of butt. "In From the Cold" looks like it's a little "La Femme Nikita," a little "...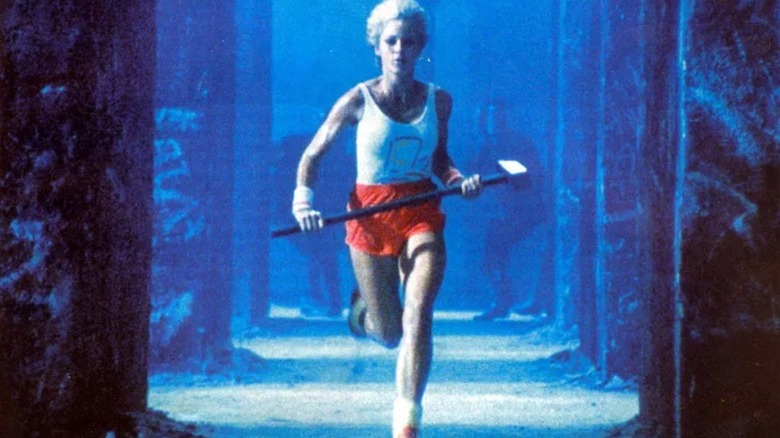 Ridley Scott Reflects On His Legendary Apple Commercial: 'Who The F*** Is Steve Jobs?'
Prolific director Ridley Scott is in the award season conversation for not just one, but two films this year. He released the panoramic period piece "The Last Duel" in October, before dropping the Lady Gaga-led "House of Gucci" the very next month. In a recent interview with The Hollywood Reporter, Scott reflected on his varied career, even speaking at length about his time directing TV commercials. According to THR, Scott's ad filmography includes over 2,000 different commercials, but it's cle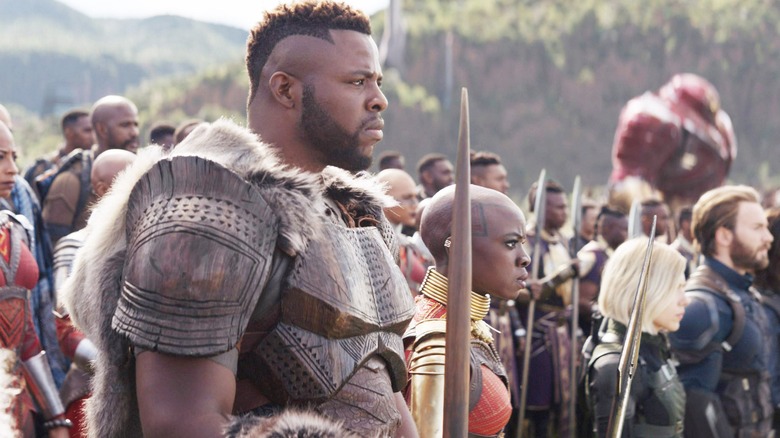 M'Baku Actor Winston Duke Reportedly Has An 'Expanded Role' In Black Panther 2
Despite a number of setbacks, "Black Panther: Wakanda Forever" has resumed shooting. Following the unexpected death of star Chadwick Boseman, the production faced issues when Shuri actress Letitia Wright suffered some intense injuries while performing a stunt last summer. But after a lengthy hiatus, Wright has recovered and production is back on track.  Considering how much Wright's absence affected the shooting schedule of director Ryan Coogler's upcoming sequel, we basically have confirmati...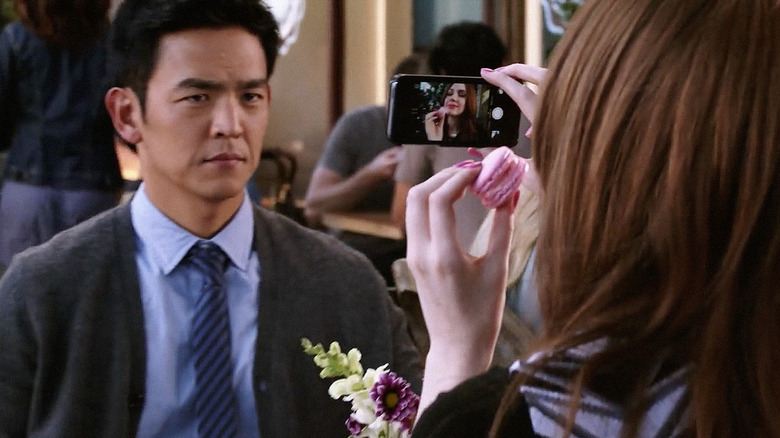 TV, Interrupted: How Selfie Actually Slayed
(Welcome to TV, Interrupted, a series where the /Film team remembers, eulogizes, and makes a case for the revival of TV shows we loved that were canceled far too soon.) Few relationships carry such an inherent risk as the ones we share with our favorite TV shows. Nowadays, it's risky to get attached to any show outside of the Dick Wolf Lexicon or the celebrity competition genre. Even as networks transition to streaming, many series are likelier to face cancelation than renewal. Of course, if th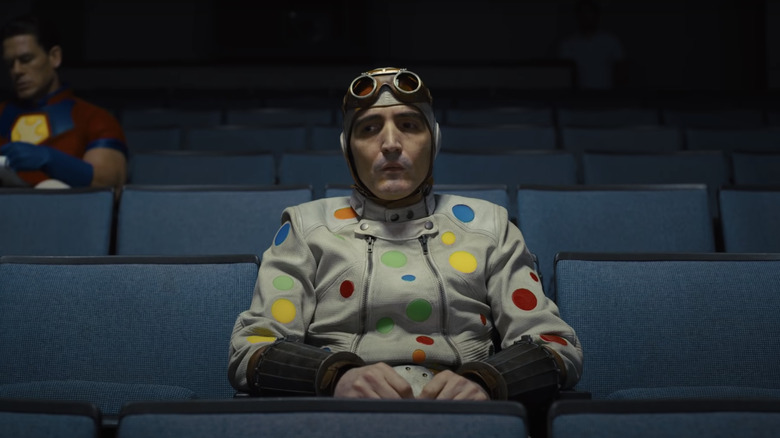 James Gunn Teases That His Mysterious DC Project Is Another TV Series
"Peacemaker" just dropped its first three episodes on HBO Max on January 13, but showrunner and writer (and director of five of eight episodes), James Gunn, already has another DC project lined up. This is something Gunn himself confirmed last October when he tweeted, "Yes, I'm developing another DC project besides Peacemaker," and, "I can't wait to show folks what we've been cooking up." The exact details of that project are still shrouded in unknowns, and Gunn has a couple of other big Marv...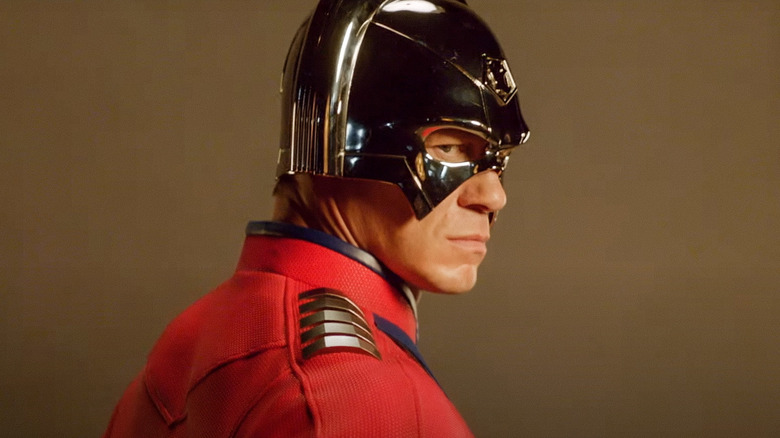 Peacemaker Featurette Explains Why The 'Worst' Suicide Squad Character Got A Spinoff
If you're not already on board with HBO Max's "Peacemaker" series, a new featurette from Warner Bros. might get you interested. The five-minute video titled "What's Not To Love About Peacemaker?" interviews John Cena's castmates from "The Suicide Squad" about what makes the character a standout, with added insight from James Gunn and Cena himself. Gunn explains why he decided to spotlight Peacemaker with the new show, saying that when imagining a multi-season series, it makes sense to "start wi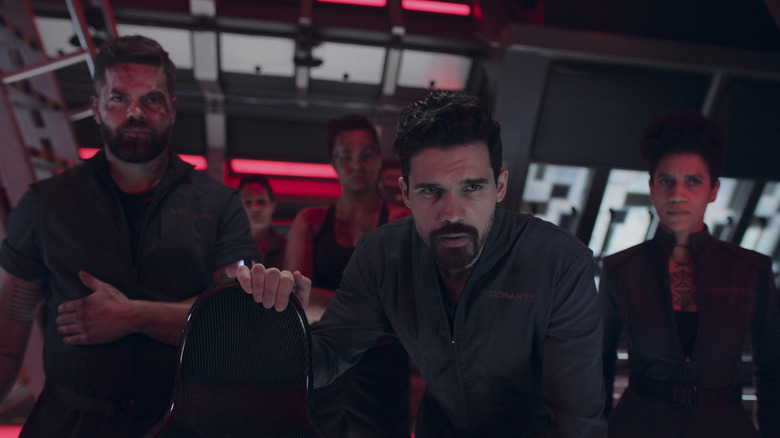 The Expanse's Steven Strait Looks Back On James Holden's Journey To The Series Finale [Interview]
With the final episode of "The Expanse" airing this Friday, /Film had the chance to talk with James Holden himself — actor Steven Strait — about the end of the show. Read on to get Strait's thoughts on portraying Holden's arc through the six seasons of the series and what it was like going back to play a very young and naïve Holden for the show's X-Ray short. There's also some cat talk (if you know, you know), for your enjoyment. And warning! Spoilers for the series finale of "The Expanse"...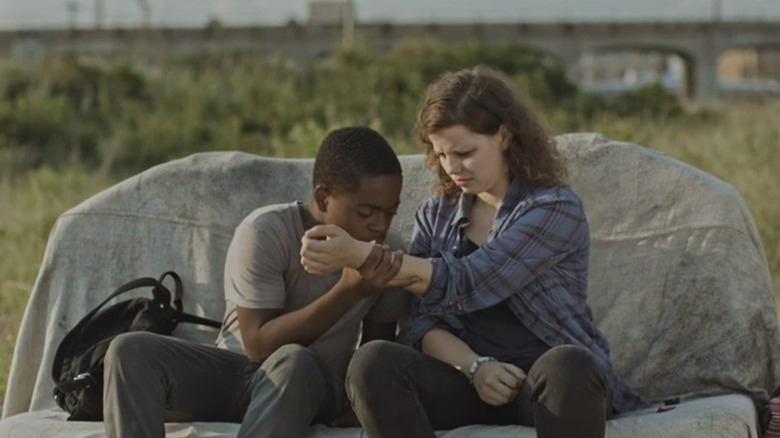 Year Of The Vampire: The Transfiguration Brings Blood-Sucking Down To Earth
(Welcome to Year of the Vampire, a series examining the greatest, strangest, and sometimes overlooked vampire movies of all time in honor of "Nosferatu," which turns 100 this year.)As a forever fan of fellows with fangs, there's little I won't watch as long as vampires are involved. In my quest to consume all things vampire, there have been disappointments, joys, and hidden gems. The 2016 indie vampire movie "The Transfiguration" is definitely in the third category. It's one of those movies tha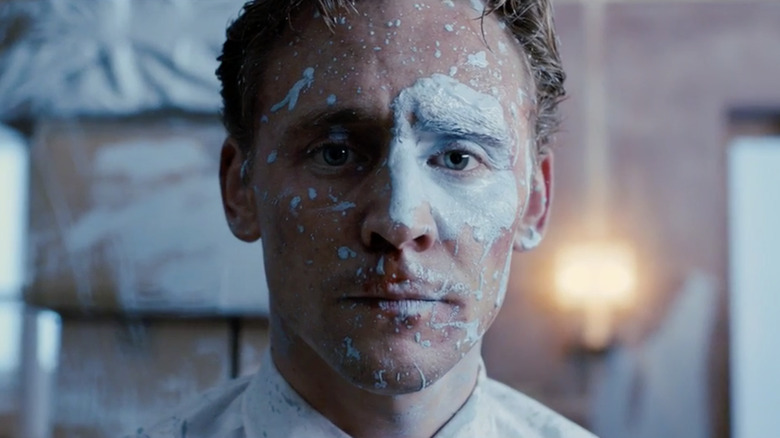 The Daily Stream: High-Rise Is A Stylish Dystopian Nightmare
(Welcome to The Daily Stream, an ongoing series in which the /Film team shares what they've been watching, why it's worth checking out, and where you can stream it.) The Movie: "High-Rise" Where You Can Stream It: HBO Max The Pitch: Directed by Ben Wheatley and based on the 1975 novel of the same name by J.G. Ballard, "High-Rise" is a dystopian fable about classism, capitalism, and consumerism. The film is set in a luxury residential high-rise building sometime in the 1970s. This place is c...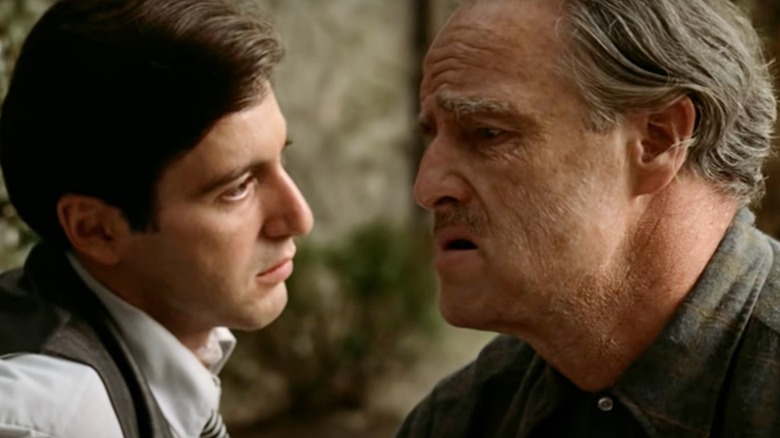 Francis Ford Coppola Used A Mafia Move To Escape Getting Fired From The Godfather
Late last year, we delved into a bit of Hollywood history and examined how director Francis Ford Coppola was nearly fired during the production of "The Godfather." The arrival of 2022 brings the 50th anniversary of "The Godfather" and a theatrical rerelease and 4K restoration of "cinema's most beloved masterpiece," as Paramount's new trailer calls it. Coppola is doing press to promote it, and he has again shared the story of watching the Oscars in 1971 with friend and fellow filmmaker Martin ...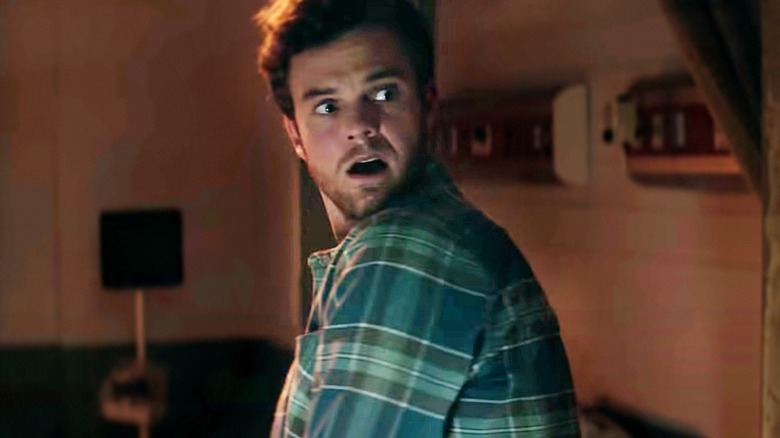 Scream Had Multiple Fake Scripts To Keep Those Darn Actors From Spoiling Things
It's not unusual to hear of movies or TV shows going to great lengths to safeguard plot secrets, particularly since Al Gore invented the Internet and made it so easy for things to leak online. Gore was vice president the first time the title "Scream" landed on movie marquees back in 1996, and now here we are again, looking at another film in the same franchise with the same title. The latest "Scream" (which is really "Scream 5") features returning cast members Neve Campbell, Courteney Cox, an...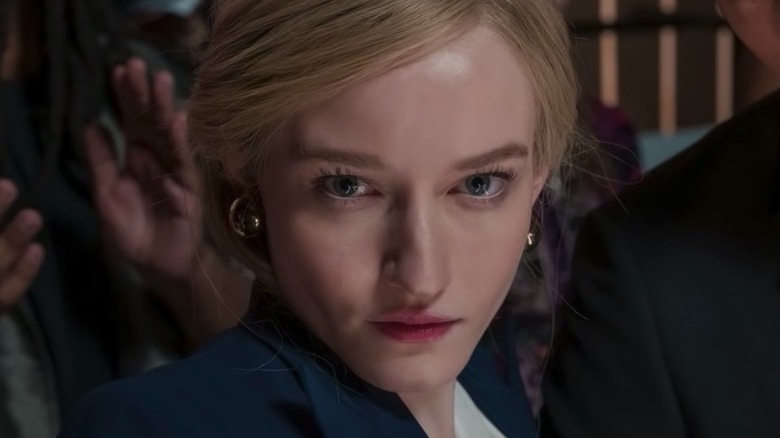 Inventing Anna Trailer: Wild Accents, Wilder Story
Netflix has released a trailer for its upcoming series "Inventing Anna." The show, which premieres February 11, 2022, is based on the true story of Anna Sorokin, a Russian-born German woman who created a fraudulent identity for herself in New York's elite social circles by posing as a German heiress called Anna Delvey. Sorokin basically created a shell game, using fake credit cards, borrowing money from people, and applying for loans with fake Swiss bank account papers. You may have read about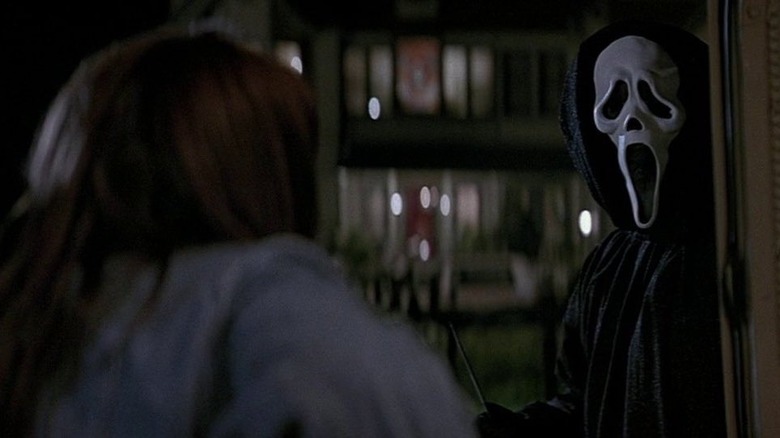 Tales From The Box Office: How Wes Craven's Scream Saved The Slasher Genre
(Welcome to Tales from the Box Office, our column that examines box office miracles, disasters, and everything in between, as well as what we can learn from them.) Horror is truly one of the mainstay staples of Hollywood and, in many ways, its ever-reliable backbone. Slasher flicks, specifically, feel as though they have always done particularly well. It's a genre where an investment of a few million dollars can eventually lead to the "Halloween" franchise taking in over $700 million at the glo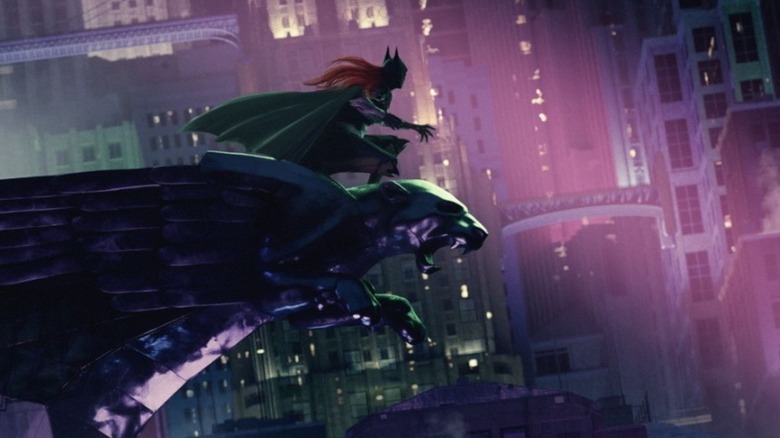 Batgirl Star Leslie Grace Reveals First Look At Her Costume
Despite being introduced into the "Batman" comic book series all the way back in 1967 (technically 1961, but I'm talking Barbara Gordon here), Batgirl is finally making her way into the live-action DC Extended Universe, with Leslie Grace set to play the iconic character in an exclusive film for HBO Max. Not to be confused with Batwoman, the Batgirl character has appeared in multiple animated series and "The Lego Batman Movie," but this is our first bonafide chance to see a live-action Batgirl s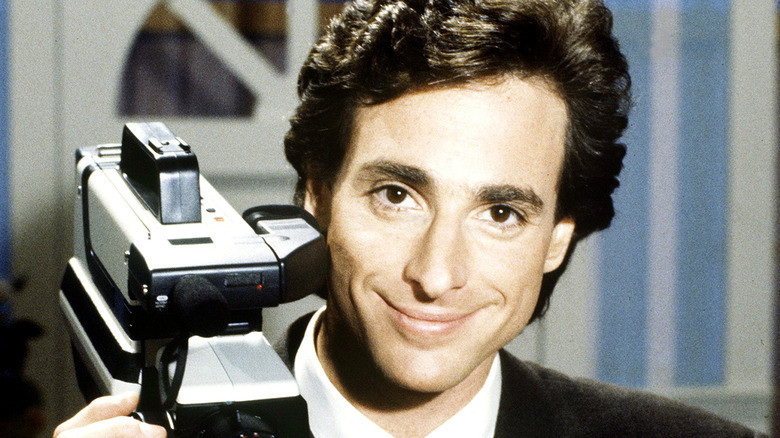 How To Watch America's Funniest Home Videos Tribute To Bob Saget
Fans are still mourning the loss of actor, host, and comedian Bob Saget, who tragically passed away last week at the age of 65. The beloved star of "Full House" was the TV dad of a generation, and also the original host of the long-running ABC comedy show, "America's Funniest Home Videos."  In honor of his legacy, "America's Funniest Home Videos" is putting on a special tribute to Saget, airing at the beginning of Sunday's episode at 7:00 p.m. ET/PT, exactly one week after Saget died at the Ri...