NPB's Yakult Swallows To Sign Cy Sneed
The Yakult Swallows if Japan's Nippon Professional Baseball have signed their second former big leaguer in as many days, as The Athletic's Ken Rosenthal reports that they've agreed to terms with now-former Astros right-hander Cy Sneed (Twitter link). Yakult agreed to terms with former Pirates corner infielder/outfielder Jose Osuna earlier in the week. Sneed, 28,…


Rangers Interested In Ha-Seong Kim
The Rangers have interest in star Korean infielder Ha-Seong Kim, MLB.com's T.R. Sullivan reports in his latest inbox column. The Kiwoom Heroes of the Korea Baseball Organization posted the 25-year-old Kim for Major League teams earlier this week. While Kim has primarily played shortstop to this point in his career, he also spent a good…


Offseason Outlook: Tampa Bay Rays
The reigning American League champions will deploy their usual strategy of tight payroll management and canny roster maneuvering as they look to take the final step of capturing a World Series. Guaranteed Contracts Blake Snell, SP: $39MM through 2023 Kevin Kiermaier, CF: $26MM through 2022 (includes $2.5MM buyout of $13MM club option for 2023) Brandon…


NPB's Yakult Swallows Sign Jose Osuna, In Talks To Acquire Cy Sneed
Jose Osuna announced on his Instagram page that he has signed with the Tokyo Yakult Swallows of Nippon Professional Baseball.  Pirates GM Ben Cherington recently suggested that Osuna would be heading to play in Asia after Pittsburgh designated Osuna for assignment and subsequently released him earlier this week.  In addition to Osuna, the Swallows seem…


Yadier Molina Says Five Teams Have Shown Interest
Yadier Molina has long stated that he wants to remain with the Cardinals, and he reiterated that hope in an interview with Laura A. Bonnelly V. of Mas Que Pelota (hat tip to Deportivo Z 101's Hector Gomez).  However, Molina also revealed four other teams who have shown interest in his services — the Yankees,…


Click here to read the transcript of tonight's live baseball chat, Thanksgiving edition!


Blue Jays Interested In Brad Hand
The Blue Jays' long list of free agent targets has extended to the bullpen market, as MLB Network's Jon Morosi tweets that Toronto was recently in touch with left-hander Brad Hand.  The former All-Star entered free agency after the Indians declined their $10MM club option on Hand's services. Hand was placed on waivers by the…


Reds GM Nick Krall Discusses Pitching Staff
Reds general manager Nick Krall recently discussed the team's pitching outlook for 2021 with reporters (including Bobby Nightengale of the Cincinnati Enquirer). The baseball operations head said he wouldn't rule out a reunion with top free agent Trevor Bauer but reiterated that the parties "haven't really had substantial conversations" to this point. Should Bauer depart, the Reds…


MLBTR Poll: Grading The Braves' Recent Signings
The Braves have easily been the offseason's most active team in the early going. Atlanta has made a pair of rotation additions, signing southpaw Drew Smyly to a one-year, $11MM deal and bringing in Charlie Morton for one year at $15MM. Single-year terms has become a staple of the Alex Anthopoulos regime in Atlanta. They've had plenty of…


What Should The A's Do About Left Field?
The Oakland A's may look to offset the potential loss of left fielder Robbie Grossman with organizational depth. According to MLB.com's Martín Gallegos, the A's suspect 28-year-old Seth Brown could play an important role – but it's now or never for the Oregon native. Brown's combination of power and patience is a skill set the…


AL East Notes: Rays, Franco, Red Sox, Benintendi, Cora, Pedroia
Rays top prospect Wander Franco is on his way back to the United States for precautionary tests on the bicep injury that forced him out of the lineup in the Winter League, according to John Romano of the Tampa Bay Times (via Twitter). The Dominican League reported news of Franco's discomfort last week, but it…


This Day In Transaction History: Thanksgiving
Thanksgiving isn't usually a barnburner of a day as far as baseball transactions are concerned, but that's pattern more than rule. Most years something official happens along the lines of Matt Skole signing with the White Sox in 2019 or Jason Lane signing with the Padres in 2014 – but  three years in particular gave…


Freshly minted Mets owner Steve Cohen seems to be having a blast in his new role atop the organization, but that doesn't mean it's all coming easy. While the club looks to be a prime landing spot for industry executives, Cohen and president Sandy Alderson have not had the easiest time of recruiting new baseball…


The Twins have agreed to a deal with Derek Law, the righty himself announced on Twitter. Details aren't yet known, but it seems likely to be a minors pact with an invitation to Spring Training. Law, 30, cracked the majors in 2016 and appeared in each of the ensuing three campaigns. That run came to…


The latest outrights from around the majors… The Rockies have outrighted right-hander Jesus Tinoco, Mark Feinsand of MLB.com tweets. The club designated Tinoco for assignment last week, but he cleared waivers after that. Now 25 years old, Tinoco first joined the Rockies as part of the return they received from the Blue Jays in the…


Latest On Twins' Search For Starting Pitching
Right-hander Charlie Morton came off the free-agent board Tuesday when he signed with Atlanta, but the Braves had competition in the form of the Twins. Minnesota "had a lot of interest" in Morton, according to Darren Wolfson of 5 Eyewitness News. Geography may have worked against the Twins, though, as Morton has said in the…


Hunter Renfroe, Brian O'Grady Become Free Agents
Rays outfielders Hunter Renfroe and Brian O'Grady have cleared waivers and become free agents, Juan Toribio of MLB.com tweets. The Rays designated both players for assignment last week. Renfroe was a relatively high-profile acquisition for the Rays last winter, when they landed him in a trade with the Padres. He was coming off a 33-home…


Pirates Designate Will Craig For Assignment
The Pirates have designated first baseman/outfielder Will Craig for assignment, per a club announcement. He was the team's first-round pick back in 2016. Craig's roster spot will go to right-hander Ashton Goudeau, whose previously reported waiver claim out of the Rockies organization has now been formally announced by Pittsburgh. Craig, 26, made his MLB debut…


Indians Designate Adam Cimber For Assignment, Claim Jordan Humphreys
The Indians have claimed right-hander Jordan Humphreys off waivers from the Giants and, in a corresponding move, designated righty Adam Cimber for assignment, according to a club announcement. San Francisco had designated Humphreys for assignment back on Friday. Cimber, 30, came to Cleveland alongside recently waived All-Star Brad Hand in the trade that sent catching…


Rangers Claim Aramis Garcia From Giants
The Rangers announced that they've claimed catcher Aramis Garcia off waivers from the Giants, who had designated him for assignment Friday. The waiver claim brings the Rangers' 40-man roster to a total of 39 players. Garcia, 27, at one point looked like he could potentially factor into the Giants' long-term catching outlook in some regard.…


Orioles Claim Chris Shaw, Release Renato Nunez, Designate Thomas Eshelman
The Orioles announced Wednesday that they've claimed first baseman/outfielder Chris Shaw off waivers from the Giants. Right-hander Thomas Eshelman was designated for assignment to open a spot on the 40-man roster. Additionally, the O's revealed that corner infielder/designated hitter Renato Nunez, whom they designated for assignment last Friday, went unclaimed on waivers and has been…


Diamondbacks Release Junior Guerra
The Diamondbacks announced Wednesday that they've released right-hander Junior Guerra, who'd previously been designated for assignment last Friday. Guerra, who'll turn 36 in January, notched a tidy 3.04 ERA in 23 innings this past season, although his 21-to-15 K/BB ratio and 5.03 SIERA tell another story. The righty was a frequent contributor for the Brewers…


Red Sox Claim Joel Payamps, Designate Robert Stock
The Red Sox announced Wednesday that they've claimed right-hander Joel Payamps off waivers from the D-backs and designated fellow righty Robert Stock for assignment in order to open a spot on the 40-man roster. Boston also announced that right-hander Ryan Weber and southpaw Matt Hall, both of whom were designated for assignment last Friday, were…


The Pirates have claimed right-hander Ashton Goudeau off waivers from the Rockies, Fansided's Robert Murray tweets. Colorado designated him for assignment last week when making some moves to protect players from the Rule 5 Draft. Goudeau, 28, made his Major League debut with the Rockies this past season but totaled just 8 1/3 innings, during…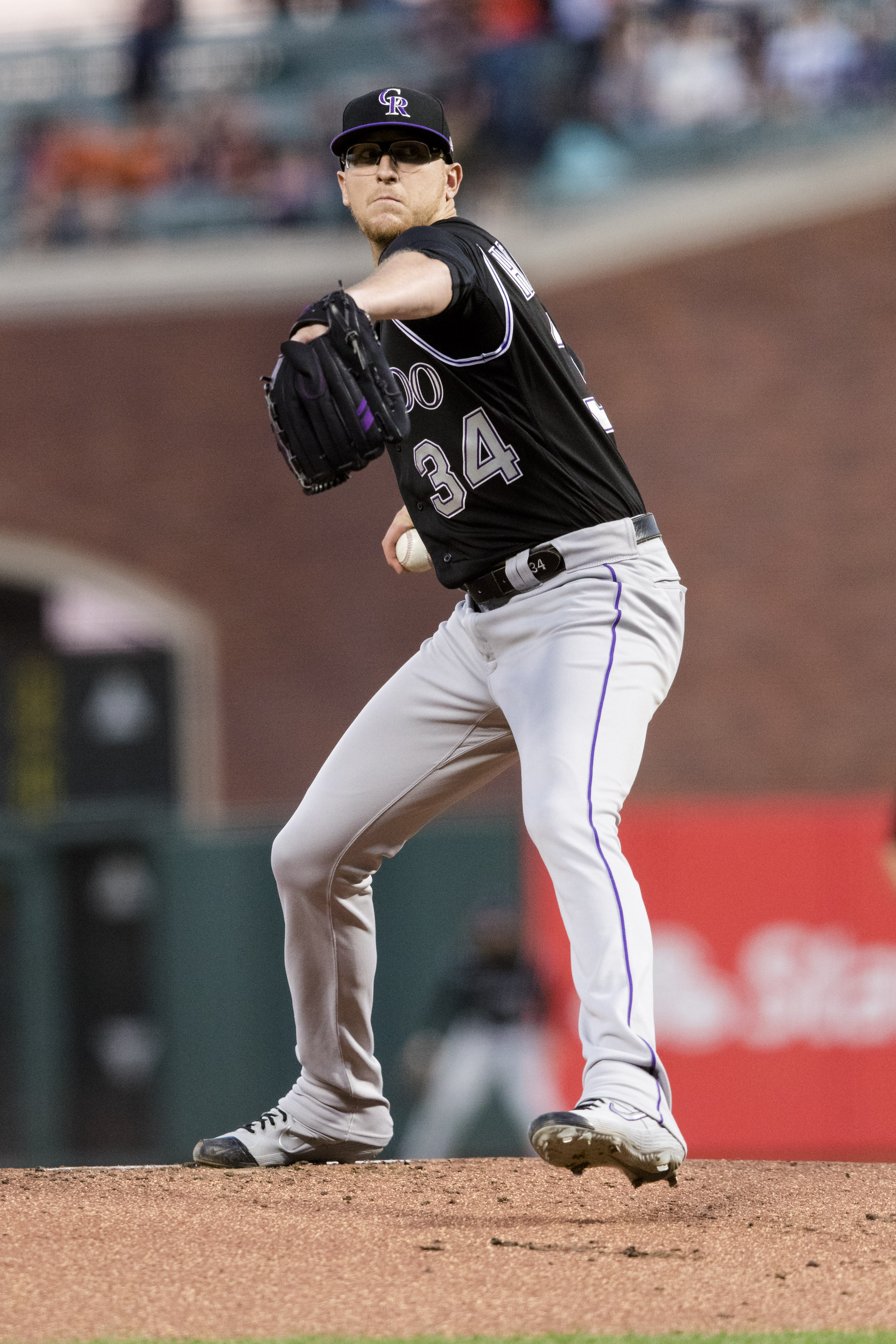 Rockies, Reds Swap Jeff Hoffman For Robert Stephenson
In a challenge trade of sorts, the Rockies and Reds have agreed to swap a pair of former top pitching prospects. The two clubs agreed to a trade Wednesday sending right-hander Jeff Hoffman and minor league righty Case Williams from Colorado to Cincinnati in exchange for right-hander Robert Stephenson and minor league outfielder Jameson Hannah. The…


Dodgers Rumors: Hand, Turner, Arenado, Lindor
The Dodgers have shown some interest in free-agent lefty Brad Hand, tweets MLB.com's Jon Morosi. While the early interest in the former All-Star closer is somewhat notable it's also not much of a surprise; the Dodgers generally have been willing to spend money on high-profile free relievers in recent years — Joe Kelly and Blake…


Mets Reportedly Interviewed Chris Young For GM Vacancy
Mets president Sandy Alderson revealed earlier this week that his team would not hire a president of baseball operations and would instead focus its front office search on hiring a general manager. It's already known that Alderson and new owner Steve Cohen have spoken to former Marlins president of baseball ops Michael Hill, and Mike…


Quick Hits: Snell, Mariners, Yanks, Voit, Thames, Mets, Tebow
The Mariners entered the rumor mill Monday as a team reportedly interested in acquiring Rays left-hander Blake Snell. Unsurprisingly, though, it would take a significant offer for the Mariners to acquire Snell. The Mariners would need to include any of three of their best young outfielders – Kyle Lewis, Jarred Kelenic or Julio Rodriguez –…


Yasiel Puig Looking To Return To Majors In 2021
8:54pm: Puig is already generating MLB interest, per MLB.com's Mark Feinsand, who writes that "the Astros, Orioles and Red Sox are among the teams that have Puig on their radar." 3:53pm: After a season out of baseball, free-agent outfielder Yasiel Puig has hired Rachel Luba as his new agent, Luba announced on Twitter. That suggests…


The Cardinals are dealing with some questions in their rotation at the moment, but they have not actively pursued starters in free agency, Derrick Goold of the St. Louis Post-Dispatch tweets. Franchise icon Adam Wainwright is the only starter they've gone after with much aggression, according to Goold. The Cardinals' rotation took a major hit…


Offseason Outlook: Minnesota Twins
The Twins' unfathomable postseason losing streak stretched to 18 games when they fell to the Astros during a Wild Card sweep. It's back to the drawing board for chief baseball officer Derek Falvey and GM Thad Levine as they look to secure a third straight division title and finally dispel the postseason curse. Guaranteed Contracts…


MLB Investigating Domestic Incident Involving Randy Arozarena
Randy Arozarena is under investigation from the league's department of investigations after the Rays outfielder was detained in Mexico, ESPN.com's Jeff Passan reports (Twitter links).  Two different Mexican media outlets (the Yucatan Ahora and Diaro de Yucatan) have reported on the alleged incident, and John Romano of the Tampa Bay Times has detailed the differences…


Giants Interested In Jon Lester
The Giants have interest in left-hander Jon Lester, according to MLB Network's Jon Morosi (Twitter link).  Lester entered free agency after the Cubs bought him out for $10MM rather than exercise a $25MM club option on the veteran's services for 2021. This isn't the first time Lester has been connected to the Giants, as Morosi…


Latest On Astros, LeMahieu, Correa
12:43PM: In an update to his original story, Rosenthal writes that the Astros are "not engaged in any active conversations on Correa."  The team has, however, been in touch with LeMahieu. 11:39AM: The Astros are "floating" Carlos Correa's name in trade talks with other teams, The Athletic's Ken Rosenthal reports (subscription required).  This isn't the…


Blue Jays Interested In Michael Brantley, Justin Turner, Ha-Seong Kim
For the second straight offseason, the Blue Jays are checking in on a wide range of free agent options.  The club has already been linked to George Springer and DJ LeMahieu, and now The Athletic's Ken Rosenthal (subscription required) adds that Toronto has spoken with representatives for Michael Brantley and Justin Turner, and the Jays…


Reds Open To Offers For Sonny Gray
Just as the Rays are reportedly listening to trade offers on Blake Snell to see if someone will bowl them over, the Reds are performing their own due diligence and at least listening to offers on right-hander Sonny Gray, Ken Rosenthal of The Athletic reports. It's important to note that there's no indication Cincinnati is…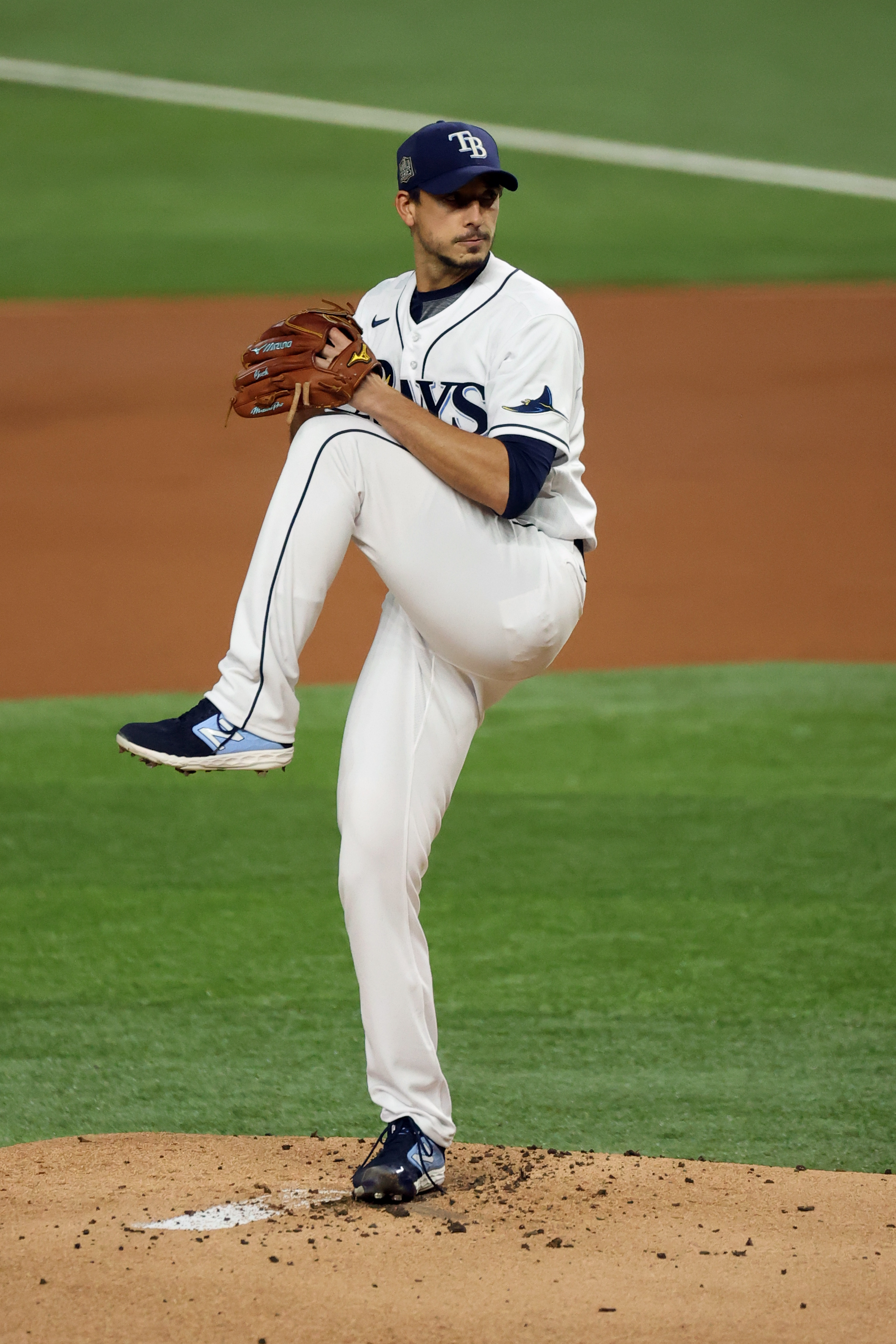 The Braves have signed their second veteran starter in as many weeks, announcing on Tuesday that they've agreed to a one-year pact with right-hander Charlie Morton. The contract will pay Morton, a client of Jet Sports Management, a guaranteed $15MM for the 2021 season. (The Braves are one of the few clubs who divulge contract…


Red Sox Interested In J.A. Happ
The Red Sox are showing interest in free-agent left-hander J.A. Happ, Jon Morosi of MLB Network tweets. They join the Angels, Rangers and Blue Jays as teams known to be eyeing Happ early this offseason. Happ spent the previous two-plus years with Boston's archrival, the Yankees, but New York declined his $17MM option for 2021…


Nippon-Ham Fighters To Post Kohei Arihara
Japan's Hokkaido Nippon-Ham Fighters will post right-hander Kohei Arihara this offseason, as Jon Morosi of MLB.com tweets and as Nikkan Sports previously reported. The 28-year-old Arihara has garnered extensive experience in the NPB, where he has logged a 3.74 ERA with 6.7 K/9 and 2.1 BB/9 in 836 innings. At his best, Arihara put up…


Braves Interested In Charlie Morton
The Braves addressed their rotation when they signed left-hander Drew Smyly to a one-year, $11MM contract last week. But that may not be it for Atlanta, which has "strong interest" in free-agent right-hander Charlie Morton, according to Mark Bowman of MLB.com. Signing in Atlanta would be a full-circle move for Morton, who was a third-round…


Rays Reportedly Open To Blake Snell Trade
The reigning American League champion Rays could part with one of their most recognizable players. They have informed other teams that "they're open to the idea of" dealing left-hander Blake Snell, Mark Feinsand of MLB.com writes, though the Rays aren't "actively" looking to trade him. It could be a game-changer if the Rays actually are…


Red Sox, Cubs Discussed Kris Bryant Trade Over Summer
Although the Red Sox didn't contend in 2020, they at least considered a blockbuster acquisition over the summer. They and the Cubs discussed a trade centering on third baseman/outfielder Kris Bryant, Mark Gonzales of the Chicago Tribune reports. Those talks fizzled, so it's unclear whether the two sides will revisit them this offseason. Bryant has…


Alderson On Mets' Front Office, Rojas, Cano, Conforto
Newly named Mets president Sandy Alderson shed some light Monday on how the club will configure its front office and its coaching staff in 2021, as Anthony DiComo of MLB.com and Tim Britton of The Athletic were among those to report. The Mets will not hire a president of baseball operations, according to Alderson, who…


Hoyer On Cubs' GM Search, Roster Construction, Coaching Staff
The Cubs formally introduced longtime general manager Jed Hoyer as their president of baseball operations via press conference on Monday, not long after announcing that he'd signed a five-year deal through the 2025 season. (Fans can re-watch the entire press conference on Twitter.) Hoyer's promotion maintained some continuity among the club's decision-makers, but it also…


Indians Name DeMarlo Hale Bench Coach
The Indians announced Monday that they've hired DeMarlo Hale as their new bench coach. A veteran of 15 seasons as a member of a Major League coaching staff, the 56-year-old Hale goes way back with Cleveland skipper Terry Francona. Hale served as both a base coach and bench coach under Francona while serving as a…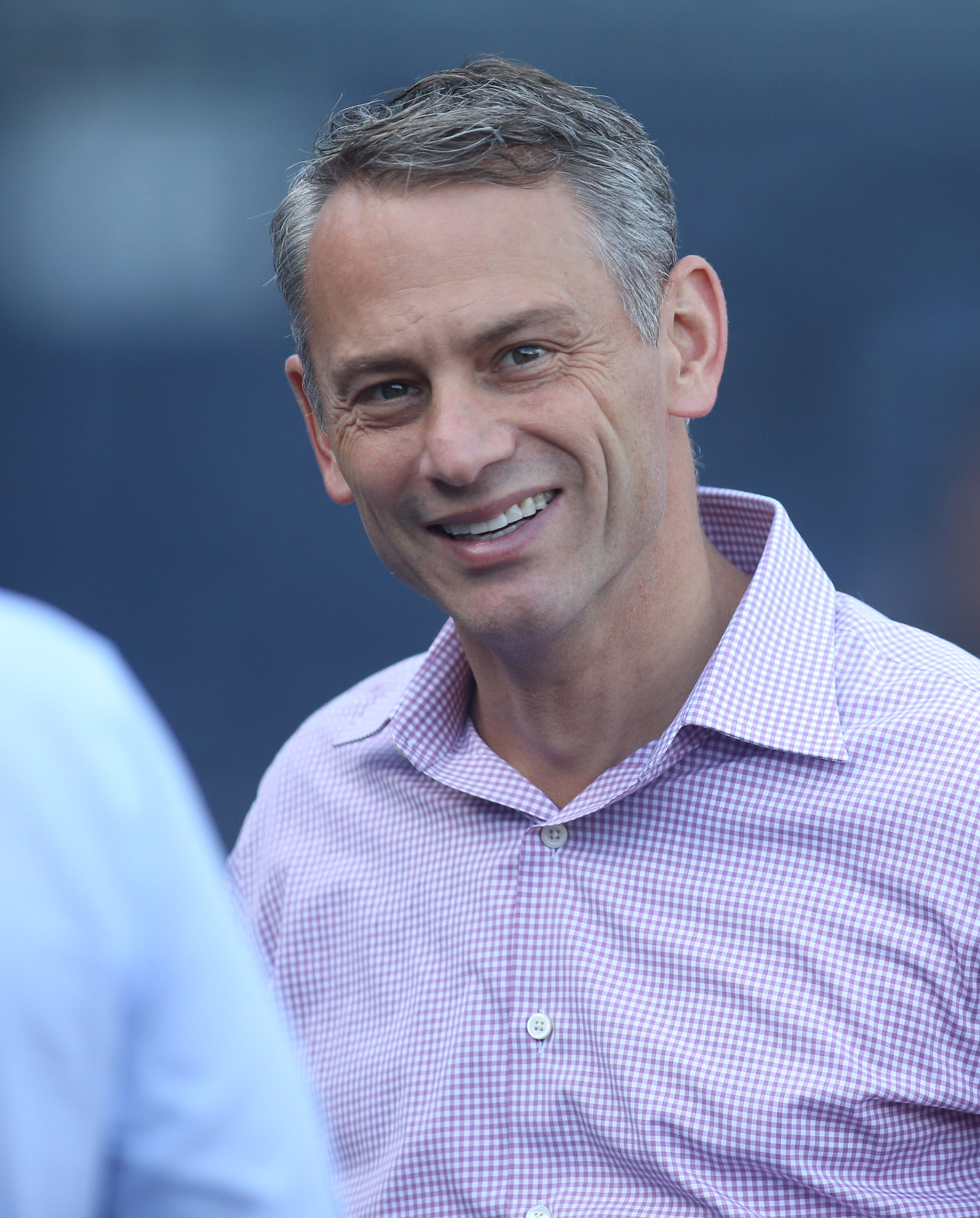 Cubs, Jed Hoyer Agree To Five-Year Contract
The Cubs have signed new president of baseball operations Jed Hoyer to a five-year contract that runs through the 2025 season, per a team announcement. Hoyer, the team's longtime general manager, was promoted to his new post last week when Theo Epstein stepped away from the role. A new contract for Hoyer doesn't register as…


Michael Wacha Generating Interest Despite Down Year
Michael Wacha's time with the Mets didn't go at all as the team had hoped when signing him to a one-year, $3MM deal last winter, but ESPN's Buster Olney reports that despite a season of lackluster results, Wacha is "among the most popular" free-agent starters on the market at the moment. The vast majority of…


Offseason Outlook: Milwaukee Brewers
Thanks to the expanded postseason format, the Brewers were a playoff team in 2020, despite a 29-31 record and a lack of offensive production.  The club now heads into the winter looking to answer a lot of questions throughout the lineup. Guaranteed Contracts Christian Yelich, OF: $205MM through 2028 (includes $6.5MM buyout of $20MM mutual…


Spencer Patton "Drawing Interest"
Spencer Patton is drawing interest in free agency from MLB and NPB clubs, per MLB Insider Jon Morosi (via Twitter). The Rangers are at least one team that is said to be tracking the market for Patton. Patton last appeared in the Majors making 16 appearances with the Cubs in 2016. Over 21 1/3 innings…


AL Notes: Rays, Royals, Rangers
The Rays have one clear priority for the offseason, writes MLB Insider Jim Bowden (via Twitter). They've let the other 29 teams know: they need catchers. That's been the case for the Rays most offseasons. Tampa has long been unable to find a long-term solution at the catching position. Rays catchers (Mike Zunino, Michael Perez,…


MLBTR Poll: What Should The Rangers Do With Lance Lynn?
Thus far, there's been little movement on the free agent market. The couple of market-setting moves we have seen, however, involved starting pitchers: namely, Marcus Stroman and Kevin Gausman accepting $18.9MM qualifying offers, Drew Smyly taking a one-year, $11MM offer from the Braves, and Robbie Ray returning to the Blue Jays on a one-year, $8MM…


Angels Add Three To Front Office
New Angels GM Perry Minasian is bringing three of his former co-workers to his new team. Per the Athletic's Ken Rosenthal (via Twitter), the Angels will hire Alex Tamin as an assistant GM, Dominic Chiti as a special assistant, and Rick Williams as a scout. All three were formerly employed by the Braves. Tamin, Rosenthal…


Some updates from the Dominican League… Rays first baseman Nate Lowe has left his Dominican League team in order to prepare for the MLB season, per Escogido Baseball (via Twitter). Officially, Lowe's departure was a personal decision, but he was reportedly concerned about rising cases of COVID-19 and didn't want to put his readiness for…


Marcell Ozuna Switches Agencies
Outfielder Marcell Ozuna has changed his representation for his latest trip through the free agent market, as Ozuna is now represented by CAA Sports.  The agency announced the news on its Twitter feed. We've already heard of widespread interest in Ozuna in free agency, with the Braves and Mets cited as just two of many…


AL East Notes: Happ, Blue Jays, Rays, Renfroe, Voit
The Angels and Rangers have already been linked to J.A. Happ's free agent market, and now one of Happ's former teams is getting in on the action.  MLB Network's Jon Morosi reports (via Twitter) that the Blue Jays have some interest in bringing the left-hander back for his third stint with the team.  Happ would…


Nippon-Ham Fighters Re-Sign Drew VerHagen
The Hokkaido Nippon-Ham Fighters have re-signed right-hander Drew VerHagen to a new contract, the team announced earlier this week.  The 30-year-old will return to Japan for a second season after a successful 2020 campaign. A veteran of six MLB seasons, VerHagen posted a 5.11 ERA, 2.08 K/BB rate, 53.9% grounder rate, and 7.1 K/9 over…


Click here to read the transcript of this morning's live baseball chat, moderated by MLBTR's Mark Polishuk


Hiroshima Carp Acquire Kevin Cron, Dovydas Neverauskas
Catching up on some signings from earlier this week, the Hiroshima Toyo Carp of Nippon Professional Baseball agreed to one-year deals with first baseman Kevin Cron and right-hander Dovydas Neverauskas.  According to Sports Hochi (hat tip to Patrick Newman of NPBTracker), Cron will earn $1.1MM in the form of an $800K salary and a $300K…


Transaction Retrospection: White Sox's Yasmani Grandal Signing
On this date a year ago, the White Sox signed All-Star catcher Yasmani Grandal to a four-year, $73MM free agent contract. That proved to be the biggest splash of an eventful 2019-20 offseason for the South Siders, who also extended face of the franchise (and future MVP) Jose Abreu and brought in Dallas Keuchel and Edwin Encarnación. Chicago's active offseason…


Quick Hits: Rangers, Happ, Osuna, Yankees, Chapman
Some notes from around the league: The Rangers have expressed interest in free agent left-hander J.A. Happ, reports Jon Morosi of MLB.com (Twitter link). Texas is expected to work younger players into the fold after posting the worst record in the American League in 2020. Nevertheless, the Rangers figure to explore the market for plenty of lower-cost…


Cubs Sign Five Players To Minor-League Deals
The Cubs signed five players to minor-league contracts earlier this week. Outfielder Rafael Ortega, right-hander Jake Jewell, catcher Taylor Gushue and left-hander Jerry Vasto are all joining the organization, relays Chris Hilburn-Trenkle of Baseball America. (Marc Delucchi had previously reported Vasto's signing). Additionally, outfielder Ian Miller has re-signed with Chicago, as noted by MLB.com's transactions tracker. The pair of outfielders…


Red Sox Finalize Coaching Staff
The Red Sox finalized their 2021 coaching staff on Friday (relayed by Chris Cotillo of MassLive). As expected, Will Venable comes over from the Cubs to be Alex Cora's bench coach. Also joining the staff is former Red Sox catcher Jason Varitek, who will step into the newly-created game planning coordinator role. Varitek has worked…


Mets' Amed Rosario "Likely" To Play Multiple Positions In 2021
A Mets official tells Joel Sherman of the New York Post that Amed Rosario becoming a multi-positional player is "likely in the cards" for 2021.  Rosario has almost exclusively played shortstop during his eight pro seasons, apart from seven games as a third baseman in the minors and one game in left field at the…


NL East Notes: Kingston, Phillies, Marlins, Kintzler, deGrom
The Phillies are considering Dodgers assistant GM Jeff Kingston for their general manager position, MLB Network's Jon Morosi reports (Twitter link).  Kingston joins a rather short list of names linked to the Phils' front office search thus far, as former Marlins GM Michael Hill is also expected to interview for the president of baseball operations…


The Angels have signed outfielder Scott Schebler to a minor league contract, USA Today's Bob Nightengale reports (Twitter link).  Schebler will earn $900K in guaranteed money if he reaches the team's big-league roster. Schebler is best known for his days as a regular for the Reds from 2016-18, as he hit .248/.323/.457 with 56 homers…


Giants' Farhan Zaidi On Gausman, Offseason, Belt, Injuries
Giants president of baseball operations Farhan Zaidi discussed several topics with reporters (including the San Francisco Chronicle's John Shea and NBC Sports Bay Area's Alex Pavlovic) earlier this week.  Some notable highlights… Kevin Gausman returned to San Francisco after accepting the one-year, $18.9MM qualifying offer, though the two sides also had some negotiations about a…


The latest from Anaheim… J.A. Happ is receiving consideration from the Angels and other teams, MLB Networks' Jon Paul Morosi tweets.  It stands to reason that the Angels are looking at just about every starting pitcher available as they try to upgrade their rotation, and given the team's injury history with pitchers, a durable veteran…


Report: Nationals Considering LeMahieu, Bryant
The Nationals are exploring their options on the infield market, as MLB Network's Jon Paul Morosi reports (Twitter links) that Washington has interest in free agent second baseman DJ LeMahieu and Cubs third baseman Kris Bryant.  While it can be assumed that the Nats are looking at both big names and smaller names, the fact…


Mike Chernoff Not A Candidate For Mets Job
Indians general manager Mike Chernoff will not interview for the Mets' front office vacancy, SNY's Andy Martino reports. The team had reportedly asked for permission to interview him, and MLB.com's Jon Morosi even wrote yesterday that Chernoff was a "leading candidate" for the job and would sit down with the organization. New owner Steve Cohen,…


Rockies Sign Connor Joe To Minor-League Contract
The Rockies are signing first baseman/corner outfielder Connor Joe to a minor-league contract, reports Thomas Harding of MLB.com. He'll receive an invitation to spring training. The 28-year-old was selected out of the Dodgers' organization in the 2018 Rule 5 draft and had a very brief run at the major league level with the Giants early in…


This evening marked the deadline for teams to add Rule 5 draft-eligible players to their 40-man rosters. (MLBTR's Steve Adams explained the process in full this morning). Accordingly, we've seen a large swath of transactions in the last few hours. Here, we'll make note of the players each team protected from the Rule 5 draft,…


Royals Designate Glenn Sparkman For Assignment
The Royals have announced a series of roster moves (via Jeffrey Flanagan of MLB.com). Right-hander Glenn Sparkman and left-hander Gabe Speier have each been designated for assignment, while right-hander Chance Adams cleared waivers and was assigned outright to Triple-A Omaha. Those moves clear 40-man roster space for four players Kansas City added to protect them from the Rule…


Giants Designate Chris Shaw, Aramis Garcia, Jordan Humphreys
The Giants have designated first baseman/outfielder Chris Shaw, catcher Aramis Garcia and right-hander Jordan Humphreys for assignment. They added outfielder Alexander Canario and righties Kervin Castro, Camilo Doval and Gregory Santos to their 40-man roster in corresponding moves. Shaw was once a well-regarded prospect for the Giants, but the 27-year-old hasn't gotten an extensive look…


Indians Select Five Players To 40-Man Roster
The Indians have selected five players to their 40-man roster in advance of tonight's deadline to protect players from the Rule 5 draft. Right-handers Carlos Vargas and Eli Morgan have been added; also joining the 40-man are infielders Nolan Jones, Gabriel Arias and Ernie Clement. Jones, Arias and Vargas are generally regarded as among Cleveland's top thirty prospects. Jones, in…


Phillies Add 6 Players To 40-Man Roster
The Phillies have added three left-handers – Kyle Dohy, Bailey Falter and Damon Jones – as well as infielder Nick Maton, righty Francisco Morales and outfielder Simon Muzziotti to their 40-man roster, the team announced. They now have 37 players on their roster. Going by MLB.com's rankings, the most promising player in this group is…


Astros Select Five Players To 40-Man Roster
The Astros are adding five players to their 40-man roster, per a team announcement. Right-handers Forrest Whitley, Tyler Ivey, Jairo Solis and Peter Solomon were all selected, as was infielder Freudis Nova. The most notable player of the group is Whitley. Once regarded as one of the best (if not the best) pitching prospect in the sport, he's seen his…


Brewers Add 3 To 40-Man Roster
Catcher Mario Feliciano and right-handers Alec Bettinger and Dylan File are now on the Brewers' 40-man roster, Will Sammon of The Athletic tweets. Their roster stands at 39 players. All three of Feliciano (No. 4), Bettinger (24) and File (25) rank among the Brewers' highest-regarded prospects at MLB.com. Feliciano is an offensive-minded catcher, though MLB.com…


Marlins Add Jose Devers, Jerar Encarnacion To 40-Man Roster
The Marlins announced that they have added infielder Jose Devers and outfielder Jerar Encarnacion to their 40-man roster, which is now full. Devers, the cousin of Red Sox third baseman Rafael Devers, joined the Marlins in the team's trade with the Yankees centering on outfielder Giancarlo Stanton before the 2018 campaign. Still just 20 years…


Red Sox Add 7 Players To 40-Man Roster; Weber, Hall Designated For Assignment
The Red Sox designated lefty Matt Hall and righty Ryan Weber for assignment Friday afternoon, per a club announcement. Additionally, southpaw Kyle Hart cleared waivers and was outrighted to Triple-A Pawtucket. Those three moves helped clear space for the team to select seven players to the MLB roster: catcher/infielder Connor Wong, right-hander Eduard Bazardo, third baseman…


Dodgers Add 4 To 40-Man Roster
The Dodgers have added three right-handers – Gerardo Carrillo, Andre Jackson and Edwin Uceta – as well as outfielder Zach Reks to their 40-man roster J.P. Hoornstra of the Southern California News Group tweets. Going by MLB.com's rankings of the Dodgers' farm system, Jackson is the lone prospect here who sits in the franchise's top…


Yankees Select Four Players To 40-Man Roster
The Yankees are selecting four players to their 40-man roster, per a club announcement. Right-handers Roansy Contreras, Yoendrys Gomez and Alexander Vizcaino are being selected, as is infielder Oswald Peraza. Contereas, Gomez, and Vizcaino have all yet to reach Double-A, but each ranks among New York's top 20 farmhands at MLB.com. The same is true of Peraza, who hit…


Pirates Designate Trevor Williams For Assignment
The Pirates announced Friday that they've designated right-hander Trevor Williams and infielder/outfielder Jose Osuna for assignment. That pair of moves allows the team to select infielder Rodolfo Castro and righty Max Kranick to the 40-man roster, protecting both from the Rule 5 Draft. Williams has been a regular in the Pittsburgh rotation over the past…


Diamondbacks Designate Junior Guerra
The Diamondbacks have designated right-handers Junior Guerra and Joel Payamps for assignment. They added righty J.B. Bukauskas, Luis Frias and Matt Peacock, outfielder Stuart Fairchild and infielder Geraldo Perdomo to their 40-man roster. The 35-year-old Guerra joined the Diamondbacks on a one-year guarantee worth $2.65MM last offseason. He wound up posting 23 2/3 innings of…


Reds Acquire Brandon Bailey From Astros
The Reds announced Friday that they've acquired righty Brandon Bailey from the Astros in exchange for cash. In a separate move, Cincinnati also acquired minor league right-hander Fredy Medina from Houston. Medina will serve as the player to be named later from the earlier trade that sent southpaw Brooks Raley to the Astros. In addition…


Orioles Designate Renato Nunez For Assignment
The Orioles are designating infielder Renato Núñez for assignment, per various reporters (including Joe Trezza of MLB.com). Baltimore is also adding six players to the 40-man roster in advance of tonight's deadline to protect players from the Rule 5 draft: infielder Rylan Bannon, outfielder Yusniel Diaz, right-handers Michael Baumann and Isaac Mattson and left-handers Zac Lowther and Alexander Wells. Some may be…


Mets Sign Sam McWilliams To Major League Contract
The Mets announced Friday that they've signed right-hander Sam McWilliams to a one-year, Major League contract. The 25-year-old has yet to make his MLB debut and spent the 2020 season in the Rays' 60-man player pool. An eighth-round pick by the Phillies back in 2014, McWilliams was traded to the D-backs a year after being…


A's Add Three To 40-Man Roster, Announce Several Minor League Signings
The Athletics announced Friday that they've selected the contracts of right-handers Miguel Romero and Wandisson Charles, as well as outfielder Greg Deichmann. Oakland also announced minor league deals and non-roster invites to Spring Training for 11 players. Right-handers Domingo Acevedo, Cristian Alvarado, Argenis Angulo, Matt Blackham, Ben Bracewell, Montana DuRapau, Brian Schlitter and Trey Supak…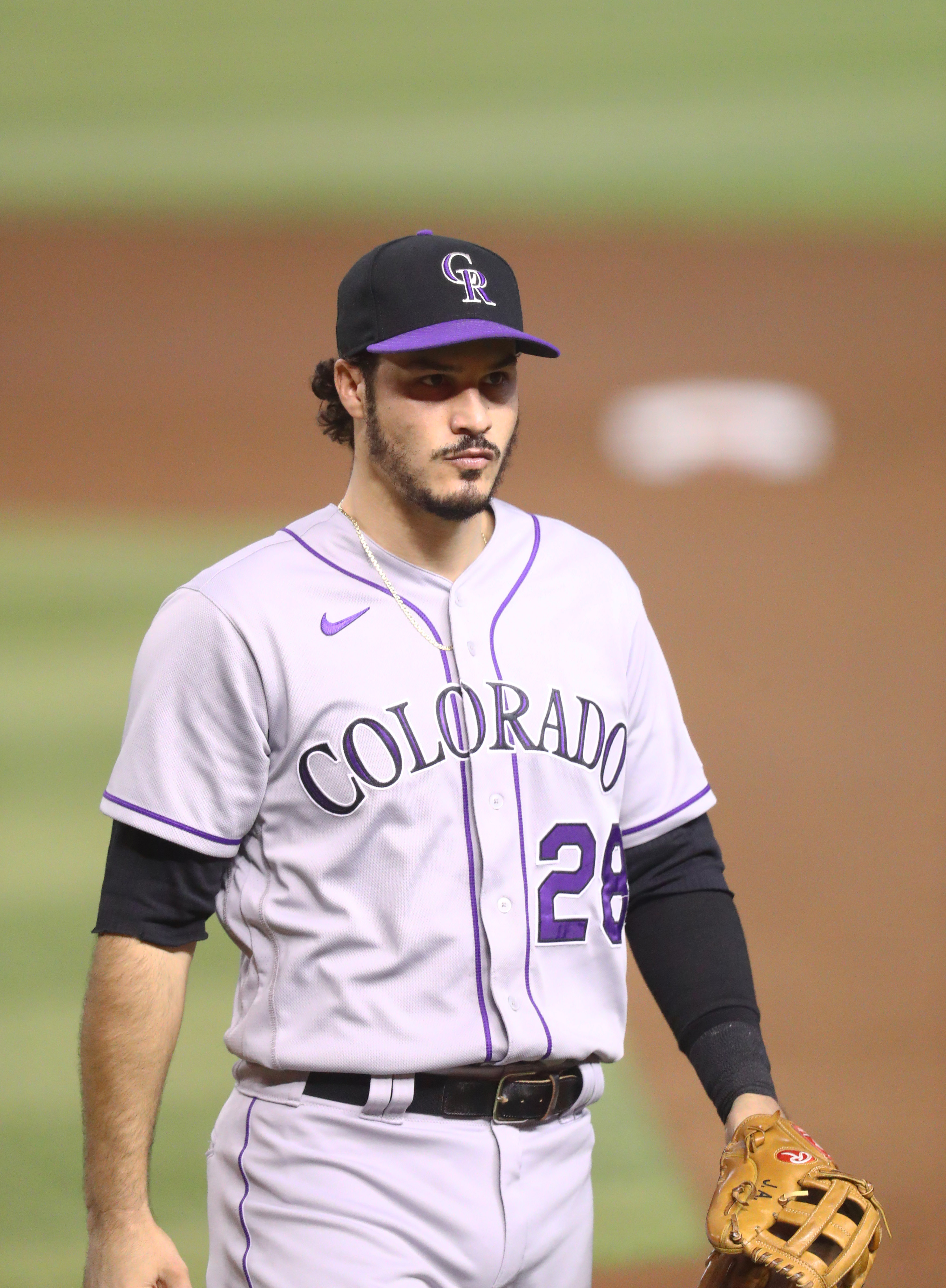 Looking For A Match In A Nolan Arenado Trade
Nolan Arenado's future in Colorado — or perhaps the lack thereof — will be one of the main storylines throughout the 2020-21 offseason. The 29-year-old has publicly voiced dissatisfaction with the organization in the past, and another poor season followed comments from owner Dick Monfort that foreshadow a tight-budgeted winter don't figure to improve the…


Royals' Chance Adams Undergoes Tommy John Surgery
Royals right-hander Chance Adams underwent Tommy John surgery last month, MLB.com's Jeffrey Flanagan reports (via Twitter). The organization never announced the surgery, but the procedure will wipe out Adams' entire 2021 season. As Flanagan points out, that could be a key factor today as the Royals look to set their 40-man roster in advance of…


Phillies Hire Caleb Cotham As Pitching Coach
The Phillies announced Friday that they've hired Caleb Cotham as their new pitching coach, replacing the recently retired Bryan Price. Cotham was reported to be the front-runner last week. It's been a rapid ascent to this position for Cotham, who is still just 33 years of age and as recently as 2016 was pitching in…


Tigers Select Matt Manning, Three Others
The Tigers announced that they've selected the contracts of right-handers Matt Manning, Alex Faedo, Alex Lange and left-hander Joey Wentz in advance of tonight's deadline to protect players from the 2020 Rule 5 Draft. All four players were top 40 picks in their respective draft classes — Manning and Wentz in 2016, Faedo and Lange…


Deadline To Protect Players From Rule 5 Draft Is Tonight
As noted last month when we ran through various key dates for the offseason, tonight marks the deadline for teams to protect players from the 2020 Rule 5 Draft. Clubs wishing to protect Rule 5-eligible players must add them to their 40-man rosters by 6pm ET tonight or else risk losing them to another team…


Red Sox left-hander Eduardo Rodriguez is entering his final year of team control, in which he'll earn around $8.3MM in arbitration, but his hope is to remain in Boston beyond 2021. "I want to stay in Boston as long as my career goes," he told Alex Speier of the Boston Globe. "I want to play…


Second baseman DJ LeMahieu was a godsend for the Yankees during the previous two seasons, but as a free agent, he could go elsewhere this offseason. Re-signing with the Yankees is LeMahieu's preference, according to Ken Davidoff of the New York Post, but the 2020 American League batting champion wants to stay in the area.…


The Cardinals announced that they have selected right-hander Angel Rondon to their 40-man roster. Their roster now consists of 39 players. The Dominican-born Rondon, 22, has been a member of the St. Louis organization since before the 2016 season, and he has pitched to a sturdy 3.01 ERA with 8.8 K/9 and 3.1 BB/9 over…


Offseason Outlook: San Diego Padres
The 2020 campaign represented a major step in the right direction for the Padres, who clinched their first playoff berth since 2006 and advanced in the postseason for the first time since 1998. While things are no doubt looking up for the franchise, its offseason hasn't come without some drastic changes in the early going.…


Brewers Promote Matt Arnold To General Manager
The Brewers announced Thursday that they've promoted assistant general manager Matt Arnold, giving him the title of senior vice president and general manager. David Stearns, the team's president of baseball operations and general manager, still sits atop Milwaukee's baseball operations hierarchy but has had the "GM" portion dropped from his title in light of Arnold's…


Tigers Release Brandon Dixon To Pursue Opportunity In Japan
The Tigers announced this morning that they've released infielder/outfielder Brandon Dixon in order to allow him to pursue an opportunity in Japan. The move drops Detroit's 40-man roster to a total of 36 players in advance of tomorrow's deadline to protect players from the Rule 5 Draft. It's not yet clear which Nippon Professional Baseball…


Rochester Red Wings To Become Nationals' Triple-A Affiliate
The Nationals will have a new Triple-A affiliate in 2021, as they've reached an agreement with the Rochester Red Wings, Justin Murphy and Sean Lahman of the Rochester Democrat and Chronicle report. The move to partner with the Nationals will end an 18-year affiliation between the Red Wings and the Twins. The length of the…


Aaron Brooks Re-Signs With KBO's KIA Tigers
Righty Aaron Brooks will remain in Korea for a second season. He has inked a new deal to remain with the KIA Tigers, the club announced (h/t Dan Kurtz of MyKBO, via Twitter). Brooks is slated to take home a $200K signing bonus and $1MM payday — the reward for a productive 2020 season. Over…