Ghacks Deals: The A-Z Cybersecurity Developer Bundle
The A-Z Cybersecurity Developer Bundle ten different cybersecurity courses. Several of the courses prep you for certification exams, others teach you cybersecurity skills. Here is the full list of included courses: Ethical Hacking (v10) Access 239 lectures & 33 hours of content Covers ethical hacking of networks and system penetration testing + all of the exam objectives for the EC-council ECC 312-50 version 10 exam CompTIA PenTest+ (PT0-001) Access 217 lectures & 26 hours of content A bro


Microsoft is testing a new "Open With" prompt in latest Windows 11 build
Microsoft released Windows 11 build 25151 this week. The development build includes some features that may be integrated in the 2023 feature update for Windows 11. One of the changes in the new version affects the operating system's open with dialog. The prompt is displayed when users select it from the right-click context menu. It gives you options to launch a file with a different application, e.g., an image in an image editor instead of a viewer. The current version of Windows 11 lists sever


Windows 11 Insider Preview Build 25151 fixes some crash issues, printing from UWP apps
Users in the Developer Channel can now update to Windows 11 Insider Preview Build 25151. This version is another bug fix release, which is not surprising as Microsoft appears to be focusing its efforts on the 22H2 feature update that is said to debut this fall. What's new in Windows 11 Insider Preview Build 25151 The latest version of the preview build fixes a crash due that was caused by the Windows Security app. The Exclusions page in the Security app will no longer truncate the space for the


WhyNotWin11 update readies the program for Windows 11 version 22H2
WhyNotWin11 is a third-party program that enables you to find out if your Windows device is compatible with Microsoft's Windows 11 operating system. The latest version includes updated processor lists that ready it for Windows 10 version 22H2. Before Microsoft released its Windows 11 operating system, it announced that it made several changes to the operating system's requirements. The company released its own tool, PC Health Check, so that users could check whether their devices could run the


Firefox: remove known tracking parameters from URLs in all modes
Mozilla launched Firefox 102 this week, and with it came support for the new query parameter stripping functionality to boost user privacy. Many sites and services add parameters to the web address for tracking purposes. These parameters do not change the destination of the webpage, but they provide the sites and services with information that they may use for tracking purposes. Firefox 102 protects users against these trackers by removing them. Problem is, the browser is configured to do so on


Foxit PDF Reader 12.0 released
Foxit Software released Foxit PDF Reader 12.0 and Foxit PDF Editor 12.0, new major versions of two of the company's PDF flagship products. Foxit PDF Reader 12.0 is a free program to read and print PDF documents. It comes with limited support for additional functionality, such as the signing of PDF documents. Our first review of Foxit Reader dates back to 2006, when Foxit Reader 2.0 was released. The then lightweight program was a popular alternative to Adobe's heavier Adobe Reader application.


Google begins rolling out the new Gmail design to users as the default option
Earlier this year, Google revealed a new Gmail design. The email service is now rolling out the new interface for users as the default option. New Gmail design The new Gmail design has a sidebar that allows you to switch between Mail, Chat, Spaces and Meet. When you switch to the new interface, you may notice that Gmail's side panel has disappeared. Don't worry, it's still there. Mouse over the Mail icon, and it will display the classic menu which has the shortcuts for the Inbox, Drafts, Sent,


Google Hangouts will shut down in November 2022, users are being redirected to Google Chat
Google Hangouts will shut down in November 2022. The instant messaging service, which debuted in 2013, will be replaced by Google Chat. This isn't unexpected, we reported about it in 2019. Last year, the company clarified its intention to migrate to Chat, and now we have an actual timeline when Hangouts is going away for good. Hangouts is redirecting users to Google Chat The Hangouts app on mobile will display an in-app screen prompting them to migrate to the Chat app or Chat in Gmail. Users wh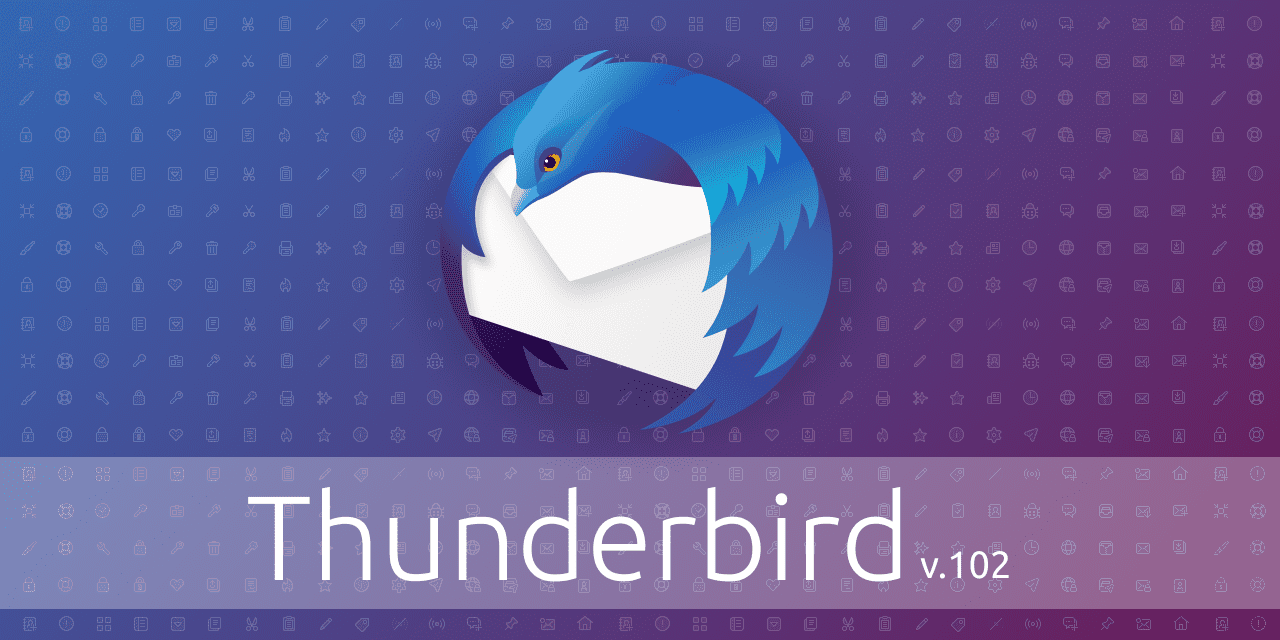 Thunderbird 102 released: lots of new features and improvements
Thunderbird 102 is out now. The new version of the popular desktop email client is a major new release that introduces several new features and improves others. image credit: Thunderbird You may want to check out our review of the Thunderbird 102 beta features here, but expect a new look, new address book, improved account setup and migration, link preview cards support, support for multiple spell checking dictionaries, and a redesigned message header among other new features. Thunderbird 102: t


Is Anyone using Microsoft Edge's Collections feature?
Collections, a way to save content in Edge, is one of the features that distinguishes Microsoft Edge from Google Chrome, its main competitor. Collections work similarly to bookmarks, as the feature's main purpose is the saving of content in the browser. Similarities do not end there: Edge users may create multiple collections to better organize saved content. Unlike bookmarks, collections support the saving of media. Another difference between the two is that Microsoft integrated Collections de


Windows Defender is reportedly affecting the performance of Intel CPUs, but there's a fix
Kevin Glynn, the developer of popular tools like ThrottleStop and RealTemp has discovered a bug in Windows Defender that was causing it to consume more system resources than was required. He has also released a new app that fixes this problem. Windows Defender consumes more resources on Intel CPUs Antivirus programs are constantly scanning your system for unusual activity to prevent malware from impacting your system. That's normal, and Windows Defender is no exception to this. But there's more


Ghacks Deals: The Learn to Code Full Stack Developer Certification Bundle
The Learn to Code Full Stack Developer Certification Bundle includes nine different eLearning courses that teach you programming languages and skills, such as C#, .NET Core, Microsoft SQL Server, HTML and PHP programming, Pythin, and Angular. Here is the full list of included courses: Microsoft SQL Server & T-SQL Course For Beginners -- Understand the Benefits of SQL & Earn Big Bucks as a Skilled Developer Learn C# by Building Applications -- Understand the Concepts of C#6 &C#7 and Use Them to


Firefox 102: new ESR base and improved security
Firefox 102 and Firefox 102 ESR will be released later today. The new version of Mozilla's Firefox web browser improves security, picture-in-picture mode, and is the new base for the Extended Support Release channel. All Firefox development channels receive updates on the same day. Firefox Beta and Firefox Developer editions move to version 103 and Firefox Nightly moves to version 104. Firefox for Android follows the version of the stable channel, which means that it is moved to version 102 as


Opinion: Cheaper Media Streaming tiers support by advertisement is a good development
A new streaming service is launched every other month it seems. With more and more streaming services competing for customers, it is not only the customers that need to adjust to the new landscape, but also the streaming services. Content is scattered and customers find themselves in the unattractive position to either subscribe to multiple services to access all content at the same time, to hop between services regularly, or to ignore certain content. Streaming companies have to rely on origin


Waterfox G5 will be based on Firefox ESR 102; users will be upgraded from G4 automatically
Alex Kontos, the developer of Waterfox, has announced that the browser is being migrated to Firefox ESR 102. The current version of the popular application, Waterfox G4, is based on Firefox ESR 91. According to the Firefox Release Calendar, Mozilla will release Firefox ESR 102 on June 27th, 2022, i.e. today. For reference, the Extended Support Release for Firefox 91, was rolled out August 9, 2021. The last version of ESR 91 will be available on August 22, after which ESR 102 will be the only ve


New Windows Phishing Method gives attackers access to cookies and more
The rise of two-factor authentication added a new layer of security to the authentication process on the Internet. Attacks designed to steal user credentials are still common, but many fall short because access to user accounts is not granted without the second verification step. Users need to enter a code, use a hardware device or an application to complete the authentication request. Different forms of two-factor authentications exist. In the beginning, codes sent via email or SMS were common


Bypass Windows 11 Microsoft Account requirement and deny privacy questions during setup with Rufus
Rufus is an open source application that allows you to create bootable USB media. It is widely used to create bootable Windows 11 or Linux media for installation. The latest version of Rufus, Rufus 3.19 Beta, supports several new features that improve the setup process of the Windows 11 operating system. In particular, it allows you to skip the mandatory Windows 11 account requirement during first start of the system and to set answers to "don't allow / refuse" when Windows asks for user input


PicPick screen capturing software update adds Screen Recorder
PicPick is one of my favorite screen capturing tools for Windows. It is a professional application that is free for non-commercial use. The program lacked screen recording support, which was my biggest criticism back when I reviewed it. PicPick 6.20, the latest version of the application, adds a Screen Recorder to the program's arsenal of tools. Using it, PicPick users may save records of the desktop or a region as mp4 or animated GIF files. The new version of PicPick is available for download


Play YouTube Shorts like normal YouTube videos
YouTube Shorts brings short-form videos to YouTube. The integrated service resembles what other short-form video services, such as TikTok, bring to the table: time-limted videos in portrait mode. Google's been late to the party, as it launched YouTube Shorts globally in mid-2021. YouTube Shorts is accessible via YouTube's main menu on desktop and mobile platforms. While the vertical video format may make sense on mobile devices, Google decided to use the same format on the desktop. The mobile f


Rejoice! Microsoft brings Search Highlights to Windows 11
If you always wanted to know when the next National Prime Rib Day or Earth Day is, then you may be looking forward to the introduction of Search Highlights on Windows 11. Everyone else may be looking for a way to disable Search Highlights instead. Microsoft introduced Search Highlights in Insider Builds of Windows 11 and ported the feature to Stable versions of Windows 10 next. In the coming weeks and months, Search Highlights will roll out to all Windows 11 devices. Most Windows users come int


New Windows PC? Make sure it has the latest drivers installed for maximum performance and stability
You may remember that I purchased a new laptop from Asus some time ago, to replace my aging Surface Go 2 laptop. One of the main reasons for making the switch was that Microsoft's own device was not compatible with Windows 11. Since I needed a laptop with the operating system, for testing and work purposes, I decided to purchase a new one. Got a good offer for an Asus ZenBook UX425JA laptop and decided to use it from that moment on. The device had been around for some time, and that usually mea


Microsoft Edge gets a new gaming homepage and enhancements for Xbox Cloud games
Microsoft Edge 103 was released today with various security fixes. The latest version of the browser also adds some new gaming features. The company is touting Edge as the best browser for gamers, by introducing a new Gaming homepage. (Image courtesy: Microsoft) When you update the browser to the latest version, it will display a welcome screen highlighting the new features in it. You can access it from your homepage, or new tabs/ Click the Gaming tab to access your gaming feed. It provides a n


The end of Windows 8.1 is near, and Microsoft plans to inform customers with warnings
Microsoft plans to display notifications on Windows 8.1 systems to inform customers about the upcoming end of support. Windows 8.1 was not Microsoft's most successful desktop operating system, but it still is used by millions of computer users.. Depending on who you ask, top picks include Windows XP SP3, Windows 7 SP2 and one of the newer Windows 10 versions. When Windows 7 ran out of support more than two years ago, Microsoft displayed notifications on the desktop that informed customers about


iWork 12.1 update for Pages, Numbers and Keynote released
Apple has released the iWork 12.1 Update for its office suite. The Pages, Numbers and Keynote apps have all been updated for macOS, iOS, and iPadOS. What's new in the iWork 12.1 Update Keynote The presentation app in the suite, Keynote, has some new themes that support dynamic backgrounds. These have an animation effect, they are not too fancy. The styles are quite subtle, like a wave of colors flowing gently, or shifting from side to side. The effects are also available in other themes, but yo


Microsoft Edge 103 fixes 12 security issues
Microsoft released new stable and extended versions of its Microsoft Edge web browser on June 23, 2022. Microsoft Edge fixes 12 different security issues, 10 of which are shared among all Chromium-based browsers. Microsoft Edge 103 is already available. It should be updated automatically on most systems. Edge users may check edge://settings/help to display the current version of the browser. Edge checks for updates when the page is opened and will download updates that it finds. The Security Up


Ghacks Deals: The JavaScript DOM Game Developer Bundle
The JavaScript game developer bundle includes eight different courses that teach you how to make games in JavaScript. You learn how to create word games, math games, a Pacman clone, and other games, using JavaScript and HTML. Here is the list of included courses. As always, check Ghacks Deals for additional information: HTML5 Canvas: Create 5 Games & 5 Projects Amazing Effects with JavaScript on the HTML Canvas Element JavaScript: Create 5 Fun Word Games Build 5 Amazing Interactive Games Perfe


A look in the Registry reveals if your PC is compatible with Windows 11 version 22H2
Want to know if your Windows 10 or 11 devices are ready for the upcoming Windows 11 feature update? You may look in the Registry to find out, instead of using Microsoft's PC Health Check app, or any of the third party programs that have been created for the purpose. While it may sometimes be necessary to run these products, for instance on machines that limit Telemetry or have not been updated in a while, checking the Registry is all that is required on most Windows machines. Here is how this ...


Windows 11 Insider Preview Build 25145 adds OneDrive management to the Settings app
Microsoft has released Windows 11 Insider Preview Build 25145 to the Dev Channel. The update introduces a faster way to manage your OneDrive subscription. What's new in Windows 11 Insider Preview Build 25145 OneDrive storage alert and subscription management Microsoft is transforming the Accounts page in the Settings app to a one-stop shop for managing your Office 365 subscription, Payment Methods, etc. And now, it has added a way to view your OneDrive storage limit to this page. Head to the Se


Brave Search Goggles: boost your favorite sites, downrank or remove others
Brave launched a beta of Brave Search 12 months ago. The search engine is now out of beta and the default search engine of the Brave Browser in several regions. Goggles is a new beta feature of Brave Search, which may be used to customize the default results listing of the search engine. Goggles are simple, self-contained text files which can be hosted in Github or Gitlab. These files contain instructions allowing you to tell Brave Search how you'd like your results to be ranked. You can target


PCI Express 7 announced, but you won't be able to get your hands on it for years
PCI-SIG announced the new PCI Express 7.0 (PCIe 7.0) specification on the PCI-SIG Developers Conference 2022. The new standard will double the data rate of PCI Express 6.0. Compared to PCI Express 5.0, PCI Express 7.0 is on paper four times faster. image credit: PCI-SIG The new standard is expected to become available to partners in 2025, but customers will have to wait longer to get their hands on devices that support it. The technology industry is moving fast, sometimes too fast when it comes


Apple Safari 16 Technology Preview brings some macOS Ventura's features to Monterey
Apple has released a new version of Safari Technology Preview for devices running on macOS Monterey. The update brings a few features from the WebKit-based browser in macOS Ventura to its predecessor. What's new in Apple Safari 16 Technology Preview The current version of the app is Release 147. Live Text Users can now select text inside images and videos, and interact with them. To use it, load a web page that has an image with some text in it, click on the words and highlight them like you wo


Why digital gaming is here to stay
It's truly not an easy choice when it comes to choosing which video games are the best ones for you. With an overwhelming amount of titles to discover, the Eneba marketplace comes to save the day with affordable prices, an easy-to-interact interface, and a long list of the best games to try out. As the digital gaming scene becomes better and bigger each year, Eneba helps you with the start of the journey to try out the best games from the comfort of your home. What kind of advantages do video ...


Report: Adobe Reader is blocking antivirus tools from scanning loaded PDF documents
Adobe is blocking several antivirus tools actively from scanning PDF documents loaded by its Adobe Acrobat Reader application, according to a security report published by Minerva Labs. The company found evidence that Adobe is blocking around 30 different security products from scanning loaded PDF documents. The list reads like the who is who of security companies, with one notable exception. Products from Trend Micro, McAfee, Symantec, ESET, Kaspersky, Malwarebytes, Avast, BitDefender and Sopho


Google Chrome 103 launches with new prerendering technology
Google Chrome 103 is now available. The new version of Google's Chrome web browser introduces support for a new prerendering technology, which Google believes will improve Chrome's page loading speed significantly. Chrome 103 is already available for desktop systems. The browser updates automatically on most systems, but you may speed up the installation of the new update by loading chrome://settings/help in the browser's address bar or by selecting Menu > Help > About Google Chrome. Chrome dis


Ghacks Deals: The Complete Coding For Parents & Kids: Build Education Apps in One Course (23 Hours)
The Complete Coding For Parents & Kids: Build Education Apps in One Course is designed to bring parents and their children together on a first coding journey. The course teaches how to create apps and games in Unity and Construct 3. Here is what is included in the course: Access 157 lectures & 23 hours of content 24/7 Learn how to build an educational game w/ Unity & Construct 3 Walk through creating a simple education app in Flutter.io Explore using Adobe Illustrator to make minimalist & clean


Mullvad VPN drops option to create new recurring payments
Swedish VPN service Mullvad announced that it will no longer accept new recurring payments using PayPal or credit card payments. Nothing changes for existing customers for at least 6 months. The company continues to accept one-time payments using various payment options, including PayPal, cash and credit card. Mullvad VPN, which provides the backbone for Mozilla's Firefox VPN service, explains, that it decided to remove the ability to create new recurring payments in order to store less data on


Microsoft releases KB5016138 and KB5016139 out-of-band updates to fix login issues on ARM devices
Microsoft has announced the release of two out-of-band updates to fix problems reported by users with ARM devices. To recap, the Redmond company rolled out a couple of updates on Patch Tuesday last week. These were the KB5014699 for Windows 10 and KB5014697 for Windows 11. While the patches fixed a few issues, they also introduced some new problems. One of the main complaints that were voiced by the community, was that devices with an ARM-based chipset could not log in to various Microsoft Serv


Amazon hides Developer Options on Fire TV devices by default
A new update for Amazon Fire TV devices hides the Developer Options on the device by default, which makes it difficult to enable sideloading and use other development related features. Previously, Developer Options were accessible directly on the devices for all users. One of the main uses of Android's Developer Options for home users is to enable the sideloading of apps on Fire TV. Many apps, including apps to watch YouTube without advertisement, are not available in the Amazon App Store. To i


NordVPN Meshnet: virtual LAN, file sharing and Internet traffic routing
NordVPN launched Meshnet today, a new option baked into the company's NordVPN application. Meshnet allows users to connect directly to other devices, owned by themselves or by family members, friends or colleagues. NordVPN highlights three main use cases for Meshnet: Internet traffic routing -- Internet traffic may be routed through a connected device, e.g., a family member's laptop at home, a work PC that is online all the time, or a friend's device. Traffic routing is available on Linux and


Telegram Premium announced: Here are the extra features that it offers
Telegram Premium has been officially announced. All existing features remain free, as Pavel Durov confirmed last week, but the subscription offers you some additional benefits. Telegram Premium features Increased file upload size Free users can upload files that are up to 2GB in size, Telegram Premium users can send up to 4GB files at a time. The storage space is unlimited for both tiers. The company says that Premium users will get the fastest possible download speeds. Double everything - Mor


7-Zip 22.00 final is now available
7-Zip is a popular open source file archiver for Windows, Mac and Linux systems. A new version, 7-Zip 22.00 is now available; it is the first stable release in 2022. The last release dates back to December 2021, when 7-Zip 21.07 was released. 7-Zip users may download the latest version of the application from the official website. Downloads for 64-bit, 32-bit and ARM versions of Windows are supported. The program is still compatible with out-of-support versions of Windows, including Windows XP


How to stop Windows 11 from reopening program windows on restart or sign-in
Windows 11 may remember which application windows and File Explorer windows you had open the last time to reopen them again. The browser or Microsoft Excel document, which was open the last time, may be opened automatically on the next start. The feature was introduced in Windows 10 and Microsoft kept it in its new operating system. While the reopening of program windows can be handy at times, it can sometimes be a frustrating experience as well. Handy, because you don't have to launch programs


Rapid7 research reveals which data ransomware groups seek and use for leverage
When it comes to ransomware attacks, some data is more precious to ransomware groups as others. A new research study by Rapid7, Pain Points: Ransomware Data Disclosure Trends, provides insight on the data that ransomware groups value and how they use data to apply pressure. image credit: Rapid7 Double extortion attacks have increased in recent years. Traditional ransomware attacks encrypt data on attacked systems to extort money from companies and individuals. The rise of countermeasures, includ


Your installed browser extension may be used to fingerprint you
Extensions installed in web browsers may be used for tracking purposes. Some extensions use resources that are accessible by sites that are loaded in the browser; the information may be used to determine if extensions are installed, and even which extensions. Fingerprinting describes a series of tracking techniques that Internet sites and apps may use to track users. The techniques use information, either provided automatically by the browser or the operating system, or manually, through the us


Microsoft Edge: live captions for online videos
Microsoft added live captions support for all online videos to Microsoft Edge Stable quietly. The new feature is available as a preview at the time of writing. Available in Microsoft Edge 102 Stable and newer, live captions support adds captions to videos that play in the web browser. All it takes is to play a video in Edge, the browser takes care of the rest. Edge launches a small overlay on the screen that displays the captions. You may move it around independently, even outside the borders o


Brave's founder calls out DuckDuckGo's browser for not removing Microsoft's tracking parameters from URLs
Remember the recent controversy surrounding the DuckDuckGo Privacy Browser? It turns out that the app not only allows cookies from Microsoft's trackers, but also allows users to be tracked via URLs. When questioned about the original issue, DuckDuckGo's founder, Gabriel Weinberg, clarified that his company has a partnership with the Microsoft, which prevents them from blocking the ads. He played down the scrutiny, stating that the search engine protects the anonymity of users, even when ads are


Windows June 2022 updates break Wi-Fi Hotspot feature and Microsoft services on ARM
Microsoft released security updates for all of its products on the June 2022 Patch Day. The released patches, among them KB5014699 for Windows 10 and KB5014697 for Windows 11, introduce new issues for some users on devices. Microsoft confirmed two new issues, which affect devices running most supported client and server versions of Windows. Wi-Fi Hotspot functionality broken The released updates break Wi-Fi hotspot functionality on devices with the latest patch installed. The issue affects Wind


Microsoft Store: no astronomical pricing and paid open source or free copycat applications anymore
Microsoft updated the Microsoft Store policies on June 16, 2022. One of the changes prohibits publishers from charging fees for software that is open source or generally available for free. Another that irrationally high pricing is used on the store. If you have been to the Microsoft Store in the past couple of years, you may have noticed that it is home to more and more open source and free products. While that would be a good thing if the original developer would have uploaded the apps and ga


Microsoft Defender for Android, Apple iOS and macOS, and Windows now available
Microsoft Defender, the default security application on Windows, is now available as a standalone solution for the mobile operating systems Android and iOS, for Apple's macOS operating system, and for Windows. image credit: Microsoft Microsoft Defender for Individuals requires a Microsoft 365 subscription: a Microsoft 365 Personal or Family subscription is required. The new application is based on Microsoft Defender for Endpoint technology, an Enterprise-grade security solution. Individuals and


Ghacks Deals: The 2022 Premium Python Programming PCEP Certification Prep Bundle
The 2022 Premium Python Programming PCEP Certification Prep Bundle includes 12 courses about Python. The bundle includes courses designed for beginners, and also courses that teach advanced topics such as machine learning or data analysis. The following courses are included in the bundle: The Python Mega Course: Build 10 Real World Applications Go From Zero to Hero in Weeks! Learn Python The Easy Way by Building Real-Life Python Programs From Scratch Django 2 & Python | The Ultimate Web Develo


Intel Firmware updates for Memory Mapped I/O security vulnerabilities
Intel released new firmware updates to address Memory Mapped I/O security vulnerabilities. Intel and Microsoft published advisories this week to inform system administrators about the issues. Microsoft customers may visit the Adv220002 support page, Microsoft Guidance on Intel Processor MMIO Stale Data Vulnerabilities, for information. Intel published a support page on the company's Security Center website. The following four vulnerabilities affect certain Intel processors: CVE-2022-21123 - Sh


We take a closer look at new System Settings in macOS Ventura
One of the things that went under the radar when Apple unveiled macOS Ventura last week, was the System Settings app. It replaces the legacy System Preferences. This is what the new design looks like, and here's a screenshot showing you the older version. System Settings in macOS Ventura - An overview The sidebar in the new version looks similar to the design of the Settings in iPadOS and iOS. The options on the side panel are grouped by functions, for example, all connectivity options are lis


Windows 11 Insider Preview Build 25140
Microsoft has released a new version of Windows 11 to the Dev Channel of the Insider Preview Program. You can now update to Windows 11 Insider Preview Build 25140. What's new in Windows 11 Insider Preview Build 25140 The latest version focuses on improving the performance of some apps, and fixes a few issues. The legibility of the Euphemia typeface used by languages based on the Canadian Syllabic script has been improved, along with the screen rendering of 200+ characters at various sizes. The


The best decision a gamer can make: Xbox Game Pass
When Xbox One console was first revealed, its non-gamer-oriented features soon became a punch-line for the entire gaming industry. But as soon as Phil Spencer took over Microsoft's gaming division, Xbox started its new life cycle by introducing backward compatibility and the Xbox Game Pass subscription that continues to be the most user-friendly membership on the market. Another user-friendly niche of the gaming industry is a digital marketplace Eneba that offers video game keys, in-game currenc


Install Windows software and updates with WingetUI
WingetUI is an open source program for Windows to install, uninstall and update programs on Windows PCs using the Windows Package Manager winget. Winget, also known as the Windows Package Manager, is a powerful program. It may be used to install individual programs or batch install applications, update some or all programs or uninstall programs on Windows PCs. WingetUI, and the previously reviewed Winstall, aim to make things easier for users. Instead of having to run winget commands from the c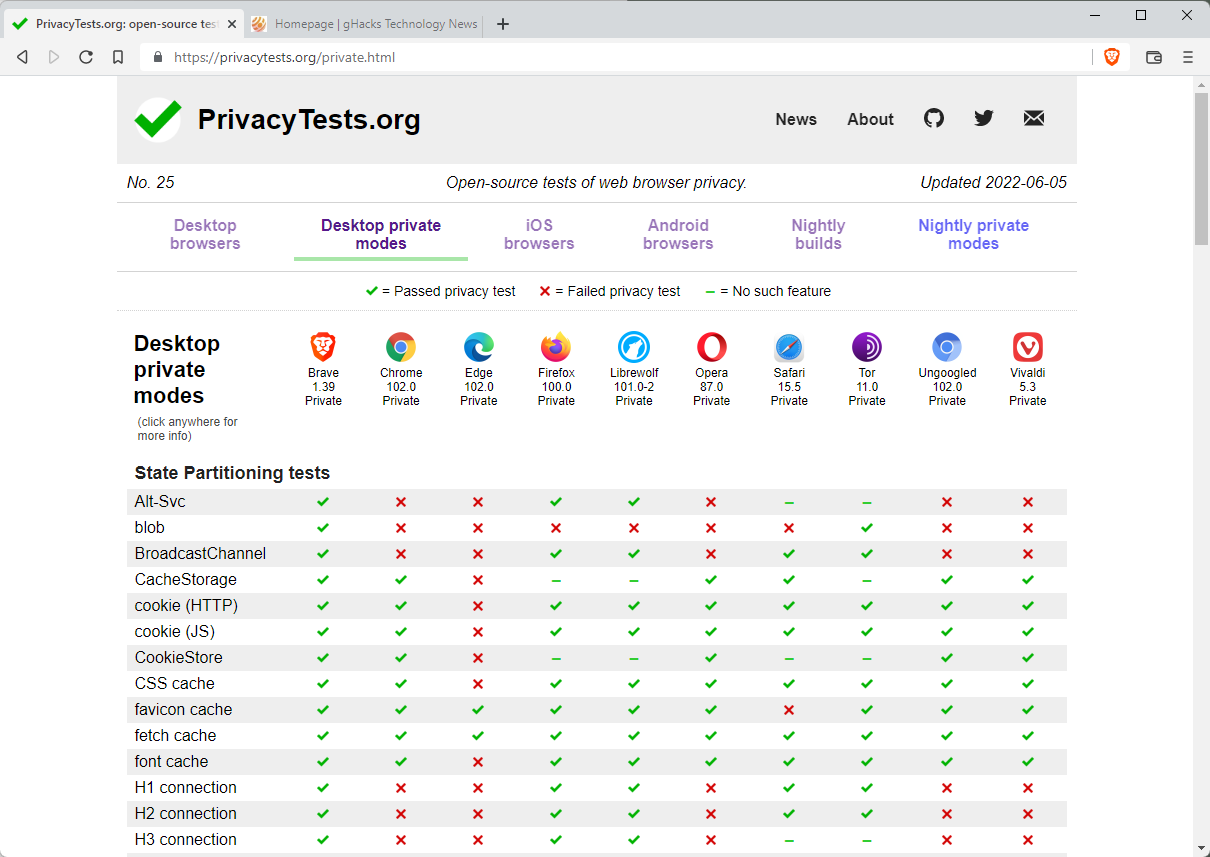 PrivacyTests reveals how your web browser does privacy-wise
All web browsers support some privacy features, some more than others, but none protect users 100% against all privacy threats; that is the quintessence of the tests that PrivacyTests runs regularly. PrivacyTests is a free website that runs tests regularly to check privacy features and protections in browsers. The organization checks desktop and mobile browsers, development builds of browsers, and the private browsing modes of the browsers. If you look at the test results, you will notice that


Microsoft explains how it is retiring Internet Explorer
On June 15, 2022, Microsoft is retiring its Internet Explorer browser. The move affects most Windows 10 devices, but there are devices on which Internet Explorer remains available. Even on Windows 10, Internet Explorer will be retired in two phases, over the course of the coming months. As far as the scope of the retirement is concerned, Microsoft is retiring Internet Explorer 11 only on certain Windows 10 editions. In particular, IE 11 won't be supported on most supported Windows 10 client edi


Microsoft Windows Security Updates June 2022 overview
Microsoft released security updates and non-security updates for all client and server versions of Windows on the June 2022 Patch Day. Other Microsoft products, including Visual Studio, SQL Server, Windows Autopilot, Microsoft Edge and Microsoft Office, have received security updates as well. The security updates are available already. Administrators may download them from Windows Update or by using update management services and products, including WSUS. The cumulative updates for Windows are


Telegram founder criticizes Apple for web app limitations on iOS
Telegram founder Pavel Durov has criticized Apple for limiting web developers on iOS and iPadOS. He isn't the first to lash out at Safari on iOS. Apple's mobile browser has been slammed by many developers, and browser makers who are unable to use their own engine due to the limitations imposed by Apple. In case you aren't aware, browser apps on iOS are only allowed to use the WebKit engine. This effectively cripples many browsers, and prevents them from bringing their unique features to iOS. Fo


Ghacks Deals: Surfshark VPN 2-4 year subscriptions 80% off
Mike reviewed Surfshark's VPN service back in October 2021 and concluded that it offered good options and performance. Now is your chance to grab a 2-year, 3-year or 4-year Surfshark subscription for 80% off. The VPN supports the latest protocols, multi-hop functionality for extra protection, and kill switch and bypass functionality. The company has a strict no-logging policy and supports all major operating systems, devices and browsers. The 2-year subscription is available for $56.99, the 3-y


Microsoft Edge 102.0.1245.41 fixes security and PDF printing issues
Microsoft released a security update on Friday and another today. The Friday update addressed an Edge-specific security issue, while today's update security issues that affect all Chromium-based browsers. The new version of Microsoft Edge Stable, version 102.0.1245.41, is already available. Most Edge installations will receive the update automatically in the coming days. Edge users may speed up the installation of the security update by loading edge://settings/help in the browser's address page


File Explorer Tabs in Windows 11 version 22H2
Microsoft released a new update for Windows 11 Insider devices today that brings the version of the operating system to 22621.160. The update is a smaller bug fix one, which is expected, as Microsoft is readying the new Windows 11 feature update for release. One of the main features that Microsoft works on currently is tabs in File Explorer. The company's initial plan was to introduce tab support for all program windows of the Windows operating system. The plan changed and Microsoft switched th


Here are the new features in macOS Ventura's Mail app
Spotlight is not the only app that Apple has improved in macOS Ventura. The Mail app has received similar treatment, let's take a look at the new features in it. Undo Send This is perhaps the best feature in any email client or mail service. If you've made a typo in a mail, or sent it to the wrong recipient, forgot to attach a file to it, etc., don't worry. The Mail app in macOS Ventura gives you a few seconds to Undo Send, to recall the mail. When you send a mail, the Undo Send option appears


K-9 Mail app will become Thunderbird's Android email client
The developers of the open source Thunderbird email client confirmed today that the open source Android email app K-9 Mail will become Thunderbird for Android. Thunderbird product and business development manager Ryan Lee Sipes confirmed in May 2022 that Thunderbird would become available for Android soon. The release would fill a gap, as Thunderbird has been available for desktop operating systems only up until now. The Android version enables Thunderbird users to sync data between desktop ver


Microsoft is experimenting with a search widget on Windows 11's taskbar
Microsoft runs several experiments in the latest Windows 11 version 23H2 build that place widgets in different locations on the taskbar for some setups. One of the latest experiments places a search field on the leftmost position of the Windows 11 taskbar, if taskbar icons are centered and not aligned to the left. Microsoft changed the default layout of the Windows taskbar to centered in the Windows 11 operating system. An option to align taskbar icons to the left was added to give users the op


Vytal: browser extension to spoof your location and user agent
Vytal is an open source browser extension for Google Chrome and other Chromium-based browsers, that will spoof the location, locale, timezone and user agent manually or automatically. Vytal uses the chrome.debugger API, which the developer believes makes the use of the extension undetectable by websites and will spoof the data during the initial loading of webpages as well as in iframes and web workers. One of the main ideas behind Vytal was to give VPN users a tool at hand to match location-ba


Your browser stores passwords and sensitive data in clear text in memory
Your web browser may store sensitive data, including usernames, passwords and session cookies in clear text in memory according to CyberArk security researcher Zeev Ben Porat. Most Chromium-based web browsers appear to be affected, including Google Chrome. Microsoft Edge was tested for the weakness and it was affected by it, too. A quick test on a local Windows 11 system confirmed that browsers such as Brave and Mozilla's Firefox web browser are affected by the issue as well. Physical access to


macOS Ventura improves Spotlight's functionality with rich search results, image search and more
Spotlight is one of the most useful tools on Mac. macOS Ventura improves its functionality by adding new ways to use the app. Quick Look Finder's best feature is now available in Spotlight. When you are looking for files using search, press the space bar to preview the file directly in the panel. Quick Look saves you some time, which might have been wasted opening a file to see if it is the one you wanted to use. It works with images, PDFs, documents, Mail, and more. Rich Web Results Spotlight


How to change the Windows screen size in VirtualBox?
Oracle's VirtualBox virtualization software is a popular choice for users who want to test new operating system versions. If you install Windows in VirtualBox, you may notice that you can't change the default screen resolution of 1024x768. The low resolution may be sufficient for some tasks, but many may benefit from larger resolutions. The View > Virtual Screen menu of the VirtualBox application lists all available resolutions and scaling options. The "resize to" options are all inactive, as t


Google Chrome will soon adjust address bar icons using Machine Learning
Google revealed plans to increase the use of machine learning in the company's Chrome web browser to make it a "more helpful browser". Google is using machine learning already in Chrome, for instance, to improve accessibility. The company plans to extend the use of machine learning in the Chrome web browser in several areas in the future. Chrome's address bar may soon display icons using machine learning. Chrome will adjust icons on the toolbar using machine learning to display the action that


Windows 11: Microsoft improves File Explorer sidebar significantly
Windows 11 version 22H2 includes a new Explorer sidebar design and layout, that gives users more control over the links that are displayed in the File Explorer sidebar. Microsoft released a new Windows 11 Insider build this week with several File Explorer improvements. Ashwin highlighted the tabbed File Explorer interface already, which many users have been waiting for. Another File Explorer area that has been improved in the build is the file manager's sidebar. The sidebar lists links to vario


Stage Manager in macOS Ventura can be useful, but it takes up too much space on the screen
Stage Manager is macOS Ventura's most talked about feature, and for good reason. As Apple pointed out in its demo, your Mac can quickly get cluttered if you have a lot of app windows open. The new feature can help you by minimizing all windows while retaining the one you were using. How to use Stage Manager in macOS Ventura 1. Click on the Control Center. 2. Mouse over the "Stage Manager" tile and click on it. 3. It should bring the active app to focus by centering it, while minimizing the rest


Microsoft makes File Explorer Tabs official in Windows 11 Insider Preview Build 25136
It's finally here, File Explorer Tabs are official in Windows 11 Insider Preview Build 25136. The update is currently available for the Dev Channel. What's new in Windows 11 Insider Preview Build 25136 File Explorer Tabs in Windows 11 We first saw Tabs appear as a hidden feature in Build 22572, and were able to activate it using ViVetool. But, Microsoft removed it in later builds. File Explorer Tabs have been officially announced by Microsoft, with the release of Build 25136. It is identical to


WinPaletter: customize Windows theme colors to your liking
WinPaletter is an open source application for Microsoft's Windows 10 and 11 operating system, that gives users more control over the color customizations of the system. Windows 10 and 11 users get a few personalization options in Settings by default. The options, displayed after right-clicking on the desktop and selecting Personalization, let users pick a single accent color to modify the color set of the operating system. Users who want more control may edit colors in the Registry. WinPaletter


Ghacks Deals: Offcloud Lifetime Subscription
Offcloud is a cloud-based download management service that acts as a middleman for downloads. Basically, what it allows you to do is use it to download files from any location and device, and to download these files at a later time to local devices. Offcloud supports an impressive arrangement of services, sites and protocols, including BitTorrent, Usenet and newsgroups, file hosting services, video and audio streaming services, and more. Offcloud Lifetime Subscription gives you lifetime access


Opera 88 launches with Shopping Corner feature
Opera Software released Opera 88 Stable this week. The new version of the web browser introduces support for horizontal tab scrolling and a new feature that Opera Software calls Shopping Corner. Shopping Corner is available in four countries -- Germany, Poland, the United Kingdom and United States -- at the time, but Opera Software has plans to roll out the feature to additional companies in future releases. The company describes Shopping Corner as a central hub for shopping related activities.


GitHub's Atom text editor will be retired in December
GitHub has announced that it is sunsetting its text editor, Atom. The application, which debuted in 2011, will be retired on December 15, 2022. Atom emerged as a promising tool for code developers, and laid the foundation for the Electron framework (formerly Atom Shell). Microsoft attributes the rise of Visual Studio Code to it. The text editor was popular amongst the developer community for its customizable interface and functionality, as well as its built-in support for Git and GitHub. Why is


Firefox 101.0.1 fixes issues in Mac, Windows and Linux versions
Mozilla Firefox 101.0.1 will be released later today (if you are reading this on June 9, 2022). The new point release of Firefox Stable fixes three main issues and several smaller issues, including a rare issue on Windows that is making the browser unusable. Firefox 101.0.1 The new Firefox 101.0.1 will be released for all supported desktop systems. Firefox updates are distributed automatically to most devices the browser is run on, thanks to the built-in updating functionality. Firefox users ma


Vivaldi Mail 1.0: email client with calendar and feed reader launches
Vivaldi Technologies launched Vivaldi Mail 1.0 with calendar and feed reader today in the company's web browser. Released in late 2020 as a preview, Vivaldi Mail was launched in Vivaldi 4.0 officially. Vivaldi is one of the few browsers with integrated email client and functionality. The email client includes calendar functionality and a feed reader. Vivaldi Mail is a free email client that supports multiple email accounts. Many accounts can be added by adding the email address and password to


Phishing: use of reverse tunnel services to avoid detection and shutdown increases
Security researchers at CloudSEK have noticed an increase in the use of reverse tunnel service and URL shorteners in phishing campaigns. Cyber criminals use services such as bit.ly, Ngrok or LocalhostRun to evade detection and "launch untraceable phishing campaigns" according to the researchers. image credit: CloudSEK Phishing campaigns may impersonate legitimate websites and services to steal user data such as passwords or credit card numbers. These may be hosted on registered domains, free web


Configure Brave Browser to display all articles in Reader Mode
Most Internet browsers support Reader Mode functionality, which is designed to improve the readability of articles. Firefox, Brave, Microsoft Edge, Vivaldi and many more browsers support reader mode functionality by default. Chrome, the most used desktop browser, supports it as well, but has it disabled by default. Reader Mode has different names depending on the browser that is used. Reader Mode is common, but you may also encounter the names Reader View or Immersive View. All have in common t


LastPass introduces passwordless Vault access
LastPass, maker of the password management service, introduced support for accessing a customer's Vault using passwordless technology in June 2022. image credit: LastPass Passwordless account systems use other means of authentication to provide users with access to services and accounts. Instead of requiring account passwords, passwordless systems use mobile applications, biometric identification technologies, hardware security keys, or other technologies for identification. LastPass users who s


Ghacks Deals: The Ultimate Project & Quality Management Certification Training Bundle
The Ultimate Project & Quality Management Certification Training Bundle includes 10 project management courses. Courses teach skills such as Six Sigma and Agile, and even include certification training courses. The following courses are included in the bundle: CompTIA Project+ (PK0-004) Essential Skills in Planning, Coordinating, and Managing Projects Inside or Outside of IT Lean Agile Project Management Be Introduced to the Agile Mindset & The Way That Agile Teams Operate and Think EXIN Certi


A preview of Windows 11 version 22H2 is now available
Microsoft released a preview of Windows 11 version 22H2, the upcoming feature update of the company's Windows 11 operating system, on June 7, 2022. Windows 11 version 22H2 will be the first feature update release for the Windows 11 operating system. Microsoft switched to a one major update per year release cycle recently for its Windows 10 and 11 operating systems. The preview release has been released for organizations and home users for testing purpose. Windows 11 version 22H2 will be release


Here is a list of devices that support macOS Ventura, and those that won't get the update
macOS Ventura was made official by Apple at WWDC 2022, and there are some interesting new features in the operating system. The company also launched a couple of shiny new MacBooks powered by the new Apple Silicon M2 chipset. But, the important question is, which Mac computers are eligible for the macOS Ventura update? Apple has published a brief list of devices that will support Ventura, on its website. You can see those in the screenshot too. iMac - 2017 and later iMac Pro MacBook Air - ...


Microsoft: Edge's Sleeping Tabs feature saves an average of 39.1 MB of RAM per tab
Microsoft Edge's Sleeping Tabs feature saves an average of 39.1 Megabytes of RAM for each tab that it puts to sleep according to Microsoft. Sleeping Tabs was introduced in late 2020 by Microsoft in the company's Edge web browser. The feature puts tabs that have not been used for a period into sleep mode; the tab remains visible on the tab bar, but it is unloaded to free up RAM and save resources. Tabs that are put into Sleep mode are faded in Edge by default to better distinguish them from acti


Apple announces macOS Ventura - Here's what's new in it
Apple unveiled the next version of macOS at WWDC 2022 today: meet macOS Ventura. What's new in macOS Ventura macOS 13 brings a slew of new features. Here's a brief description of what they do. Stage Manager Apple wants to give users a new way to multitask with programs. This is where Stage Manager comes in. It can be toggled from the Control Center. When enabled, Stage Manager retains the current app that you are using, while automatically arranging all other app windows to the left side of th


FastForward: skip tracker and intermediary URLs automatically
FastForward is a cross-platform browser extension that will skip link shorteners, trackers and intermediary URLs automatically when enabled. It works on sites such as bit.ly, t.co, goo.gl, show.co, or adf.ly, and thousands of others. Intermediary pages may be used for user tracking, the display of advertisement, or other purposes. The browser extension is available for Mozilla Firefox, Google Chrome, and other Chromium-based browsers. FastForward is a fork of the discontinued Universal Bypass e


Gog Games Summer Sale 2022 with free Sanitarium game and discounts
The Gog Summer Sale 2022 runs from June 6th to June 27th. Gamers from all over the world may buy most of the games that are available on Gog at a discount of up to 90%. Those who check in early may grab a free copy of the adventure game Sanitarium on top of that. Gog is best known for its selection of classic computer games that it has prepared to run on modern systems. You may purchase games from the 80s, 90s and newer decades on Gog, and all of these are delivered without DRM to gamers. The s


Google says Chrome is 20% faster than before on macOS
Google has posted a cryptic message on Twitter that says that Chrome is 20% faster than before on macOS. In March 2022, the Mountain View company did something similar, when it published an article on its Chromium blog to highlight how it was the best ranked browser on Speedometer. In case you didn't know, Speedometer 2.0 is a browser benchmark test developed by Apple. Ever since it debuted in 2014, it has been a prime marketing tool for browser makers to boast how good their application is. Co


How to run Thunderbird Beta next to the Stable email client
The email client Thunderbird is available in several editions. Most users use the stable version of the email client, but some may be interested in running the beta and nightly editions of Thunderbird as well. Thunderbird 102 has been released as a beta edition recently; since it is a major new release, some users may want to check it out prior to final release, e.g., to find out if add-ons continue to work, how the changes and new features work out, or if any other issues are experienced. Note:


A Look at Titan Linux -- Customized Debian Stable
I was talking with a friend of mine about Linux distributions, and he asked me if I had ever heard of Titan Linux, to which I replied I had not. He told me he had recently read an article about it, praising it for being a great customized version of Debian Stable...so, I had to try it out for myself! When I got to the homepage for the site, I found it pleasant to look at and well organized, with the various download options easily noticeable. Getting my hands on the ISO was easy. I also loved t


Microsoft Edge Drop: transfer files between all Edge instances on all devices
Microsoft is testing a new feature called Drop in the Canary version of the company's Edge web browser. Drop allows Edge users to transfer files and notes between all Edge instances on all devices that Edge is used on. Internet users have several options when it comes to the transferring of files between devices. From saving files to external storage devices to using online file synchronization services. Soon, Edge users may use Drop, a built-in feature to transfer files between devices using M


Don't redeem Microsoft Rewards points right now: you may get banned
Microsoft customers who plan to redeem Microsoft Reward points should not do so right now, as redeeming points may result in a ban of the associated Microsoft account. Microsoft Rewards gives customers the opportunity to earn points, which may later be redeemed for gift cards, sweepstake entries and other rewards. Points are earned when customers use select Microsoft products, including Bing Search, Microsoft games, or the Microsoft Store. A search on Bing nets customers 5 reward points, provid


How to disable the Visual Search icon in Microsoft Edge
If you are using Microsoft's Edge web browser, you may have noticed that the browser displays a small icon over any image that you hover the mouse over. The feature, called Visual Search, has been available for some time, but it seems that Microsoft has enabled it for some users automatically. Up until recently, Visual Search needed to be enabled by the user to make use of the feature. Edge displays the Visual Search icon in the upper right corner of the image when the mouse cursor hovers over


LoveWindowsAgain: fix Windows 11 issues in a few clicks
LoveWindowsAgain is a new open source application by the developer of ThisIsWin11 and TweakUIX. The new application focuses on resolving issues that users may have with the Windows 11 operating system, but it may also be used to install popular programs quickly using the Windows Package Manager. Microsoft Defender may block the application once it is downloaded. It detected Trojan:Script/Wacatac.B!ml on a test system. A scan on Virustotal returned no hits. The program modifies system settings,


Opinion: I love the tab grouping feature of web browsers
Many desktop web browsers and some mobile browsers support the grouping of tabs. Implementations may differ depending on the browser and platform, but all have in common that they provide users with an option to group tabs in the browser. Many Chromium-based browsers support tab groups by now. You can use Microsoft Edge, Brave or Google Chrome, and use the functionality right away. All that it takes is to right-click on a tab and select the "add tab to new group" option from the context menu. A


Ghacks Deals: The 2022 Complete Learn Coding & Automation Bundle
The 2022 Complete Learn Coding & Automation Bundle includes 8 eLearning courses that teach you essential coding and automation skills. It includes beginner courses, like C++ for absolute beginners, but also courses focused on automation and IoT. Here is the full list that is included: Google Assistant Automation IoT Development -- Learn Internet of Things Automation of Google Assistant & Apple Home The Ultimate Hands-On Hadoop: Tame your Big Data! -- Hadoop Tutorial with MapReduce, HDFS, Spark


Firefox 102: Query Parameter Stripping improves privacy
Mozilla plans to introduce a new privacy feature in the upcoming Firefox 102 web browser. Called Query Parameter Stripping, it is designed to remove tracking parameters from web addresses to improve user privacy. Mozilla integrated the privacy feature in Firefox Nightly 96 originally for testing purposes. Some sites and services add tracking parameters to links to track users across sites. Facebook, for example, appends a unique fbclid string to all outgoing links, which is unique for all users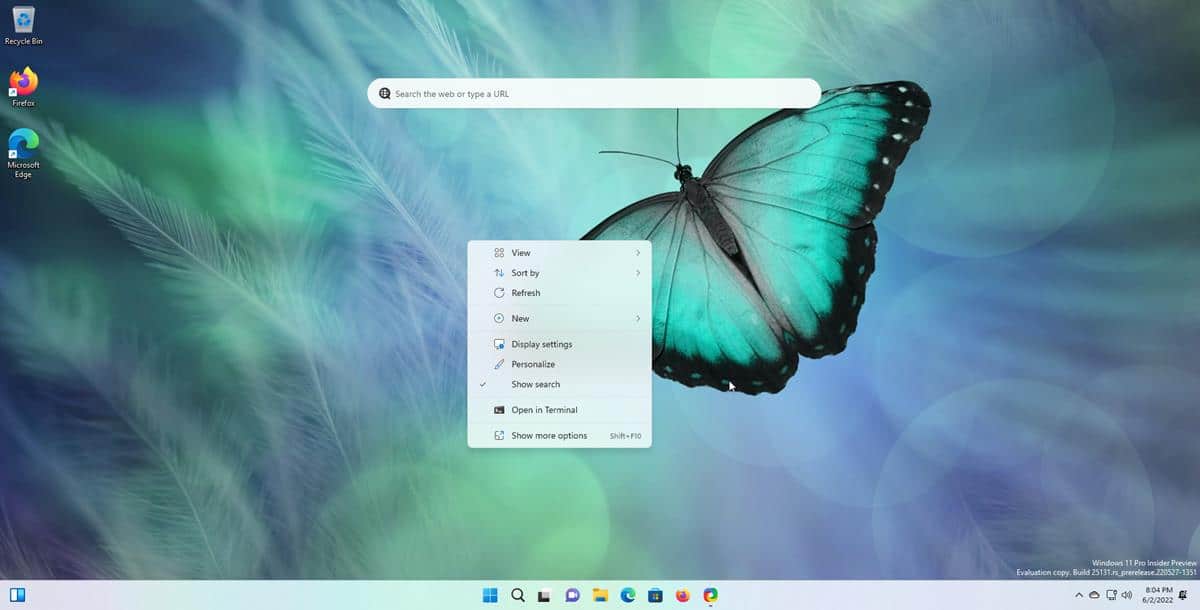 Windows 11 Insider Preview Build 25131 improves the performance of the Microsoft Store app and fixes a few bugs
Microsoft has released Windows 11 Insider Preview Build 25131 to the Dev Channel. There are no new features in this update, it focuses on fixing bugs. Fixes in Windows 11 Insider Preview Build 25131 A problem that was causing File Explorer to hang when browsing folders with .MKV files, has been fixed. Searching for files from the Home page should work properly. The new folder icon in File Explorer's command bar looks similar to the one in the context menu. Using the Search tool to open a folder