Rockets' secret tunnel attack on Clippers gets all the memes
The Houston Rockets' well planned out, multifaceted attack on the Los Angeles Clippers after Monday night's game was all the rage on Twitter, for good reason. After the Clippers beat the Rockets 113-102 in Chris Paul's revenge game is when the real fun started. ESPN's Adrian Wojnarowski reported that the Rockets tried to invade the Clippers' locker room, sending big man Clint Capela to the front door, while three players — Chris Paul, Trevor Ariza, and Gerald


NBA to investigate Rockets-Clippers postgame fight
The NBA is going to investigate a highly-publicized postgame skirmish that broke out between the Los Angeles Clippers and Houston Rockets after Monday night's game, which included reports of players storming into a locker room with an planned out, multi-pronged attack. The Clippers beat the Rockets 113-102 in what was a revenge game for Houston's Chris Paul, who returned to face his former team for the first time. The game started getting out of hand towards the end, with Blake Grif


Mike D'Antoni says Blake Griffin hit him before incident (Video)
Mike D'Antoni says that Blake Griffin hit him before the two exchanged curse words at each other, leading to double technicals. Late in the Los Angeles Clippers' win over the Houston Rockets on Monday night, Griffin and D'Antoni got into a heated exchange. Following the game, D'Antoni repeated that Griffin hit him, which instigated things. Here's video that seems to show Griffin going to make contact with the Rockets head coach: Here's the play where Blake Gr


Should there be a 'good guy' exception for NHL suspensions?
After Ducks center Andrew Cogliano was suspended, snapping his streak of 830 consecutive games played, former NHL tough guy Tie Domi tweeted that the league should have considered Cogliano's streak -- and respect among his peers -- in meting out justice.


College basketball's dream matchups
The 50th anniversary of the "Game of the Century" got us daydreaming about fantasy matchups. Back then, it was Lew Alcindor vs. Elvin Hayes. Imagine Ayton vs. Bagley, Young vs. Sexton and more.


Magic rookie invited teammates to his first sermon but none showed up
Magic rookie Jonathan Isaac gave a sermon on Sunday, although a few people he invited were not there to see it. Isaac is a proud Christian who stepped out of his comfort zone this past weekend to preach at church. He was a guest at JUMP Ministries Global Church in Orlando, where he delivered a sermon and had a laugh at the expense of his teammates. Isaac joked that he invited his teammates to come, but none showed up. You can hear that portion of Isaac's sermon and more below. Isaac lat


Kings coach plans to sit veterans, go younger
Kings head coach Dave Joerger will be playing his younger guys more and veterans less for the foreseeable future. During the offseason, the Kings brought in Zach Randolph, Vince Carter, and George Hill to help provide a strong veteran presence to a young Sacramento team. With the Kings 13-30, and in last place in the Western Conference, the organization has decided to give its veteran players games off on a consistent basis. On Monday, Joerger said 2-3 veteran rotation players will sit each gam


Chris Paul receives tribute video in return vs Clippers
Chris Paul received a tribute video and ovation from Los Angeles Clippers fans during his return to play his former team on Monday night. Paul's return to face the Clippers as a member of the Houston Rockets did not lead to a great reaction from the fans initially. He received a good amount of cheers when he was introduced in introductions, though the cheers were not overwhelming: The crowd reaction to #Rockets Chris Paul being introduced in his first game back against the #Clippers in L


Billboard goes up offering support to Marcus Williams
Marcus Williams will not have to go through his awful moment alone. Williams missed a tackle on the final play of Sunday's NFC divisional playoff game between the Minnesota Vikings and New Orleans Saints that allowed the Vikings to win. Although many viewed him as a goat for the missed play, Williams is receiving some nice support. Kenny Lopez of WGNO in New Orleans shared this photo on Twitter Monday of a billboard he says is up on the 10 freeway, which expresses support for Williams: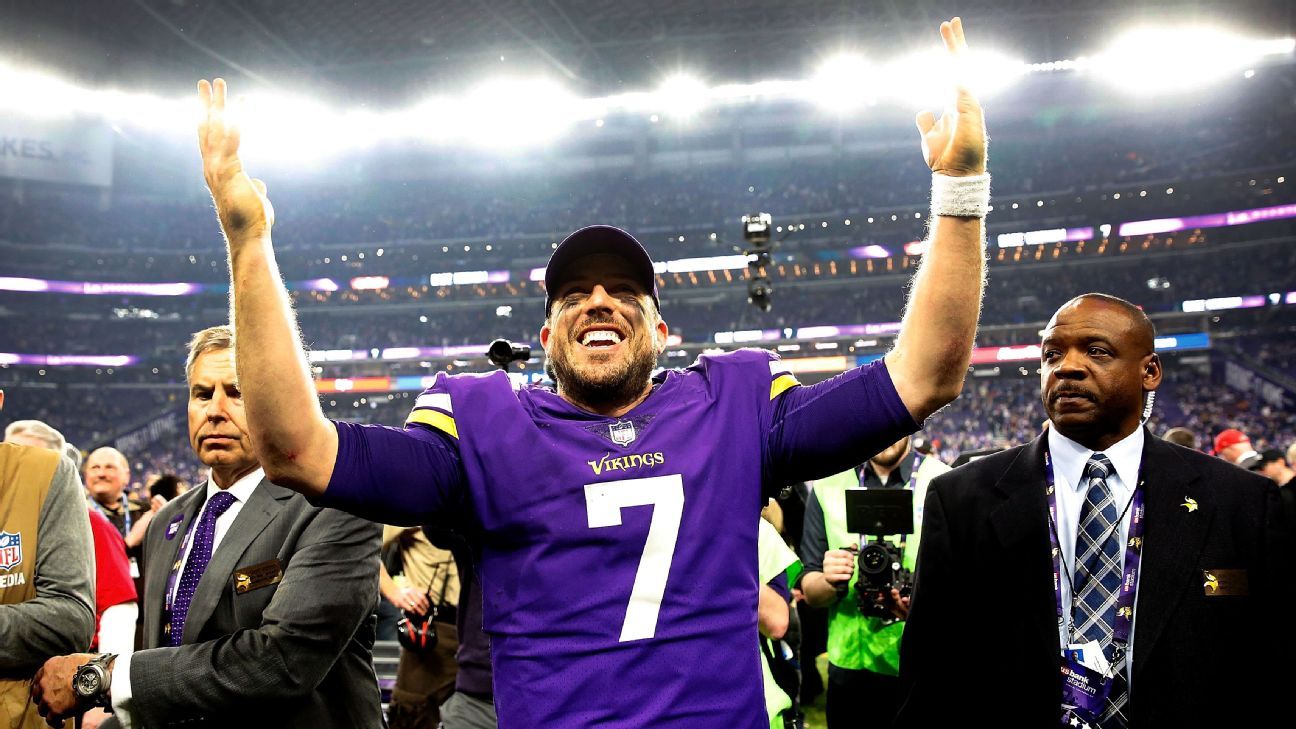 The best and worst NFL free-agent signings of 2017
The Vikings signed a backup quarterback in an under-the-radar deal last March. Now that QB has them one game from the Super Bowl. Here are the deals that exceeded, met or fell short of expectations -- good and bad.


Ex-Washington QB KJ Carta-Samuels transferring to UCLA
The UCLA Bruins will have another quarterback in the mix next season. K.J. Carta-Samuels announced on Monday that he will join the Bruins' football program in the spring as a graduate transfer. Carta-Samuels joined Washington in 2014 and spent the past three seasons as Jake Browning's backup on the Huskies. Carta-Samuels told CBS Sports that new UCLA coach Chip Kelly told him there would be an open competition for the starting job, which helped convince KJ to transfer there. "


Pirates GM explains reason for Andrew McCutchen trade
The Pittsburgh Pirates on Monday traded Andrew McCutchen to the San Francisco Giants, ending over a year of trade rumors involving the former MVP. Team GM Neal Huntington spoke about the trade later in the day, and essentially confirmed the team traded the outfielder because they felt they could not afford him. Huntington on any McCutchen extension talk: "During informal conversations it became pretty clear that it was going to be very hard for us to meet what he deserves and be able to build


D'Antoni accuses Griffin of intentional contact
Rockets coach Mike D'Antoni said Clippers forward Blake Griffin intentionally made contact with him Monday night before a heated confrontation that led to double technical fouls with 3½ minutes to play.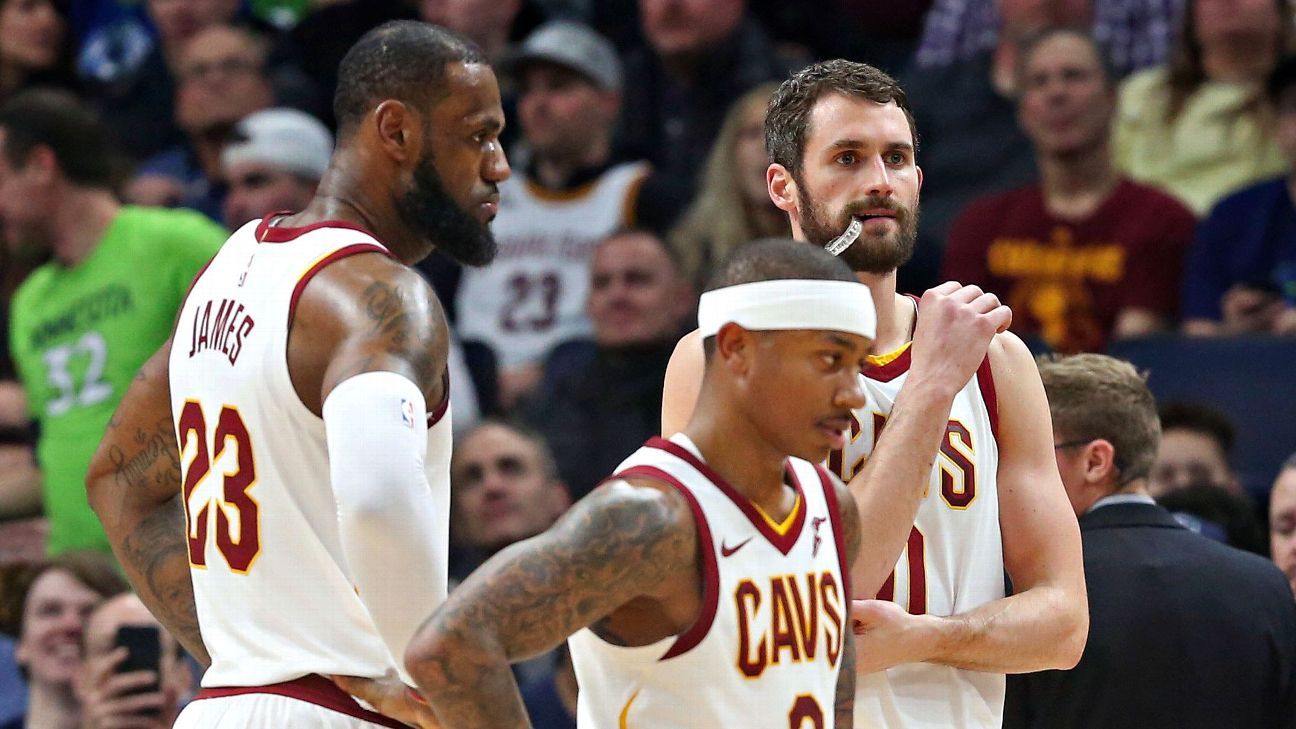 Sources: Growing discontent among Cavs
Multiple Cavaliers players acknowledged growing discontent and a strong sense of concern that unlike past seasons, this year's team does not have enough to fix its problems.


Warriors suffer through cold showers at 'The Q'
The Warriors, after taking down the Cavs with a stout fourth quarter in which they shot 53 percent, were cooled off in the visitors' locker room after the win. "Somebody call Bron!" Kevin Durant could be heard yelling.


UConn survives upset bid from Texas
The performance fell short of vintage UConn, but Geno Auriemma didn't hesitate to say he was proud of his Huskies. On a night when little came easily, the Huskies withstood their latest test. Even so, it seems like it's getting more difficult to be UConn.


CP3 draws mixed reception in return to L.A.
The boos for Chris Paul weren't the reason it was a disappointing return to L.A. for the former Clippers star, with his Rockets falling 113-102 at Staples Center on Monday night.


Report: Hugh Freeze interviews with Nick Saban for Alabama OC job
Nick Saban may lose his top assistants every season, but he goes right back to restocking with some of the best available coaches. And this year may not be an exception. According to The Tuscaloosa News, former Ole Miss head coach Hugh Freeze was in Alabama on Monday and was in the Crimson Tide's football building. Clay Travis took things a step further, saying Freeze interviewed with Nick Saban for the vacant offensive coordinator position. Source tells me Hugh Freeze interviewed for Al


Sources: Giants shift coach search to Shurmur
The focus of the New York Giants' coaching search has shifted to Minnesota Vikings offensive coordinator Pat Shurmur. The Giants are planning to schedule a second interview next week with Shurmur, sources told ESPN's Dan Graziano and Chris Mortensen.


Alabama LB who went after staffer will transfer
Alabama linebacker Mekhi Brown, who was involved in a sideline incident with an assistant coach during the College Football Playoff National Championship Game, will transfer to Tennessee State.


Charles Barkley: Cavaliers will not make NBA Finals
Looks like LeBron James will have his latest reason to be annoyed with Charles Barkley. Speaking on TNT prior to Monday's Golden State Warriors-Cleveland Cavaliers game, Barkley predicted that the Cavaliers would not reach the NBA Finals this year: Hot takes from Chuck. RT if you agree. Comment and tell us why he's wrong! pic.twitter.com/pWxUR8fIm0 — NBA on TNT (@NBAonTNT) January 16, 2018 The Cavs and Warriors have met in the Finals for three straight seasons, with the Warri


Melo 'done' with refs after Westbrook ejected
Thunder guard Russell Westbrook's ejection minutes before the end of Monday's game resulted in a technical foul for coach Billy Donovan and led teammate Carmelo Anthony to say he's "done" with officials.


Curtis Granderson reportedly agrees to deal with Blue Jays
Curtis Granderson is heading to Canada. The Athletic's Ken Rosenthal reported on Monday evening that Granderson and the Toronto Blue Jays have agreed to a one-year, $5 million contract that is pending a physical. Free-agent outfielder Curtis Granderson in agreement with #BlueJays on one-year, $5M contract, sources tell The Athletic. Deal also includes incentives and is pending a physical. — Ken Rosenthal (@Ken_Rosenthal) January 16, 2018 The Blue Jays are a little weak in the outf


Sources: Rockets push into Clips' locker room
Houston's James Harden, Trevor Ariza and Gerald Green pushed into the LA Clippers' locker room Monday night looking to confront Austin Rivers after the Rockets' 113-102 loss, league sources told ESPN's Adrian Wojnarowski.


Greipel wins stage 1 of Tour Down Under
ADELAIDE, Australia (AP) Germany's Andre Greipel claimed his 17th stage victory in the Tour Down Under cycle race when he won the 145-kilometer (90-mile) stage of the 2018 World Tour opener to take an early lead on general classification. The 35-year-old Greipel, who won the Australian tour in 2008 and 2010, beat Australian sprint star Caleb Ewan and triple world champion Peter Sagan in a bunch sprint at the end of the stage from Port Adelaide to Lyndoch.


Luke Walton says Lakers got punked by Grizzlies
Luke Walton was disappointed with his team's effort in a loss to the Memphis Grizzlies on Monday, specifically saying that they got punked. The Lakers, who were without Brandon Ingram and Lonzo Ball, fell to the Grizzlies 123-114 as they shot below 40 percent for the game. Walton said after the contest that the Lakers were not physical enough in the game. "I think the biggest (problem) is we weren't physically, mentally ready to match what Memphis brought tonight," Walt


Novak Djokovic advocating for players to form union
Novak Djokovic's attempt to unionize his fellow men's tennis players has been the talk of the Australian Open so far. According to the Daily Mail, Djokovic spoke at the annual player meeting at the Australian Open on Friday night. Djokovic reportedly spoke last, politely asked non-players to leave the room, then brought up a lawyer to help make the argument for why the players should unionize. For now, the players are partners with tennis tournaments on the ATP (Association of Tenni