Diamondbacks have funny exchange with ex-pitcher Dan Haren
Ex-pitcher Dan Haren had a funny exchange with the Arizona Diamondbacks on Twitter Friday. The D-backs announced their 20th anniversary team on Friday. Haren, who pitched 2.5 seasons for the team, making the All-Star team twice, was not included. He tweeted at Arizona asking for a "recount". Can we get a recount? — dan haren (@ithrow88) July 20, 2018 In response, the person running the account trash-talked Haren, saying he's gone from hanging breaking balls to hanging


Orioles' Jonathan Schoop left a vacation to say goodbye to Machado
Jonathan Schoop showed just how tight of a bond teammates can have. The Baltimore Orioles infielder said on Friday that he left a vacation early so he could drive to Manny Machado's house for an in-person goodbye after the shortstop was traded to the Los Angeles Dodgers. MASN's Steve Melewski shared the comments of Schoop, who says he started to cry when saying goodbye to Machado. Jonathan Schoop left a lake vacaction to drive to Manny's house for an in person goodbye – "


James Harden: Carmelo would be 'great acquisition' for Rockets
James Harden does not sounds too worried about potentially having to share the ball with Carmelo Anthony in Houston. Addressing the media on Friday, the reigning MVP was asked about the possible addition of Anthony, who is expected to sign with the Rockets. "He'd be a great acquisition for us," said Harden, per Matt Young of the Houston Chronicle. "Melo's a proven vet. He just wants to win at this point." While the 10-time All-Star forward is definitely tight


Report: Josh Hader issued tearful apology in Brewers clubhouse
Josh Hader continues to make amends for some ugly tweets of his that resurfaced earlier this week. Stephen Watson of WISN 12 News in Milwaukee reported on Friday that the Brewers reliever issued an emotional apology inside the team's clubhouse before their first game of the second half. Watson also added that everybody seemed to accept his apology and that they were hoping to move forward. This was echoed by Bob Nightengale of USA TODAY Sports, who said that Hader cried during his apology


Michael Beasley, Lakers reportedly agree to one-year deal
The Los Angeles Lakers' wild and crazy summer continues. ESPN's Chris Haynes reported Friday that free agent forward Michael Beasley has agreed to a deal with the Lakers. The deal is for one year and $3.5 million. Sources: It's a one-year, $3.5 million deal. — Chris Haynes (@ChrisBHaynes) July 20, 2018 Beasley, 29, averaged a solid 13.2 points in 22.3 minutes per game for the New York Knicks last season. He previously played with LeBron James on the...


15 NFL players with something to prove in 2018
The NFL can be notoriously fickle. The risk of injury, the lack of guaranteed money, and the ever-changing game can alter the trajectory of a career very quickly. For some players, it leaves them in a position where they have to prove themselves again in order to re-establish themselves as top-tier stars. Here are 15 players who are looking to do just that in 2018. They may have had off-field issues, a lot of injuries, are entering a contract year, or any combination thereof. Either way, all ey


Report: Yogi Ferrell to join Kings after backing out on Mavs
The Dallas Mavericks have officially lost their man. Shams Charania of Yahoo! Sports reports Friday that guard Yogi Ferrell has agreed to a deal with the Sacramento Kings after backing out of his original Mavs deal. Ferrell's new contract is said to be for two years and $6.2 million. Yogi Ferrell's new Kings contract will be for two years and $6.2M, league sources said. — Shams Charania (@ShamsCharania) July 20, 2018 The 25-year-old Ferrell, who averaged ...


Miami Dolphins owner backs off NFL anthem discipline policy
Miami Dolphins owner Stephen Ross backtracked in a statement on Friday about the team's national anthem discipline policy. On Thursday, word emerged that the Dolphins included anthem protests among the many actions that could lead to a personal conduct suspension from the team, which would be up to a four-game suspension. The Dolphins are backing off now. "We were asked to submit a form to the NFL on our overall discipline policy prior to the start of the rookie report date,"


Rangers calling up top prospect Willie Calhoun
Willie Calhoun is finally set to make his long-awaited 2018 debut. TR Sullivan of MLB.com reports that the Texas Rangers will be calling up the top outfield prospect for Friday's game against the Cleveland Indians. Willie Calhoun being called up to the big leagues tonight…. waiting to hear what other roster moves will be made after Jesse Chavez sent to the Cubs…. Alex Claudio due off the DL on Saturday — TR Sullivan (@Sullivan_Ranger) July 20, 2018 Calhoun, 23, was the


Jaguars DE Dante Fowler suspended one game for 2017 arrest
Jacksonville Jaguars defensive end Dante Fowler has been suspended the first game of the 2018 NFL season for a violation of the league's personal conduct policy, according to a report. NFL Media's Ian Rapoport reported the news on Friday and said the suspension was for a 2017 arrest. #Jaguars pass-rusher Dante Fowler is suspended without pay for the first game of the 2018 regular season for violating the NFL's Personal Conduct Policy. … This is from an arrest in 2017. &mdas...


Colts GM: Andrew Luck ready for training camp
The Indianapolis Colts are revealing a major development on the Andrew Luck front. Speaking with the media on Friday, Colts GM Chris Ballard said that Luck was "good to go" for training camp, according to Ian Rapoport of NFL Network. While Ballard did say that Luck will have no limitations while out there, he added that Luck will not throw for seven days straight. The three-time Pro Bowl quarterback has long been rehabbing his surgically-repaired right shoulder and missed the entire


Magic Johnson threw shade at LaVar Ball during interview
Magic Johnson may not be getting free Big Baller Brand merch any time soon. The Lakers president of basketball operations was a guest on ABC's "Jimmy Kimmel Live" earlier this week. During the appearance, Johnson was asked by Kimmel if he consulted with LaVar Ball before taking a meeting with LeBron James. Johnson replied by laughing hysterically at the mention of Ball's name and quipping to Kimmel, "I would've called you before I called LaVar Ball." M


Report: Braves among teams interested in Zach Britton
Zach Britton has looked sharp in his last several outings with the Baltimore Orioles, and teams are showing an increasing interest in the left-hander heading into the trade deadline. The Atlanta Braves are reportedly one of those teams. According to ESPN's Jerry Crasnick, the Braves are searching for bullpen help and have expressed interest in Britton. The #Braves have talked to the #Orioles about Zach Britton, so you can add them to the list of teams in the mix. Atlanta needs bullpen he


Mavericks dealing with yet another bizarre free agency situation
The Dallas Mavericks seem to have issues in free agency that most other teams either don't have to deal with or are able to keep under wraps, and it sounds like it is happening again. The Mavs seemed to be making progress all week toward a new contract with point guard Yogi Ferrell, and multiple NBA reporters said Thursday that the two sides had agreed to a two-year deal worth somewhere around $5 million. Shams Charania of Yahoo Sports noted that Ferrell had been promised a backup shootin


Lance McCullers calls out MLB for failing to market star players
Major League Baseball has been trying to find ways to offset declining attendance and television ratings for quite some time, and one star pitcher thinks he knows what the league's biggest issue is. In his weekly appearance on Sports 610 Radio Thursday, Houston Astros starter Lance McCullers was highly critical of MLB for being the "worst marketed league" of the major sports in America. "We have the worst marketed league, in my opinion…of the three major sports, in


Mitchell Trubisky makes LeBron reference when talking social media hiatus
Mitchell Trubisky has already grown tired of listening to critics on social media after just one NFL season, so he has decided to take a page out of the LeBron James handbook to eliminate that negativity from his life. While speaking with reporters on Thursday, Trubisky indicated that he is frustrated with all the naysayers doubting the Chicago Bears. "I'm tired of it all, all the doubts, all the comparisons," he said, per ESPN's Emily Kaplan. "I'm ready for


Ex-UFC fighter War Machine reportedly engaged to prison pen pal
War Machine has been sentenced to life in prison with no chance for being released until he is 71, but that is apparently not going to stop the former UFC fighter from getting married to a woman he met while behind bars. War Machine, whose real name is Jonathan Paul Koppenhaver, was sentenced to life in prison last year for attacking his ex-girlfriend Christy Mack and a man she was with at the time back in 2014. His charges included assault, kidnapping, strangulation, coercion and trying to dis


Report: Julian Edelman will not pursue any further suspension appeal
Julian Edelman had the appeal of his four-game suspension denied earlier this month, and the New England Patriots receiver is reportedly not planning to pursue other avenues in which he can have the ban overturned. According to Tom Pelissero of NFL Network, Edelman has no plans to take his case to federal court the way Tom Brady did with his four-game suspension in the Deflategate scandal. Instead, the 33-year-old is focusing all his time and energy on being ready for Week 5. #Patriots WR Juli


LiAngelo, LaMelo Ball each scored 48 points in JBA game
If you want to see the Ball brothers score a ton of points by taking an absurd amount of shots, the Junior Basketball Association is the league you have been waiting for. Thursday night's game between Los Angeles and Atlanta featured almost as much scoring as an NBA All-Star Game, and LiAngelo and LaMelo Ball combined for almost 100 points on 89 shots. They dropped 48 each, with LiAngelo converting 19-of-54 shots including 5-of-24 from three-point range. Final Los Angeles 170Atlanta 123


The personal side of Special Olympics for Tim Shriver
As the Special Olympics turns 50 years old today, Tim Shriver -- chairman of the organization and son of founder Eunice Kennedy Shriver -- reflects on the beginning of the movement and where he sees it in another 50 years.


Munguia has belt, now fighting for stardom
Denied the opportunity to fight Gennady Golovkin, Jaime Munguia instead fought for the junior middleweight belt and won. Now he wants to make a starry statement in his first title defense.


Manny Pacquiao was hospitalized week before fight with heart issue
Manny Pacquiao was hospitalized a week before his fight with Lucas Matthysse with a heart issue, according to a report. PhilBoxing.com's Aquiles Z. Zonio reported on Thursday that Pac-Man was quietly taken to the hospital on July 8, a week before his fight against Matthysse. Pacquiao underwent testing, including an angiogram that revealed an inborn hearth ailment. Doctors did not want Pacquiao to fight Matthysse after the condition was discovered, so the Filipino boxer and politician sign


Jose Ramirez had tough question for new teammate Brad Hand
Jose Ramirez had nothing but the tough questions for his newest teammate. Ramirez's Cleveland Indians acquired Brad Hand in a trade with the San Diego Padres on Thursday. The reliever tweeted his excitement about heading to the Indians. Excited to join Cleveland! Can't wait to get the second half started and meet all the boys! #RallyTogether — Brad Hand (@bhand22) July 19, 2018 In response, Ramirez just wanted to know whether Hand plays the classic video game "Mario Kart.&...


Sources: Beasley, Lakers agree on 1-year deal
Michael Beasley has agreed to a one-year, $3.5 million deal with the Lakers, according to sources, joining a new-look squad in L.A. that features LeBron James, Lance Stephenson, JaVale McGee and Rajon Rondo.


Tackling the Padres Uncertain Closer Situation
The Latest Closer Insights, Analysis and Depth Charts Atlanta Braves: Arodys Vizcaino had to be placed back on the disabled just before the All-Star break due to right shoulder inflammation. The Braves were trying to play it safe with Vizcaino as he had just returned from the DL with the same ailment but decided the best course of action was to put him back on the DL and let him rest for at least 10 days. A.J. Minter will once again be the main source of saves in Vizcaino's absence and probabl...


The Orioles Fantasy Jewel of the Machado Trade | Rays Nathan Eovaldi Leads Trade Targets
Dynasty League Prospect Outlooks and Second Half Trade Targets With both the Major League Baseball trade deadline and Fantasy deadlines approaching as well as the Futures Game being played this past weekend, now seems the perfect time to take a look at some minor league prospects and their potential Dynasty League impacts. We have seen a few prospects have an impact this season. Willie Calhoun, Kyle Tucker, Willy Adames and Ronald Acuna Jr. have taken Fantasy player's imaginations by storm. I ...


Red Sox Drew Pomeranz Leads Waiver Adds To Begin Second Half
A quartet of preferred waiver adds from insideinjuries.com Following the All-Star festivities, let's take a look at some players that are coming off injuries or nearing a return that could help you with a second half surge in your league. Drew Pomeranz SP, BOS Owned in 37% of CBSSports.com Leagues Pomeranz is nearing a return from a biceps injury that has kept him out since May 31st. On Wednesday night he went 6 innings, giving up 1 run in a rehab start. All signs point to that being his l


James Harrison: Patriots' coaching is better than Steelers'
James Harrison said some things during an interview on Thursday that won't sit well with Pittsburgh Steelers fans. Harrison, who played his entire career with the Steelers before joining the Patriots midway through last season, says New England's coaching is better than Pittsburgh's. Harrison made his comments during an appearance on "The Herd with Colin Cowherd." "The only thing that's really opposite is that in New England, it's more regimented, it's more...


Cubs acquire Jesse Chavez in trade with Rangers
The Chicago Cubs have added another relief pitcher to their bullpen. Chicago acquired pitcher Jesse Chavez in a trade with the Texas Rangers on Thursday. The Cubs dealt minor league lefty Tyler Thomas in return. The #Cubs tonight acquired RHP Jesse Chavez from the Texas Rangers for minor league LHP Tyler Thomas. pic.twitter.com/wEYDm0cfvq — Chicago Cubs (@Cubs) July 20, 2018 Chavez has spent time during his career as both a starter and reliever. He's been working exclusively as a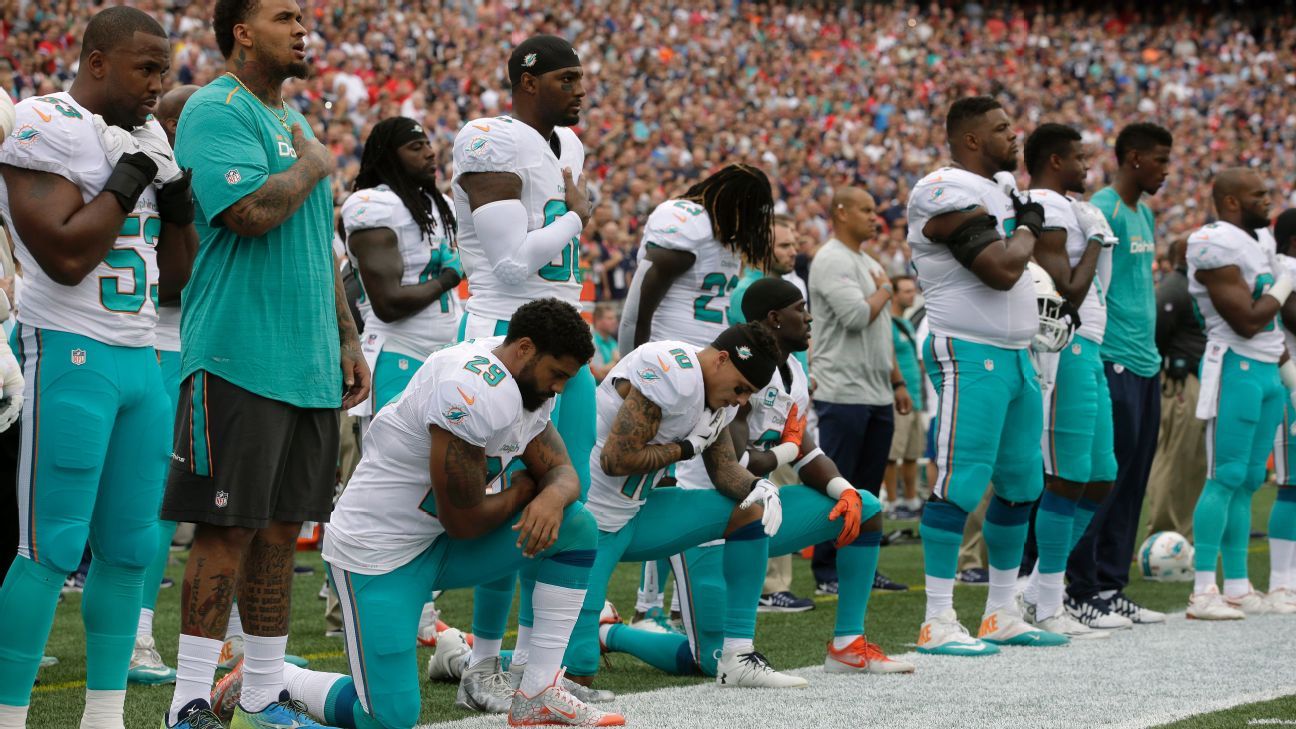 NFL, NFLPA agree to freeze anthem rules for now
The league and the NFL Players Association issued a joint statement Thursday that said "no new rules relating to the anthem will be issued or enforced for the next several weeks" while both sides hold discussions to figure out how to move forward.


Super payoff: Foles NFL's top merchandise seller
Eagles quarterback Nick Foles overtook Patriots counterpart Tom Brady to finish as the top-ranking player in NFL player merchandise sales from March to May, according to a a list released Thursday by the NFLPA.


Top Royals prospect hurt himself getting out of bed
Kansas City Royals players seem to keep finding the oddest ways to injure themselves this season, even their minor leaguers. According to a report by Maria Torres of the Kansas City Star on Thursday, top Royals prospect Bubba Starling dislocated his left index finger as he stumbled getting out of bed. Starling, who had been recovering from an oblique injury for the last two months, had to undergo surgery on the finger, which was said to be "completely bent backwards." His return to


Parker snags Moore, Ogwumikes for ASG squad
Team captains Candace Parker and Elena Delle Donne have chosen their All-Star teams, with Parker going with Minnesota's Maya Moore and the Ogwumike sisters among her selections.


Dennis Schroder seemingly approves of trade to Thunder
Dennis Schroder appears to be pleased with the idea of soon suiting up for the Oklahoma City Thunder. On Thursday, the Thunder and Atlanta Hawks agreed to a trade that would send Schroder to Oklahoma City and Carmelo Anthony to Atlanta, who will reportedly waive the veteran forward. For Anthony, it presents the opportunity to be a free agent and sign with the team of his choice. Schroder will get to team up with Russell Westbrook and Paul George for a team that finished fourth in the Western Co


Marcus Smart hints at Celtics championship after re-signing
Marcus Smart sounds pretty excited about re-signing with the Boston Celtics. Smart, who agreed to a four-year, $52 million deal to return to Boston, took to Twitter on Thursday to post a photo of himself signing his new contract with Celtics owner Wyc Grousbeck, GM Danny Ainge, and agent Happy Walters in the background. The tweet also included 17 trophy emojis in the shape of the number 17 (which is the number of championships that the Celtics have won) with another trophy emoji next to it, hin


Malik Jackson predicts Jaguars will go 16-0
Malik Jackson is not worried about burning himself on the hot take stove. Speaking with TMZ Sports earlier this week, the Jacksonville Jaguars defensive tackle predicted an undefeated season for the team in 2018. "I think we're going 16-0," he said. "I'm calling it, 16-0. I don't think anybody can beat us as long as we stay healthy and do what we supposed to do. Nobody had us last year, and we went to the AFC Championship Game, and we were this close. I think


Lance Stephenson was surprised, upset about Pacers declining his option
Though he has now joined LeBron James and the Merry Pranksters in LA, Lance Stephenson is admitting that his Indiana Pacers exit was less than ideal. In an interview with Scott Agness of Vigilant Sports that ran on Thursday, the Lakers swingman opened up about Indiana's decision this summer to decline his team option for the 2018-19 NBA season. "Ah, man. I never … I was even surprised when they declined my option," said Stephenson. "Just to be a free agent again this y...


Shohei Ohtani cleared to begin throwing, could pitch again this season
Shohei Ohtani has already returned to the Los Angeles Angels lineup as a hitter, and now seeing him on the mound again may not be too far off either. The Angels announced on Thursday that the rookie star has been medically cleared to begin a throwing program after showing continued improvement in the healing of his elbow ligament, per Bob Nightengale of USA TODAY Sports. That means that Ohtani could possibly pitch again this season. Shohei Ohtani may pitch again this year, after all. The #Ange


Nats players reportedly voicing concerns about manager's handling of pitching staff
Washington Nationals manager Dave Martinez appears to share at least one major weakness with his predecessor Dusty Baker. Chelsea Janes of the Washington Post reported on Thursday that Nats players have expressed concerns about Martinez's management of the pitching staff. Per Janes: Martinez's ability to handle a pitching staff emerged as the primary concern in the Nationals clubhouse in the first part of this season, according to on- and off-the-record conversations with players and th...


Report: Raptors have had all 'positive' conversations with Kawhi Leonard
Kawhi Leonard may have every intention of leaving the Toronto Raptors after one season, but that does not mean he is planning to be a malcontent during what will likely be a brief tenure with the team. When word first surfaced that Leonard had been traded to Toronto early Wednesday morning, numerous NBA reporters were told the star forward has no interest in playing for the Raptors and is unhappy about the trade. However, Michael Grange of Rogers Sportsnet reports that Leonard and his agent spo


Manny Machado's jersey number with Dodgers a tribute to Orioles legend?
Manny Machado may no longer be with the Baltimore Orioles, but it sounds like he will still be keeping the team close to heart. Los Angeles Dodgers analyst (and former player) Jerry Hairston Jr relayed on Thursday that Machado will be wearing the No. 8 jersey with the Dodgers. Hairston also indicated that it was a tribute to Orioles legend Cal Ripken Jr. Manny will be wearing #8. As a former #Orioles player love the tribute to Cal Ripken. #Dodgers — Jerry Hairston


Report: Carmelo Anthony traded to Hawks, will be waived
The Oklahoma City Thunder have agreed to a deal that will send Carmelo Anthony to the Atlanta Hawks, but the star forward won't be spending any time with his new team. According to ESPN's Adrian Wojnarowski, the Thunder have traded Anthony and a 2022 first-round pick in exchange for veteran point guard Dennis Schroder and big man Mike Muscala. The Hawks plan to waive Anthony, and the Houston Rockets are still the favorite to sign him. Oklahoma City has agreed to trade Carmelo Antho


Michael Porter Jr out indefinitely after undergoing spine surgery
Michael Porter Jr. slid all the way to the No. 14 overall pick in the NBA Draft despite being one of the most talented players in the country, and it is quite clear now that his health is the reason for that. The Denver Nuggets announced on Thursday that Porter will be out indefinitely after he underwent surgery of the lumbar spine. It is not the first surgery the former Missouri star has had on his back. Porter played in only parts of three games at Missouri last season after he injured his ba


Top NBA reporter Shams Charania expected to join The Athletic
Shams Charania has rapidly emerged as one of the best NBA reporters in the country since his friend and mentor Adrian Wojnarowski left Yahoo Sports, and Charania will reportedly be the next big name to leave the media company. Yahoo Sports GM Geoff Reiss confirmed in a statement to Andrew Marchand of the New York Post this week that Charania could not agree to financial terms with his current employer, and he will be leaving when his contract expires. On Thursday, Marchand reported that Charani


Accomplished sportswriter takes ruthless shot at Dwight Howard
Dwight Howard has more critics than the average NBA star, but it would appear one award-winning sportswriter thinks less of him than just about anyone who has ever seen the big man play. Bob Ryan, a former Boston Globe writer who retired from the profession after 44 years in 2012, took to Twitter on Thursday in an attempt to illustrate just how useless he believes Howard is. If I had to play a basketball game for my life tonight, and the only center available was Dwight Howard, I'd play with...


Padres trade two relief pitchers to Indians
The Cleveland Indians are one of several teams that are in need of bullpen help as we inch closer to the July 31 trade deadline, and they managed to acquire some on Thursday. According to Ken Rosenthal and Robert Murray of The Athletic, the San Diego Padres have traded relief pitchers Brad Hand and Adam Cimber to Cleveland. Brad Hand to #Indians, sources tell me and @ByRobertMurray. — Ken Rosenthal (@Ken_Rosenthal) July 19, 2018 Source: #Indians acquiring Adam Cimber from #Padres along


USC WR arrested for domestic violence for second time in five months
Joseph Lewis was one of the highest-rated wide receiver recruits in the country when he joined USC last year, but his career is in danger of falling apart before it ever got started now that he has once again been arrested for domestic violence. According to a report from TMZ, Lewis was taken into custody on Wednesday night following a physical altercation with a woman. The victim reportedly fled the home where the incident took place and called police, and police came to the house and arrested


Jimmy Garoppolo spotted on date with adult film star
Jimmy Garoppolo has quickly grown accustomed to the Hollywood lifestyle now that he's a starting quarterback for a team based in California. And by that, we mean the paparazzi are spotting him on fancy dates with porn stars. TMZ shared a brief video on Thursday that showed Garoppolo at a restaurant in Beverly Hills with adult film star Kiara Mia. The two were shown toasting wine at the table before getting into a car together, and Garoppolo had a big smile on his face. As some on social m


Marcus Smart reportedly agrees to four-year deal with Celtics
The contract negotiations between Marcus Smart and the Boston Celtics did not get off to the best start this offseason, but in the end the two sides were able to come to an agreement. Shams Charania of Yahoo Sports reports that Smart will sign a four-year, $52 million deal with Boston. Restricted free agent Marcus Smart has agreed to a four-year, $52M deal to return to the Boston Celtics, league sources tell Yahoo Sports. — Shams Charania (@ShamsCharania) July 19, 2018 The contract seem


Report: Teams have increasing interest in Zach Britton
The Baltimore Orioles have already made the biggest trade of the MLB season by sending Manny Machado to the Los Angeles Dodgers, and they may not be done dealing away their major assets. Orioles general manager Dan Duquette said Wednesday that teams are showing an increased interest in Zach Britton as the relief pitcher continues to regain his velocity. Duquette said clubs more interested now in Britton as he's regained velo. Teams have renewed their interest, #Orioles not as far down the


Kawhi Leonard also seemingly has interest in Brooklyn Nets
Despite the Toronto Raptors' trade for Kawhi Leonard, the Los Angeles Lakers are still the favorites to land the former Finals MVP when he becomes a free agent next summer. However, one dark horse team may be emerging. In an appearance Wednesday on the "Back to Back Podcast" following Leonard's move to the Raptors, Bruce Arthur of the Toronto Star indicated that the Brooklyn Nets may be on Leonard's radar for 2019 in addition to LA. "One thing I was told last nig...


Orioles make the best of mismanaged Manny Machado situation
The Baltimore Orioles made the best of a poorly managed situation by receiving five prospects in exchange for Manny Machado. After listening to offers from several teams for several weeks, the Orioles decided on a five-player trade package from the Dodgers. No major league players were included. However, given the circumstances, Baltimore came away with promising young talent. But the way the Orioles allowed the whole process to drag out was a reflection of mismanagement. It's been no se