Howie Kendrick out for the season with ruptured Achilles
Howie Kendrick's 2018 MLB season is over. The Washington Nationals second baseman/left fielder suffered a ruptured Achilles' tendon on Saturday. He is set to undergo surgery on Monday. Kendrick suffered the injury when he was tracking down a fly ball at the warning track on Saturday against the Dodgers. Here's video footage of Howie Kendrick's injury pic.twitter.com/Ku1wWSwaco — Jesse Foster (@Jesse__Foster) May 19, 2018 Kendrick said he didn't even realize he had...


Brad Stevens hints at lineup change after Game 3 loss
The Boston Celtics need to make some adjustments after getting pan-fried by the Cleveland Cavaliers on Saturday, and Brad Stevens knows where to start. Speaking with reporters after the Celtics' 116-86 loss in Game 3 of the Eastern Conference Finals, Stevens hinted at the possibility of a lineup change for Game 4. Here is what he said, per Adam Himmelsbach of the Boston Globe. Stevens hints at Game 4 adjustment: "Right now, with the way they're playing, we're going to need some other...


Caps coach Barry Trotz makes crack about team's slow start
Washington Capitals head coach Barry Trotz made a sarcastic remark about his team's slow start in Game 5 of the Eastern Conference Finals on Saturday. The Caps fell behind 2-0 to the Tampa Bay Lightning in the first 10 minutes of the game. It was already 3-0 before they scored two goals to make it respectable, and they lost by that count — 3-2. After the game, Trotz remarked that his team was probably looking at an 8 pm start instead of 7:15. Trotz said the Caps were probably look


Royals P Danny Duffy critical of himself for being 'terrible'
Danny Duffy is not mincing words about how bad he has been this season. Duffy had another rough outing on Saturday, allowing five earned runs on seven hits over four innings against the New York Yankees. The Kansas City Royals pitcher is now 1-6 with a 6.88 ERA this season, while the Royals have lost nine of the ten games he has started. Duffy addressed his struggles after the game, saying he doesn't have any injuries or other issues. "I'm not going on the DL; I feel great,


Nats calling up top prospect Juan Soto
The Washington Nationals are losing some ground in the NL East, and now they are turning to some fresh blood in the hopes of stopping their skid. Byron Kerr of MASN Sports reported on Saturday that the Nats are calling up top outfield prospect Juan Soto, who is expected to join them for Sunday's game against the Los Angeles Dodgers. Juan Soto being called up to the #Nats, a source with knowledge of the situation confirmed. He is expected to join the Nats in D.C. for sunday — Byron


Rozier: 'We needed to get our butts whooped'
After a 116-86 drubbing at the hands of the Cavaliers trimmed the Celtics' series lead to 2-1, guard Terry Rozier said he believes his team got a much-needed wake-up call. "We needed to get our butts whooped," Rozier said.


Brad Stevens not making an issue of Celtics' road struggles in playoffs
If there's anything we've learned about Brad Stevens, it's that the Boston Celtics head coach is not going to overreact to anything. So it's no surprise that he's not thinking too hard about Boston's 1-5 record on the road in the postseason. The Celtics got smashed by the Cavaliers 116-86 in Game 3 of the Eastern Conference Finals in Cleveland on Saturday. Stevens was asked after the game about his team now slipping to 1-5 away from home in the playoffs. Stev


Watch: Did LeBron James toy with Donald Trump supporter on purpose?
Did LeBron James toy with a Donald Trump supporter on purpose Saturday? LeBron was seen tossing a towel into the stands during Game 3 of the Eastern Conference Finals between the Cleveland Cavaliers and Boston Celtics. A fan sitting with some excellent seats put his hands up as if James was going to throw a towel to him. Instead, James threw it clearly past the fan. LeBron James deliberately throws towel beyond the reach of hopeful Trump supporter in the front row.Excellent recognition and exe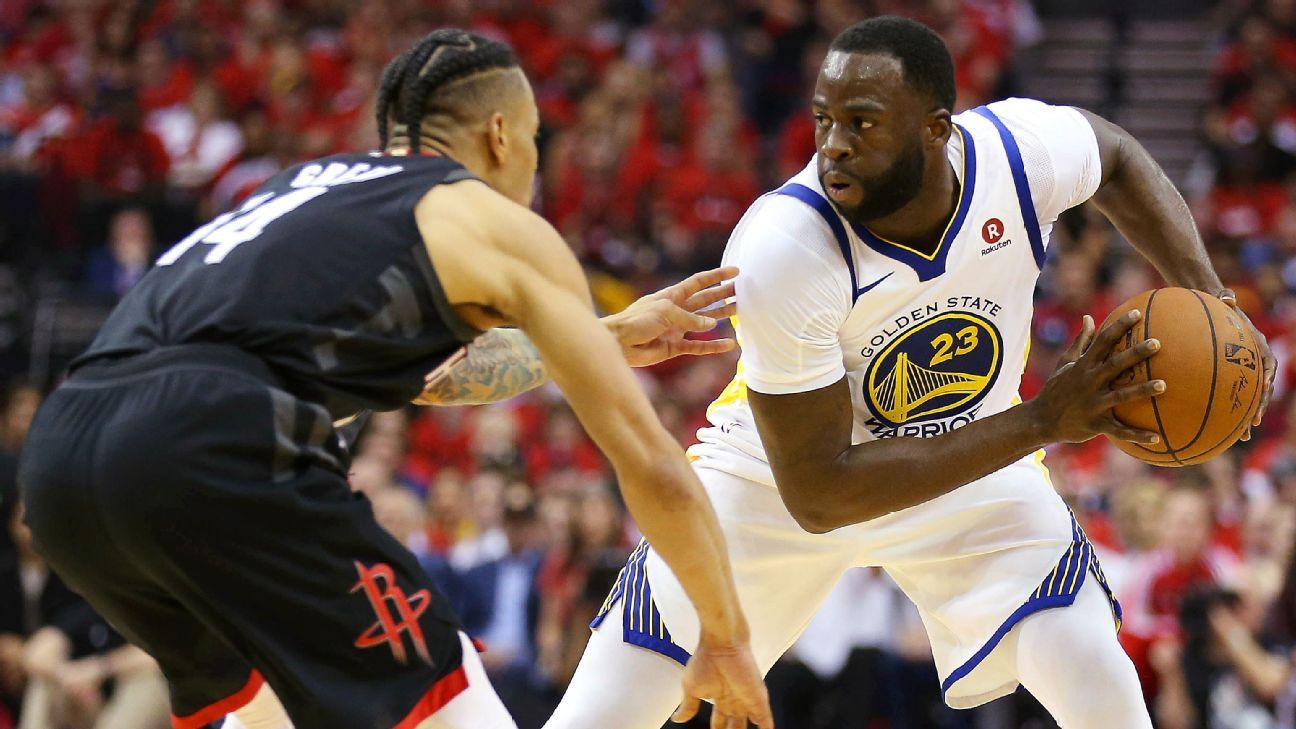 Green: Warriors 'at our best' when threatened
Ahead of Sunday's Game 3 of the Western Conference finals, Warriors forward Draymond Green said, "I think we're at our best when we feel threatened," adding that in Game 2, "We didn't feel as threatened, and the sense of urgency wasn't there."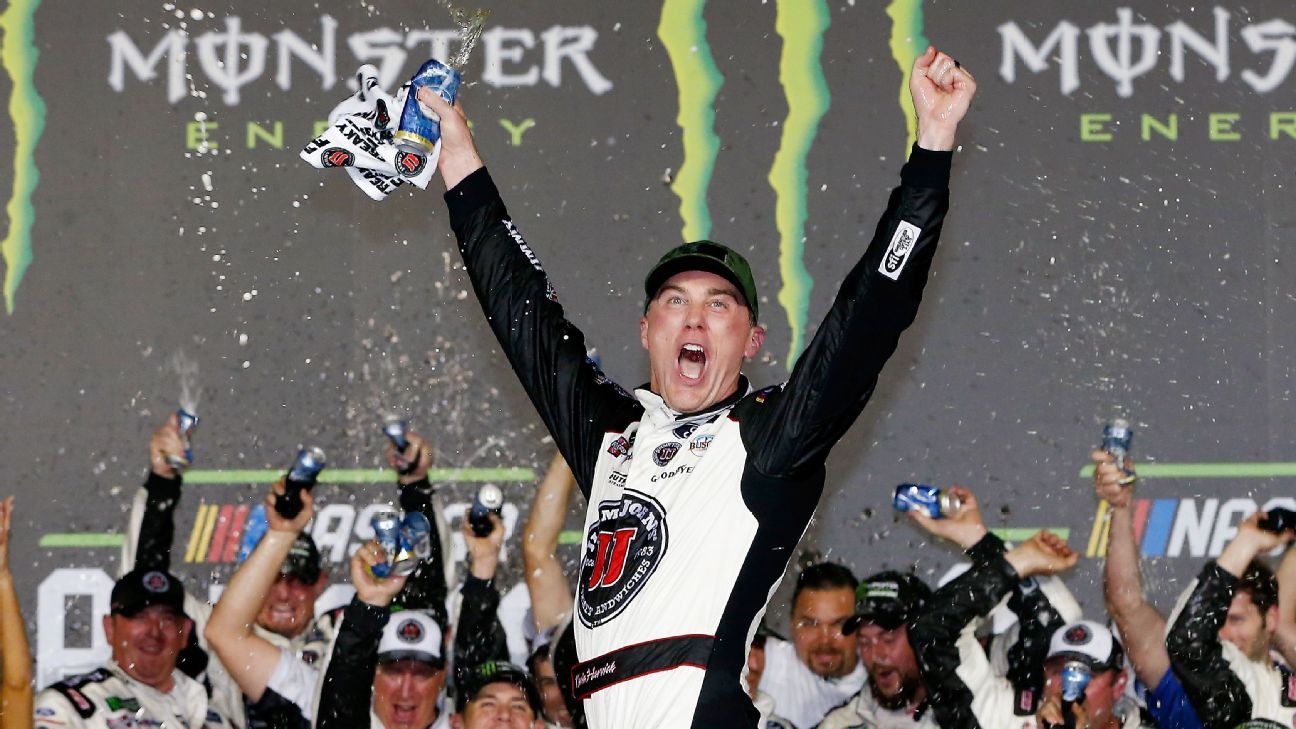 Hot Harvick earns $1M with All-Star race victory
Not even a non-points race can slow Kevin Harvick, who earned $1 million by winning NASCAR's All-Star race Saturday night at Charlotte Motor Speedway. He won five points-paying races this season, including the past two, before Saturday's win.


Marcus Morris called for three fouls and a tech in 32 seconds
Marcus Morris was called for a technical foul after complaining to the officials about a foul called on him during the third quarter of Game 3 of the Eastern Conference Finals on Saturday, the culmination of a horrendous series of events for him. Morris was guarding LeBron James, who hit the floor after losing his footing. A foul was called on Morris, putting James at the line for two free throws, which he made. The foul seemed to be a bogus one, and well worth the complaints from Morris. But t


Cowboys WR Terrance Williams defends himself in statement
Dallas Cowboys wide receiver Terrance Williams is defending himself against allegations of public intoxication and leaving the scene of an accident. Williams was arrested early Saturday after police found his abandoned Lamborghini, which they said was nearby a light pole. They traced the car's registration to Williams and found him riding an electric bicycle nearby his home in Frisco, Texas. He was arrested on suspicion of public intoxication and leaving the scene, which are both misdemea


Brad Stevens: Marcus Smart almost too intense for scrimmages
Marcus Smart is lauded for his intensity and toughness on the court, which are great assets. But if there is one downside to that, it's that Smart may be a little intense for practices. Brad Stevens said before Game 3 of the Eastern Conference Finals on Saturday that Smart's intensity is one of the reasons the Boston Celtics don't do a lot of scrimmages late in the year. Brad Stevens discussing Marcus Smart's intensity: "That's one of the reasons why we don't do a lot...


Watch: Shohei Ohtani hits reported 525-foot HR in batting practice
Shohei Ohtani continues to outdo himself. During his batting practice session before Friday's game against the Tampa Bay Rays, the Los Angeles Angels rookie sensation hit a home run off the right field video board at Angel Stadium that was estimated at a whopping 525 feet. Check out the footage, which was captured by Japanese outlet NHK News 7: 5/18 Shohei Ohtani Batting Practice that hit the right field video board in the Angel Stadium! its projected to be around 525 ft. (reporter) he


Jockey Mike Smith: Justify won Preakness despite being tired
Justify won the Preakness on Saturday to capture the second leg of the triple crown, and jockey Mike Smith says he did so despite being tired. Smith was interviewed by NBC after the race and was asked whether Justify was tired or waiting on competition. "A little of both," Smith said. "He got a little tired. This is the hardest race that he's had. But he was also waiting on the competition — the track was kind of narrow. But it was a good kind of tired. It's


Each NFL team's potential breakout player
Every year, we see NFL players across the league come into their own despite not having much of a track record. They can be all types; many are second- or third-year players who have matured and overcome injury or adapted to the NFL. There are others who were never highly-touted but find themselves in the right situation. Each NFL team has breakout candidates. Here is a leading candidate from all of them. Arizona Cardinals — Haason Reddick, LB The 13th overall pick in last year's dr


Bob Baffert jokes Justify's Preakness win 'took more out of me'
Justify remains on course for a Triple Crown after edging out a win in the Preakness, but the stress levels may have been higher for those not involved. On a rainy, muddy, foggy track, Justify eked out a win, but the horse's trainer, Bob Baffert, had the perfect response when asked if he thought the race would take a lot out of the horse. Baffert on Justify's #Preakness victory: "It took more out of me" @NBCSports — Brisnet.com (@Brisnet) May 19, 2018 You can understand why. J


Joe Maddon has funny reaction to what sparked Cubs-Reds tussle
Things got a bit heated between the Chicago Cubs and Cincinnati Reds on Saturday, and Cubs manager Joe Maddon thinks he knows why. Reds left-hander Amir Garrett celebrated after striking out Chicago second baseman Javier Baez to end the sixth inning, and Baez did not seem to appreciate that. The two exchanged words, and the benches cleared, though no punches were thrown. So what was the issue with Garrett's celebration? According to Maddon, the "roar" was a tiny bit over the t


Cowboys WR Terrance Williams arrested for public intoxication
Dallas Cowboys wide receiver Terrance Williams was arrested for public intoxication after crashing his Lamborghini into a light pole and leaving the scene of the accident early Saturday morning in Frisco, Texas, according to the Dallas Morning News. Though Williams had left the scene of the crash, police were able to determine the vehicle was registered to him. They later found him riding an electric bicycle nearby his home. Williams is faced with misdemeanors for public intoxication and leavin


Report: Johnny Manziel CFL deal has no NFL escape clause
It doesn't sound like Johnny Manziel will be returning to the NFL for at least two years, even if he wants to. According to Jason La Canfora of CBS Sports, Manziel's two-year CFL contract with the Hamilton Tiger-Cats does not include any sort of escape clause and is fully binding for the duration. That means Manziel has no route to an NFL return as long as he's under contract in Canada. I am also told that Manziel's CFL contract is a 2-year, binding deal. There is no wind


Danica to run for 500 pole; Hinchcliffe misses field
While Danica Patrick locked herself into the field for the Indy 500 with a four-lap qualifying average of 227.610 mph on Saturday, former pole winner James Hinchcliffe was bumped from the field. Pippa Mann also failed to qualify.


Bill Russell sends hilarious tweet after being discharged from hospital
Bill Russell is apparently feeling better. The Boston Celtics legend said Saturday that he had left the hospital, and he sent a very amusing tweet to prove that he was doing very well. Thank you everyone for the kind thoughts, yes I was taken to the hospital last night & as my wife likes to remind me I don't drink enough. On my way home & as most my friends know I don't have a heart to give me trouble @NBA @celtics @TMZ @TMZLive @NBAonTNT @MSNBC @YahooSports — TheBillRussell (@RealB...


Marlins revoke press credentials from reporter who investigated corporate office
The Miami Marlins are not responding well to embarrassing revelations about their business practices. It was revealed in April that the Marlins claim foreign ownership for tax purposes by listing their corporate address in the British Virgin Islands. When Miami radio host Andy Slater traveled there to find the address, he discovered a post office box, resulting in a lot of public embarrassment for the organization. The franchise's response was to revoke his press credentials. Sports radi


LeBron James: 'I lose sleep' after playoff losses
Cleveland Cavaliers star LeBron James admitted he loses sleep over playoff losses. James said Saturday that postseason defeats have a rather big effect on him. "I mean, I lose sleep," James said, via Dave McMenamin of ESPN. "I mean, at the end of the day, when you lose any game in the postseason, [you lose sleep], so it's never comfort. Playoffs is never comfort. There's nothing about the playoffs that's comfortable until you either win it all or you lose and


Report: Bill Russell hospitalized with heart and breathing issues
NBA icon Bill Russell has reportedly been hospitalized. According to TMZ, Russell was rushed to the hospital on Friday night and was suffering from heart problems and shortness of breath. The 84-year-old is still in the hospital, and no update was readily available on his current condition. There had been no indication that Russell was in ill health, having just attended Game 1 of the Boston Celtics-Philadelphia 76ers Eastern Conference semifinals on April 30. He also still actively weighs in o


Cubs' Jason Heyward discusses 'scary' concussion
Chicago Cubs outfielder Jason Heyward experienced his first concussion recently, and it's not something he wants to deal with ever again. Heyward admitted that the head injury was "scary" upon returning Friday from the seven-day concussion DL. "It made a believer out of me," Heyward said, via Jesse Rogers of ESPN. "Not that I wasn't a believer before. You feel for anyone that goes through it. That stuff is scary. You don't feel like yourself, and


A Personal Friend Remembers Social Media Star Young King Dave
Young King Dave, through the eyes of a Middle School buddy By Michael Cardano Jr. "Middletown is where I'm from and everybody knows it. Everybody says hi to me and respects me."  – Young King Dave on the Mass Appeal Youtube Channel, October 2017, WATCH: The Land of Young King Dave. David James Nixon of Middletown, New Jersey, known to many on the internet as "Young King Dave" had blown up on social media. He was best known for smoking "doinks" and being a Soundcloud rapper....


Grayson Allen prepared to confront tripping questions with NBA teams
NBA teams are still assessing former Duke guard Grayson Allen, and one major thing they'll have to figure out is what to make of his extremely competitive history. Allen came under frequent criticism for tripping opponents during his college career, and that is something he's prepared to clear up when he sits down to speak with teams. "You have to address it, for sure," Allen said Thursday, via Andrew Seligman via Boston.com. "It's something that comes from m


Nevada brothel offering victory party if Golden Knights win Stanley Cup
The Vegas Golden Knights have plenty of reasons to want to win the Stanley Cup, and they've been given another, depending on your perspective. Sheri's Ranch, one of Nevada's most prominent brothel, has offered the team a "victory celebration" if they win the Stanley Cup as a thank you for the increased business they've seen during the team's playoff run. "If the Golden Knights win, we all win," Dena, the brothel's madame, told TMZ Spor


Devin Booker fuels Karl-Anthony Towns speculation with tweet
Devin Booker is wasting no time hollering at former college teammate Karl-Anthony Towns in the midst of rumors that Towns is unhappy in Minnesota. ESPN's Zach Lowe said on an episode of his podcast Friday that the All-Star Towns and the Timberwolves are "not in a good place right now internally." A few hours after Lowe's remark went viral, Booker fueled further speculation about Towns by tweeting a picture of him wearing a Phoenix Suns uniform. pic.twitter.com/5KxmfYusr


Johnny Canada: Manziel signs with CFL team
Johnny Manziel announced Saturday that he has decided to sign his contract with the CFL's Hamilton Tiger-Cats, who own the Heisman Trophy-winning quarterback's rights.


QB Joe Burrow confirms he will transfer to LSU
Quarterback Joe Burrow confirmed on Twitter Friday that he will transfer to LSU. Burrow said on Twitter that he was "excited to be playing in Death Valley next season. Ready to get to work." Excited to be playing in Death Valley next season. Ready to get to work. — Joey Burrow (@Joe_Burrow10) May 19, 2018 Burrow's announcement comes a week after he took a visit to LSU and just a week and a half after he announced his intention to transfer. Burrow will have two years of


Joe Mauer day-to-day after hurting neck diving for foul ball
Joe Mauer has been in the league for 14 years now, but his current injury has to be a first even for him. The Minnesota Twins first baseman was forced to leave Friday's game against the Milwaukee Brewers with a neck issue, which was described as "tightness." Mauer left the game with neck tightness#mntwins — Mike Berardino (@MikeBerardino) May 19, 2018 After the game, Mauer told reporters that he first injured the neck during a series last weekend against the Los Angele


JJ Watt offers to pay for funerals of Santa Fe shooting victims
JJ Watt continues to make a difference in his community. The Houston Texans defensive star told Santa Fe High School that he will pay for the funerals of the victims of Friday's shooting, according to the Houston Chronicle's John McClain. JJ Watt has told Santa Fe High School that he'll pay for the funerals for the victims of today;s shooting. — John McClain (@McClain_on_NFL) May 19, 2018 The Texans confirmed that Watt will pay for the funerals, per ABC 13. 10 people wer


Jets credit Marc-Andre Fleury for 'stealing a game'
The Vegas Golden Knights beat the Winnipeg Jets 3-2 on Friday night to go ahead 3-1 in the Western Conference Finals, and Marc-Andre Fleury is getting a lot of praise for his performance. The Golden Knights goalie stopped 35 of 37 shots he faced in the game. Jets winger Blake Wheeler was left crediting Fleury for "stealing a game." "We win that game nine times out of 10. Tonight was the one," Wheeler said, via Sportsnet's Chris Johnston. "Had some looks where


Watch: Woman has perfect reaction to Astros fan costing team a run
A woman had a perfect reaction to seeing her companion cost the Houston Astros a run on Friday night by interfering with a ball in play. Tony Kemp was up with runners on first and second with one out in the bottom of the seventh of a tight game between Houston and the Cleveland Indians. He hit a ball down the line that looked like it could score two runs, but the fan's interference resulted in the play being called dead. Kemp was awarded a ground rule double, and due to the interference,


Watch: Odell Beckham Jr crushes home run at Rays batting practice
Odell Beckham Jr is a natural athlete. Beckham Jr took some swings during batting practice on Friday before the Rays-Angels game as a guest of Tampa Bay pitcher Blake Snell, according to Rays reporter Marc Topkin. Odell looked like a pro and took one deep to left-center at Angel Stadium. .@OBJ_3 can CRUSH. pic.twitter.com/Z9grFq7X5y — MLB (@MLB) May 19, 2018 The star wide receiver played basketball and ran track in addition to playing football in high school, but he certainly seems lik


Report: Winnipeg fans claim their Canadian flags were taken before Game 4
Did the security at T-Mobile Arena go too far to ensure a great home environment for the Vegas Golden Knights in Game 4 of the Western Conference Finals on Friday? One reporter is saying so. Global Winnipeg reporter Brittany Greenslade tweeted that she spoke with a Jets fan who claims their Canadian flag and sign were taken away by security. The tweet also says others had their Jets flags taken away, while Knights fans were allowed in with flags and signs without an issue. Just heard from @nhl


Phillies OF Nick Williams sickened by shooting nearby his high school
Philadelphia Phillies outfielder Nick Williams is among those who were sickened by the school shooting in Texas on Friday. 10 people were killed and 10 others wounded in a shooting at Santa Fe High School in Texas. Williams went to Ball High School in Galveston, nearby Santa Fe High School, which was a rival school. "It's sad. It's sickening, to be honest," Williams said of the shooting, via Philly.com. Williams also said he had good relationships with many of the guys who played sp...


Trevor Bauer trolls Lance McCullers before Indians-Astros series
Trevor Bauer continues to give the Houston Astros the business. Before the Astros hosted Bauer and his Cleveland Indians for a weekend series beginning Friday, the pitcher picked a clever way to troll Astros counterpart Lance McCullers. For the last two months or so, Bauer has been engaged in a charitable campaign called "The 69 Days of Giving" where he is donating money to a different charity every day. Days 1-68 will see Bauer donate $420.69 and Day 69 will see that number rise to


Suns GM open to trading No. 1 overall draft pick
The Phoenix Suns landed the No. 1 overall pick in the upcoming NBA Draft when they won the draft lottery on Tuesday. Though holding the top pick could lead to them selecting a franchise-changing player, there's no guarantee they keep that pick. Suns GM Ryan McDonough said on Friday that his Suns are "certainly open" to trading the top pick. "We're certainly open to that. We'll consider it," McDonough said on ESPN's coverage of the draft combine. &


49ers' Arik Armstead has sarcastic response to surgery report
San Francisco 49ers defensive lineman Arik Armstead had a sarcastic response to a report about him having surgery. NFL Media's Ian Rapoport reported on Friday that Armstead is recovering from minor foot surgery and that he should be fine for spring drills. #49ers DL Arik Armstead is recovering from minor foot surgery, source said. The procedure was described as a minor cleanup and he should be fine for most, if not all, of the spring drills. — Ian Rapoport (@RapSheet) May 18, 2018


NBA exec expects league to expand to Kansas City
The National Basketball Association may be returning to the state of Missouri for the first time in over three decades. An anonymous league executive spoke with Jarrett Sutton of SEC Network on Friday and discussed the possibility of the NBA expanding to Kansas City. "Going to be real honest with you, Kansas City will get an NBA team at some point," he was quoted as saying. "It's a real thing I've heard from multiple sources. Just a matter of time. Seattle and KC to me are...


Nationals face unprecedented layoff after latest rainout
Weather has caused numerous problems for Major League Baseball since the start of the season, but no team has more cause to complain than the Washington Nationals do. Washington's Friday night game against the Los Angeles Dodgers was postponed due to weather, making it the third game this week impacted by rain. Tuesday night's home game against the New York Yankees was suspended in the top of the sixth and will not be concluded until June 18, while Wednesday's game was rained


Steph Curry has no concerns about turnaround after poor Game 2
Stephen Curry's Western Conference Finals Game 2 was one to forget, but he's having little problem putting it behind him. Curry scored just 16 points on 7-of-19 shooting in the Golden State Warriors' 127-105 loss to the Houston Rockets, a very poor performance by his standards. However, the star guard thinks all he needs in Game 3 is one shot to get himself off and running again. Steph Curry on how he bounces back from poor Game 2: "I only need one [shot]. That's all I need...


DeMarcus Cousins 'very open' to returning to Pelicans
New Orleans Pelicans center DeMarcus Cousins is headed to free agency for the first time, but it seems that he's enjoyed his time where he is. Cousins said that he would be "very open" to staying in New Orleans if circumstances allow it. "Would I like to go back to New Orleans? I'm very open to that," Cousins told Marc J. Spears of the Undefeated. "I love what we created. I love what was created after I went down. I would love to be part of it. But I'm go...


Nikki Bella does not rule out getting back together with John Cena
John Cena has made it known publicly that he desperately wants to get back together with Nikki Bella, and his former fiancee is not quite ready to rule it out. Cena said when he and Bella were dating that he did not want to have children, and that is one of the reasons their relationship fell apart. While she admits she initially thought Cena was saying he changed his mind about having kids just because he wants her back, Nikki told TMZ this week that she now believes the 16-time champion is be


Report: Five teams could trade for Cole Hamels
The Texas Rangers are in last place and headed for another lost season, and a mass exodus could follow this summer. Amid reports that the Rangers are willing to trade their top assets this summer, Bob Nightengale of USA Today reported that they may find five major suitors for ace pitcher Cole Hamels. Now that the Texas #Rangers are officially open for business as @Ken_Rosenthal reported, the five-most likely landing spots for Cole Hamels: The and #Dbacks &mdas


Mia Khalifa says she may have suffered unfortunate injury at Capitals game
Mia Khalifa is a huge Washington Capitals fan who has been proudly cheering on the team during its playoff run this year, and she had great seats to Game 4 of the Western Conference Finals on Thursday night. The adult film star sat so close to the ice, in fact, that it may have led to a very unfortunate injury. On Friday morning, Khalifa revealed that she was hit with a puck during Washington's loss to the Tampa Bay Lightning. She says the puck may have ruptured an implant. Also, I


Report: Browns trade CB Jamar Taylor to Cardinals
The Cleveland Browns have been shopping cornerback Jamar Taylor since they drafted former Ohio State star Denzel Ward with the No. 4 overall pick, and they have found a suitor. Ian Rapoport of NFL Network reports that the Browns have agreed to a trade that will send Taylor to the Arizona Cardinals. The #AZCardinals are finalizing a trade for #Browns starting CB Jamar Taylor, sources say. Corner is a big need for Arizona and Taylor fills it. Cleveland had shopped him during the draft and the tw


Brad Stevens ends press conference after being trolled by Barstool Sports
Boston Celtics coach Brad Stevens is coaching in one of the most important playoff series of his NBA coaching career, but that didn't stop him from having to answer some very sarcastic and equally entertaining questions on Friday. Two of the biggest names at Barstool Sports, Dan "Big Cat" Katz and PFT Commenter, took part in Stevens' media conference call. They may have also been responsible for the call coming to an end, as they asked two absurd questions that Stevens w


Dez Bryant holding out for contract offer from Giants?
Dez Bryant has consistently stated that his free agency decision has very little to do with money, and he has already turned down an offer from one team. It would stand to reason that others are interested in the former Dallas Cowboys star at the right price, but perhaps he has narrowed his list down to just one destination. Jane Slater, who covers the Cowboys for NFL Network, said this week that she believes Bryant is holding out for the perfect situation. To Bryant, that may mean convincing t


Odell Beckham reportedly expected to attend voluntary OTAs
Odell Beckham Jr. has not allowed his desire for a long-term contract extension to stand in the way of his offseason preparation with the New York Giants, and it appears as though that theme will continue when organized team activities begin. ESPN's Josina Anderson reported on Friday that Beckham is expected to be in attendance Monday when the Giants begin Phase 3 of their offseason program, which is voluntary. I'm told #Giants WR Odell Beckham Jr. (ankle) will attend voluntary OTA


Tyreek Hill unhappy with speed rating in Madden, says it will change
Tyreek Hill is arguably the most explosive player in the NFL, but the creators the latest edition of the long-running "Madden" video game feel he is not the fastest. The Chiefs wide receiver has a serious issue with that, and he insists it is going to be addressed. In an appearance on PFT Live Friday, Hill was asked how his speed rating in "Madden 18" is only a 97. He said he has no explanation but that he has spoken with someone at EA Sports about it. "I have spok


QB Barnett enrolls at USF as grad transfer
QB Blake Barnett, who started his career at Alabama and recently graduated from Arizona State, has enrolled at South Florida as a graduate transfer and will be eligible to play for the Bulls next season.


Saquon Barkley reveals ways Odell Beckham helped him before and after draft
For a while it looked like Odell Beckham Jr. may not be with the New York Giants after the NFL Draft, but that did not stop the star wide receiver from playing the role of mentor for a younger player he knew would likely end up being his teammate. In a lengthy interview with Matt Lombardo of NJ.com on Thursday, Saquon Barkley opened up about his relationship with Beckham. The former Penn State star could not say enough positive things about OBJ, and he says the two willed the Giants drafting Ba