Prophecy: God Is Commanding the Angels, 'Swing the Pendulum!'
In the Spirit, I saw the angels obeying a heavenly command, pushing a huge pendulum in the opposite direction that it had previously swung, which was so far into degradation of sin and wickedness that it appeared to be unstoppable.I then heard the Father say, "It's time to call forth the noble, the wealthy and the renowned of the earth.The Spirit of Integrity DescendsI then saw the Spirit of Integrity begin to descend upon dignitaries, celebrities and the very elite!"In the Spirit, I sensed the


Popular Charismatic Website Promotes Heresy—Mixes Hinduism, New Age and Christianity
For several years, I have received emails from a prophetic resource website that is very popular with charismatics. Usually, two articles a day from that website drop in my inbox. A few days ago (around the beginning of January), one particular article shocked me.The title of the article is "Christ Is All Things." Though the author does not use far eastern or New Age terminology, he promotes the doctrine of either pantheism (the material universe is an emanation of God / God is all and all is Go


Calling All Prayer Warriors: Why Israel Needs Your Intercession in 2018
More Israelis died in terrorist attacks in 2017 than in 2016, despite a significant drop in the number of attacks, according to data the IDF released on Jan. 6, 2018.Twenty Israelis were killed and 169 were wounded in 99 terrorist attacks originating in Judea and Samaria in 2017. It was nevertheless a large decrease from the 93 killed and 882 wounded in the 100 terrorist attacks originating in the same area in 2014.Twenty-eight Israelis were killed and another 360 wounded in 226 attacks in 2015.


Listen to Mark Taylor's Latest Prophecies About President Trump
Mark Taylor is not your normal prophet. He's never been to Bible School or seminary. Instead, he's a third-generation firefighter who retired several years ago.Then in 2011, he felt the Lord told him that Donald Trump would be a future U.S. president. You've probably heard about him or read about him in my new book, God and Donald Trump. We also have written about him and his incredible story previously online as well as in print.Of course, against all odds the prophecy came true in 2016&md


Matthew 1:18-25 (18) Now the birth of Jesus Christ was as follows: After His mother Mary was betrothed to Joseph, before they came together, she was found with child of the Holy Spirit. (19) Then Joseph her husband, being a just man, and not wanting to make her a public example, was minded to put her away secretly. (20) But while he thought about these things, behold, an angel of the Lord appeared to him in a dream, saying, "Joseph, son of David, do not be afraid to take


Pro-abortion campaigner says she is 'very honored' by pontifical award...
The Dutch politician Lilianne Ploumen has been made a Dame in the pontifical Order of St Gregory the Great. Ploumen confirmed the award in an email to the Catholic Herald, saying that she was "very honoured" by the pontifical medal, which was sent via the Dutch Ministry of Foreign Affairs last month. It is not known whether the Pope was aware of the decision...


Meet Fr. Reginald Foster, the priest determined to keep the Latin language alive...
In the basement of a nursing home in Milwaukee, the world's best Latin lessons are given for free. That's where Father Reginald Foster, a priest who lacks patience, gives his lessons. He's managed to convince hundreds of people to dedicate their lives to a language no longer living, reports Brook Silva-Braga. "His passion is what drives us...


John Bevere: This Deception Will Fool Many Christians in the Last Days
During a trip to Sweden, John Bevere had a life-changing encounter with the Holy Spirit. The Holy Spirit made plain to him that this sinister deception would ensnare even Christians during the end times—and that it's been happening since the dawn of time. Bevere explains in this short teaching.


Matriarchy demeans men and polygamy demeans women...
Why are modern men such layabouts? It's simple. When the family declines, men decline. A couple of years ago Rod Dreher wrote a column about this phenomenon. You can read it here. Quoting various articles, Rod concludes that men who are disassociated from family life soon become de-motivated, shiftless and underachieving. I've known men with severe self-esteem problems...


Why You Might Need to Be Reclaimed in Holy Spirit's Power
"I crossed the street to walk in the sunshine."– Elizabeth Gilbert, Eat, Pray, LoveI was roughly 20 years old when the popular and "transforming" Eat, Pray, Love made its way to theaters. Now, don't hate me and stop reading this post if you loathe what I'm about to say—but I like really disliked the movie. I mean, I'm fairly certain I discovered the eye roll in that theater. I'm being cheeky of course, but that movie got under my skin. The whole concept of traveling around the w


Smart Roman mayors know it's a law of life here: 'Beware the pope!'...
Most of the time, Romans look at a pope for what he is: The leader of the universal church and a key player on the global stage, whose frame of reference extends far beyond the city's own borders and horizons. Yet, there are a few special occasions when the pope addresses the Eternal City directly as the Bishop of Rome, which he also is...


What Martin Luther King Jr. Realized About the Constitution That Most Americans Don't
In his fight for racial equality in America, Dr. Martin Luther King Jr. found an ally in America's founding documents, and they became foundational to his cause. This is because America's founding documents are colorblind. Neither the Declaration of Independence nor the U.S. Constitution makes any reference to individuals on the basis of race, ethnicity or skin color.Instead of race classifications, the Constitution speaks of "citizens," "persons" and "other persons." No mention is made of


When it comes to the law of God, there are 2 ways to err...
In the Gospels we are reading this week at daily Mass we see Jesus coming into conflict with the religious authorities of His day, who accuse Him of violating the law. Perhaps a way of summarizing Jesus' replies is in the old Latin expression Caritas suprema lex (Charity is the highest law). In other words, laws are meant to regulate our relationships with God and with others...


After a Headline-Making Year of Trump's Presidency, Best-Selling Author Jonathan Cahn Ties Meteoric Rise Back to a 3,000-Year-Old Ancient Paradigm
Nearly one year ago this week, on another cold day in January, Donald Trump stood before the nation, past U.S. presidents, world leaders and his family to be inaugurated as the 45th president of the United States.Now, a year into a headline-making presidency, New York Times best-selling author Jonathan Cahn looks back on the parallels of Donald Trump's meteoric rise to an ancient, 3,000-year-old Middle Eastern paradigm.In The Paradigm: The Ancient Blueprint That Holds the Mystery of Our Tim


Why Is It Difficult to Tell the Difference Between a Christian and Non-Christian?
This is God's heart for His people:"O that there were such a heart in them that they would fear Me and always keep all My commandments, that it might be well with them and with their children forever!" (Deut. 5:29)."He shall be the stability of your times, a wealth of salvation, wisdom, and knowledge; the fear of the Lord is His treasure" (Isa. 33:6).A heart to truly obey Him is what the Lord has always looked for in His people. This heart is cultivated through our love for the Lord and holy fea


The Prophetic Letter You Absolutely Must Read Today
If this were a typical Monday morning, I would have begun this daily article by commenting on the false ballistic missile warning in Hawaii over the weekend. I would probably have linked the story to the earthquake in Peru and the airplane that skidded off a runway in Turkey and plunged down a steep slope, nearly landing in the Black Sea.I might even have found a way to comment on yesterday's amazing playoff win by Jacksonville, followed by Minnesota's ast


Psalm 90:14's Majestic Medicine for Your Hurting Heart
"Whose dumb idea was it for you to go to college in Texas?" I threw at him.He just looked at me and raised his eyebrows.We were packing his suitcase, and I was having very sad mom feelings. OK, so it was our idea for him to attend our alma mater in central Texas. Seemed like a fabulous idea, until his Christmas break ended, and I started tucking clean socks into his bag.We took that not-a-boy-anymore to the airport at 5:30 the next morning, came home and crawled back into bed. That's about when


An interview with Bishop Michael Yeung Ming of Hong Kong...
Twenty years since Hong Kong's passage from British colonial rule to Chinese central government rule, 20 years since the application of the "one country, two systems" formula, Beijing is dropping the pleasantries. The communist giant has increasingly exerted its power over education, the judiciary and the electoral process governing the island's 7...


Pope departs Rome for apostolic visit to Chile and Peru...
Pope Francis has departed from Rome and is headed toward Latin America. This morning, the papal flight, Boeing B777, carrying the Pope, his entourage and journalists, took off from Rome's Fiumicino Airport. The Holy Father's visit to Peru and Chile marks his 22nd international Apostolic Trip and his sixth journey to Latin America...


Has your flame for God gone out? Are you a Christian in name only? Do you say one thing about your walk with God, but do another? Will your example lead others to a living relationship with Jesus? What will it take for you to get right with God again?These are some tough questions, but we must examine our own hearts and repent from a lukewarm attitude towards our Savior. Let's ask ourselves the first question, "Has my flame for God gone out?" If so, why has it gone out? Usually it is b


Watching TV is not a time-out from our role as followers of Christ...
One of the biggest consumers of time in our culture is television, whether on the home screen or our computers or on our phones. TV, in its various forms, delivers all kinds of experiences that suck us in, whether it's watching sports or a drama, a detective story or a cute cat video. For convenience here, let's just call all of this TV...


Mandisa, TobyMac, Kirk Franklin Unite for Racial Unity Anthem
Hot on the heels of Martin Luther King Jr. Day, three Christian artists have teamed up to release a racial unity anthem. Mandisa, TobyMac and Kirk Franklin's new music video for "Bleed the Same" will remind everyone of the beauty of diversity and fellowship.


3 helpful life hacks to help you overcome perfectionism...
In the age of social media, self-criticism and perfectionism are more prominent than ever. We continue to become increasingly focused on being "perfect": having the perfect physique, having the perfect job, or keeping the perfect house. In reality, however, this striving for "perfection" simply makes us increasingly unhappy as we lose focus of what we are really working towards...


The company water cooler, a symbolic gathering post for employee chatter disguised as a refreshment center, has gurgled into a resting place for analog office tools.I read a brief story about digital chatter in the Jan/Feb edition of The Atlantic.While reading the story, I could only respond with a deep "Duh!" This is the sentence that evoked my guttural response: "Workplace technology is revolutionizing how we communicate in the office."The horse left that barn


The Only Way to Keep the MLK Dream Truly Alive Today
Martin Luther King, Jr. was a dreamer. He saw what others could not see. He heard what others did not hear. He felt what others did not feel. Therefore, he did what others were not willing to do.Any form of racism defies the dignity of human life. That is why, in the midst of racial injustice and division in America, MLK dreamed about a day in our nation when "justice rolls down like waters and righteousness like a mighty stream." His quote of Amos 5:24 resounded the heart of


Push Back Demonic Darkness With This Explosive Weapon
There are seven statements of Jesus on the cross. Perhaps the most important one of all is when He declared, "It is finished!" (John 19:30) Nothing else needed to be done because He had done it all. The work of the cross of the Lord Jesus Christ is perfectly complete.I am convinced that we need this revelation to be able to pray effective prayers that avail much. We must learn to pray from this posture—from this perspective. We are not defeated. He has already won the battle and as au


I believe very strongly that God wants to bless His people and give them an abundant life (John 10:10). I also believe poverty is a curse and something the gospel reverses when biblical principles are applied properly.Furthermore, I do not believe pastors and church ministers should take a vow of poverty and that churches should give ample compensation to their lead pastors. That being said, I have been appalled by what I am calling in this article "prosperity pimps"—which are those w


Cindy Jacobs: What God Is Saying for 2018
I hope you all had a wonderful, happy New Year's Day. This is the season where we like to share with you what God has been saying for 2018, and I'm very excited about this year.What I have with me is a compilation of some words that came from the Apostolic Council of Prophetic Elders and the Global Prophetic Consultation in Nov. 2017, which people say was one of the most historic events they have ever been to in their lives. It's so good, and we know that God has given us a great harvest. We had


Pope to face fallout from abuse scandals in both Chile and Peru...
A top papal aide said on Thursday that Pope Francis's upcoming trip to Chile and Peru next week would not be "simple," in what may qualify as an early candidate for the understatement of 2018. Among many other challenges awaiting the pontiff, he'll have to face the fallout of sexual abuse scandals in both traditionally Catholic nations that have divided and demoralized the rank and file...


Why This 'Sex and the City' Actor Will Now Star in 'God's Not Dead'
John Corbett is an Emmy and Golden Globe-nominated actor, best known for his work in the Sex and the City franchise. But this spring, Corbett will be one of the stars of God's Not Dead: A Light in Darkness. In this video, he shares why he was moved to work on this Christian film.


Of sports radio, squabbles, and signs of life...
I'm what you'd call a "fair-weather runner" - which means I'm not running these days. Come spring, however, and the thaw (God willing), you'll find me out there on the street almost daily: Putting in my miles, getting ready for my 5Ks, running my 5Ks, chasing my younger kids on their bikes when they let me. It's my annual endorphin spree...


Dear Mr. Bible Guy who tried to convert my son and his friends...
Dear Christian Bible Guy, I want to thank you for coming up to my son and his friends at our state's March for Life and trying to talk them out of the Catholic faith. You were bound to talk to someone. The pro-life movement is the place of all places where serious Catholics and serious non-Catholic Christians spend lots of time together side-by-side...


1 Timothy 4:4-5 (4) For every creature of God is good, and nothing is to be refused if it is received with thanksgiving; (5) for it is sanctified by the word of God and prayer. This verse, quoted out of context, seems to state that all flesh can now be eaten. The flaw with most people's understanding of this verse is that they fail to read what it and the surrounding verses really say. They lift verse 4 out of its context, not bothering to include relevant detai


Why Physical Eyesight Can Blind Your Spiritual Vision
We had heavy hearts for several weeks in the early part of 2017 because there seemed to be an all-out assault against those whom God has chosen to do His work. Many of our dear friends in ministry seemed to be under an attack by hell itself.We spent one night at the hospital with dear pastor friends who were praying for a granddaughter whose life was in jeopardy. We witnessed that night what it means when a family decides to do battle with hell! While at the hospital, our spiritual daughter and


Acts 29 Pastor: Why You Can Join a Church You Theologically Disagree With
Pastor Matt Chandler says he knows plenty of people who go to his church that disagree with some of the church's theology. That shouldn't stop them—or anyone—from joining a church they connect with. However, there is one scenario that should absolutely be a deal-breaker for Christians. He explains what that is in this short video.


Bethel Worship Leader's Children See Health Restored, Shocking Doctors
The Taylor family has been through an incredible ordeal over these past few weeks, but they're finally seeing the healing hand of God at work.Joel and Janie Taylor report their 2-year-old son, Jaxon, is finally on the mend after weeks of fighting a devastating E. Coli infection that had shut down his kidneys and caused multiple life-threatening complications.Joel is the CEO of the Bethel Music worship ministry, and the Bethel community has rallied in prayer around the family.Little Jax


How and Why the Media Is Deliberately Deceiving You
Tens of thousands of dedicated Christians recently gathered in Kansas City for the "One Thing" annual conference. Mike Bickle, the pioneer of the International House of Prayer (IHOP) hosting the event, opened the gathering with a challenge from Mathew 24 and exhorted us to be extremely discerning in these turbulent times.Do you know the primary sign that Jesus gave in this chapter concerning the time prior to His return? He made reference to it four times.DeceptionIf ever there was a time when w


The metaphysics of democracy...
Liberalism began as a political project that sought to curtail the role of religion in public life. Religious impulses haven't proven easy to expel, however, even in secular societies. Contemporary secular liberalism aspires to be a universal project that supplants traditional religion and relegates it to the private sphere. Paradoxically...


Syrian bishop narrowly avoids death from bomb that landed on his bed...
A bishop narrowly avoided death when a bomb landed on his bed during a bombardment of Syria's capital Damascus, reported Aid to the Church in Need (ACN). Maronite Archbishop Samir Nassar's life was only saved because he interrupted his afternoon nap to use the bathroom. In a message sent to Catholic charity Aid to the Church in Need...


Real-life 'Iron Throne' may be hidden in Egypt's Great Pyramid of Giza...
The most well known Iron Throne in popular culture may be in the fictional continent of Westeros from "Game of Thrones." Now, scientists think they may have found one in a legendary civilization here on Earth. Last year, a very high-tech project that used subatomic particles to scan the internal structures of the Great Pyramid of Giza saw something interesting: a huge void as long as a football field...


Pope's Sunday Angelus: 'Seek Jesus, encounter Jesus, follow Jesus'...
As on the feast of the Epiphany and that of Jesus' Baptism, today's Gospel page (Cf. John 1:35-42) also proposes the theme of the Lord's manifestation. This time it's John the Baptist who points Him out to his disciples as "the Lamb of God" (v. 36), thus inviting them to follow Him. And so it is for us: He whom we contemplated in the mystery of Christmas...


Father Matthew Lamb, influential American theologian, dies at 80...
Father Matthew Lamb, the Cardinal Maida Chair of Theology at Ave Maria University, died early Friday morning, the university announced. A fitting conclusion to a life dedicated to education and a teaching career of 45 years, Lamb died in the company of two graduate students, who were keeping a prayer vigil at his bedside. He died after a brief illness caused by pulmonary fibrosis...


A picture of a prophet: A homily for the 2nd Sunday of the Year...
The first reading for Sunday Mass speaks to us of the call of Samuel. In examining it, we can see what it is that makes a great prophet. Put more theologically, we can see the ways in which God's graces form a great prophet. Samuel was surely one of the most significant prophets of the Old Testament and lived at a critical time...


A remarkably hands-on pope gets all the credit — and all the blame...
Bishop Brian Farrell, Secretary of the Pontifical Council for Promoting Christian Unity, gave a talk Tuesday night at Notre Dame's Global Gateway facility in Rome addressed to ecumenical and inter-faith experts, which laid out the Church's post-Vatican II approach to ecumenism and the new directions the press to bring Christians together is getting from Pope Francis...


How the Radical Love of Christ Saved One Teen From Homosexuality
A YouTuber named Kailyn says the radical love of Christ saved her from homosexuality. In a recent video, Kailyn details how she believed the lie that she was attracted to women and how the Holy Spirit opened her eyes to Satan's deception. Watch the video to see her testimony.


Father Francis Canavan: Jesuit priest's wisdom is in 'Fun is Not Enough' collection...
Here's how I endorsed the new collection Fun Is Not Enough — a compilation of columns Father Francis Canavan, S.J., wrote for the old Catholic Eye newsletter — which was published by the same people responsible for The Human Life Review: "In a world that often fails to recognize true values, those of us who seek to evangelize the culture run the risk of drowning in incoherence or submitting to the temptations of worldly idols...


Exodus 19:8 (8) Then all the people answered together and said, "All that the LORD has spoken we will do." So Moses brought back the words of the people to the LORD. Exodus 24:3 (3) So Moses came and told the people all the words of the LORD and all the judgments. And all the people answered with one voice and said, "All the words which the LORD has said we will do." At this point, the Israelites wanted to make the covenant and to be married to God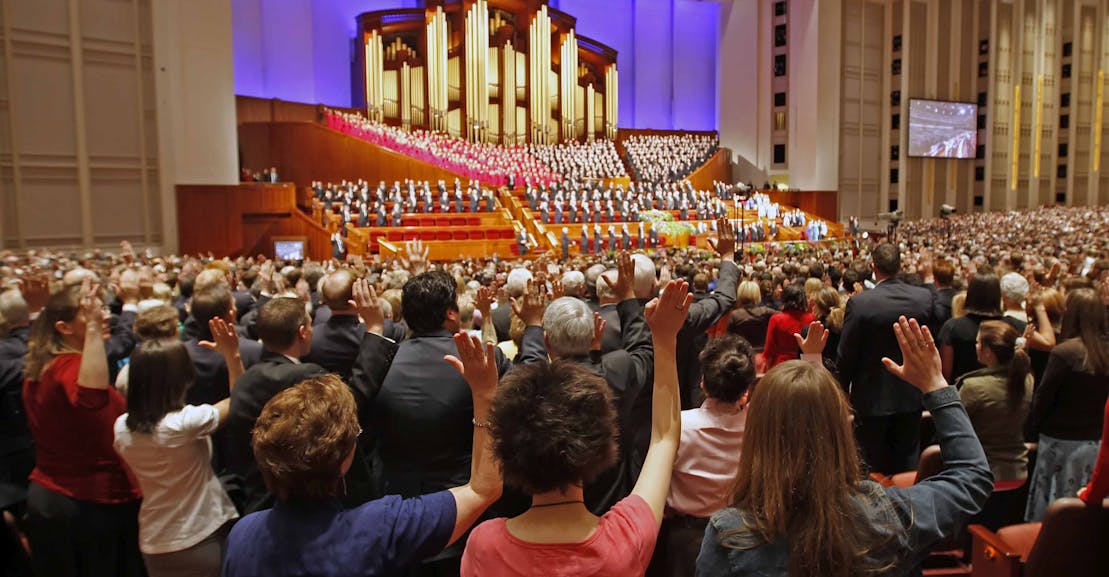 Mormon growth has cooled to its slowest pace since 1937...
In the Old Testament, there is a story about Nebuchadnezzar II, the great king of the Neo-Babylonian empire, that holds the root of Mormonism's unique interpretation of Christian theology. The king is tormented by a cryptic dream in which he sees an enormous statue of a man, forged from four different metals, destroyed by a stone that was cut from a mountain "without hands...


The secret paths that led Ireland's Catholics to forbidden Mass...
On Ireland's southwest coast, in County Kerry, there is a small village called Caherdaniel. Nearby, there is a national park, a fort that offers glimpses of the Skellig Islands, and the sloping shores of Derrynane Bay. And, etched into this countryside, is the Caherdaniel Mass Path. Like other such paths around Ireland, this narrow track was used by Catholics to attend mass 300 years ago...


Woman Says Witches Snatched Her Out of Bethel Church to Perform Ritual Satanic Abuse
One woman tells Sid Roth witches snatched her out of a church service to perform ritual satanic abuse. In a video posted recently the It's Supernatural host revisits his time at Bethel nearly 20 years ago, where he interviewed person after person with nearly unreal stories about how God was moving. In the report, Roth says the area surrounding Bethel once played host to 26 cults. "Although the devil has power, inside this church, Bethel church, is an explosion of God's power," Roth say


Internet Declares: Oprah Took Us to Church
Oprah Winfrey delivered a powerful acceptance speech at the Golden Globes, prompting demands she run for president.Her elegance ignited a firestorm in Hollywood, and multiple stars praised her poise and carefully crafted words.Among them was Shonda Rhimes, the creator behind Grey's Anatomy, Scandal, How to Get Away With Murder and more.And we went to church. @Oprah #WhyWeWearBlack #TimesUp— shonda rhimes (@shondarhimes) Jan. 8, 2018Winfrey's speech followed the "Time's Up" platform, which


Controversial New Doc Brings Supernatural Healing Miracles to the Spotlight
A new documentary exploring the whole area of sickness, supernatural healing and the power of positivity has been released, and it is making waves in the faith and medical communities.Heal is billed to take us on "a scientific and spiritual journey where we discover that our thoughts, beliefs and emotions have a huge impact on our health and ability to heal," according to the your views are on the supernatural healing of sickness and disability, this make


5 Prophecies Fulfilled in 2017—And 5 More Expected in 2018
The year 2017 was packed with what many describe as "remarkable" or "unprecedented" events. Donald Trump's presidential inauguration and his latest announcement that he sees Jerusalem as the eternal capital of the Jewish people are considered by believers to be prophetic signs that the world is coming ever closer to the Messianic area.Breaking Israel News looks back on these prophetic moments and suggests five further prophecies that could be fulfilled in 2018.5 Biblical Prophecies Fulfille


Bethel Leader Reveals What's Actually Happening in the Spiritual Realm—And It May Shock You
As long as he can remember, Blake K. Healy has seen angels at worship services, glorious lights and colors swirling in the air and demons perpetuating addiction and bitterness in the people around him.His book, The Veil (Jan. 9, 2018), describes how he came to understand this God-given gift, not only sharing his experiences of seeing the Spirit world but also inviting readers to operate in this gift. The book includes DIY keys as well as scriptural resources for further study of seeing in t


Bama Player Says Speaking in Tongues Helped Him Win the Game
Minutes after throwing the game-winning touchdown pass in Monday night's College Football Playoff National Championship game in Atlanta, Alabama Tua Tagovailoa wasn't hesitant to give God the credit."I was praying," Tagovailoa says. "I was speaking in tongues. It kept me calm."He continued: "I would say my poise comes from my faith. I just pray for peace."Not an uncommon occurrence for some athletes, but Tagovailoa's thankful words caught the attention of evangelist Franklin Graham, who pra


Why Christians Should Skip Hollywood's Latest Blockbuster
Liam Neeson's new action film, The Commuter, may lull in viewers with its "Taken on a train" vibe. But The Commuter packs plenty of violence and language—including misusing the Lord's name—into its PG-13 rating. Get the full rundown with this Plugged In video review.


Revelation 3:16-18 (16) So then, because you are lukewarm, and neither cold nor hot, I will vomit you out of My mouth. (17) Because you say, "I am rich, have become wealthy, and have need of nothing"—and do not know that you are wretched, miserable, poor, blind, and naked— (18) I counsel you to buy from Me gold refined in the fire, that you may be rich; and white garments, that you may be clothed, that the shame of your nakedness may not be revealed; and anoi


Bill to aid victims of child pornography passes US Senate committee...
The damaging effects of child pornography are undoubtedly incalculable, but a bipartisan bill has been introduced to bring its victims financial restitution and means for emotional healing. The bill was approved by the Senate Judiciary Committee Jan. 11. "Child pornography leaves in its wake a trail of tragedy and shattered life...


FIRST LISTEN: New Chris Tomlin Song Declares 'Resurrection Power' for New Year
Chris Tomlin is kicking off 2018 with a new single, "Resurrection Power"—and he believes it's timely. In a press release, Tomlin said, "I can't think of a better song at the start of the year than a song about new life, declaring, 'The old is gone, the new is here!' I believe this song is going to give so much hope to people as it presents the victory Christ offers us." Hear it first here.


When Your Kids Feel Stuck: Here's How to Help
Kids giving up. Kids not asking for help. They're asking for help when they should know what to do on their own. Sound familiar? These are common frustrations.As I write about in Screens and Teens, helplessness can be an effect of digital devices. Kids of all ages believe things should be easy, learning shouldn't take any effort and winning should be guaranteed. Of course, none of this is true!Many parents and teachers tell me that kids are hurrying through their work, not concerned with ex


Be Careful Not to Fall Into One of Israel's Saddest Mistakes
Throughout the Bible there are many places where, as believers, we read the text and immediately grieve in our hearts. One of the saddest dialogs is found in the book of Exodus, yet this same dialog takes place today and, unfortunately, too often we respond in exactly the same way without realizing what we are saying and doing.In Exodus 6:6, we find one of the most powerful promises Scripture contains.Therefore say to the children of Israel: 'I am the Lord, and I will bring you out from und


How Prayer Can Revitalize Your Emotionally Dead Marriage
John 15:15 says, "I no longer call you servants, for a servant does not know what his master does. But I have called you friends, for everything that I have heard from My Father have I made known to you."Skills are important in every area of our life—on-the-job training, improving your education, your ministry, yourself or relationships. Acquired skills are usually an important part of growth in our life.If you have ever been part of a sports team, you know the experience of repeating cert


Many Spirit-Filled Christians Ignore the Holy Ghost in This Area of Their Lives
According to 1 Cor. 6:19-20, your body is a sacred dwelling place. Why? Because of the One who lives in there.The Scripture reads:What? Do you not know that your body is the temple of the Holy Spirit, who is in you, whom you have received from God, and that you are not your own? You were bought with a price. Therefore glorify God in your body and in your spirit, which are God's.If you are in Christ, the Holy Spirit lives in you. Here are some names for Him. Please read these out loud:S


A Word From the Lord for Your Deep Discouragement
The Spirit of God says to you this day, "You feel discouraged. Your plans have not worked out for you. You wonder where I am. Why have I not responded to you? You are filled with many questions and even more doubt than before. Here is what I would say to you concerning these matters."First, when you come to Me, come to Me in faith. Faith believing that I do listen and I do care. If you would learn to seek My face at all times, you would learn to recognize my voice and know that I am speaking to


A Challenging Life-Lesson From Champion Runner Wilma Rudolph
I pulled my van up next to the curb, and one little bedraggled second-grader dragged her book bag and long-ago-cast-off jacket into the car."Hey sweet girl! How was your day?"Every afternoon begins the same. I ask the same three questions:Did anything exciting happen today?Did anything frustrating happen today?Did anything funny happen today?But on this day, I didn't get past question one. Excited brown eyes found mine in the rearview mirror."Mama! Something very exciting happened today. I got n


The 5-Word Question That Makes Miracles Happen
Christian International's Ron Rayon says that a simple five-word question could allow believers to unlock supernatural healing power. He says, "You can send with the authority and ability of Jesus. The doors are open!" Discover this powerful question by watching this video.


Why the world has only two words for tea...
With a few minor exceptions, there are really only two ways to say "tea" in the world. One is like the English term—te in Spanish and tee in Afrikaans are two examples. The other is some variation of cha, like chay in Hindi.


What to Do When a Christian Keeps Coming Against You
What a change we see in Abraham from Chapter 12 of Genesis to Chapter 13. In Chapter 12, Abraham (well, Abram) goes down to Egypt because of a famine. There, he becomes concerned that his life is in danger. His wife, Sarai, is attractive, and he thinks if Pharaoh knows that they are married, Pharaoh will kill Abram and take Sarai. He gets Sarai to hide the fact they are married from Pharaoh.It is pretty amazing that Abram was so weak in faith that he was willing to allow his wife to be in Pharao


Do You Feel a Million Miles Away From Your God-Given Destiny?
Every person on earth needs to know they matter—they need to know they're valuable and they mean something to someone. The problem is when people don't get a good start in life, they often waste their lives searching for self-worth in all the wrong places.In the world today, people so often base their value and importance on what they do, how much education they have, who they know, what kind of clothes they wear, how they look, their job title and the list goes on.But when worldly standar


What Every Spirit-Filled Single Mother Needs to Know About Her Son
I'm a single mom raising a young boy growing into a young man.The thoughts and concerns I have, has intensified so much since the day of his birth. When my son was born, I was a married woman. After two years of my son's life, I was divorced. I had to adapt to being a single mom. My concerns were for things like, How can I teach my son to be a man? How to think like a man? Walk like a man? Know the responsibilities of a man?His father has played a constant role in his life, but I am the full-tim


A Simple Truth to Help You Win Your Fierce Spiritual Battle
Do you feel like you just stepped into the wilderness? It can be a scary place to be if you're not aware of what's actually happening in the spirit realm. The wilderness can feel lonely, cloudy, confusing and just plain stretching (read: exhausting). With it comes a battle, whether you recognize it as that or not. The onslaught of lies you may be hearing in a season like this can feel never-ceasing, like you fight one, and just when it's over another one hits you. What helps me in


An Urgent Appeal to Christians Across America
The churches in America are God's footprints in our nation. God's churches are blessed and anointed by Him, and the greatest network our nation has. As president of the National Day of Prayer and senior pastor of a local church, I am convinced that we cannot complete our mission of mobilizing unified public prayer for America without the support of the pastors and churches in America. Our priority must be to mobilize pastors and churches to pray for America.Appealing to Pastors and ChurchesI app


National Geographic's 21 best beaches in the world...
Ask true beach lovers to name a favorite swath of surf and sand, and the answer changes with the tides. Luckily our planet is covered in oceans, seas, and lakes, which means there's a beach to indulge any whim. From pearly crescents covered in shells to turquoise bays teeming with Skittles-colored fish, they're not all created equal...


'Save the Outrage' Over H&M's Scandal—and Get Mad About This Instead
Clothing line H&M found itself in hot water this week when a potentially racist image of a young child was found on its website. But Christian vlogger Joseph Solomon thinks people may be missing the bigger spiritual issue—the culture of materialism that paves the way for child labor. As Solomon explains it, "We are outraged by this child wearing an H&M shirt—not even thinking that a child probably made that H&M shirt."


Three churches bombed ahead of papal visit to Chile...
Three Catholic churches in the Chilean capital have been bombed just days before Pope Francis begins his tour of the country. The perpetrators placed incendiary devices in all three churches in Santiago, and in one church left a direct threat to the Pope, saying the next bombs would be "in your cassock". Chile's outgoing president Michelle Bachelet said the events were "very strange...


He returned to the Catholic Church as an adult. Here's why he had left it as a teenager.....
Chris Reibold came back to his Catholic faith as an adult, but he left it as a teenager because he didn't think it was intellectually sound. As a 16 year-old who was reading Nietzche and studying materialist philosophers, he wanted his teachers and catechists to respond to some of the questions he was wrestling with, but he found their answers inadequate or dismissive...


Philippians 1:7 (7) just as it is right for me to think this of you all, because I have you in my heart, inasmuch as both in my chains and in the defense and confirmation of the gospel, you all are partakers with me of grace. Christian union is built around the fact that we are all partakers with one another in the grace of God. Unity, then, will vary from person to person. With some, it will be tenuous because the relationships and experiences together are just


Nigerian police rescue six kidnapped nuns...
During a two-day police operation, six women religious who were captured in Nigeria's Edo state two months ago were released unharmed on Saturday, generating much joy from the Christian community. The women were freed during a Jan. 6 police operation, but their captors were able to escape. They had been kidnapped Nov. 13, 2017 from the Eucharistic Heart of Jesus Convent in Iguoriakhi...


SDG's list of 30 top films of 2017...
American moviegoers aren't necessarily the most demanding viewers in the world, but it seems we have our limits, if dire movie-ticket sales for 2017 are any indication. Not since 1992 have so few Americans gone to the movies; it was the worst year for moviegoing in a quarter century. The punishment wasn't equally shared in Hollywood...


Neil deGrasse Tyson concurs: Catholicism is the science-friendly religion...
On a recent episode of The Late Show, host Stephen Colbert and frequent visitor Neil deGrasse Tyson joked about the astronomical insignificance of New Year's Day. Before long, Tyson was talking about the role the Catholic Church played in creating the calendar as we know it. "The world's calendar is the Gregorian calendar after Pope Gregory...


24 hidden iPhone settings you should know about...
Part of the appeal of the iPhone is its simplicity—you can grab it right out of the box and starting setting it up without reading any instructions. However, behind that simple, intuitive interface, you'll find dozens of lesser-known settings and options. Here are 24 you can use to customize your iOS experience.


Spirit-Led Filmmaker Releases Never-Before-Seen Video of Bethel's Glory Cloud
In 2011, Bethel Church began experiencing the supernatural phenomenon known as the "glory cloud." Christian filmmaker Darren Wilson took footage of the cloud—and then never showed anyone. Why? Bethel Pastor Bill Johnson reportedly hesitated to release the video, fearing people might chase the gift, not the giver. But now the footage is out—and amazing. Watch it here.


You've Heard God's Voice. Now What?
So you have learned to listen for God's voice. You enter His presence often, quiet your soul and anticipate hearing from Him. You remain open to hearing from Him throughout your day. Whether occasionally or more often, there are times you sense He is speaking. Awesome! Now what do you do after you hear God's voice?A relationship with God is something you can enjoy every day. But your sense of His presence, His peace and His guidance will not feel the same every day. When you seek


What Luke Skywalker can teach you about grace and free will...
The latest installment of Star Wars, The Last Jedi, has led to countless arguments and objections among the galactic fan base. And though it may be a fool's errand to look for Christian ethics in Star Wars or other popular movies, it is clear that movies can have a formative effect on viewers, and that they often present teaching moments...


3 Points to Get You Back on Track Spiritually When You Feel Completely Unfocused
This is definitely one of my favorite times of the year. I love it because often people use this time to get after things that are important to them. The gym is a little busier and people are on social media looking for book recommendations for the year. One of the great dangers in life is distraction, and a new year gives people time to refocus. Refocusing is an amazing thing.Last year, I was in Texas at a prayer service where Corey Lucas of Freedom Fellowship was leading. He said something pow


One of the Best Ways to Get the Gospel Down Deep in Your Heart
This week, churches from all over the Every Nation world will begin 2018 with a week of prayer, fasting and consecration. If you are fasting and praying with us this week, I would encourage you to download our 2018 Every Nation devotional guide on the book of Ephesians, entitled, "In Christ." Along with the guide, you can also watch our short five-minute devotional videos for each day of the fast.One of my favorite features of the new devotional guide is that each l


Boost Your Health With These 3 Simple Keys
Hippocrates, the father of medicine, once said, "All disease begins in the gut." Now, 2,000 years later, that belief still rings true. Some of our latest medical breakthroughs focus on what's happening in our intestinal system.Bacteria, also known as bugs or germs, we assume they're all bad, right? Not so fast.Scientists recently discovered much, if not most, of the bacteria in our body is good for us. The key to good health depends on having enough of the right kind.1. 'Anti-Gut' AntibioticsWe


You Can Be the Surprising Answer to the Race Problem
Do you think we don't have a race problem in the U.S.? Maybe your thoughts would change if you talked to someone different than you.Or maybe you know there is a problem, but you don't know what to do to help.There are many ways you can build friendships and connect with others across ethnic and cultural lines. Here are seven ways you can be the answer to the race problem, taken from my book Walk It Out.Ask God to change your heart. Pray and ask that He helps you see the joy of unity and div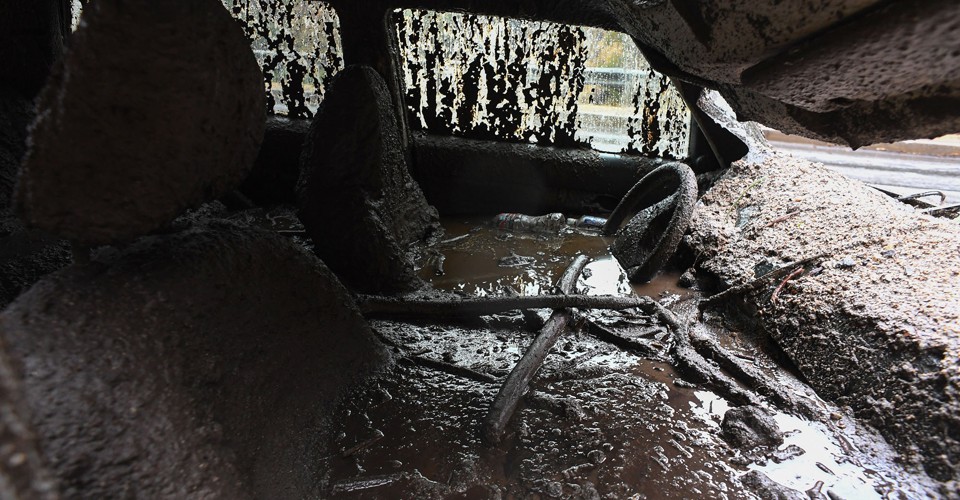 27 photos of California's deadly mudslides...
The massive wildfires that scorched parts of Southern California last month left hillsides devoid of vegetation and covered with ash and a dried-out layer of topsoil. On Tuesday, heavy rains fell north of Los Angeles, turning many of these hillsides into torrents of mud and boulders that destroyed dozens of homes and damaged hundreds more...


How One Word Can Give You Divine Direction This Year
A new word for a new year. A word I knew—last September—would be my focus for 2018.Last year, my one word was "hope." Holding on to hope carried me through a difficult period. Hope held fear at bay when hubby was diagnosed with pancreatic cancer. Hope carried me—and us—through months of chemotherapy and radiation and more chemotherapy. And hope strengthened us as we sat with the doctor to hear his prognosis at the completion of the treatment protocol.My one word for 2018


The saints and ghosts hidden beneath the streets of London...
London is a tourist mecca. Thousands flood its streets each year, all year. They come "to see the sights." Sights where there are those who are only too glad to take their money and show them the history and lore of the city's well-known landmarks. What these visitors do not know, let alone see, is the city that lies beneath the streets upon which they walk...


Why it's so important to offer up your sufferings...
There are so many remedies for those who suffer unjustly that we have begun to imagine that suffering itself is wrong. Worse! We begin to think that those who suffer willingly or without complaining must be "sick" or uninformed or, maybe, getting what they asked for when they didn't take care of themselves at some earlier time...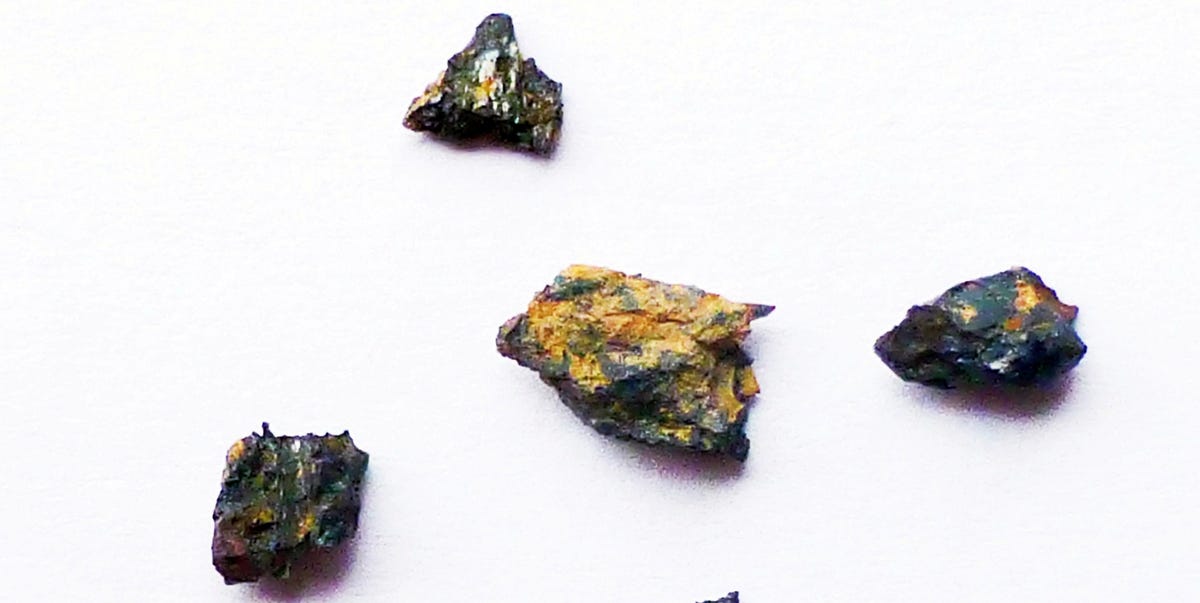 The incredible Hypatia stone contains compounds not found in the solar system...
The Hypatia stone is only a few centimeters across, broken into pebble fragments, but it may very well be the most interesting rock in the world. Named for Hypatia of Alexandria, the first prominent Western woman astronomer and mathematician, the colorful rock was found in 1996 in western Egypt by Aly Barakat, a geologist working for the Egyptian Geological Survey...


The Sneaky Way Gambling Is Growing Roots in Your Children
Children are being lured into gambling by slot-machine styled games and apps through Facebook.Scientific Games, a US-based gambling company which supplies thousands of Fixed-Odds Betting Terminals to the UK, offers the enticing games without any age-verification checks via the social media platform.Featuring popular children's characters such as the Flintstones and Rapunzel, the apps are putting children at risk of gambling addiction.CynicalThe games are not listed as gambling products because t