Marlins Acquire Nick Anderson, Designate Derek Dietrich
The Marlins announced tonight that they have acquired righty Nick Anderson from the Twins in exchange for infielder Brian Schales. To create roster space, the Marlins designated Derek Dietrich for assignment. Bumping Dietrich from the roster will mean avoiding a significant salary for the rebuilding Marlins. MLBTR had projected a $4.8MM salary in his second-to-last…


Dodgers Designate Erik Goeddel, Release Tom Koehler
The Dodgers announced today that they have designated three players: righty Erik Goeddel, lefty Zac Rosscup, and infielder/outfielder Tim Locastro. Meanwhile, the club released right-hander Tom Koehler, who signed with the club as a free agent last winter but was arbitration-eligible. Those moves helped create space for new additions to the 40-man roster. Notable prospects Keibert…


Rays Designate C.J. Cron, Announce Other Roster Moves
The Rays will designate first baseman C.J. Cron for assignment, Marc Topkin of the Tampa Bay Times reports on Twitter. He had been projected by MLBTR to earn $5.2MM in arbitration. That's just one of a flurry of late-breaking 40-man moves for the Rays. Relievers Oliver Drake and Hoby Milner were also designated, while right-hander…


Padres To Sell Contract Rights To Christian Villanueva To Yomiuri Giants
6:57pm: Villanueva could earn something in the neighborhood of $3MM if he reaches the incentives in his deal, Lin tweets. 5:26pm: The Padres will sell the contract rights to third baseman Christian Villanueva to Japan's Yomiuri Giants, per Ken Rosenthal and Dennis Lin of The Athletic (Twitter links).* Villanueva would need to agree to sign a contract…


Athletics Acquire Tanner Anderson, Add Four To 40-Man
The Athletics announced today that they have acquired righty Tanner Anderson from the Pirates. The Oakland organization has also added four players to its 40-man roster to protect them from the Rule 5 draft: outfielders Luis Barrera and Skye Bolt along with righties Grant Holmes and James Kaprielian. Anderson is a 25-year-old who was originally…


Angels Designate Jose Miguel Fernandez, Parker Bridwell
The Angels have designated infielder Jose Fernandez and righty Parker Bridwell for assignment, per a club announcement. Those moves helped to open roster space so the team could select the contracts of lefty Jose Suarez, infielder Luis Rengifo, and righty Luis Madero. More to come …


Padres Designate Colin Rea, Cory Spangenberg, Allen Cordoba
The Padres have designated righty Colin Rea for assignment along with infielders Cory Spangenberg and Allen Cordoba, the club announced. San Diego also designated Christian Villanueva, whose contract rights will be sold to a Japanese club. Meanwhile, the Friars completed a busy day of 40-man roster maneuvering by adding a host of players. Catcher Austin…


Orioles Designate Engelb Vielma
The Orioles have designated infielder Engelb Vielma for assignment today, per a club announcement. His spot was needed for the team to settle its 40-man roster in advance of today's deadline to protect players from the Rule 5 draft. Vielma missed much of the 2018 season with an unfortunate knee injury, preventing him from a…


The Cubs have struck a deal with the Padres to acquire righty reliever Rowan Wick, Mark Gonzales of the Chicago Tribune tweets. Minor-league infielder Jason Vosler will head to San Diego in return. Wick came available as the Padres finalized their 40-man roster plans in advance of today's deadline to protect players from the Rule…


Marlins Add Seven Players To 40-Man Roster, Designate Three Others For Assignment
The Marlins announced an avalanche of roster moves in advance of tonight's deadline for protection from the Rule 5 Draft. Being selected to the 40-man roster are right-handers Jorge Guzman, Jordan Yamamoto, Jordan Holloway and Kyle Keller, infielder Isan Diaz, outfielder Monte Harrison and left-hander Jose Quijada. Adding that group required the creation of three…


Padres, Mariners In Talks On Significant Potential Trade
4:57pm: A deal is "not thought to be close" right now, Rosenthal adds on Twitter, though the fact that players have been asked about their no-trade clauses still seems to indicate it's a serious possibility. Interestingly, the Mariners have also approached Leake with other possible destinations, Joel Sherman of the New York Post tweets. Whether alternative…


Red Sox Outright Austin Maddox, Release William Cuevas
The Red Sox announced multiple 40-man roster moves today, adding several minor-leaguers and trimming two right-handed pitchers. Austin Maddox was outrighted to Triple-A while William Cuevas was released to sign on with the Korea Baseball Organizations KT Wiz. The 27-year-old Maddox burst onto the MLB scene late in 2017, turning heads by allowing just one…


Rockies Designate Jordan Patterson
The Rockies have designated outfielder/first baseman Jordan Patterson for assignment, per a club announcement. His roster spot was needed to make way for the club's addition of several players who would have been eligible for the Rule 5 draft. Patterson, 26, made it up to the majors for a brief debut in 2016, but evidently…


Phils protect 3 prospects from Rule 5 Draft
The Phillies placed right-hander Adonis Medina, shortstop Arquimedes Gamboa and right-hander Edgar Garcia on the 40-man roster on Tuesday, protecting the prospects from next month's Rule 5 Draft.


Breaking down a potential Segura-Myers swap
Another day, another Mariners trade rumor. Such is the state of things for a franchise in flux featuring perhaps the most trade-happy general manager in Major League Baseball in Jerry Dipoto.


Tribe makes flurry of moves to fill 40-man roster
With some 40-man roster wiggle room to work with in advance of the Rule 5 Draft deadline, the Indians had a busy day Tuesday. They protected three of their Rule 5-eligible prospects, made a minor trade with the Padres and even inked a non-roster invitee to Spring Training camp, just for good measure.


Red Sox To Acquire Colten Brewer
12:55pm: Evan Drellich of NBC Sports Boston reports (via Twitter) that the Red Sox will send minor league infielder Esteban Quiroz to San Diego in exchange for Brewer. 12:29pm: The Red Sox are nearing an agreement to acquire right-hander Colten Brewer from the Padres, tweets Ken Rosenthal of The Athletic. A minor leaguer who doesn't…


Diamondbacks Outright Braden Shipley, Artie Lewicki
The D-backs announced today that they've assigned right-handers Braden Shipley and Artie Lewicki outright to Triple-A Reno after the pair cleared waivers. The moves bring their 40-man roster to a total of 33 players. It's a disappointing outcome for Shipley, whom Arizona drafted with the 15th overall selection back in 2013. The former University of…


Rox protect 4 from Rule 5, add to 40-man roster
Josh Fuentes, outfielder Sam Hilliard and right-handed pitchers Ryan Castellani and Justin Lawrence were added to the Rockies' 40-man ahead of the deadline to protect them from the Rule 5 Draft.


Hickey steps down as Cubs pitching coach
The Cubs announced that Jim Hickey informed the organization he has elected to step down as pitching coach due to personal reasons. In a news release, the Cubs noted that the search for a replacement was underway.


What's next for Mariners post-Paxton deal?
When will the next trade come for the Mariners' GM, who dealt standout southpaw James Paxton to the Yankees for a trio of prospects Monday? Dipoto and his baseball operations staff took a hard look at where the franchise stood and decided that it made more sense to step back and reload for a push in 2020 and '21 than to continue down the same path.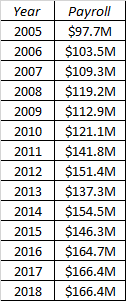 Projecting Payrolls: Los Angeles Angels
In the opening piece in this series, we looked at the Philadelphia Phillies, a team almost certain to be a major player in this winter's free agent market. Next we traveled to southern California to see if the deep pockets of the Los Angeles Dodgers would make them a major player this winter. Once again, in…


Marlins Claim Julian Fernandez
The Marlins announced that they've claimed right-hander Julian Fernandez off waivers from the Giants. Their 40-man roster now has 36 players. The Giants selected Fernandez, 22, out of the Rockies organization with the second pick in the 2017 Rule 5 Draft. However, the right-hander suffered a UCL tear in Spring Training and underwent Tommy John…


Players Added To The 40-Man Roster
Tonight marks the deadline for players to be added to their respective organizations' 40-man rosters. Over the nine hours, there'll be a flurry of moves, ranging from minor trades (like the one the Indians and Rays made yesterday), waiver claims and players being designated for assignment or outrighted. Each will be made to clear room…


Deadline To Set 40-Man Rosters Before Rule 5 Draft Is Tonight
The deadline for Major League teams to set their 40-man rosters in advance of next month's Rule 5 Draft is tonight at 8pm ET. As such, baseball fans should expect to see a flurry of activity over the next 11 hours. There will be likely be players designated for assignment, outrighted and claimed off waivers…


How Yanks' 2016 Deadline led to Paxton
In what Brian Cashman remembers as a series of his most difficult discussions with ownership, the veteran general manager received approval to dispatch several high-profile assets 2 1/2 years ago, having convinced managing general partner Hal Steinbrenner that his team was not strong enough to win the 2016 World Series.


Price, Venters net Comeback Player Awards
Left-handed pitchers David Price of the Boston Red Sox and Jonny Venters of the Atlanta Braves have been named the recipients of the 2018 American League and National League Comeback Player of the Year Awards, respectively, Major League Baseball announced on Tuesday.


After a brilliant career that spanned parts of 21 seasons, Adrian Beltre announced today that he is retiring from baseball. Via a Rangers press release, Beltre has issued the following statement: After careful consideration and many sleepless nights, I have made the decision to retire from what I've been doing my whole life, which is…


Phils to honor careers of Rollins, Utley, Howard
Throughout the summer of 2019, the Phillies will celebrate the careers of three of the greatest players to ever don red pinstripes -- '08 World Series champions Jimmy Rollins, Chase Utley and Ryan Howard -- with retirement ceremonies, the club announced Tuesday.


With Paxton trade, Yanks all in on staff upgrade
When it was all on the line for the Yankees in the postseason -- when they were even with the Red Sox at 1-1 in the American League Division Series and back home at Yankee Stadium, where they had won seven straight playoff games dating back to the 2017 AL Wild Card Game victory over the Twins -- the Sox had better starting pitching, and the Yanks couldn't make it out of the first round a year after coming within one victory of the World Series.


Offseason Outlook: St. Louis Cardinals
MLBTR is publishing Offseason Outlooks for all 30 teams.  Click here to read the other entries in this series. The Cardinals had a thrilling season on the whole, but a tumultuous roller coaster ride bookended by significant winning and losing streaks ultimately ended on a low note as they missed the playoffs for the third consecutive…


Khris Davis voted winner of top DH award
Major League Baseball announced today that Khris Davis of the Oakland Athletics has been voted the winner of the 2018 Edgar Martinez Outstanding Designated Hitter Award.


Top 10 moments of Beltre's career
Adrian Beltre's iconic 21-year career has come to an end, as the veteran third baseman announced on Tuesday that he plans to retire.


Decision time: Which prospects get 40-man spots?
By Tuesday, all teams will have decided who deserves a spot on their 40-man rosters. Those Minor Leaguers who are eligible but not put on the roster will be exposed to be taken by the other 29 teams in the Rule 5 Draft, which will take place at the Winter Meetings in Las Vegas, on Thursday. Dec. 13.


2019 Competitive Balance Draft Pick Order
Major League Baseball has set the order for Competitive Balance Rounds A and B of next year's draft, reports Jonathan Mayo of MLB.com. Those rounds, which take place after the completion of the first and second rounds, respectively, are comprised of picks awarded to teams that are considered in the bottom 10 in terms of market…


Offseason Outlook: Cleveland Indians
MLBTR is publishing Offseason Outlooks for all 30 teams.  Click here to read the other entries in this series. The Indians endured the heartbreak of another early exit from the postseason in 2018, and they're likely to suffer the mass exodus of nearly a dozen free agents. That, combined with several impending player salary increases, a…


Trade Chatter: Segura, Goldschmidt, Astros, Gomes
After last winter's deep freeze, many in the game are surely wondering when the action will truly get underway this time around. We're still awaiting a monster free agent pact, but the first blockbuster trade is now in the books. For the Mariners, sending James Paxton out for a package featuring two near-MLB pitchers was…



Projecting Payrolls: Los Angeles Dodgers
In the opening piece in this series, we looked at the Philadelphia Phillies, a team almost certain to be a major player in this winter's free agent market. In addition to being a fun look at a key market participant, that piece also sets forth some key assumptions to be used in this series regarding…


Korea's KIA Tigers Sign Jacob Turner, Jeremy Hazelbaker
8:02pm: The club has announced the signing of Turner as well as that of outfielder Jeremy Hazelbaker (via Yonhap News; again, as conveyed by Kurtz). Turner receives a $1MM salary ($300K via signing bonus), while Hazelbaker will take home $700K ($200K signing bonus). The 31-year-old Hazelbaker has impressive MLB numbers in a small sample. He has…


Did the Mariners get enough for Paxton?
The Mariners and Yankees came together to complete the first major trade of the offseason on Monday, when Seattle dealt ace James Paxton in exchange for Justus Sheffield, right-hander Erik Swanson and outfielder Dom Thompson-Williams.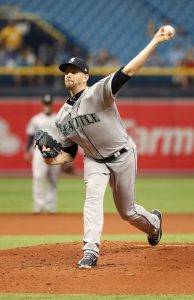 Yankees To Acquire James Paxton
The Yankees have officially struck a deal to acquire lefty James Paxton from the Mariners, as Jeff Passan of Yahoo Sports (Twitter link) first reported. Top pitching prospect Justus Sheffield is coming to Seattle in return, per Ryan Divish of the Seattle Times (Twitter link). Completing the return are outfielder Dom Thompson-Williams and righty Erik Swanson,…


Braves face tough decisions ahead of Rule 5
Arodys Vizcaino currently stands as the best option to open 2019 as Atlanta's closer, but given the uncertainty of his shoulder, is it worth gambling his arbitration salary? Jacob Webb is a right-handed pitching prospect who has produced impressive numbers dating back to July, but has he done enough to warrant being given a valuable 40-man roster spot? These are just a couple of the questions Braves general manager Alex Anthopoulos and his staff must weigh ahead of two upcoming roster deadlines.


Brewers Finalize Coaching Staff
The Brewers announced today that they've promoted Chris Hook from pitching coordinator to pitching coach, hired Steve Karsay away from the Indians organization to serve as the new bullpen coach, and hired Scott Barringer away from the Astros to serve as the new head athletic trainer. Milwaukee also formally announced the previously reported hiring of…


Survey says: 10 top free agents will sign with ...
Where will [fill in player's name here] sign? That's undoubtedly the most popular question asked early in the offseason, while the Hot Stove is just getting lit. Well, what if you could have an answer -- maybe not the answer, but an answer -- and not just for one player, but for 10 of the biggest names on the open market? Sounds pretty good, right?


MLBTR Readers Predict Teams For Top 10 Free Agents
MLBTR's free agent prediction contest closed last night.  6,845 people entered the contest.  Here's where our readers think each of the top 10 free agents is going. 1.  Bryce Harper – Phillies (34.0%), Dodgers (13.1%), Nationals (10.8%), Giants (9.8%), Cubs (8.5%), Cardinals (7.9%), White Sox (6.0%), Yankees (4.2%), Braves (1.4%), Astros (1.4%), Angels (1.1%) 2.  Manny…


Yanks get Paxton for top prospect, 2 others
The Yankees officially acquired left-handed pitcher James Paxton from the Mariners on Monday night for three prospects, including lefty Justus Sheffield, ranked by MLB Pipeline as New York's top prospect and the No. 31 prospect in the game. Also headed to Seattle are Double-A outfield prospect Dom Thompson-Williams and righty pitcher Erik Swanson, ranked as the No. 22 prospect in New York's farm system.


Minor MLB Transactions: 11/19/18
Here are Monday's minor moves from around the game… The Cardinals announced a slate of minor league signings, including right-hander Mike Hauschild, left-hander Hunter Cervenka, catcher Joe Hudson, catcher Jose Godoy and first baseman/outfielder Rangel Ravelo. Each received an invitation to Major League Spring Training. St. Louis also announced previously reported Spring Training invites for…


Boston 'hopeful' Pedroia ready by Opening Day
Dustin Pedroia will not need another surgery this offseason for his problematic left knee, and the Red Sox are hopeful the second baseman will be ready for the start of the 2019 season.


Mariners get 3 Yankees prospects for Paxton
Mariners general manager Jerry Dipoto's plan to "re-imagine" his roster got serious on Monday as the club dealt left-hander James Paxton to the Yankees for a trio of prospects -- left-hander Justus Sheffield, right-hander Erik Swanson and outfielder Dom Thompson-Williams.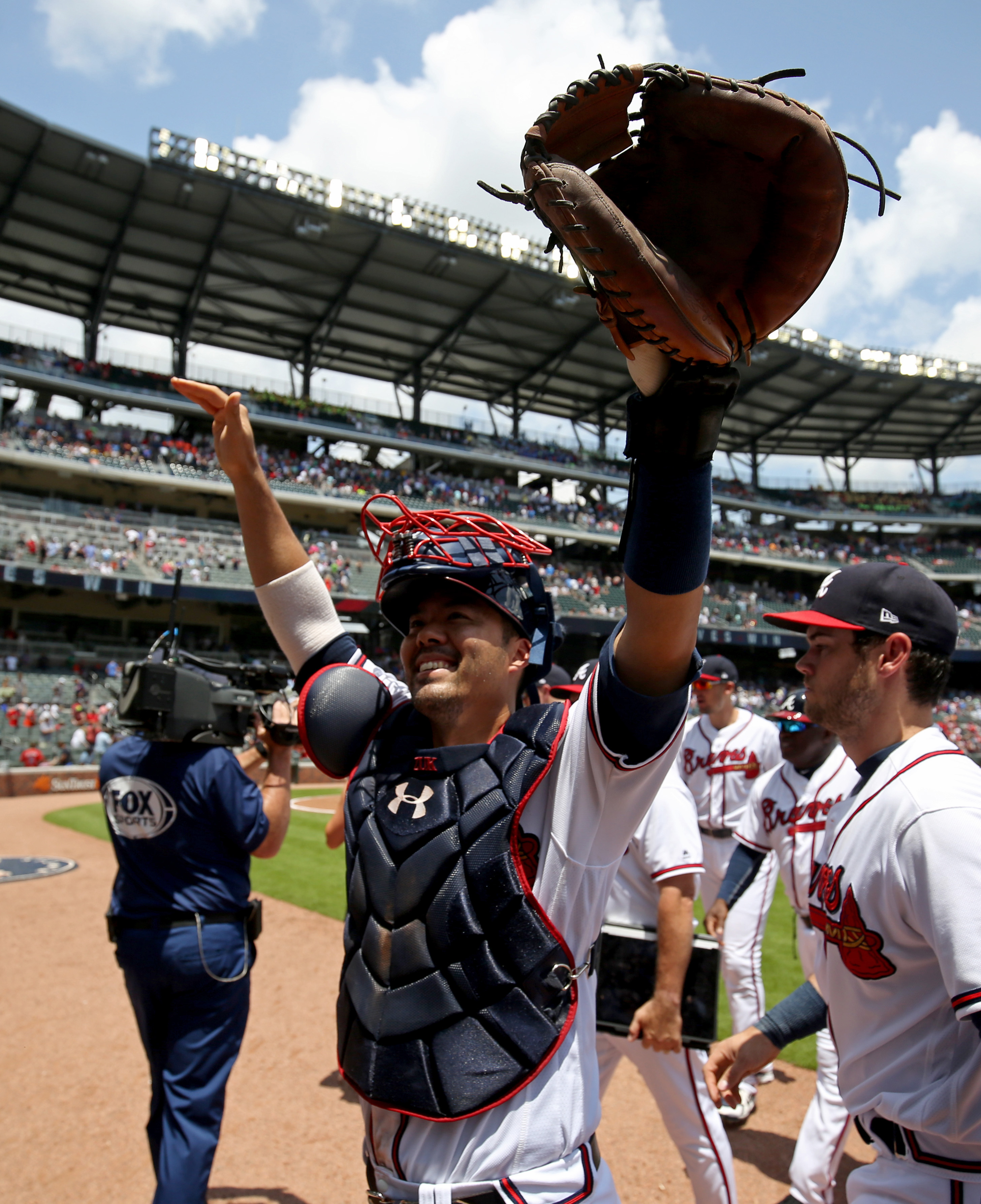 11:10am: Suzuki's contract is a two-year, $10MM deal that'll pay him $4MM in 2019 and $6MM in 2020, Ken Rosenthal of The Athletic tweets. 10:24am: The Nationals have agreed to a two-year contract with free-agent catcher Kurt Suzuki, reports Mark Feinsand of MLB.com (via Twitter). The deal is pending a physical. Suzuki is represented by…


Competitive Balance rounds set for 2019 Draft
When the 2018 season ended, the 2019 Draft order started to take shape, as that is decided by the reverse order of the standings. A few more details are clear now as the Competitive Balance rounds are set, with eight teams receiving picks between the first and second rounds, and six teams getting picks between the second and third.


Edgar patiently awaiting final push for HOF
For one last time, Edgar Martinez's name was on the 2019 Hall of Fame ballot sent out to Baseball Writers' Association of America voters on Monday. This will be Martinez's 10th and final opportunity to earn baseball's most coveted honor.


Reds add House, Ecker to Bell's coaching staff
The Reds formally announced two more coaches to new manager David Bell's staff on Monday. They hired J.R. House as their third-base and catching coach and Donnie Ecker as assistant hitting coach.


This move may impact market for Realmuto
One potential suitor for Marlins All-Star catcher J.T. Realmuto may be off the board. The Nationals on Monday reached agreement on a two-year contract with veteran catcher Kurt Suzuki, according to MLB.com's Mark Feinsand. MLB Network insider Ken Rosenthal reports the deal is worth $10 million. With that type of investment in Suzuki, it appears to have eliminated Washington as a potential trade match for Realmuto.


Ankiel on HOF ballot with comeback in progress
Rick Ankiel was among the 20 newcomers named to the 2019 Baseball Writers' Association of America ballot for the National Baseball Hall of Fame on Monday, but his Hall clock may reset soon.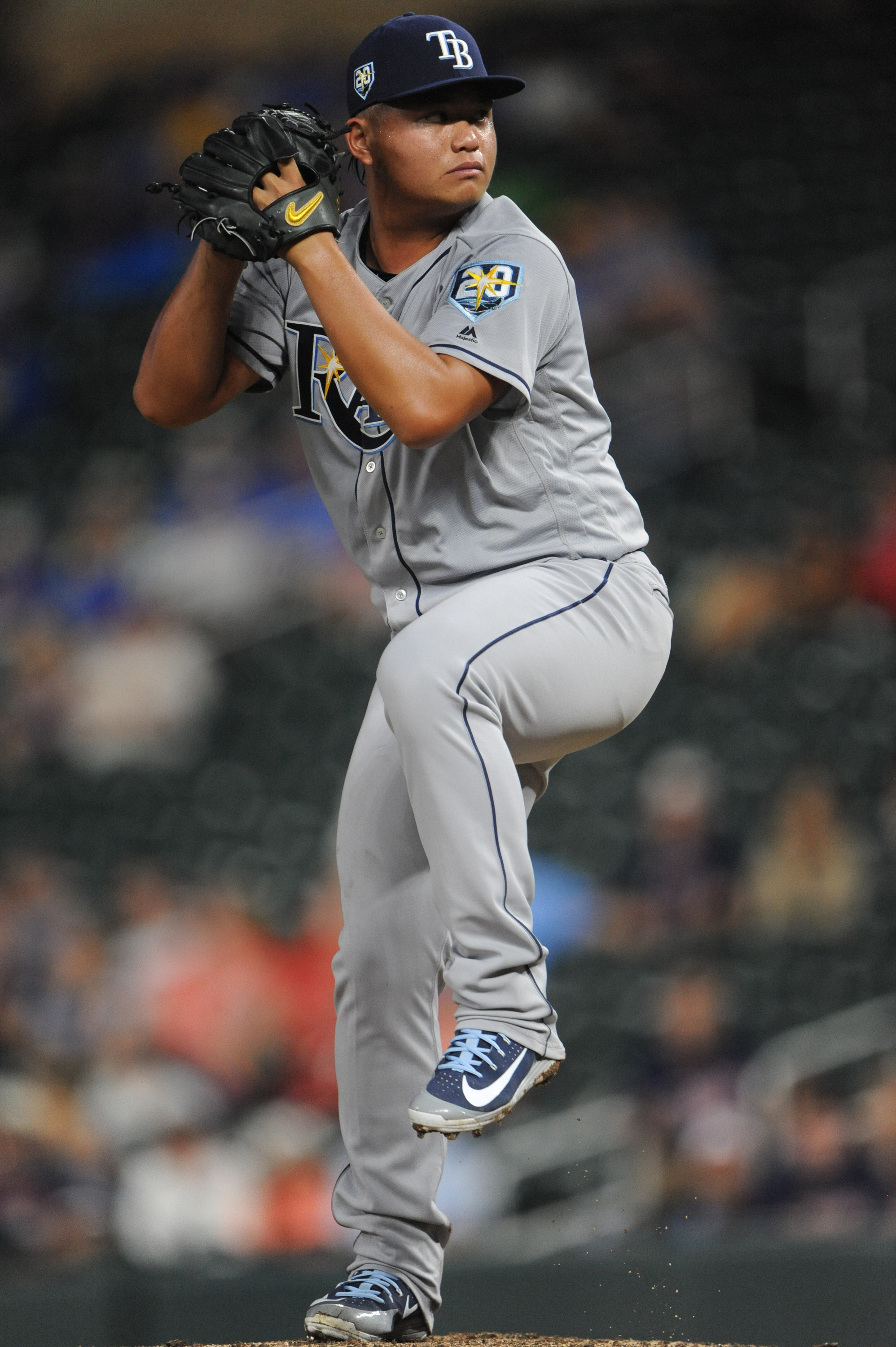 Indians Acquire Chih-Wei Hu From Rays
The Indians announced that they've acquired right-hander Chih-Wei Hu from the Rays in exchange for minor league infielder Gionti Turner. The 25-year-old Hu brings Cleveland's 40-man roster count to 36 players, while the deal gives the Rays organization some flexibility in advance of tomorrow's deadline to protect additional players from the Rule 5 Draft. Hu,…


Astros Reportedly Make Offer To Charlie Morton
The Astros have made an initial offer to bring right-hander Charlie Morton back to Houston, reports Bob Nightengale of USA Today (via Twitter). The dollar amount of the reported offer is yet unclear, though Nightengale does specify that it's a one-year contract with an option for a second year. Vague as the terms may still…


Halladay among 20 newcomers on HOF ballot
A strong argument can be made that Roy Halladay was the best pitcher in baseball for most of his career. His decade of dominance and 16 years in the sport could put him in the National Baseball Hall of Fame next summer.


Helton presents strong HOF enshrinement case
Former Rockies star Todd Helton was among the 20 newcomers named to the 2019 Baseball Writers' Association of America ballot for the National Baseball Hall of Fame on Monday. Taken at face value, Helton's career numbers jump off the page, but his case may take some time to sort out with Hall voters.


See who's new on the 2019 Hall of Fame ballot
With the Baseball Writers' Association of America electing a record 16 candidates over the past five years, including at least two per year, Cooperstown has been plenty busy in recent summers. While plenty of holdovers remain on the ballot, the clock continues to tick on their candidacies, and this year's voting figures to say a lot about their ultimate chances of being elected.


Here are the AFL's Top 10 breakout prospects
But so much of what makes the Arizona Fall League great is that every year there are players who might not be at the top of prospect lists, but who use the Fall League as a bit of a coming out party. These are players who can be considered breakout prospects, with the usual caveat about small sample sizes.


Elias introduced as O's GM, lays out vision
The Orioles began what their fans hope will be a successful new era in Baltimore on Monday with the introduction of Mike Elias as the team's executive vice president and general manager.


Decision time: Which prospects get 40-man spots?
By Tuesday, all teams will have decided who deserves a spot on their 40-man rosters. Those Minor Leaguers who are eligible but not put on the roster will be exposed to be taken by the other 29 teams in the Rule 5 Draft, which will take place at the Winter Meetings in Las Vegas, on Thursday. Dec. 13.


Indians add right-hander Hu in deal with Rays
With the Rule 5 Draft deadline approaching Tuesday, and some teams in need of making room on their 40-man rosters, the Indians and Rays completed a minor trade Monday. Tampa Bay sent right-hander Chih-Wei Hu to Cleveland in exchange for infielder Gionti Turner.


Get tickets for Yanks vs. Red Sox in London
Major League Baseball today named Mitel the title partner of the first two London Series, the historic pair of two-game sets to be played at London Stadium over the next two summers which mark baseball's first games ever played in Europe. Mitel & MLB Present London Series 2019 takes place June 29-30, 2019 between the Boston Red Sox and the New York Yankees.


Offseason Outlook: San Francisco Giants
MLBTR is publishing Offseason Outlooks for all 30 teams. Click here to read the other entries in this series. The Giants reassigned general manager and longtime front office fixture Bobby Evans in order to bring some fresh ideas into the mix after two straight disappointing seasons.  Now, newly-hired president of baseball operations Farhan Zaidi faces…


AL East Notes: Sale, Swihart, Yankees, Chang, Blue Jays
Some items from around the AL East… Chris Sale is only under contract through the 2019 season, and his potential future in Boston "could be the key to the entire offseason" for the Red Sox, Jason Mastrodonato of the Boston Herald writes.  The Sox are sure to discuss an extension with Sale this winter, though…


International Transactions: 11/18/18
Here's the roundup of some familiar North American names heading to play ball overseas… The KT Wiz of the Korean Baseball Organization has announced the signing of right-hander Raul Alcantara, according to San Kang of Sports Dong-A (hat tip to MyKBO.net's Dan Kurtz).  The contract will pay Alcantara $650K for the coming KBO season.  The…


Here's the last week's worth of original content from the MLB Trade Rumors writing team… A 10-9 win-loss record didn't prevent Jacob deGrom from winning the NL Cy Young Award, though that record could impact what the Mets ace will earn in arbitration this winter.  Matt Swartz, creator of MLBTR's arbitration model, profiles deGrom's unique…


Baseball Blogs Weigh In: FAs, Yanks' SP Pursuit, Giants, D-backs, Mets
This week in baseball blogs… The Fro Zone ranks the top 50 free agents and predicts landing spots for each of those players. The 3rd Man In proposes a Yankees-Indians trade centering on Corey Kluber; The Runner Sports regards James Paxton as a more realistic target than Kluber for New York; and Pinstriped Prospects ponders…


Quick Hits: Astros, Red Sox, Robertson, Girardi, Reds, Snell
The Astros are more focused on the trade market than free agency in their search for starting pitching, per Jon Morosi of MLB.com. Houston's "inquiring on nearly every available starter via trade," Morosi hears. The Astros are already known to have interest in Mariners left-hander James Paxton, who's one of several front-end starters who could…


These 5 teams should trade for Syndergaard
If the Mets make Noah Syndergaard available via trade, he could instantly become the best starting pitcher available -- and recent reports say he might be available. Syndergaard would fit almost anywhere, but here are five teams that could especially use a pitcher like Thor.


Looking ahead at next year's free-agent class
Free-agent season is just getting started, and one of the challenges of assessing free agents sometimes can be separating what they did in the last year of their most recent contract and what they can expect to do in the future.


Cubs in need of major overhaul? Don't be silly
If the Cubs' 2018 qualifies as a train wreck of a season, plenty of teams would sign up. But somehow, in the weeks since the Cubs lost the NL Wild Card Game to the Rockies, the narrative has become that they are broken, that significant change is needed. This is silly.


Poll: Bryce Harper, Manny Machado And The Phillies
On several occasions over the past decade, the Phillies have shown a willingness to spend among the league's elite. However, because the Phillies were recently amid a full-fledged rebuild, the big-market club took major steps backward in the spending department. Last year, with Philadelphia aiming to make a sizable leap in the standings, the team…


Jeff Wilpon On deGrom, Syndergaard, Payroll, Front Office
The Mets aren't yet prioritizing a contract extension for National League Cy Young Award-winning right-hander Jacob deGrom, COO Jeff Wilpon informed Kristie Ackert of the New York Daily News and other reporters Friday. However, the two sides could could begin discussions on a new deal next month. "We'll talk with the new agent here at…


Rosenthal's Latest: Mets, Syndergaard, Rangers, Minor, Orioles
Star right-hander Noah Syndergaard has drawn trade interest this offseason, but if the Mets do deal him, it's not going to be for a package of prospects, Ken Rosenthal of The Athletic reports (subscription required). Rather, because the Mets aim to contend in 2019, they'd need to make a trade that improves their roster both…


Nathan Eovaldi Drawing Widespread Interest
Free-agent starter Nathan Eovaldi has drawn considerable interest on the open market, according to the Boston Globe's Nick Cafardo, who writes that the Brewers, Phillies, Braves, Angels, White Sox, Blue Jays and Giants join the previously reported Red Sox and Padres as early suitors for the right-hander. More teams may join the fray, Cafardo adds.…


How Marwin became the FA every team needs
Marwin Gonzalez appears to be a hot commodity in this free-agent market, and the people who have watched him play or called him a teammate these last seven seasons with the Astros couldn't be happier about that. They're not happy that he may have played his last game for Houston, but they're thrilled for Gonzalez, who has made himself a terrific player with hard work and smarts and a relentless will to succeed.


NL Notes: Braves, Kimbrel, Dodgers, Jansen, Reds
A few items from the National League… Atlanta's a speculative landing spot for closer Craig Kimbrel, who starred with the Braves from 2010-14 and is now the most proven reliever available in free agency. However, barring a drop in Kimbrel's asking price, it's "highly unlikely" he'll rejoin the Braves this offseason, Mark Bowman of MLB.com…


Yankees Notes: Gray, A's, Machado, Relievers, Extensions
Although the Athletics contacted the Yankees about right-hander Sonny Gray at least a week ago, "there is no present momentum in talks" between the teams, Jon Morosi of MLB.com tweets. A return to Oakland would represent a homecoming of sorts for Gray, a 2011 first-round pick of the A's who mostly thrived with the club…


Heyman's Latest: Mets, Machado, Red Sox, Dodgers, Marlins
After the Mets hired Brodie Van Wagenen as their new general manager last month, he declared the team expected to be "in on every free agent" this offseason. Van Wagenen's comment led some to wonder whether the Mets, who could stand to upgrade the left side of their infield, would pursue Manny Machado. However, considering…


Poll: Which Team Will Sign Patrick Corbin?
Free agent lefty Patrick Corbin is arguably the top hurler on the market this offseason.  The former Diamondback timed his ascension to dominance perfectly last season, posting career bests in strikeout rate (11.07 K/9), HR/9 (0.68), FIP (2.47), xFIP (2.61), ERA (3.15), fWAR (6.3) and games started (33) in a pivotal walk year for the…


Where will Keuchel pitch in 2019? Here are 5 good fits
Dallas Keuchel matured through Houston's lean years and then helped anchor their rotation through three postseason runs and a World Series title. Now, it's time for Keuchel to cash in, but which teams would be a fit for him this winter?


Which players could reunite with former clubs?
Sometimes baseball's Hot Stove season provides a reuniting of players with clubs they've played for previously. Here are 11 such reunions (not straight-up re-signings) that could conceivably happen this offseason.


Walk-off home run, injury end AFL title game
The Peoria Javelinas captured this year's Arizona Fall League title with a thrilling extra-innings, walk-off victory over the Salt River Rafters on Saturday at Scottsdale Stadium.


Sources: Reds adding House to coaching staff
The Reds have added another member to new manager David Bell's coaching staff. Sources told MLB.com that J.R. House was hired to be Cincinnati's new third-base coach and catching coach.


Quick Hits: Stroman, Goldschmidt, Orioles, Mariners
The Toronto Blue Jays have not had any serious trade discussions regarding staff ace Marcus Stroman, per the MLB Network's Jon Morosi (via Twitter). That does not mean, however, that teams haven't asked. The Reds, in particular, are one team with noted interest in the Jays' right-hander. This shouldn't surprise anyone, as the Reds have…


Blue Jays Trade Aledmys Diaz To Astros For Trent Thornton
The Houston Astros acquired infielder Aledmys Diaz from the Toronto Blue Jays today. In return, they have sent Triple-A right-hander Trent Thornton to Toronto, per Chandler Rome of the Houston Chronicle (via Twitter). After spending parts of two seasons with the St. Louis Cardinals, the Blue Jays acquired Diaz for minor-league outfielder J.B. Woodman prior to 2018. He…