The Mariners announced today that they have outrighted reliever Mike Morin. That move helped clear the way for two promotions, with first baseman Dan Vogelbach and outfielder John Andreoli joining the active roster. This is the second time Morin has been bumped from the Seattle 40-man roster this season. The 27-year-old righty has recorded six…


Bailey due back Tuesday; what will rotation be?
Assuming there are no setbacks, the Reds plan to activate Homer Bailey from the disabled list for Tuesday's game vs. the Cardinals. What remains to be seen, however, is whether Bailey will be part of a five-man or six-man rotation.


Nationals Reinstate Stephen Strasburg, Ryan Zimmerman
The Nationals have reinstated right-hander Stephen Strasburg from the 10-day disabled list and brought back first baseman Ryan Zimmerman from the 60-day DL, the team announced. To make room for those two, Washington optioned righties Wander Suero and Trevor Gott to Triple-A. Strasburg's back after missing upward of a month with shoulder inflammation, and his…


The Rays have designated outfielder Johnny Field for assignment, Marc Topkin of the Tampa Bay Times reports (Twitter links). That opens 40-man space for the team to select the contract of catcher Adam Moore. Field, 26, debuted this year and posted a .213/.253/.373 slash line with six home runs in 179 MLB plate appearances. Clearly,…


Machado singles in first at-bat with Dodgers
And now Manny Machado can just play a baseball game. After rumors circled and a media circus ensued around Machado and his potential suitors at the All-Star Game presented by MasterCard, the four-time All-Star shortstop was officially introduced as a member of the Dodgers at Miller Park before Friday night's second-half opener versus the Brewers.


Zimmerman back as Nationals return to health
Injuries have been a large factor in a disappointing first half for the Nationals, who return from the All-Star break at 48-48, but they are getting close to full strength and in position -- they believe -- to make a charge toward a third straight division title.


Athletics, Cubs Among Teams Showing Interest In Mets Closer Jeurys Familia
8:00pm: The Cubs are also showing interest in Familia, Jon Heyman of Fancred tweets. 7:37pm: The Athletics are "among the teams hoping to land" righty Jeurys Familia from the Mets, according to a report from Susan Slusser of the San Francisco Chronicle. It seems the Oakland organization is hardly alone, as MLB.com's Anthony DiComo reports that…


Goldschmidt, Ward maintain deep friendship
One award that is no longer in Paul Goldschmidt's possession is the 2015 National League Silver Slugger Award. That one belongs to Dodgers hitting coach Turner Ward. It tells the story of a deep friendship that began well before Goldschmidt became a six-time All-Star and seemingly annual MVP candidate.


CC intends to pitch next year if 'knee holds up'
CC Sabathia will celebrate his 38th birthday on Saturday. Among all starting pitchers in the Major Leagues this year, only Bartolo Colon and Rich Hill are older. But Sabathia isn't talking about retirement yet.


Tatis Jr. may be out for season with thumb injury
Padres top prospect Fernando Tatis Jr., baseball's No. 3 prospect according to MLB Pipeline, hurt his left thumb sliding headfirst into second base on a stolen-base attempt in Double-A San Antonio's 7-4 win over Frisco on Thursday.


Cespedes returns from DL to face Yankees
After more than nine weeks and multiple setbacks, Yoenis Cespedes' stay on the disabled list has come to an end. The Mets activated Cespedes on Friday and planned to insert him in their lineup against the Yankees tonight as their designated hitter.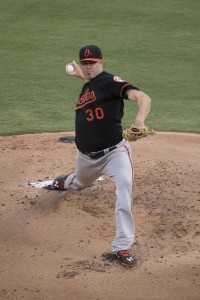 Orioles Designate Chris Tillman
2:49pm: Baltimore has given Tillman an opportunity to continue pitching in its minor league system, but he's undecided as of now, general manager Dan Duquette told Eduardo A. Encina of the Baltimore Sun and other reporters. 2:24pm: The Orioles announced that they've designated right-hander Chris Tillman for assignment. His roster spot will go to infielder/outfielder…


The Tigers have activated outfielder Leonys Martin from the 10-day disabled list, per a club announcement. Fellow outfielder Mikie Mahtook has been optioned to open a roster spot. Martin hit the shelf earlier this month with a hamstring strain. That was especially worrying given that the 30-year-old had already required one prior DL stint this…


Tigers Place Michael Fulmer On 10-Day DL
The Tigers announced this afternoon that they have placed starter Michael Fulmer on the 10-day disabled list. He's said to be dealing with a left oblique strain. It's a surprising placement, as Fulmer had seemingly been on track to remain in the rotation heading out of the All-Star break. Details on the injury are not…


Enjoy the start of the 2nd half with free MLB.TV
MLB.TV, Major League Baseball's live streaming service, is free and available for all out-of-market games through Sunday's schedule. Viewers can simply create an MLB.TV account and enjoy the pitches, hits, catches and celebrations during the first weekend of the season's crucial second half.


Latest On Tigers' Trade Possibilities
11:19am: The Braves have had interest in Fulmer in the past, and he's still "on their radar," Mark Bowman of MLB.com tweets. Atlanta discussed Fulmer with Detroit over the winter, per Bowman, and the Tigers also had reported interest in him last summer. 10:23am: With the Tigers gearing up to sell prior to the July…


Trade Rumors: Andujar, Padres, Cards, J. Martinez, Rangers, Reds
The Yankees were involved in the Manny Machado sweepstakes before the Dodgers acquired him from the Orioles this week, though adding him wouldn't have led New York to trade rookie third baseman Miguel Andujar. Rather, the Yankees simply would have platooned Andujar at first base or sent him down to the minors while Machado played…


Cano will play a lot of first base, Dipoto says
Mariners general manager Jerry Dipoto continues pushing hard to bolster his club as the July 31 non-waiver Trade Deadline approaches, but Seattle finds itself in the unique position of knowing it will also add an eight-time All-Star to its lineup in 25 days when Robinson Cano returns from his 80-game suspension.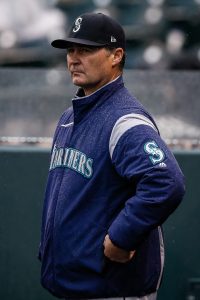 The Mariners announced that they've agreed to a multiyear contract extension with manager Scott Servais. The length of the deal isn't yet known. "Scott has created a culture here in Seattle that allows players to be successful," general manager Jerry Dipoto said of Servais. "They are encouraged to be themselves, which has resulted in a…


B.A.T. aid 'a true blessing' to recipients in PR
Former Major League outfielder Benny Ayala waited eight hours in line at the gas station just like everybody else after Hurricane Maria devastated Puerto Rico. He stood outside of his local bank for four hours for a chance to withdraw money. He experienced the food and water shortages, too.


D-backs unfazed with Machado in LA
The D-backs were the Dodgers' primary contender for the division the last time a menacing Manny went West, in 2008. That time it was Manny Ramirez. This time, Manny Machado.


Carp crushes 3 HRs as Cards rout rival Cubs
Matt Carpenter's historic day at the plate -- three homers, two doubles and seven RBIs -- lifted the Cardinals to a rout over the rival Cubs at Wrigley Field. The Cards tallied seven runs in the fourth inning, which included both of Carpenter's doubles, and Greg Garcia and Yairo Munoz added big flies after Carpenter exited the game. St. Louis starter Jack Flaherty tallied nine strikeouts in five innings, while Chicago's Jon Lester was tagged for eight runs in three-plus frames, his shortest outi


Brewers shifting focus in post-Machado market
What's next for the Brewers after losing the Manny Machado sweepstakes? Trying to contain him at the plate. Not only did they miss out on an All-Star caliber middle infielder -- a pursuit confirmed by Brewers GM David Stearns on Thursday -- but the Brewers have to play Machado's new club, the Dodgers, seven times over the next two weeks. Machado is expected to make his Dodgers debut on Friday night at Miller Park.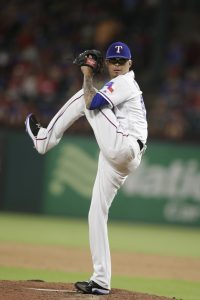 The Cubs have acquired right-hander Jesse Chavez from the Ranges, as Ken Rosenthal of The Athletic first reported (via Twitter). Lefty Tyler Thomas is heading to the Rangers in return. Chavez, 34, is owed $1.5MM on the season under his one-year deal. (That includes an additional $500K over the base $1MM guarantee that was tacked on when…


Rangers Promote Willie Calhoun, Place Nomar Mazara On DL
The Rangers announced today that top prospect Willie Calhoun is headed up to the active MLB roster. He'll take the spot of outfielder Nomar Mazara, who'll hit the DL with a thumb sprain. Calhoun, who came to the Texas organization in last summer's Yu Darvish swap, earned a brief taste of the big leagues late…


The Rays are set to select catcher Adam Moore's contract from Triple-A Durham, per Marc Topkin of the Tampa Bay Times. The club will have to make a corresponding 40-man move to create a spot for Moore, as Topkin notes. The 34-year-old Moore signed a minor league contract with the Rays in February and has…


Machado, Stras, Subway Series kick off 2nd half
The All-Star break might have slowed the Major League schedule for a few days, but it didn't cease the significant action. Not with superstar shortstop Manny Machado getting dealt to the Dodgers literally as the All-Star festivities were unfolding and with the Indians dealing for All-Star closer Brad Hand from the Padres on Thursday. So the ceremonial "second half" began with a transaction-wire bang, and now we're back up and running with a full slate of games this weekend. Here are five topics


Rays starter Chris Archer has been one of the most consistently discussed potential trade chips in baseball for several years, yet he has stayed in Tampa Bay even as many rotation mates have been traded away. Now, though, it could finally be time for a deal to go down, Marc Topkin of the Tampa Bay Times…


Cards could shake up market with Jose Martinez
When it comes to the trade market, the St. Louis Cardinals' status is very fluid. Given their hovering-around-.500 record and surprising recent managerial change, they could buy, hold or sell. If they choose to do the latter, the Cards have at least one very intriguing piece to dangle in Jose Martinez.


10 players whose trade stock is rising
With only less than two weeks until the July 31 non-waiver Trade Deadline, whose stock is on the rise? Here's a look at some players who have seen their value increase.


Cubs ride 5-run 5th to 31st comeback win
Ian Happ smacked a two-run homer to highlight a five-run fifth inning and Jason Heyward had three hits and two RBIs as the Cubs opened the second half with a 9-6 victory over the Cardinals on Thursday at Wrigley Field.


Brewers Sign Richie Shaffer, Rymer Liriano
The Brewers have signed corner infielder/outfielder Richie Shaffer and outfielder Rymer Liriano to minor league contracts, according to Jim Goulart of Brewerfan.net (h/t: Adam McCalvy of MLB.com). Both players will report to Triple-A Colorado Springs. Shaffer had been without a team since the Indians released him June 8, which came after he opened the season…


Yoenis Cespedes Likely To Return Friday
After a two-month layoff, Mets left fielder Yoenis Cespedes is poised to return from the disabled list Friday, Anthony DiComo of MLB.com reports. With the Mets set to play a three-game series at Yankee Stadium, Cespedes will likely slot in at DH over the weekend, per DiComo. Cespedes landed on the DL in mid-May with…


Witt Jr. headlines UA All-America Game
Wrigley Field will host the Under Armour All-America Game for the 11th straight year on Friday. One of two major all-star games on the summer showcase circuit, it will showcase 40 top high school prospects.


Diekman taking trade rumors in stride
Rangers reliever Jake Diekman has been traded once before at the July 31 non-waiver Trade Deadline. He is not going to agonize over the possibility of it happening again.


Cubs acquire righty Chavez from Rangers
Cubs manager Joe Maddon likes versatile players, and he picked up one for his bullpen on Thursday with the addition of right-hander Jesse Chavez, who was acquired from the Rangers for Minor League left-hander Tyler Thomas, a seventh-round Draft pick in 2017.


Mozeliak: Cards 'don't envision' trading pitchers
As others speculate about Carlos Martinez's potential availability at the Trade Deadline, Cardinals president of baseball operations John Mozeliak downplayed the likelihood that the team would deal Martinez or any of the other high-end pitchers they hope to build around.


O's 'barreling ahead' in Britton trade talks
Zach Britton is looking like the next prominent Orioles player to be dealt, as Baltimore continues the full-scale rebuild that began with Manny Machado being sent to the Dodgers on Wednesday. Here's the latest trade news surrounding the O's closer.


Wearing No. 8, Manny set to play short in debut
Superstar slugger Manny Machado will be in the Dodgers' lineup Friday night as Los Angeles opens the second half by hosting the Brewers for a weekend series at Dodger Stadium, according to general manager Farhan Zaidi. The first pitch for Friday's game is scheduled for 5:10 p.m. PT.


The Yankees have activated catcher Gary Sanchez heading out of the All-Star break, per a club announcement. Backstop Kyle Higashioka was optioned to clear a roster spot. Sanchez ended up missing just under a month with a groin strain. Higashioka produced good power numbers (.500 SLG) while joining with Austin Romine to fill in for Sanchez, but…


O's Britton could be difference maker in AL
The bold-faced name in baseball this week is Manny Machado, now that the Dodgers made a bold move and acquired him from the Orioles on Wednesday. But one of his former Orioles teammates might turn out to be more of a difference maker for a contending team than Machado will be for the Dodgers. That would be Zach Britton, who I believe might ultimately be the difference in the American League between the four best teams in the league: Red Sox, Yankees, Astros and Indians.


NL East Rumors: Mets, Braves, Phillies, Realmuto
While the Mets have received substantial interest in both Jacob deGrom and Noah Syndergaard, a trade of either still seems unlikely to happen, per James Wagner of the New York Times (all links to Twitter). The Mets are seeking elite prospects and/or young MLB-ready talent for both pitchers, and it's been tough to find a…


Twins Acquire Jeremy Hazelbaker From Rays
The Twins have acquired outfielder Jeremy Hazelbaker from the Rays organization in exchange for cash, the Twins' top affiliate in Rochester announced today. Hazelbaker, who is not on the 40-man roster, has been assigned to Triple-A Rochester. Hazelbaker, 30, opened the season in the D-backs organization but was quickly traded to the Rays in early…


Keeping track of prospects who have been traded
The Trade Deadline season kicked off with a doozy, as the highly anticipated deal sending All-Star Manny Machado to the Dodgers officially became a reality on Wednesday, the day after the All-Star Game. Deals, or at least rumors of them, will continue right up until the Deadline at 4 p.m. ET on Tuesday, July 31.


Shelby Miller Cleared Of UCL Damage
Diamondbacks righty Shelby Miller has been cleared of any new damage to his surgically replaced ulnar collateral ligament, Jack Magruder of The Sports Xchange reports on Twitter. That's the news the club was hoping for when it sent Miller's MRI results to surgeon Neal ElAttrache. Miller, 27, has only made four starts since working back…


Cubs Place Brandon Morrow On 10-Day DL
The Cubs have placed closer Brandon Morrow on the 10-day disabled list with inflammation in his right biceps. The placement has been backdated to July 16th. There's no indication at present that a lengthy absence is anticipated. Indeed, skipper Joe Maddon suggests the opposite is true, as ESPNChicago.com's Jesse Rogers tweets. Morrow hit the DL…


Cameron becoming gem of Verlander deal
As the Tigers near another July 31 non-waiver Trade Deadline looking to continue restocking their farm system, Daz Cameron, the 21-year-old outfielder, is the kind of athletic offensive prospect the Tigers would love more of.


Cespedes to return from DL on Friday
After more than nine weeks and multiple setbacks, Yoenis Cespedes' stay on the disabled list is about to come to an end. The Mets plan to activate Cespedes on Friday and insert him in their lineup against the Yankees as their designated hitter, according to a source. The team has not confirmed the impending move.


Shohei Ohtani Cleared To Begin Throwing Progression
Angels starter/DH Shohei Ohtani has been cleared medically to resume throwing, per a club announcement. The news came on the heels of his examination after six weeks of rest following stem cell and platelet-rich plasma treatment. Ohtani, who took MLB by storm in his first season after coming over from Japan, hit the shelf in…


The A's announced Thursday that they've released veteran right-handed reliever Santiago Casilla, whom they'd recently designated for assignment. The 37-year-old Casilla had a solid surface-level ERA, pitching to a 3.16 mark through 31 1/3 innings of relief. However, he's issued 20 walks, hit four batters and thrown four wild pitches in that time while striking…


Braves Designate Danny Santana For Assignment
The Braves announced Thursday that they've recalled outfielder Michael Reed from Triple-A Gwinnett and designated fellow outfielder Danny Santana for assignment in order to open a spot on the roster. Santana, 27, has spent parts of the past two seasons on the Braves' big league roster, but he hasn't produced at the plate, hitting just…


Post-Manny deals to look for in the NL West
The days leading up to the July 31 non-waiver Trade Deadline always feature a handful of twists and turns. Even for those involved in the day-to-day operations of clubs, the Deadline can be hard to predict.


Which club is the new No. 1 in Power Rankings?
As the second half gets underway -- and we use the term "half" lightly, considering teams have already played around 95 games -- interesting storylines surrounding the 15 or 16 teams that are realistically in contention are everywhere.


These deals hit a snag before reaching fruition
The problem with almost-trades, those would-be, baseball-altering deals that almost happen, is that you can never be sure how close they really came. Baseball circles are filled with idle trade talk.


Riggleman talks managing Reds' turnaround
In a recent phone interview with MLB.com, Reds interim manager Jim Riggleman answered questions on a wide range of topics, from his managerial style to his respect for Reds ownership.


Indians deal for ace reliever Brad Hand
The Indians have acquired All-Star closer Brad Hand and right-handed reliever Adam Cimber from the Padres for catcher Francisco Mejia, their top prospect and the No. 15 prospect in all of baseball according to MLB Pipeline.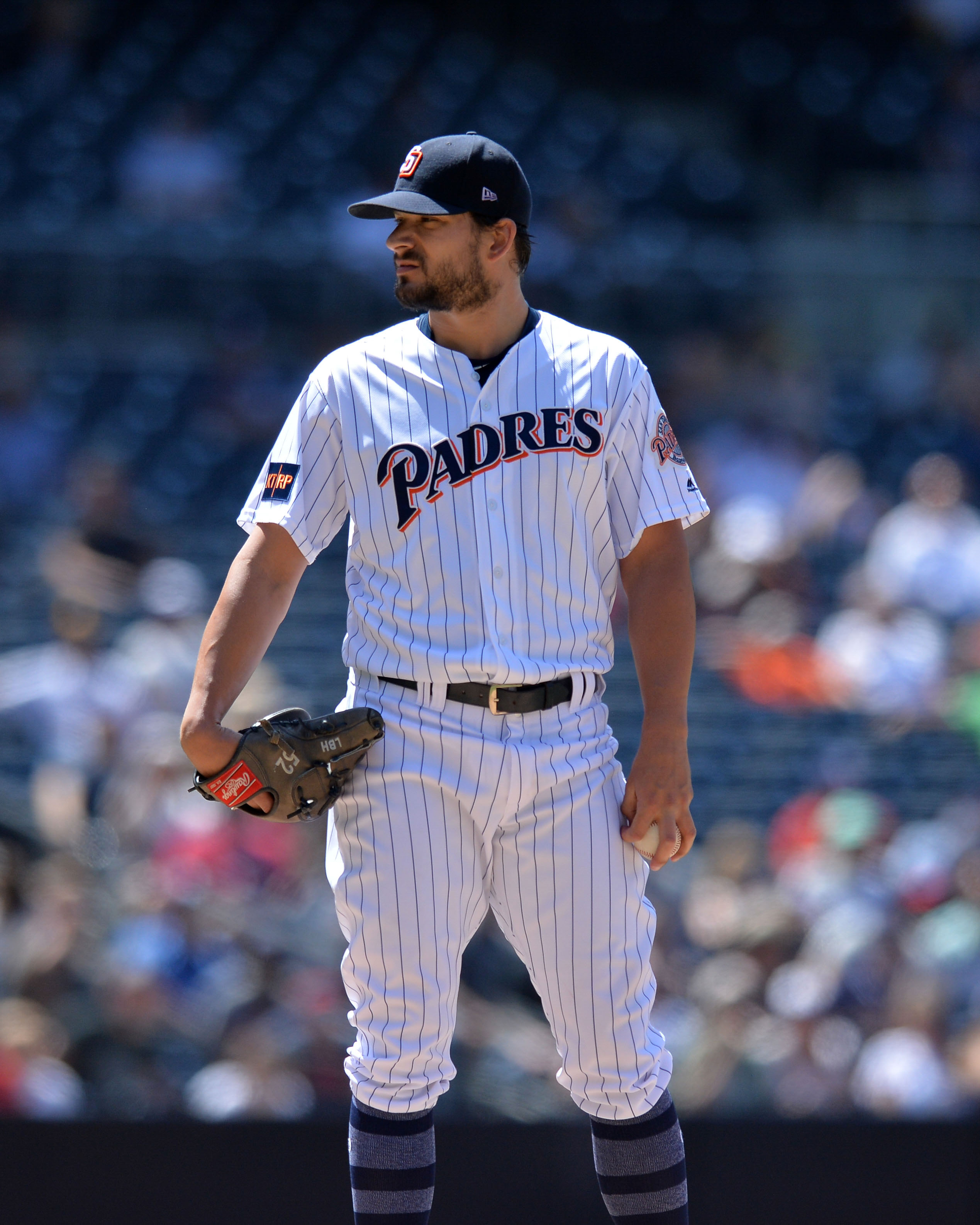 Indians Acquire Brad Hand, Adam Cimber For Francisco Mejia
In a sudden and abrupt development, the Indians and Padres announced a blockbuster trade Thursday that will send one of baseball's best relievers, Brad Hand, and emerging setup man Adam Cimber from San Diego to Cleveland in exchange for catcher/outfielder Francisco Mejia — one of the top-regarded prospects in all of baseball. The Indians' desire to…


Trade Rumblings: Hand, Dodgers, Dozier, Heaney, Skaggs
Though the Phillies lost out to the Dodgers in the Manny Machado sweepstakes, they're far from done looking for upgrades to their ballclub. Dennis Lin of The Athletic tweets that the club is interested in Padres reliever Brad Hand. As Lin notes, there are certainly many other clubs in competition for the lefty's services; he's easily…


What could happen in NL East at Deadline
As the Nationals enter the second half attempting to live up to expectations and defend their National League East crown, they are looking up at the Phillies, who want to make a significant acquisition, and the Braves, who have the prospect currency necessary to make a big deal before the July 31 non-waiver Trade Deadline.


B.A.T. working to find solutions in Puerto Rico
The bond between Major League Baseball and Puerto Rico is a strong one, and it's filled with passion and lots of history. And like a true family, the two sides have come together in a time of need. The Baseball Assistance Team (B.A.T.) stepped up to help Puerto Rico after Hurricane Maria devastated the island last year.


These aces lead our poll for Cy Young Awards
Chris Sale has been close before, finishing second in American League Cy Young Award voting last season and finishing third in 2014. In the past six seasons, he has finished in the top six every year. In short, Sale has done everything except win an actual AL Cy Young Award itself.


One bold second-half prediction for every team
Here are second-half predictions for every MLB team. Some involved on-field performance; some guesstimate about trades; some are just goofy. But you have questions about the second half. We have some probably wrong, but hopefully entertaining answers.


Complete guide to trade market for pitchers
In 2018, there's little consensus about which high-end pitchers are truly available -- especially among starters -- let alone where they might be heading. So perhaps the conditions are ripe for a blockbuster, the sort of landscape-changing deal no one sees coming.


Duquette: Machado Trade Marks Beginning Of Rebuild
The trade of Manny Machado to the Dodgers will be the first of many for the Orioles, as executive vice president/general manager Dan Duquette told reporters in a conference call Wednesday night that the Orioles are set to embark on a rebuild of both their on-field product and their baseball operations and scouting staffs (links…


Pham's homer leaves Wrigley Field
Starting as the Cardinals' eight-hole hitter for just the second time this season, Tommy Pham obliterated a 79.1-mph changeup from Cubs starter Kyle Hendricks for a second-inning solo homer the left Wrigley Field and gave St. Louis a 2-0 lead on Thursday.


O's get Futures Game star in haul for Machado
The rumors, speculation and wondering has come to an end. The barrage of questions over. Manny Machado exited Nationals Park after the 2018 All-Star Game presented by Mastercard on Tuesday night as a member of the Orioles for the final time, with a deal between Baltimore and the Los Angeles Dodgers consummated on Wednesday night.


The best players ever traded in July
Manny Machado is on his way out of Baltimore, and that's a pretty big deal. It's extremely rare to see players of Machado's talent level get moved in July -- rare enough that it's worth looking back through history to see when this happens and how it turned out.


Machado will be in lineup to open second half
General manager Farhan Zaidi said Manny Machado will be in the lineup Friday night in Milwaukee when the Dodgers resume play. He's likely to be at shortstop, but with Justin Turner having missed the last four games with a tight adductor, Machado just as easily could be starting at third base.


Trade Deadline strategies for all 30 teams
Now that we're halfway through the season, and the groundwork is set, buyers, sellers and hopefuls are coming into focus ahead of the July 31 non-waiver Trade Deadline.


Showalter fondly recalls Machado's O's tenure
After Buck Showalter had watched Manny Machado play third base and shortstop for him, play 860 regular-season games across seven years -- seven more games in the postseason -- they both knew they were saying goodbye in Showalter's office last Sunday afternoon, after all the rumors about Machado that have dominated the season in Baltimore as much as all the losing has.


Ramos to DL, likely out past Trade Deadline
MLB.com's Bill Chastain has learned that the Rays placed catcher Wilson Ramos on the disabled list Wednesday (retroactive to Sunday) with a left hamstring strain, and also reinstated left-handed reliever Jose Alvarado from the family medical emergency list.