Injury Notes: Gomez, Sanchez, Marte, Bird, Prado
Rays outfielder Carlos Gomez has been activated from the 10-day disabled list; he'd been sidelined since May 16th with a strained groin. The injury was thought to be minor at the time, and the fact that Gomez missed only the ten-day minimum leaves little room to doubt his health at this time. That doesn't mean his…


Quick Hits: Colon, Bibens-Dirkx, Odor, Rangers, Anthopoulos, Bae
Timeless right-hander Bartolo Colon celebrated his 45th birthday this week, so he'll soon become just the 18th player in major league history to pitch in the majors beyond that benchmark. Colon is also the oldest to hurl a pitch since Jamie Moyer back in 2012. Value metrics are divided on his effectiveness so far this…


Pirates Activate Starling Marte, Option Jose Osuna
After reporting earlier today that Starling Marte could be activated from the DL if he felt good upon arrival to PNC Park, Adam Berry of MLB.com tweets that Marte has indeed been reinstated, with the Pirates optioning first base/outfield type Jose Osuna to the minors. The quick DL stint for Marte is obviously best-case scenario…


Bullpen digs in late as Blue Jays hold off Phils
Justin Smoak hit a two-run homer in a three-run fifth inning, part of five Toronto extra-base hits, and the Blue Jays held off the Phillies' late push for a 6-5 win on Friday night at Citizens Bank Park. Sam Gaviglio had a quality outing in his second start of the season, but the Blue Jays nearly coughed up a five-run lead. Ryan Tepera was able to work out of a bases-loaded jam in the ninth to shut the door on the Phillies, who got home runs from starting pitcher Zach Eflin and first baseman Car


Vlad Jr. goes back-to-back with Bichette
Vladimir Guerrero Jr. continued to torment Minor League pitching on Friday night as he went back-to-back with Bo Bichette for his 10th homer of the season in Double-A New Hampshire's 10-3 win over Hartford on Friday.


Cardinals Activate Tyler Lyons, Carson Kelly; Place Greg Holland On DL
The Cardinals have made several injury-related moves, activating lefty reliever Tyler Lyons and catcher Carson Kelly while simultaneously moving righty reliever Greg Holland to the 10-day DL. The club also optioned catcher Steven Baron to Triple-A Memphis in a related move. There's no word yet as to the nature of Holland's injury, though he's certainly…


Rox start homestand on high note, edge Reds
Nolan Arenado hit his ninth homer of the season, and Noel Cuevas hit a tie-breaking, pinch-hit RBI triple in the sixth as the Rockies edged the Reds 5-4 on Friday to start their nine-game homestand. Jon Gray allowed four runs in six innings, striking out eight to pick up his fifth win.


D-backs bats come to life by Bay to halt skid
The D-backs collected 12 hits as they busted out of their offensive funk at the plate and snapped a seven-game losing streak with a 7-1 win over the A's on Friday night at Oakland Coliseum. Nick Ahmed homered in the win, as Patrick Corbin went seven innings, allowing just one run while striking out seven en route to his fifth win.


The Twins have released first baseman/outfielder Brock Stassi, per Mike Berardino of the St. Paul Pioneer-Press (via Twitter). His roster spot at Triple-A Rochester will got to just-acquired slugger Chris Carter. Stassi, 28, crafted a nice story when he earned a roster spot out of camp with the Phillies last year. But he failed to succeed…


Gleyber homers in 4th straight, makes history
Gleyber Torres delivered a go-ahead blast, becoming the youngest player in AL history to homer in four consecutive games, and Aaron Judge uncorked a pair of impressive throws from right field on Friday night to help the Yankees win the series opener with the Angels. Andrew Heaney and Luis Severino both turned it over to the bullpens in the 7th inning with the game tied at 1, with Torres notching his first RBI on an infield single and the Halos' run coming on Mike Trout's 16th homer.


Castellanos leads Tigers' late charge to victory
The Tigers opened a 12-game homestand with the kind of comeback that they've become known for this season. Nicholas Castellanos' game-tying double and go-ahead run capped a three-run eighth inning off ex-teammate Bruce Rondon, sending Detroit to a 5-4 win over the White Sox on Friday night at Comerica Park. Tim Anderson hit his eighth homer of the year for Chicago.


Shaw's big night keys win in extras vs. Mets
Travis Shaw drove in three runs in the Brewers' 4-3 win over the Mets at Miller Park on Friday. He homered and notched an RBI single against Noah Syndergaard before drawing a walk-off walk in the 10th inning.


Paxton racks up 11 K's as Mariners nip Twins
James Paxton continued his masterful May for the Mariners on Friday, firing seven innings of one-run ball as Seattle topped the Twins, 2-1, in the series opener at Safeco Field. The big lefty held Minnesota to three hits with 11 strikeouts and no walks in a 103-pitch gem, putting his season record at 4-1 with a 3.10 ERA.


Musgrove twirls 7 scoreless to win Bucs debut
Joe Musgrove, who spent two months working his way through Minor League starts, made his first start for the Pirates on Friday night at PNC Park, and delivered a gem. The right-hander fired seven scoreless innings, struck out seven, recorded his first Major League hit and scored a run as the Pirates' bats broke out late in an 8-1 win over the Cardinals. Center fielder Austin Meadows went 2-for-4 with a triple, giving him 13 hits in his first seven Major League games.


Trout homers into 2nd deck -- in right field
Mike Trout belted his 16th home run of the season in the fifth inning of the Angels' series opener against the Yankees on Friday night at Yankee Stadium, leaving him tied for second in the Majors in homers.


Finch provides guidance at Breakthrough Series
For Jayden Clark, the opportunity to showcase her skills and learn from Olympic gold medalist Jennie Finch at the annual Softball Breakthrough Series helped the Florida prep athlete achieve her dream of playing softball in college.


Nimmo robs Yelich with terrific diving catch
Left fielder Brandon Nimmo made a diving catch to rob Christian Yelich of a hit in the bottom of the first on Friday at Miller Park. With an 18-percent catch probability, according to Statcast™ data, it was a five-star grab.


Minor plays major role as Rangers even set
Mike Minor yielded four runs over six innings, but the Rangers belted three home runs to help the lefty beat his former club and even the series against the Royals. Shin-Soo Choo went deep in the first before Ronald Guzman and Nomar Mazara added two-run jacks off Eric Skoglund, who dropped to 1-5 with the loss. Mike Moustakas and Jorge Soler went deep for the Royals.


Local product Taylor sparks Nats to win in Miami
Michael A. Taylor homered and later hit a leadoff double in a three-run seventh inning as the Nationals won the series opener against the Marlins. Matt Adams also went deep off Jose Urena to support Max Scherzer, who gave up four runs over six innings for his Major League-leading eighth victory. Bryce Harper drove in two with a double in the decisive seventh.


Stripling fans 10 Padres as Dodgers stay hot
Ross Stripling struck out a career-high 10 and got home runs from Matt Kemp and Enrique Hernandez as the Dodgers topped the Padres, 4-1, on Friday night at Dodger Stadium for their seventh win in their last eight games. In a losing effort, Clayton Richard turned in his fourth straight start of at least six innings for San Diego.


Injury Notes: Prado, Murphy/Goodwin, DeJong, Casilla, Trumbo, More
It seems that Marlins infielder Martin Prado has suffered a rather significant left hamstring injury, as Clark Spencer of the Miami Herald reports. The 34-year-old has endured a run of significant problems with his hamstring muscles in the past year or so. Details aren't yet known, but it certainly sounds as if Prado will be sidelined for…


Rangers evaluating Lincecum's return off DL
Veteran right-hander Tim Lincecum is eligible to come off the disabled list on Monday, but the Rangers aren't certain he'll be ready. Lincecum is on a 30-day medical rehabilitation assignment with Triple-A Round Rock and that doesn't expire until June 5. The Rangers may wait until that date before making a decision.


Moreland, Swihart to receive more playing time
In the wake of the Red Sox designating Hanley Ramirez for assignment on Friday, the door has now opened for the likes of Mitch Moreland and Blake Swihart to garner more playing time for the club.


Kershaw could return next week; Hill 'antsy'
Clayton Kershaw will throw a simulated game on Saturday as planned, and he will have company, as another Dodgers starting pitcher itching to return, Rich Hill, will join him on the mound.


Phillies pitcher Eflin goes oppo for 1st HR
Zach Eflin took the first pitch he saw from Blue Jays starter Sam Gaviglio in the third inning, an 86-mph sinker. On the next pitch, another sinker, Eflin crushed his first career home run into the Phillies' bullpen.


Pirates Designate George Kontos
The Pirates have designated righty George Kontos for assignment, the club announced. His roster spot was needed for the activation of fellow right-hander Joe Musgrove from the DL. Kontos, 32, had turned in a nice showing last year upon arriving in mid-season, and has generally produced excellent earned-run averages in the majors. But his peripherals…


Wily Hendricks stifles SF as Cubs break out late
Kyle Hendricks dominated the Giants over seven innings, and Ben Zobrist and Kris Bryant delivered two-run hits in the seventh to lead the Cubs at Wrigley Field. San Francisco starter Derek Holland had limited Chicago to just one run through six, but he departed two batters into the pivotal seventh inning. Gorkys Hernandez homered for the Giants.


6 potential landing spots for Hanley
Hanley Ramirez was designated for assignment by the Red Sox on Friday, bringing his stint in Boston to a close earlier than expected. So where might Ramirez wind up? Here's a look at a half-dozen clubs that could make a play for Ramirez if (when?) he hits the open market.


MLB reveals plans for Memorial Day donations
Major League Baseball is adjusting the way it recognizes Memorial Day this season -- specifically in how it distributes charitable contributions -- in an effort to lend its financial support to those who have been directly affected by the loss of a military loved one.


Rene Rivera Undergoes Knee Surgery
Angels catcher Rene Rivera has undergone surgery to repair a torn meniscus, the club announced (h/t Jeff Fletcher of the Orange County Register, on Twitter). He's expected to miss four to six weeks of action. Rivera inked a one-year, $2.8MM deal with the Halos over the winter. Long valued for his glovework, he has been…


Cespedes adds running to baseball activities
Slow to return from a strained right hip flexor, Yoenis Cespedes made significant progress Friday when he began a running progression on the field at Miller Park. Previously, Cespedes had been limited to hitting and throwing, without attempting to run on his injured leg.


Rivera out 4-6 weeks after knee surgery
Rene Rivera underwent surgery to repair a torn meniscus in his right knee in Los Angeles on Friday, leaving the Angels without their primary backup catcher for an estimated four to six weeks.


Pirates designate Kontos for assignment
Pittsburgh designated Kontos for assignment on Friday to make room on the roster for starter Joe Musgrove. He struggled to a 5.03 ERA and 1.42 WHIP this year, losing his grip on the setup role he earned down the stretch last season.


Mariners acquire Colome, Span from Rays
General manager Jerry Dipoto moved to bolster both the Mariners' bullpen and outfield depth on Friday with a two-for-two trade with the Rays, acquiring Tampa Bay closer Alex Colome, veteran center fielder Denard Span and cash for Minor League starters Andrew Moore and Tommy Romero.


Cardinals Unlikely To Put Innings Limit On Alex Reyes
Alex Reyes' rehab stint as he makes his way back from Tommy John surgery has been the stuff of legend. The vaunted prospect has fired 23 scoreless innings with a ridiculous 44-to-7 K/BB ratio in that time and, in what is almost certain to be his final rehab appearance, punched out nine consecutive hitters last…


These are the 10 most exciting players in MLB
Here's one man's list of baseball's 10 most exciting players. No team is represented more than once, which took some deserving players out of the running. We'll offer a hat tip to them after the Top 10 list.


The Rays have announced the acquisition of righty Wilmer Font from the Athletics. Minor-league righty Peter Bayer will go to Oakland in return. Font had recently been designated for assignment by the A's. His stop there hasn't been any better than his opening to the season was with the Dodgers. In 17 innings this year,…


These are the top 200 Draft prospects
As teams worked on their boards, the MLB Pipeline staff worked to expand theirs and those efforts are reflected in the new Draft Top 200 list, an expansion and reshuffling of the Top 100 list released a month ago.


Will trade for an ace shake up playoff race?
Of all the stars that move on every year leading up to the non-waiver Trade Deadline, few have the same impact as a No. 1 starter. Who could be this year's version of a season-altering acquisition?


Eovaldi to be activated for Tuesday start vs. A's
Nathan Eovaldi will be activated from the disabled list to start for the Rays on Tuesday night in Oakland. The 28-year-old right-hander hasn't pitched in the big leagues since 2016 with the Yankees after having Tommy John surgery on his right elbow.


Tigers activate Candelario from DL
The Tigers' lengthy disabled list shrunk by a player on Friday. With Jeimer Candelario's return, the Tigers also gained one of their most valuable bats in the middle of the order.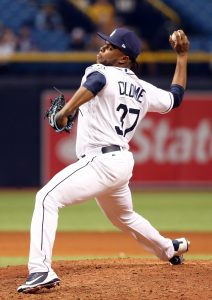 Mariners Acquire Alex Colome, Denard Span
7:24pm: The Mariners will receive $4.75MM from the Rays, per Tim Booth of the Associated Press (via Twitter), an amount that rather significantly alters the math of the trade. 5:16pm: In a stunning early-season swap, the Mariners have acquired reliever Alex Colome and outfielder Denard Span from the Rays, as Marc Topkin of the Tampa Bay…


Acuna, Markakis swap positions vs. Boston
Though he has experienced some recent offensive struggles, Ronald Acuna Jr. has spent the first month of his career establishing himself as one of baseball's most talented and exciting defenders. The 20-year-old phenom will spend this weekend being challenged by Fenway Park's spacious and non-symmetrical right field.


The Yankees announced on Friday that they've released first baseman/outfielder Adam Lind for the second time this year. Lind inked a minor league pact with the Yankees during Spring Training and was released to pursue other opportunities, though he ultimately landed back with the Yanks on a second minor league pact. That seems unlikely this…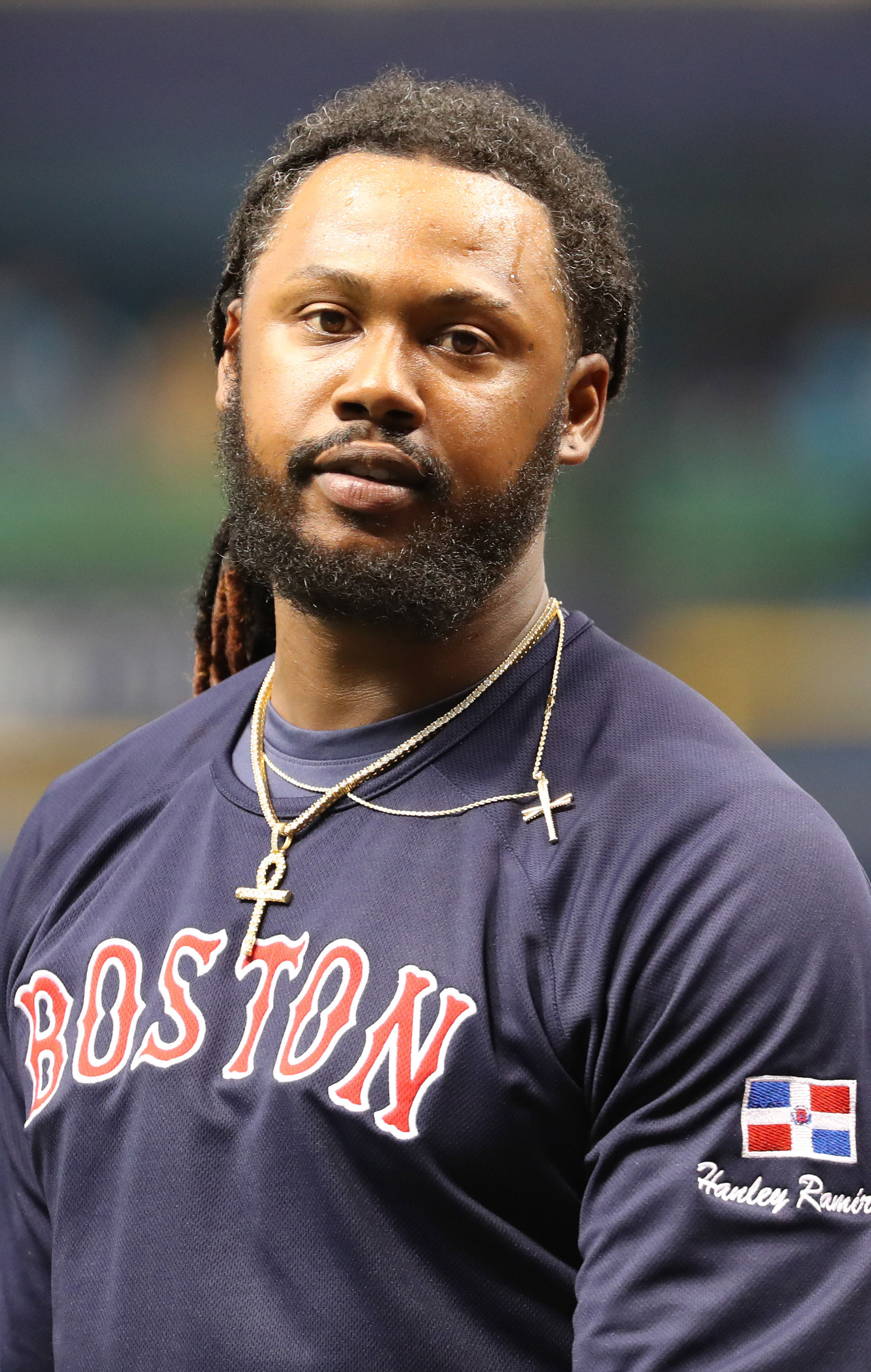 Red Sox To Designate Hanley Ramirez For Assignment
In a surprising move, the Red Sox will designate first baseman/designated hitter Hanley Ramirez for assignment today in order to clear a spot on the roster for Dustin Pedroia, Alex Speier of the Boston Globe reports. Though the move is jarring considering the fact that Ramirez opened the season as Boston's No. 3 hitter and showed…


Brewers Acquire Erik Kratz, Designate Jett Bandy, Option Orlando Arcia
The Brewers made a significant series of roster moves on Friday, acquiring veteran backstop Erik Kratz from the Yankees in exchange for cash and designating Jett Bandy for assignment to clear a spot on the roster. Both teams have announced the trade. Additionally, Milwaukee announced that shortstop Orlando Arcia and righty Jorge Lopez have been…


Podcast: When is time right for Vlad Jr.?
MLB Pipeline's Jim Callis and Jonathan Mayo, along with MLB.com's Tim McMaster, weigh in on the homer-filled big league debuts of Juan Soto, Willy Adames and Austin Meadows. The guys also discuss when the right time is for Vladimir Guerrero Jr. to make his debut. With just 10 days to go before the MLB Draft, they talk about the best tools in this year's MLB Pipeline Top 200 Draft Prospects list.


Dombrowski, Cora On Decision To Remove Hanley Ramirez From Roster
Red Sox president of baseball operations Dave Dombrowski and manager Alex Cora each addressed the media today following the team's decision to designate first baseman Hanley Ramirez for assignment. All links below are to the Twitter accounts of Jason Mastrodonato of the Boston Herald, Alex Speier of the Boston Globe, and Rob Bradford of WEEI.com,…


Rangers Acquire Michael Roth; Kevin Jepsen Elects Free Agency
The Rangers have acquired lefty Michael Roth from the Cubs, according to a club announcement. He had been pitching on a minor-league deal. In other Ranger reliever news, the club announced that righty Kevin Jepsen has elected free agency rather than accepting an outright assignment. He had been designated for assignment recently. Roth, 28, last…


BREAKING: Red Sox part ways with Hanley
The Red Sox will designate Hanley Ramirez for assignment on Friday, according to a report from Alex Speier of the Boston Globe. The team has not commented.


Williamson off DL, promptly nails runner at home
The Giants activated Mac Williamson from the disabled list Friday and immediately installed him in left field for the series opener against the Cubs. Williamson hadn't played for the Giants since April 24, when he sustained a concussion in a collision with the left-field wall.


Cards don't plan to place restrictions on Reyes
Cardinals officials are hesitant to commit to Alex Reyes' exact return day, though Tuesday in Milwaukee appears the most likely candidate. Reyes will not be under any pitching restrictions.


Nimmo an on-base machine as Mets cruise
Brandon Nimmo extended his on-base streak to eight straight plate appearances in a 4-for-4 night, tallying a single, two doubles and a triple to lead the Mets' 13-hit attack and back Steven Matz in a shutout of the Brewers at Miller Park.


Bregman, Marisnick power Astros' win with HRs
After falling into an early hole, the Astros were able to power their way back against the Indians on Thursday at Progressive Field. Alex Bregman and Jake Marisnick clubbed three-run homers in back-to-back innings to help Houston pull away en route to an 8-2 win over Mike Clevinger and the Tribe. Astros righty Charlie Morton moved to 7-0 with six solid innings, allowing only a two-run single to Michael Brantley, who extended his hitting streak to 13 games.


AL Central Notes: Sano, Giolito, Tigers
The Twins announced Thursday that they've reinstated Miguel Sano from the disabled list after a 24-game absence due to a hamstring strain. Outfielder Jake Cave, whom the team acquired in a spring swap with the Yankees, has been optioned back to Triple-A Rochester to clear a spot on the active roster for the slugging third…


Epstein: Machado Speculation "In Fantasy Land At This Point"
There's been plenty of buzz about the Orioles' poor start to the season and the impending free agency of Manny Machado, with seemingly countless reports connecting Machado to various teams throughout the league. The Cubs have been perhaps the most oft-cited match for Machado, but in a radio appearance on the Mully & Hanley show…


Davies escapes jam on scary comebacker
Brewers starter Zach Davies, activated off the 10-day disabled list earlier Thursday, escaped a bases-loaded jam in the first inning of a 5-0 loss to the New York Mets at Miller Park when he knocked down a scorching comebacker off the bat of Devin Mesoraco.


Cards prospect Reyes dominates in final rehab start
More than 15 months removed from Tommy John surgery, Reyes' return to the big league rotation had been scheduled for next week, no matter how he performed for Triple-A Memphis. Then, he went and struck out 13 batters -- including nine in a row during the middle innings -- in a 7-4 win over the Oklahoma City Dodgers.


Tulo cleared for next step, still 'a ways away'
Troy Tulowitzki was cleared to take the next step in his rehab process after meeting with a foot specialist this week. The Blue Jays shortstop had a "great" consultation and was cleared to run on flat ground as he continues to work back from surgery, the team announced. Tulowitzki had a procedure to remove bone spurs from both of his feet in early April.


Blue Jays Notes: Deadline, Vlad Jr., Osuna
The Blue Jays' recent skid — they're 2-8 in their past 10 games and now sit at 23-27 on the season — could force the team's front office to make some tough decisions in the coming months, writes Ken Rosenthal of The Athletic (subscription link). While there's certainly still time to turn things around, the…


West Notes: Ross, Rockies, Beltre, Gonzales
Tyson Ross spoke recently with Kevin Acee of the San Diego Union-Tribune about the likelihood that he'll be traded by the Padres at some point in the near future. Ross spoke like a pitcher who is anticipating that he'll be traded, though he notes that his experience with the Padres in 2015 taught him that there…


MLB Daily Roster Roundup: Braun, Castillo, Davis, Iglesias, Sano
ROSTER MOVES BY TEAM (May 23rd-May 24th) NATIONAL LEAGUE CINCINNATI REDS | Depth Chart Placed on 10-Day DL: RP Raisel Iglesias (strained left biceps), RP Austin Brice (strained back) Activated from 10-Day DL: RP Michael Lorenzen Lorenzen, Jared Hughes, Amir Garrett, David Hernandez and Wandy Peralta are all in the mix for saves while Iglesias is out.…


Hit up the middle for KC's Torres becomes LL HR
With a runner on and two out in the second inning on Thursday, Royals' No. 9 hitter Ramon Torres hit a routine chopper up the middle off Rangers starter Austin Bibens-Dirkx that suddenly turned into two runs when center fielder Delino DeShields let the ball roll through his legs.


Duffy dazzles as Royals roll past Rangers
Danny Duffy sizzled over 7 2/3 strong innings and Salvador Perez helped the lefty with four RBIs as the Royals rolled in the opener of a four-game series. Whit Merrifield drove in two runs, while Ramon Torres set an early tone with a Little League homer as his single up the middle got past Rangers center fielder Delino DeShields for a three-base error and two early runs.


Rodon still on track after struck in head by liner
Carlos Rodon was forced to exit his Minor League appearance early after being struck by a comebacker in the third inning of a rehab start at Triple-A Charlotte. The 25-year-old lefty suffered a head laceration that required several staples, but he remains on track to make his next scheduled start for Charlotte.


Rays' offense clicks to back stellar Snell
On a night when the offense broke loose, Blake Snell grabbed the spotlight in the Rays' 6-3 win over the Red Sox on Thursday night at Tropicana Field, fanning eight in six scoreless innings. The Red Sox made things interesting in the ninth, scoring a pair of runs, but the Rays fended off the rally.


This weekend: Ohtani hits vs. Tanaka, Cole-Bauer
To the baseball gods, we offer thanks for a moment this weekend cool enough to ripple across two continents. We've even got a proper amount of time to prepare for Shohei Ohtani the hitter vs. Masahiro Tanaka.


Davis on Palmer's criticism: 'It bothers me'
A day after Orioles Hall of Famer and long-time television analyst Jim Palmer questioned how much work Chris Davis had done with hitting coach Scott Coolbaugh in the offseason and said Davis was suffering from paralysis from over-analysis, Davis responded by saying he is disappointed by Palmer's criticism.


Key takeaways from MLB study of HR rates
In a report of findings released by Major League Baseball on Thursday and available at MLB.com, an independent independent of experts concluded its research had achieved "partial success," in that it had discovered that reduced drag on the baseballs was responsible for the rising home run rate but had not found any changes in properties of the balls that could account for the reduced drag.


Bauer praises Cole, looks forward to matchup
It is no secret that Indians starter Trevor Bauer and Astros starter Gerrit Cole did not get along during their days as a prolific collegiate pitching duo for the UCLA Bruins. Much has been made over the years of that history, but Bauer took a step toward trying to move on prior to Thursday's game against Houston.


Castillo keeps rolling behind slam to beat Bucs
Luis Castillo saved a taxed bullpen in a 5-4 win over Pittsburgh at Great American Ball Park on Thursday afternoon. Castillo pitched six innings and gave up two earned runs on four hits with two walks and five strikeouts. The right-hander was granted an early lead thanks to a Eugenio Suarez grand slam, his eighth homer of the season, and the second slam of the series for the Reds. Despite a late-inning scare, Amir Garrett and Jarrett Hughes combined to seal the game in the ninth and reward the R


Brewers giving fans reason to be excited
I'm not sure there's a more underrated fanbase in Major League Baseball than those in Milwaukee -- one of the smallest markets in game, maybe even the absolute smallest.


MLB Releases Study On Home Run Rate
Major League Baseball has released a scientific study that was designed to examine "possible causes of the surge in home run rate in Major League Baseball in the past several years," as its abstract puts it. The study itself is available at this link. Those interested in reading an independent breakdown should check out the…