AL Central Notes: Twins, Greiner, McCann, Indians, White Sox
While the hires of chief baseball officer Derek Falvey and GM Thad Levine brought a more analytical approach to the Twins' roster construction process, Minnesota is also overhauling its strength & conditioning and sports medicine staffs to make greater use of data and analytics, as Dan Hayes of The Athletic explores in a fascinating look…


Morton Plans To Continue Playing, Would "Love" To Return To Astros
If there was any doubt as to whether Charlie Morton would continue his playing career following comments in which he openly pondered retirement, the right-hander indicated last night that he hopes to return for a 12th big league season at the very least (Twitter link via Chandler Rome of the Houston Chronicle). "I'd love to keep…


Start times set for World Series games
Major League Baseball today announced FOX's broadcast schedule for the 2018 World Series, which is set to begin on Tuesday at Fenway Park and is presented by YouTube TV.


Best Hot Stove value may come via trade
When we talk about the Hot Stove, we tend to focus on free agency, and there's plenty of good value to be had there. But we're starting to see that teams may prefer to focus on trades, so let's look at the upcoming offseason's best trade targets.


Will Machado's bumpy week affect his value?
Over the past several days, Manny Machado scored the winning run in the 13th inning of a National League Championship Series game, told Ken Rosenthal that hustling to first base is not his "cup of tea," slid impermissibly into second base, and was described as "a dirty player" by the presumptive National League MVP Award winner. Will fresh evidence of Machado's flaws -- particularly his admission to Rosenthal that he should "[give] a little more effort" on the field -- cost him in free agency th


NL West Notes: Rockies, Myers, Hundley
In looking ahead to the future of the Rockies' outfield, Kyle Newman of the Denver Post suggests that the Rockies are likely to move Charlie Blackmon, whose defensive ratings in center field plummeted in 2018, to left field in favor of David Dahl next season. The two appear to be locks to be in the…


Priceless! Lefty sends Red Sox to World Series
Pitching on three days' rest after a start for the first time in his career, David Price notched his first win in 12 career postseason starts as the Red Sox dethroned the defending World Series champion Astros in Game 5 of the American League Championship Series. Over six innings, the lefty allowed three hits and no runs while walking none and notching nine strikeouts. J.D. Martinez and Rafael Devers went yard, while Jackie Bradley Jr. was named the ALCS MVP.


Cora's birthday party is one for the ages
It's difficult to imagine Alex Cora having a happier birthday. The Red Sox manager guided his team to a 4-1 victory over the Astros in Game 5 of the American League Championship Series, winning the franchise's 14th pennant and its first since winning the World Series in 2013.


Red Sox cut above with another AL pennant
That's four American League championships in 15 seasons for the Boston Red Sox if you're keeping track. Think about that for a moment. Baseball has never had more parity than right now, but the Sox constantly restock and roll on, making the playoffs this season for the 10th time since 2003. No other franchise can match Boston's four pennants in this stretch. This isn't one generation of players, either. It's at least three, maybe four, and that's the thing that separates some franchises from oth


Astros' title defense ends with ALCS loss to Sox
After the Astros charged into Fenway Park and stole Game 1 of the AL Championship Series, the Red Sox stopped the back-to-back tour cold in its tracks with the kind of dominating pitching and relentless offense that Houston hoped would be its ticket into the Fall Classic. Behind six scoreless innings from an overpowering David Price and homers from J.D. Martinez and Rafael Devers off ace righty Justin Verlander, the Red Sox eliminated the defending World Series champs with a 4-1 victory in Game


Devers, J.D. HRs power Sox's pennant clincher
J.D. Martinez's third-inning homer off Justin Verlander started the scoring, and Rafael Devers' three-run homer off the Astros' ace in the sixth inning on Thursday night gave the Red Sox a 4-0 lead as they try to wrap up the American League Championship Series and return to the World Series for the first time since 2013.


Moore On Royals' Offseason, Future Outlook
The Royals' rebuild won't be a lengthy endeavor if general manager Dayton Moore has his way. The veteran front office exec addressed the media today and covered a number of offseason-related topics (links via Sam McDowell of the Kansas City Star and Jeffrey Flanagan of MLB.com), making clear that the Royals don't plan to tank…


3 keys to Brewers' pennant quest in Game 6
So far, the National League Championship Series is following a familiar pattern to Brewers fans, which is either discouraging or a reason for hope, depending on how far back one has followed the team. Here are three things that will get the Brewers back to the World Series for the first time since 1982.


Counsell: Yelich 'right there,' will stay in 2-hole
The September narrative as Milwaukee stormed to the National League Central crown and Christian Yelich made a strong closing argument for the NL MVP Award was something like, "As Yelich goes, so go the Brewers." Is it fair to say the same is true in the opposite sense during the NL Championship Series?


Brewers fans flock for free burgers
George Webb restaurants give away free burgers any time the Brewers win 12 consecutive games. It happened for just the second time in the promotion's history when the Brewers won their final eight games of the regular season, including a one-game playoff over the Cubs, before winning three games over the Rockies in the NLDS and Game 1 against the Dodgers in the NLCS.


Time change for possible NLCS Game 7
As a result of two competitive League Championship Series, we have two "if necessary" games currently scheduled for Saturday. That means that game times could shift depending on how many games need to be played.


Phillies great Utley chimes in on Machado
Chase Utley is one of the most revered athletes in Philadelphia history, not only because he put up borderline Hall of Fame numbers and helped the Phillies win the 2008 World Series, but because he played hard every single day. Utley's current teammate is Manny Machado.


Crew gone cold? 3 reasons behind quiet bats
Whether or not the Brewers sprint from behind and into their first World Series in 36 years, they'll be remembered this October for proving one thing: Bullpening can work. At least with the right relievers. At least in a short series. But like any other run-prevention strategy, it can't work without the bats.


Hinch: Altuve would otherwise be on DL
The sore right knee that has plagued Astros second baseman Jose Altuve for the second half of the season is so debilitating that manager AJ Hinch admitted prior to Game 5 of the American League Championship Series on Thursday that Altuve would be on the disabled list if this were the regular season.


MLB Network hosts sweepstakes to see CMAs
Two lucky sweepstakes winners will attend the CMAs, courtesy of the MLB Network, as special guests of two of the Network's most popular hosts -- Millar and former Major League pitcher Al Leiter.


Roberts' key to Dodgers' NLCS lead? Bullpen
Coming into the National League Championship Series, the Brewers seemed to have a clear advantage over the Dodgers in the bullpen. So guess why manager Dave Roberts thinks the Dodgers are leading the series, 3-2.


3 keys for LA to secure 2nd straight pennant
After winning two of three at Dodger Stadium, the Dodgers return to Miller Park with a 3-2 lead in the National League Championship Series and need one win for back-to-back World Series appearances. Here are three keys that the Dodgers will need to win.


As he continues to play a key role on a big stage for the Dodgers, star infielder Manny Machado is of course also making last impressions in advance of his entry onto the free-agent market. His controversial run through the NLCS has certainly sparked quite a lot of attention. In particular, Machado was fined for…


Astros' Bukauskas displays dominant stuff in AFL
Forrest Whitley, baseball's best pitching prospect, has been the talk of the Arizona Fall League in the early season. But he's not the lone Astros first-rounder who looks ready to make an impact at the big league level in the near future. Fellow right-hander J.B. Bukauskas, the 15th overall pick in 2017 out of North Carolina, also has dominant stuff. He put it on display Thursday afternoon, throwing four shutout innings to lead the Scottsdale Scorpions to an 8-0 victory over the Peoria Javelinas


LA's in-season adds fulfilling October mission
At the Aug. 31 deadline to acquire postseason-eligible players, the talent-rich Dodgers acquired a 38-year-old relief pitcher with a 5.28 ERA that nobody else wanted because he cleared waivers. What in the world were they thinking?


These are the most clutch pitchers in history
As he toes the rubber Thursday with the Astros' season on the line, Justin Verlander could earn his fifth win in a potential elimination game for his club. That total would pass legends Randy Johnson, Curt Schilling and John Smoltz for the most by any starting pitcher.


Nats set to make strong push to retain Harper
After seven seasons with the Nationals in which he won the 2012 National League Rookie of the Year Award, was named NL MVP in 2015 and made six NL All-Star teams, Bryce Harper is set to become a free agent for the first time. Here, you will find a list of the latest news and rumors surrounding the outfielder.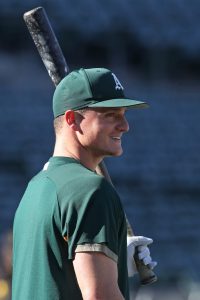 Extension Candidate: Matt Chapman
The chatter started last year as Matt Chapman burst onto the scene for the Athletics. The early returns were impressive. Still, Dave Cameron was seemingly pushing the envelope a bit when he asked in early August whether Chapman could be emerging as a star. Of course, as Cameron noted, there was plenty of reason to…


With Didi out, Yanks expected to pursue Machado
Manny Machado has been one of the game's best players since debuting in 2012, and he is set to cash in as a first-time free agent this offseason. Here, you will find a list of the latest news and rumors surrounding the infielder.


Zobrist mourns season in Instagram music video
If Cubs fans are having a tough time adjusting to life without baseball after the team's abrupt ending in the National League Wild Card Game, they should know the players also are struggling to cope. Ben Zobrist expressed his frustrations in a clever music video that included a note to fans.


Matt Chapman Undergoes Thumb Surgery
The Athletics announced today that third baseman Matt Chapman has undergone surgery on his left thumb. Specifically, he underwent an ulnar sided sesamoid bone excision on the troublesome digit. While it's never good to hear of the need for surgical intervention, it seems there's good cause for optimism in this case. The announcement indicates that…


Best catches in postseason history
Andrew Benintendi is the latest in a long line of players to make incredible, memorable catches in the postseason. Here are 17 of the best catches in MLB playoff history leading up to Benintendi's.


Utley weighs in on Machado's 'villain' role
Chase Utley is one of the very few people in baseball who knows what Manny Machado might feel on Friday when he steps onto the field at Miller Park for Game 6 of the National League Championship Series. Utley has been the villain, too.


Offseason Outlook: Arizona Diamondbacks
The Diamondbacks followed up their surprise run to the NLDS in 2017 by leading the way in the NL West for much of 2018, though an ugly late-season fade (11-24 over their last 35 games) left them with just an 82-80 record.  Now, with the D'Backs facing an already-tight payroll situation and the likely departure…


Chapman undergoes left thumb surgery
A's third baseman Matt Chapman underwent left thumb surgery and is expected to make a full recovery ahead of Spring Training, the team announced Thursday.


Potential LCS game time changes on Saturday
As a result of two competitive League Championship Series, we have two "if necessary" games currently scheduled for Saturday. That means that game times could shift depending on how many games need to be played.


MLB shows support for Spirit Day
Major League Baseball and its 30 clubs will again support Thursday's Spirit Day -- a worldwide, largely social media-based anti-bullying effort targeting LGBTQ youth -- as part of National Bullying Prevention Month


2018-19 Market Snapshot: Center Field
This is the latest installment in our Market Snapshot series. After checking on corner outfield options earlier tonight, we'll look up the middle. Teams In Need Unless they move Dee Gordon back to the outfield, the Mariners have a hole. While the Giants have hopes for Steven Duggar, they'll surely be on the lookout for other…


Red Sox-Astros G5: Lineups, matchups, FAQs
The Astros' backs are against the wall. The Red Sox are one win away from the World Series Coming off a thrilling 8-6 win in Game 4 of the American League Championship Series on Wednesday night to take a 3-1 lead in the best-of-seven series, the Red Sox will look to David Price to try to punch their ticket to the Fall Classic in Thursday's Game 5 at Minute Maid Park.


On doorstep of WS, Sox 4-0 on road in playoffs
The Red Sox rode Jackie Bradley Jr.'s latest game-changing home run and a game-saving, game-ending catch by left fielder Andrew Benintendi to an 8-6 victory over the Astros on Wednesday night at Minute Maid Park. With a 3-1 lead in the American League Championship Series, Boston is one win from advancing to the Fall Classic.


JBJ sets up Sox with another big HR in G4
Jackie Bradley Jr. didn't wait long to capitalize on an RBI opportunity in the top of the sixth inning of Game 4 of the American League Championship Series on Wednesday night.


Fan interferes with Betts on potential Altuve HR
It took less than 30 minutes into the Red Sox's 8-6 victory over the Astros in Game 4 of the American League Championship Series on Wednesday night at Minute Maid Park to give everyone something to talk about.


Top 10 thrills from Sox-Astros instant classic
You will never watch a better baseball game than the one played Wednesday night at Minute Maid Park. In the Red Sox's 8-6 victory in Game of the ALCS, at-bats were tense and long, and a line of relievers -- 10 in all -- paraded in from the bullpens.


Champs' season on line after topsy-turvy Game 4
The Astros faced incredible adversity but couldn't quite overcome it all, and now their season is on the line. The Red Sox again showed the resiliency of a team that won 108 games in the regular season and pushed the defending World Series champions to the brink of elimination on Wednesday, beating the Astros for the third time in a row, 8-6, to take a 3-1 lead in the best-of-seven series.


These teams came back from 3-1 deficits
There are few things more imposing for a team than being down three games to one in a seven-game series. Through 2017, only 13 teams out of 84 had come back to win a best-of-seven series after dropping three of the first four contests. Here's a look at each of those 13 "miracle" clubs and how they came all the way back to win.


Morton off mark after long layoff, exits in 3rd
Astros right-hander Charlie Morton, who last pitched in an abbreviated three-inning outing in Baltimore on Sept. 30, had another early exit, this time in his start Wednesday against the Red Sox in Game 4 of the American League Championship Series.


Lamigo Monkeys To Post Wang Po-Jung
Taiwan's Lamigo Monkeys will post top slugger Wang Po-Jung, as the CPBL Stats website has covered. He will become the first player posted from the Chinese Professional Baseball League, which is Taiwan's top circuit. Wang, who recently turned 25, has generally posted outlandish stats even by the standards of the hitter-friendly CPBL. This year, he's…


Kemp's HR softest tracked in postseason
Minute Maid Park has produced some instant classics recently, and Wednesday's ALCS Game 4 was another one that featured a ton of lead changes and close calls near the outfield fences, including Tony Kemp's solo shot in the fourth inning.


Red Sox's bats start fast in 3rd straight game
You don't get a second chance at a first impression. For the third consecutive game, the Red Sox have made the most of theirs. Boston scored a pair of runs in the first inning of Game 4 in the American League Championship Series, jumping out to a quick two-run lead over the Astros in front of an anxious home crowd at Minute Maid Park.


Dodgers-Brewers G6: Lineups, matchups, FAQs
The Dodgers can clinch their second consecutive National League championship on Friday with a win over the Brewers in Game 6 at Miller Park. The last time the Dodgers won back-to-back pennants was 1977-78. The Brewers will be looking to force a Game 7 and keep their hopes alive for a first pennant in 36 years.


2018-19 Market Snapshot: Corner Outfield
This is the latest installment in our Market Snapshot series. Today, we move the discussion to the outfield grass. Teams In Need A number of contenders and 2019 hopefuls will lose quality corner outfielders to free agency this season, including the Nationals (Bryce Harper), Braves (Nick Markakis), Indians (Michael Brantley and Lonnie Chisenhall), Rockies (Carlos Gonzalez…


Woodruff K's 8 but falters 3rd time through order
Part of the strategy that got the Brewers to the National League Championship Series has been to deny opponents a third look at a pitcher, which is what made Brandon Woodruff's third turn through the Dodgers' lineup in the sixth inning of a tied Game 5 -- when he wasn't even the starting pitcher -- one of the surprising parts of a surprising day.


Miley removed after 1 batter, will start Game 6
Brewers manager Craig Counsell pulled the latest surprise maneuver in what's been a constant chess match of a National League Championship Series on Wednesday by removing starter Wade Miley after one batter in Game 5 at Dodger Stadium.


Cagey Crew stifled in Game 5, faces 3-2 deficit
Craig Counsell took a heel turn, but Dave Roberts and the Dodgers won the bout. Counsell's surprise use of Wade Miley for only one batter stretched the old rules of baseball etiquette and worked beautifully into the sixth inning, but there were no tactical tricks to spark the Brewers' offense against a vintage Clayton Kershaw in a 5-2 loss in Game 5 of the National League Championship Series on Wednesday at Dodger Stadium.


Indians Discussing Extension With GM Mike Chernoff
The Indians are in discussions with general manager Mike Chernoff about a contract extension, according to ESPN.com's Buster Olney (via Twitter). The likelihood of a deal being struck, and on what terms, isn't yet apparent. Indeed, little is known about Chernoff's existing contract status. Chernoff was promoted to the GM seat just over three years…


Cora: Sale needs more time, will start Game 6
Red Sox manager Alex Cora announced before Game 4 of the American League Championship Series that ace left-hander Chris Sale will start against the Astros in Game 6 in Boston on Saturday. The club had originally hoped Sale would be ready to start Game 5 at Minute Maid Park as planned on Thursday.


Unconventional pitching decisions in playoffs
The Brewers have flipped conventional pitching methods for just about all of 2018, and in Game 5 of the National League Championship Series, Brewers manager Craig Counsell showed he still has more tricks up his sleeve.


Ozuna vows accountability, big year in 2019
Hours after the Cardinals' season had ended with a loss at Wrigley Field, Marcell Ozuna walked mostly unnoticed through St. Louis Lambert International Airport. Yet, the proclamation he made as he neared the airport exit on that final day of September wasn't as inconspicuous. "I'm going to get right," Ozuna boldly promised. "Big year. You watch. Big year for me next year."


Miley removed after 1 batter, will start Game 6
Brewers manager Craig Counsell pulled the latest surprise maneuver in what's been a constant chess match of a National League Championship Series on Wednesday by removing starter Wade Miley after one batter in Game 5 at Dodger Stadium.


Roberts surprised Crew didn't load bases in 13th
Dodgers manager Dave Roberts said he expected the Brewers to issue two intentional walks, loading the bases and bringing up pitcher Julio Urias, instead of having Junior Guerra pitch to Cody Bellinger with two outs and Manny Machado on second base in Game 4 on Tuesday night, because of where the Dodgers' bullpen was at.


Bell, Girardi, Ausmus advance in manager search
Three Reds managerial candidates have cleared the first hurdle and have reached the second round of interviews with the club, MLB.com learned on Wednesday via sources. Joe Girardi, Brad Ausmus and David Bell have all moved through for stronger consideration.


Zach Davies Replaces Gio Gonzalez On Brewers' NLCS Roster
The Brewers announced this morning that they've replaced left-hander Gio Gonzalez on their NLCS roster following yesterday's ankle injury; righty Zach Davis will take his place. The move renders Gonzalez, a pending free agent, ineligible to pitch in the World Series should Milwaukee advance, as players removed from the roster mid-series are automatically ruled ineligible…


MLB statement on sign-stealing concerns
Before the postseason began, a number of Clubs called the Commissioner's Office about sign stealing and the inappropriate use of video equipment. The concerns expressed related to a number of Clubs, not any one specific Club. In response to these calls, the Commissioner's Office reinforced the existing rules with all playoff Clubs and undertook proactive measures, including instituting a new prohibition on the use of certain in-stadium cameras, increasing the presence of operations and security


Seunghwan Oh Mulling Return To Korea Baseball Organization
Seunghwan Oh's option for the 2019 season already vested when he appeared in his 70th game of the season, but the Rockies right-hander told reporters in his native South Korea on Wednesday that he is considering a return to the Korea Baseball Organization (link via Jee-ho Yoo of the Yonhap News Agency). "I am a…


Pirates to consider Barkett for hitting coach job
Pittsburgh plans to interview former Triple-A Indianapolis manager Andy Barkett, now serving as the Red Sox assistant hitting coach, according to a report from ESPN's Enrique Rojas. Barkett will also interview with the Rangers, according to the report.


Astros Have Not Been Punished Following Sign-Stealing Controversy
There was no shortage of drama surrounding the Red Sox and Astros last night following a series of reports regarding an Astros employee who was removed from the photo well next to the Red Sox' dugout in Fenway Park during Game 1 of the ALCS, as first reported by Danny Picard of the Metro News.…


Davies replaces injured Gio on Brewers roster
Major League Baseball on Wednesday approved a roster substitution for the Brewers due to an injury sustained by pitcher Gio Gonzalez. As a result, Gonzalez will be replaced by right-handed pitcher Zach Davies on Milwaukee's National League Championship Series roster.


Here's how David Phelps is looking at free agency
When David Phelps hits free agency for the first time in three weeks, he'll do so with little in the way of bargaining power. But the reliever is staying positive, and he has his sights set on a full recovery from Tommy John surgery by Spring Training.


Corbin's slider-heavy approach about to pay off
Patrick Corbin looks like the headlining starting pitcher of this year's free agent class -- and he got there thanks to his dominant slider. That makes him a perfect representative of today's pitching trends.


How Yelich vs. Kershaw may go down in Game 5
Christian Yelich has a .500/.550/.889 line against Clayton Kershaw, the highest OPS any hitter has against the Dodger ace. But because of how he got to that mark, it doesn't guarantee that success is going to follow in NLCS Game 5.


Brewers-Dodgers G5: Lineups, matchups, FAQs
There's no time to be tired for the Brewers and Dodgers, who departed after midnight following a 13-inning marathon in Game 4 of the National League Championship Series and will be back on the field this afternoon for Game 5 to decide which team moves within one victory of the World Series.


This reliever will be in high demand this offseason
Adam Ottavino won't blow you away with saves or a pristine win/loss record, but that isn't what teams are looking for in 2018. As we head into the offseason, Ottavino is going to be one of the most valuable relievers available.


Why Angels are banking on 2-hour manager test
Many baseball observers reacted with curiosity this week, following an MLB.com report that the Angels have administered two-hour written tests to managerial candidates during interviews this month.


Cain, Yelich look to get timing right in NLCS
The offensive struggles of Lorenzo Cain and Christian Yelich go a long way toward explaining why the Brewers' lineup stalled for 13 innings in a 2-1 loss to the Dodgers in Game 4 of the NLCS.


Urias unlikely G4 hero in Dodgers' bullpen
Julio Urias pitched only four innings in the regular season, but he found himself in a huge spot as the last man standing in the Dodgers' bullpen late Tuesday night in Game 4 of the National League Championship Series at Dodger Stadium.


AL East Notes: Red Sox, O's, Blue Jays
Alex Speier of the Boston Globe looks at the Red Sox' decision not to add a reliever to prior to the non-waiver trade deadline. That non-trade scenario that flew in the face of president of baseball operations Dave Dombrowski's reputation as "Dealer Dave" — one of the most aggressive executives throughout the industry. Dombrowski, though,…